Ura Harajuku: Explore The Backstreets
Covering a corner between Harajuku's busy Takeshita and the stylish Omote-Sando street, Ura-Harajuku is a network of backstreets known for an alternative street-style. The mixture of brand names and boutiques makes for a great shopping experience as you can get the latest pieces as well as some unique additions. With cafes and restaurants as well as art galleries, it's perfect for an afternoon exploring away from the crowds of more popular areas.
What is Ura-Harajuku?
Edgier and ever-cooler than the better-known streets of Harajuku, Ura-Harajuku is a network of backstreets filled with independent stores, art galleries and casual cafes. Largely pedestrianized, the area's main street is known as Harajuku-dori, while nearby Cat Street offers plenty of enticing side-streets with vintage clothes, great food and unique street-fashion brands. This street leads out of Ura-Hara (as the area is colloquially known) and towards Shibuya, so it's perfect if you're heading to the famous crossing.
Where is Ura Harajuku?
Running perpendicular to Omotesando, Ura-hara covers the areas of 3-chome and 4-chome. You can continue from Takeshita street and explore this smaller district before following Cat Street straight into the edges of Shibuya. The best way to reach Ura-Harajuku is to walk from Harajuku Station (JR Line), or Omote-Sando Station (Chiyoda, Ginza and Hanzomon Metro Lines).
The Shops of Ura-Harajuku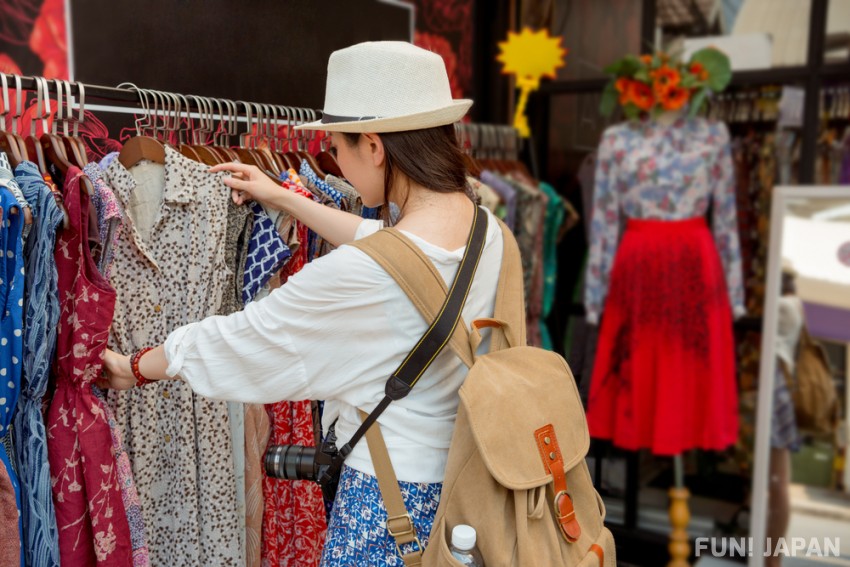 Ura-Hara combines new trends with vintage revivals and is home to an endless parade of second-hand stores and small boutiques. The street-fashion of the area has an American influence, with skaters, Japanese hip-hop and alternative influences readily available. Tokyo-favorite BEAMS has a series of stores in the Ura-Hara area, including TOKYO CULTUART, Uniform Circus, BEAMS F and BEAMS T. These hold a range of the latest trends and a mixture of designers. BAPE (A BATHING APE®) is another popular store known for their urban camo designs while American skate brand Supreme, KICKS LAB. and UNDEFEATED draw those in looking for the coolest names.
Vintage Stores
As fashion always returns to the past, it's no surprise that vintage stores are a staple of this area. Unlike what you may be used to, a lot of the vintage stores here focus on imported 80s and 90s fashion, rather than the more classic vintage - but that just means more affordable!
Popular spots include The Green Triangle, KINSELLA and TARAMAKE for this style, while VINTAGE QOO and BRAND COLLECT are better if you're looking for high-end items. Further along on Cat Street, brand-shoppers should keep an eye out for the large RAGTAG Harajuku Store.
The Cafes and Restaurants of Ura-Harajuku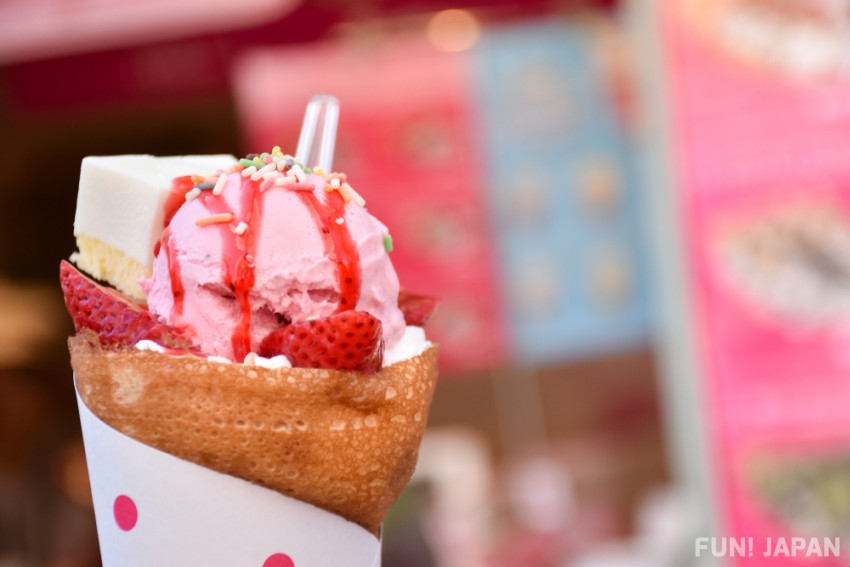 There are many popular streetside restaurants and cafes in this area - but they are often quite small, so you may have to queue.
Sakura-tei: Okonomiyaki With Style
For lunch, Sakura-tei is one of the go-to spots as it offers a relaxed chance to try Okonomiyaki. Known as Japan's pizza, this cabbage-filled pancake is cooked on a griddle and you can add any ingredients, with English menus and veggie options available along with cool street art decorating the walls.
Spot Information
Name: Sakura-tei (さくら亭 原宿)
Address: 3-20-1 Jingūmae, Shibuya-ku, Tokyo
Location: Sakura-tei is close to the northern tip of Cat Street, beside the Design Festa Gallery.
Opening Hours: 11:00 - 21:00 (Mon - Thurs), 11:00 - 22:00 (Fri - Sun)
Regular Closing Days: None
GOOD TOWN DOUGHNUTS: Delicious Treats and Vegan Sweets
Serving deliciously decadent donuts Good Town have a reputation for being one of the best spots for those with a sweet tooth. American-style, the donuts range from a classic glaze to matcha, with seasonal flavors added throughout the year. Some options are vegan, and the bakery next door has even more vegan treats (and non-vegan ones too).
Spot Information
Name: Good Town Doughnuts and Coffee (グッドタウンドーナツ)
Address: J-cube B 1F, 6-12-6 Jingūmae, Shibuya-ku, Tokyo
Location: Good Town Doughnuts is located just off Cat Street, towards Shibuya.
Opening Hours: 10:00 - 19:00
Regular Closing Days: None
Madosh! Cafe: Unusual Avocado Restaurant
At the far end of Cat Street, Madosh! Is a haven for avocado lovers. With a bright Mexican-themed interior, the restaurants has an extensive menu of avocado-themed meals. Whether you opt for curry or salad-bowls, the highlight is the avocado smoothie and the accompanying syrup bar. Go for the set meal and try it - you may be surprised how much you enjoy it!
Spot Information
Name: Madosh! Cafe (マドッシュカフェ 渋谷店)
Address: 5-28-7 Jingūmae, Shibuy-ku, Tokyo
Location: On the way towards Shibuya, Madosh is just off Cat Street, close to the popular Trunk Hotel.
Opening Hours: 11:30 - 22:00 (Mon - Fr) 11:30 - 22:00 (Sat & Sun)
Regular Closing Days: None
The Art of Ura-Harajuku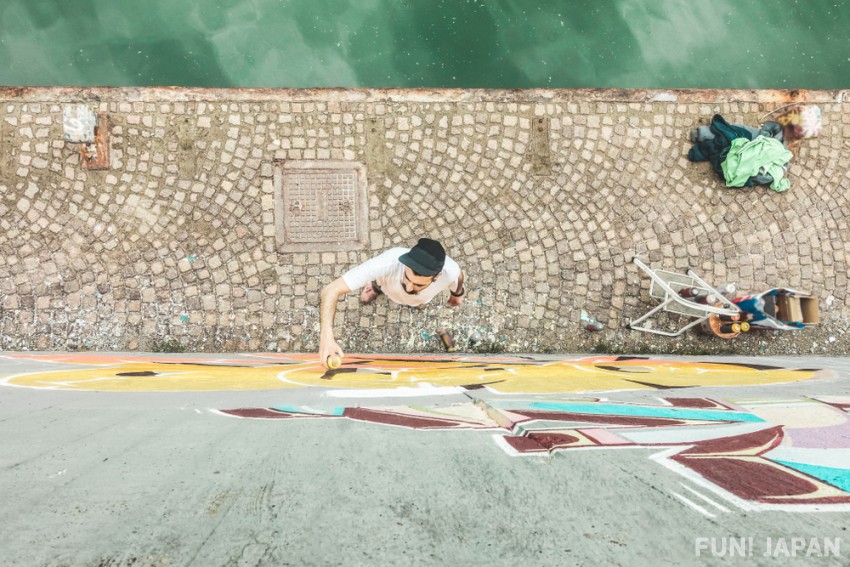 Creative in more ways than one, the Ura-Hara neighbourhood has an artistic feel that includes street art and galleries. Even if you're not a traditional art-lover, the pieces here will no doubt intrigue as they lean more towards contemporary and street art.
Design Festa Gallery
The permanent home of the annual Tokyo-based festival, the Design Festa Gallery has an international and welcoming feel. They accept pieces from a huge variety of artists, regardless of age, gender, nationality and preferred medium. It is divided into two buildings: West and East, which house 21 showrooms. It is free to exhibit here and free to enter, so it is impressively accessible and the works are incredibly varied.
Spot Information
Name: Design Festa Gallery (デザインフェスタギャラリー原宿)
Address: 3-20-18, Jingūmae, Shibuya-ku, Tokyo
Opening Hours: 11:00 - 20:00
Entry: Free
Regular Closing Days: None
Watarium Art Museum
Located in an eye-catching building, the Watarium is known for design-focused contemporary art. It is privately owned and showcases Japanese artists although there are some international names included also. Exhibitions focused on renowned architects, interactive displays and artists talks create a varied calendar and it's well-worth checking for special events ahead of time.
Spot Information
Name: Watarium Art Museum (ワタリウム美術館)
Address: 3-7-6, Jingūmae, Shibuya City, Tokyo
Opening Hours: 11:00 - 19:00
Entry: 1000 yen (but may vary depending on exhibition)
Regular Closing Days: None
While not strictly in the Ura-Hara area, the Ota Memorial Museum (太田記念美術館) is very close and features an impressive selection of Japanese ukiyo-e art from the collection of Ota Seizo. It's found close to Meiji-Jingumae station just off the main Omotesando street.
[Survey] Traveling to Japan
Recommend