Harajuku's Spectacular Takeshita Street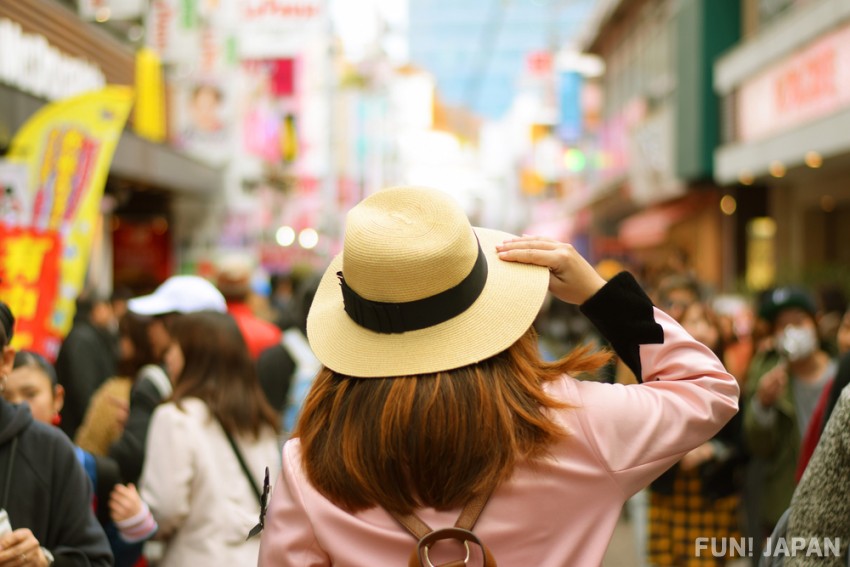 Takeshita Street (Takeshita-dori) is a 400m stretch of fun, fashion and food, with a reputation for the latest styles, teenage hangouts and unusual snacks. Whether you're looking to do some serious shopping or just want to see what's on-trend, it's worth a visit - and sometimes the shoppers can be just as inspiring as the shops themselves!
The History of Takeshita Street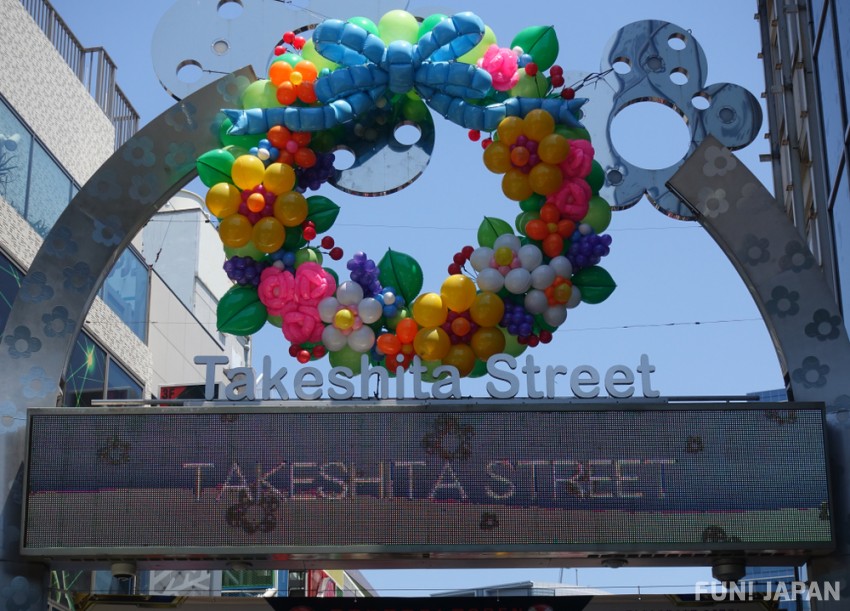 The area that is now Harajuku was once a small post town in the Edo Era, and slowly developed into the shopping hub it is today. Takeshita Street was known in the 90's at the place to go for bootleg American fashion, but laws eventually became stricter and sales were curbed. While the shop contents changed, the area's reputation as a trendsetter for fashion did not, and it has retained a name for style ever since.
Takeshita Street's Unique Culture
Known as one of the most extravagant and fun districts of Tokyo, Harajuku culture has become known across the globe. Associated with bright clothes, elaborate makeup and a vast array of styles, the outfits are only one part of this. Harajuku Style is a combination of cute, lolita elements combined with fairy-kei (フェアリー系), gyaru (ギャル) and more. While it's rarer to see fully-dressed up shoppers out and about, there are still a few to spot - remember to ask before taking photos - many will be happy to oblige but it's not guaranteed!
Of course, buying new accessories and clothes is fun, and a shopping trip with friends makes of great memories. One of the most unique ways to record the moment is in one of Takeshita Street's photo booths. You strike your poses, edit the photos and print them out - the results being as decorated and fun as you like!
The Shops of Takeshita Street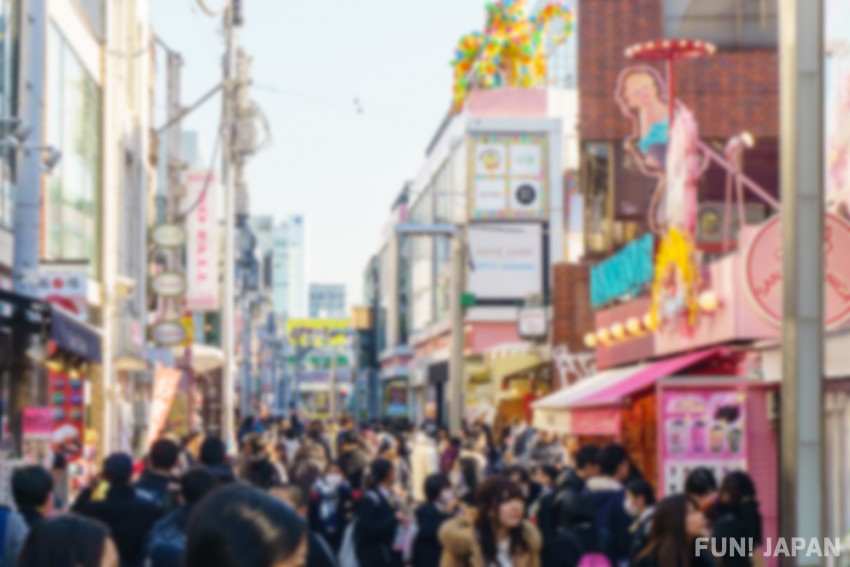 A combination of big-name brands, independent boutiques and trendsetting department stores, Takeshita Street has a variety of styles, items and fashions to choose from.
Fashion Stores on Takeshita Street
Fashion is the main attraction of this crowded street, and there is no shortage of options. Independent stores include WC which has a selection of plenty of cute American-inspired styles, BROADWAY which is known for hip-hop styles and the popular ANAP outlet store. The countless pop-up feel shops that work as a testing ground for upcoming fashions are great to browse. Taking the time to walk down the street and back up is a good idea, as the crowds often mean you can miss an interesting shop on the other side! Sidestreets are also great to explore, with stores like ACDC offering unusual clothes just a few steps from the busy thoroughfare.
CUTE CUBE is a great mini-mall to explore with accessories, clothing and cosmetics to enjoy with popular stores like Spinns and Chicago Inc. A little further along, SoLaDo is another mini-mall with a focus on teenage fashion and a popular food court.
Cosmetic Stores on Takeshita Street
Popular South Korean brand Etude House is one of the go-to cosmetic stores on Takeshita Street. The cute packaging may not be everyone's style but the quality makes it a steadfast favorite of those in the know. STYLENANDA is another South Korean spot with fashion items upstairs and beauty products downstairs, while Innisfree is an increasingly popular natural beauty store known for great facemasks. For a more day-to-day selection, trusted chain Matsumoto Kiyoshi has a store with discounts on a wide variety of Japanese and imported brands. Just beside the entrance to Takeshita Street, close to the station, there are two newly opened Japanese beauty halls - Shiseido Beauty Square and @cosme TOKYO, with a more high-street style option a few minutes away at Ainz & Tulpe in the Quest Shopping Mall.
Idol Stores on Takeshita Street
Inspiration in the form of idols forms a big part of Harajuku's attraction, especially to the teenagers visiting. Stocking everything from posters to signed photos, badges, trading cards and stickers - idol stores are the place to go if you have a particular J-pop or celebrity star you're a true fan of. There are also ticket sellers here which are great places to snap up tickets for the next tours or performances.
Souvenir Stores on Takeshita Street
It may be a surprise that one of the most popular stores in this category is the 100-yen store Daiso. Stocked with a special series of items that are perfect for souvenirs, the 2-floor building has countless cute trinkets, decorations, everyday essentials and uniquely Japanese items. Their affordability is a great attraction, as is the sheer variety.
Alternatively, some great souvenirs from Takeshita Street include Japanese facemasks or skincare products, some of the cute socks available at stores like Calzedonia or - if you're shopping for yourself, a few sticker snapshots at the famous photo booths!
Street Food in Takeshita Street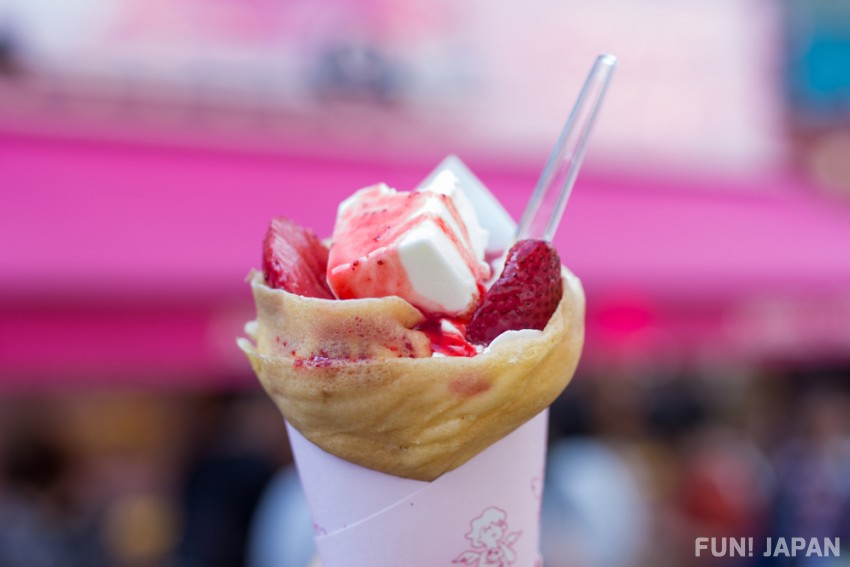 Shopping certainly works up an appetite, and the food options on Takeshita Street are just as much fun as the fashion. Ranging from rainbow candyfloss to themed cafes, there are quick snacks and sit-down meals. Of course, the most famous option is the Harajuku Crepe. American style with a Japanese twist, they range from simple fillings to slices of cheesecake, brownies and mountains of cream. There are multiple stores selling crepes, with the most well-known being MARION CREPES, purveyor of the French treat since 1976!
Where is Takeshita Street?
Takeshita Street is a few steps away from the new Harajuku Station. It runs parallel to the upmarket and tree-lined shopping street of Omote Sando. Quite narrow, Takeshita Street connects the periphery of Meiji Jingu and its surrounding park with the busy shopping district of the Harajuku and Omotesando streets.
It is best accessed from Harajuku Station on the JR Yamanote Line or the Meiji-Jingumae Station on the Chiyoda Metro Line. These stations are connected and the shopping street is just across the street from the main JR entrance. Simply head out, cross and turn left, Takeshita Street will appear on your right, with Macdonald's easily visible. 
[Survey] Traveling to Japan
Recommend