What is New Transit Yurikamome? The Transportation that Connects Tokyo Waterfront City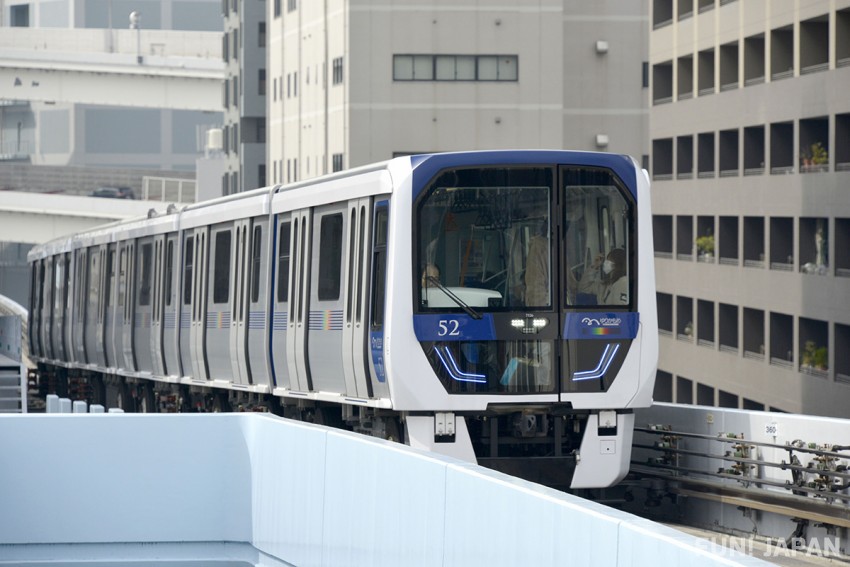 New Transit Yurikamome (Formerly known as Tokyo Waterfront New Transit Waterfront Line) is an automated guideway transit service operated by Yurikamome, Inc., connecting Shimbashi to Toyosu, via the artificial island of Odaiba in Tokyo, Japan, a market in which it competes with the Rinkai Line. It is a train line that stops alongside many popular sightseeing spots, universities, and other popular locations.

*Will be referred to as "Yurikamome" hereafter
Yurikamome's Overview & History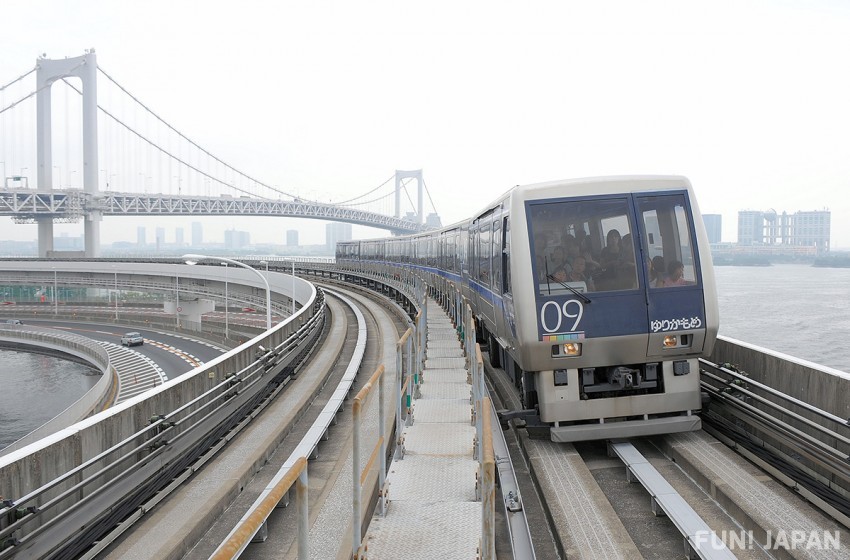 Yurikamome was opened on Nov 1st of 1995 as a transportation system that connects the Tokyo Waterfront Area and Shinbashi with a total length of 11.9km from Shinbashi Station to Ariake. After that, it extended its tracks to Toyosu which increased the total length to 14.7km on March 27th, 2006, totaling 16 stations. (Accurate as of October 2020)

Traditional & Unique Japanese Designs at the Stations
After boarding the Yurikamome, you will see that each and every station has a sign with a traditional background pattern on it (Known as "Station Pattern"). For example, Shinbashi Station has a "Willow stripe pattern", Odaiba-kaihinkoen station has an "Old pine pattern", and Shijo-mae station has an "Alternating crabs and stripes pattern".
Realization of Completely Automated Transport
Yurikamome uses an automatic train operation device (ATO) allowing it to not need a train conductor on board.
What to see at Yurikamome & Tokyo Waterfront Area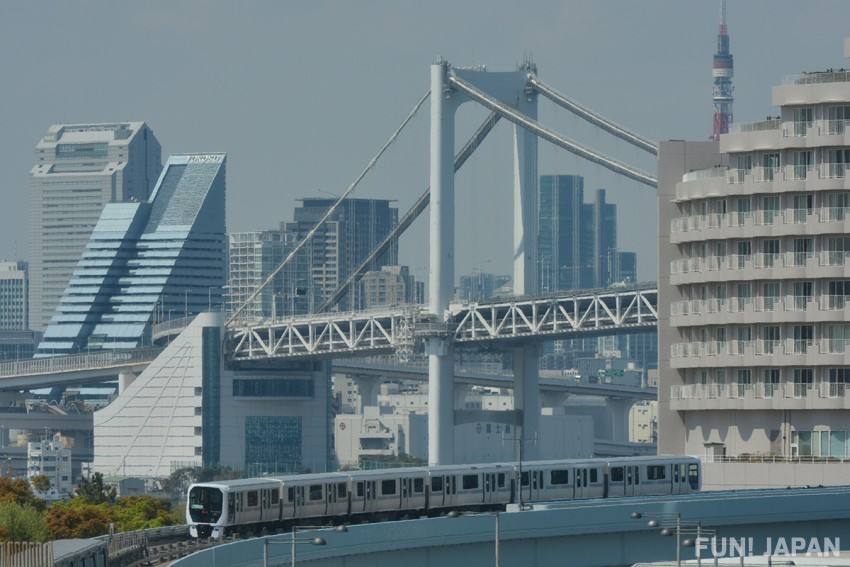 Alongside Yurikamome's train line you can find various high-rise mountains, popular sightseeing spots, convention centers, and even the competition venue for the 2020 Tokyo Olympics and Paralympics.
You can see various different symbols of Tokyo from the train window such as Tokyo Tower, Rainbow Bridge, Tokyo Skytree, Tokyo Gate Bridge, and much more. You can go over Rainbow Bridge from Shibaura-futo to Odaiba-kaihinkoen.
Furthermore, if you're looking to visit all of these spots, a day-ticket is perfect and very convenient.

Yurikamome's Access and Surrounding Sightseeing Spots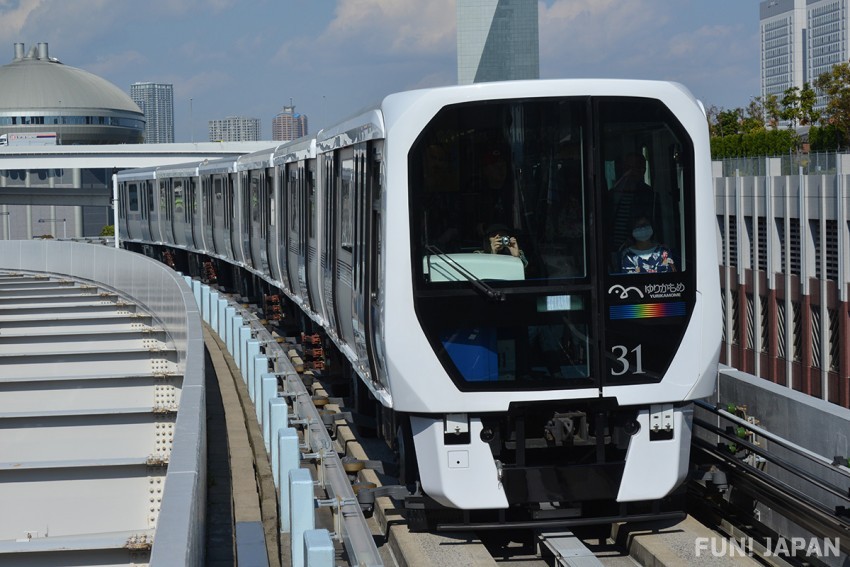 Yurikamome takes 31 minutes from its starting point of Shinbashi to its final stop at Toyosu. The stops, surrounding sightseeing spots, and the time required are listed below.
| | | |
| --- | --- | --- |
| Station Name | Ride time from Shinbashi | Nearby Sightseeing Spots |
| Shiodome | 1 minute | Hamarikyu Gardens |
| Takeshiba | 4 minutes | Takeshiba Wharf & Ferry Terminal |
| Odaiba-kaihinkoen | 13 minutes | Odaiba Marine Park, DECKS Tokyo Beach |
| Daiba | 15 minutes | DiverCity Tokyo Plaza, Fuji Television Main Building |
| Tokyo International Cruise Terminal | 16 minutes | Museum of Maritime Science, Tokyo International Cruise Terminal Station |
| Telecom Center | 18 minutes | Odaiba Ōedo-Onsen Monogatari, National Museum of Emerging Science and Innovation |
| Aomi | 20 minutes | VenusFort, Palette Town |
| Tokyo Big Sight | 22 minutes | Tokyo Big Sight |
| Shijo-mae | 28 minutes | Toyosu Market |
| Shin-toyosu | 29 minutes | teamLab Planets TOKYO |
| Toyosu | 31 minutes | Urban Dock LaLaport Toyosu 1 |
Yurikamome Operating Hours, Fee, and Access (Shinbashi Station)
Address: 1-1-11 HigashishinbashiMinato City, Tokyo 105-0021
Access: Directly next to JR Shinbashi Station
Operating Hours: First Departure 05:45、Final Departure 0:30
Fee: Ticket Fee Adult 190 yen~ IC Card Adult 189 yen (Varies depending on destination)
Ticket Purchase: Bought at the station via a ticket machine
[Survey] Traveling to Japan
Recommend