Odaiba Ooedo-Onsen Monogatari - An Onsen Theme Park which Never Gets Boring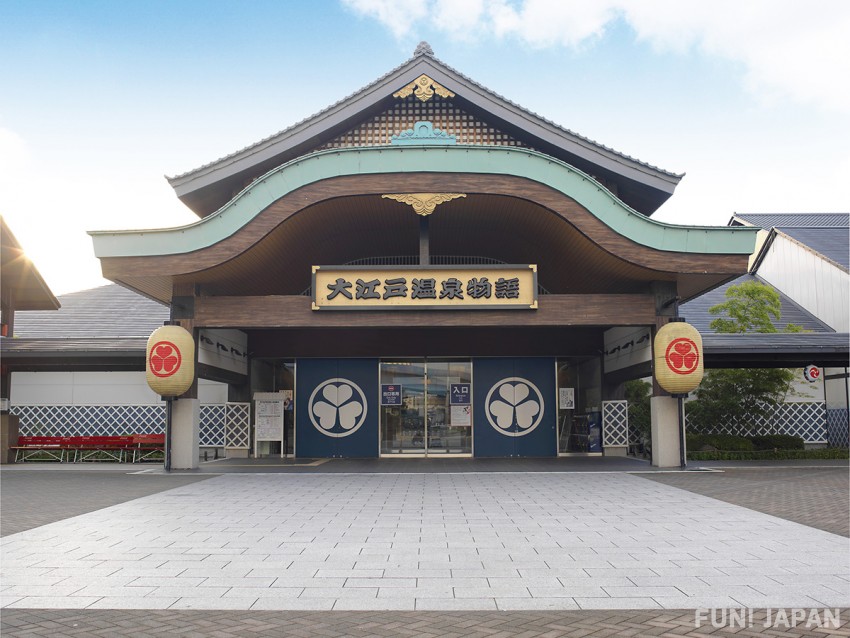 Odaiba Ooedo-Onsen Monogatari is a natural hot springs theme park with various restaurants, an Edo-period temple, and many more appealing attractions that you can enjoy. In this article, we are going to introduce some of our most recommended methods to enjoy this amazing day-trip onsen theme park.
 Things to do at Odaiba Ooedo-Onsen Monogatari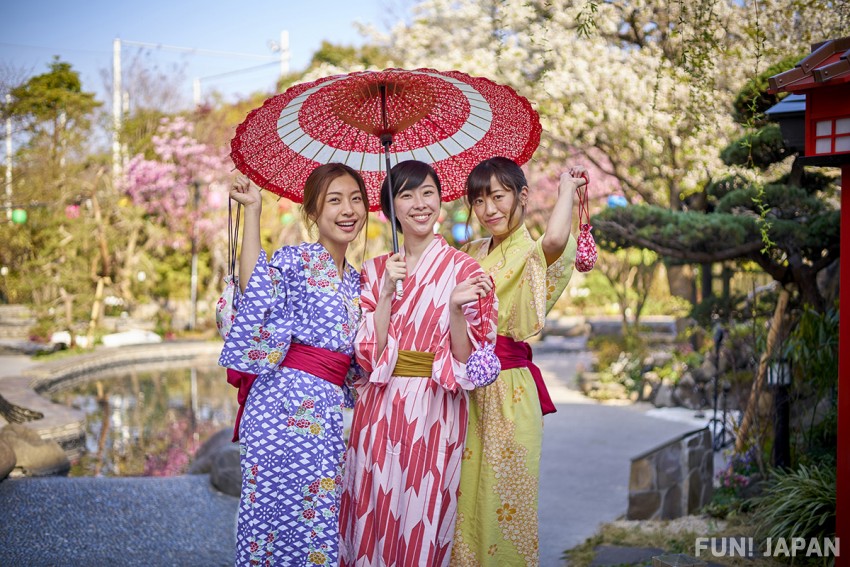 At Odaiba Ooedo-Onsen Monogatari you can find natural hot-spring baths and foot baths, a temple corner where you can feel like you're at a festival, as well as various different food institutions that have a wide variety of delicious foods to choose from. How about visiting as a couple, or may with some friends to relax?
Odaiba Ooedo-Onsen Monogatari's Luxury Spa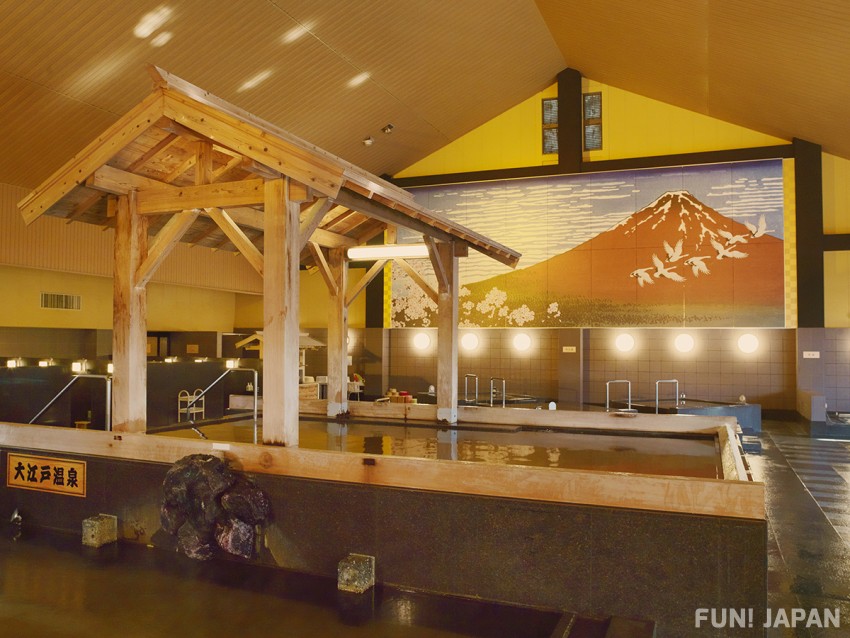 First things first, we must take a look at the onsen. The famous "Ooedo-Onsen" which is said to have golden waters as well as the "Edo Garden" that was handcrafted by a skilled landscape artist, among many more unique and interesting baths for you to experience and explore.
Don't forget, whilst exploring the garden in your yukata, to visit the footbath. For example, enjoy the foot bath with flowers (Only available on weekends) which is a great spot for taking pictures for your social media profiles. Furthermore, you should check out the bath at night when it is beautifully lit up.
Food at Odaiba Ooedo-Onsen Monogatari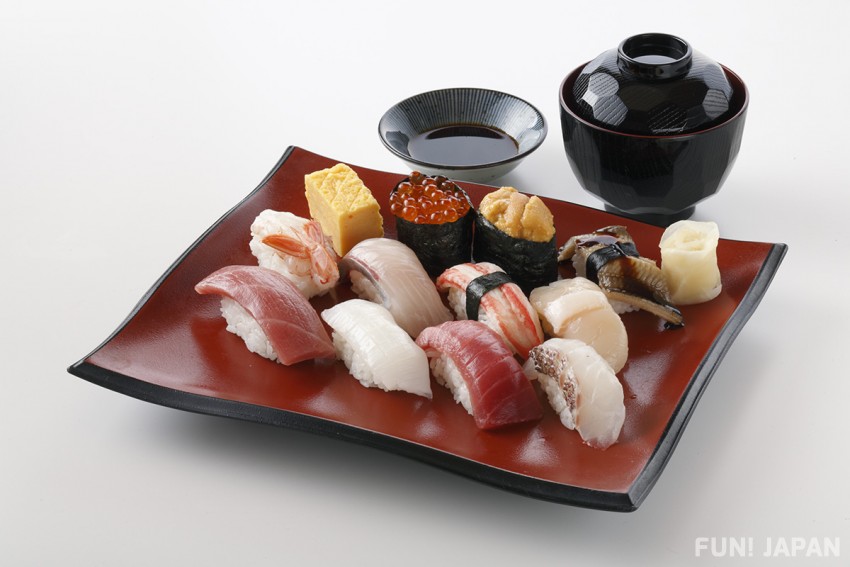 The food court has Japanese food as well as a cafe featuring Japanese-style sweets, it has lots of shops with much variety. Restaurants with real traditional Japanese food, a bar to cool off after your relaxing bath, a sweet store with crepes, pancakes, and many more delicious treats, there's so much to explore and experience.
Fair (En-nichi) Experience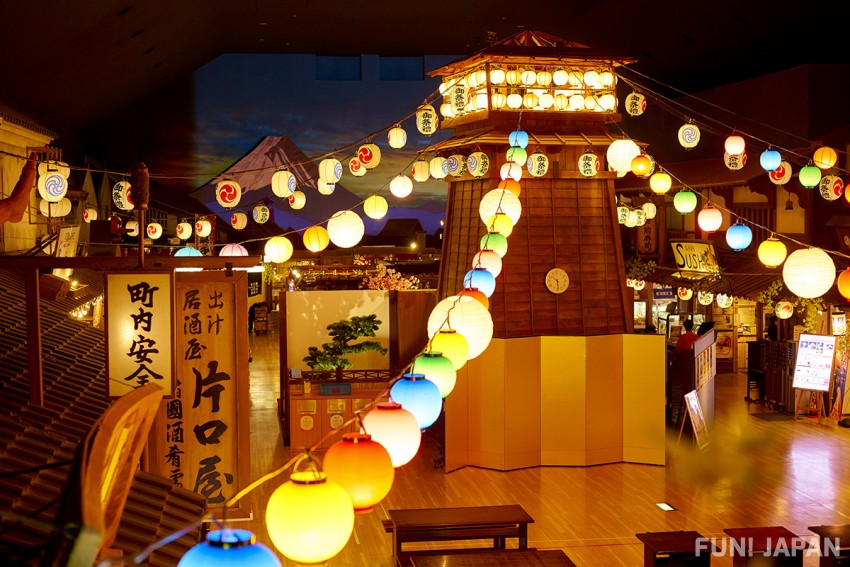 At Odaiba Ooedo-Onsen Monogatari you can experience a fair 365 days of the year. There are large wooden watchtowers decorated with lanterns, and by walking down the created streets in a yukata checking out the various stalls you can have your fill of traditional Japanese fairs.
There are lots of variations of yukatas and obis for you to try. Pick out one you like and enjoy a traditional and exciting adventure.
Odaiba Ooedo-Onsen Monogatari Accommodations & Private Rooms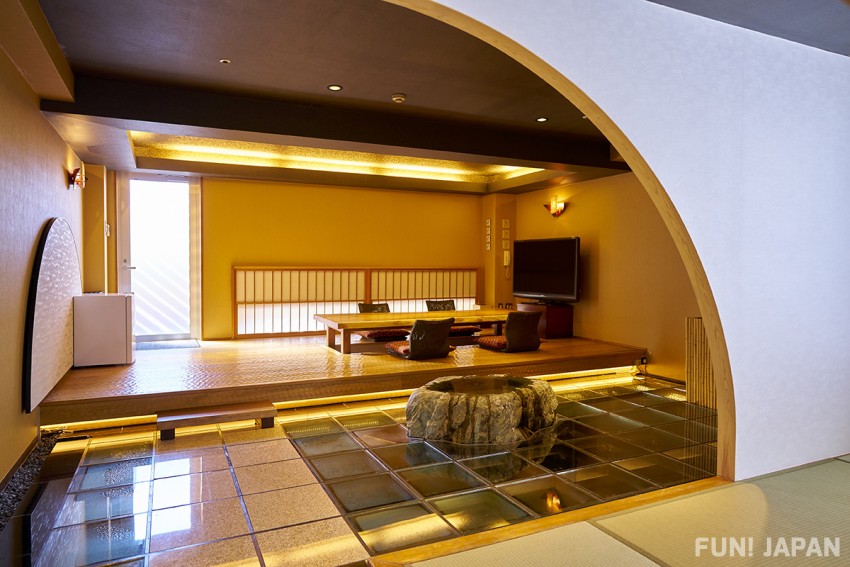 At Odaiba Ooedo-Onsen Monogatari you are able to stay at the jointly-established accommodations. There are male-only cabins, Japanese-style rooms, twin-bed type western rooms, rooms with open-air baths available as well as many more unique types. You can spend the entire night at the rest stop (2,000 yen after 2:00 am (tax excluded)) however, if you want to spend it relaxingly, we would recommend using these rooms. (However, reservations are required).
Odaiba Ooedo-Onsen Monogatari Business Hours & Price
Odaiba Ooedo-Onsen Monogatari business hours are 11:00 ~ 09:00 the following day. Entrance fees are 2,380 yen for 1 adult on a weekday, 2,580 yen on weekends and holidays, and 2,680 yen for special events (accurate as of October 2020). ※All prices do not include tax. Prices become slightly cheaper entering after 18:00, so we would recommend visiting after enjoying a trip around Tokyo sightseeing.
 Odaiba Ooedo-Onsen Monogatari Access
You can reach Odaiba Ooedo-Onsen Monogatari through a free shuttle bus and train, however, the free shuttle bus is especially useful. It stops at various stations such as Tokyo Station, Shinagawa Station, Shinjuku Station, Kinshicho Station, Koto Area, Asakusa, Ueno Station, and Tokyo Teleport Station before arriving at  Odaiba Ooedo-Onsen Monogatari.
Spot information
Name: Odaiba Ooedo-Onsen Monogatari
Address: 2-6-3 Aomi, Koto-ku, Tokyo
Access: Free Shuttle Bus, 2-minute walk from Yurikamome Line's Telecom Center Station
Wi-Fi: Available
Language: English / Chinese / Korean ※ Available for pamphlets.
Ticket Purchase: Reservation is typically not required, all fees are calculated and charged upon leaving the facility.
Credit cards: VISA, Mastercard, JCB, Diners Club, AMEX, UnionPay
※Unfortunately tattoos and body paint is banned within the facility. If you have either of these you will be unable to enter.
※Due to the Novel Coronavirus, business hours are subject to change. Please check the official homepage prior to your visit.
[Survey] Traveling to Japan
Recommend