SKY CIRCUS Sunshine 60 Observatory: Enjoy a Superb View & Screaming Your Lungs Out!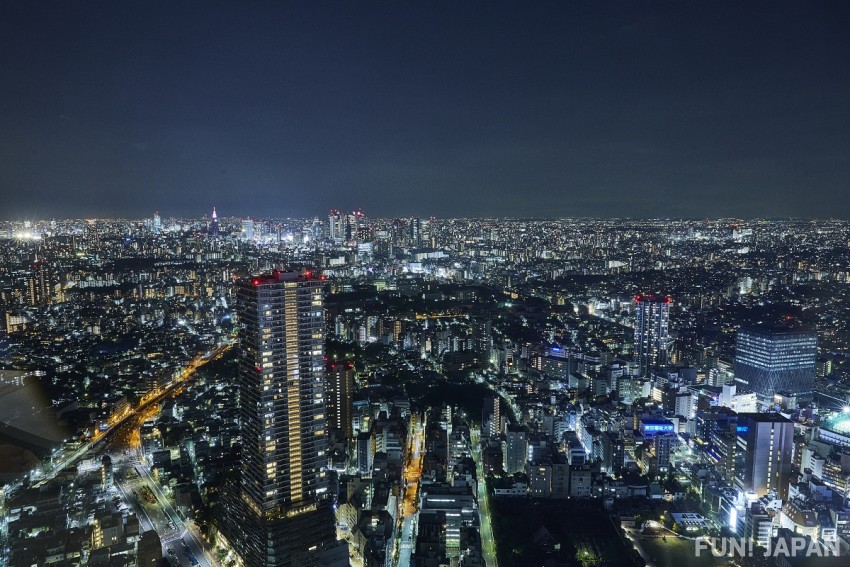 If you're going to Tokyo, it would be a huge waste to not check out the world-famous city view before going home. If you're looking for somewhere that offers more than just a view, we would highly recommend SKY CIRCUS Sunshine 60 Observatory! Coming to this viewing platform which shows an amazing outlook of Tokyo and has various different technologies might just change what your image of an "observation deck" is…!?

What is the SKY CIRCUS Sunshine 60 Observatory?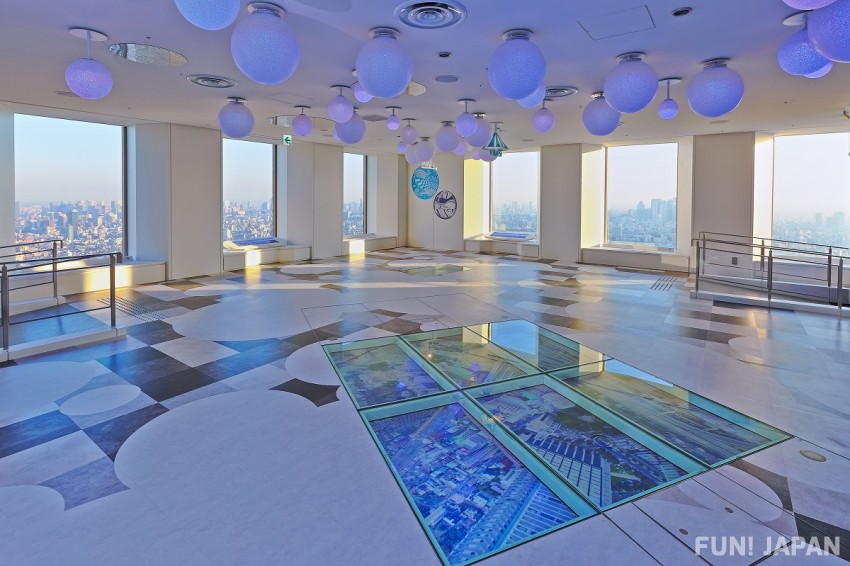 "SKY CIRCUS Sunshine 60 Observatory" opened in April of 2016 after being renewed and sits at a height of 251 meters above sea level. The origin of the name came from the observation deck's concept of a "SKY CIRCUS" located on the 60th floor of the Sunshine 60 building. The deck is abundant with entertainment and has lots of areas with various interesting activities and experiences. It is well known as a location where you can not only look out onto Tokyo's cityscape but use technology to enhance your experience within Tokyo's sky even further.

Things to See at 

SKY CIRCUS Sunshine 60 Observatory
Night & Noon - Experience 2 Completely Different Views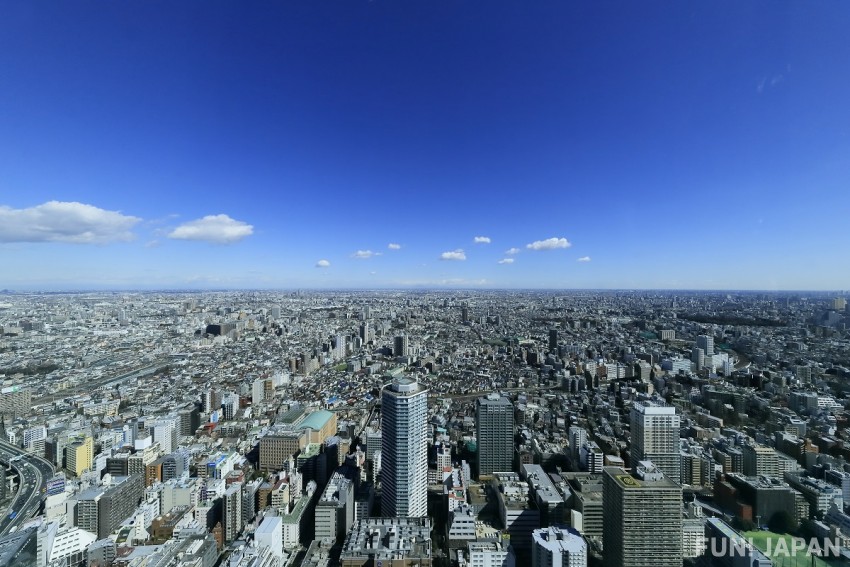 When talking about Tokyo's city view, SKY CIRCUS Sunshine 60 Observatory is something that should always be brought up. Being on the 60th floor, it allows you to look out onto Tokyo without any interruptions or distractions through the enormous glass window. During noon you are able to experience a 360-degrees panoramic view of Shinjuku's high-rise buildings and Tokyo Skytree, if the weather is good you can even sometimes see Mt. Fuji in the distance. On the opposite end, at night, you can see the entire city lit up beautifully, it changes into a very romantic scene.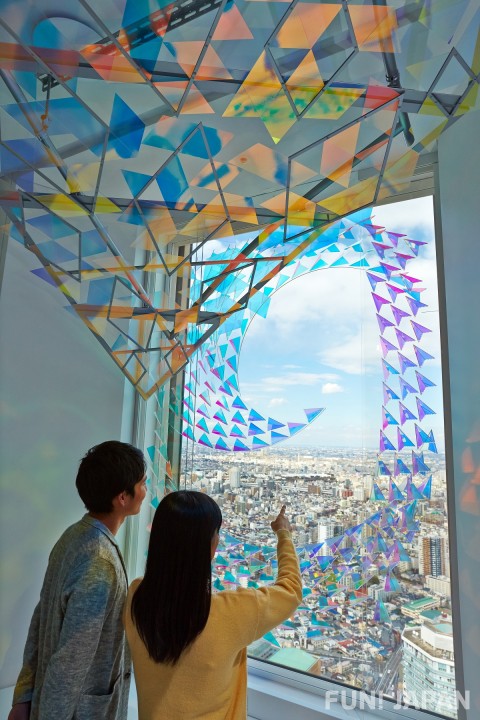 If you're looking for a great picture to upload to your SNS accounts, then "SUNLIGHT CIRCUS", a holographic film-based artwork is highly recommended. The paper-plane-like shapes transform as they fly towards the center of the glass window, so taking an artful picture is very easy!
An Abundance of Thrilling Experiences!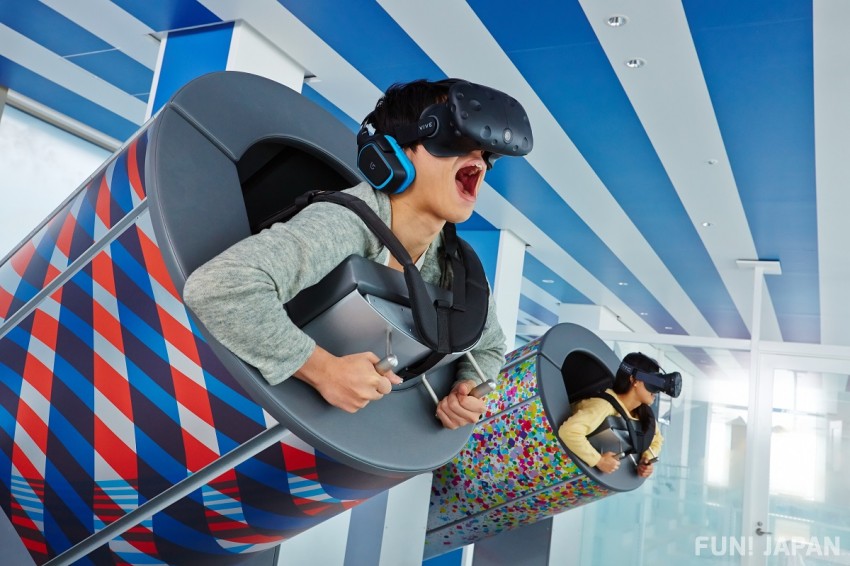 If you've climbed your way to the top of the 251 meter above-sea-level tower, then you can't afford to miss the thrilling VR experience! Put on the provided VR headset, and check out 5 exclusive VR experiences (as of July 19th 2020)!
Check out a virtual tour of Tokyo by climbing into and being shot out of the human cannon and experience "TOKYO BULLET FIGHT", or maybe try the "SWING COASTER" where you can ride on a swing and check out Ikebukuro from the sky or maybe from atop a huge steel tower flying up and down at high speeds on the "Ultra Reverse Bungee", there's no end to the thrilling experiences that you can have!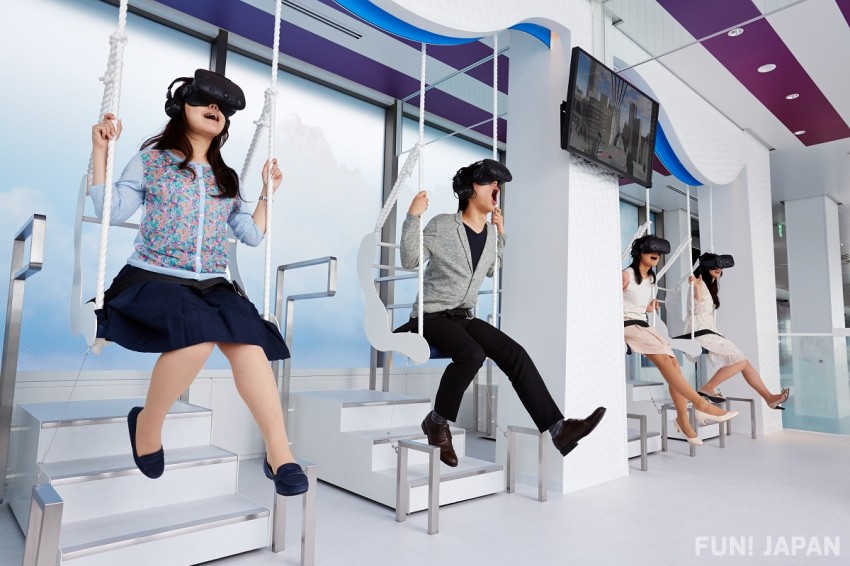 You may not be able to visualize it with imagination alonge, but the virtual world let's you experience some amazing heights and speeds, it has value just in trying it!
*To help prevent the spread of the novel coronavirus, part of the activities (Including VR) are currently suspended. (Information accurate as of July 19th 2020)
Attractions You'll Want to Share With Your Friends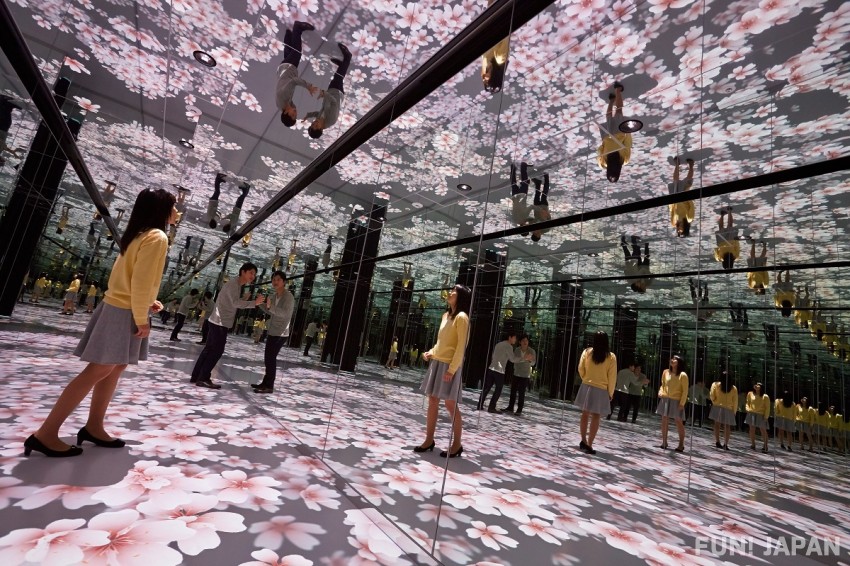 If you're not one for the extreme, there's many things for you to enjoy as well. For example, the "INFINITY ESCAPE" which has mirrors on every wall creating an amazing kaleidoscope-like illusion that the room continues indefinitely, the room contains geometric patterns displaying the different seasons of Japan, and it's a wondrous space where you'll be taking pictures without even realising it. A sensor in the "SKY PARTY" room detects the movement of the people within, creating images of thunder, lightning, snow, tornadoes etc. in real time, enjoy it with your friends seeing the same things. Everything's better with friends, including this CG experience.

How can I get to SKY CIRCUS Sunshine 60 Observatory?
If you get off at Ikebukuro Station on any train line, the first place you should aim to go is Sunshine City! You can then ride the elevator on floor B1 of Sunshine City all the way up to the 60th floor at a speed of over 600m per minute! Why not try something a little different and check out this observation deck which is packed full of brilliant sights and interesting attractions?

Spot Information
Name: SKY CIRCUS Sunshine 60 Observatory (SKY CIRCUSサンシャイン60展望台)



Address: 60/F Sunshine 60 Building, Sunshine City, 3 -1 Higashi-Ikebukuro, Toshima, Tokyo
Business Hours: 10:00~22:00 *Last entry is 1 hour before closure
Holidays: Open all-year-round
Supported Languages: Chinese, English, Korean
Entrance Fee: Adult 1,200 yen, Student 900 yen, Elementary/Middle school student 600 yen, Children over 4 years of age 300 yen (*VR Attractions cost extra at 500 yen per activity)
[Survey] Traveling to Japan
Recommend