How Energetic is Center-gai in Shibuya?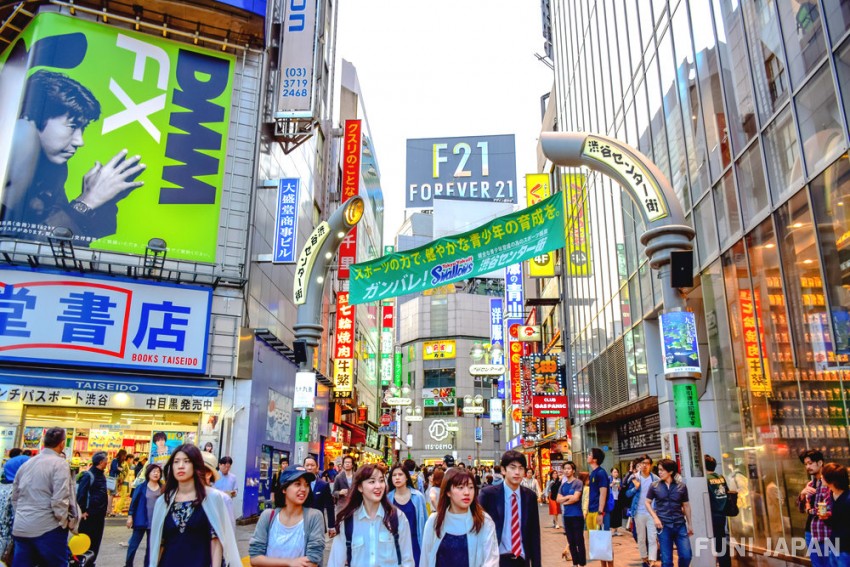 Located in the center of Shibuya, Center-gai (Center Street) is one of the most crowded shopping streets in Tokyo. Many new trends come from Shibuya at a fast tempo, young people gather at this place and generate new sources of unique cultures. However, the old-fashioned townscapes are still around today. Let's see how diversified Center-gai is!
The 3 Ws of Center-gai, Shibuya
Where is Center-gai , Shibuya?
Shibuya Center-gai , also called "Main Street" or "Center Komichi", is a pedestrian street located in the center area in Shibuya. The street runs from the Hachiko Exit of Shibuya Station to the west, in between Inokashira Dori (Street) and Bunkamura Dori. It is a 350-meter street with many shopping malls and stores located on Bunkamura Dori to the south as well as Inokashira Dori and Udagawa Dori to the northeast.
Why did Center-gai become a Famous Shopping Street of Shibuya?
There was a river called Uda river in where the Center-gai was located, the area suffered from a flood disaster due to heavy rainfall. Thus, construction of road buildings was carried out in that area in 1929. From 1930s, the area was starting to develop as a downtown area around Shibuya station, lined with restaurants, cafes, and shops. With more and more trendy shops being built, it became a popular shopping street where teenagers usually hang around.
What can People Find in Center-gai?
Center-gai is a narrow alley crowded with people, a variety of chain restaurants and fashion shops. You can see the young Japanese culture and fashion of Shibuya when you walk along this street, in where the young people always gather and look for the latest fashion. Nevertheless, there are Japanese shops with a long history, presenting a nostalgic atmosphere.
Things to Do in Center-gai, Shibuya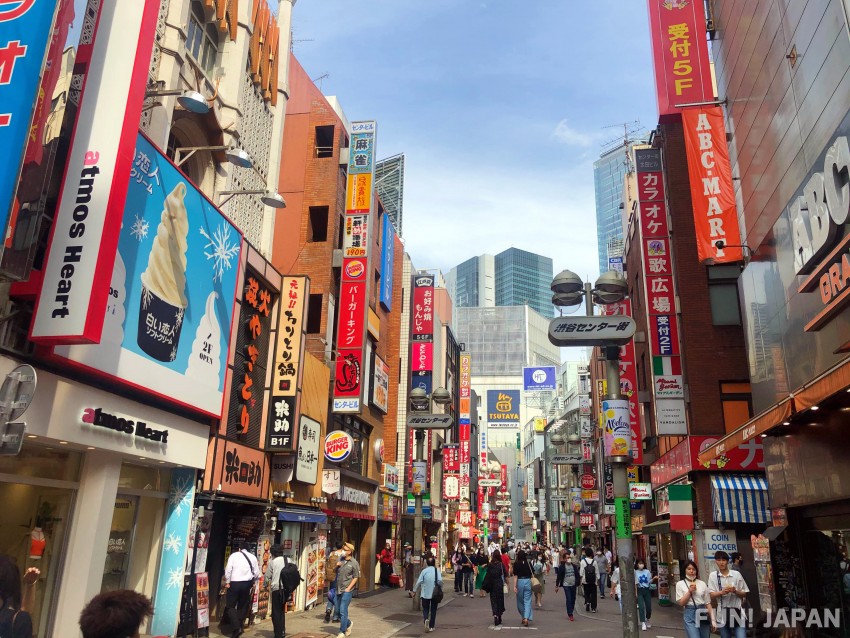 There are variety of shops in Center-gai where people can enjoy shopping and Japanese food.
Shopping in a Street with Japanese and International Brand Stores
There is an abundant variety of shops along Center-gai, including Japanese and international brand stores. Besides many fashion and general shops selling clothes and miscellaneous goods lined along the street, there are large-scale stores in a building with several floors. People can find their favorite goods in one place and at one time. For Japanese brand stores, you can find ABC mart Grand Store, Shibuya Mega Donki and Shibuya Loft etc. While there are international brand stores such as FOEVER 21, ZARA and H&M. Furthermore, there are shopping malls like Seibu Department Store and QFRONT in where you can find Japanese products.
Enjoy Japanese Food in Izakaya and Restaurants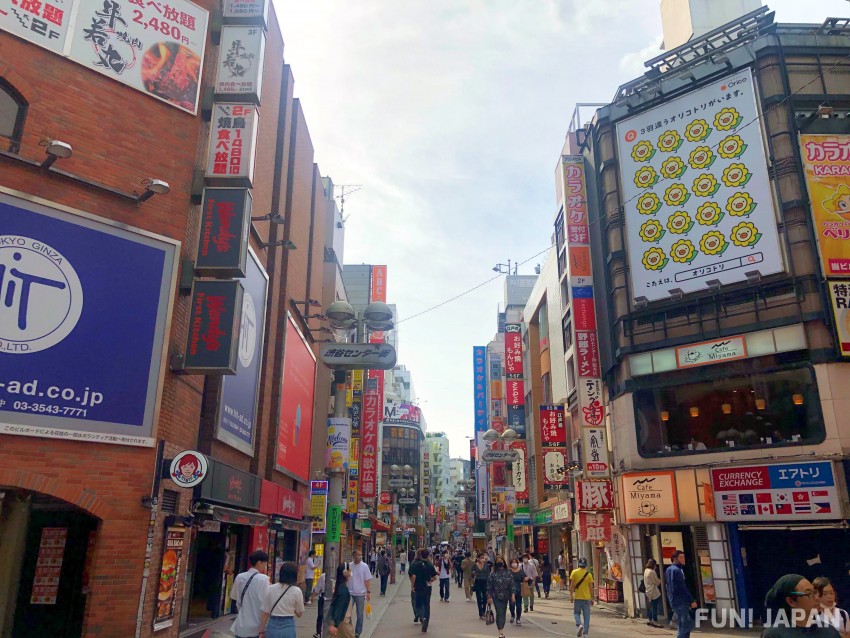 Center-gai is lined with restaurants such as cafés, Izakayas, ramen restaurants, sushi restaurants and fast food shops, and usually with reasonable prices. Also, some of the shops are open 24 hours or till midnight, so people can enjoy their meals after shopping even at late night. Among them, the most recommended is Uogashi Nihonichi Tachigui Sushi Shibuya Center-gai which serves sushi over a counter with reasonable prices. You can try the special stand up dining experience within your budget.
Energetic Events & Festivals held in Center-gai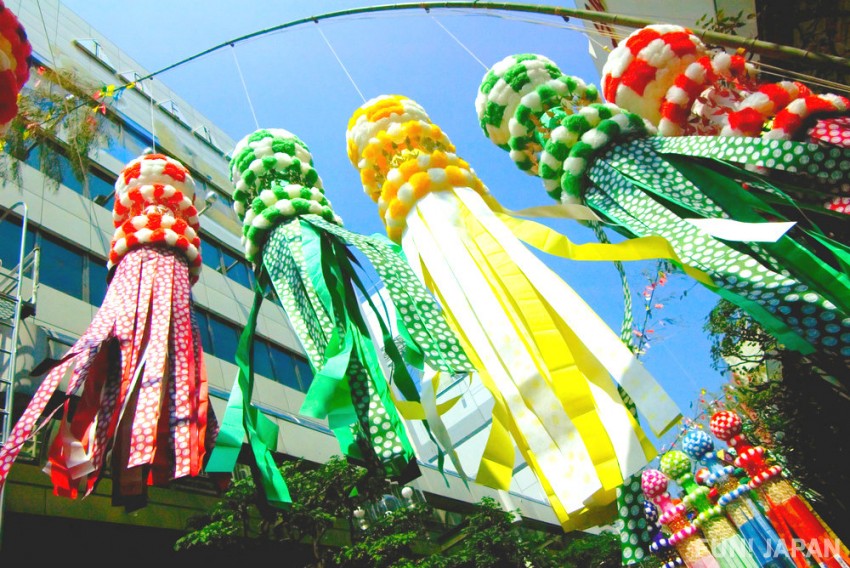 If you enjoy matsuri (festivals) in Japan, you can also enjoy them in Shibuya. We would like to introduce two of them.
Shibuya Center-gai Tanabata and Yukata Festival
Tanabata Festival takes place in Shibuya Center-gai from mid-July to early August every year. On these days, the street is decorated with handmade Tanabata ornaments which are made from Japanese paper and bamboo. Besides this, you can enjoy the lively parade performance by girls wearing yukatas.
Shibuya Zunchaka
Shibuya Zunchaka is an "anyone-can-join" type of music event. People can be the audience that enjoy the music show, or even be the performers that sing songs or play musical instruments. This event offers a place where people can genuinely enjoy music without worrying about age, nationality, or cultural differences. If you love music, do not miss it when you travel Shibuya in September!
Best Timing to Visit Center-gai
The crowd in Center-gai on weekdays in the direction from Shibuya station is around 50,000 people and is at its peak from 15:00 to 18:00. While on weekends, the crowd is about 70,000 people and the peak is at around 16:00. On the other hand, people heading to Shibuya station from Center-gai is less than those from the station. It is suggested that people are likely to pass through Center-gai and disperse to other areas. If you like to walk along with the crowd, you can visit Center-gai first when travelling in Shibuya.
How to Get to Shibuya's Center-gai?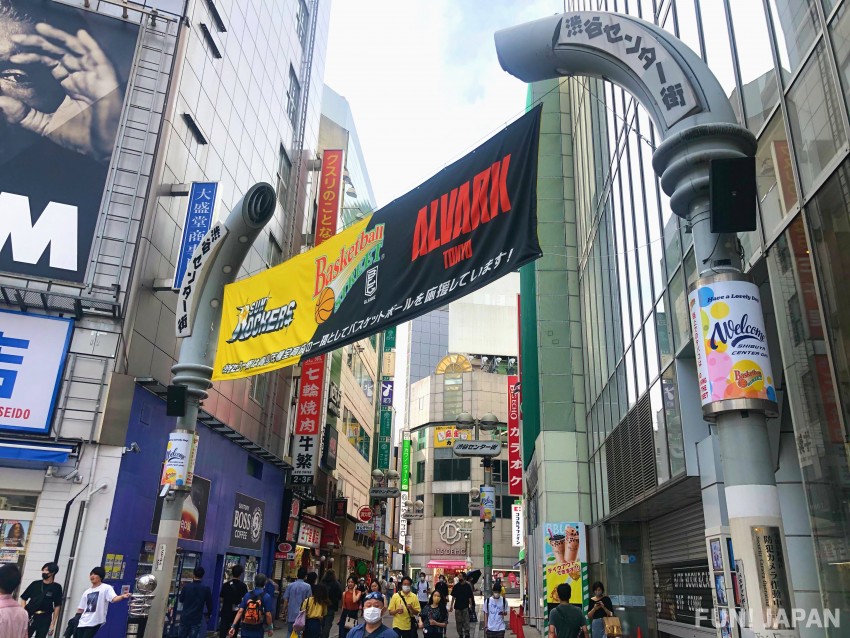 Center-gai is an obvious landmark in Shibuya since there is an arch stating Shibuya Center-gai (渋谷センター街) at the entrance. After crossing the famous Shibuya Scramble Crossing from Shibuya station, you can easily enter the street in between the QFRONT building with Starbucks and another building with a bookstore. 
[Survey] Traveling to Japan
Recommend