How to Enjoy the Incredible Shibuya Scramble Crossing?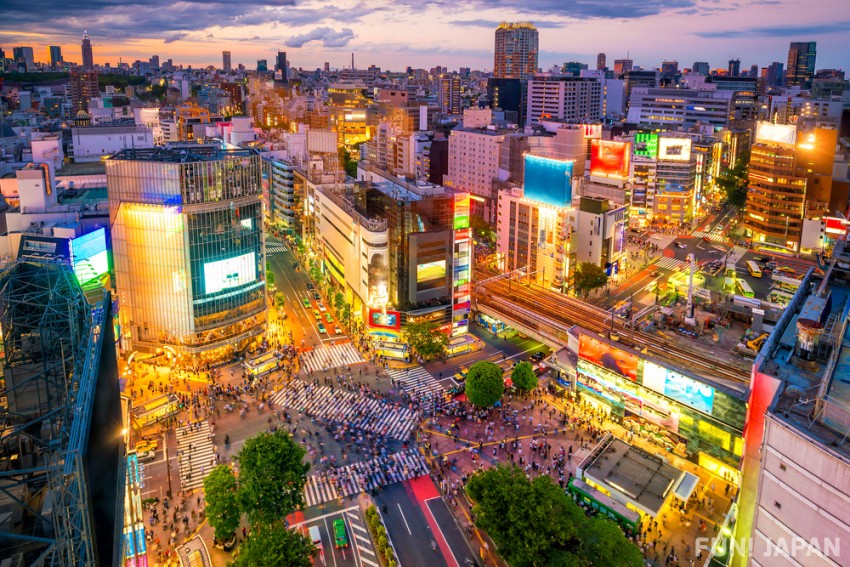 In this article we would like to introduce you to one of the leading tourist spots in Japan, the world's busiest pedestrian crossing; Shibuya Scramble Crossing!

What kind of place is Shibuya Scramble Crossing?
It is said than in a single day over 500,000 people cross this pedestrian crossing. During a single green light during peak hours there are sometimes over 3,000 people that cross. But just why are there so many people crossing here in front of Shibuya Station? One of the main reasons seems to be that the underground area around Shibuya is comparatively smaller than most other terminal stations. Moving around above ground is a lot easier than moving around underground, so it seems many people are using it for this reason.

We're sure most of you are aware by now, but one of Shibuya's most famous events is its yearly Halloween extravaganza. This event sees the crossing becoming more lively than usual, which is hardly believable, but during this event the crossing sees a huge surge in activity turning it into a sea of people.

Top 3 Photo Spots for Shibuya Scramble Crossing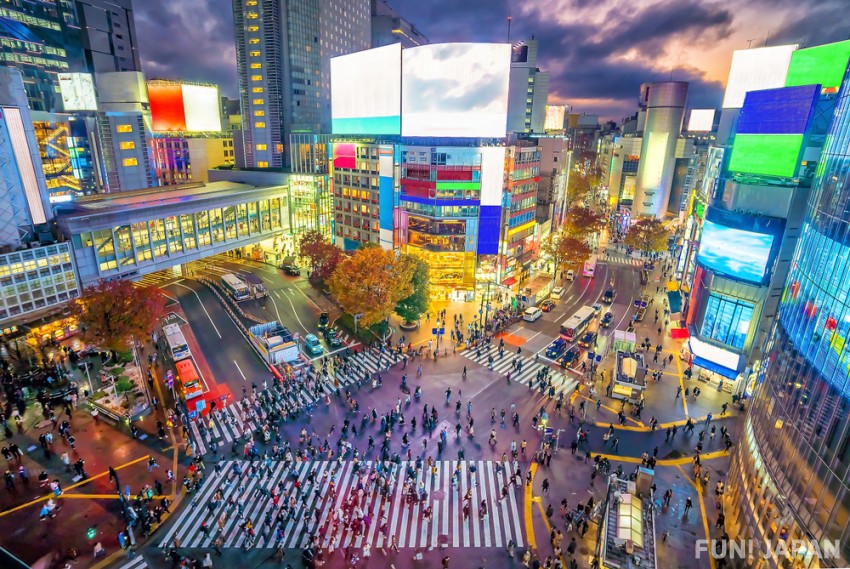 Shibuya Mark City Sky Bridge
This is a sky bridge that connects Shibuya Mark City's Keiō Inokashira Line Shibuya Station and JR Shibuya Station. It's made out of glass meaning it's the perfect spot to look down onto Shibuya Scramble Crossing and take some amazing photographs. However, there are a lot of people walking through here so ensure to not get in the way of other people when taking your photos!

Spot information
Spot name: Shibuya Mark City
Street address: 1-chōme-12-1 DōgenzakaShibuya City, Tōkyō-to 150-0043 (Connected directly to Keiō Inokashira Line Shibuya Station)

Access:

Located in between Shibuya Station JR Yamanote Line's Tamagawa Entrance Ticket gate and the main 

Keiō Inokashira Line ticket gate.
MAGNET by SHIBUYA109's "CROSSING VIEW"
"CROSSING VIEW" is a new spot that opened directly above Shibuya Scramble Crossing in April, 2018.  It is a paid viewing platform that is within the shopping building MAGNET by SHIBUYA109. Furthermore, if you use your smartphone to access the website, you can use the paid service "CROSSING PHOTO" which allows you to take dynamic photographs from overhead.

Spot information
Spot name: CROSSING VIEW(MAGNET by SHIBUYA109 9th floor viewing platform)
Street address: 1-chōme-23-10 JinnanShibuya City, Tōkyō-to 150-0041
Access: 3 minutes from each "Shibuya Station" entrance
Entrance Fee: 600 JPY
SHIBUYA SCRAMBLE SQUARE (SHIBUYA SKY)
A viewing platform that opened its doors in November, 2019. You can view Shibuya Scramble Crossing from a height of 229 meters, as well as look out onto Tokyo. There are multiple locations including ones entirely made from glass as well as a rooftop. You can enjoy the ever-expanding panoramic view and take some amazing pictures here.

Spot information
Spot name: SHIBUYA SCRAMBLE SQUARE (SHIBUYA SKY)
Street address: 2-chōme-24-12 Shibuya Shibuya City, Tōkyō-to 150-0002 Floors 14, 45, 46, and rooftop

Access: Directly connected to Shibuya Station and Underground Entrance B6
Entrance Fee: Pre-purchase web adult ticket 1800 JPY. Bought on-site adult 2000 JPY.
3 Recommended Cafes that Look Down onto Shibuya Scramble Crossing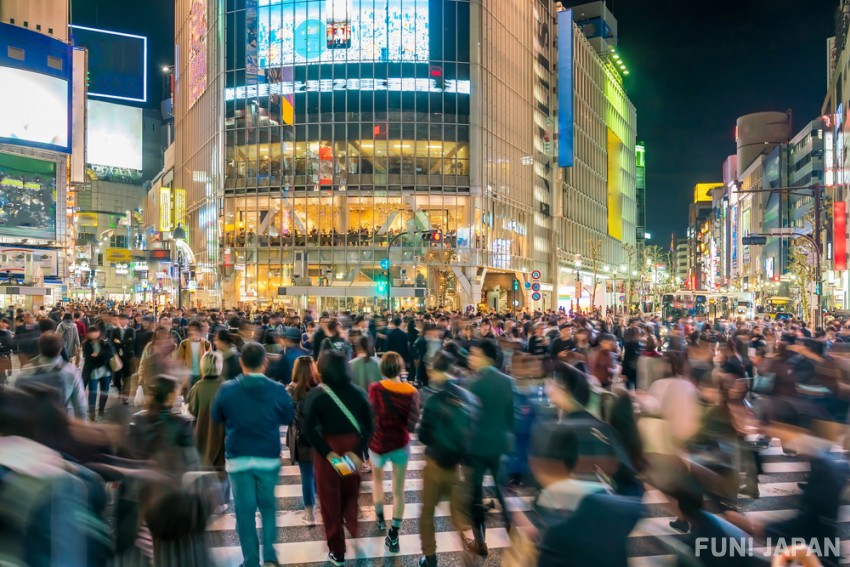 Starbucks SHIBUYA TSUTAYA
Q-FRONT, a shopping building found on the face of Shibuya Scramble Crossing houses "Starbucks SHIBUYA TSUTAYA" which sells some of the worlds leading beverages. The location is perfect, you can drink coffee and look down onto the hugely popular scramble crossing. With the inside of the store being very popular and without many seats, it can sometimes be hard to relax, however, if you visit in the early mornings on weekdays it is typically quite empty. The operating hours of the store are from 6:30am until the following morning at 2:00am.

Spot information
Spot name: Starbucks SHIBUYA TSUTAYA
Street address: 21-6 Udagawacho, Shibuya City, Tokyo 150-0042
Access:

2 Minute walk from Shibuya Station Exit 6 (Tōkyū Den-en-toshi Line, Tokyo Metro Hanzōmon Line, Tokyo Metro Fukutoshin Line)
3 Minute walk from Shibuya JR Hachikoukuchi (JR Yamanote Line, JR Saikyō Line, Tōkyū Tōyoko Line, Tokyo Metro Ginza Line)
L'Occitane Cafe
On the opposite side to Starbucks, there is the stylish cafe L'OCCITANE. Even within Shibuya which is always busy, this store has large windows which light up the entire room giving it an open feel allowing you to take a break and look down onto Shibuya Scramble Crossing. Floors 2 and 3 are cafes whilst the first floor is L'OCCITANE's store.

Spot information
Spot name: L'Occitane Cafe
Street address: 2 Chome-3-1 Dogenzaka, Shibuya City, Tokyo 150-0043
Access: Very close to the exit of Shibuya station (Inokashira)
Estacion Café
This store's name is Spanish for something that points to the station. Just as the name suggests, it is located just above! Within a height of just 8 meters, you can relax in this cafe whilst looking down onto Shibuya Scramble Crossing.
Spot information
Spot name: Estacion Café
Street address: 1-chōme-12-2 Dōgenzaka Shibuya City, Tōkyō-to 150-0043 (Shibuya Excel Hotel Tokyu 5F)
Access: Direct from JR Keio Inokashira Line (Shibuya Station), Within Shibuya Mark City East
[Survey] Traveling to Japan
Recommend