Mujirushi Ryohin (MUJI) Ginza. The First MUJI HOTEL GINZA and MUJI Diner in Japan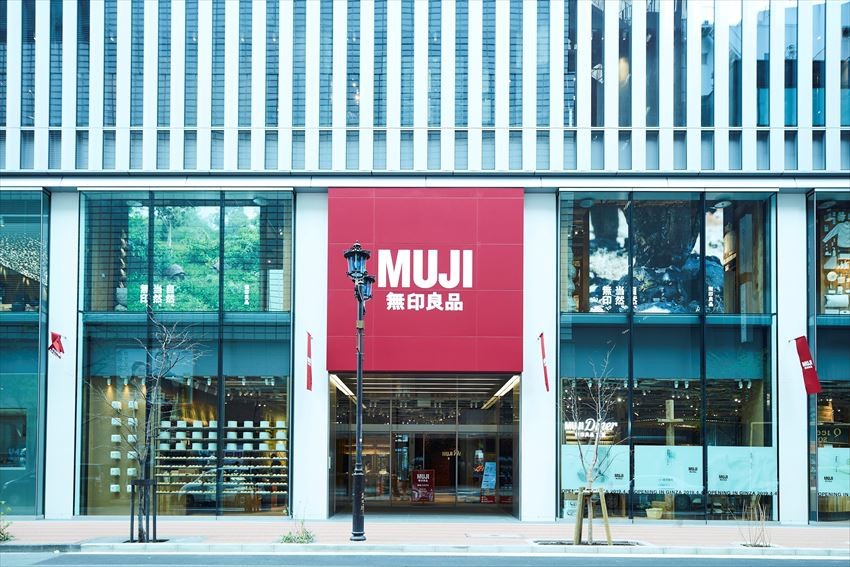 Mujirushi Ryohin (MUJI), a brand that is loved by the world. Due to their expansion to the foreign markets such as the Asian region, tourists love this brand. The newly opened MUJI Ginza Store consists of ten floors and one basement and due to this fact, it has become the biggest flagship store in the world. Some parts of its sixth floor until the tenth floor is where MUJI HOTEL GINZA is located. We would like to introduce the hotel and each floor of the store with this article.

B1F :MUJI Diner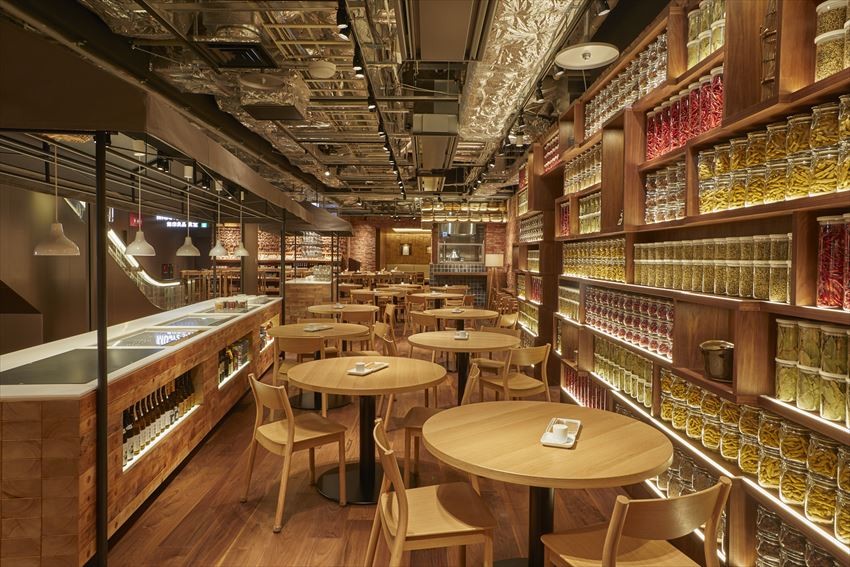 The basement is where MUJI Diner located, a restaurant operated by MUJI, operates. It has the theme of "So no Shoku/素の食" which means "Fresh/Natural Food".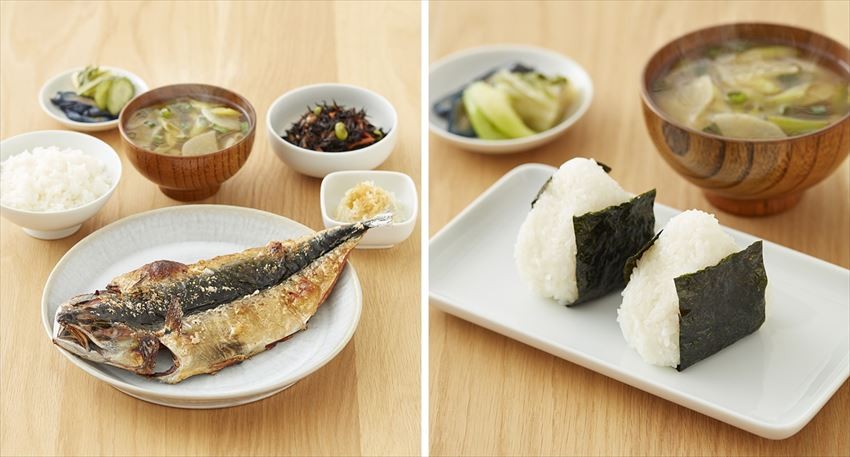 This restaurant has different menus for different meals across the day (breakfast, lunch, dinner). The food circles around the fresh vegetable, seasonal fish, and meat.
Ginza is known for its high-class, expensive restaurants, but this one is priced very conveniently while also operating from 7:30-22:00, making this diner a very practical choice for dining. The diner provides breakfast between 7:30-11:00 at around 500 Yen (tax incl.) per meal. It provides lunch from 850 Yen per meal between 11:00-17:00 and dinner at between 17:00-22:00.
1st Floor: Bento (Japanese style rice box), Bakery, Fruits and Vegetables.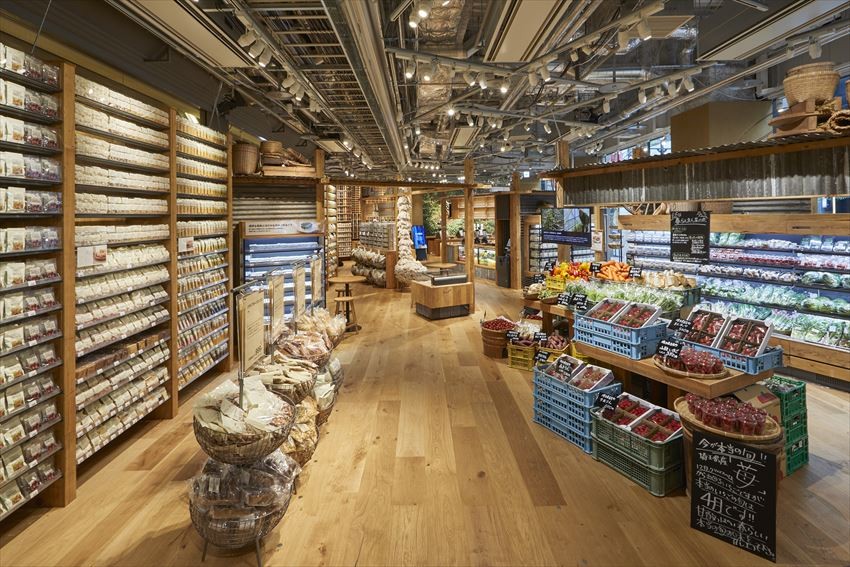 At the first floor, you can buy vegetables, fruits, and other ingredients. For tourists who would like to shorten their commuting time, we suggest buying o-bento, and breads from the bakery.

Bento (Japanese style lunch box)
Relying on the natural flavours of the ingredients, the bento here is made with no chemical flavourings. It prices at 750 Yen (tax incl.) and for its local food bento costs 650 Yen.

Bakery Corner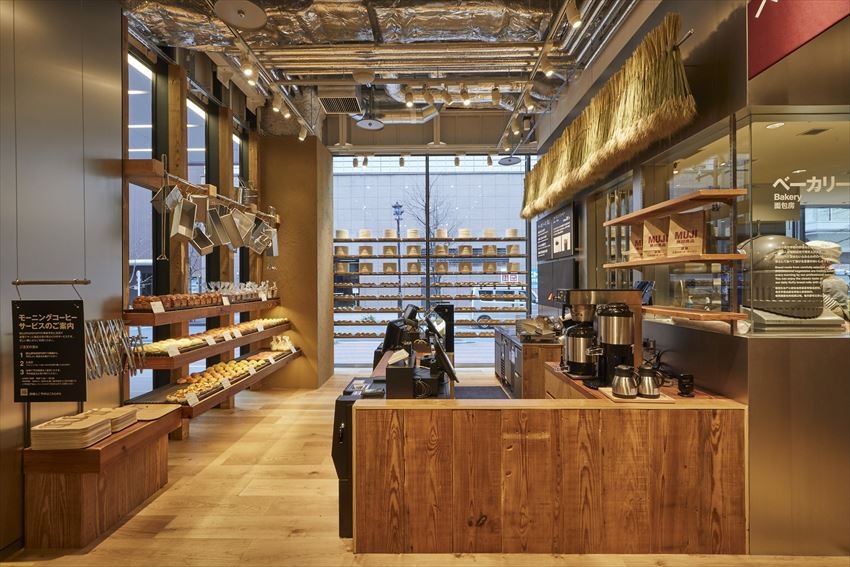 Bakery Corner opens at 7:30 in the morning. For you who are rushing through the morning or would like to be fast in motion, their freshly-baked bread might be the best choice for you.

Juice Stand
In here, you can have seasonal fresh fruits and vegetables.

Blend Tea Factory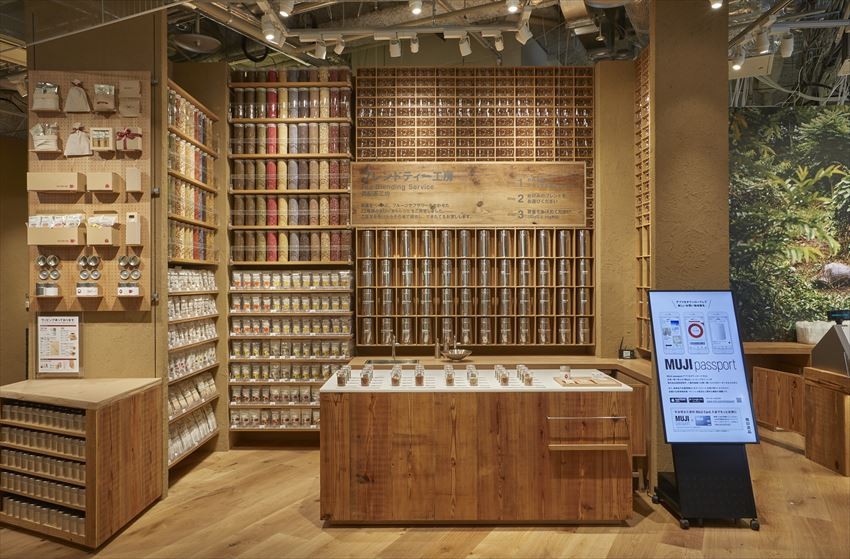 to order, you can enjoy looking at the tea-blending process and savour the freshly-brewed tea here.

2nd Floor: Male and female clothing, bags, and MUJI Labo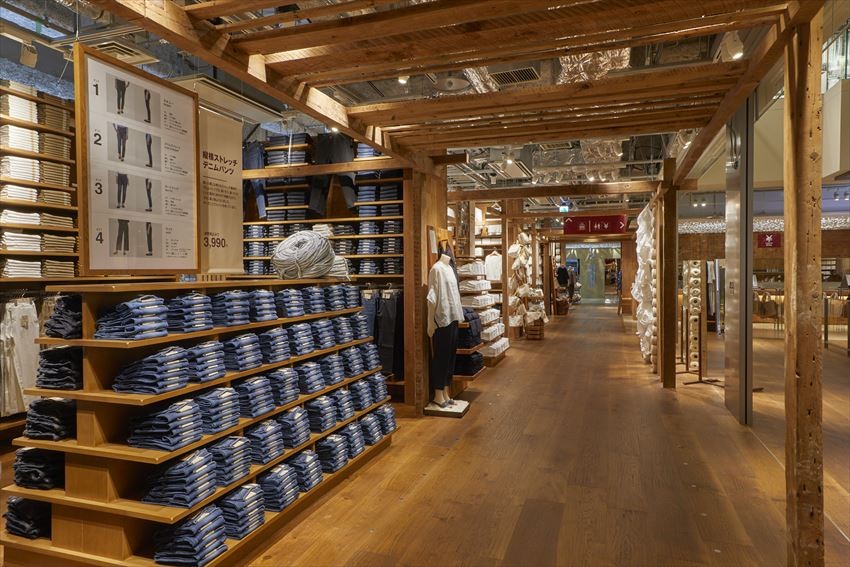 The 2nd floor is home to clothing materials. The materials used to make MUJI Clothes are on display here, so you can know right away which material is used for your clothes. This display also gives the floor a unique touch to it.
Also, you can wear these clothes back in your country, so this is also a perfect choice for gifts. 
3rd Floor: Underwear, Skincare products, stationeries, and travel goods.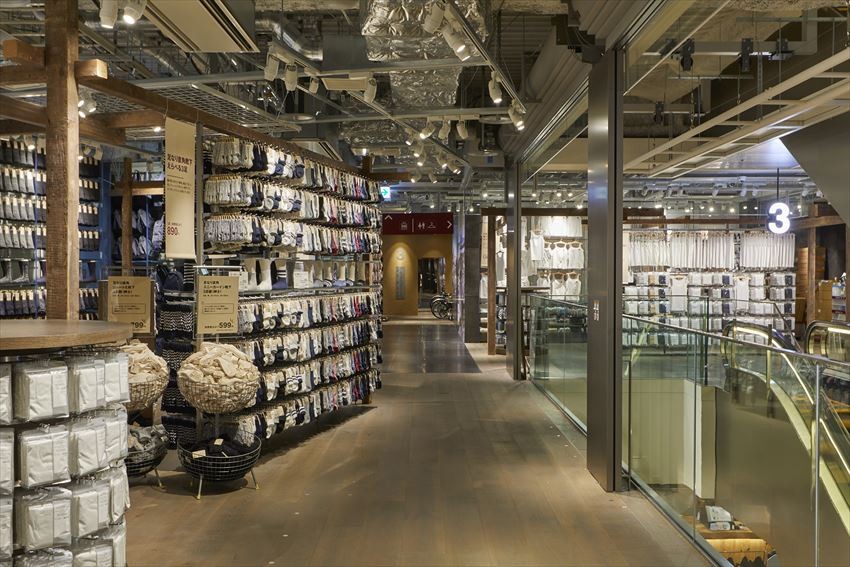 You can find underwear, beauty items, stationeries, and also other travel goods.
Even if you left for Japan without your trusty travel goods, you can purchase everything here! 
4th Floor: Living room furniture, kitchen tools, table top goodies, and MUJI BOOKS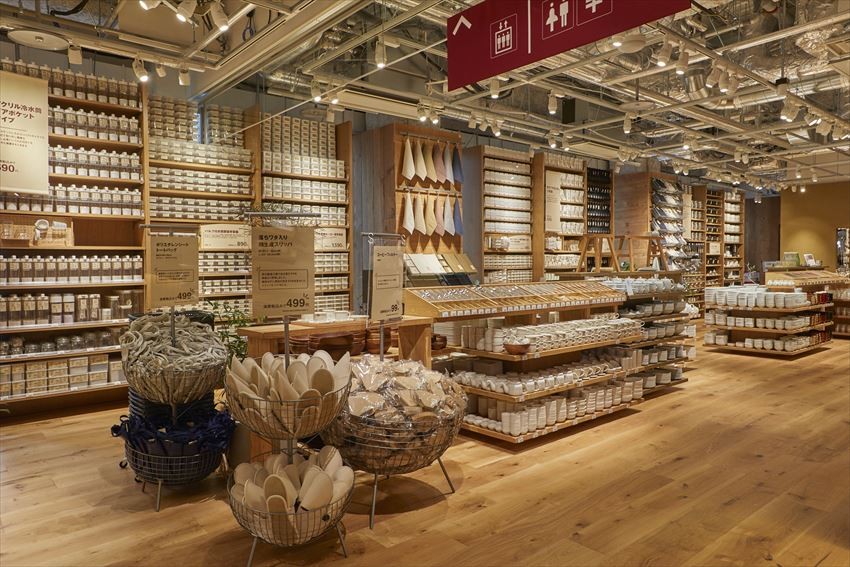 On the 4th floor, you can find kitchen tools and living room necessities.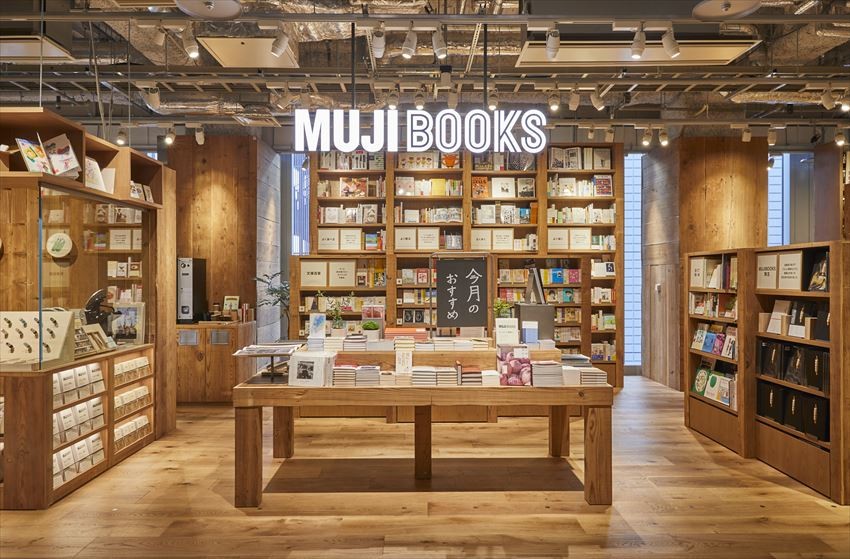 And for you who love books, you can buy and read a book of your preference at MUJI BOOKS

5th Floor: Bedroom necessities, electrical appliances, cleaning and laundry items.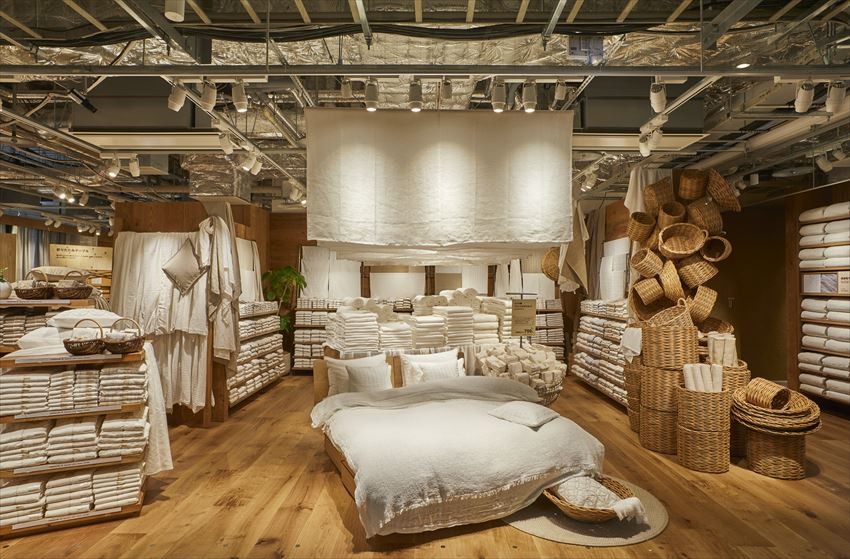 You can find bedroom necessities, storage items, cleaning items, and also lighting.
And also you can consult with MUJI SUPPORT for storage problems and interior planning. 
6F :MUJI HOTEL GINZA・ATELIER MUJI
ATELIER MUJI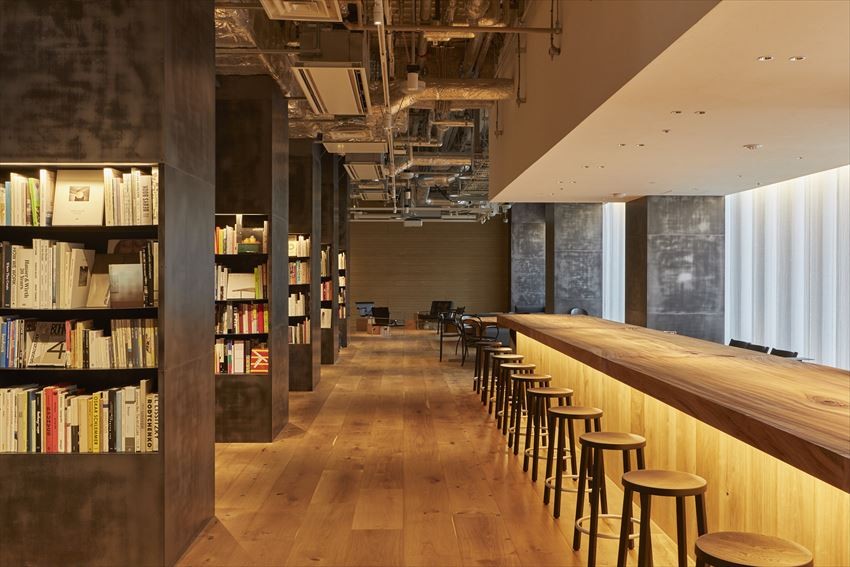 ATELIER MUJI GINZA operates on the 6th floor. When you are tired from travelling the whole day, or just would like to enjoy a cup of coffee or gulp a pint of beer, you can enjoy those in the SALON. For you who would like to kill time and read a book or two, you can enjoy yourself in the LIBRARY. SALON operates from 10:00-2:00 midnight. Even if you are not staying in the hotel, you can still enjoy these facilities.
First in Japan! MUJI owned and operated: MUJI HOTEL GINZA.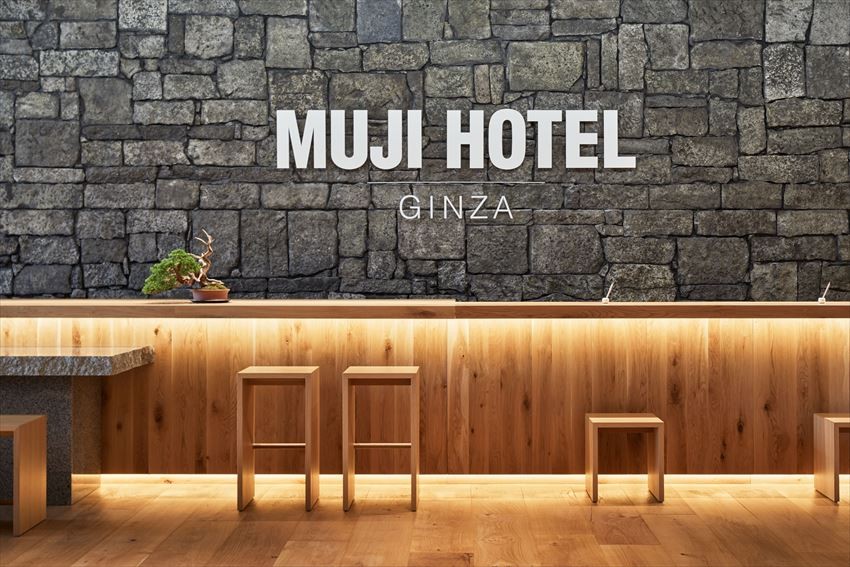 The first MUJI-owned hotel, MUJI HOTEL GINZA operates from some parts of the 6th floor all the up to the 10th floor. Its price is perfect and has a calming atmosphere. Also it connects tourists with the land they are venturing with its exceptional service.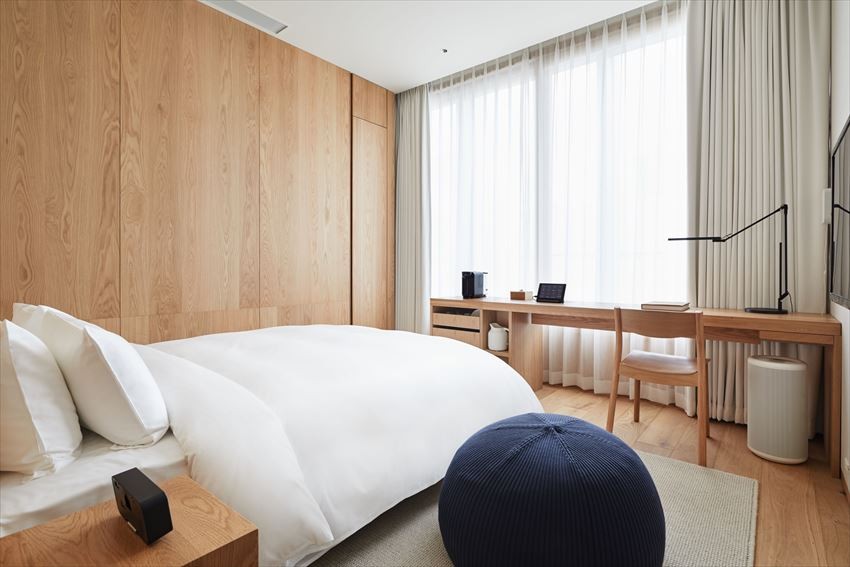 Type B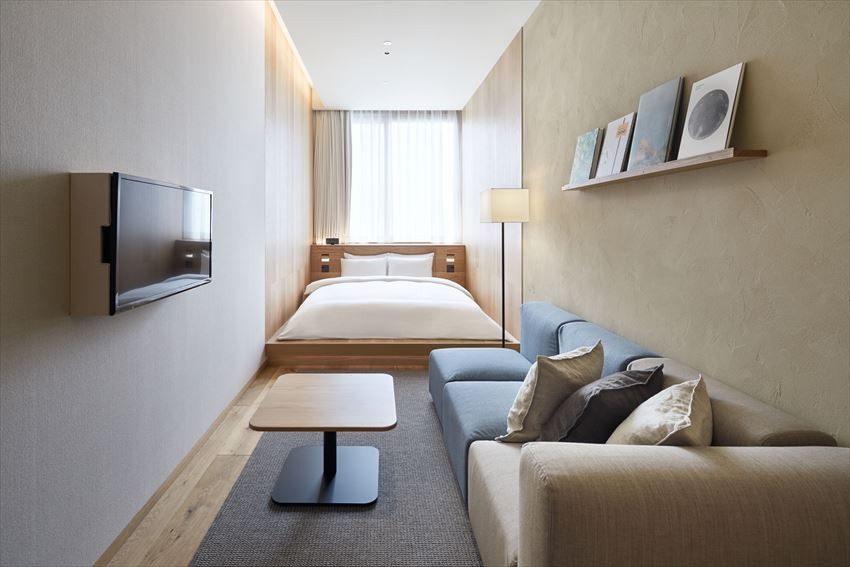 Type C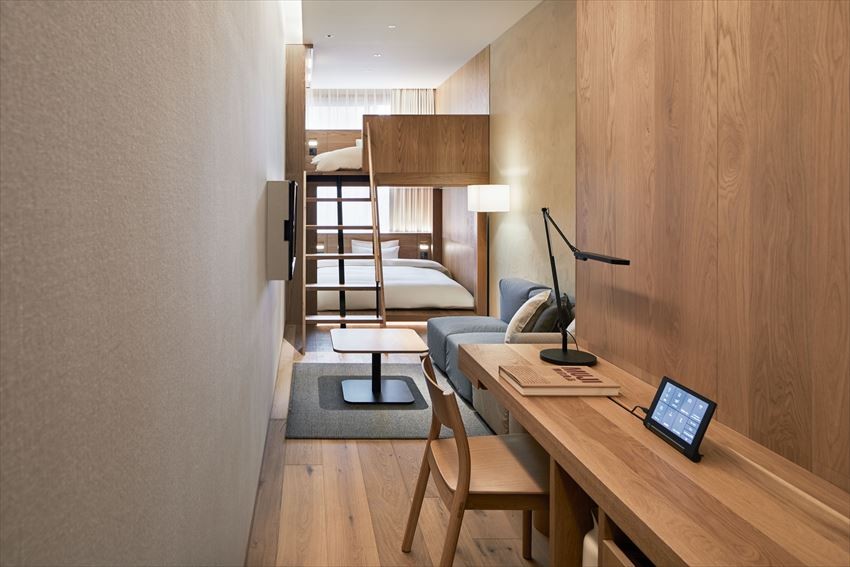 Type G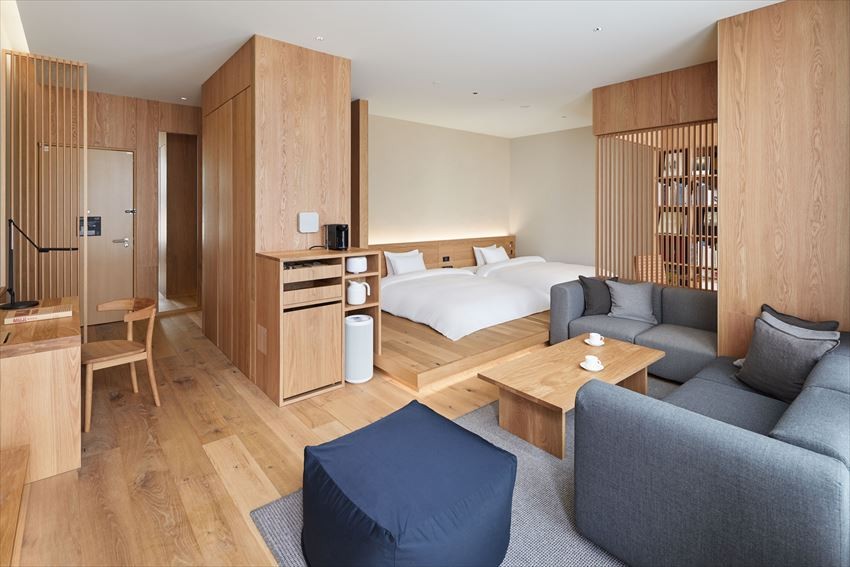 Type I

It has 79 rooms available with different types. There are rooms lined with the tatami mat and bunk beds, also a room that could house three to four people groups.
■MUJI HOTEL GINZA
Address: 3-3-5, Ginza, Chuo-ku, Tokyo

Reservation: from 20th March 2019 (you can reserve from the official website of MUJI HOTEL GINZA)
Floor plan: Some parts of the 6th floor until the 10th floor
Pricing: 14,990 Yen – 55,900 Yen (tax and service charge incl.) *price may vary to room types
[Survey] Traveling to Japan
Recommend