Saba / Japanese Mackarel Restaurants in Fukuoka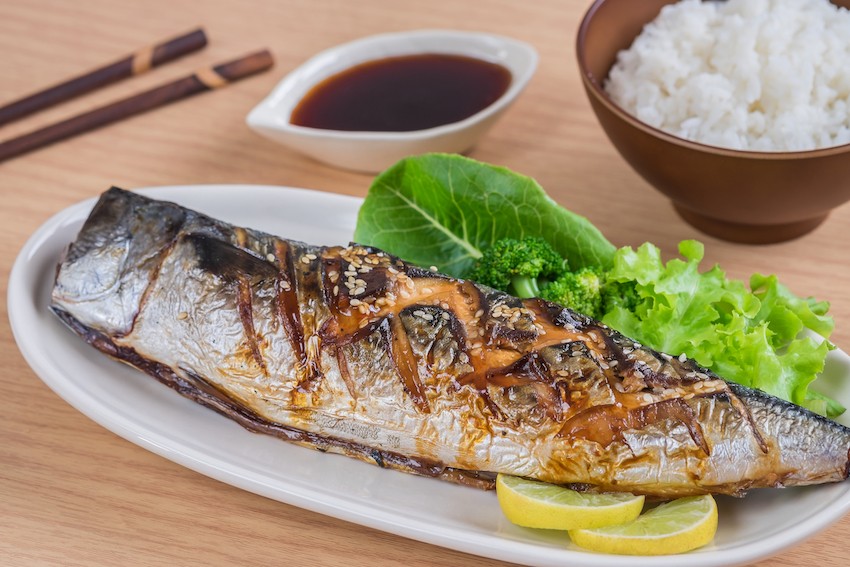 Saba (mackerel), is one of the most popular fish in Japan, which largely falls into two types; ma saba (silver-white belly and spotted back) and the goma saba (spotted in both belly and the back). Its deliciousness is in large part thanks to the fat and oil stored between the skin and the body, and it is said to be healthy because of its abundance of non-fatty acids (like DHA and EPA).

Despite its tastiness, its freshness quickly dissipates after being caught because of chemical reactions with the histidine inside. Interestingly, there is a specific saying in Japanese to describe how fast the fish goes off: "the fresh stink of mackerel" (鯖の生き腐れ): although the fish still looks fresh, it no longer is.
The shun (旬), or season, for saba is normally autumn, when the fish migrate around the Pacific Ocean, because they will store a lot of fat (up to 30% body-fat ratio) to prepare for spawning. In Kyushu, shun is winter (which is why it is also called "cold saba").
In this article, we're going to introduce two specialist saba restaurants visited by our team that are little known among tourists in Fukuoka. While both of them are situated in the city's core gourmet district, the Tenjin/Nakasu area, they are completely different in style.
1. Makoto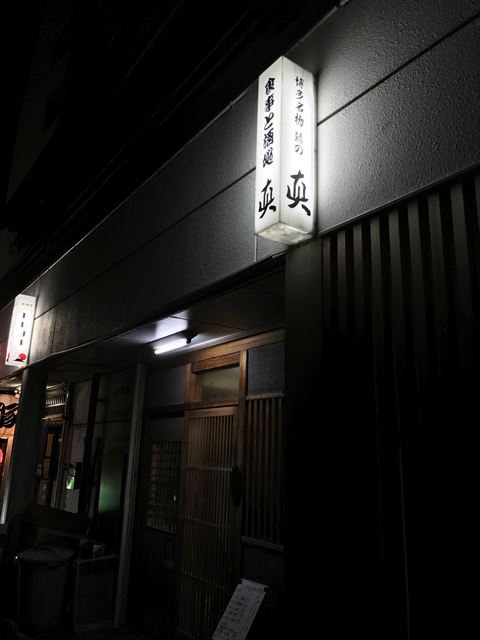 The first restaurant is a tiny establishment in an alley called the Suikyotenmangu Yokocho (水鏡天満宮横丁), named after Suikyotenmangu, a small, historic shrine set in the center of the city known as the "birthplace of Tenjin".
The Alley
The alley is located northeast of Tenjin and south-east of Nakasu, so it is up to you from which station to use to reach it. 

The Restaurant and Food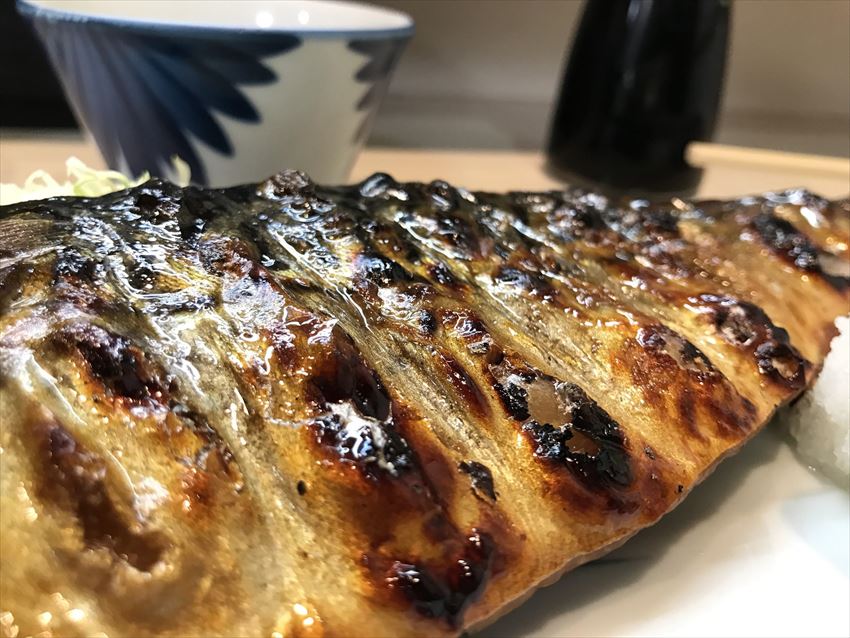 The restaurant, called Makoto or "real" in Japanese, is inconspicuous at best. There are just two modest illuminated signs indicating the existence of the restaurant, which does not even have a sign across the front (more on the reason for that later!)
The inconspicuous sign outside the restaurant
There are two menus, the "set" one and a more "seasonal" one, as is customary in Japanese restaurants like this. Saba isn' the only thing on the menu, it also sells seasonal seafood, and of course the usual okazu (dishes) that go with Japanese liquor.
We ordered two dishes: the whole-grilled saba set (saba no ichimai yaki teishoku 鯖の一枚焼き定食), ochazuke (a bowl of rice, covered with fish immersed in green tea and eaten hot), as well as small saba sashimi sprinkled with sesame (goma saba 胡麻鯖).
Since we went in May, as we explained, it was not the best season for saba. It was precisely for that reason that we were surprised at how tasty it was. We were especially impressed by the grilled saba –– which is still sizzlingly when it comes to your table! It simply melts in your mouth. It is truly the most (not "one of the most") delicious saba that we have ever tasted.
The three dishes together with drinks came to roughly ¥3,000 (US$28.40)for two persons, quite moderate by Fukuoka standards.
Information:
Restaurant name: Makoto / 真
Address: 1-15-3 Tenjin, Chuo-ku, Fukuoka-shi 810-0001
Opening Hours: 11:00~14:00, 17:00~23:00 (Closed Every Sunday & National Holliday)

Access: 1 min from Tenjin Station 

Map:
2. Sabaro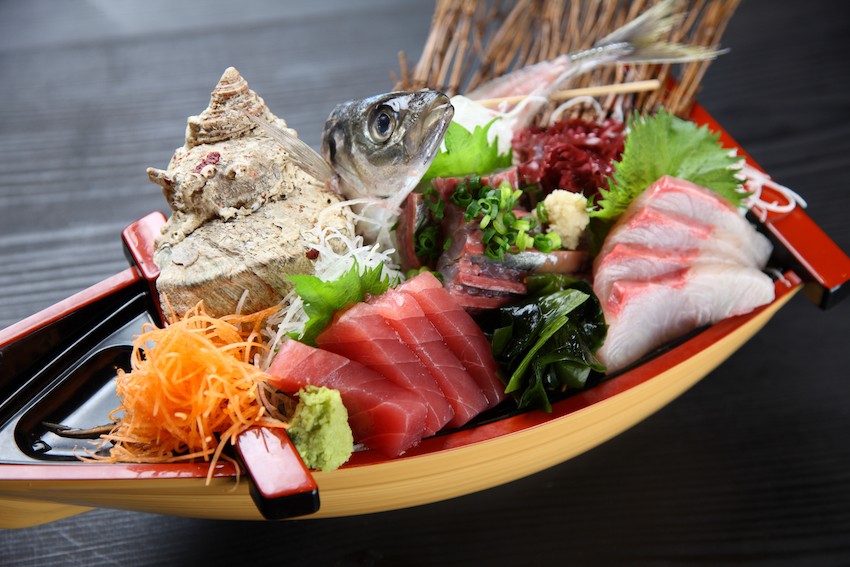 The second restaurant, Sabaro, is of a completely different style from Makoto. Instead of a small cozy Japanese izakaya on an alley, Sabaro is a "proper" restaurant on the fifth floor of one of the many restaurant buildings in Nakasu. As such, it is much more suitable if there are more than a couple of people in your group.
The restaurant boasts that it prepares saba in one hundred ways, though we just ordered an "assorted" set that uses half a fish (hanmi 半身) to have a taste of it.
The Otoshi
Before your order arrives, you will be served with otoshi お通し, which is basically Japanese for amuse bouche,  made of some kombu 昆布, a conch (ツブ) etc. While it is quite delicious, bear in mind this otoshi is not free, but is around 1,000 per person , which is quite a lot when you think about the portion, but it is essentially a token service for what is in fact a cover charge, so there is no way of avoiding it.
The main dish, the saba hanmi
The main dish, saba hanmi, arrived in a gigantic bowl, prepared in four styles, which made us quite excited with anticipation.
We tried the sashimi first. It has to be said that, while the saba was fresh and quite fatty, there was not a lot of flavor.
It was much better when we experimented with the lemon, wasabi, ginger, soy sauce etc. that come with the set.
Given that there are one hundred ways to prepare saba here, we don't think it is fair to dismiss the restaurant just because of one style! The restaurant is quite highly rated among the Japanese, so we would still recommend you try it, although the prices are on the more expensive end compared to Makoto.
Additional Information
The restaurant is just roughly one bridge away from Makoto. We recommend you to go there via Nakasu.
Information:
Restaurant name: Sabaro
Address: 5-5-9 Nakasu, Hakata-ku, Fukuoka-shi
Opening Hours: 11:30~15:30, 17:00~01:00 (Closed Every Sunday)
Access: 1 min from Nakasukawabata Station
[Survey] Traveling to Japan
Recommend