What Are the Attractions of Sightseeing in Fukui Prefecture, Japan? Recommended Spots, Food, and How to Enjoy Fukui Prefecture in Details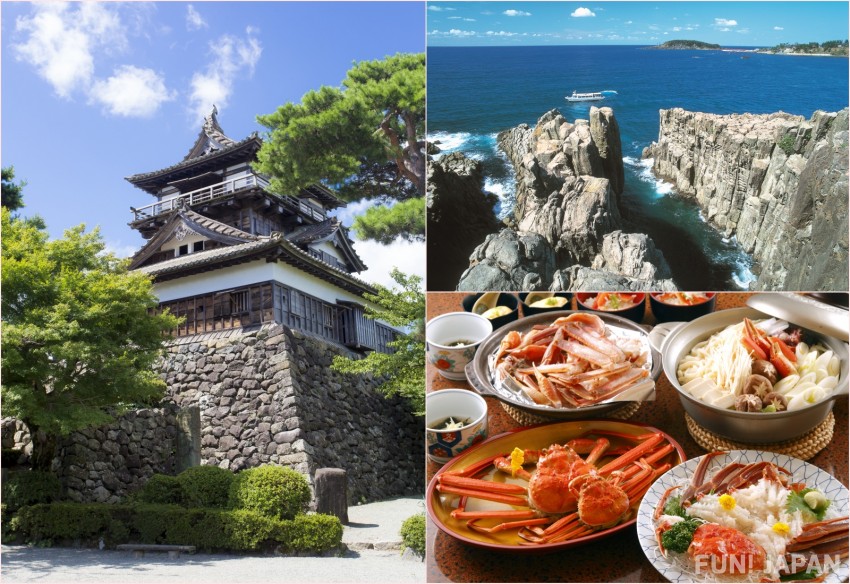 When you think of Japan's "Fukui Prefecture", what comes to mind first? dinosaur? Echizen crab? Actually, this is more!

Fukui has a lot of beautiful nature, historical buildings, and spots where you can experience traditional culture. This time, we will introduce Fukui's attractive sightseeing spots, gourmet foods, and traditional crafts.
Where in Honshu is Fukui Prefecture? Learn the history of the birth of Fukui!
Fukui Prefecture is located in the Chubu region (Hokuriku area) of Japan. It borders the Sea of Japan and four prefectures: Ishikawa, Gifu, Shiga, and Kyoto.

Fukui Prefecture consists of former Echizen Province (越前国 / Echizen no Kuni) and Wakasa Province (若狭国 / Wakasa no Kuni). After that, in the Edo period, feudal government was established, and it was divided into territories under the direct control of the Edo Shogunate and feudal territories, but before long the feudal government was abolished. In 1881 (Meiji 14), several regions from Ishikawa Prefecture and Shiga Prefecture merged to form the current Fukui Prefecture.
Fukui Prefecture is a place where you can enjoy both culture and history, with its unique culture and many traditional crafts growing in its long history and the blessings of nature.
Fukui is dotted with historical spots such as castles and temples!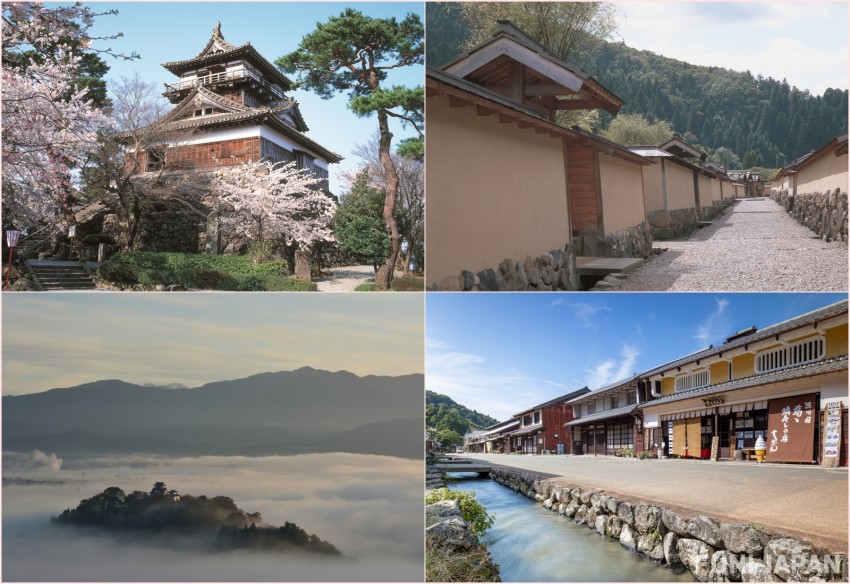 Fukui Prefecture is dotted with places where you can feel its history and culture, such as castles, shrines and temples.

Among them, Maruoka Castle is the most famous. Maruoka Castle is the only castle in the Hokuriku region with an existing castle tower, and is designated as a national Important Cultural Property.
Other recommended historical sightseeing spots
Eiheiji Temple: A Zen training dojo that boasts a history of over 770 years and is the head temple of the Soto sect of Buddhism.
Ichijodani Asakura Clan Historic Ruins: A castle town where samurai residences and townhouses have been restored to their original size
Echizen Ono Castle: A castle built on a mountain with an altitude of about 249m. From autumn to early spring, if you are lucky, you can see the "Castle in the Sky" surrounded by a sea of clouds.
Kumagawa-shuku (Saba-kaido): A post town where old-fashioned storehouse ruins remain to be seen
Gotanjoji Temple: The "cat temple" where you can take pictures of many cats
Scenic spots in Fukui blessed with nature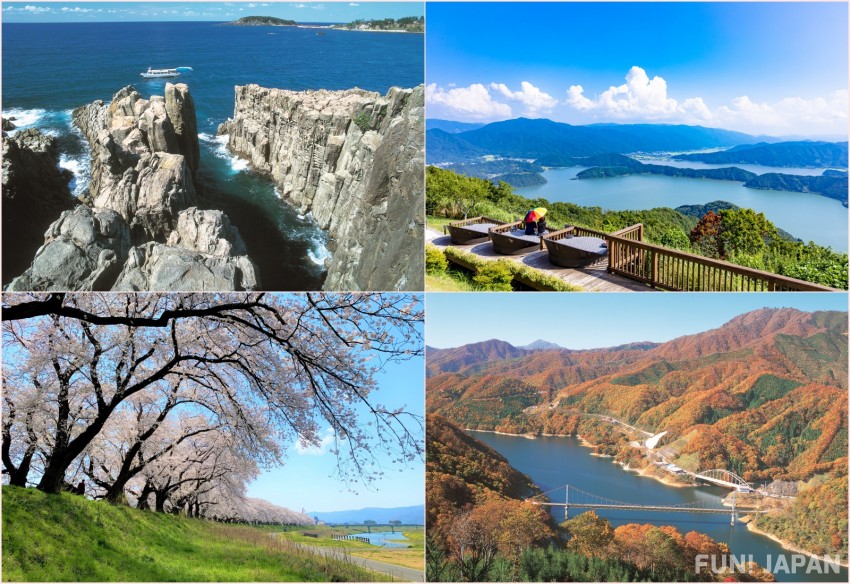 Fukui Prefecture has scenic spots of nature such as the sea, lakes, and flower spots.

Among them, Tojinbo, a scenic spot with steep cliffs designated as a national Natural Monument, is a representative tourist spot. The "columnar joints of pyroxene andesite" that stretches for about 1km along the coastline are very impressive! It is said that there are only three places in the world that have this scale.
Other recommended natural sightseeing spots

Rainbow Line Summit Park: From the stylish sky terrace, you can enjoy a panoramic view of the Sea of Japan and the Mikata Goko Lakes.
Nishiyama Park: A park with various flowers such as 11 varieties of about 50,000 azaleas, cherry blossoms, canola flowers, and autumn leaves.
Asuwa River Cherry Blossom Tree Row: Approximately 600 cherry blossom trees along the river with a total length of 2.2 km.
Lake Kuzuryu: A huge artificial lake of 8.9km2 in area and 13km. The scenery of the four seasons of the mountains, such as snow cover and autumn leaves, is beautiful.
Awara Onsen: A hot spring resort with tourist attractions such as food stalls, free footbath facilities, and festivals
Related article
Speaking of Fukui, it has to be dinosaur? The Dinosaur Museum is a must-see attraction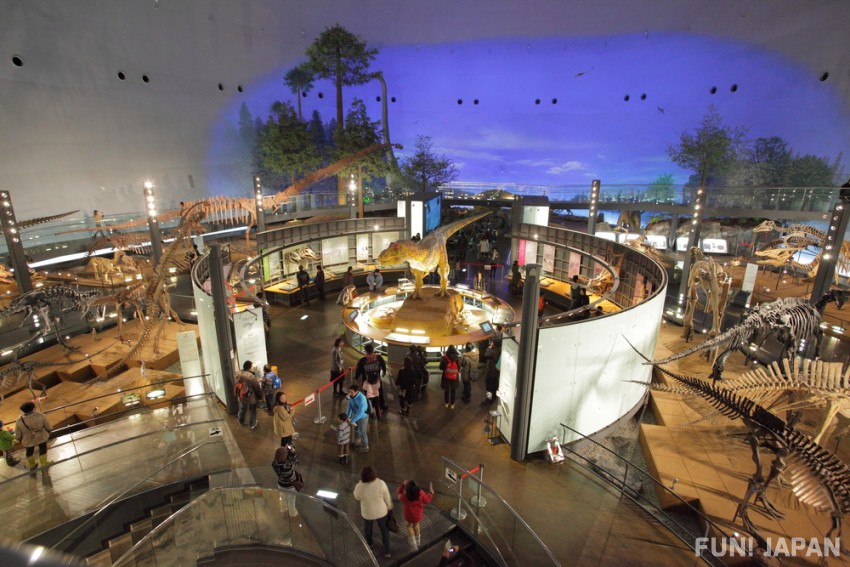 Fukui Prefecture, which has the highest rate of dinosaur fossil excavation in Japan, has many dinosaur-related goods and facilities here and there. In particular, the Fukui Prefectural Dinosaur Museum, a geological and paleontological museum centered on dinosaurs, exhibits 44 dinosaur skeletons, specimens, videos, and large-scale reconstruction dioramas.

In addition, there is a "Dinosaur Plaza" on the west exit side of Fukui Station, where giant dinosaur trick art, illustrations, and monuments are popular as photo spots.
In addition, dinosaur-themed products sold throughout the prefecture, such as "Dinosaur Excavation Pudding" and "Dinosaur Excavation Baumkuchen," are cute and perfect as souvenirs.
Fukui's Echizen crab and fresh seafood are delicious!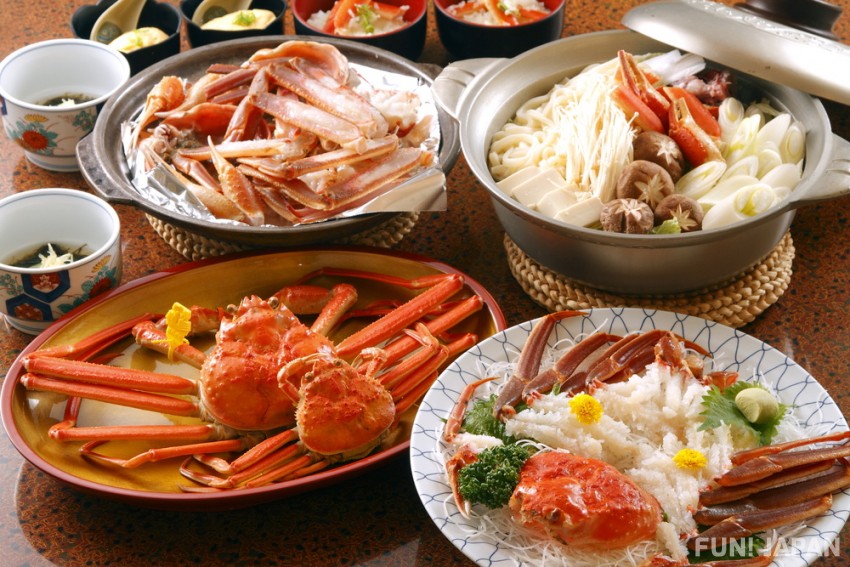 Fukui Prefecture, which borders the Sea of Japan, is rich in fresh seafood. Echizen crab is especially famous here too. Echizen crab fishing is open from November to March every year. If you go during this period, you can eat fresh crabs, but we recommend late November, when the prices and deliciousness are at a great value without being too pricey.

You can also enjoy other fresh seafood throughout the year. If you want to taste delicious seafood, Fukui Senichiba (Fukui City Central Wholesale Market) and Nihonkai Sakanamachi are recommended.
Related article
Abundant traditional crafts such as Sabae eyeglasses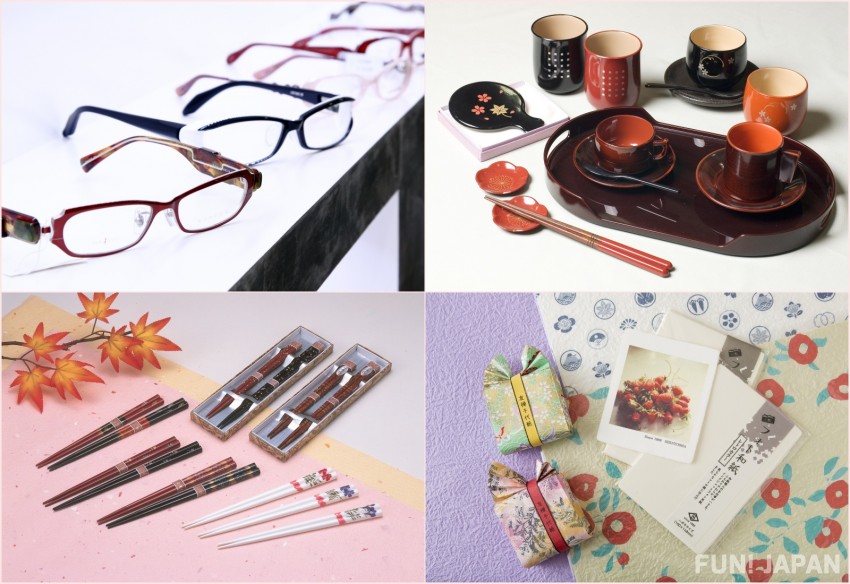 Fukui Prefecture has traditional crafts such as Sabae eyeglasses, Echizen lacquerware, Echizen Ware (pottery), Wakasa lacquered chopsticks, Echizen washi paper, and Echizen cutlery. It is also recommended to experience making traditional crafts and purchase souvenirs in each production area.

In Sabae City, which is famous all over the world for its production of eyeglasses, there is the MEGANE MUSEUM, where you can purchase Sabae eyeglasses, as well as enjoy the exhibitions of various kinds of glasses.
Related article
It snows in Fukui too! Let's play in the snow at the ski resort!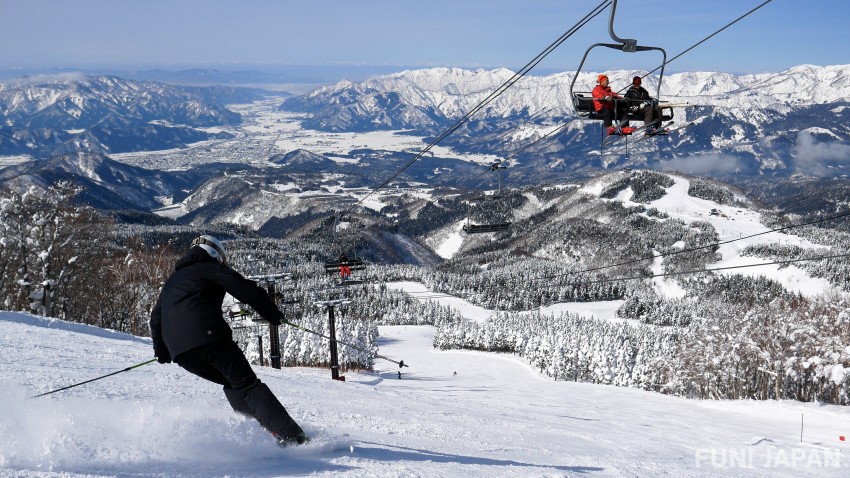 Fukui, located in the Hokuriku region, gets snow in winter. There are many ski resorts in the prefecture where both adults and children can enjoy snow, such as skiing, snowboarding, snowshoeing, and snow parks. If you live in a region where it doesn't snow, next time you visit Fukui in the winter, try going to the ski resorts.

Recommended ski resorts in Fukui Prefecture

SKIJAM Katsuyama: The longest running distance is about 5800 meters! West Japan's largest slope
Fukui Izumi Ski Resort: A compact slope with relatively many beginner courses
Kuzuryu Ski Resort: There are many gentle slopes and medium slopes, and the ski slopes can be seen at a glance, making it popular with families.
How to get to Fukui Prefecture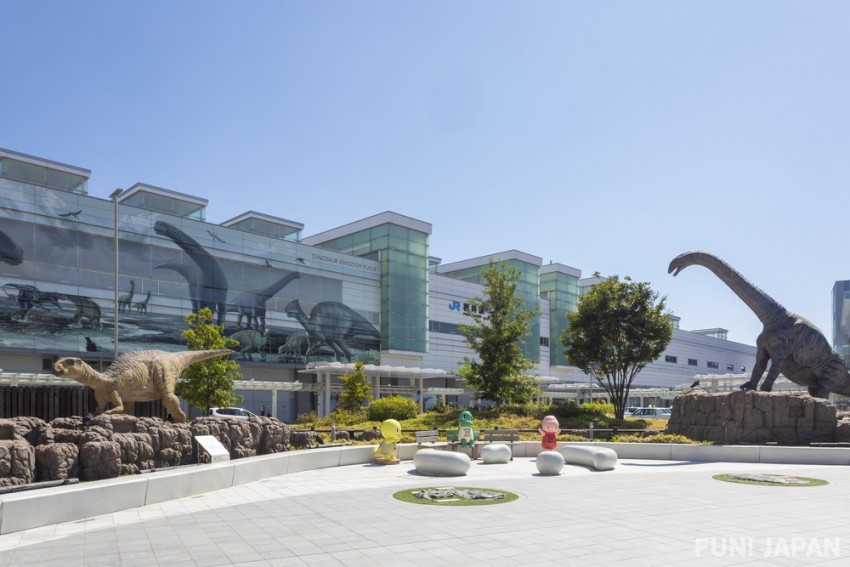 If you're heading to Fukui by public transportation, head for JR Fukui Station, which is the Shinkansen and train terminal station.

You can travel to Fukui Station from Tokyo, Osaka, and Nagoya by Shinkansen or highway bus. If you're taking a domestic flight, head for Komatsu Airport in neighboring Ishikawa Prefecture, then take the train to Fukui Station.
List of required times (from departure point and means of transportation)
Means of Transportation
Tokyo

Osaka

Nagoya

Railway

About 3 hours 10-20 minutes
(From Tokyo Station via Hokuriku Shinkansen/Tokaido Shinkansen)

About 2 hours
(From Osaka Station via Limited Express Thunderbird)

About 1 hour 30 minutes / 2 hours 10 minutes
(From Nagoya Station via Tokaido Shinkansen / Limited Express Shirasagi)

Express Bus

About 8 hours
(From Tokyo Station)

About 3 hours 30 minutes
(From Osaka Umeda)

2 hours 50 minutes
(From Nagoya Meitetsu Bus Center)

Flight
About 1 hour 40 minutes
(Go from Haneda Airport to Komatsu Airport, then move from Komatsu Station to Fukui Station)
*There are direct flights from Taiwan to Komatsu Airport.

/

/

[Survey] Traveling to Japan
Recommend