Fukui Prefectural Dinosaur Museum, the Adventurous Facility in Fukui!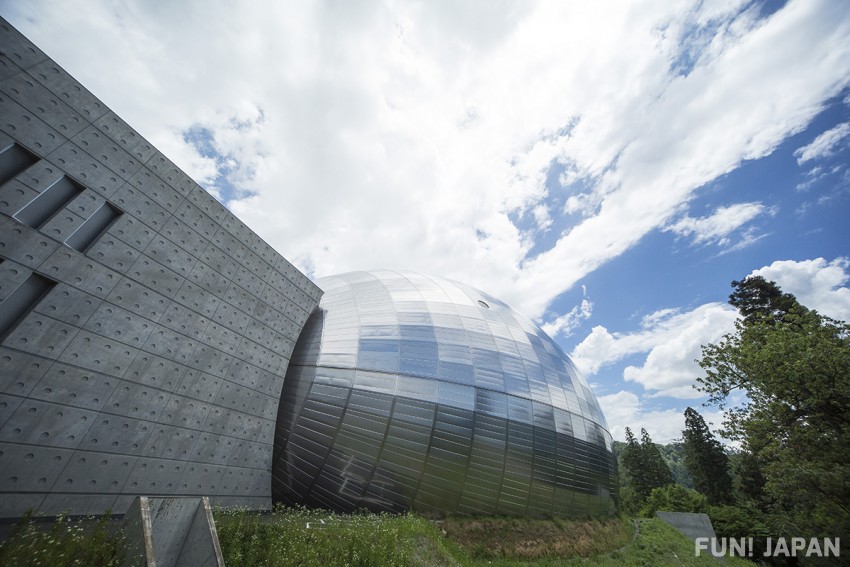 The Fukui Prefectural Dinosaur Museum is located in Katsuyama city in the northeastern area of the Fukui Prefecture. It is a facility where you can learn about geology and palaeontology centred on dinosaurs in various ways, such as permanent exhibitions about dinosaurs and the earth, and special exhibitions that displays exhibits of specific themes.
About Fukui prefectural dinosaur museum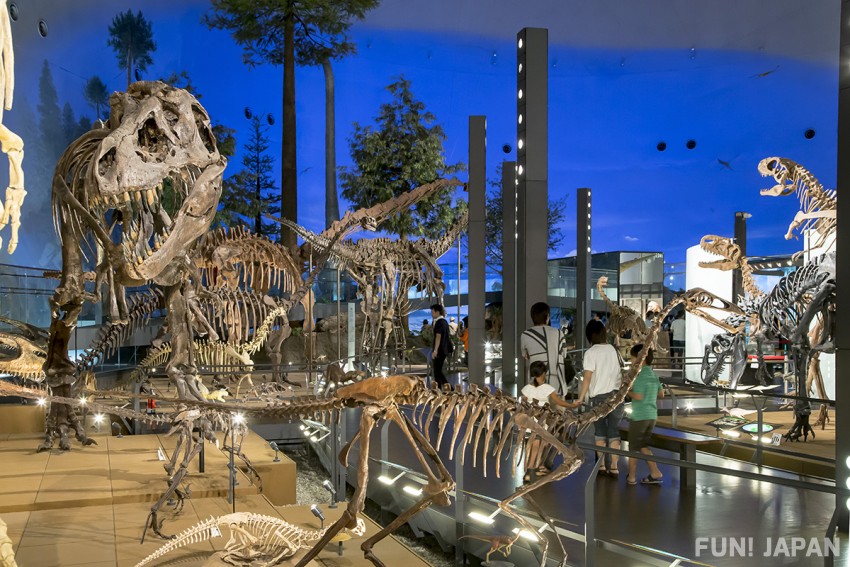 The Fukui Prefectural Dinosaur Museum is the biggest dinosaur museum in Japan with an impressive silver dome. It is characterized by the exhibition room of 4,500 square meters. This gigantic exhibition room exhibits 44 dinosaur skeletons. (Information accurate as of October 2019)
In addition to viewing the exhibits, you can also enjoy restored dioramas and videos about dinosaurs
Things to See and Do at Fukui Dinosaur Museum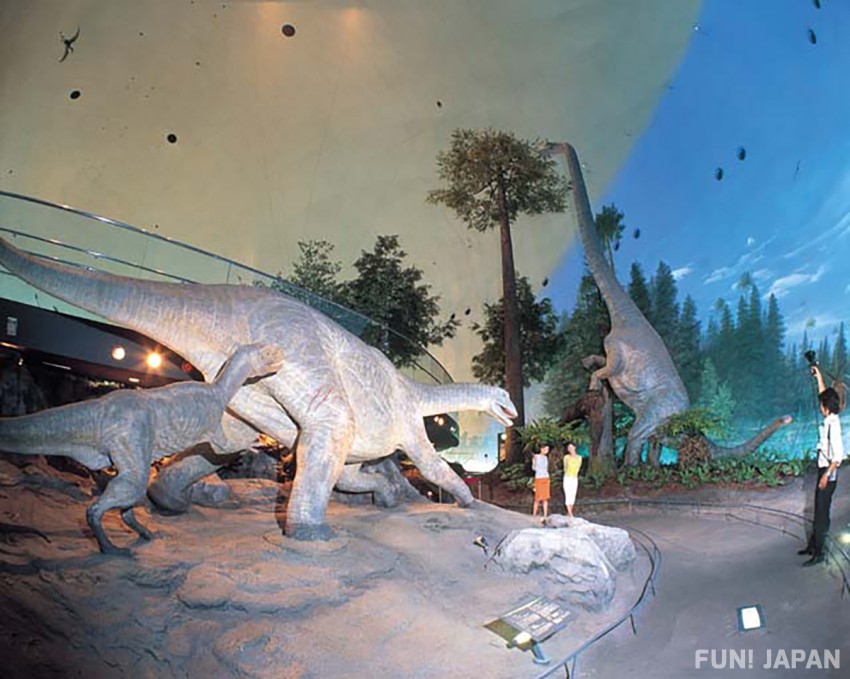 In addition to the exhibition, there is a restaurant and shop in Fukui Prefectural Dinosaur Museum. They also have a Fossil Preparation Lab where you can see the excavated fossils being removed from the rocks. Here, we will introduce exhibitions we particularly recommend.

A Permanent Exhibition Consisting of Three Zones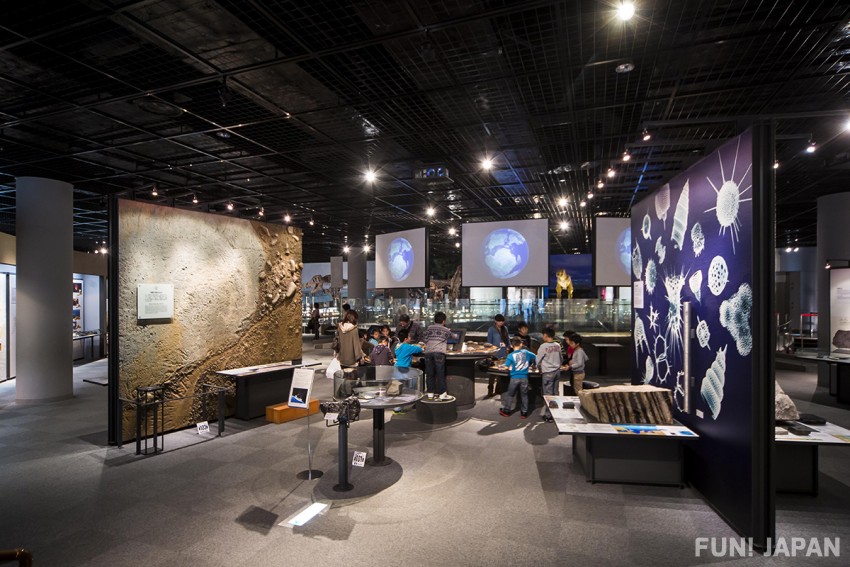 The permanent exhibition at the Fukui Prefectural Dinosaur Museum is separated into three zones.

First, on the first floor of the museum, there is the Dinosaur World where 44 dinosaur skeletons are exhibited, and the Earth Sciences which focuses on fossils and geological formations.
Going up to the second floor, you can see the third zone, History of Life. In this zone, you can learn about the history of life itself over the last 4.6 billion years.
Special Exhibitions with things such as Pictures and Specimens Displayed
There are not only permanent exhibitions, but also special exhibitions where you can enjoy the paintings and specimens.
This special exhibition usually lasts for about 2 - 3 months, and the exhibits that matched the theme at that time. The themes of the special exhibitions held so far include Theropods: from Carnivorous Dinosaurs to Flying Birds and Armoured Dinosaurs.
Fukui Dinosaur Museum Opening Hours / Admission Fee 
The Fukui Prefectural Dinosaur Museum is open from 9:00 to 17:00, and last entry is until 16:30. During certain periods, the opening hours are extended from 8:30 to 18:00.
The museum is closed on the second and fourth Wednesdays. However, if these days fall on a public holiday, then next day will be closed. It is also open everyday during the summer vacation. Please be aware that it will be closed during temporary inspections, exhibition replacement days, year-end and New Year holidays.

The general admission fee for the Fukui Prefectural Dinosaur Museum is 730 yen for adults. There is a separate fee for viewing the special exhibitions. (Information accurate as of October 2019)
How to Get to Fukui Dinosaur Museum 
If you wish to go to the Fukui Prefectural Dinosaur Museum, first head for JR Fukui Station. There are two routes from JR Fukui Station.
The first route is via the Echizen Railway, Katsuyama Eiheiji Line. It takes about an hour to get to a train bound for Katsuyama, and it takes about 10-15 minutes via a community bus or taxi from Katsuyama Station.
The second route is the Etsumi-Hoku Line bound for Echizen-Ono or Kuzuryuko. Ride for about 1 hour, get off at Echizen-Ono Station, and you will arrive at the museum in about 20 minutes by taxi from the station.
Whichever route you use, you can go from Fukui Station to the museum in about an hour and a half.
Spot information
Spot name: Fukui Prefectural Dinosaur Museum

Street address: 51-11 Terao, Muraokacho, Katsuyama, Fukui 911-8601
Access:

Fukui Station → [Echizen Railway Katsuyama Eiheiji Line] about 1 hour → Katsuyama Station → [Community Bus / Taxi] about 15 minutes
Fukui Station → [JR] about 1 hour → Echizen-Ono Station → [Taxi] about 20 minutes

Wi-Fi:Available
Language: English, Chinese
Credit cards:VISA, MasterCard, JCB, AmericanExpress, DinersClub, Discover
[Survey] Traveling to Japan