Why are the eyeglasses produced in Sabae, Fukui, so famous? A Guide to the charms of eyewear made in the mecca of eyeglasses!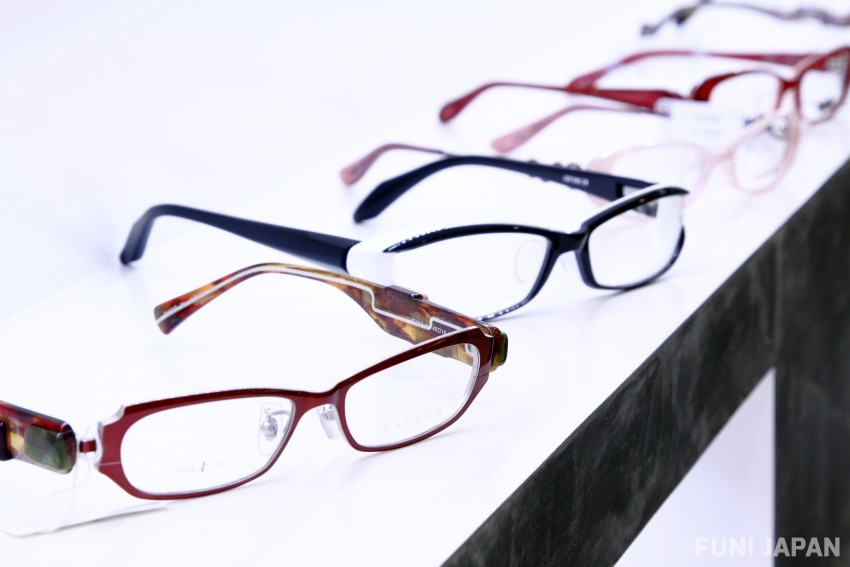 "Sabae" in Fukui Prefecture is a world-class production area for eyeglasses, boasting approximately 95% of the market share of eyeglass frames in Japan. One of the reasons for its popularity is its high quality and comfort. This time, we will introduce in detail the charm of glasses made in Sabae, the origin of their popularity, and the history of how they grew into the "Made in Sabae" brand.

The History of Sabae Eyeglasses - Trajectory to "Made in Sabae"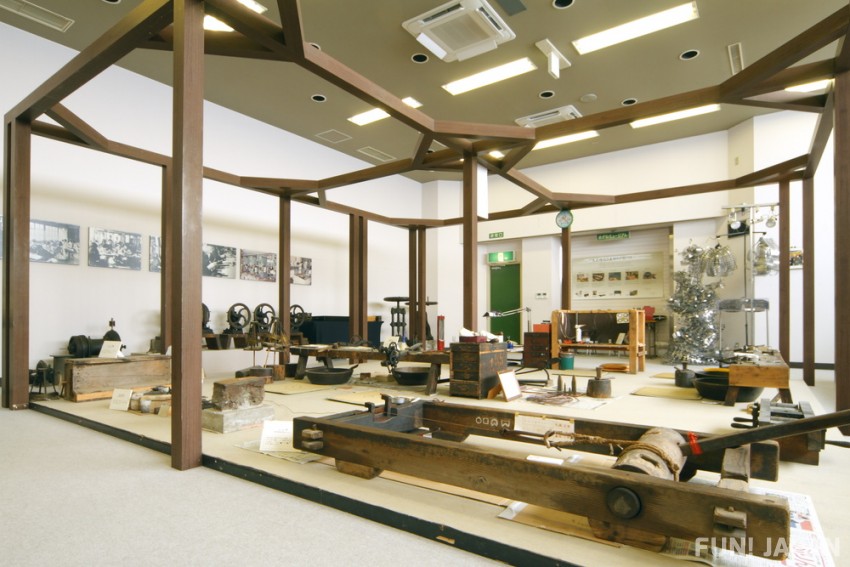 Sabae began manufacturing eyeglasses in 1905. With heavy snowfall in winter, Sabae had almost no industry other than agriculture at that time. In order to improve the lives of the locals, Gozaemon Masunaga, who is known as the "father of domestic eyeglasses", turned his attention to manufacturing eyeglasses as a side business during the agricultural off-season. However, there were no eyeglass craftsmen in Sabae, thus he invited eyeglass craftsmen from Osaka and Tokyo to teach young people living in Sabae how to make eyeglasses.

Gradually, the division of labor among craftsmen progressed, and the entire town became a single spectacle factory. Sabae grew significantly through the period of high economic growth and succeeded in developing the world's first titanium eyeglass frames in the 1980s, thanks to increased efficiency through automation, improved quality, and well-developed technology. Titanium eyeglass frames, which are lightweight, durable, and less prone to metal allergies, have attracted attention from around the world, and have helped to raise Sabae's international status as a production area of eyeglass frames.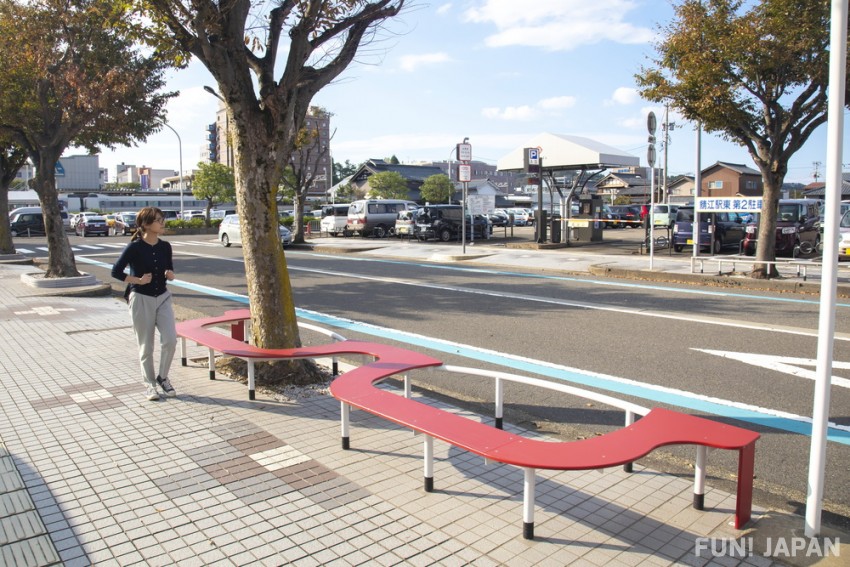 "Megane Street" (メガネストリート - 'Eyeglasses Street'), which stretches about 900m from JR Sabae Station, was created so that visitors to Sabae City can experience wearing glasses. The street is full of eyeglass motifs, think manholes, benches, and objects in the shape of eyeglasses. If you walk while looking for them hidden in various places, you will be so absorbed that you arrive at the "Glasses Museum" in no time.

Reasons why Sabae's eyeglasses are evaluated as high quality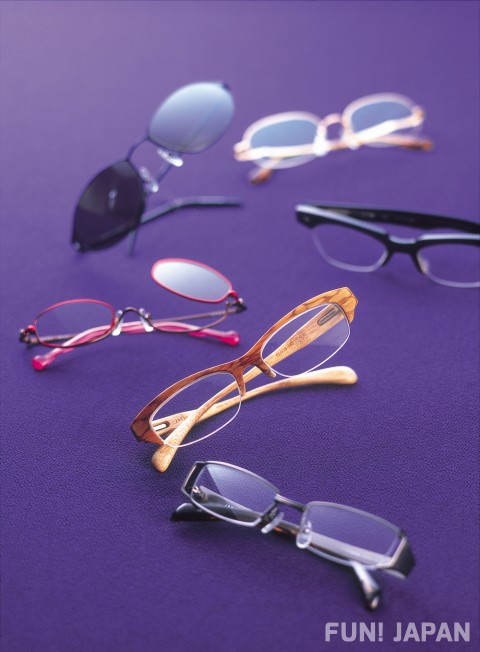 Sabae-made eyeglasses are characterized by their strength and durability. On top that, the design and fit that combine individuality and functionality are also highly evaluated. The reason why Sabae is able to manufacture such high-quality glasses is because the city has adopted a system of division of labor within the production area, which is a unique manufacturing method.

There are more than 200 production processes for general eyeglasses. In Sabae, each process is handled by highly specialized craftsmen and factories. Then, by combining the precision-made parts for each process, a pair of glasses with high precision is completed. Meanwhile, delicate parts and polishing are processed manually by skilled craftsmen. Sabae-made eyeglasses are highly evaluated due to the commitment of these craftsmen.
"MEGANE MUSEUM" in Fukui Prefecture
"MEGANE MUSEUM" is the place where you can enjoy "Museum", "Workshop", and "Megane Shop" all at once. Let's take a closer look at each.
Museum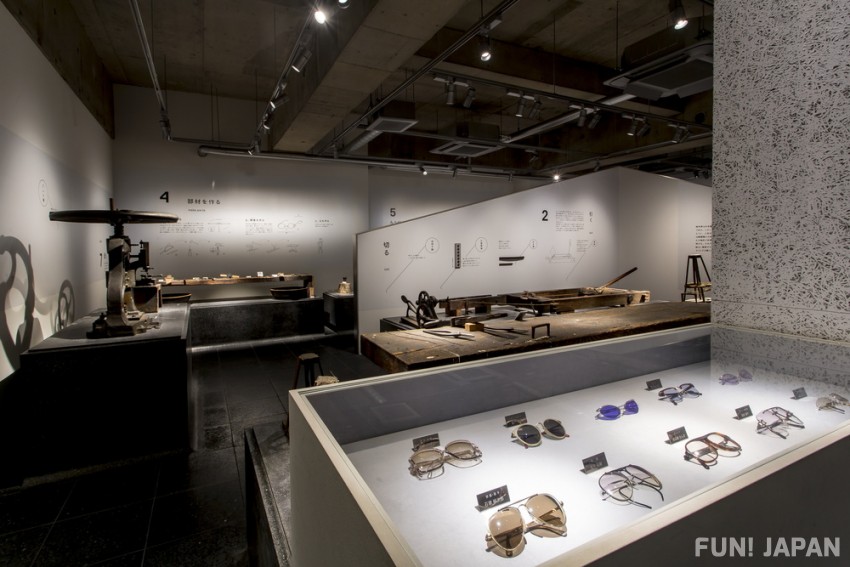 The Glasses Museum conveys the appeal of eyeglasses through the history of eyeglasses and the evolution of technology. Here visitors can see highlights such as overseas glasses, the transition of glasses from the Edo period to the Showa period, and the scenery of the production site of glasses over 100 years ago. Even in modern times where mechanization has progressed, the roots and thoughts of Sabae craftsmen who stick to the highest quality are conveyed through the exhibition.

Workshop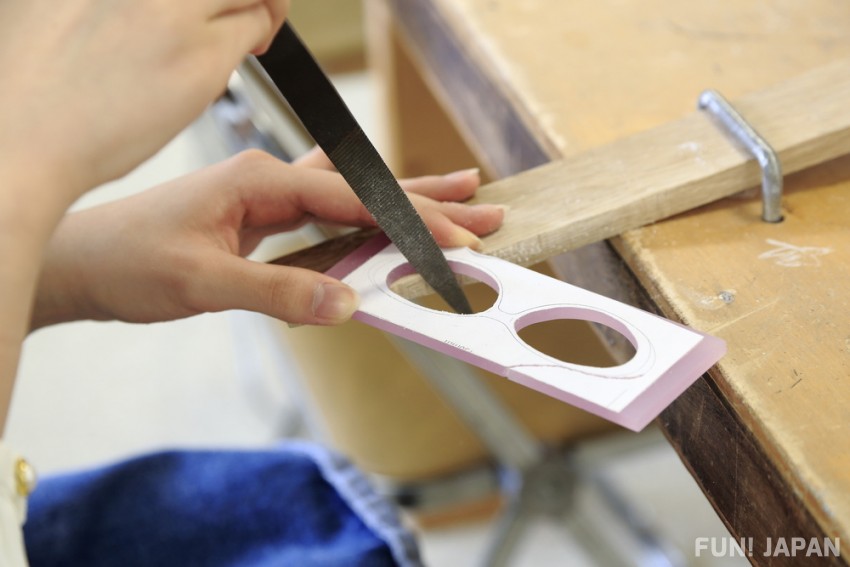 At the "Handmade Glasses Workshops", you can choose your favorite frame designs and materials from many, and learn how to make your own original glasses. Professional eyeglass craftsmen will teach you the steps carefully - rest assured - they will help you out finishing the process that requires specialized skills. The glasses will arrive in about a month and the experience takes 5 to 7 hours and costs from 24,200 JPY (incl. tax). At "Megane de Collage", you can experience making a strap using the material of eyeglasses. It takes about an hour and costs 2,000 JPY (incl. tax).

Megane Shop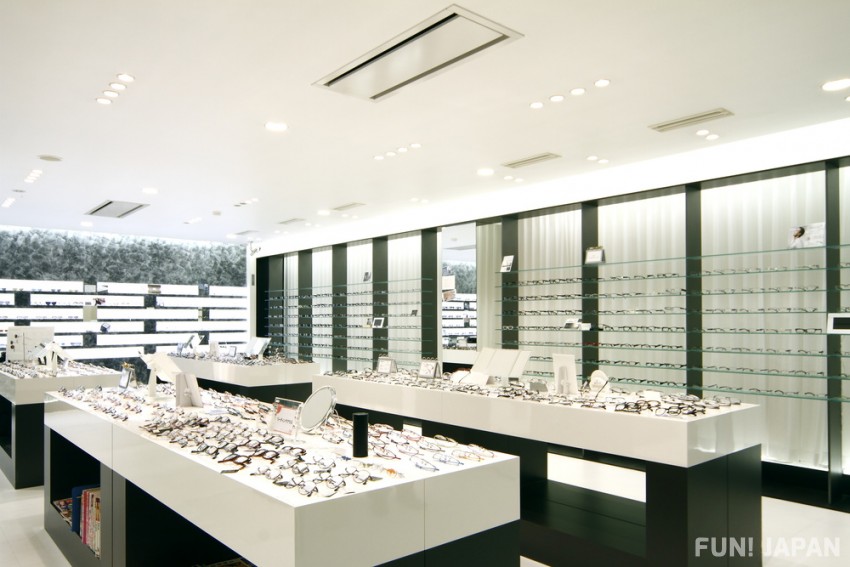 "Megane Shop" has more than 3,000 latest model glasses manufactured by about 50 companies in Fukui Prefecture. All of the "Made in Sabae" brand glass frames lining up showcase the craftsmanship which have been inherited and evolved over the history of more than 110 years. The shop also accepts proposals for high-quality lenses 'Made in Japan' by certified opticians. Why not order an one-of-a-kind custom-made glass made by Sabae craftsmen for yourself?

CAFE&GOODS
At the annexed "MUSEUM CAFE", you can enjoy coffee from a home-roasted coffee shop. We recommend the weekly sweets ordered from a pastry shop in Sabae City. On the other hand, "Sabae Sweets" sells famous sweets and carefully selected sweets from Sabae City. You can purchase goods that make use of Sabae's eyeglass processing technology, such as glass cords and accessories.

MEGANE MUSEUM
Address: Fukui Optical Association, 2-3-4 Shinyokoe, Sabae City, Fukui Prefecture
Access: Approximately 10 minutes on foot from JR Sabae Station
Business hours:

Megane Shop: 10:00-19:00
Workshop/Museum/Sabae Sweets: 10:00-17:00
MUSEUM CAFE: 10:00-16:00

Closed: Wednesdays, year-end and New Year holidays
Admission fee: Free
[Survey] Traveling to Japan
Recommend