Fukui Prefecture's Terrifying and Amazing Tojinbo Cliffs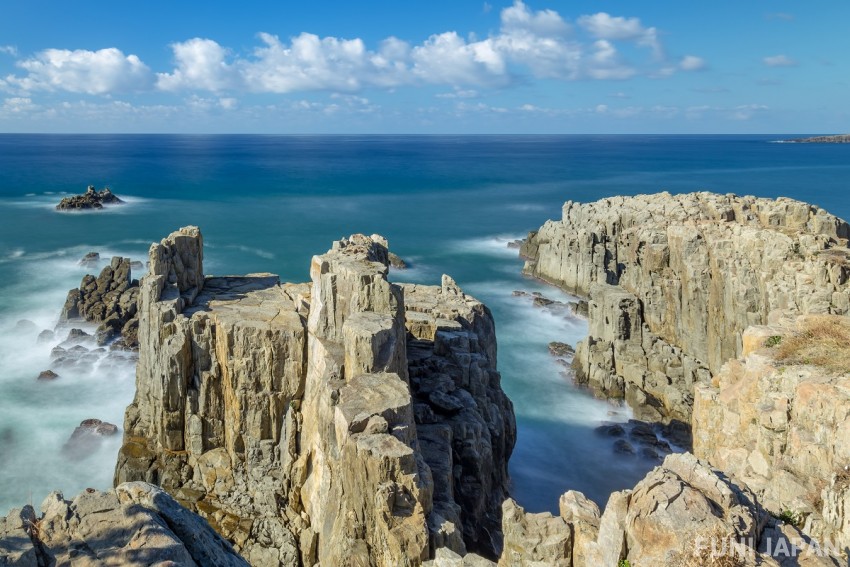 Tojinbo in Fukui Prefecture is a series of steep cliffs over 20m tall that have been eroded by the waves. It is said that there are only three places in the world, including here, that this kind of landscape, made of pyroxene andesite columns, exists. It is a terrifyingly powerful spot that has been designated as a national natural monument. 
The Legend of the Priest, Tojinbo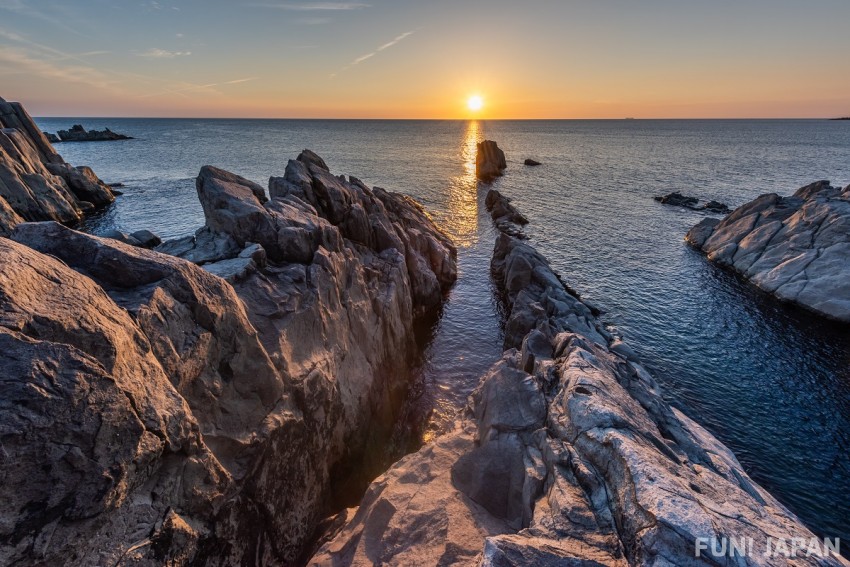 The name, Tojinbo, is said to be derived from the name of a monk. He was the leader of the villainous monks at the temple called Heisenji. He had a romantic rival called Magara-Kakunen, who fought with him over a woman named Aya-hime. In 1182, Heisenji Temple warrior monks visited Tojinbo and were drinking with him. Magara-Kakunen got Tojinbo intoxicated, and during an unguarded moment, threw him into the sea. For the next forty-nine days, the sea roiled and raged from Tojinbo's desire for revenge, so this place came to be called Tojinbo. 

The Tojinbo Pleasure Boat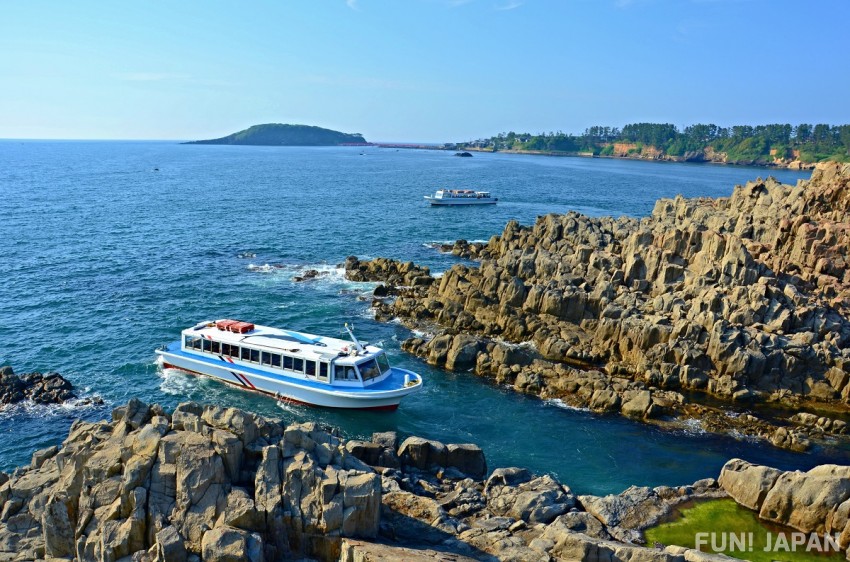 If you go to Tojinbo, be sure to take the pleasure boat that departs from and then returns to the dock there. It will take you to places where you can observe rare pieces of scenery. Oike is a place where you can see one of the columnar joints from underneath. Hachi no Su-Iwa is a unique formation that looks like a large beehive. Lion Rock is a secret spot where it looks like a male lion sitting with his forefoot outstretched. 

Spot Information
Spot name: Tojinbo Sightseeing Pleasure Boat
Address: 64-164-1 Mikunicho Anto, Sakai City 913-0064
Open Hours: April ~ October 9:00 - 16:00, November ~ March 9:00 - 15:30
Holidays: 12/29~1/31
Wi-Fi: Available
Language: Japanese only
Ticket Purchase: Purchase at the local ticket office
Credit cards: JCB, VISA, MasterCard, American Express, Diners Club, UnionPay
Access: Kanazawa Station → [JR Hokuriku Main Line / Fukui Line] Approximately 1 hour and 20 minutes → Awara Onsen Station → [Keifuku Bus Tojinbo Line] approximately 40 minutes → Tojinbo Bus Stop… A short walk
Tojinbo is a Famous Suicide Spot?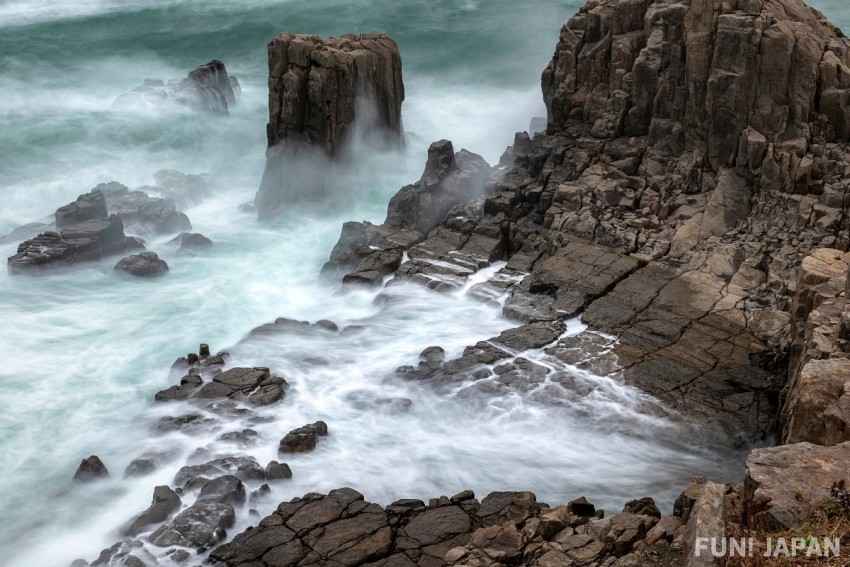 Tojinbo is also famous as a filming location for suspense dramas in Japan. In the climax scene, the criminals come here to commit suicide (the main pattern is that the hero chases after them, and the criminals, who are cornered, confess their crimes).

In fact, there is an endless list of people who try to commit suicide at this cliff. Therefore, a "salvation phone" that can be used for free counseling has been installed, a non-profit organization has set up patrols, and local people are taking measures to discourage suicide. They are trying to rid the cliffs of the infamous image of being a "famous suicide spot". 
Access to Tojinbo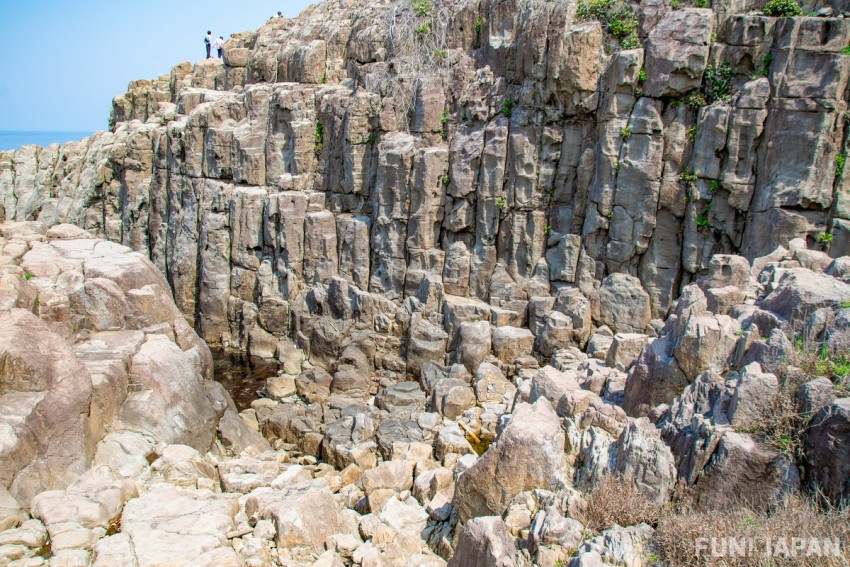 If you want to go to Tojinbo by train, you should go to Kanazawa Station on the Hokuriku Shinkansen or Maibara Station on the Tokaido Shinkansen. From there, head for Awara Onsen Station using the Hokuriku Main Line. It takes about 40 minutes by bus from Awara Onsen Station to Tojinbo. If you go through Maibara Station, you can change to the Echizen Railway at Fukui Station and go to Mikuni Station. If you take a bus from Mikuni Station, you will arrive at Tojinbo in about 10 minutes.

If you wish to fly, use Komatsu Airport in Komatsu City, Ishikawa Prefecture. It takes about 30 minutes from Komatsu Station, the nearest station to Komatsu Airport, to Awara Onsen Station. From Awara Onsen Station, take a bus and aim for Tojinbo. 
Spot Information
Spot name: Tojinbo
Address: Anto, Mikuni-cho, Sakaishi, Fukui 913-0063
Wi-Fi: Available
Access: Kanazawa Station → [JR Hokuriku Main Line / Fukui Line] Approximately 1 hour and 20 minutes → Awara Onsen Station → [Keifuku Bus Tojinbo Line] approximately 40 minutes → Tojinbo Bus Stop… A short walk
[Survey] Traveling to Japan