A ranking of unexpected places where you can stay for a night in Japan. A castle, a zoo, a TV tower...where are the top three?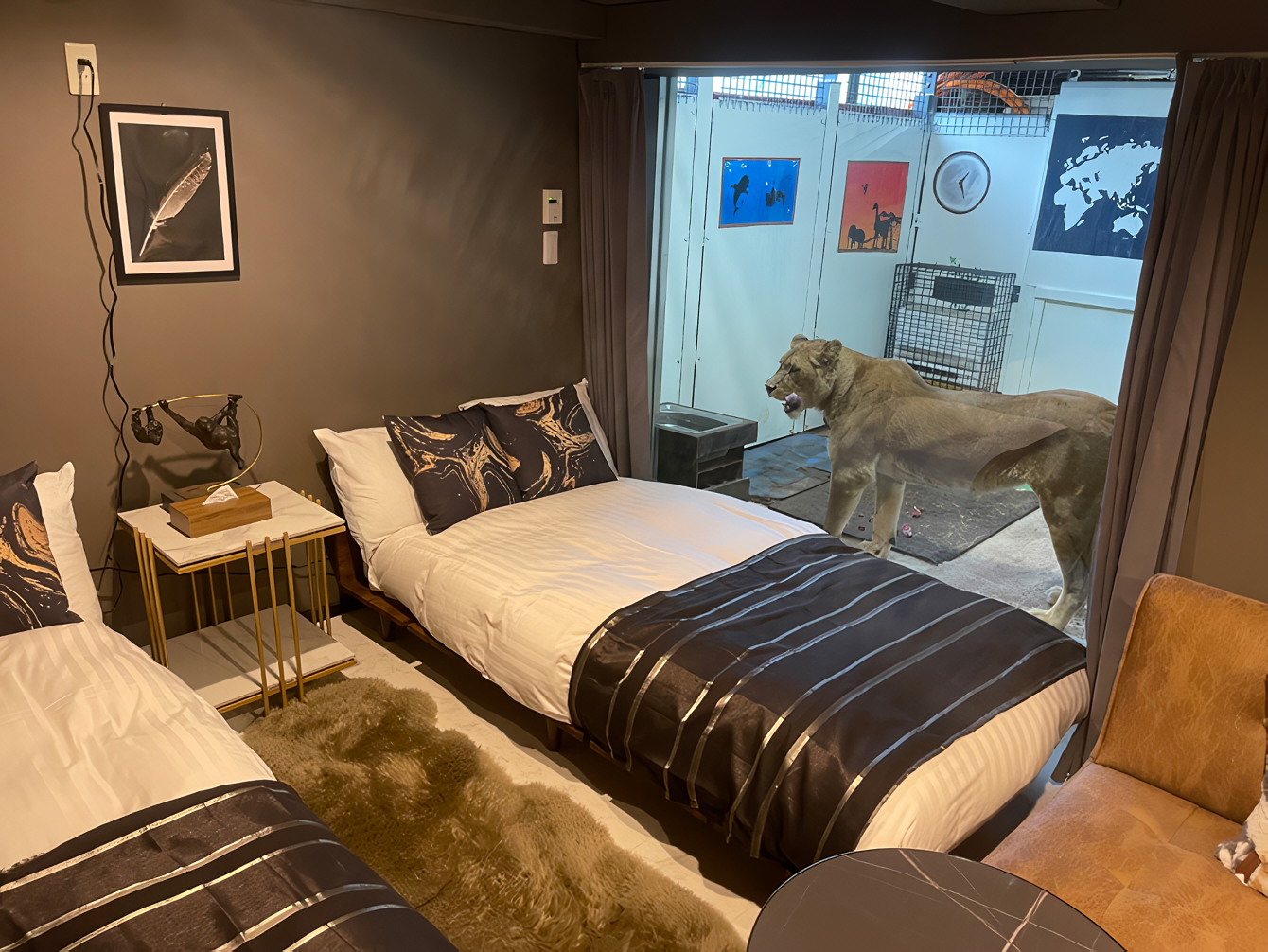 In recent years, Japan has seen an increase in the number of unique lodging spots, such as schools, zoos, and astronomical observatories, that make you wonder if you can really stay overnight there. Travel information magazine "Jalan" conducted a survey on "unexpected accommodation spots", and we are going to share the results with you!

1st place: Ozu Castle CASTLE STAY【Ehime Prefecture】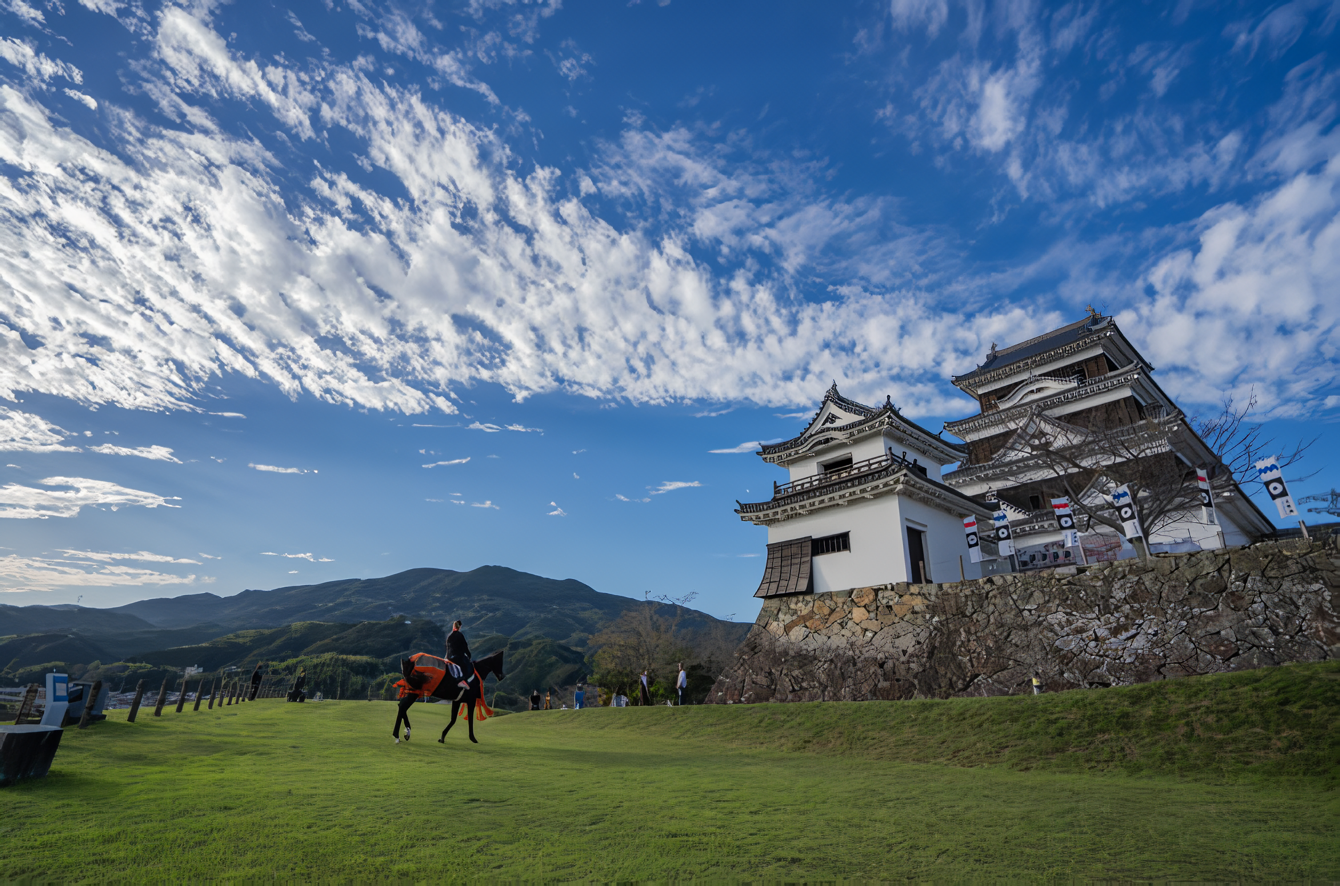 The very first "CASTLE STAY" where you can stay in Japan's real castle tower. It is being developed as part of tourism town development that utilizes historical resources. You can stay from 17:00 when the viewing time of Ozu Castle ends to 9:00 the next morning. Guests can be welcomed by vassals with a reenactment of the scene of Sadayasu Kato's entry into the castle as a one-day lord of the castle. In the evening, you can have a drink while looking at the moon from the yagura (turret).
https://castlestay.ozucastle.com/
Related articles
2nd place: Seiwa Kogen Astronomical Observatory - Seiwa Kogen no Yado【Kumamoto Prefecture】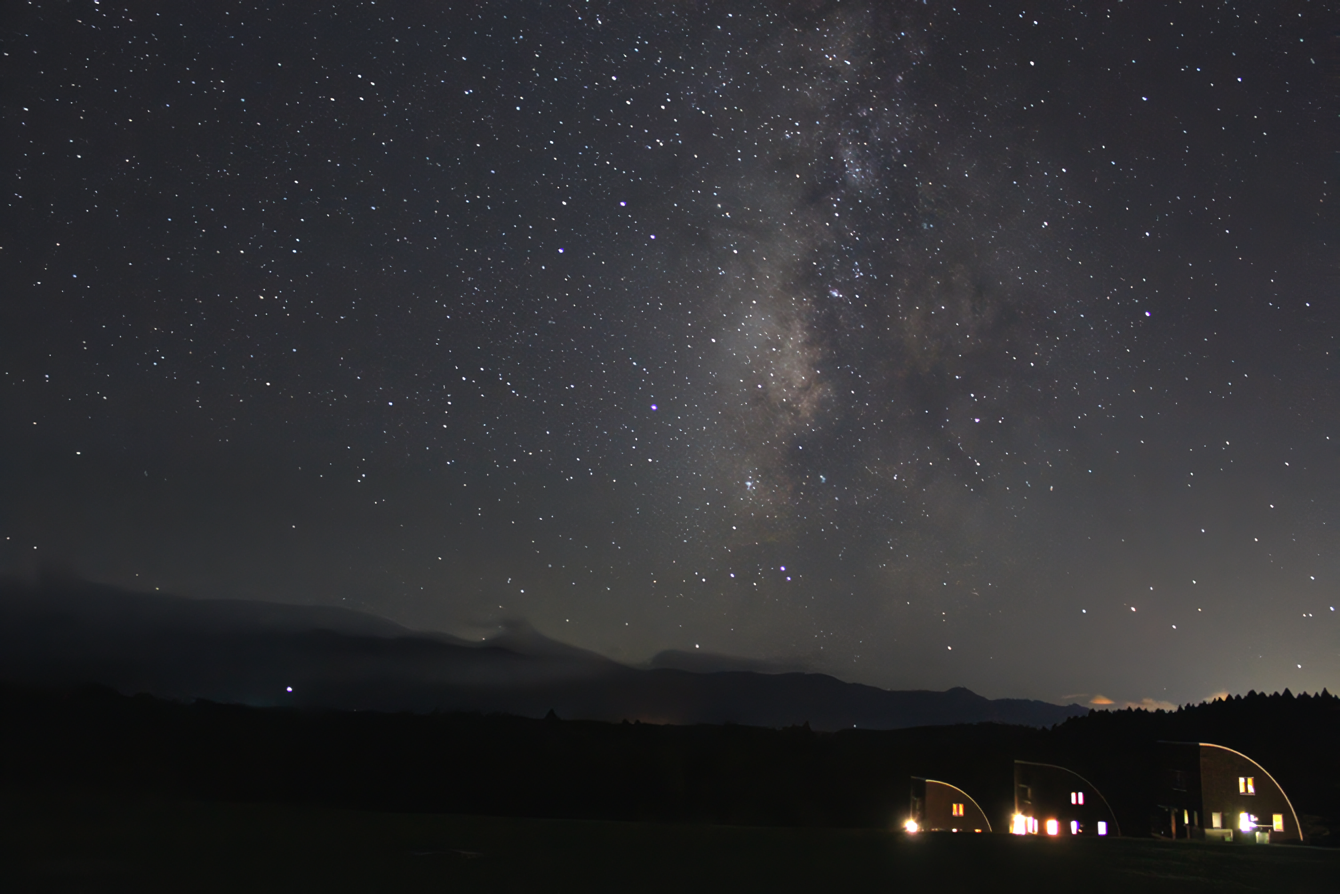 An accommodation facility next to the Seiwa Kogen Observatory, located at an altitude of 700m and offering a 360-degree view of the mountains of Kyushu. On days with good weather, you can experience immersing yourself in celestial bodies, such as nighttime astronomical observation using a large telescope, and spend your time gazing at the starry sky in the great outdoors. When staying at the hotel, we recommend the "Accommodation plan with meals" where you can enjoy yakiniku at the restaurant on the premises.
http://astroseiwa.com/
3rd place: North Safari Sapporo【Hokkaido】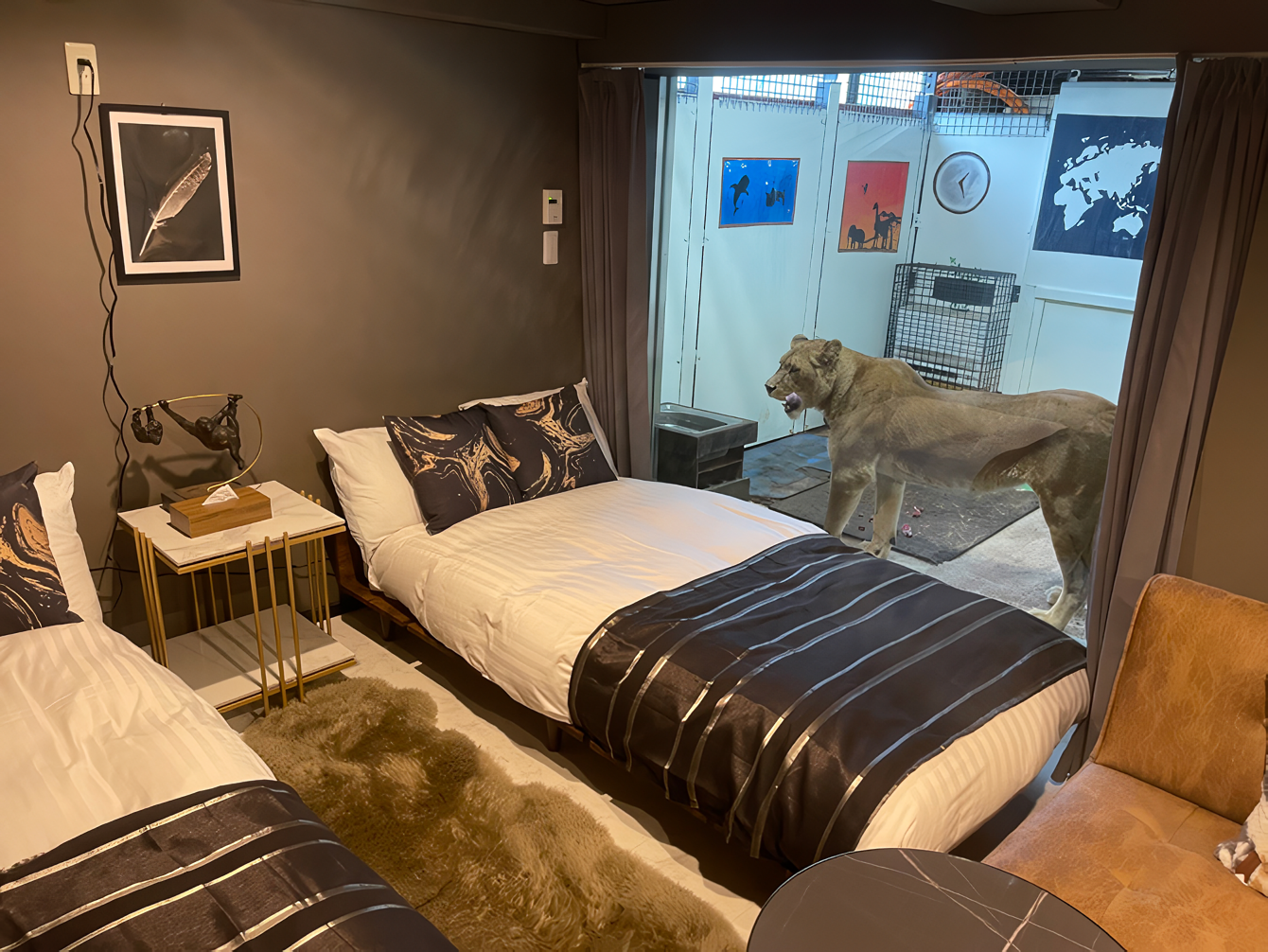 A hands-on-experience-based zoo where you can interact with animals. At Hokkaido Animal Glamping, which is attached to the park, you can stay with various animals. You can stay in a room separated from the lion by a sheet of glass, or stay at the zoo in a cottage where you can spend time with seals and penguins. The pet-friendly HANARE Cottage, which opened in 2023, has a private garden that doubles as a dog run, so you can play with your loyal dog.
https://www.north-safari.com/
4th place: Lamplight Books Hotel Nagoya【Aichi Prefecture】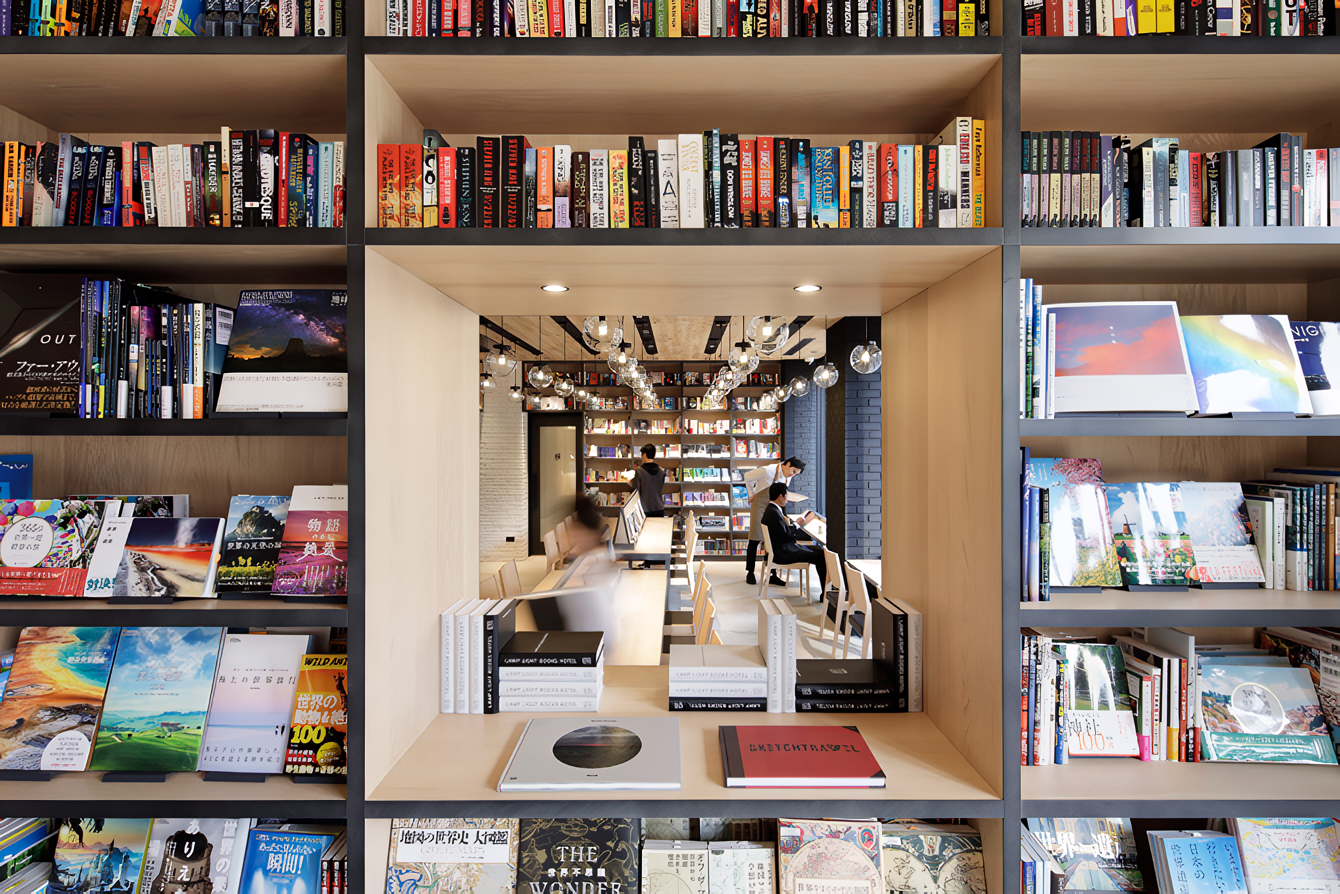 A hotel with the concept of "a hotel where you can travel through the world of books." The bookstore on the first floor is open 24 hours a day, so you can immerse yourself in books day and night. The rooms are equipped with dimmable indirect lighting, reading lamps, sofas with armrests and ottomans, and are primarily designed for comfortable reading. You can choose a book that suits your mood that day and immerse yourself in the world of books in your room.
https://www.lamplightbookshotel.com/
5th place: Hirado Castle CASTLE STAY Kaiju Yagura【Nagasaki Prefecture】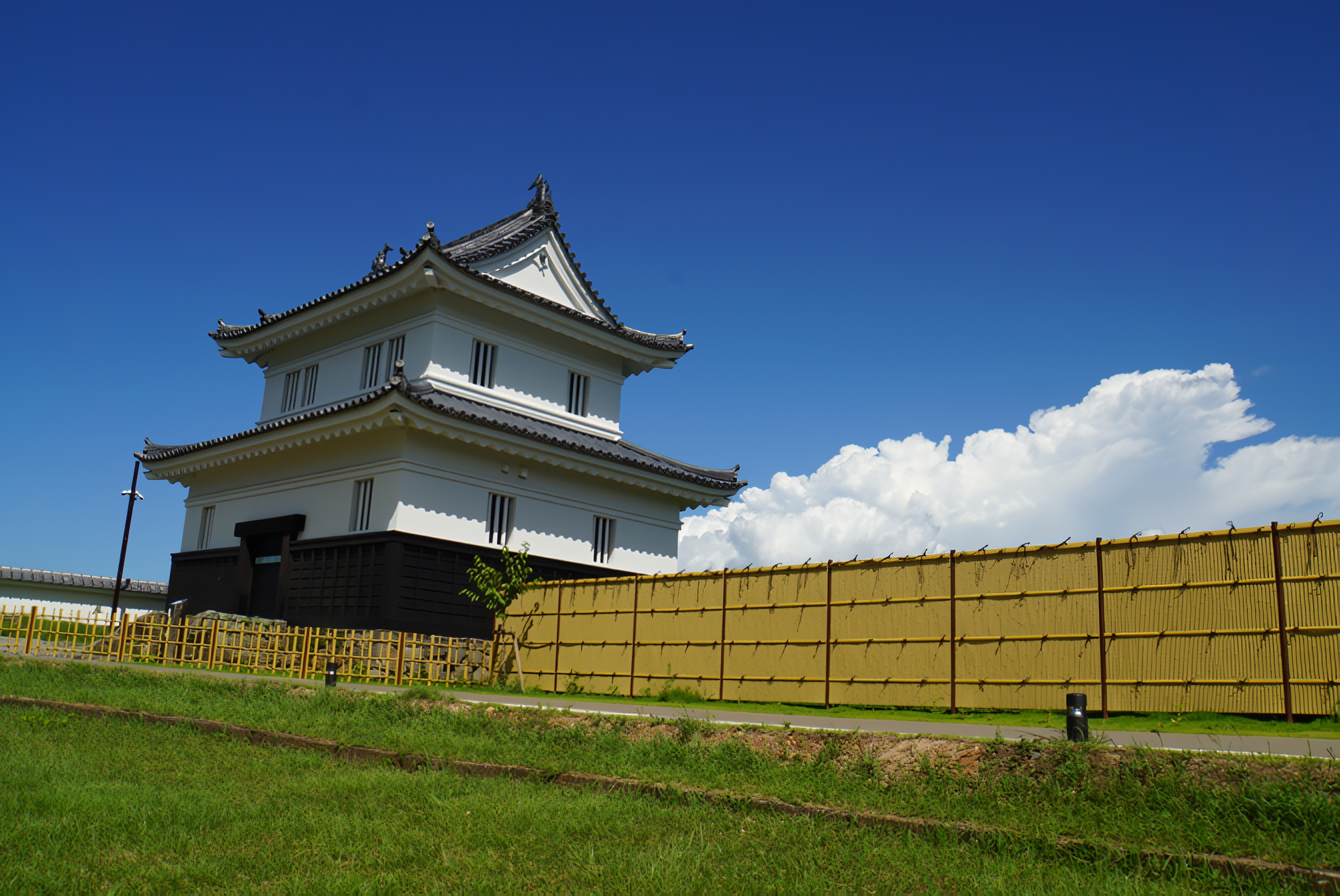 Opened in April 2021 as a permanent "CASTLE STAY" facility. Located in Hirado Castle, which has been designated as one of Japan's 100 Famous Castles, the Kaiju Yagura turret, where you will spend the night for CASTLE STAY, is a gorgeous space that fuses tradition and modernity. There is also a special castle lord experience program for guests only, where you can fully enjoy the overwhelming extraordinary feeling and the special feeling of becoming the lord of the castle.
https://www.castlestay.jp/
Related articles
6th place: THE TOWER HOTEL NAGOYA【Aichi Prefecture】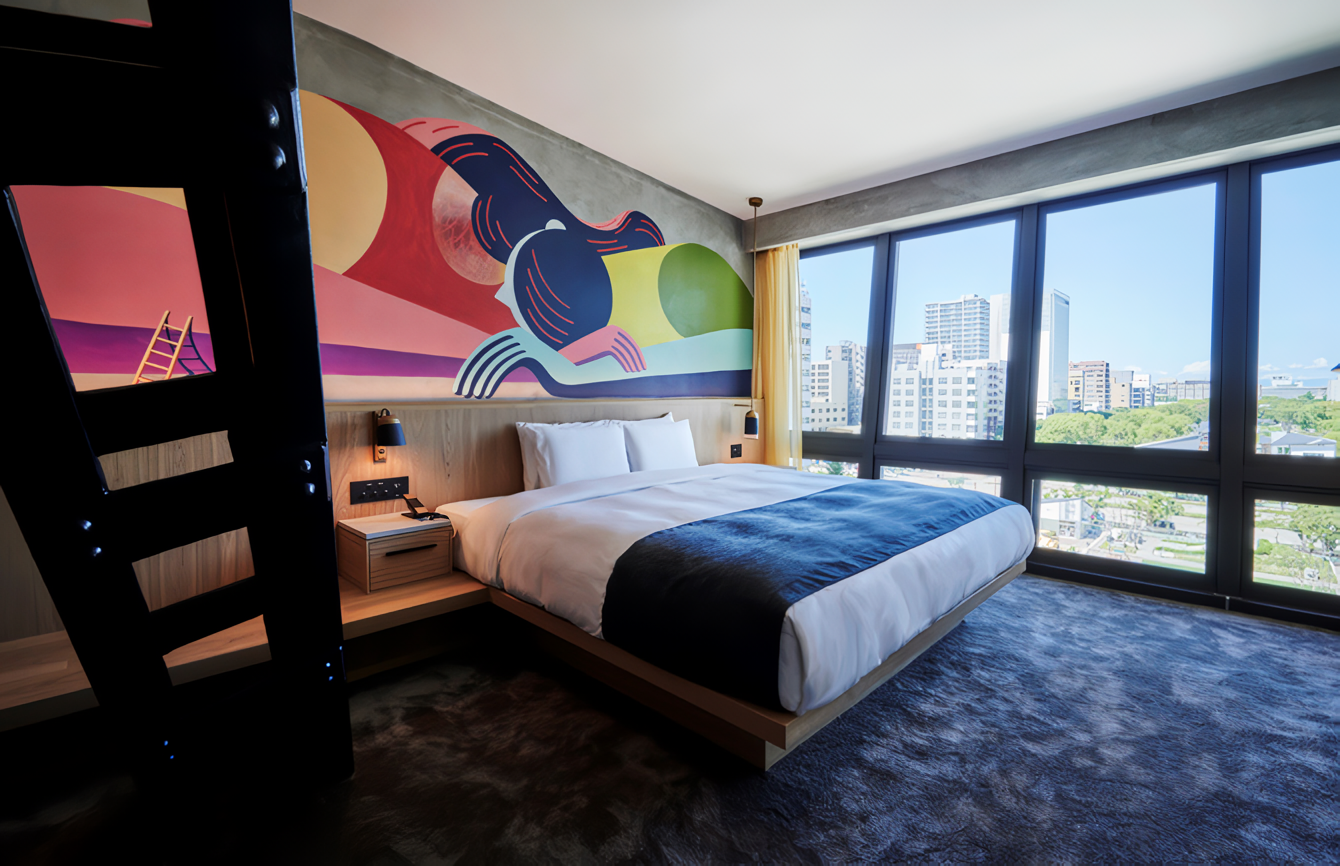 A small luxury hotel with a total of 15 rooms that was born in Nagoya's landmark "Chubu Electric Power MIRAI TOWER (former Nagoya TV Tower)". The hotel has been localized as an urban auberge, overflowing with arts and crafts from the three prefectures of the Tokai region, and equipped with a restaurant known for local gastronomy. The steel frame of the tower runs through the walls and floor of the room, and you can experience the extraordinary experience of staying inside the TV tower, which has been designated as an Important Cultural Property of Japan.
https://thetowerhotel.jp/
Related article
7th place: The Bamboo Forest【Chiba Prefecture】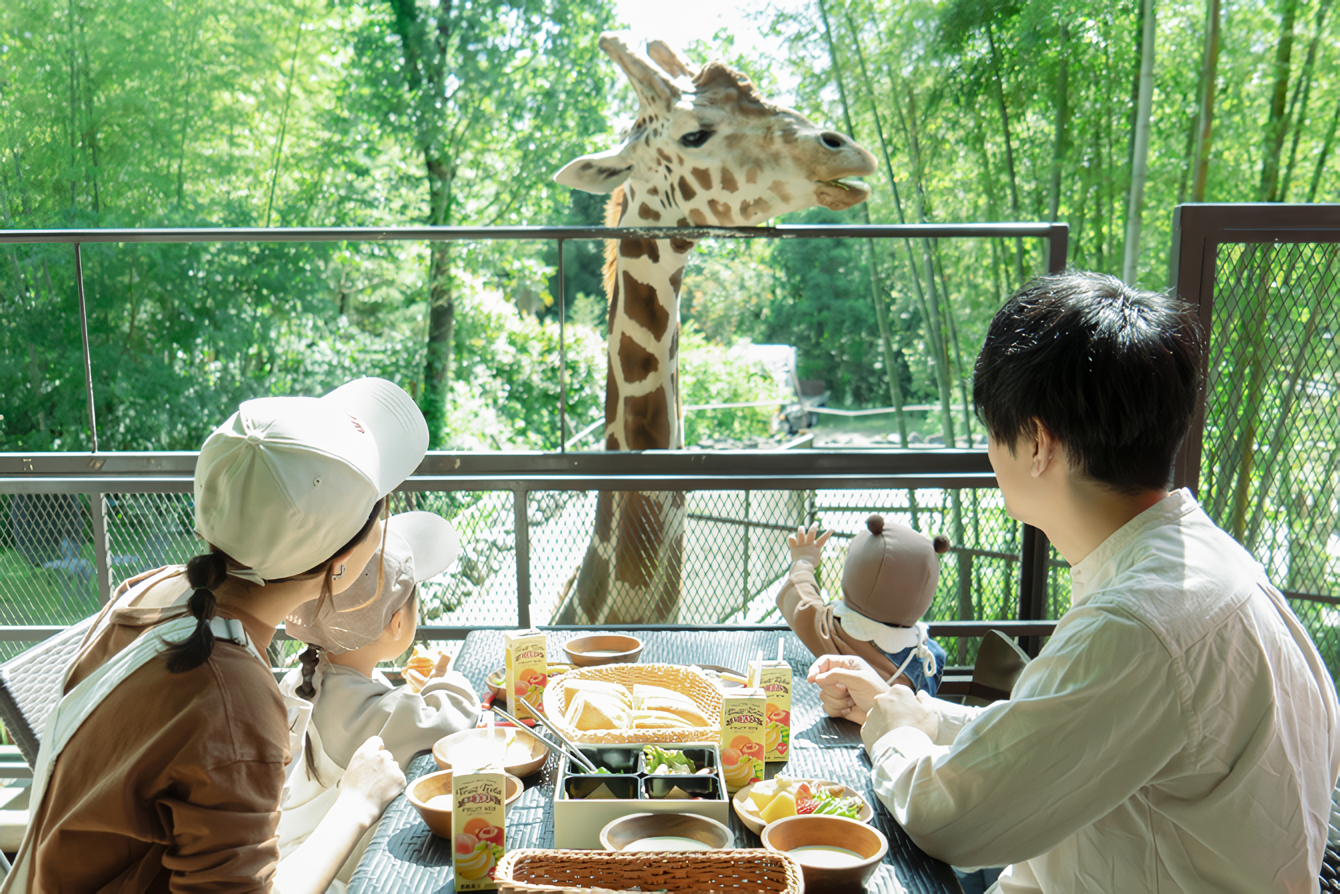 A glamping facility adjacent to the petting zoo "Sayuri World". There is an option to have breakfast with giraffes from spring to autumn every year, and it is also attractive that you can have a special experience. You can spend a healing time that you can't experience in the city, such as a luxurious dome tent and a tree house like a secret base.
https://bamboo-forest.jp/
8th place: Nakaizu EAST WINDS VILLAGE【Shizuoka Prefecture】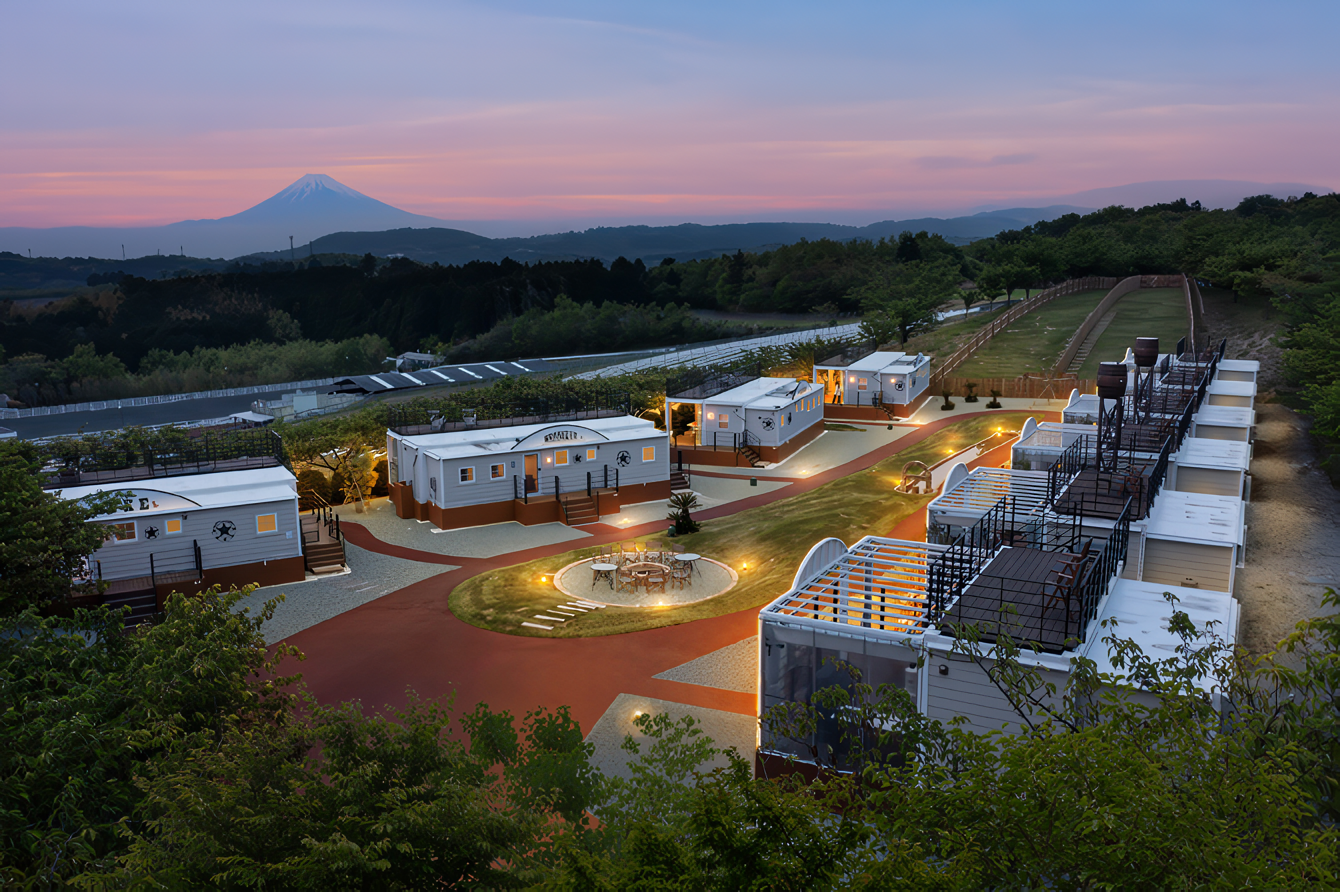 Unique location for a winery. The adjoining glamping facility is attractive with the view of the vast vineyard and magnificent Mt. Fuji that spreads out in front of you. Guests can enjoy a luxurious time in the great nature of Izu, such as enjoying a guided tour of the winery and enjoying 100% natural hot springs flowing directly from the source.
https://east-winds-village.com/
Related articles
9th: TR Train Inn【Miyazaki Prefecture】
Two cars of the former Takachiho Railway, which has been discontinued on all lines, have opened as a simple accommodation facility "TR Train Inn" at Hinokage Onsen Station in Hinokage-cho, Nishiusuki-gun, Miyazaki Prefecture. The driver's seat, gauges, fare boxes, train windows, fluorescent lights, and luggage racks are left as they are, making it a must-have for train lovers!
https://hinokagecho.com/hinokageonsen-inn.html
Related articles
10th place: Ekisha Hotel INN MY LIFE【Shizuoka Prefecture】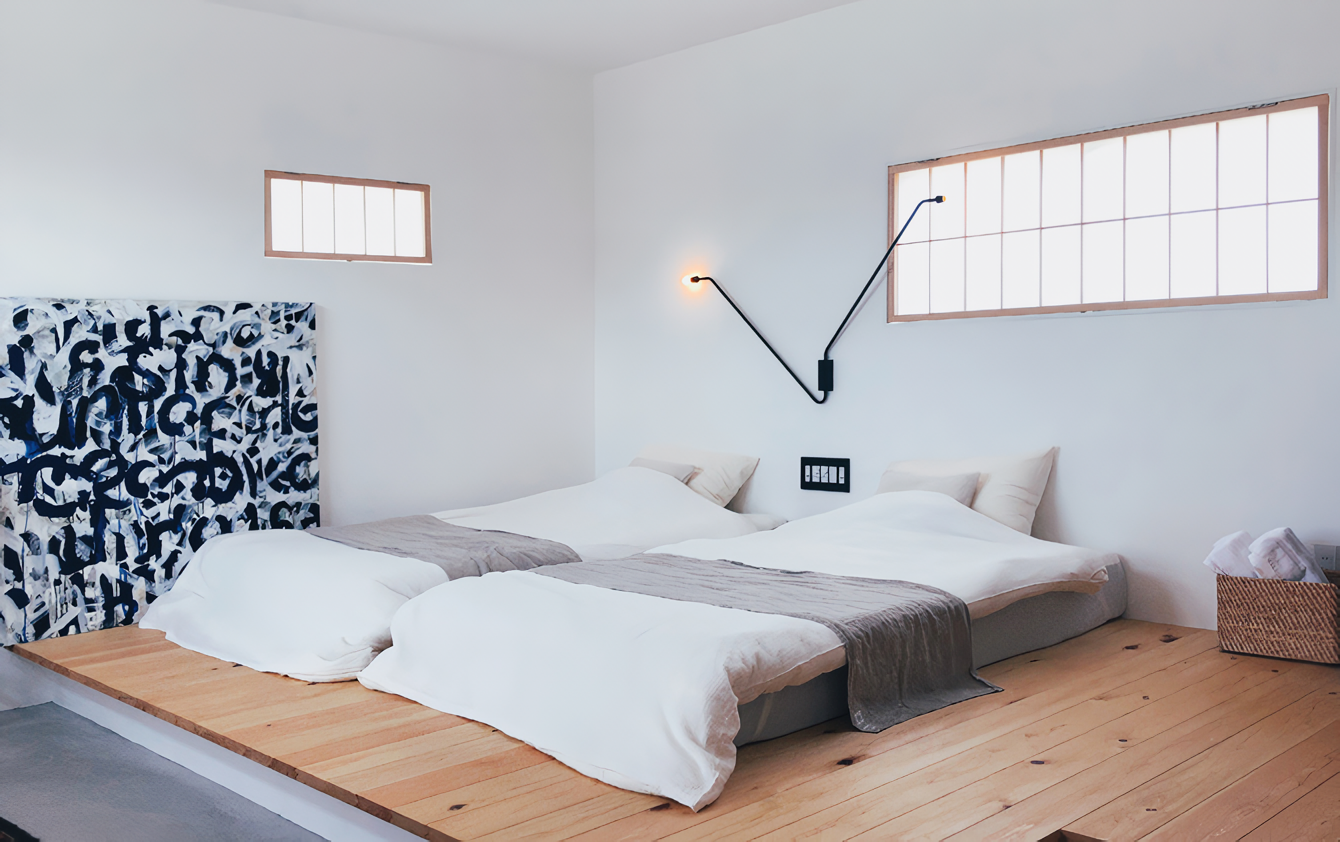 A facility that renovated the station building of Futamata Honmachi Station, an unmanned station on the Tenryu Hamanako Railway in Shizuoka Prefecture. The interior, which used to be the station master's office, has been transformed into a simple yet carefully selected space based on white. For breakfast, you can fully immerse yourself in the charm of the surrounding area, such as using plenty of fresh local ingredients.
https://www.innmylife.com/
Related articles
*The content introduced is information as of July 31, 2023.
*Please check the latest information on the accommodation's website when you are planning to stay.
【Survey overview】
Survey method: Internet survey
Survey target: 20s to 50s living in 47 prefectures
Number of valid responses: 1,026
Survey period: June 30, 2023 (Friday) to July 3, 2023 (Monday)
Research agency: INTAGE (Research entity: Recruit)
[Survey] Traveling to Japan