Rent a Boat at Japan's Mysterious Takachiho Gorge in Miyazaki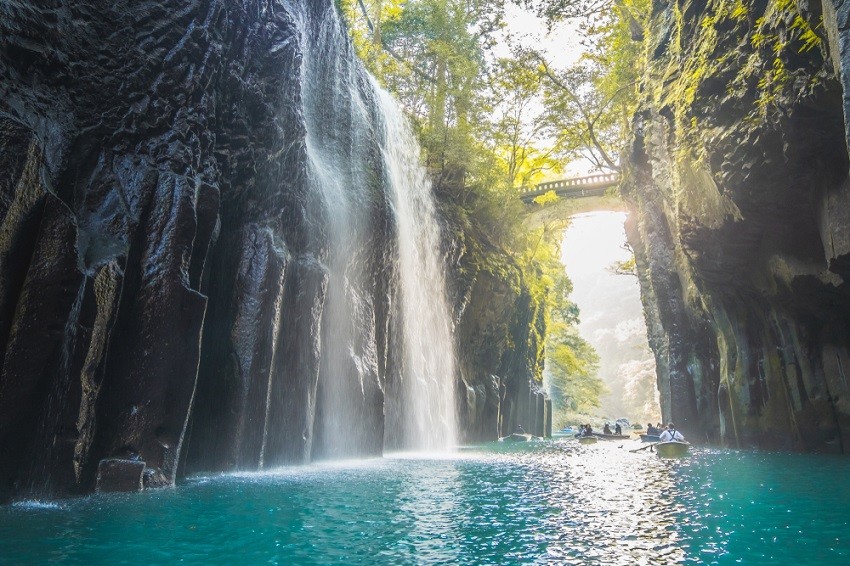 Takachiho Gorge, located in Miyazaki, is a deep gorge created by the volcanic activity of Mt. Aso. Because of its rarity and art-like scenery, it has been designated as a national monument. However, the beautiful scenery isn't the only thing Takachiho Gorge has to offer. A popular activity at Takachiho Gorge is riding the river that flows down the base of the gorge on a rental boat.

Takachiho Gorge Boat Rental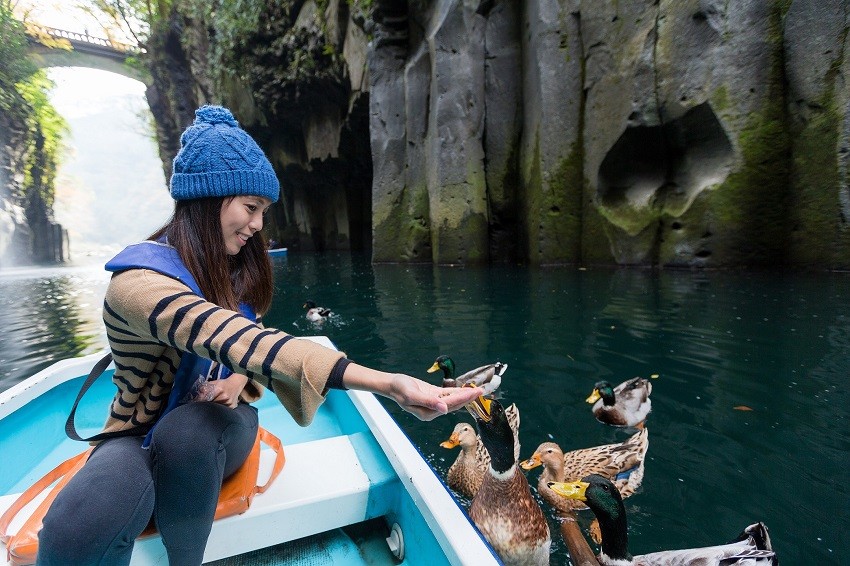 You can walk along the promenade and enjoy the beautiful views of Takachiho Gorge. However, if time allows, you should definitely ride a rental boat. You can have a view from the bottom of the gorge where you can see the high cliffs. You can feel the overwhelming nature with the steep cliffs of 80 to 100 meters. On the other hand, in the river, there are ducks swimming that have been accustomed to people. If you buy food at the boat station, you can feed and play with the adorable ducks.

How to get on a Rental Boat at Takachiho Gorge: Go in the Winter!

You can rent a boat for 30 minutes. However, because they are so popular, you may have to wait for over 3 hours. Pre-booking by phone, e-mail, or the internet is not available. You need to rent directly from the boat dock, and it costs 2,000 yen in cash to borrow a boat. It is recommended that you go early in the morning so you don't have to wait too long. Furthermore, if you visit in the winter rather than the crowded summer, you can get a boat easier. Boat rentals are open all year round, but may be suspended depending on the weather. It is a good idea to check on the operation situation and wait time of the rental boats at the "Machinaka Information Center", where there is staff that can help out in English.

Spot Information
Spot name: Machinaka Information Center

Street address: 802-3 Mitai Takachiho, Nishiusuki-gun, Miyazaki
Access: 1 minute by foot from Takachiho Bus Center
Wi-Fi: Available
Language: English
Takachiho Gorge Waterfall: Manai Falls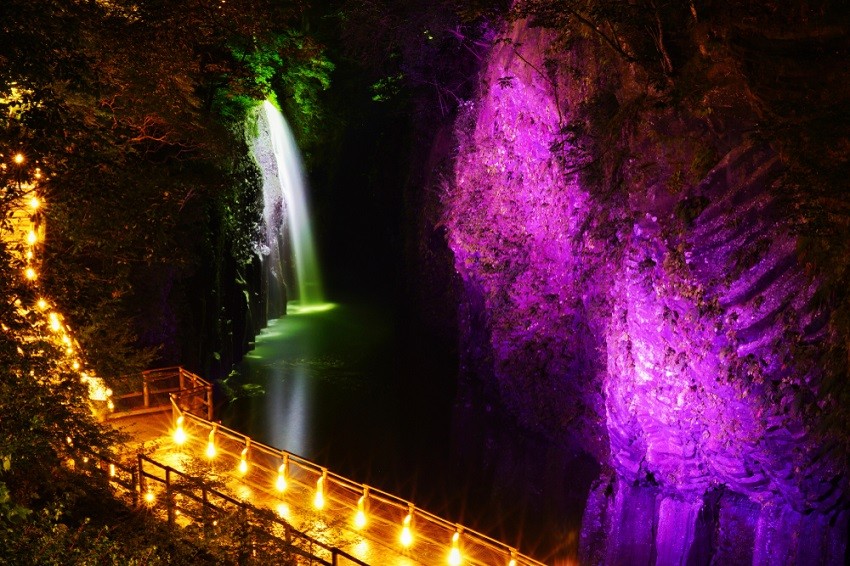 If you visit Takachiho Gorge, you cannot afford to miss the gorgeous "Manai Waterfall". If you take a rental boat, you may catch a spray of cool water from about 17 meters high up close from the waterfall. In addition, it is lit up during the night every summer. Unlike the daytime, the view of "Manai Waterfall" from the promenade at night is also an interesting sight to behold.

Tamatare Waterfall of Takachiho Gorge and Sturgeon's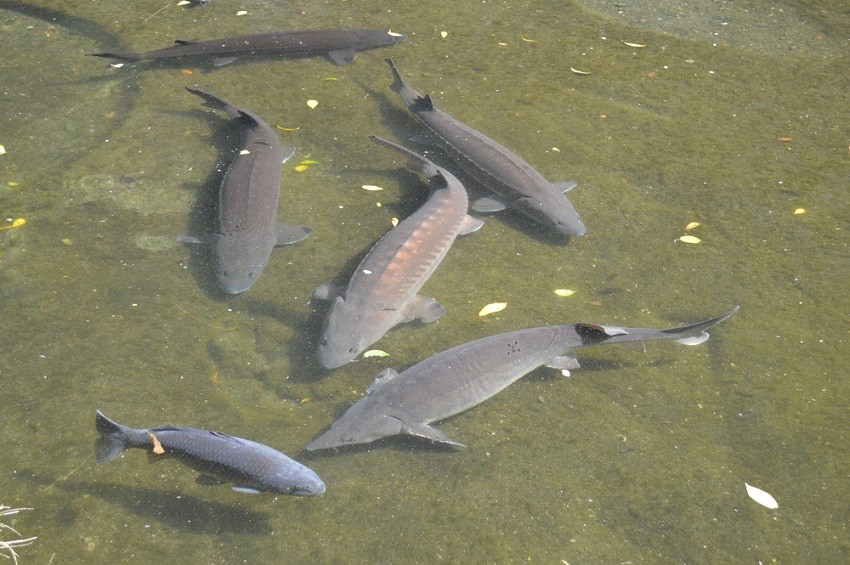 In contrast to the majestic "Manai Falls", "Tamatare Falls" has several streams of water peacefully flowing from the cliff. This water formed and flows into "Onokoro Pond" with sturgeons gracefully swimming in it. You can even feed them and watch them swim around the pond. The small island (or rock) that floats in the center is "Onokoro Island", which is said to be the island Japanese god first created. Be sure to check out Japan's origin island with your own eyes.

How to get to Takachiho Gorge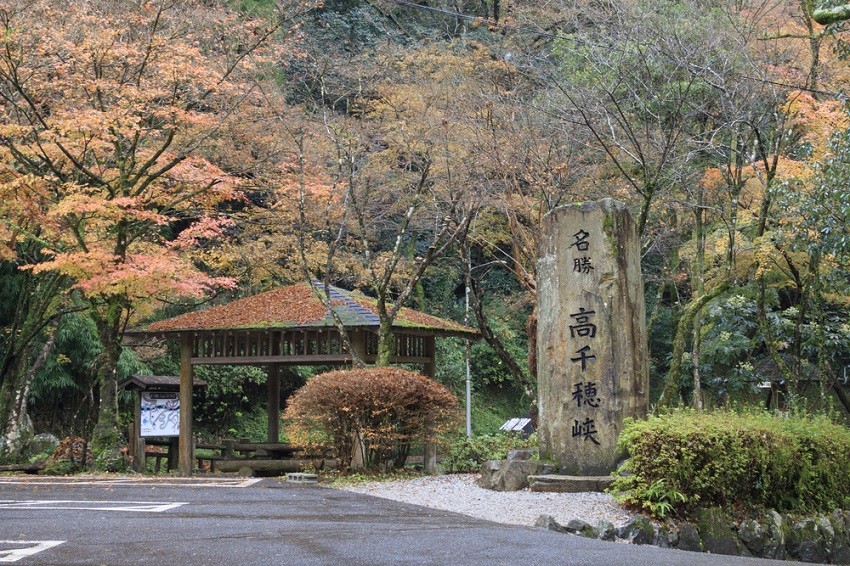 From Haneda Airport (Tokyo) or Itami Airport (Osaka), go to Fukuoka Airport via domestic flight. From there, go to Takachiho Bus Center in about three and a half hours by bus. It takes about 10 minutes by taxi from Takachiho Bus Center to Takachiho Gorge.

Spot Information

Spot name: Takachiho Gorge

Street address: Oshioi Mitai Takachiho, Nishiusuki District, Miyazaki
Access: 10 minutes by car from Takachiho Bus Center
Wi-Fi: Unavailable
Language: English guide map distributed
Ticket: None
Credit cards: Not accepted
[Survey] Traveling to Japan
Recommend