Don Quijote, Japan's largest discount store chain, is a must-visit shopping spot when visiting Osaka in Kansai!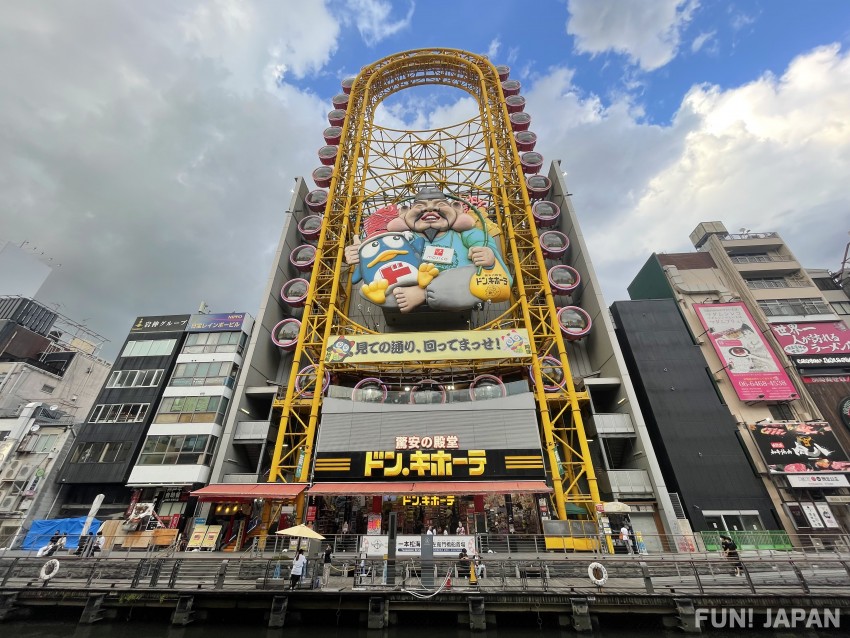 Don Quijote (often nicknamed as Donki) is Japan's most large-scale discount store chain. If you live in Japan or in any country with one of its stores, maybe you have shopped there once before too! There are currently 605 stores in Japan (as of October 2022, including affiliated stores) spreading all over the country from Hokkaido to Okinawa. What is the reason why Don Quijote is winning so many fans, not just in Japan, but also overseas countries as well? This time, our editorial department has browsed through the Don Quijote Dotonbori store in Osaka, one of the iconic symbols in the Minami area, and discovered the charms that cannot be found anywhere else in Japan. Read until the end to find out what kind of charms they are!
Charm ①: Overwhelming number of products

One of the charms of Don Quijote is of course, the incredible amount of products. The big-name covers popular souvenirs that foreign tourists like to purchase in Japan, such as cosmetics, medicines, electrical appliances, sweets, and branded goods. Products are displayed tightly all the way from the ceiling to the floor, and you can explore the store as if you are searching for treasure in a jungle. What's more, about 40,000 to 60,000 items are always readily available in the store!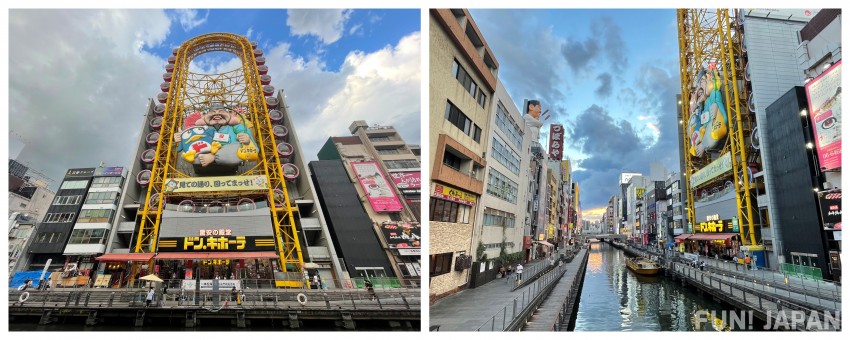 Now, let's take a look at some of the attractive products we found at Don Quijote, using the Don Quijote Dotonbori store in Osaka as an example. The six-story building is so attention-grabbing and can easily be recognized as Don Quijote even from far away (stay tuned for the yellow structural parts, which will be explained in detail later!).

Souvenirs popular among tourists congregate on the first floor. Starting with takoyaki-flavored snacks (takoyaki is a specialty of Osaka), these food souvenirs are all presented in cute packages, and the most popular item is the take-out set from a well-known Japanese ramen shop.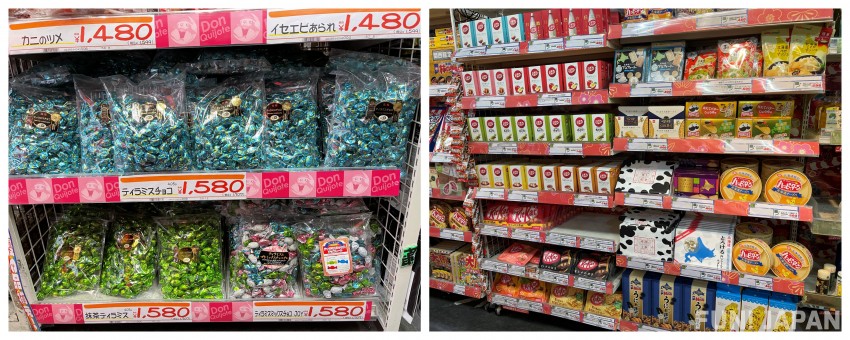 Don't forget to pick up some chocolate confectionery that comes in a wide variety of flavors. There are not many shops even in the city center that offer a large selection of sweets for tourists at reasonable prices, no wonder why this outpost is always crowded with tourists!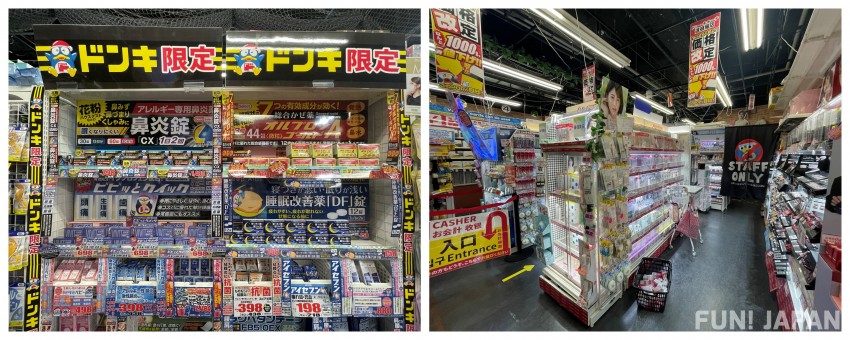 The store features many popular Japanese brands cosmetics, accompanied by a vast range of medicines, including medicines for cold, headache, and even "Donki-Exclusive" medicines - especially rhinitis tablets and sleep-improving drugs are worth trying. Here you can also find branded bags and watches as well. Be sure to do a little digging!
Charm ②: Stress-free shopping experience with late-night operation and tax-free service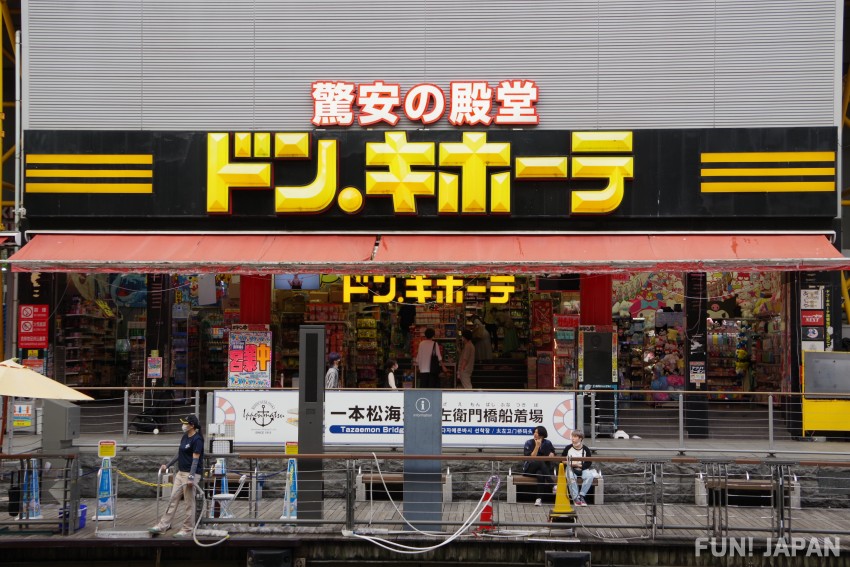 Many Don Quijote stores are open until late at night or 24 hours, making them perfect for tourists busy with sightseeing from day to night. Moreover, many Don Quijote stores including the Dotonbori store are located in downtown areas. You can shop after dinner just before returning to the hotel without worrying about opening hours.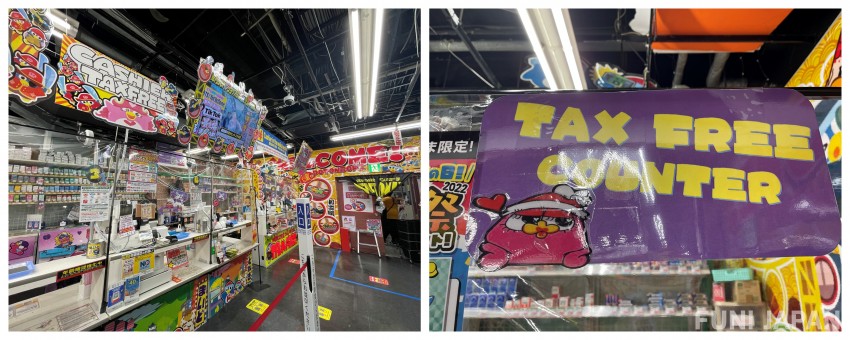 Another nice thing about Don Quijote is that it offers tax-exemption service anytime during business hours. Just request for "tax-free" at the checkout counter on the 1st floor! Rest assured, there are not only staff who can speak English, Chinese, and Korean, but a three-way video interpreting service that covers up to 14 languages is also available.

Charm ③: The concept of each shop is unique!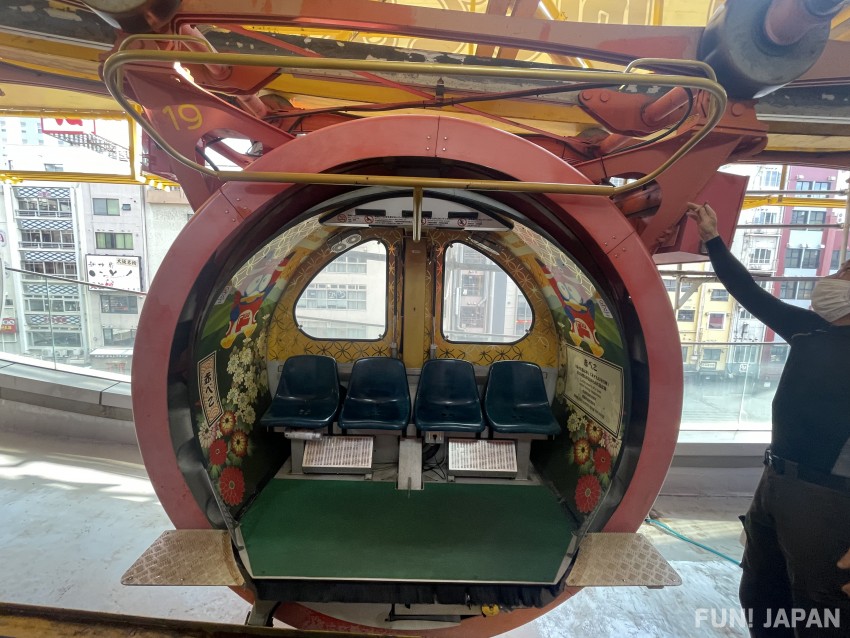 When you visit a Don Quijote, be sure to pay attention to the unique concept and special facilities of each store. One surprising fact about the Dotonbori store we visited this time is that there is a Ferris wheel installed! A 15-minute trip up in the sky on the world's first oval-shaped Ferris wheel can be enjoyed.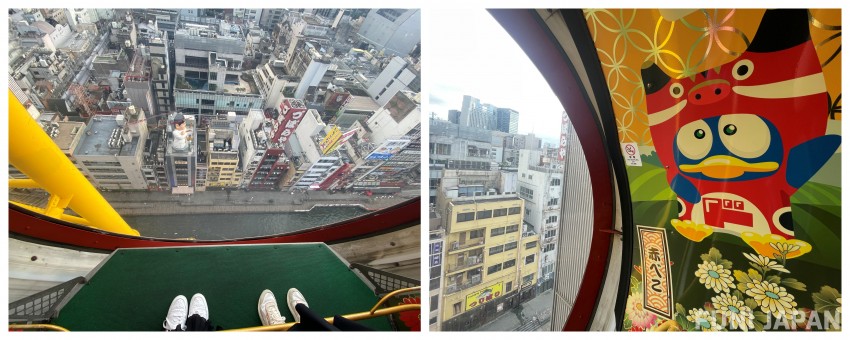 When you get on, the seats rotate horizontally and you will be taken away by a sweeping view of the Dotonbori side. Glass-fronted cars might seem thrilling, but trust us - admiring the cityscape of Osaka while slowly rising is super refreshing!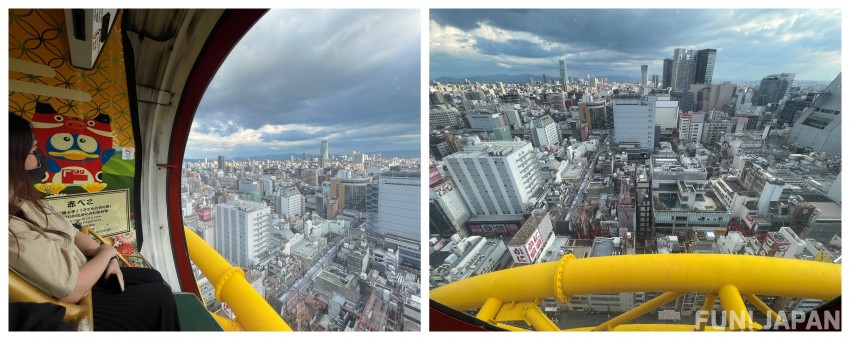 The highest position is 77.4m above ground. The scenery viewed from somewhere where no one can disturb is sure to impress!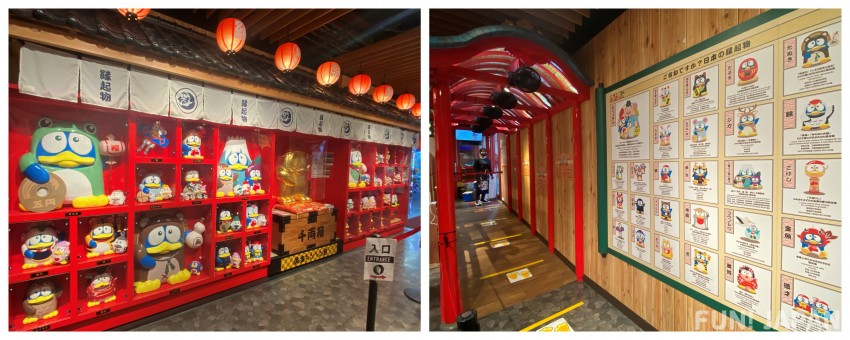 The "Dotonbori Ferris Wheel Ebisu Tower" costs 600 yen per person and is open from 16:00 to 22:00. Business days are irregular, so be sure to check at the store.
Ebisu Tower Official Website (in Japanese): https://www.donki.com/kanransha/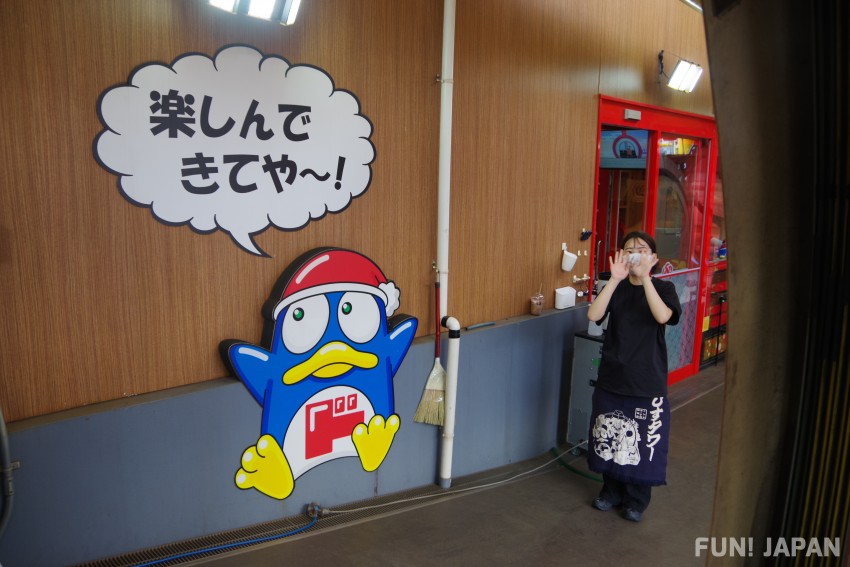 Don Quijote is a place where you can look for the products you want without worrying about opening hours. Another reason why it is loved by tourists from all over the world is that there are many attractions that can be enjoyed other than shopping. Don't forget to visit Don Quijote to make your own memories of Japan!
Don Quijote Dotonbori Store
Address: 7-13 Soemoncho, Chuo-ku, Osaka-shi, Osaka
Access: 5-minute walk from "Namba Station" on subway lines
Business hours: 11:00-03:00 of the next day
Regular holidays: none
[Survey] Traveling to Japan
Recommend