Visit the Famous and Special Restaurants in Namba and Dotonbori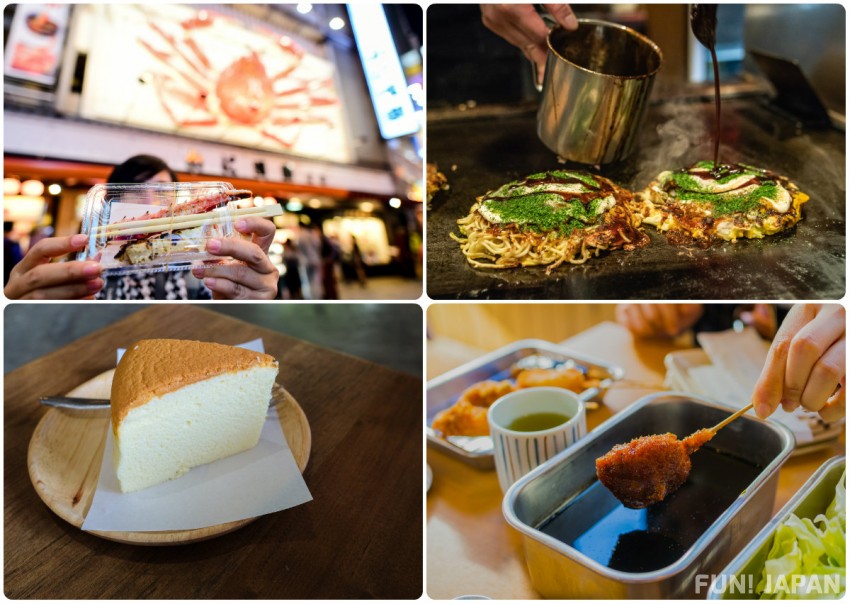 Osaka is famed for its food, and as the city's buzzing entertainment district, Dotonbori is the perfect place to indulge. There are countless restaurants to choose from, however, so how to decide where to go? Plenty of the restaurants here are famous, with queues outside hinting at their popularity. While their food is vital for their reputation, many stores are also known for their eye-catching large signs, depicting moving crabs, winding dragons and even angry-faced chefs. When choosing where to go for dinner, why not try somewhere famous and memorable!
Kani Douraku: Cure your Crab Cravings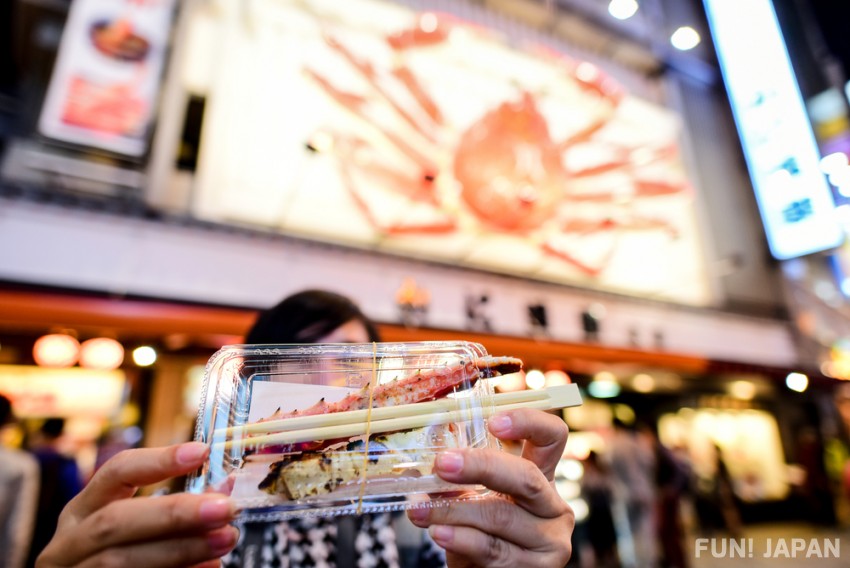 One of the most famous signs in Dotonbori, Kani Douraku hosts a giant mechanized crab above its doorway. Waving its arms, the crab is a symbol of the restaurant's specialty - the best crab in Osaka, if not Japan. Offering platters of marbled crab claws, crab sushi, hot pot, banquet options and more, the restaurant has something for everyone. Lunch courses are reasonable and start at around 2,700 yen for six dishes while crab hotpot courses start from 6,000 yen. There are takeaway options served on the ground floor as well as souvenirs and gift boxes too.
Spot Information
Name: Kani Douraku Dotonbori Honten (かに道楽 道頓堀本店)
Address: 1-6-18 Dotonbori, Chuo-ku, Osaka
Location: Beside Ebisubashi Bridge on Dotombori
Opening Hours: 11:00 - 22:00
Regular Holiday: None
Kushikatsu Daruma: Don't Double Dip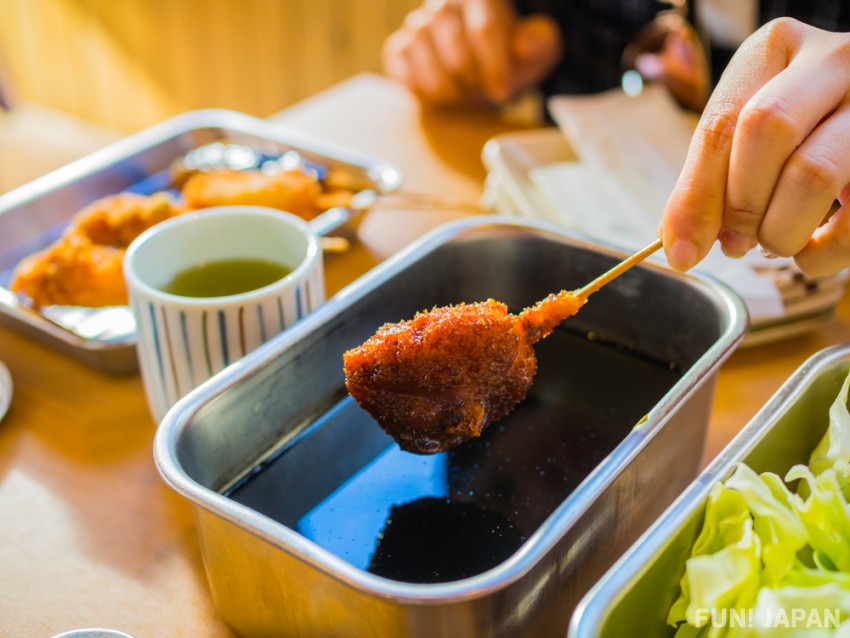 Deep-fried and delicious, kushikatsu is the lesser-known specialty of Osaka and is generally associated with the Shinsekai area. However, another common association is the glowering face of Daruma - a chef bent on stopping his customers from double-dipping in his special kushikatsu sauce. The dish involves a variety of vegetables, meat and other items speared on skewers and dipped in breadcrumbs before being deep-fried, served with a delicious sweet dipping sauce and bowls of Japanese cabbage (to scoop if you need extra sauce). It's the perfect accompaniment to a refreshing beer, so it's a popular late-night dinner in Osaka. Glaring out across Dotonbori, Daruma's face makes it easy to spot the restaurant, and while there may be a long queue, there are some nearby stores that are often quieter.
Spot Information
Name: Kushikatsu Daruma Dotonbori (だるま 道頓堀店)
Address: 1-6-4 Dotonbori, Chuo-ku, Osaka
Location: On Dotonbori close to Tazaemonbashi Bridge
Opening Hours: 11:30 - 22:30
Regular Holiday: None
Okonomiyaki Mizuno: Michelin Mentioned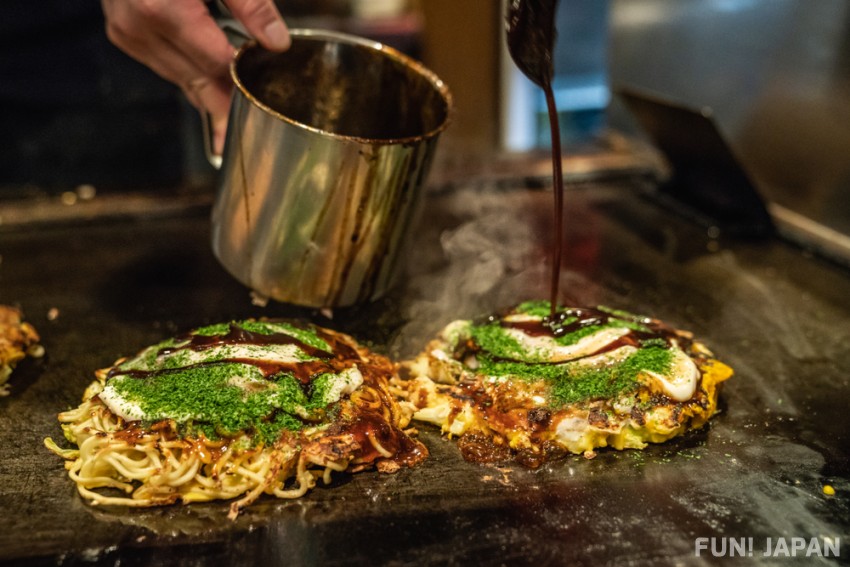 Mizuno is one of the most popular okonomiyaki restaurants in the entire city and has even been mentioned by the Michelin Guide. Known for a flexible menu that caters to vegetarians and those with allergies, it is a welcoming and contemporary establishment with a traditional history. Mizuno is now run by the third generation of the founder and was opened over 60 years ago. Over that time they have passed on the techniques and knowledge needed to create the perfect okonomiyaki. Meaning 'what you like grilled' it is a savory pancake-like dish containing cabbage and a variety of optional ingredients including ham, seafood and cheese. A staple of Osaka's food scene, this is a great opportunity to try a particularly high-end and satisfying version. For more suggestions on Okonomiyaki nearby, check our full guide.
Spot Information
Name: Mizuno (お好み焼 美津の)
Address: 1-4-15 Dotonbori, Chuo-ku, Osaka
Location: Okonomiyaki Mizuno is just south of the main Dotonbori street, in line with the Tazaemonbashi Bridge.
Opening Hours: 11:00 – 22:00 (last order: 21:00)
Regular Holiday: January 1st
Genrokuzushi Dotonbori: The Original Kaitenzushi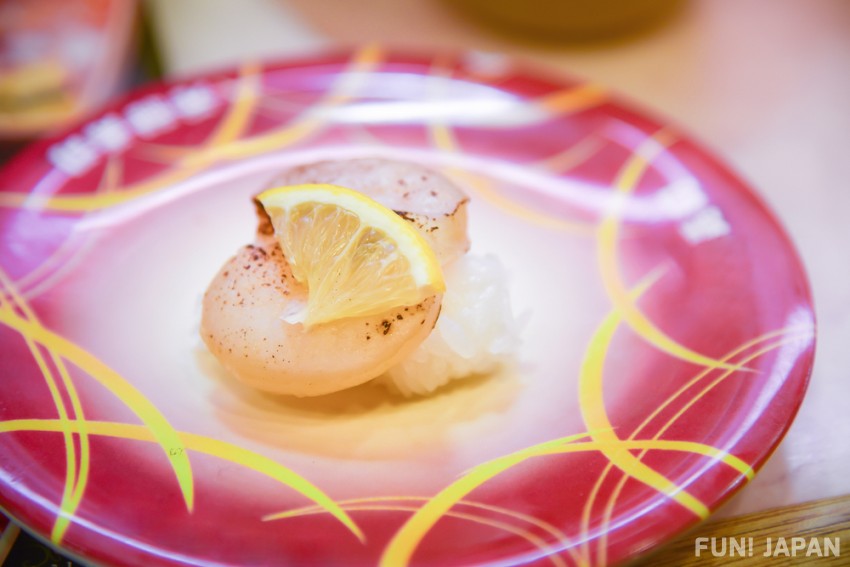 Quintessentially Japanese, the conveyor-belt sushi restaurant is not just a gimmick - it's a much loved meal out. This small restaurant is believed to be the home of the kaitenzushi after the owner was inspired by the conveyor belts at a local brewery. Transferring the mechanism to his restaurant, he created an efficient way to allow guests to choose whatever sushi takes their fancy. To celebrate their creation, the restaurant has a giant hand holding sushi on the store-front, making it easy to spot. Prices are reasonable, with plates starting at 120 yen so you can try out plenty of kinds without worrying about the bill!
Spot Information
Name: Genrokuzushi Dotombori (元禄寿司 道頓堀店)
Address: 1-6-9 Dotonbori, Chuo-ku, Osaka
Location: On the main Dotombori street, towards Tazaemonbashi Bridge.
Opening Hours: 11:00 - 22:30
Regular Holidays: None
Kukuru Takoyaki: Symbolic Squid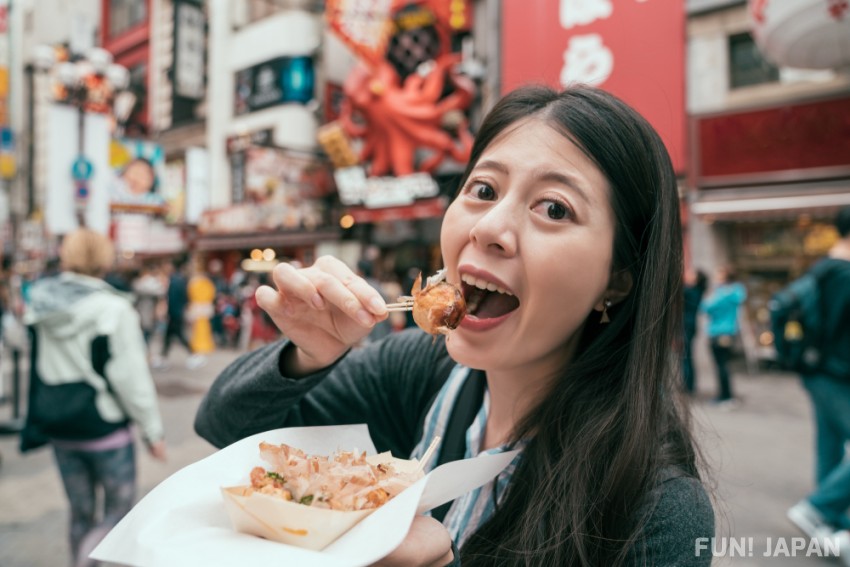 Another combination of great food and even an even greater sign, Kukuru is one of the go-to spots for Takoyaki in the Dotonbori and Namba area. One of the symbolism soul foods of the city, Takoyaki are bit-size balls of batter stuffed with squid and covered with a special dark sauce and mayo. A few sprinkles of seaweed and fish flakes on top and you have yourself a Kansai classic. Kukuru is easy to spot thanks to their huge red octopus, as well as the inevitable queue of people stood beneath him. While you watch, the specialist staff will flip takoyaki at lightning speed on the store-front griddles. You can choose to eat and walk (known as tabe-aruki in Japanese) or sit inside to enjoy your snack in peace. Their 'surprise' takoyaki is a firm favorite, with extra-large pieces of squid so be sure to try those if you love squid! There are plenty of Takoyaki options in the area - check our full post for more suggestions.
Spot Information
Name: Kukuru Dotonbori Honten ( くくる道頓堀本店)
Address: 1F Hakua Building, 1-10-5, Dotonbori, Chuo-ku, Osaka
Location: Kukuru have two stores in Dotonbori, both on the canalside. One is beside the Glico Sign and Ebisubashi Bridge while the second is a little further along and across the river, beside Tazaemonbashi Bridge.
Opening Hours: (weekdays) 12:00 – 23:00, (Saturdays) 11:00 – 23:00, (Holidays) 11:00- 22:00
Regular Holiday: None
Rikuro Ojisan's Cheesecake: Famously Freshly-Baked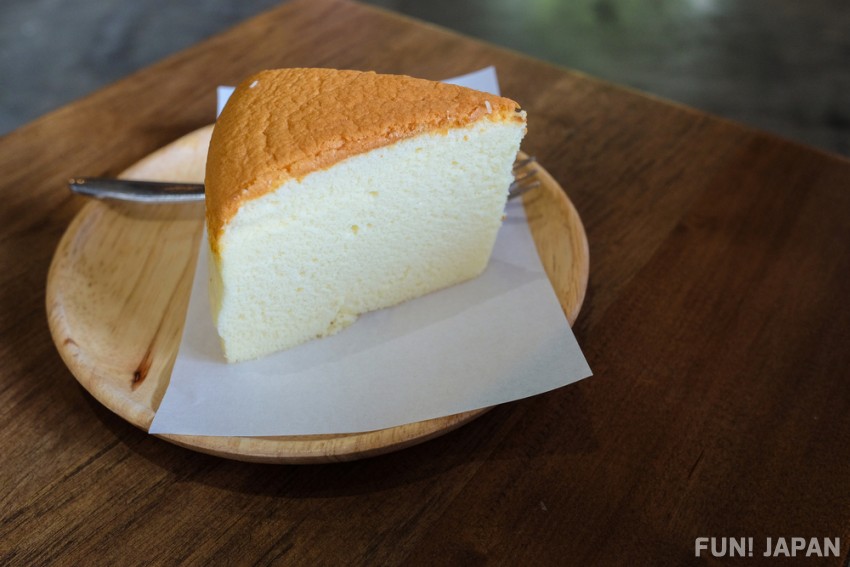 A dream for those with a sweet-tooth, this delightfully wobbly cheesecake is a food-celebrity in Japan. While there are a number of Rikuro Ojisan stores, this is the only one nearby with a cafe, meaning you can sit in and enjoy your freshly made cheesecake. Using a special recipe and cream cheese imported specially from Denmark, the cheesecake has raisins at the bottom - an unusual idea from the original Japanese pastry chef who created the recipe over 100 years ago. The stores are only available in the Kansai region, so it is a true Osaka treat. You can choose between a take-away order, eating at the standing space or sitting down in the cafe to enjoy a coffee with your dessert. They also offer a variety of other pastries and cakes if you prefer.
Spot Information
Name: Rikuro Ojisan no Mise Namba Main Store (りくろーおじさんの店 なんば本店)
Address: 3-2-28 Namba, Chuo-ku, Osaka
Location: The store is located inside the Ebisubashi Suji Shopping Street, close to exit 11 of the Midosuji Subway Station.
Opening Hours: 

Store: 09:30 - 21:30
Riku Cafe Stand: 09:30 - 20:00, (weekends and holidays) 09:30 - 12:00
Tea Room - Riku Cafe Room: (weekdays) 12:00 - 18:00 , (weekends and holidays) 12:00 - 19:00 

Regular Holiday: None
※Due to coronavirus (COVID-19), some of the shops and restaurants may be temporarily closed or have different hours from the hours stated here.
[Survey] Traveling to Japan
Recommend