Okonomiyaki in the Namba and Dotonbori Area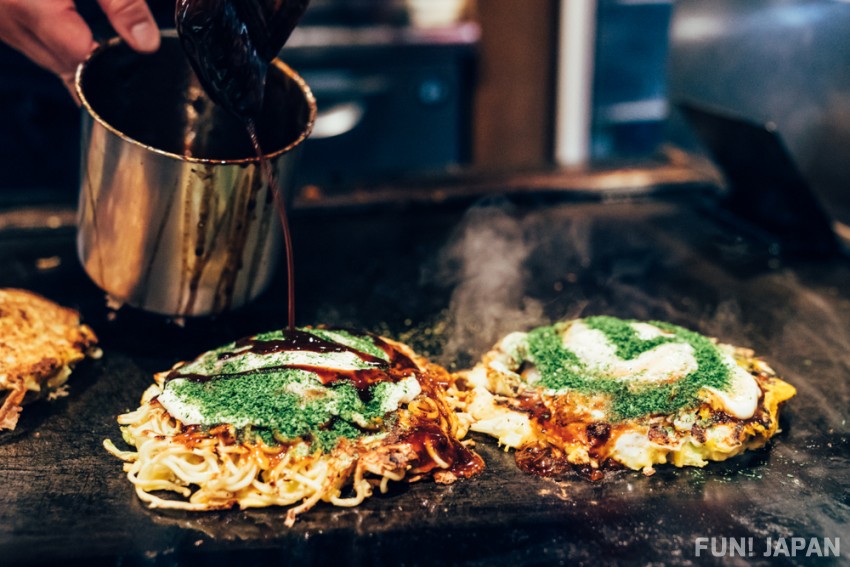 A heartier speciality than the famous takoyaki, okonomiyaki is affectionately known as 'Japan's Pizza'. Meaning 'what you like, grilled', this nickname has more to do with the flexibility of the dish than any similarity to actual pizza however. In Osaka, known as the 'nation's kitchen' Dotonbori is the food and entertainment hub, so it's the perfect place to try this unusual and delicious dish.

Okonomiyaki: A Guide to Japan's Pizza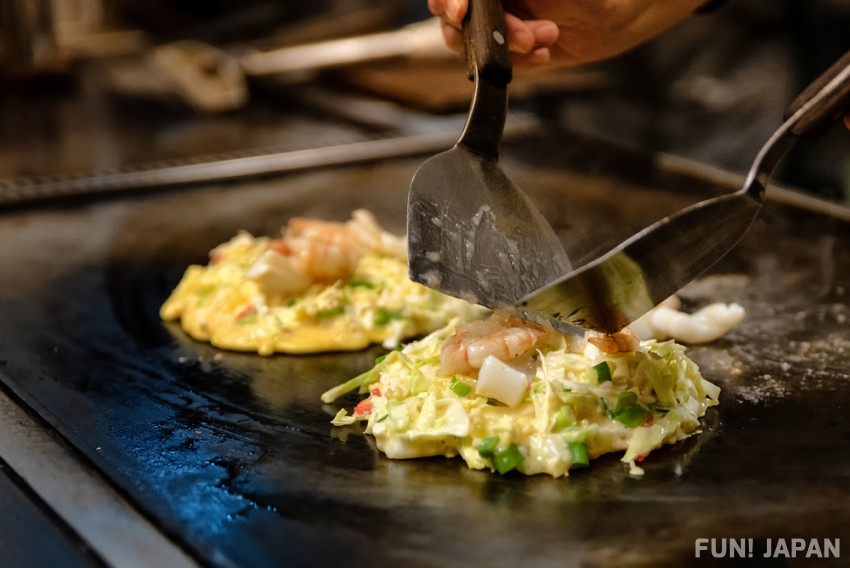 Made with a light batter and plenty of cabbage, this savoury pancake can have a wide variety of ingredients added. Popular options include shrimp, pork, cheese, and kimchi, with around 3-4 ingredients per pancake. When the ingredients have been mixed together, the pancake is cooked on a hot griddle and topped with a sweet dark sauce, mayonnaise, bonito (dried fish) flakes and powdered seaweed. Similar to takoyaki in many ways, okonomiyaki is not a street food, but is fun to make yourself and to experiment with different flavour combinations. This article will introduce some of the best okonomiyaki restaurants in the Dotonbori and Namba areas.
Tombe (Namba Area)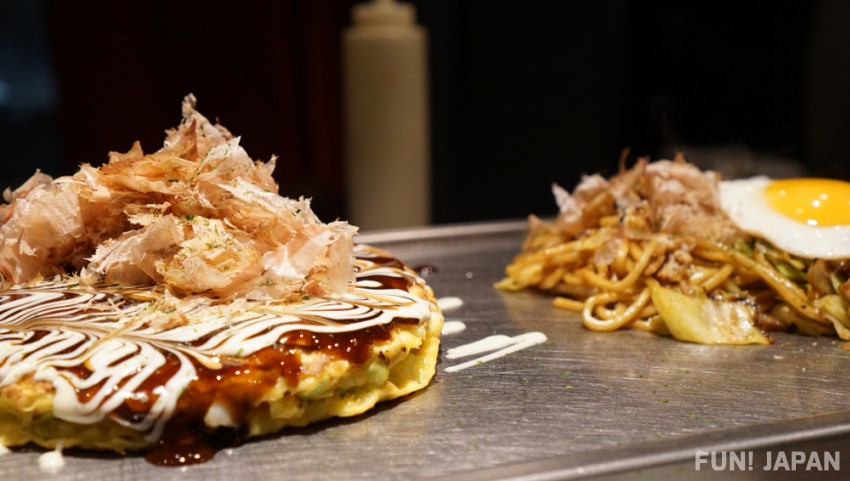 With a long-running history and a recipe perfected over 40 years, Tombe is a favourite among Osaka locals. Claiming the magic lies in their well-seasoned and slowly simmered soup, they also have a delicious home-made sauce. One of the highlights here is that you are able to cook the okonomiyaki yourself as each table comes with a fitted griddle. If you're uncertain the staff can assist and help you create a fantastic dinner. They have many suggested ingredient combinations and their recommended 'tombe mix' is a great place to start.

Spot Information
Name: Tombe (お好み焼 とんべえ)
Address: 1 Chome-6-16 Nanba, Chuo Ward, Osaka, 542-0076
Location: Tombe is on the street running parallel to the south of Dotonbori, towards Hozenji Temple. It is a five-minute walk from Namba Station.
Opening Hours: 11:00 - 22:45 (Sundays until 21:45)
Regular Holiday: None
Okaru (Namba Area)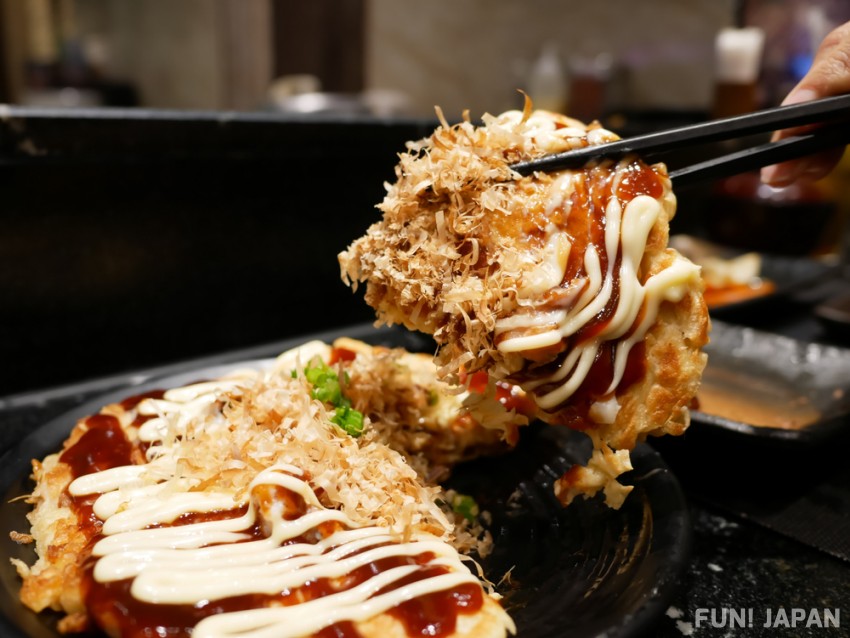 While the okonomiyaki at Okaru is certainly flavourful, it is better known for the beautiful mayonnaise topping that adorns it. Similar to a savoury version of latte-art, the chef will create delicate drawings once your okonomiyaki is finished cooking, and it will almost be too pretty to eat! The deliciousness of the dish will make sure you enjoy it however, as the chef has perfected the cooking technique since opening in 1946. Creating perfectly fluffy pancakes every time, the artwork is simply a fun bonus!

Spot Information
Name: Okaru / Pancake One [Google Maps] (お好み焼 おかる)
Address: 1-9-19 Sennichimae, Chuo-ku, Osaka
Location: Okaru is to the south of Dotonbori river, in the direction of Hozenji Yokocho and the Round1 Stadium.
Opening Hours: 12:00 – 15:00, 17:00 – 22:00
Regular Holiday: Thursdays and 3rd Wednesday of each month
Dohtonbori (Namba Area)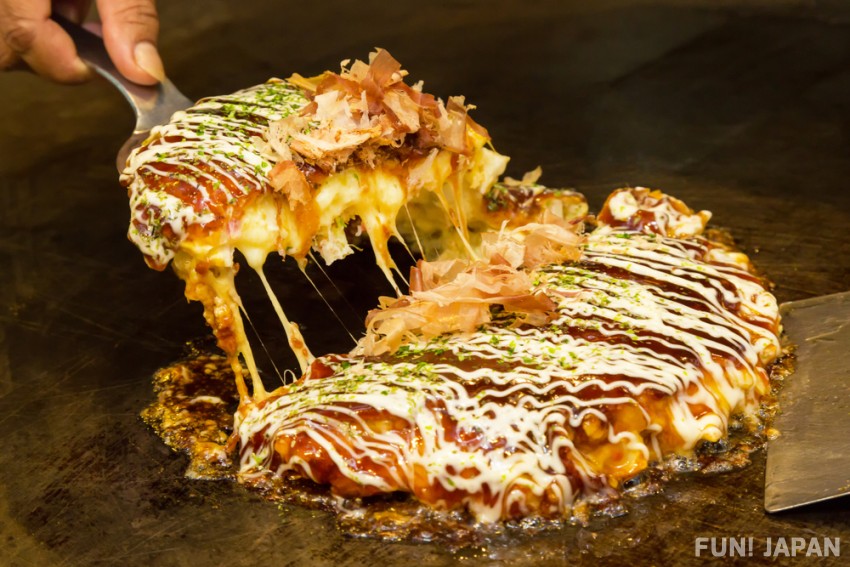 The main store of this now Japan-wide company, Dohtonbori is an all-you-can-eat okonomiyaki experience. Aiming to create a healthy version of the dish, the company sources all their vegetables from within Japan and focus on making okonomiyaki both tasty and healthy. Interested visitors can research on the website to see exactly which prefecture each vegetable comes from defending on the store - making it a Japan-wide dining experience with an Osaka flavour. The all-you-can-eat option is great if you want to try a variety of flavours or have a big appetite - but they also have single-serving options if you aren't sure!
Spot Information
Name: Dohtonbori
Address: 1-6-20, Nanba, Chuo-ku, Osaka-shi, 542-0076
Location: Okonomiyaki Dohtonbori is on the street running parallel to Dotonbori, directly to the south. It is close to Okonomiyaki Tombe.
Opening Hours: 12:00 - 23:00 (Last order 22:00)
Regular Holiday: None
Ichiaki (Dotonbori Area)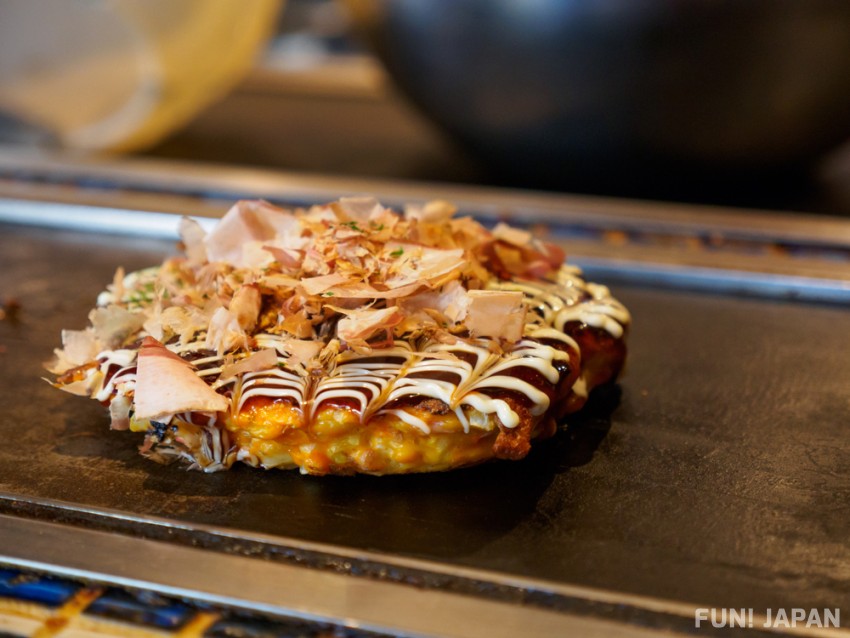 Dotonbori Ichiyaki is a great casual spot for okonomiyaki with a waterside view and a refreshing drink. Here you can cook your own okonomiyaki on the griddle and perfect your skills, while the chefs show off their creative side using the mayonnaise topping. Crafting special-occasion okonomiyaki, they can create heart-shaped pancakes and write fun messages. One of their popular flavour combinations is green onion and a ponzu sauce, making a lighter pancake which is perfect for having with drinks.

Spot Information
Name: Dotonbori Ichiaki (道頓堀 一明)
Address: B1 Nikoh Building, 1-6-12 Dotonbori, Chuo-ku, Osaka
Location: Dotonbori Ichiyaki is on the Dotonbori canalside between Ebisubashi Bridge and Tazaemonbashi Bridge.
Opening Hours: 11:30 – 21:00
Regular Holiday: None
Mizuno (Dotonbori Area)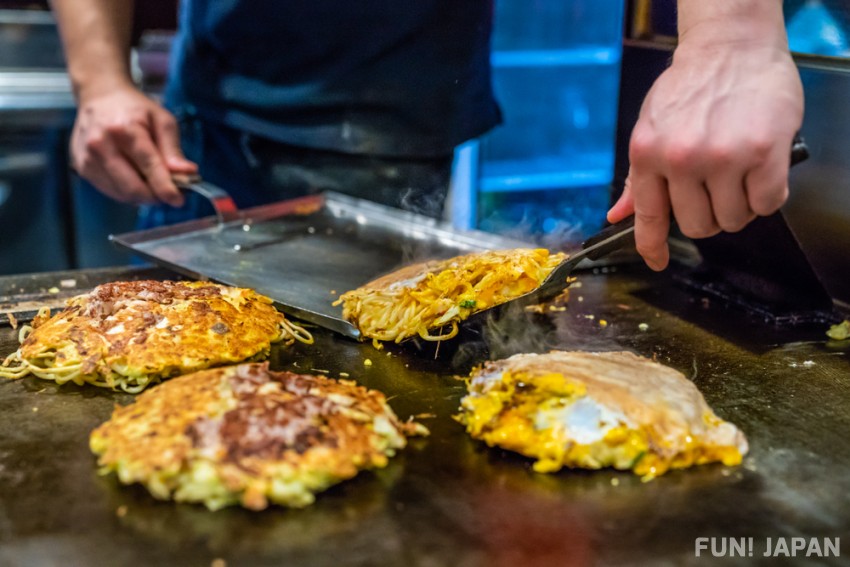 As one of the most popular okonomiyaki restaurants in the whole of Osaka, Mizuno will certainly have a queue, but it is definitely worth the wait. The restaurant has made an appearance in the Michelin Guide and has been run by three generations of the same family since it opened over 60 years ago. It has multilingual menus and has gluten-free and vegetarian options, so everyone can enjoy the flavourful dishes they create. One of their specialities is the mixed grill, which features pork loin, squid, shrimp and scallops fresh from the Sea of Okhotsk.
Spot Information
Name: Mizuno (お好み焼 美津の)
Address: 1-4-15 Dotonbori, Chuo-ku, Osaka
Location: Okonomiyaki Mizuno is just south of the main Dotonbori street, in line with the Tazaemonbashi Bridge.
Opening Hours: 11:00 – 22:00 (last order: 21:00)
Regular Holiday: January 1st
Bonkuraya (Dotonbori Area)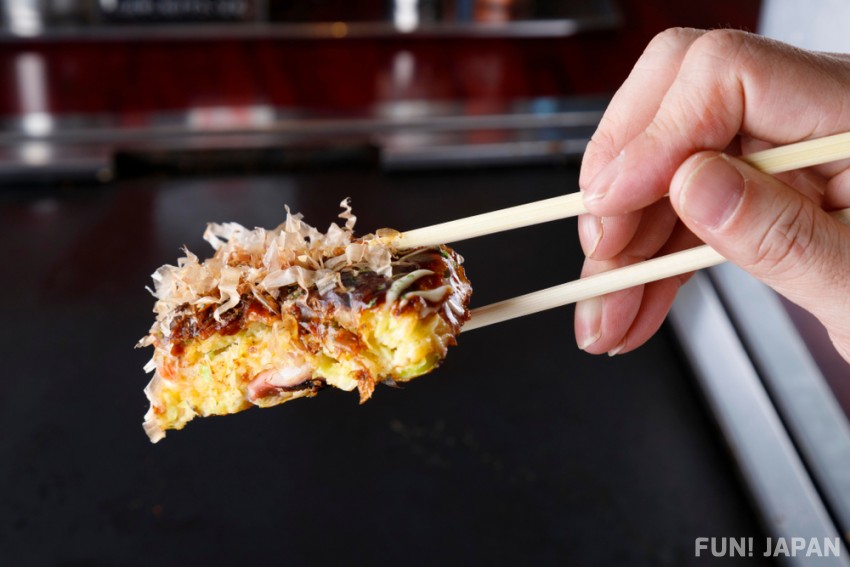 Bonkuraya is known for a popular atmosphere that is similar to that of an izakaya. Getting creative with their recipes, the restaurant has cheese-filled pancakes, entire shrimp emerging from your meal and a popular selection of mini-okonomiyaki, all with different flavours. You can cook your own pancakes as each table is fitted with a griddle - either for groups or for solo diners, but there are staff to help if needed. Be sure to give the miniature pancakes a try - they are great for trying new flavours and are a great photo opportunity!
Spot Information
Name: Okonomiyaki Bonkuraya Dotombori (お好み焼き・鉄板焼 ぼんくら家 道頓堀店)
Address: 1-5-9 Dotonbori, Chuo-ku, Osaka
Location: Bonkuraya is located on the main Dotonbori street close to Tazaemonbashi Bridge.
Opening Hours: Mon - Sat: 11:30am – 03:00, Sun & Holidays: 11:30am – 23:00
Regular Holiday: None
※Due to coronavirus (COVID-19), some of the facilities may be temporarily closed or have different hours from the hours stated here.

[Survey] Traveling to Japan
Recommend