Where to Eat the Best Takoyaki in Dotonbori and Namba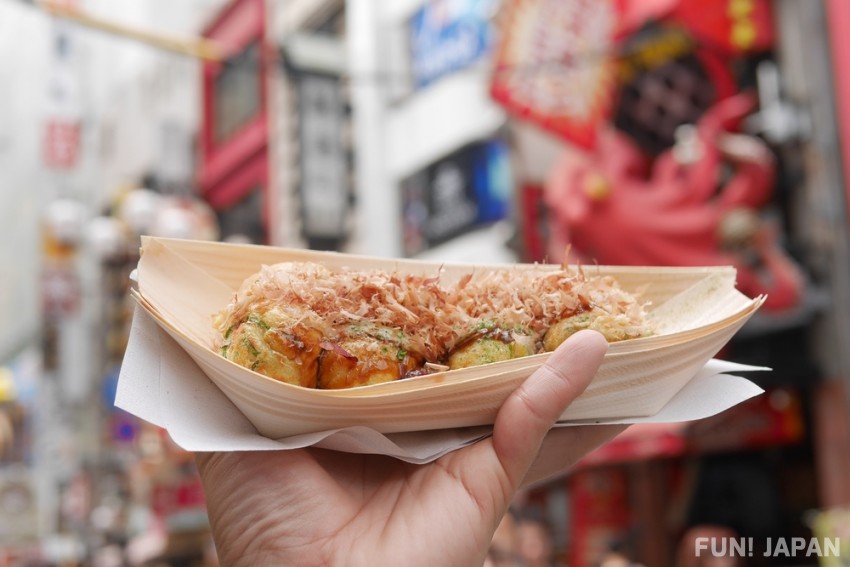 Takoyaki is the signature dish of the city and while squid isn't to everyone's taste, you may just be surprised. Available from street stalls where staff spin them with lighting speed, they're a great snack and might just become your new favourite food.
Osaka's Favourite food: What is Takoyaki?
Combining a savoury batter and chunks of squid into specially-made griddle pans, chefs effortlessly create a city staple. Once crisp and golden brown, the balls are covered with a special takoyaki sauce and drizzled with mayonnaise before the final touches of nori (powdered) seaweed and bonito (dried fish flakes) are added. Best eaten fresh and deliciously moreish, there are countless variations from restaurants and stalls across the city. Whether you prefer them a little underdone, with special blackpepper mayo or with plenty of green onions, there's bound to be a tray of takoyaki that's just right for you. In the Dotonbori area there plenty to choose from, and we've selected the best to get you started!
Kukuru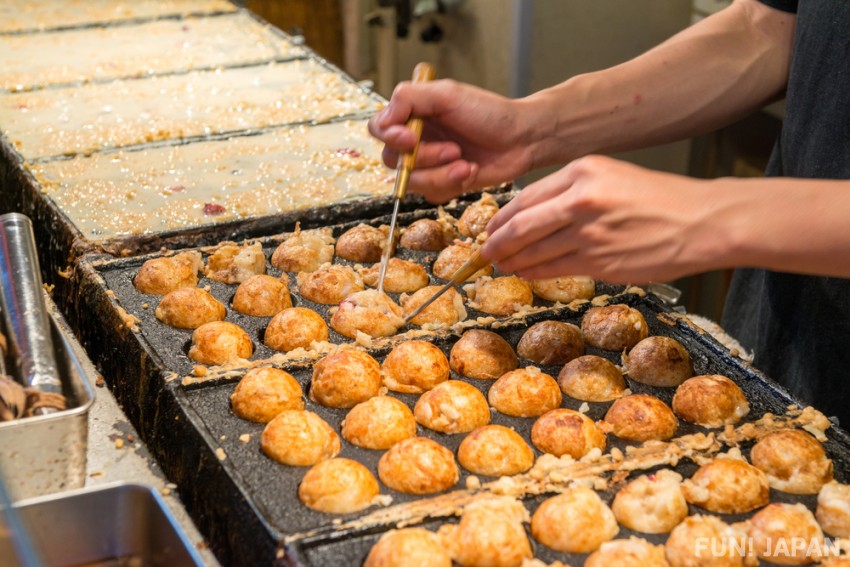 Easy to spot thanks to its large octopus sign, Kukuru's Ebisubashi store is one of the most popular takoyaki spots in all of Osaka. Fortunately the staff here are experts and while the queues are long, it won't take too much time before you receive your order. Offering both eat-in and take-out options, they also have a second store further along the river. Try the signature 'surprise' takoyaki which has large squid tentacles extending from each ball, or opt for the Akashi variety from nearby Hyogo prefecture. Dipped in dashi rather than coated with toppings, they are slightly moister and an interesting alternative!

Spot Information
Name: Kukuru
Address: 1F Hakua Building, 1-10-5, Dotonbori, Chuo-ku, Osaka
Location: Kukuru have two stores in Dotonbori, both on the canalside. One is beside the Glico Sign and Ebisubashi Bridge while the second is a little further along and across the river, beside Tazaemonbashi Bridge.
Opening Hours: Mon-Fri: 12:00 – 23:00, Sat: 11:00 – 23:00, Holidays: 11:00- 22:00
Regular Holiday: None
Akaoni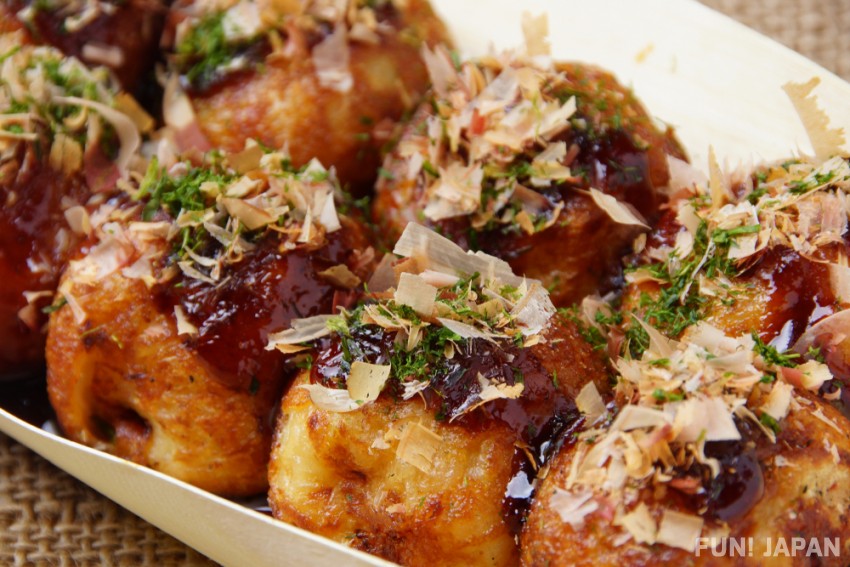 Favouring raw octopus instead of the more commonly used boiled variety, Akaoni is a subtler takoyaki experience. Meaning 'red demon' the shop name is easy to remember thanks to the large red demons decorating the storefront. The restaurant even received a mention in the Michelin guide in 2016 as one of the Bib Gourmand recommendations - these choose affordable spots with a dedication to quality. Alongside the traditional toppings Akaoni offer a spicy sauce, a soy-sauce and a cheese-topped option. You can also try a shrimp version and a unique iced version for summer! In addition, there is no beef or pork used in their recipe, so those with dietary restrictions can enjoy the experience as well.
Spot Information
Name: Akaoni
Address: 1 -2-3 Nanba, Chu-ku, Osaka
Location: Akaoni is located a short stroll to the south of Dotonbori, close to Hozenji Temple and opposite the Round One Stadium.
Opening Hours: 11:00 – 22:00
Regular Holiday: Wednesday
Acchichi
Perched right next door to Kukuru, Acchichi is known for their fluffy takoyaki and reasonable prices. Preferring iron hotplates to the regular copper-plated options, they claim to have created a takoyaki with the crispest, thinnest skin possible. The chefs also seek out the best fresh octopus from the local market each morning, guaranteeing customers a delicious center to their takoyaki. One of the popular options is a ponzu sauce, which adds a citrus kick to the traditional dish.
Spot Information
Name: Acchichi
Address: 7-19 Souemoncho, Chuo-ku, Osaka
Location: Acchichi is on the canalfront of Dotonbori, beside Tazaemonbashi Bridge.
Opening Hours: 9:00 – 02:00
Regular Holiday: none
Takoyaki Juhachiban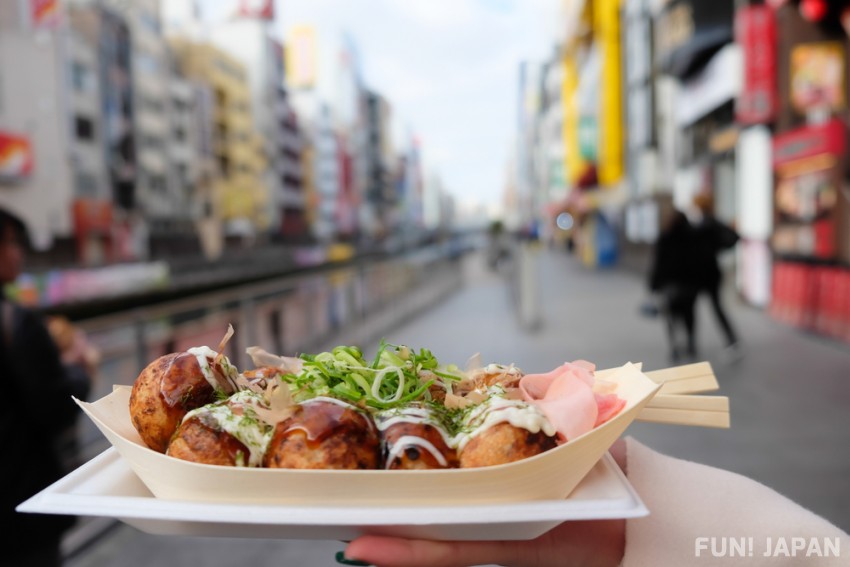 A small street-stall with a long line and a giant floating takoyaki, Juhachiban is a much-loved name when it comes to takoyaki fans. Their batter includes milk and soup stock, making it creamier and fluffier than its competitors. They also mix in tenkasu, which are crunchy pieces of batter to give extra texture, making their takoyaki truly enjoyable to eat. If you're looking to try a new flavour, opt for the salt takoyaki, and if you're not sure, they do a half-and-half version with the regular toppings too!

Spot Information
Name: Takoyaki Juhachiban
Address: 1F Nakaza Kuidaore Building, 1-7-21 Dotonbori, Chuo-ku, Osaka
Location: The Juhachiban stall is located on the corner of the Nakaza Cuidaore Building on the main Dotonbori Street.
Opening Hours: 11:00 – 21:00
Regular Holiday: None
Wanaka
Once a sushi and candy shop, Wanaka has always been popular in Osaka. It was when the owner started making takoyaki on the side that the business really took off, however. Now serving in multiple locations across Osaka, they have a highly-desired spot on the famous Dotonbori. The sign features the original lady owner and you can choose to eat in or take away. The recipe focuses on having a well-seasoned batter which is cooked crisp on the outside and soft on the inside, favouring salted ginger of the regular red kind. If you would like to try a handful of flavours, opt for the 'ooiru' plate which has four in one! You can choose from baked salt, ponzu, dashi soy sauce, spicy and regular - using their secret sauce recipe.
Spot Information
Name: Wanaka (わなか なんば店)
Address: 3 -7-24 Nanba, Chuo-ku, Osaka
Location: Takoyaki Wanaka is located on the main Dotonbori street, across from the Nakaza Cuidaore Building.
Opening Hours: Fri: 11:30 – 20:00, Sat-Sun: 10:30 – 20:00
Regular Holiday: None
Dotonbori Honke Ootako
As the oldest takoyaki store in Dotonbori, Ootako is a sure-fire recipe for a delicious and authentic snack. Known for having slightly smaller takoyaki, the octopus chunks are still large, meaning it could be a healthier option if you prefer less batter. While the trend in Osaka is to slightly undercook takoyaki (compared to other areas of Japan), here they are well-done, so it is a great option if this is your preferred style.
Spot Information
Name: Dotonbori Honke Ootako
Address: 1-5-10 Dotonbori, Chuo-Ku, Osaka
Location: Ootako is located on the main Dotonbori street, beside the turning for Tazaemonbashi Bridge.
Opening Hours: 10:00 – 23:00
Regular Holiday: None
The Dotonbori Konamon Museum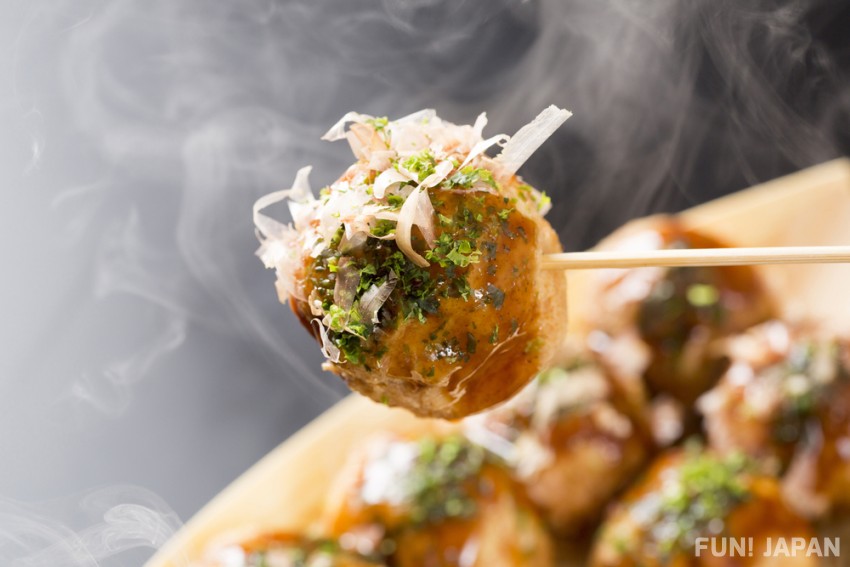 You may well notice the impressive octopus sign which is perfect for photos before you realise this is a museum, but if it catches your attention you should definitely venture inside. Considering itself a 'food theme park' the museum aims to teach visitors about the history and traditions of Osaka's classic dishes. As well as offering a science department and a cooking experience, they also have the unique opportunity to create a food-sample takoyaki as a souvenir of your trip.
Spot Information
Name: The Dotonbori Konamon Museum
Address: 1 -6-12 Dotonbori, Chu-ku, Osaka
Location: The Dotonbori Konamon Museum is located on the main Dotonbori street, approximately halfway between Ebisubashi bridge and Tazaemonbashi Bridge.
Opening Hours: 11:00 – 20:00 (workshops from 30 minutes after opening until 15minutes before closing)
Regular Holiday: None
※Due to coronavirus (COVID-19), some of the facilities may be temporarily closed or have different hours from the hours stated here.

[Survey] Traveling to Japan
Recommend