Osaka's Signature Dishes: Kushikatsu
Osaka's Lesser-Known Food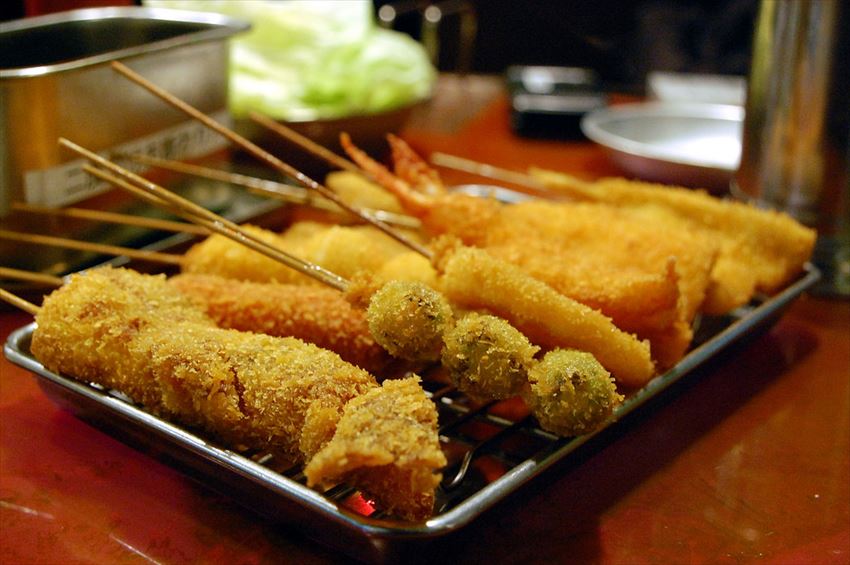 https://www.flickr.com/photos/kimishowota/3251940623/

Osaka is more commonly referred to as a food haven. Japan's most popular food such as okonomiyaki and takoyaki originates from Osaka. However, these are not just what Osaka is famous for. In this article, I would like to introduce you to two other lesser-known-but-delicious traditional foods from Osaka. Kushikatsu is a dish of meat or vegetables that has been cut in mouthful portions, skewered, battered and deep fried. Kushikatsu is said to have originated from Shinsekai in Osaka, and even now, you can find lots of kushikatsu restaurants in the area.

Ingredients
The menu is typically made up of meat, fish and vegetables, with some examples including:

❏ Onion
❏ Lotus root (Renkon)
❏ Eggplant
❏ Small green peppers
❏ Shiitake mushrooms
❏ Beef
❏ Pork
❏ Prawn
❏ Octopus
❏ Quail egg


On top of these, some restaurants offer deep fried fruit and their own original dishes, which will really bring out your appetite.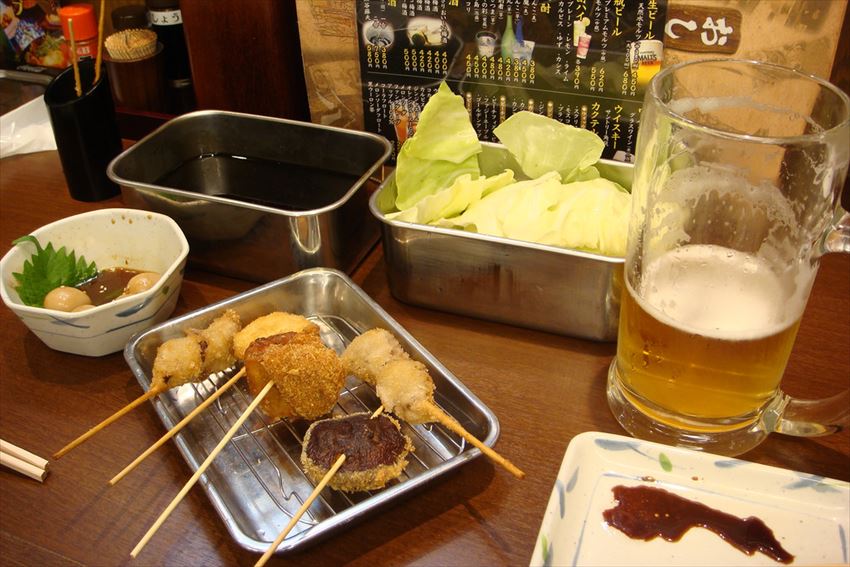 https://www.flickr.com/photos/hyougushi/4185578971/
While the two dishes may appear similar, the difference between tempura and kushikatsu is the batter. The batter in tempura uses a water, flour and egg base, however with kushikatsu, breadcrumbs are added and deep fried.
Eating Manner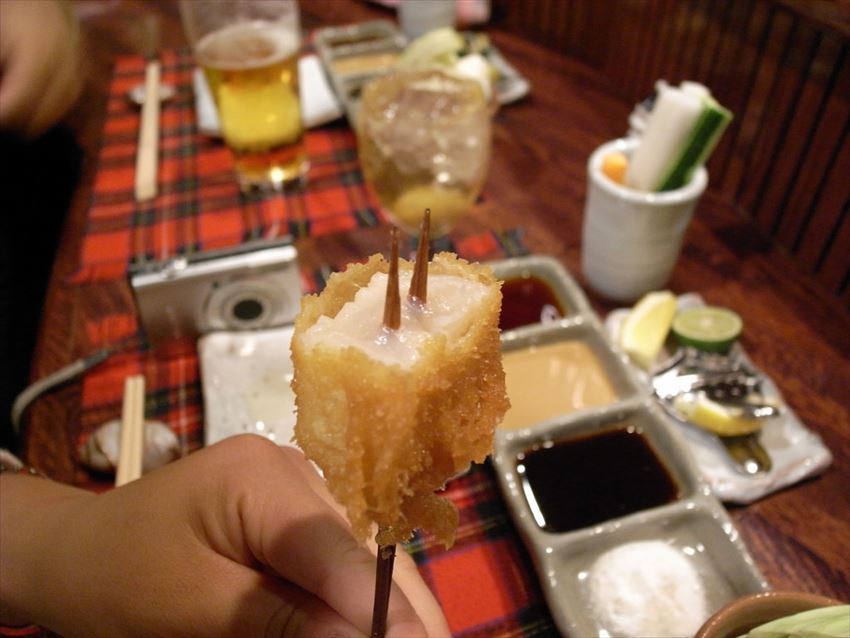 https://www.flickr.com/photos/mah_japan/2592545555/

Eating style is also unique at kushikatsu restaurants and food bars as you dip kushikatsu into a pot of thinner sauce before eating. As a sauce pot is shared among customers, and putting your food after a bite is seen not only as a disgusting manner but for sanitary reasons.
Some kushiyaki restaurants prepare menu and instruction in English and other languages to warn overseas travelers not to dip food into the shared sauce pot after you bite them, both for sanitary reason and customs.
Instead, you will use a slice of cabbage on your table and scoop up sauce from the pot and pour it on your share of kushikatsu. In some restaurants they put a brush or spoon to the shared pot that you season the kushi on your dish.
3 Restaurants Where You Can Enjoy Great Osaka-Style Kushikatsu
1. Kushikatsu Daruma (串カツ だるま)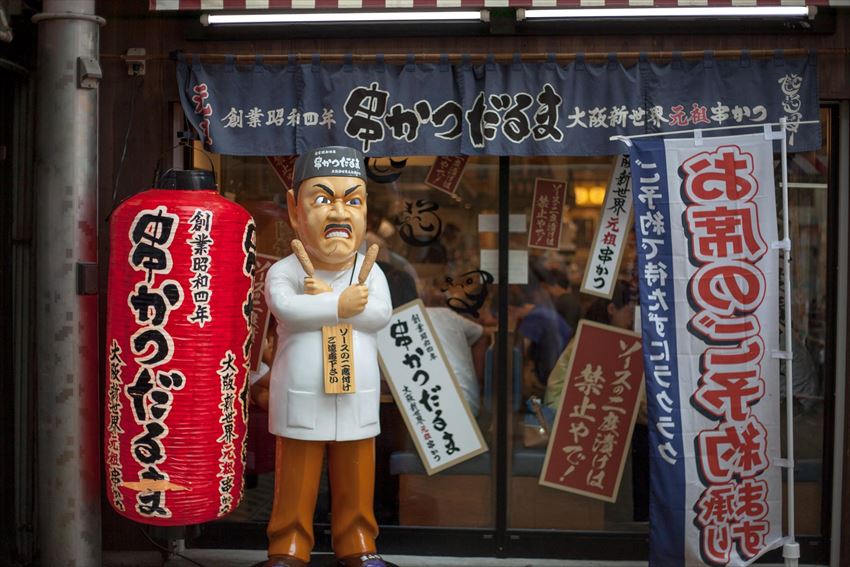 https://www.flickr.com/photos/takoyaki_king/28160782001/

A long-standing store in the famous Osaka tourist spot, Shinsekai. There are 12 Kushikatsu Daruma restaurants in Osaka, and they are all rather small and with counter-only seating. They offer about 40 different types of kushikatsu. Of course, dipping twice is forbidden, but depending on the type of kushikatsu, some are better without sauce. They also offer a variety of set menus. Please note that you can't use credit cards here.
2. Yakko (やっこ)
This is another popular old restaurant in Shinsekai, and is again a counter only place. This restaurant is proud of the flavour and freshness of the ingredients. The kushikatsu are dipped in a thin batter and lightly fried until crispy. The kushikatsu offered at this restaurant is quite rare as it uses tallow, or beef fat. You can't dip twice here. The bill is calculated based on the number of skewers left in the skewer pot on the table after eating. Again, you can't pay by card here either.
3. Yaekatsu (八重勝)
A famous restaurant in Shinsekai. Again, this is a counter seating only restaurant, but the restaurant itself is large and can fit many customers, although its popularity means you may have to queue to eat there. This is of course another "don't dip twice" restaurant. The batter on the kushikatsu at Yaekatsu is fluffy and has a light taste. The secret of the fluffiness comes from the yam added to the batter apparently. Please note that you can't pay by card.