★Visit Japan Report – Second day - in Hakata, Fukuoka★
Today's weather is so nice. We headed to Yanagawa station on Nishitetsu line. It took about 10 minutes walk to Yanagawa River. The scenery here stunned us a lot. The red color of Japanese style bridge and the boat, green river and willow tree, and pink cherry blossom matches each other well.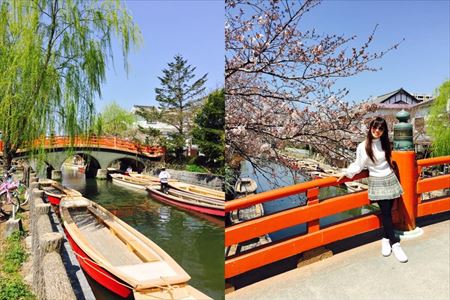 We all wanted to do Yanagawa River Cruising so we all go and buy for a ticket on the other side of the bridge. I heard that there are 4 companies for river cruising but we chose the closest one to us at that time. It cost 1600 Yen per ride (60mins) but we have 10% discount ticket printed from the Internet so we all only have to pay 1440 Yen.
Next boat will be 1 hour later so we walked around took pictures and went to the toilet inside the ticket office. I thought 2 hours might not be enough for this sightseeing area because the boat will drop us the other side of the river that we need to take a bus to get back to the station again.
However, 30 minutes before departure time I saw people already lining up for getting on the boat. It was too early but we hurried and queued in line. Just as I thought, because there are many customers lining up, they let us ride before departure time.
You will be under the sun for quite a long time so if you don't want to get sunburn. Near the line queue, Japanese old traditional hat can be rent for only 100 Yen.

The landscape along the river both sides are very facinating. The boat pilot is skillful standing at the end of the boat uses only a long pole to paddle!

The river is like a dungeon that we have to pass through under several bridges with different width and height.

They even have drive-through here! Captain will ask whether anyone want to buy anything. If you want it, just raise your hand up and he will stop the boat in front of the shop.

On the way, captain explained about history and building we passed by. He started to sing a local song with a soft loud voice like a professional singer in last 10 minutes before the boat reach. We will also get to see a map on how to get a transportation to return back from where we came.
At the end of the river where we arrived, there are museum, souvenir shop, and local cuisines. This is quite a perfect place for lunch but not much time left therefore we have to move on.

Since the time that a free shuttle bus and a normal bus took times to depart that we have to wait for more than 30 minutes so we chose to walk back to the station for the same length of time. We got to see the scenery of Yanagawa as well as the town.
Our next destination is Enmei Park in Oomuta station that took only 15 minutes by train plus 15 minutes walk. There are many cherry blossom trees here but they bloom a tiny bit only. Therefore, we didn't spend much time here and headed off to the last place for today.

Last place is DazaifuTenmangu at Dazaifu station. It took almost an hour from last destination but this gave us a good chitchatting time on the train.

Just like many shrines, a long street leading to the temple selling local souvenir and gourmet shops. Starbucks coffee here has a gorgeous architecture of wood construction that I have never seen before.
It was my first time here so I didn't know much about what is popular. However, I saw many shop selling Umegaemochi, a speacialty traditional rice cake with azuki bean filling. Then, I though why not try one!!! So I got a newly fresh bake one. It was hot and yummy.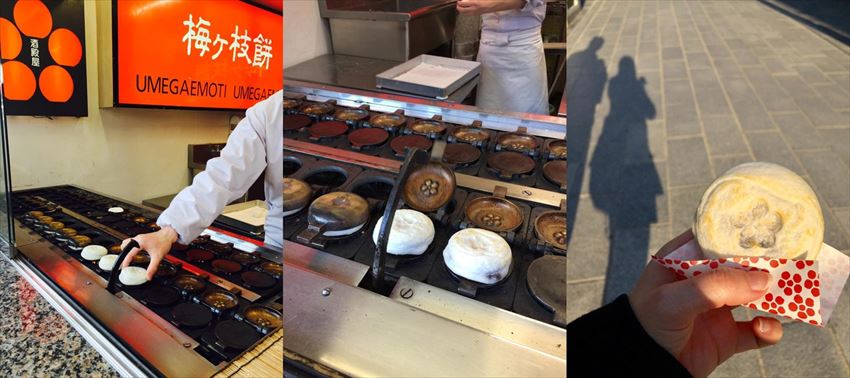 This shrine is known for preying for good luck for the exams. Steps to the Shine is amazing with colorful red bridge and lovely atmosphere.