Yokosuka: Amazing Military History in Japan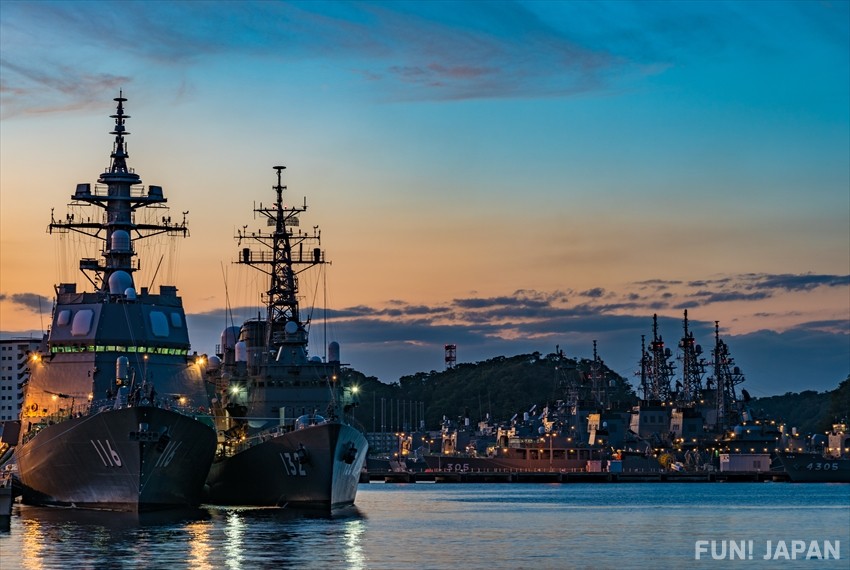 Known in Japan for its military presence, Yokosuka is actually a great day out with many unusual spots to explore. From an uninhabited monkey-island to modern art galleries, it is an under-appreciated spot. For those with an interest in the military history of Japan, the preserved warships are a fantastic opportunity to learn about the past, while the fusion of American and Japanese styles can be seen in the fashion as well as the food. 

Where is Yokosuka?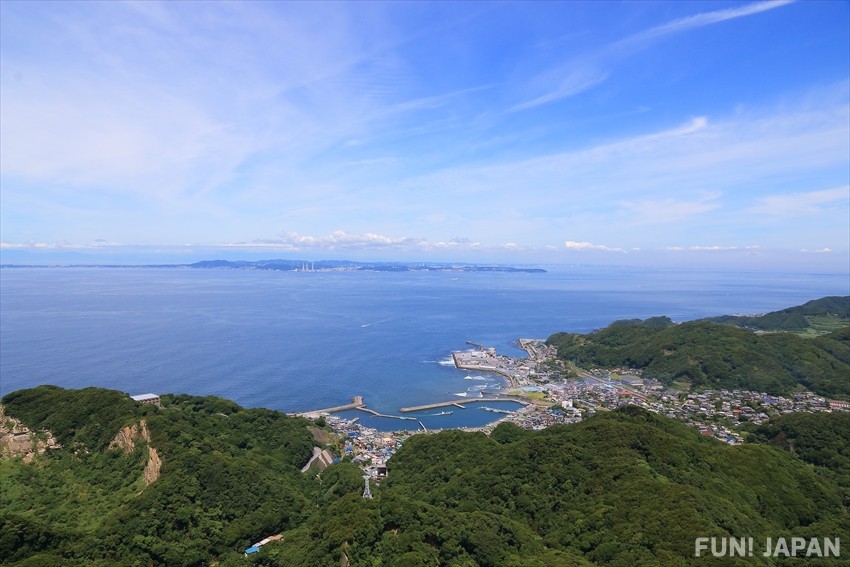 Yokosuka is around an hour from Tokyo, on the east coast of the Miura Peninsula. The city looks out on the Tokyo Bay towards Chiba, with a ferry connecting the city with Hama Kanaya port - a popular route for those wishing to hike in the beautiful scenery, including Nokogiriyama. Located in Kanagawa Prefecture, the city is close to Kamakura and Yokohama - both great sightseeing destinations.
The History of Yokosuka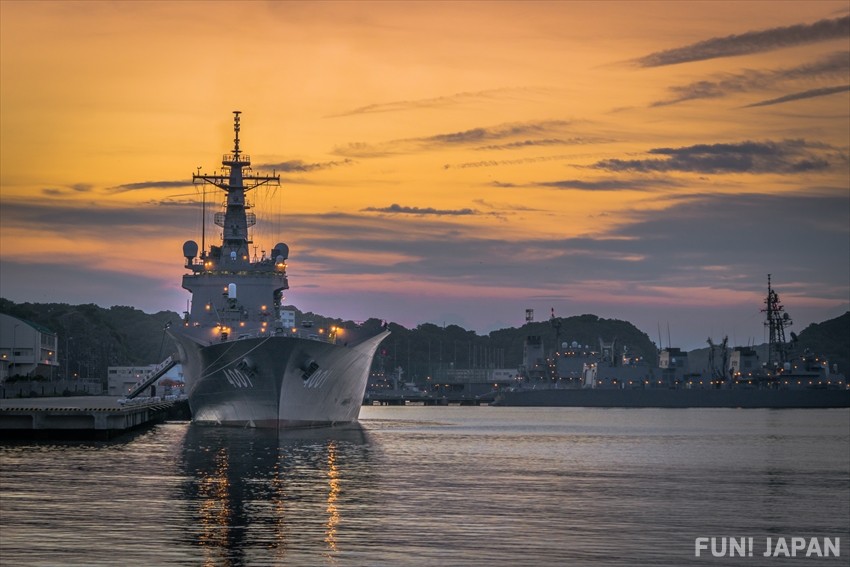 Yokosuka is synonymous with American Military in Japan and has long been an important port thanks to its prime position at the mouth of Tokyo Bay. Used to inspect all incoming boats by the Tokugawa Shogunate from 1720, it was soon fortified with a string of artillery posts along the coast in an effort to prevent foreign ships entering the bay, as Japan was in its sakoku, or seclusion period. Eventually, however, Commodore Perry of the United States Naval service arrived in Kurihama with his famous Black Ship fleet, forging the start of a long-lasting trade relationship between Japan and America. As Japan opened its doors to the world and entered the Meiji Era in 1868, the Imperial Japanese Navy took over Yokosuka's arsenal and the city grew, with train lines added in 1889 and gaining city status in 1907. Despite suffering significant damage in the Great Kanto Earthquake of 1923, the city rebuilt and continued to grow, annexing local towns and villages.
In WWII, Yokosuka escaped any major attacks, with some minor retaliation strikes following the bombing of Pearl Harbour. With a network of tunnels and caves built around the city, it was prepared for severe attacks, but escaped relatively unharmed. When Japan Surrendered in 1945, US occupation forces arrived and the naval base has remained a US Military base ever since, home to the United States Seventh Fleet.
Top Sightseeing Spots in Yokosuka
Verny Park: Roses and Relaxation
Close to the former Yokosuka Iron Factory, Verny Park is a beautiful spot beside the water. The park was named after the French engineer Leonce Verny, who was key in aiding Japan's rapid industrialisation. The park has manicured flower beds, a fountain and a cottage - all following French garden design. The roses are a special attraction, with over 130 species as well as the commemorative museum dedicated to the life and works of Verny.
Spot Information
Name: Verny Park (ヴェルニー公園)
Address: 1-1 Shioricho, Yokosuka, Kanagawa
Location: Verny Park is directly across from JR Yokosuka station, running along the seafront.
Access: The park is best accessed from JR Yokosuka Station, served by the JR Yokosuka Line.
Opening Hours: The park is open 24/7, the museum is open from 09:00 - 17:00, closed on Mondays.
Entry Fee: The park and museum are free to enter.
Sarushima: An Uninhabited Monkey Island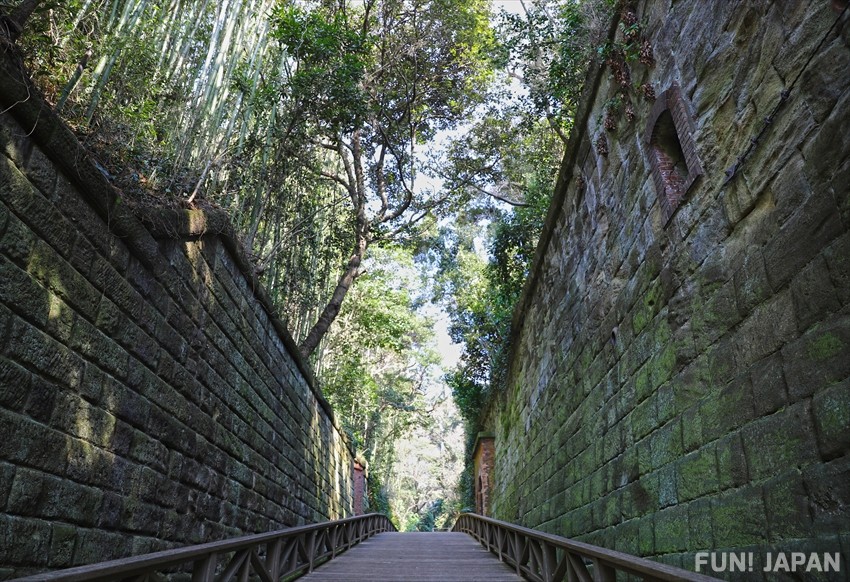 Sarushima Monkey Island is a popular day trip from Yokosuka and is known as Monkey Island thanks to the playful residents. The only natural island in Tokyo Bay, it served as an artillery base in the past and is now uninhabited, by humans at least. As a popular fishing spot and drawing monkey-fans from the Kanto region, it is a popular spot to explore thanks to its abandoned bunkers, pathways and gun batteries.
Spot Information
Name: Sarushima Island 猿島
Address: Sarushima, Yokosuka, Kanagawa.
Location: The island is 2km from Yokosuka in Tokyo Bay.
Access: The island can be reached by ferry in 15 minutes, with boats leaving from Mikasa Park - only a 15-minute walk from Yokosuka-chuo Station. The journey costs a few hundred yen.
Entry: There is a suggested entry fee of 200 yen per person to continue the care of the island
Step Aboard the Mikasa Historic Memorial War Ship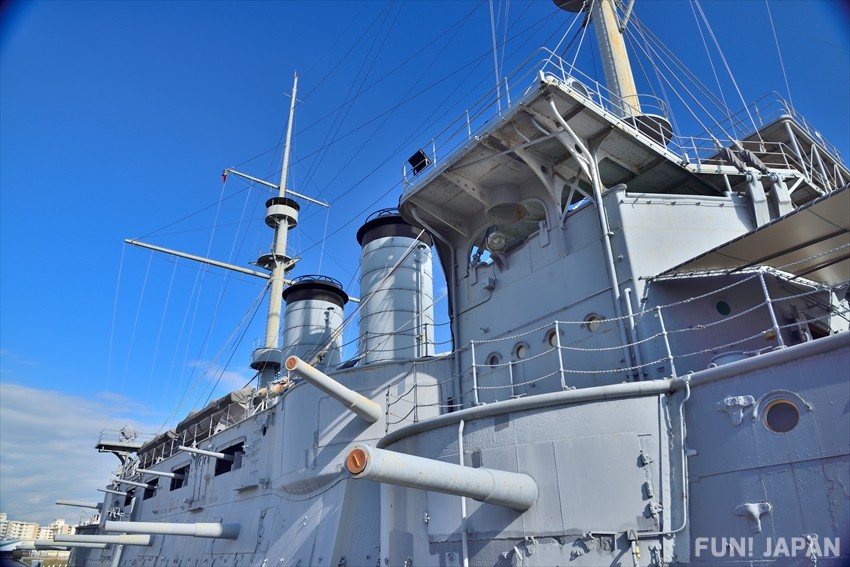 Offering a chance to tour one of the largest commemorative ships in the world, the Mikasa is a highlight for anyone interested in Japan's military history. Built in England in 1902 as the 6th battleship of the effort to deter western militaries. It was pivotal during the Russo-Japan War of 1905 and was celebrated as surviving intense and prolonged fire, eventually forcing the Russian fleet to surrender. Preserved as a symbol of Japanese independence, the ship can be toured with information provided on the battles and restoration that ensued.
Spot Information
Name: Mikasa Historic Memorial War Ship (記念艦三笠)
Address: 82-19 Inaokacho, Yokosuka, Kanagawa
Location: The ship is located in Mikasa Park, a pierside spot with fountains and grass.
Access: The boat is best accessed via the Mikasa Loop Bus from Yokosuka-chuo Station. Alternatively, it is a 15-minute walk from the station.
Opening Hours: 09:00 - 17:30 (Apr - Sept), 09:00 - 17:00 (Mar & Oct), 09:00 - 16:00 (Nov - Feb)
Entry Fee: 600 yen (adults), 500 yen (seniors), 300 yen (16-18), free for children.
Yokosuka Museum of Art
Just outside Yokosuka's center, the Yokosuka Museum of Art houses over 5,000 pieces, focusing mainly on contemporary works. Featuring fine art as well as sculptures, the work varies widely, with many well-known Japanese and international artists exhibited. As well as permanent exhibitions which rotate four times a year, there are special exhibitions to enjoy. Highlights in the grounds include the Taniuchi Rokuro Pavilion while the library here is home to over 40,000 books, accessible to visitors for free. The museum is located in Kannonzaki Park which is also known for its scenic lighthouse, so an afternoon trip timed for sunset is especially beautiful.
Spot Information
Name: Yokosuka Museum of Art (横須賀美術館)
Address: 4-1 Kamoi, Yokosuka, Kanagawa
Location: The park is east of Yokosuka's center, in Kannonzaki Park.
Access: The museum is best reached by bus from Yokosuka Station or Maborikaigan Station.
Opening Hours: 10:00 - 18:00
Entry Fee: 380 yen (Adults) 280 yen (High-school and University Students) Free (Junior High and below)
Dobuita Street: Where Japan and America Meet
A popular shopping street with cafes and restaurants, Dobuita Street is home to a clash of Japanese and American Culture. The street is a go-to spot for the famous Sukajan jackets - embroidered bomber jackets with detailed designs, and it is easy to spend time browsing both the new and vintage examples. The bars and restaurants serve American favourites such as burgers and fries, with many humorous themed options, including Trump burgers. The street was used for the basis of the Shenmue video game and its shabby fusion style is particularly pleasing.
Spot Information
Name: Dobuita Street どぶ板通り
Address: 2 Honcho, Yokosuka, Kanagawa
Location: The street stretches from the US Navy Base to Keikyu Shioiri Station and is between JR Yokosuka and Yokosuka-chuo Stations.
Access: The street is a short walk from either JR Yokosuka or Yokosuka-chuo Stations.
Opening Hours: n/a
Entry Fee: n/a
Yokosuka's Food Specialities
Yokosuka is home to a surprisingly popular Japanese dish and has countless variations to try, not to mention the delicious burgers if you're craving that American flavour.
Navy Curry: A Japanese Twist on Navy Stew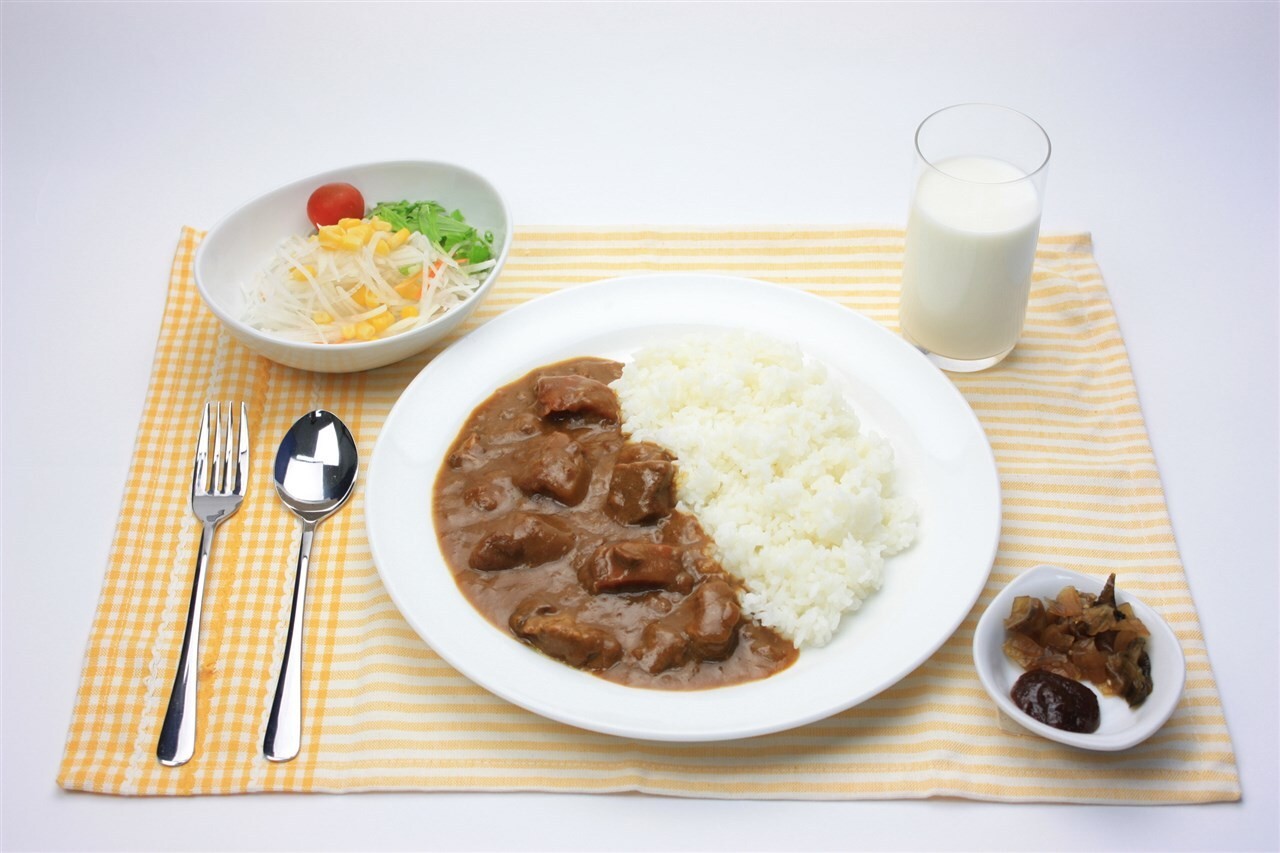 Derived from the stews served to navy crew on US vessels, Yokosuka claims that Japan's love of Curry Rice comes from its very city. Served as naval curry, by the British who had taken spices from India, it was modified to Japanese tastes and has since become a staple in households across Japan. The curry contains meat and veg and isn't particularly spicey, although this can be modified at restaurants to suit the diner. Yokosuka has many restaurants serving this dish, with Curry Honpo being one of the most popular. Its nautical theme reminds diners of the dish's origins and you can choose from a wide variety of curry dishes.
Spot Information
Name: Yokosuka Navy Curry Honpo (横須賀海軍カレー本舗)
Address: 1-11-8 Wakamatsucho, Yokosuka, Kanagawa
Location: The restaurant is located along the main street from Yokosuka-chuo Station, just beyond the Prime Shopping Center.
Access: The restaurant is a short walk from Yokosuka-chuo Station.
Opening Hours: 11:00 - 16:00 (Weekdays) 11:00 - 20:00 (weekends and holidays)
Go All American at Tsunami Curry and Grill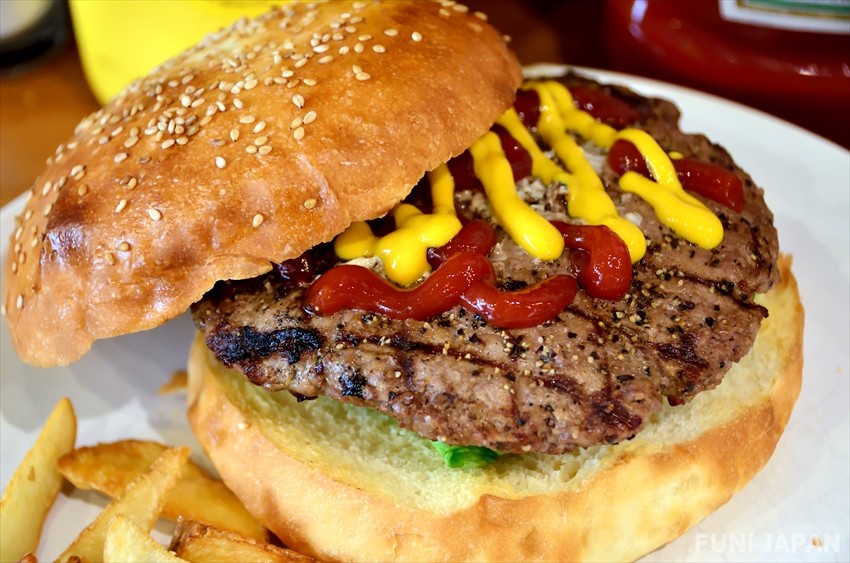 Serving the now-famous giant Navy Burger along with themed US President versions, Tsunami Curry and Grill has made a name for itself in Yokosuka. The navy burger served in restaurants across the city is a larger-than-life traditional American meat patty in a bun, with added extras at each restaurant making them unique. The Tsunami offering serves four people and comes with mozzarella, bacon and two patties, weighing in at 1kg. They also serve the Trump Burger complete with peanut butter and fried egg, as well as an Obama Burger.
Spot Information
Name: Tsunami Curry and Grill (ツナミ カレーアンドグリル)
Address: 2-2-8 Honcho, Yokosuka, Kanagawa
Location: The restaurant is located on Dobuita Street.
Access: The restaurant is a 5-minute walk from Shiori Station on the Keikyu Main Line.
Opening Hours: 11:00 - 21:00 (Weekdays) 11:00 - 20:00 (weekends and holidays)
Delicious Cherry Cheesecake
A lesser known speciality, cherry cheesecake has been adopted from US naval boats as the perfect dessert. The recipes have been passed onto local restaurants and are now a go-to treat in the city. It can be tried at the Tsunami Grill (listed above) and is perfect if you have room left over after one of their monster burgers.
How to Get to Yokosuka from Tokyo
Yokosuka is only an hour from Tokyo and has two train stations to choose from - so if you're looking at transport, be sure to check both stations to find the easiest route.
JR Yokosuka Station is close to Verny Park and served by the JR Yokosuka Line. If you are travelling to Yokosuka on the JR line, it takes approximately 70 minutes from Shinagawa Station, costing 820 yen, with some direct trains and some which require a change at Yokohama.
Yokosuka-chuo is closer to the ferry port and is served by the Keikyu Line. There are direct Keikyu Mainline Rapid trains from Shinagawa Station to Yokosuka, taking just under 45 minutes and costing 650 yen. If you are travelling from other stations in Tokyo such as Shinjuku or Shibuya or from Narita Airport, it is easy to connect at Shinagawa or Yokohama for trains to Yokosuka.
If you are travelling from Haneda Airport, it is easiest to head to Yokosuka-chuo as the journey takes under an hour and only requires one change, at Keikyu Kamata. The journey costs 700 yen. 
[Survey] Traveling to Japan
Recommend