A Guide to Shin-Yakushi-ji Temple in Nara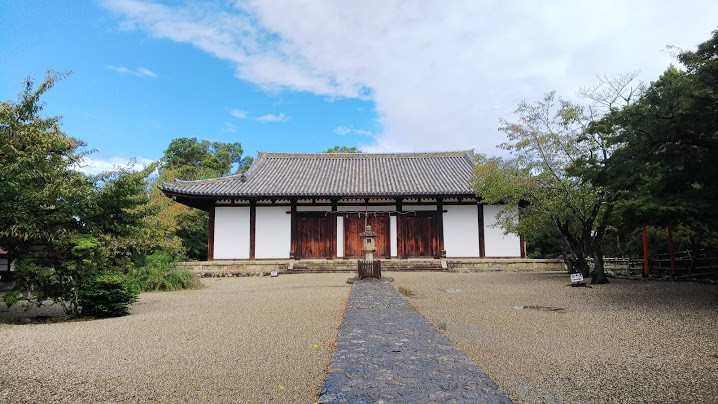 Shin-Yakushi-ji Temple in Nara is at the edge of Nara Park, and is famous for its Yakushi Buddha statue and 12 Heavenly General statues. The surrounding area is rural, so the temple is calm and quiet. Many tourists visit during the beautiful cherry blossom season of the spring, or for the red leaves in the fall.

About Shin-Yakushi-ji Temple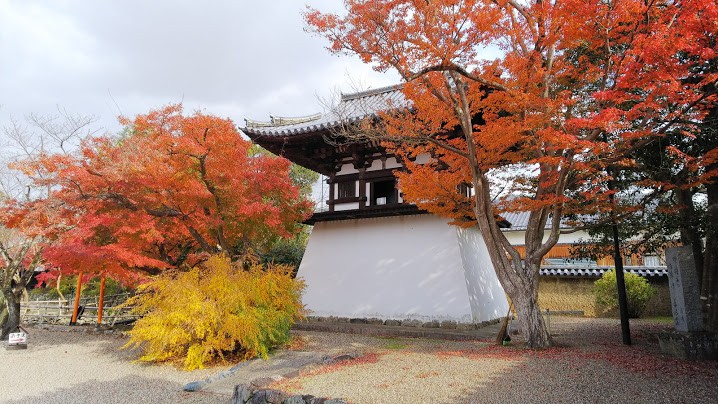 The temple was built by the Empress Komyo in 747, to pray for her husband, Emperor Shomu, to recover from an eye ailment. In the early days, it was a large temple that housed over 100 monks, but in the Heian Period it was hit by lightning and typhoons, and many of the important buildings were lost, leaving only the Hon-do Main Hall remaining today. In the grounds are the 12 Heavenly General statues, 11 of which are designated as national treasures along with the Yakushi Buddha and the Hon-do Main Hall itself, as well as 4 important cultural properties, including the Belfry, the Nan-mon South Gate, the To-mon East Gate and the Jizo Hall.

The Highlights of Shin-Yakushi-ji Temple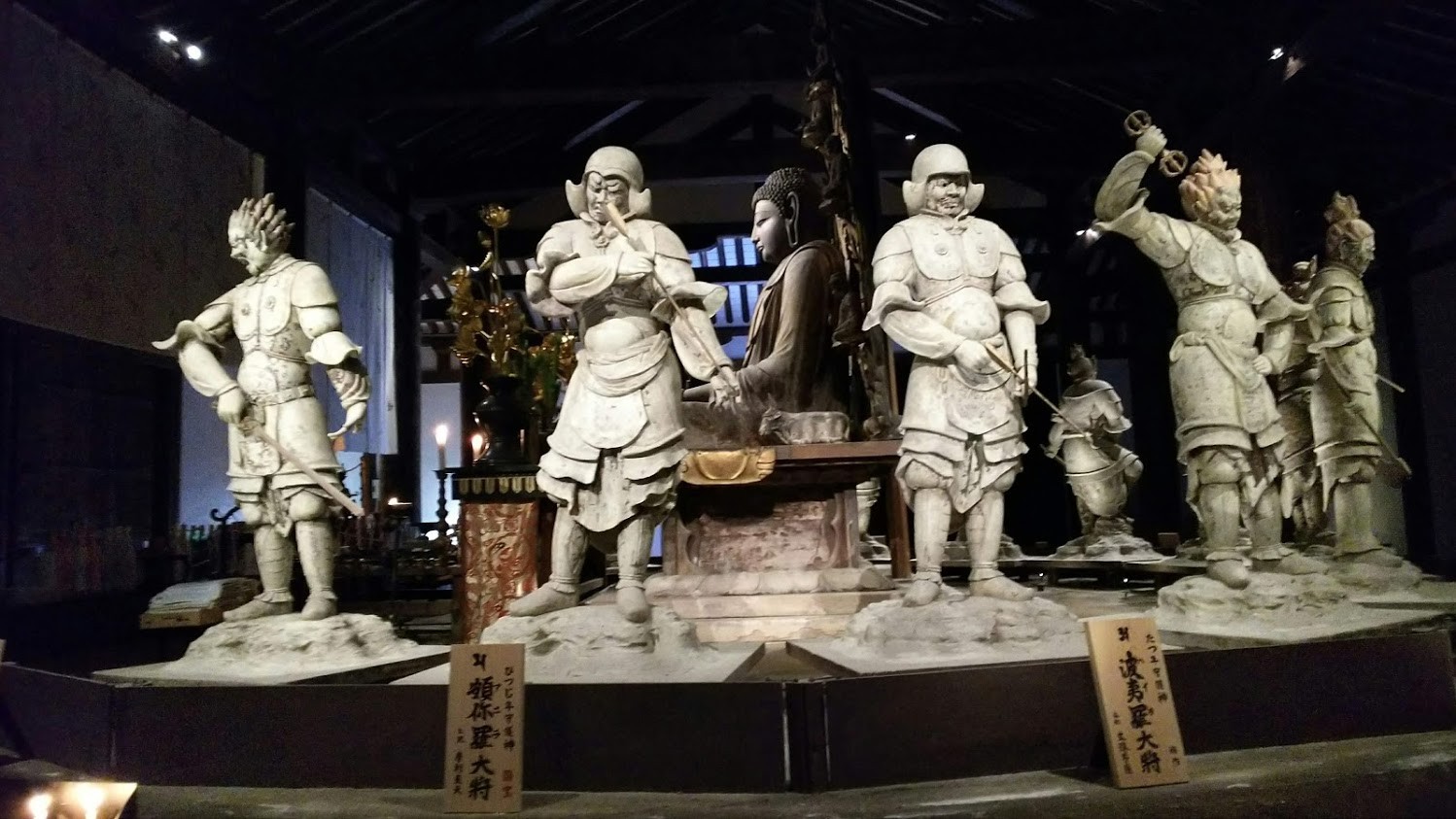 The main attraction is the Tenpyo architectural style Hon-do Main Hall, just inside the Nan-do South Gate. The building still looks like it did when it was built, and is a comparatively simple structure, but the slope of the roof is quite beautiful. The 12 Heavenly General statues housed in the Hon-do Main Hall are also a must-see. They stand on a  90cm tall white plaster platform with about a 9-meter diameter, surrounding the main deity of the temple, the Yakushi Buddha. The 12 Heavenly Generals are life-size statues of the heavenly generals Bazara, Anira, Haira and so on that stand guard around the Yakushi Buddha, with angry expressions. Partly because they are life-sized, they look as though they could suddenly start moving at any time.

The Yakushi Buddha is about 190cm tall. He has a medicine pot in his left hand, and his wide eyes are impressive. Because of his beautiful eyes, many people visit to pray for cures to their eye disease. The Kamakura Period Belfry and imposing Nan-mon South Gate are also must-sees.
Access to Shin-Yakushi-ji Temple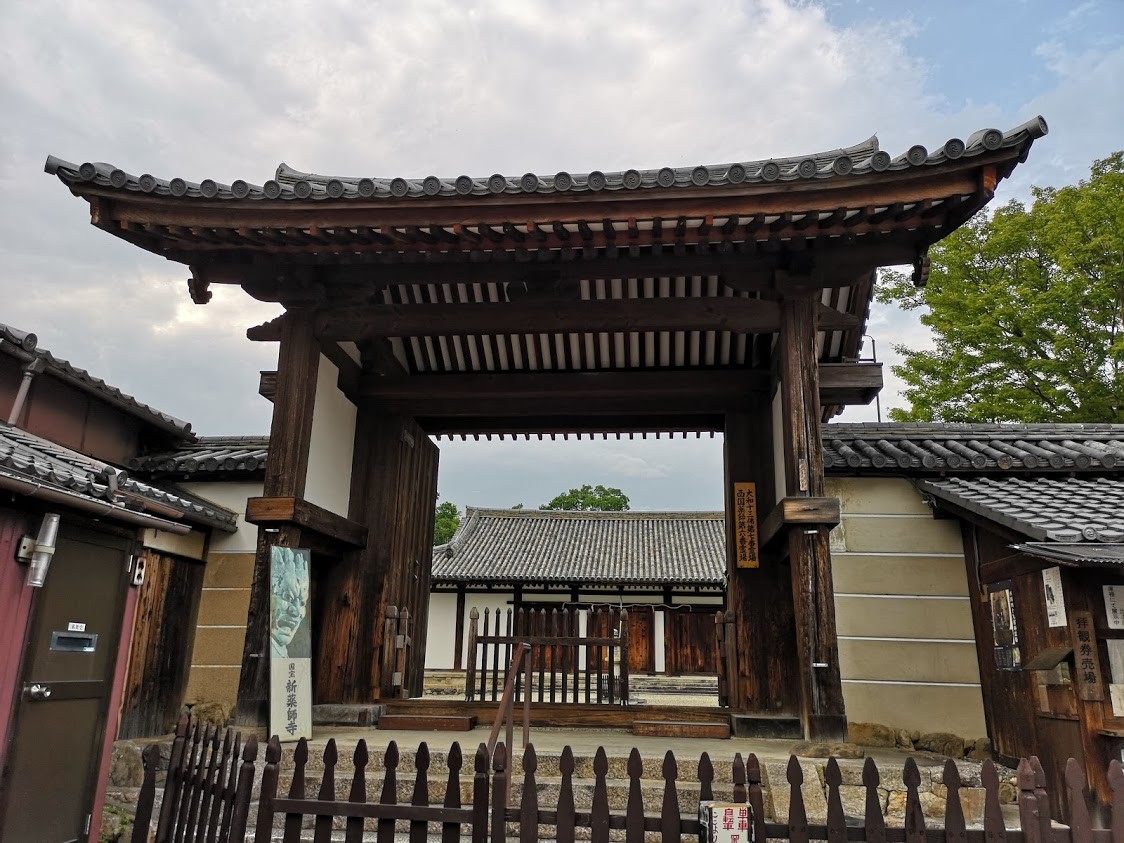 From JR Nara Station, take the Nara Kotsu bus #62 towards Yamamura-cho or the #2 Loop Line outside loop towards Kintetsu Nara Station for about 15 minutes and get off at the "Wariishi-cho" bus stop, and walk about 10 minutes. By taxi, it takes about 10 minutes from Nara Station.
Spot Information
Spot name:Shin-Yakushi-ji Temple
Street Adress:1352, Takabata-Fukui-cho, Nara-shi, Nara Prefecture 630-8301
Language: English pamphlet available
Ticket: 600 yen
Business Hours: 9:00 - 17:00
Holidays: Open year-round
[Survey] Traveling to Japan
Recommend