Osanbashi Yokohama International Passenger Terminal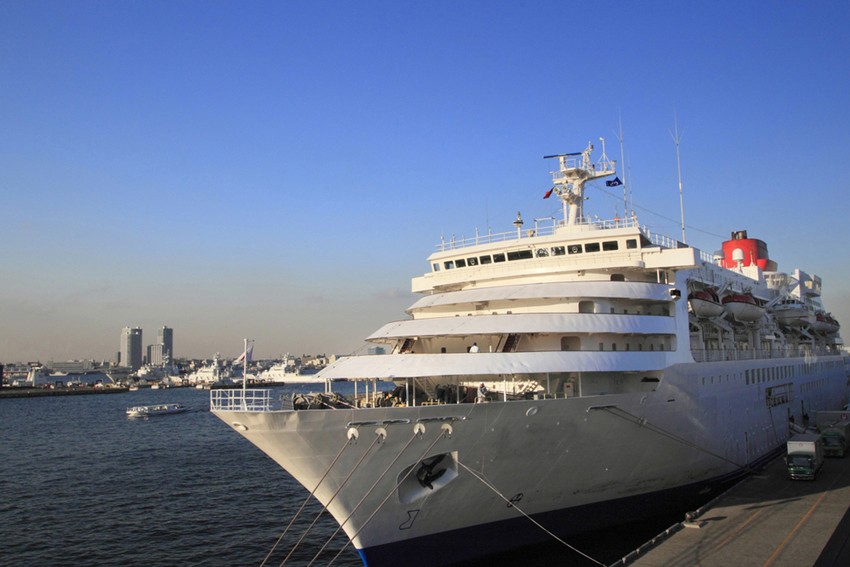 Osanbashi Yokohama International Passenger Terminal, also known as Osanbashi Pier, is one of the largest passenger terminals in Japan. There is a deck restaurant and a souvenir shop in the terminal that overlooks the cityscape of Minatomirai at the bay area. Osanbashi Pier is also one of Yokohama's popular tourist spots.

About Osanbashi Pier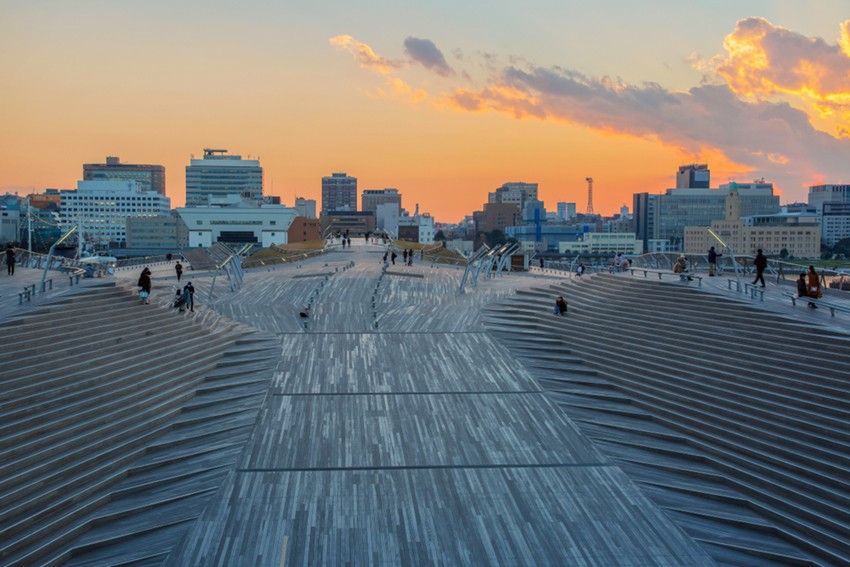 Osanbashi was completed in 2002 after the renovation and enlargement of the former pier in 1894. As large passenger ships from all over the world stop by, you may have the chance to see the ships anchored in the port and snap pictures.
Osanbashi also has three floors. The 1st floor is a parking lot, while the immigration lobby, restaurants and souvenir shops can be found on the second floor. Finally, there is a wood deck and a grass square on the rooftop.
Things to do in Osanbashi Pier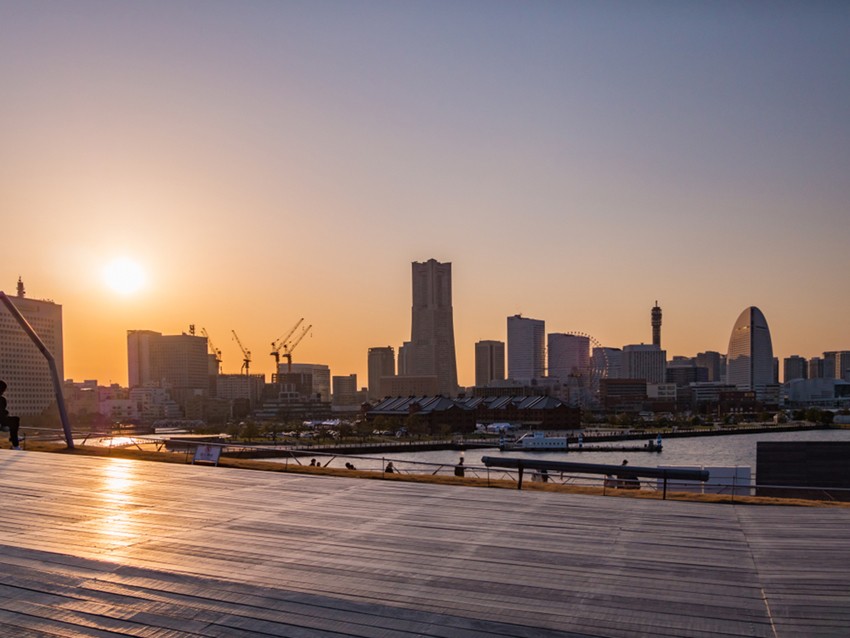 Osanbashi does not only serve as a cruise ship terminal, but it is also a tourist attraction. The main attraction is the large wooden deck on the roof which was created with the image of the deck of a ship. It is a scenic spot that offers a 360-degree view of Yokohama's port, city and bridge. The decks are all connected by gentle slopes, and they are called "Kujira no senaka" (whale's back).
The indoor area, on the other hand, is called the "Kujira no onaka" (whale's belly). It utilized a special architectural technique to create a huge space with no pillars. There are also fashionable cafes and restaurants at the immigration lobby on the 2nd floor. There are also souvenir shops selling Yokohama souvenirs and Japanese-style merchandise.
Cruise on the Royal Wing Ship From Osanbashi Pier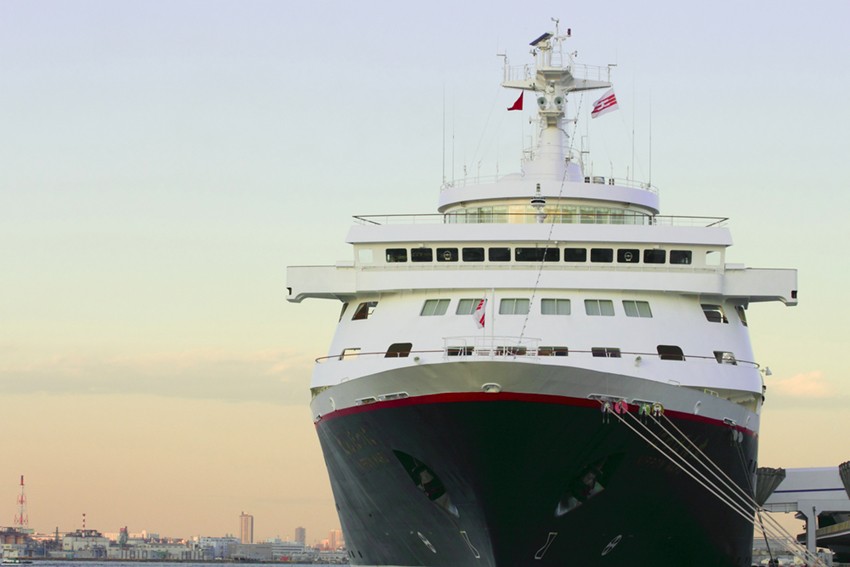 If you visit the Osanbashi Pier, you should get on the large sightseeing cruise ship "Royal Wing". With a cruise that lasts about 2 hours, you can go through the Bay Bridge and enjoy the view of the city of Yokohama while traveling around Yokohama Port. There are lunch, tea, and dinner cruises with four cruises a day. The fare including boarding fee and meal cost varies for each cruise. Please check the official website for details.

Hotels near Osanbashi Pier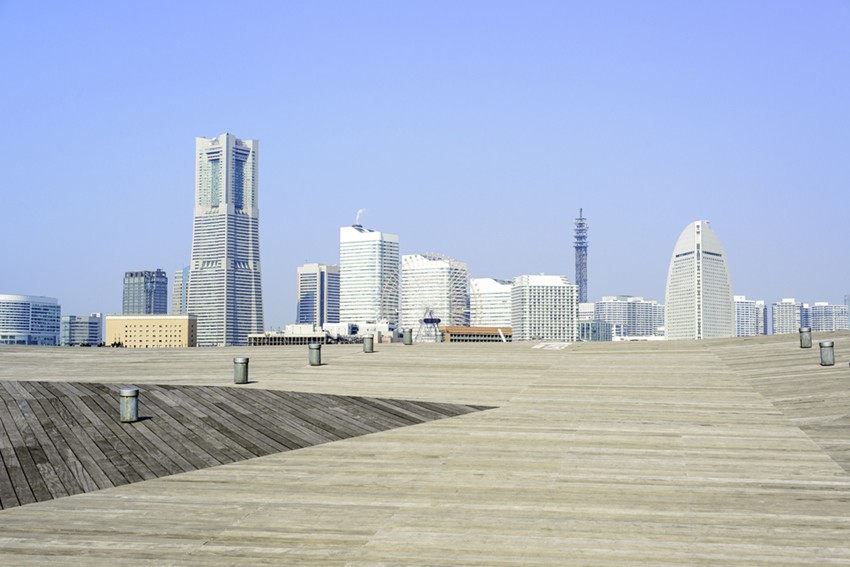 There are several city hotels, economy hotels and guest houses around Osanbashi Pier. Their price ranges from 5,000 yen to 20,000 yen. The hotels have the best scenic view of Yokohama Port, which is their selling point.

Access to Osanbashi Pier from Tokyo Station

The nearest station to Osanbashi is the Nihon-Odori Station. From Tokyo Station, take the JR Tokaido Main Line to Yokohama Station first. Then, change to Minatomirai Line at Yokohama Station and you will arrive at Nihon-Odori Station in about 5 minutes. Osanbashi Pier is 7 minutes away by foot from the station.
Spot information
Spot name: Osanbashi Yohohama International Passenger Terminal
Spot address: 1-1-4 Kaigandori, Naka-ku, Yokohama, Kanagawa Prefecture, 231-0002
Access: About a 7-minute walk from Minatomirai Line "Nihon-Odori Station"
Wi-Fi: Available
Language: English
Credit cards: VISA, MasterCard, JCB, AMERICAN EXPRESS, Diners Club International (varies by shop)
[Survey] Traveling to Japan
Recommend