Guide to Fukuoka; Food, Sights and MORE!
Fukuoka prefecture is in the Northern area of Kyushu, the Southern Japanese islands. This prefecture has the the closest airport to the other neighbouring Asian countries. Fukuoka has scenery that should be seen while in Japan, food that should be eaten in Japan, shopping that can only be bought in shopping areas in Japan, so for those who want to make the most of a short stay in Japan, you could say this destination is perfect. So, we will now introduce the appeal of this area. 

3 Must-Visit Sights in Fukuoka Prefecture
1. Kawachi Wisteria Garden (Kawachi Fuji-en)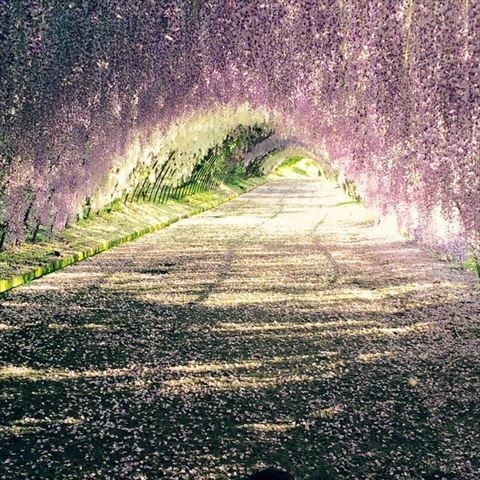 While privately owned, Kawachi Wisteria Garden has beautiful wisteria flowers that bloom every year. If you mention beautiful nature in Japan, most people would probably imagine Mt Fuji or cherry blossoms. The wisteria flower is one of the most well-known flowers that bloom in Japan in May and has been loved by the Japanese people for a long time. If you want to experience the beautiful wisteria tunnel in the photo, then you should head to Kawachi Wisteria Garden (Kawachi Fuji-en)

Kawachi Fujien or Wisteria Garden in Kita Kyushu, Fukuoka's Must-See Spot

2. Yanagawa

Yanagawa is located one hour from the center of Fukuoka City. In Suigo Yanagawa there is a canal called Horiwari that runs across the length and width of the area. In the past, when it was flourishing as a castle town, the water was used in farming and general daily use, as well as acting as a moat to protect the castle. A boat called "Donkobune" can be ridden down the moat. You can have a relaxing time riding down the river while looking at the Japanese style houses lined up on both sides and the wisteria and cherry blossom trees overhead. 

If you mention famous things in Yanagawa, Unagi (eel) is one of them. It is a custom to eat highly nutritious eel in Japan in summer. It is said that eel in winter is exceptionally delicious. The eel has fat stored up to survive the winter, so winter eel has a layer of fat and the meat is soft

3. Dazaifu Shrine
Known as the education God shrine, Dazaifu Tenmangū shrine, is the main shrine of all the 10,000 plus Tenmangū shrines in Japan. It is also the grave site of Michizane Sugawara. As soon as you exit Dazaifu Station Ticket gates, the shrine path starts. Once you go past the restaurants and souvenir shops, you can see the Goshingyu (Cow God statue). Once you go past Shinji pond, the Taikobashi bridge, and Hirabashi bridge, you will see the Chōzuya (for cleansing your hands before entering the shrine), and ahead of that if you go under the Romon gate and you will see the Daizaifu shrine main building surrounded by a corridor right before your eyes. Here you can take few hours to have a good look around. 

3 Local Foods to Eat
1. Tonkotsu Ramen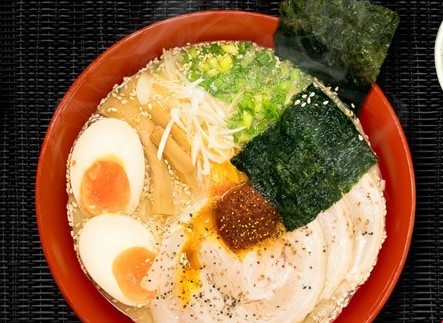 The ramen with broth made from pig bones is called Tonkotsu Ramen. This is originated in Fukuoka. The ramen noodle is generally white, extremely thin and straight. Tenjin and Hakata are highly competitive areas for Ramen restaurants, in other words, a ramen battlefield. 
2. Motsu Nabe; A Hot Pot of tripe or offal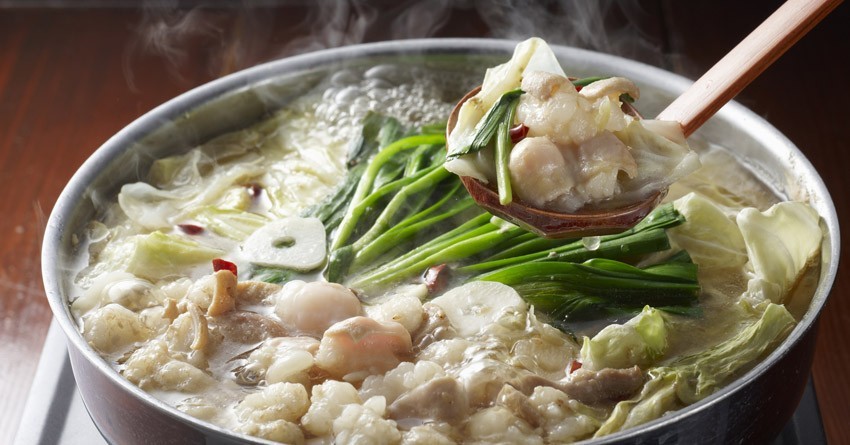 Motsu nabe is a hot pot with cow's or pig's Motsu tripe or offal, and vegetables such as cabbage and leek, red pepper, garlic, and more cooked in a miso or a soy sauce-based soup.
3. Mizutaki; A Hot Pot of chicken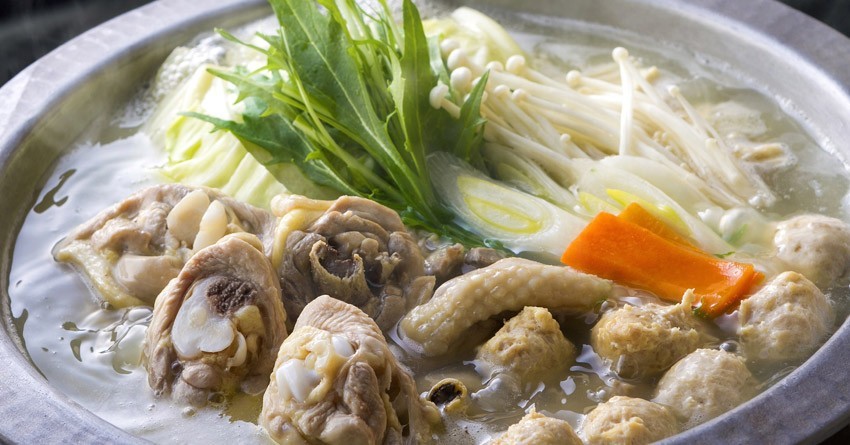 It is common to boil chunks of chicken with their bones, Japanese mustard greens (mizuna), carrots, shiitake mushrooms and then eat them after dipping in ponzu sauce. The collagen-rich chicken broth is great to drink on its own.
3 Big Shopping Areas
If you are looking for souvenirs, Japanese products, any items "Made In Japan", clothes, food and etc., you can find them in Hakata Station, Canal CIty or Tenjin area in Fukuoka. There are all huge shopping malls or area, so you want to have more than a day to explore.
3 Areas in Fukuoka to Enjoy Shopping
Where to Stay
For easy access to intercity Japan Rail lines, the Hakata side of Fukuoka is preferable for many travelers because it is nearer the main train station.
For shopping, Tenjin is considered more convenient. Both neighborhoods are on the Kuko subway line, which connects Tenjin and Hakata stations with Fukuoka Airport.
In Hakata
Hotel name: Grand Hyatt Fukuoka
Address: 1--2-82 Sumiyoshi, Hakata-ku, Fukuoka 812-0018
Hotel Nikko Fukuoka
Address: 2-18-25 Hakata Ekimae, Hakata-ku, Fukuoka 812-0011
APA Hotel (アパホテル) HAKATA-EKIMAE
Address: 4-10-15 Hakata Ekimae, Hakata-ku, Fukuoka 812-0011
In Tenjin
Hotel Mystays Fukuoka Tenjin
Address: 3-5-7 Tenjin, Chuo-ku, Fukuoka 810-1100
Plaza Hotel Tenjin
Address: - 1-9-63 Daimyo, Chuo-ku, Fukuoka 810-0041
Getting to Fukuoka City from Tokyo and Osaka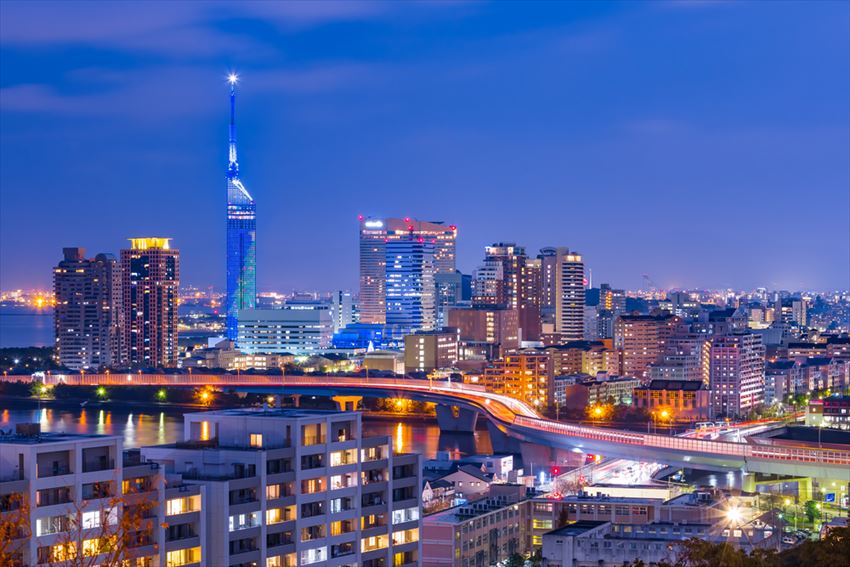 Fukuoka has two main train stations: Hakata and Tenjin. These stations correspond to Fukuoka's two districts by the same name. When researching or buying a ticket, make sure to note which of the two stations you are arriving at or departing from.
From Tokyo
By Shinkansen
Tokyo and Hakata Station are connected by the Tokaido/Sanyo Shinkansen. A one way trip by the Nozomi train, which is not covered by the Japan Rail (JR) Pass, takes five hours and costs approximately ¥23,000.
The Hikari and Sakura trains, though they take six hours to reach Hakata, including a transfer at Shin-Osaka Station, are both covered by the JR Pass.
By air
Both major and budget airlines operate dozens of connections daily between Tokyo's Haneda Airport and Fukuoka Airport. Additionally, some flights also depart from Narita Airport.
Once at Fukuoka Airport, a five-minute subway ride or twenty-minute bus ride will get passengers to Hakata Railway Station.
By bus
There is a daily night bus run by Nishitetsu, which departs from Shinjuku Bus Terminal (right next to JR Shinjuku Station). The trip takes 14.5 hours and costs ¥11,000-20,000 depending on the season.
Discounted round trip tickets may also be available.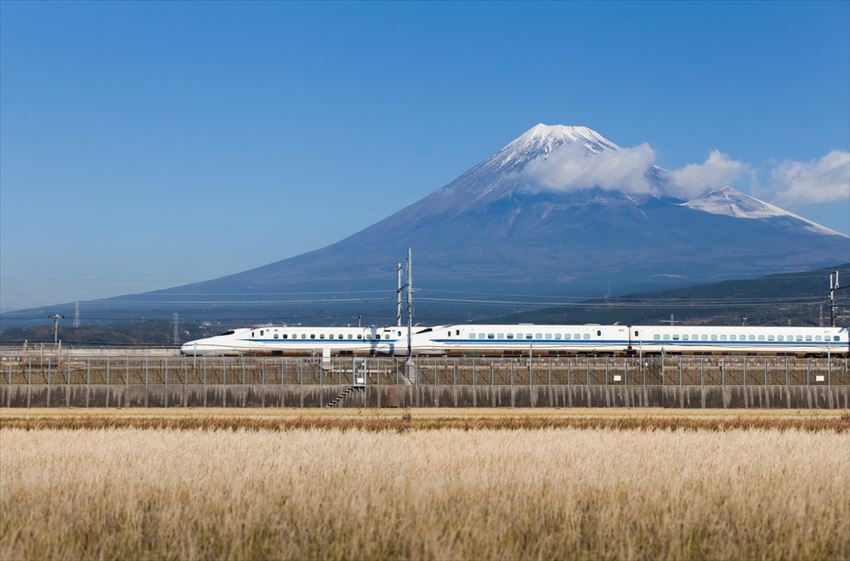 From Osaka
By Shinkansen
Shin-Osaka Station and Hakata Station are directly connected by the JR Sanyo Shinkansen. Both the Nozomi and Mizuho trains, not covered by the JR Pass, reach Hakata in about 2.5 hours.
The Sakura train, though it takes about 20 minutes longer, is covered by the JR Pass. A ticket on either cost around ¥15,000.
By air
There are plentiful connections, both by major and budget airlines, between Osaka's Kansai and Itami Airports and Fukuoka Airport.
By bus
By bus, the trip to Fukuoka takes about 10 hours, and averages around ¥9,000-11,000. There are both daytime and overnight buses available.
[Survey] Traveling to Japan
Recommend