See the Breathtaking Osaka Cherry Blossoms Bloom
The Osaka cherry blossoms are some of the best blooms in Japan. With a great number of cherry blossom trees inside all the parks in the metropolitan area, spending your spring in under the Osaka cherry blossoms is a wonderful way to enjoy your trip to Japan.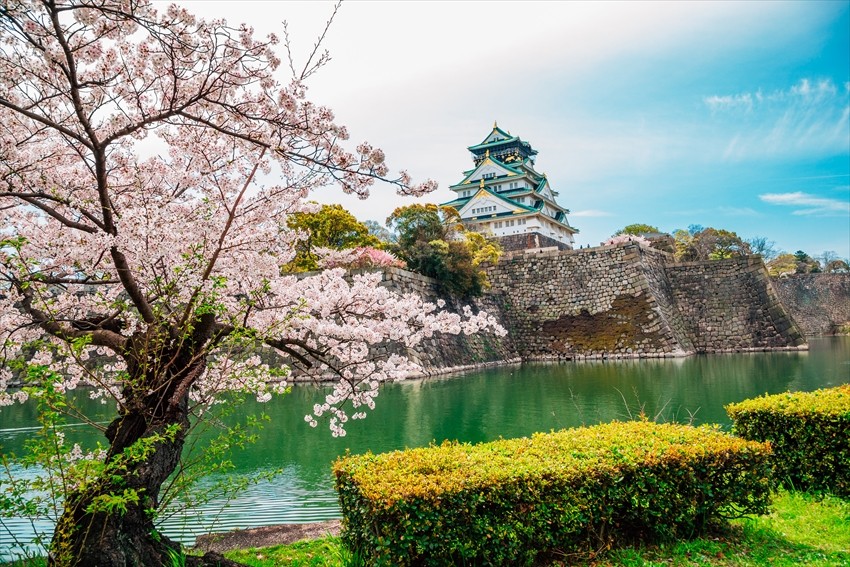 Best View Spots for Osaka Cherry Blossom Viewing
The best view spots for Osaka cherry blossoms are as numerous as they are beautiful. The best place in Osaka for cherry blossom viewing is Osaka Castle and the surrounding Osaka Castle Park. With over 3,000 cherry blossom trees, the park will be awash in a sea of pink, further than the eye can see.
Osaka Castle
Do note that Osaka Castle is the spot to see the cherry blossoms, so it is always filled to the brim with people having their Hanami parties.
Hanami parties are a rich Japanese cultural tradition where you go to a park with your friends, put down a rug and drink while looking at the blooming cherry blossoms. In Japanese "Hana" means "flower" and "mi" means "looking" or "viewing", put the words together and you get "flower viewing".
 Kema Sakuranomiya Park
Another great view spot for the cherry blossoms in Osaka is Kema Sakuranomiya Park. Kema Sakuranomiya Park is located on the Okawa River and is a carefully handcrafted park with over 5,000 cherry blossom trees lining the walkways. While the grassy areas are usually taken by those having their Hanami parties, the clear walkways give you a breathtaking look at the trees with a beautiful backdrop of a flowing river.
How to Access
To get to both Osaka Castle and Kema Sakuranomiya Park for your own Hanami party, all you need to do is take the Osaka Loop Line. Getting off at Morinomiya Station and walking for 6 minutes takes you straight to Osaka Castle Park. To get to Kema Sakuranomiya Park, you need to get off at Sakuranomiya Station and walk for 5 minutes and you'll find yourself surrounded by pink.
Discovering a Cherry Blossom Festival Osaka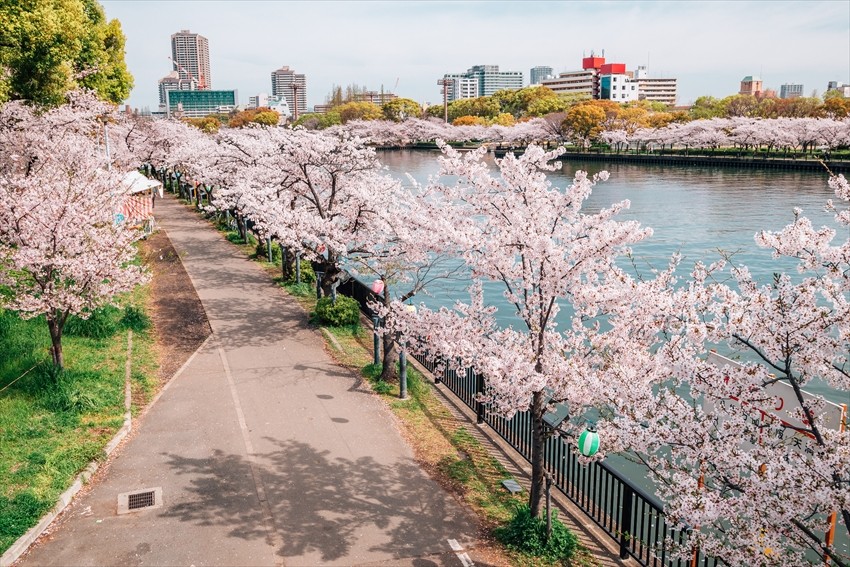 Experiencing a cherry blossom festival Osaka has to offer during the blooming seasons is a must. There are two great spots to see the cherry blossoms in bloom and enjoy a traditional Japanese festival.
Yodogawa Riverside Park
Yodogawa Riverside Park is a well-kept local secret to see the cherry blossoms bloom. There are 250 cherry blossom trees that line a walkway on both sides as you stroll through the park. The beauty of the scene as you stroll down feels like something out of dream. At the end of the path is a quaint traditional Japanese festival with the usual matsuri goods on sale like beer, yakitori and takoyaki.
Spot information
Spot name: Yodogawa Riverside Park
Street address: 7-6 Sotojimacho, Moriguchi, Osaka 570-0096
Access: A 14-minute walk from Moriguchi Station on the Keihan Line
Osaka Expo Park
Osaka Expo Park is another great spot to view the cherry blossoms. The park offers a unique night time viewing of the over 5,000 trees that are in the park, being lit up from LED lights. There's an open-air craft market, live music being played within the park and food stalls for when you get hungry.
The park is open from 9:30 AM all days and closes at 9:00 PM. The illumination of the cherry blossom trees starts at 6:00 PM, giving you three hours of gorgeous views.
Spot information
Spot name: Osaka Expo Park
Street address: 1-1 Senribanpakukoen, Suita, Osaka 565-0826
Access: A 2-minute walk from Bampaku-kinen-koen Station on the Osaka Monorail Line
Best Season
Scheduling around the cherry blossom season is hard, as they could bloom at any time during the late-March to early-April season. In 2018, all the cherry blossoms bloomed a week earlier than predicted, throwing a lot of people off.
All you can do to try and maximize your time on your Osaka trip and to see the cherry blossom bloom is to book your stay around the start of April. Usually the cherry blossoms are at their peak near the 1st of April, so you should be safe around then.
[Survey] Traveling to Japan
Recommend