Niigata is full of charm of the four seasons! Guide to visiting each season and recommended sightseeing spots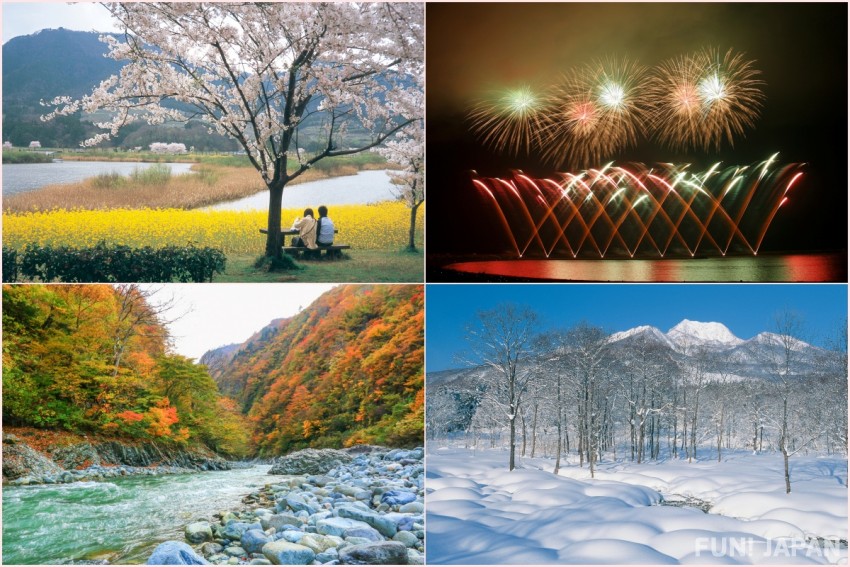 Niigata Prefecture is located in the central part of Japan on the Sea of Japan side. Temperatures vary greatly depending on the season, with summer temperatures between July and August generally around 26-27°C, while wintertime is cold enough to snow temperatures between December and March averaging around 3-5°C.

Niigata is characterized by rich nature throughout the year, so you can enjoy different scenery depending on the season. Read on to check out how to enjoy the four seasons of Niigata and its recommended sightseeing spots.
Recommended spots in Niigata in spring
Natural spots where spring flowers such as cherry blossoms and tulips are in full bloom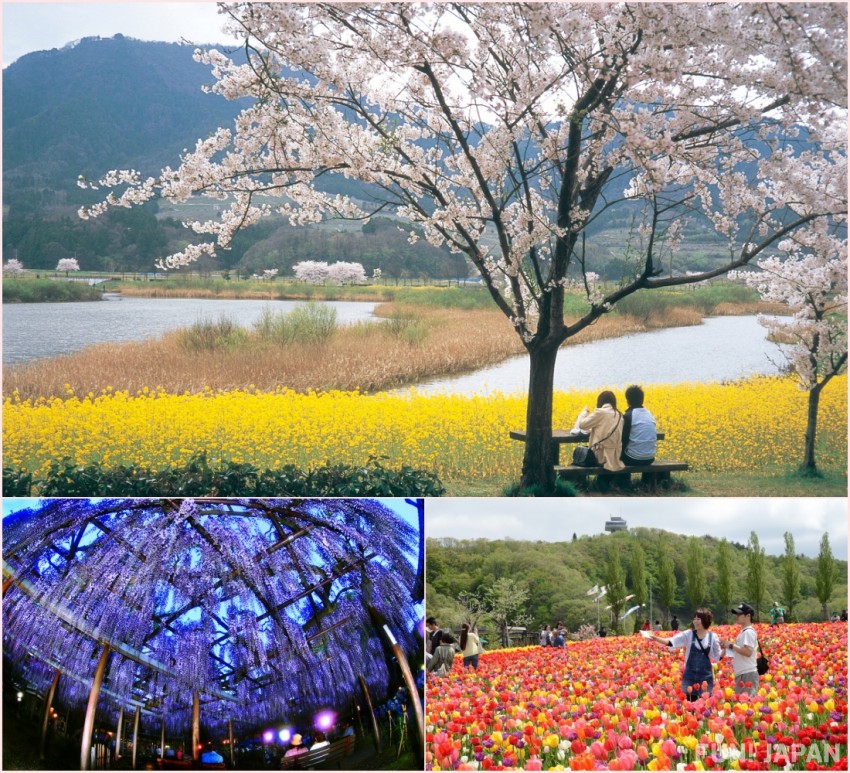 The Ohkouzu Diversion Channel, Takada Castle Site Park, and Muramatsu Park, all selected as "Top 100 Cherry Blossom Spots", are known as the best cherry blossom spots in Niigata prefecture attracting tourists for strolls in spring.

Uwasekigata Park is also known for its beautiful contrast between the yellow canola flowers and the pink cherry blossoms!
Beside the cherry blossom spots, there is a powerful purple wisteria trellis in the courtyard of the Northern Culture Museum, and you can enjoy a fantastic light up at night. In addition, Gosen City is one of the leading tulip production areas in Niigata Prefecture. The Gosen Tulip Festival is held from mid to late April every year, with 1.5 million tulips in full bloom. At this event, you can enjoy the spectacular view of the colorful tulip fields, purchase tulips, and enjoy gourmet food.
Rice terraces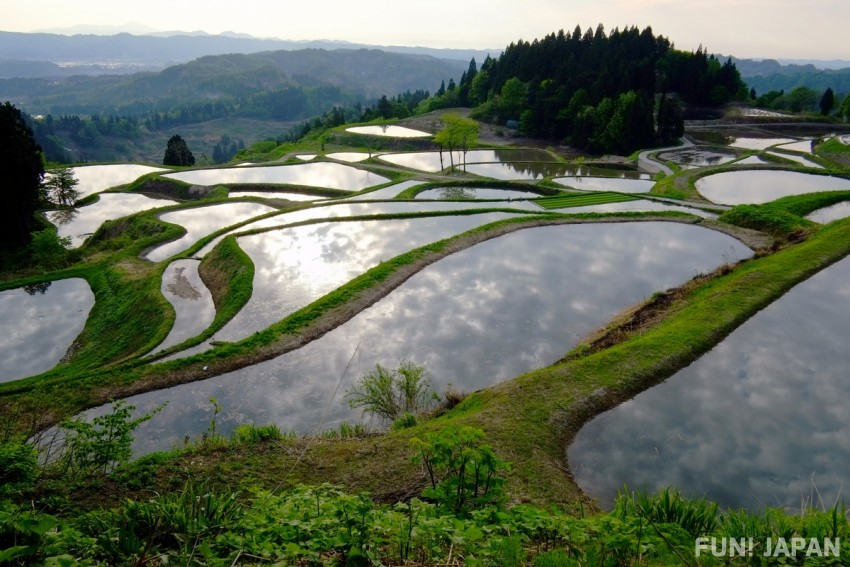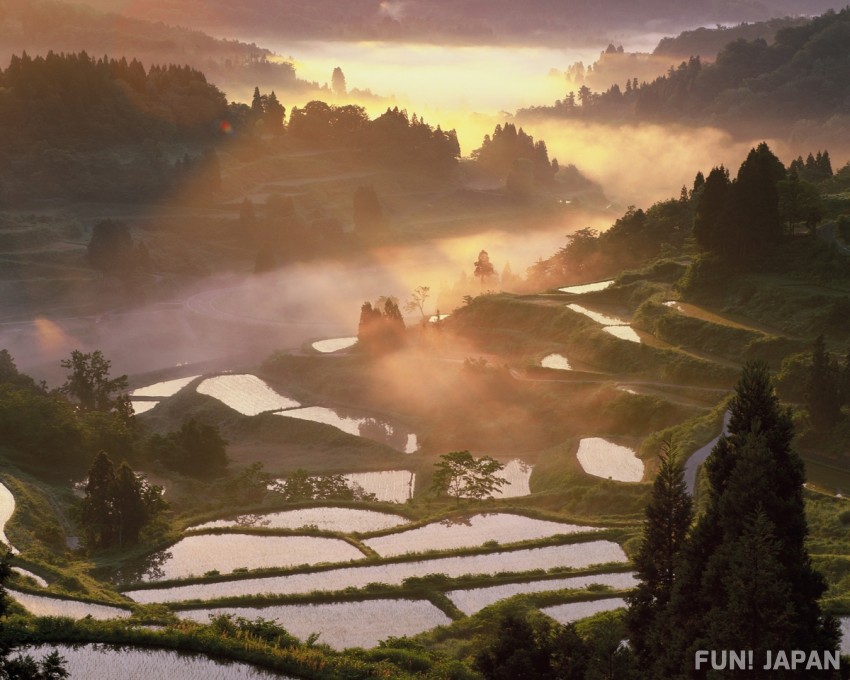 Speaking of the spring scenery in Niigata, when rice cultivation is thriving, the terraced rice fields are not to be missed. You can enjoy a unique scenery in the rice terraces built in steps on slopes such as mountain slopes and valleys. Among them, the Hoshitoge Rice Terraces are a famous spot.

In spring, the rice terraces are filled with water, with the sunset and blue sky reflected on the surface of the rice terraces. When the sea of clouds appears, you can see a truly fantastic sight to behold.
Echigo-Tsumari Art Triennale
The "Echigo-Tsumari Art Triennale" is a world-famous contemporary art event held every three years from spring to autumn. You can enjoy a tour of unique works created by domestic and foreign artists. Large-scale art works on the theme of nature and climate are exhibited.

Related article
Summer in Niigata is a blast with sea bathing and fireworks displays!
Beaches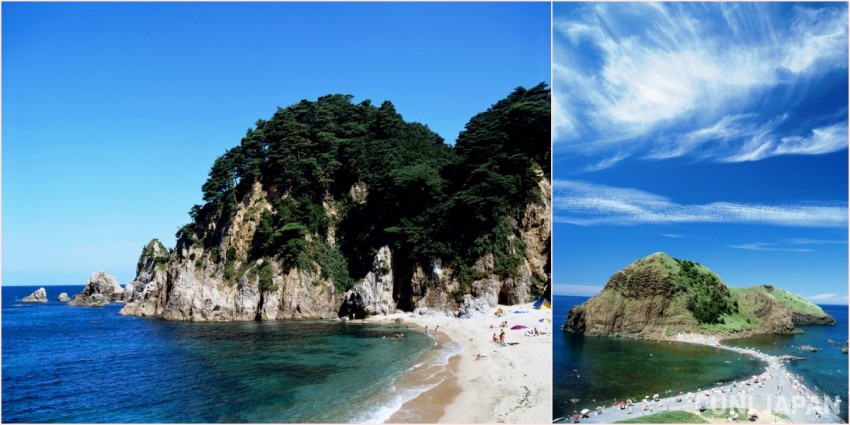 Niigata Prefecture, which borders the Sea of Japan, is dotted with numerous beaches, making it the perfect place for those who want to swim in the sea in the summer. 

Among them. the Sasagawa Nagare Coastline, where you can enjoy the view of the clear blue sea and white stones and rocks, and Futatsugame Beach, which was listed as two stars in the Michelin Green Guide Japan, are two representatives. You can enjoy various marine sports and romantic sunsets, including sea bathing.

Fireworks display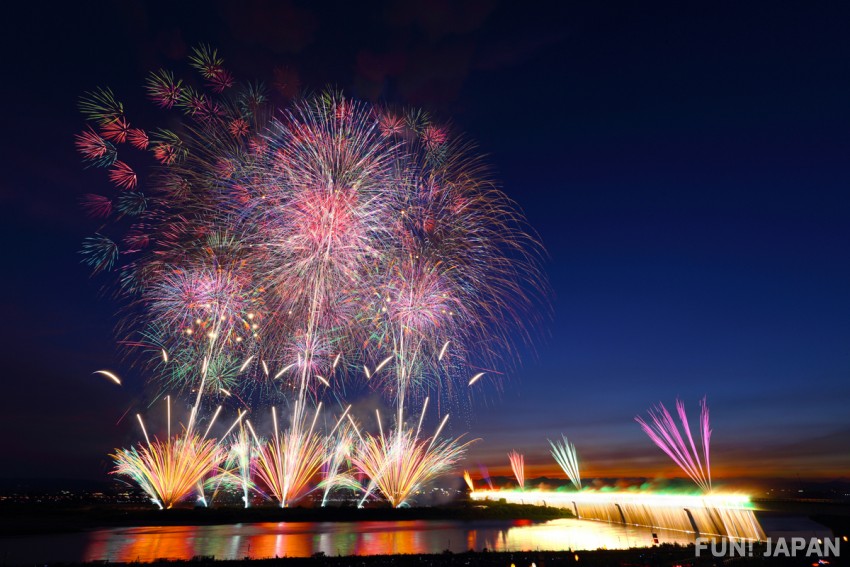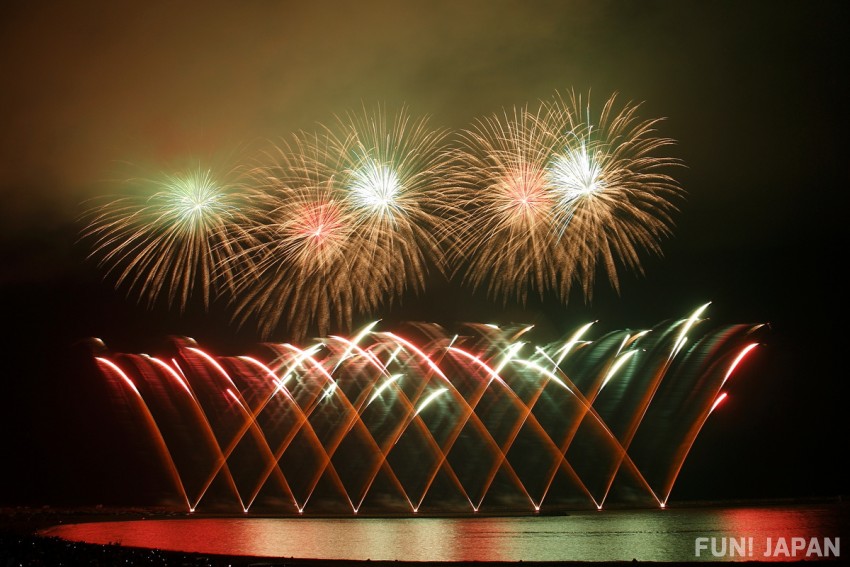 When it comes to Niigata's summer tradition, it has to be the fireworks display! Niigata is home to three fireworks festivals that are among the largest in the country that are collectively called the "Echigo Three Great Fireworks Festivals."

The "Gion Kashiwazaki Festival with large scale fireworks display over the ocean" held in July and the "Nagaoka Festival Grand Fireworks Show", one of "Japan's Top Three Fireworks Festivals" held in August, are particularly large-scale fireworks displays. The special feature is that you can appreciate the fireworks that shoot right from the surface of the water. In September, the the world's largest fireworks are set off at "Katakai Fireworks Festival dedicating for Asahara Shrine Fall Festival". Each of these festivals boasts a long history, and of course the most spectacular fireworks!
Related article
Niigata in autumn is beautiful with autumn leaves and a sea of clouds!
Famous spots for autumn leaves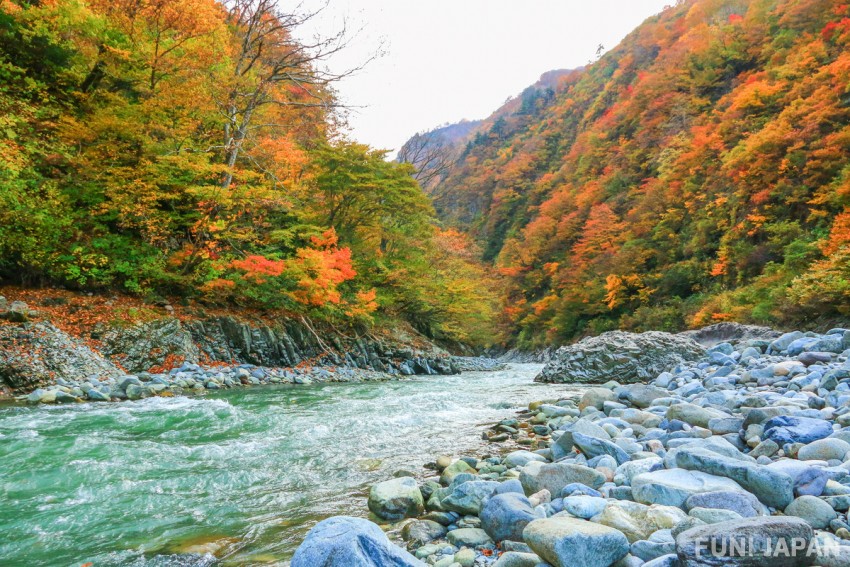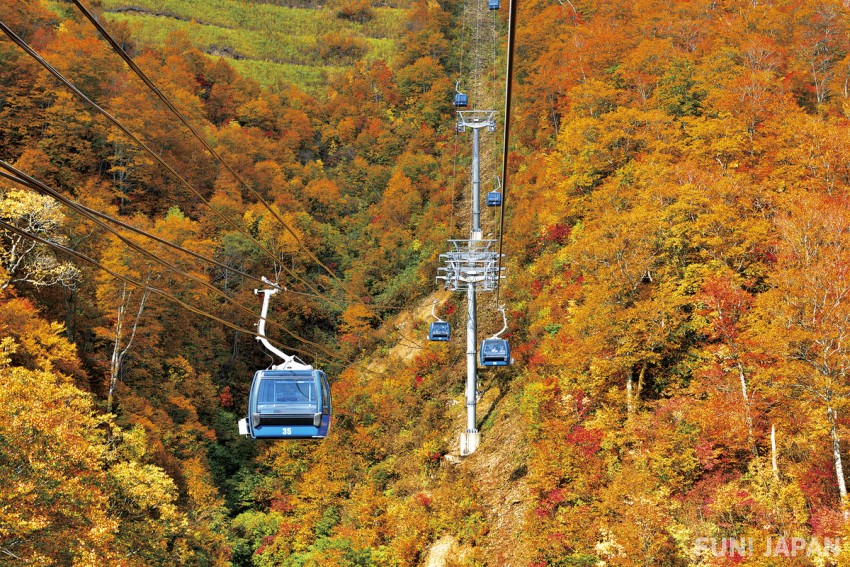 For Niigata In autumn, you can enjoy a variety of autumnal scenery, from nature such as mountains, valleys, and waterfalls to landscapes in Japanese gardens. There are popular autumn leaves spots in the prefecture such as Kiyotsu Gorge and Naena Waterfall.

Also, if you want to enjoy autumn leaves in a Japanese garden, look no further than Shoun Sanso garden, and Yahiko Park, which will be lit up at night.
Sea ​​of ​​clouds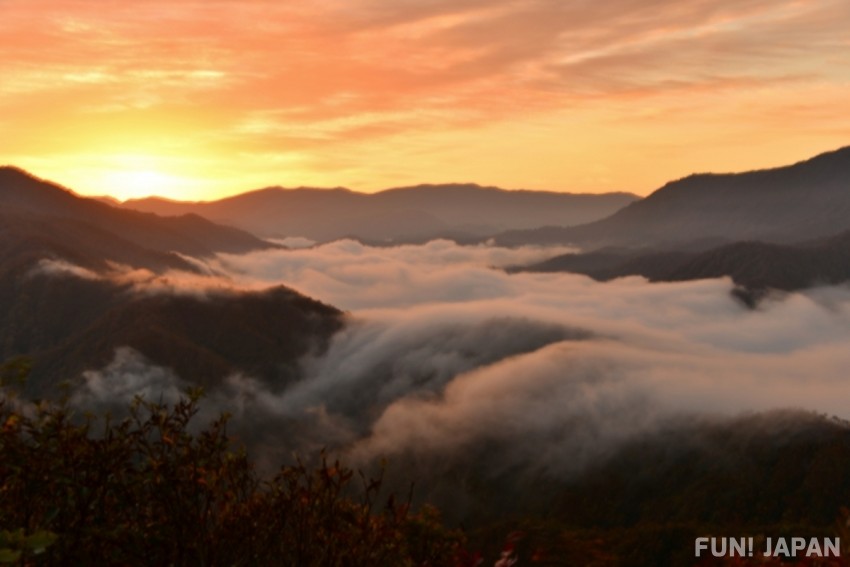 Niigata Prefecture is dotted with scenic spots where you can see the sea of clouds, while most of them are in Uonuma City. For example, at Shioritouge Pass, you can enjoy a sea of clouds called "Takigumo", where clouds flow down over the mountains like a waterfall. Alternatively, you can see the sea of clouds along the 20km-long mountain driveway "Uonuma Skyline", or from the top of Mt. Sakado, which offers a trekking course to get to the summit.
Enjoy playing in the snow in Niigata in winter!
Snow scenery & ski resorts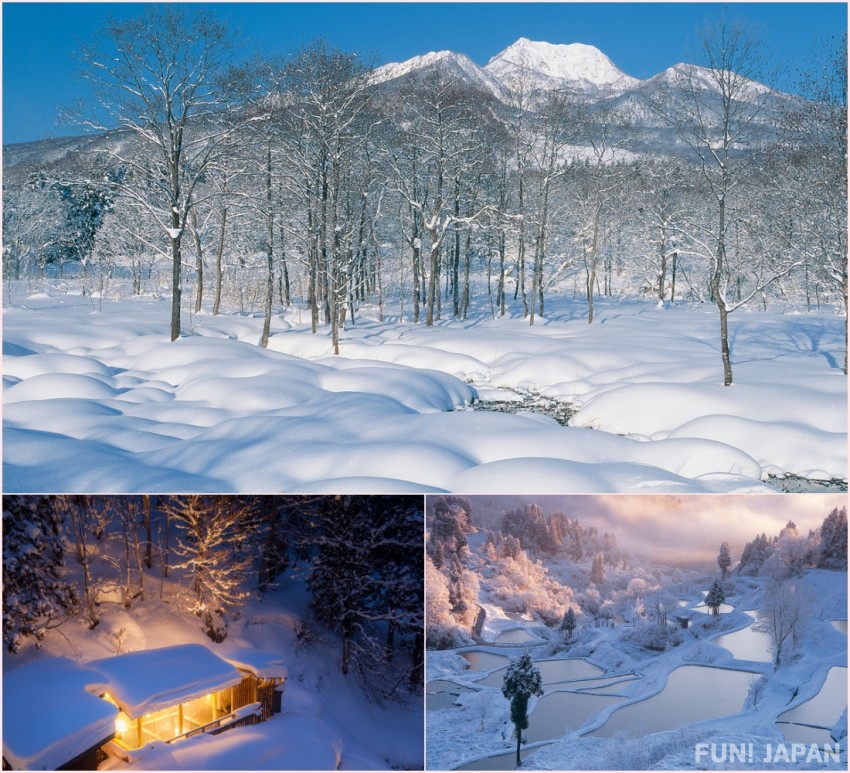 Niigata is a heavy snowfall area and a lot of snow piles up in winter. Snow-covered trees can be seen all over the prefecture, and winter sports such as skiing, snowboarding, and snowshoeing can be enjoyed at Gala Yuzawa Snow Resort and Naeba Ski Resort.

There are also many hot spring resorts where you can soak while admiring the snowy scenery. The hot spring soaking experience in Niigata in winter is an extraordinary and very luxurious experience to add to your bucket list.
Related articles
Winter Fireworks & Snow Lights at Snow Festivals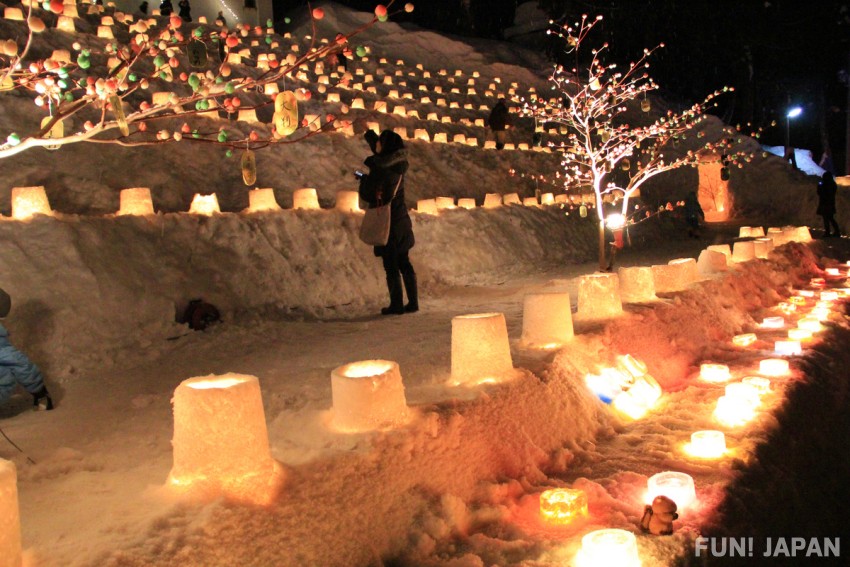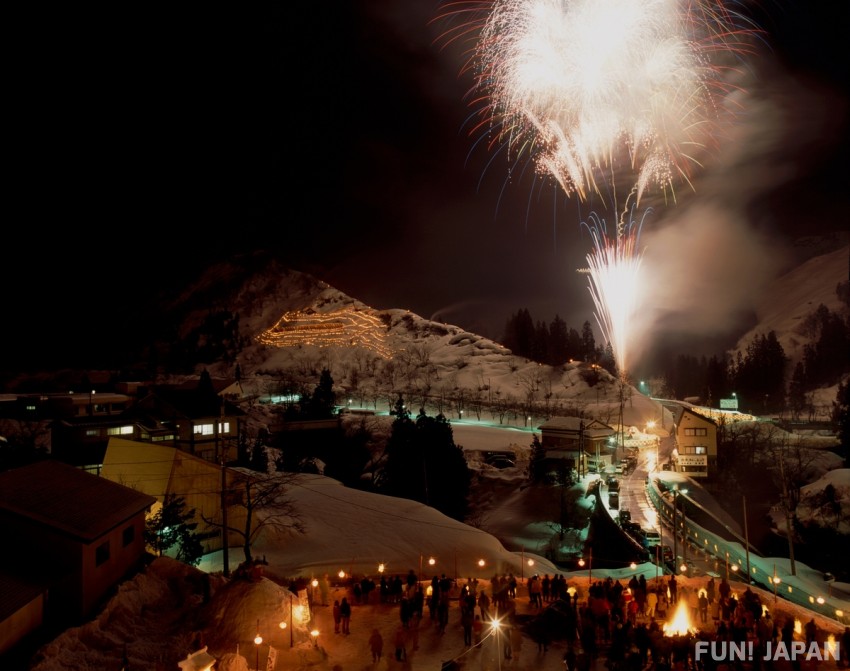 In addition to winter sports, Niigata also offers winter events unique to the snow country, such as snow illuminations and winter fireworks.

Other highlights include events that set off gorgeous fireworks on the snow such as "Yunosato Snow Festival - 108 Lights", the "Sky Lantern and Winter Fireworks Dance", as well as the "Corridor of Lights", an event in which the six districts of Joetsu City are lit with candles.
In Niigata Prefecture, there are still many other activities that you can enjoy throughout the year, such as sightseeing trains, gourmet food, and hot springs. If you have the chance, be sure to visit Niigata and explore!
[Survey] Traveling to Japan
Recommend