2 Recommended Ski Resorts in Niigata: Full of charm from winter snow activities to summer activities!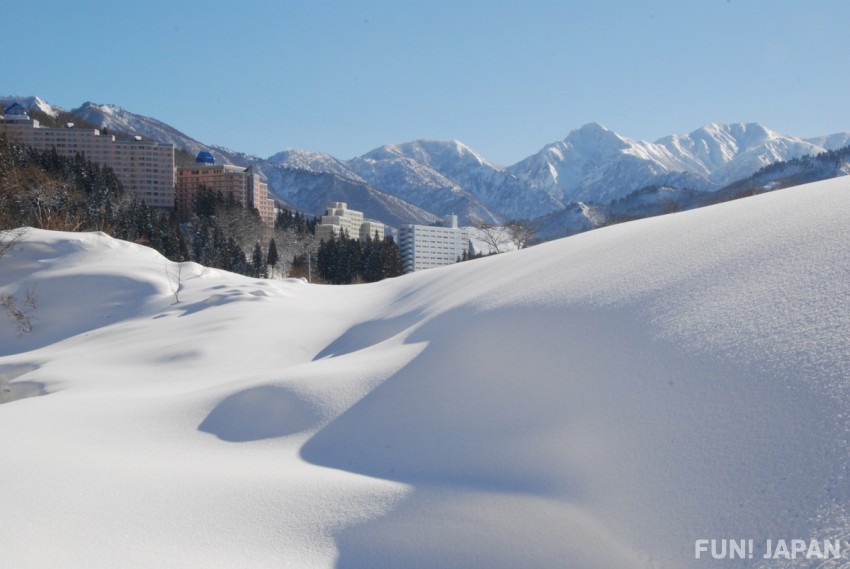 Niigata Prefecture, which borders the Sea of Japan and is covered with a large amount of snow in winter, is one of the prefectures with the largest number of ski resorts in Japan. The quality of the snow has gained a reputation, and the number of skiers from overseas has increased rapidly. Moreover, many ski resorts have hot springs nearby, so you can relax in the hot springs after doing the winter sports. Yet, there are also plenty of green season (non-snowy season) activities that take advantage of the rich nature. This time, we will introduce the facilities and charms of each season in winter and summer at GALA Yuzawa Snow Resort and Naeba Ski Resort, the two most popular and recommended ski resorts in Niigata.

Is Niigata Prefecture a snow country? All about its winter snow conditions
In Niigata Prefecture, the birthplace of skiing in Japan, you can enjoy skiing from December to early April, when snow piles up every year. This area became a heavy snowfall area about 8,000 years ago when the Tsushima Current began to flow into the Sea of Japan. Since the large amount of water vapor generated by the warm current hitting the mountains such as Mt. Naeba and Mt. Tanigawa (Tanigawa-dake) and being cooled, there has been an increase in winter snowfall.

As a result, snow piles up to 3m in harsh winter from January to February. Skiing first started in Niigata Prefecture in 1911. Since then, many ski resorts have been built mainly in the mountainous areas where the snow is less humid and smooth compared to the plains of more humid snow. The quality and amount of snowfall varies depending on altitude and location, so some ski resorts close in March, while others remain open until May.
GALA Yuzawa Snow Resort: Close to Tokyo! Perfect for day skiing and snowboarding trip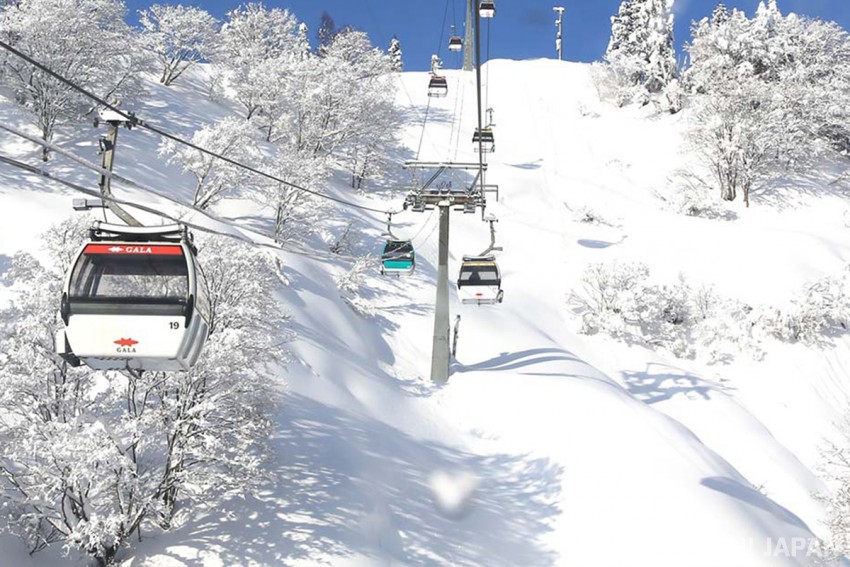 After passing through the ticket gate, the ski center is right in front of you. "GALA Yuzawa Snow Resort" is a highly accessible ski resort that can be reached in about 70 minutes by Shinkansen from Tokyo without changing, making it a perfect destination for a day trip from Tokyo. Here you can rent a set of ski equipment, so you can go empty-handed at this ski resort.


For those who are worried about skiing for the first time, we recommend joining a foreign language supported ski & snowboard school (English, Chinese) that can be easily booked online. You will be taught thoroughly, so you don't have to worry even if it's your ski debut. The hot spring attached to the ski center is another highlight. You can refresh your body after playing in the cold outside in the warm spring water here.

Ski & Snowboard School reservation sites↓
A popular ski resort that attracts people mainly from the Kanto area in winter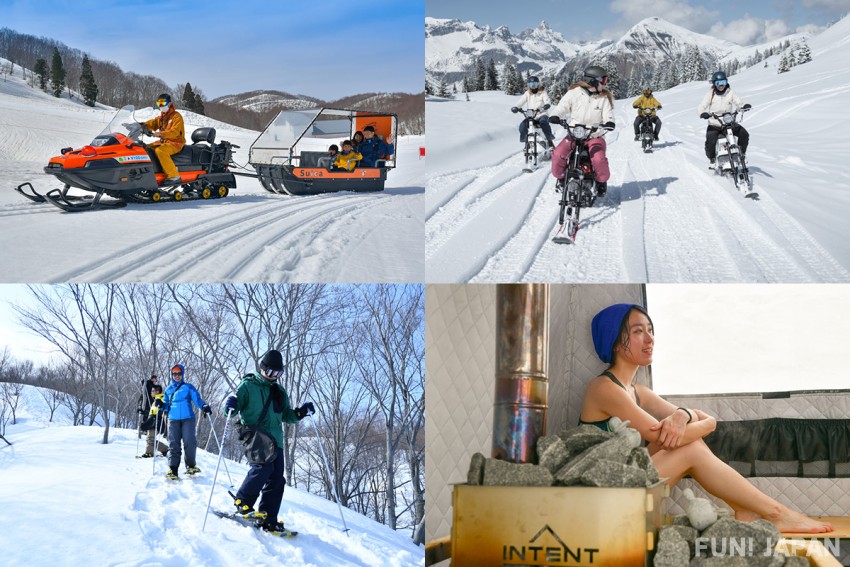 One of the charms of this ski resort is the 16 diverse courses spread over 70ha of slopes divided into 4 areas, no wonder why it is attracting many people from the Kanto region. If it's your first time skiing or snowboarding, or it's been a while since you last played and you need a refresher, look no further than the central area, which offers courses for beginners and intermediate skiers.
On the other hand, there are the "Snowmobile Sleigh Tour", in which a sled pulled by a snowmobile runs through the snowy landscape, and the "Moon Bike", which runs on the slopes in an eco-friendly electric snowmobile (bike type). Activities such as "Snowshoe Tour" and "Outdoor Sauna" are also available.

At the Snow Enjoyment Park, you can let your children play safely in separate areas for sledding and snow play. There are also two observation decks on the slopes where you can relax and enjoy the majestic snowscape. It is truly an "amazing!" superb view.

Transform into GALA Summer Park in summer!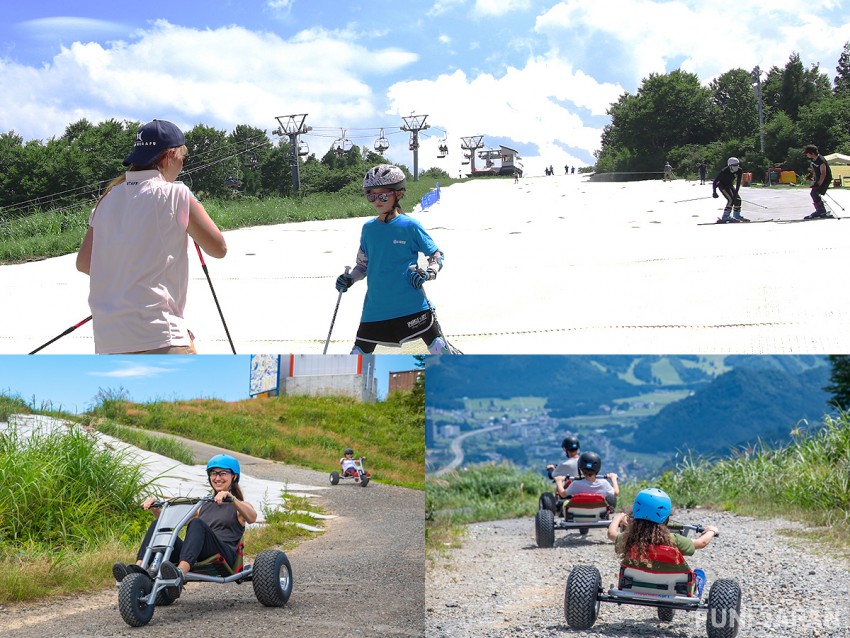 In the summer, mainly on Saturdays and holidays in July and August, it transforms into a  summer park full of various attractions, including summer skiing and snowboarding on the Summer Slope (artificial slope). One of them is the Mountaincart without an engine invented in Europe. It can be operated with just the steering wheel and brakes, and it is highly stable. Even beginners can ride it with confidence.

Spot Information
Address: Map
Access: About 74 minutes from Tokyo Station to GALA Yuzawa Station, immediately after getting off (In summer, about 76 minutes from Tokyo Station to Echigo-Yuzawa Station, then about 10 minutes by free shuttle bus)
Homepage:
*The posted information is the information for 2022, and the contents are subject to change. Please check the website for the latest information.

Naeba Ski Resort: From skiing and snowboarding to various activities and events!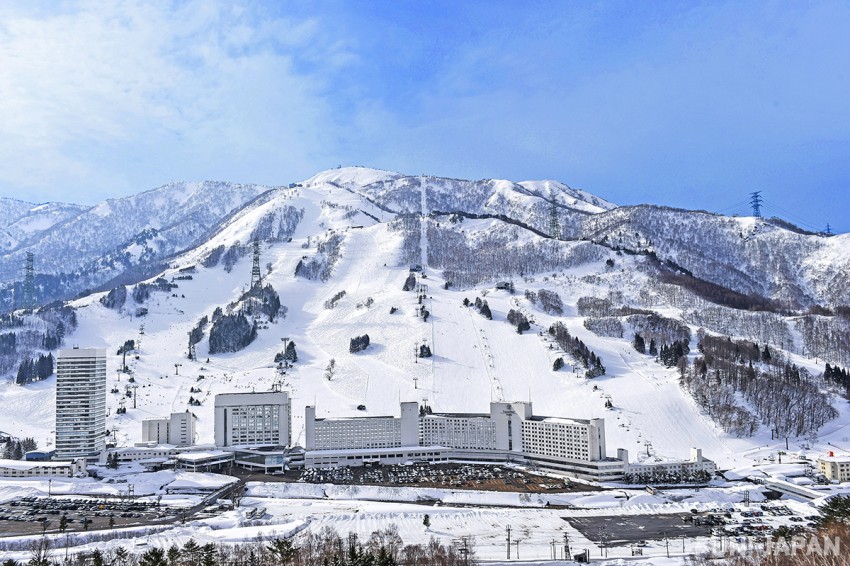 "Naeba Ski Resort" has various courses that can be enjoyed by beginners to advanced skiers. In addition to skiing and snowboarding, there are many snow activities available, making this a perfect ski resort for those who are interested in winter sports but are afraid of injury. After skiing, let's immerse yourself in the hot springs at the one-day ski center. Your cold body will warm up from the core while taking a dip here.

Enjoy various winter sports on the snow-white slopes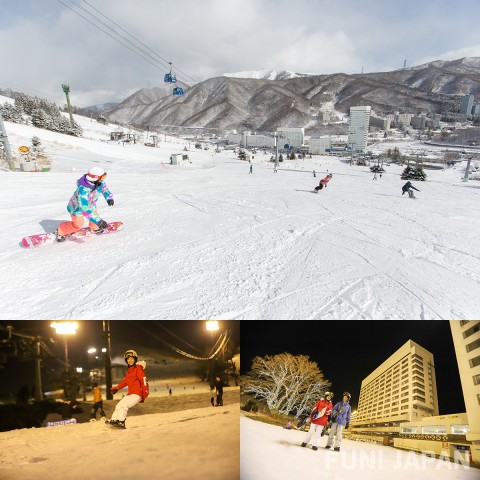 There are 24 courses, 3 gondolas, and a snow park on the vast slopes with a total area of about 135ha, which make use of the difference in elevation of 889m. The longest run is 4,000m, and the layout allows beginners and intermediate skiers to enjoy long runs from near the mountain summit. Night skiing is also recommended. The lighting at night creates a very different atmosphere from the daytime counterpart.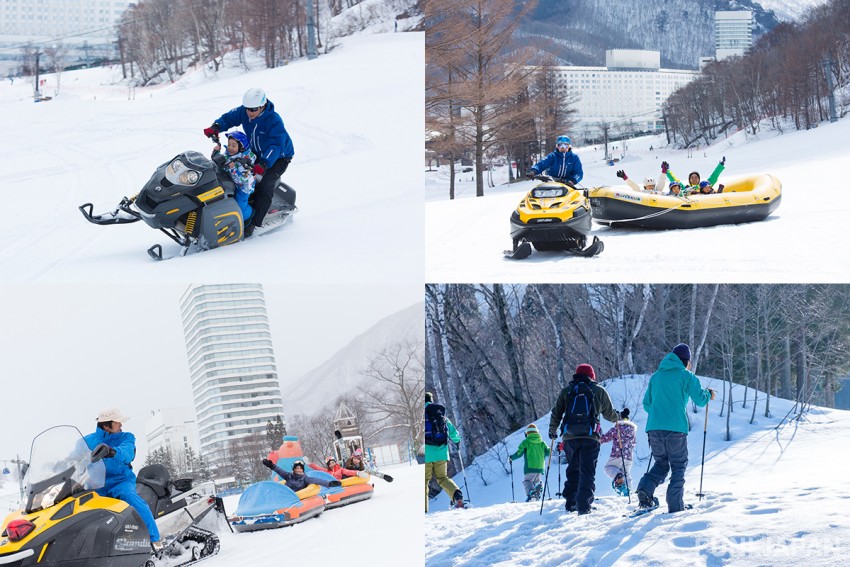 A wide variety of activities are available. There are activities such as "snow rafting" and "snow trains" where you can drive a snowmobile or be pulled by a snowmobile through a snowy field, and even a "snowshoe tour" where you can enjoy hiking on the snow. For children, there are sleds and playground equipment are . There is so much content that one day is simply not enough to enjoy them all.


Don't miss the "Slope Fireworks" that are held several times during the season. The fireworks that light up the clear winter sky are truly a work of art.
Enjoy the scenery of nature such as fresh green leaves & autumn leaves in summer and autumn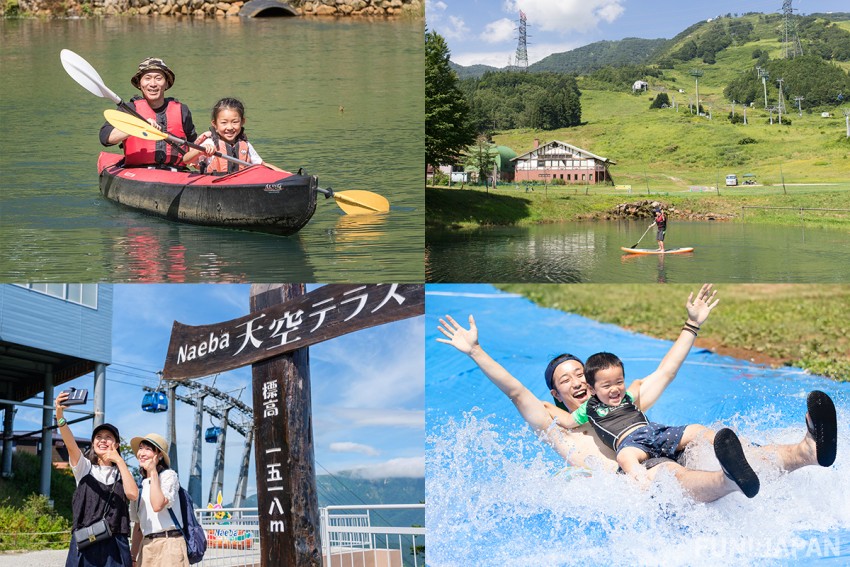 In spring and autumn, you can take a walk in the air on the 5.5km "Dragondola", the longest in Japan. You can enjoy the fresh green leaves and the autumn leaves, and the magnificent scenery of the ever-changing nature. At Naeba Summer Park, which opens in the summer, you can enjoy activities such as canoeing, SUP, and the sky terrace with a wonderful view from an altitude of about 1,500m. There are plenty of attractions that delight children, such as a hand-made water slide with a length of about 50m.

On the premises, there is a special deck where you can have a BBQ and a bonfire even if you come empty-handed, as well as the "Naeba Kogen Auto Campsite", so you can enjoy a cool highland resort even in the summer.

Spot Information
Address: Map
Access: About 76 minutes from Tokyo Station to Echigo-Yuzawa Station, then about 40 minutes by bus
Homepage:
Opening period:

Naeba Kogen Auto Campsite: April 29 to November 5, 2023 (planned)
Naeba Summer Park: July 15-23/August 5-27, 2023
*Activities may change each season, so please check the website for the latest information.

[Survey] Traveling to Japan
Recommend