A treasure trove of spectacular scenery and gourmet food! Where to visit in Fukuoka Prefecture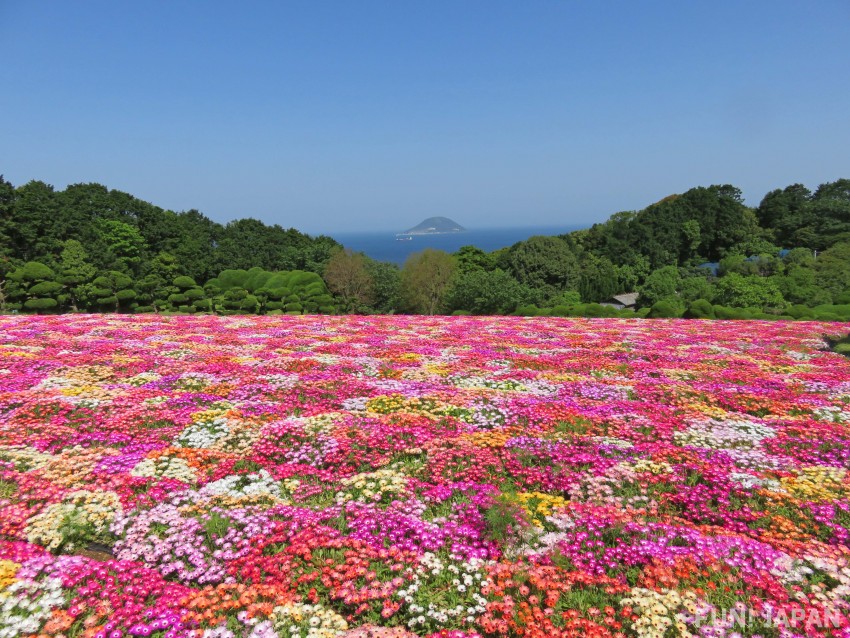 Fukuoka Prefecture is home to many popular tourist spots centred around Fukuoka City, one of Japan's five largest cities. It boasts a rich variety of some of the most delicious gourmet food in Japan, such as sushi and tonkotsu ramen, noodles served in a rich pork bone broth. The prefecture is also abundant in natural attractions, like seasonal flowers and autumn foliage, and each spot is conveniently accessible via the well-developed public transport system. Once you get a taste of Fukuoka, you'll come back for more again and again.

Recommended sights in Fukuoka Prefecture
Recommended sights in central Fukuoka accessible by train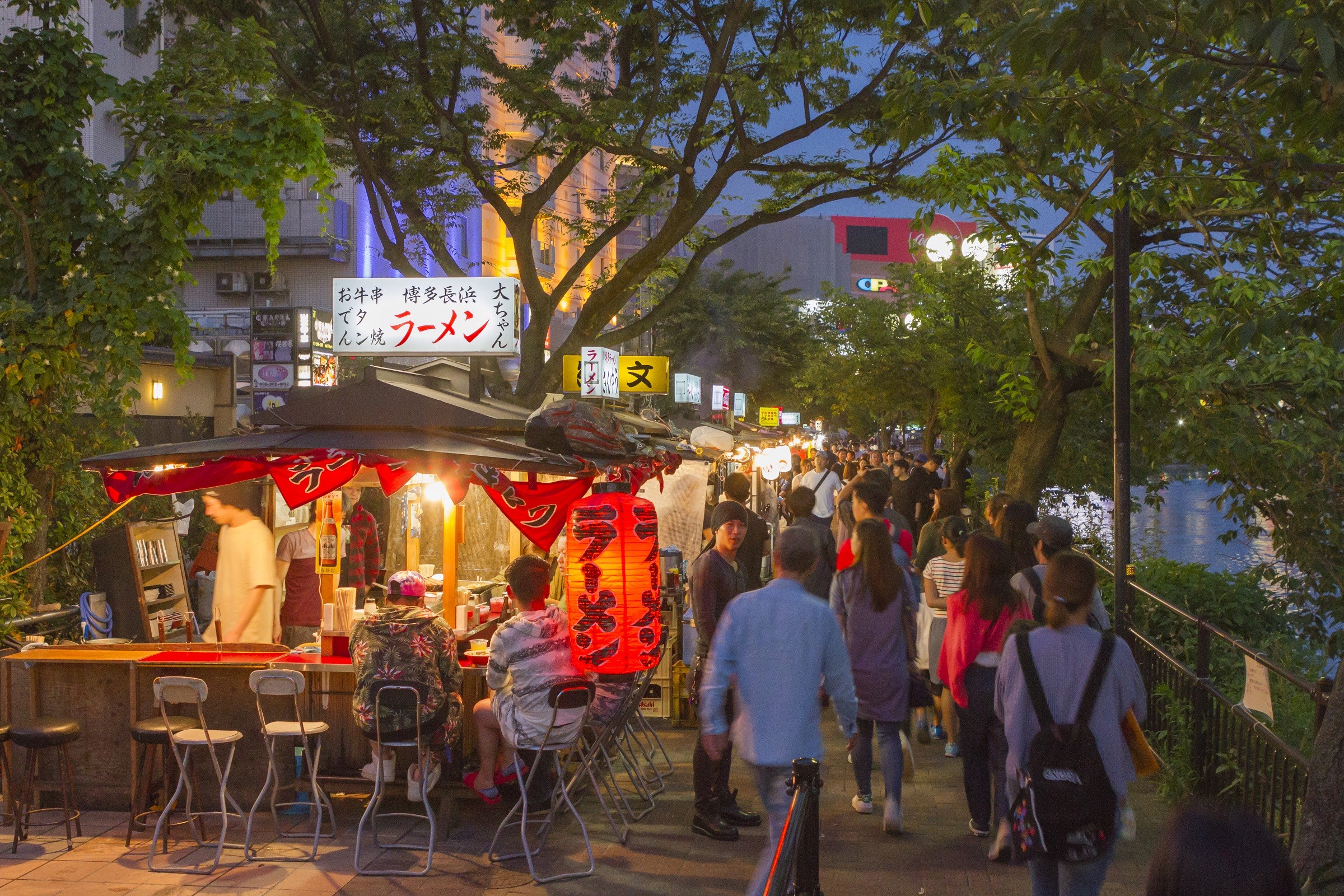 Fukuoka City, where Fukuoka Airport is located, has almost every kind of spot imaginable for eating and shopping. You can get around the city by subway or bus, so be sure to make a stop in Fukuoka City on your trip. Nakasu, known as Fukuoka's busiest shopping area, is bustling with people coming and going until the night is illuminated by the neon signs. The area is also where you can sample many of Fukuoka's local delicacies. Don't forget to visit Fukuoka Tower, the famous symbol of the city, and take in the panoramic view of the whole cityscape and Hakata Bay from the observation deck on the top floor.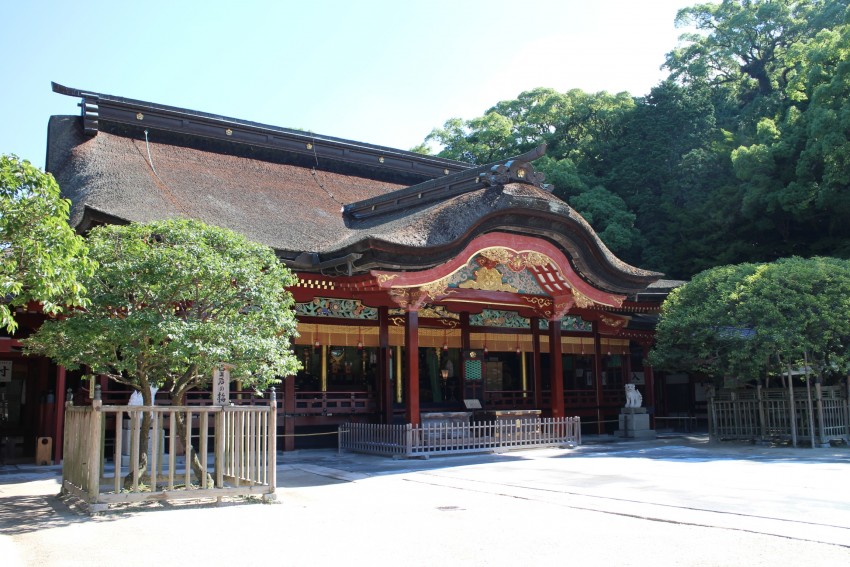 About 30 minutes from Fukuoka City by Nishitetsu train, you can find the city of Dazaifu, another popular tourist spot. This historic city once flourished as the western capital of ancient Japan, something you'll soon see in its abundant historical heritage sites. Among these, Dazaifu Tenmangu, an impressive shrine dedicated to the god of learning, has a history stretching more than 1,000 years; it is one of the largest shrines in Kyūshū. The approach from Dazaifu Station is lined with restaurants and souvenir shops, so don't miss out on the chance to try hot and fragrant umegaemochi rice cakes, a must-try Dazaifu speciality.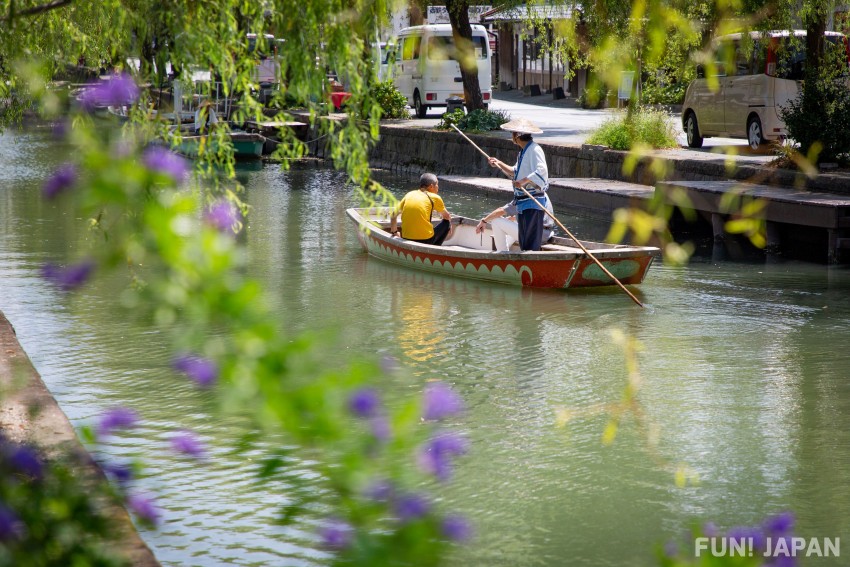 Yanagawa, located 40 minutes further south by Nishitetsu train, is another spot you must check out. The nostalgic atmosphere of the castle town is very photogenic. A boat trip down the river and through the waterways is a pleasant way to spend your time in the area. There are also kimono and yukata rental stores, so why not try blending in with the traditional atmosphere in the town in a kimono or yukata? We also recommend you try the local delicacy seiromushi, fresh eel steamed in a pot with a sweet and spicy sauce. The plump eel steamed with the delicious sauce is a gourmet dish attracting attention throughout all Japan.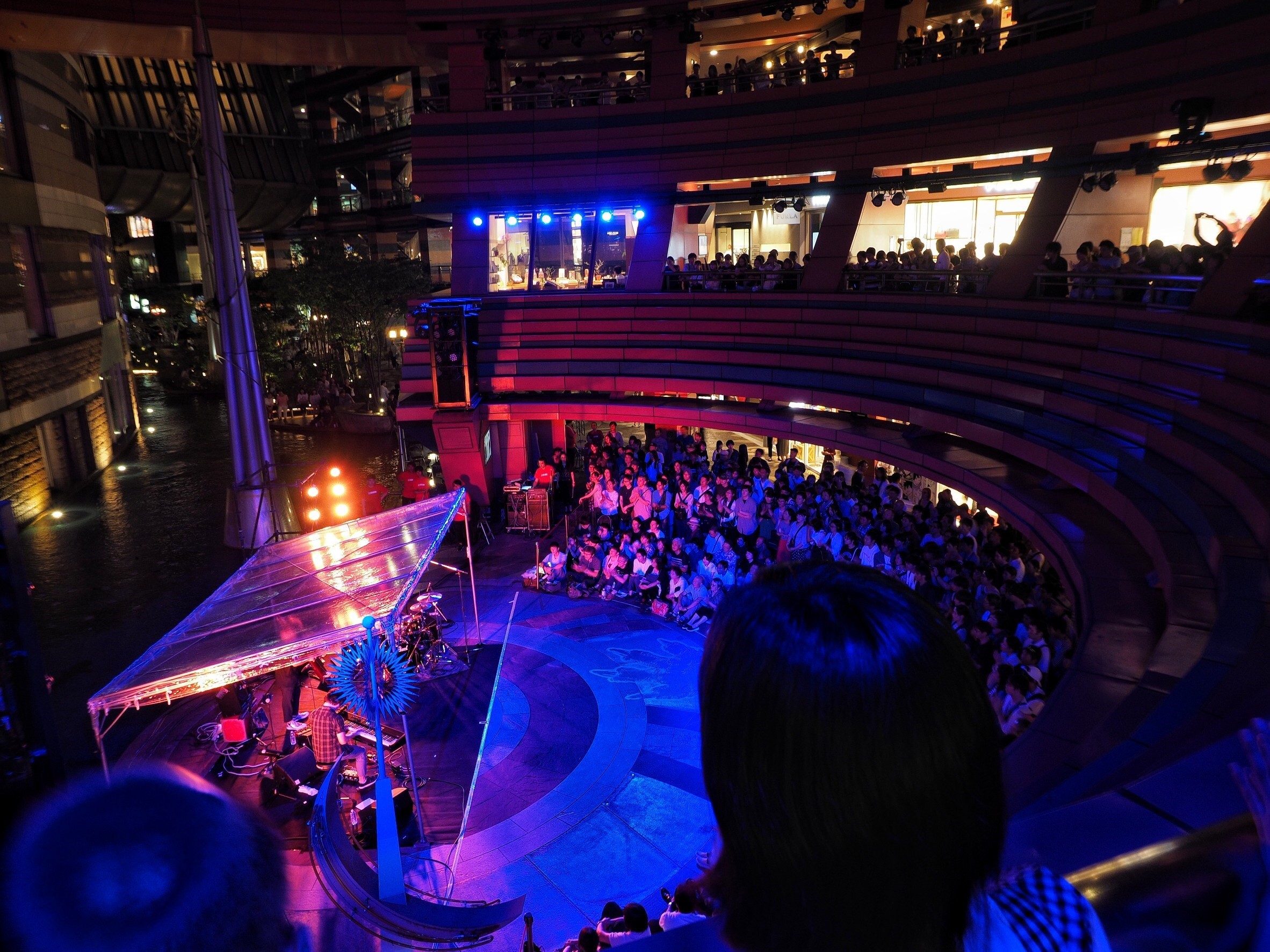 But of course, when hearing the word "Fukuoka", many people will be quick to think of shopping. The best-known shopping spot is Canal City Hakata, a massive shopping centre near the Hakata River. A canal runs through the centre of the facility, where fountain shows and various exciting events are held every day.
Also of note are Lalaport Fukuoka and The Outlets Kitakyushu, huge shopping centres that both just opened in April 2022. The former focuses on products from Fukuoka, while the latter is a vast shopping mall boasting a large sales floor area.
Spectacular natural spots in Fukuoka Prefecture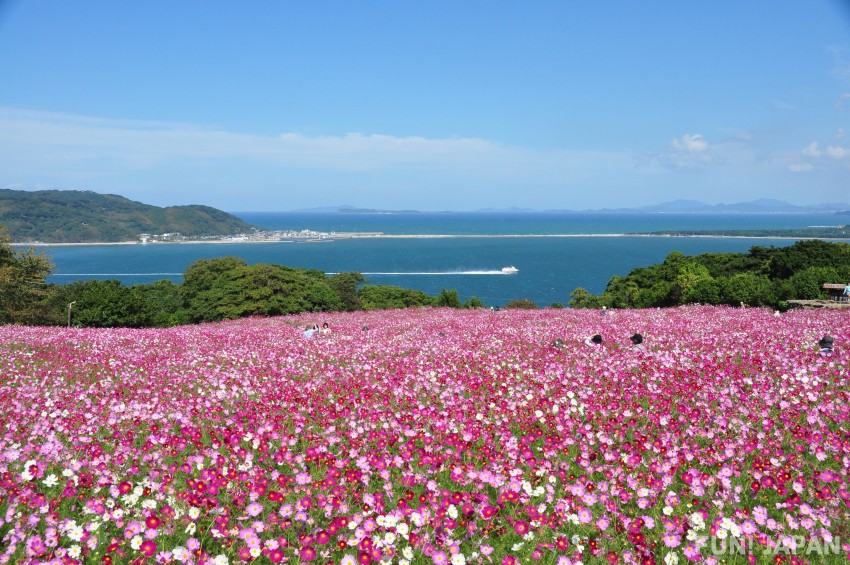 Nokonoshima Island is a small island covered in nature. You can easily get to the island in 10 minutes by ferry from Meinohama in Fukuoka City. Visitors to Nokonoshima Island Park can admire a variety of seasonal flowers throughout the year. The rape blossoms are at their best from late February to mid-April, and the cosmos, which are at their best from early October to early November, are particularly popular. You're sure to be impressed by the contrast between the gorgeous flowers and the beautiful azure waters of Hakata Bay.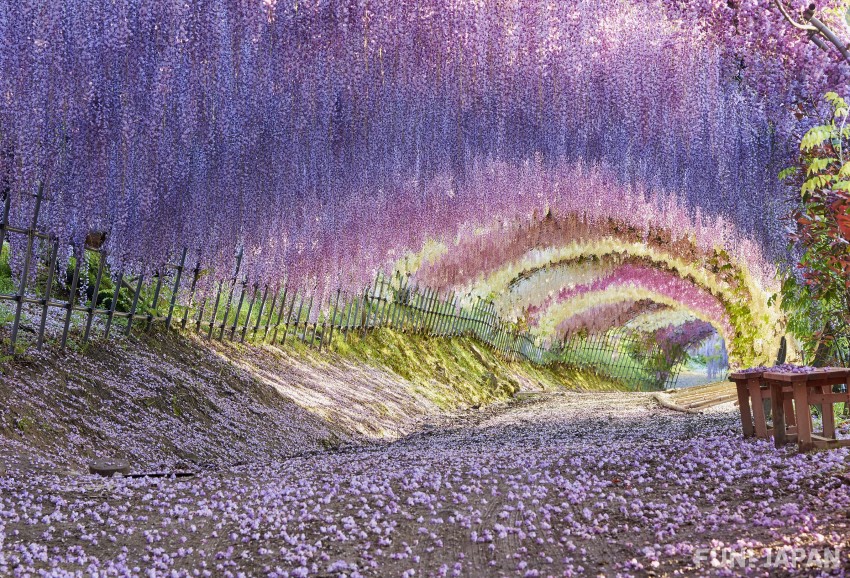 The Kawachi Wisteria Garden in Kitakyūshū City was selected as one of the 31 most beautiful places in Japan by CNN in the USA. The vast grounds are covered with 22 different types of wisteria flowers and a 110-m-long wisteria tunnel that is simply breath-taking. The autumn colours of the 700 wisteria trees are also not to be missed. The garden is open only for two seasons: from late April to early May when the wisteria bloom, and from mid-November to early December when the autumn leaves change colour. Please check the official website and other information in advance before you visit.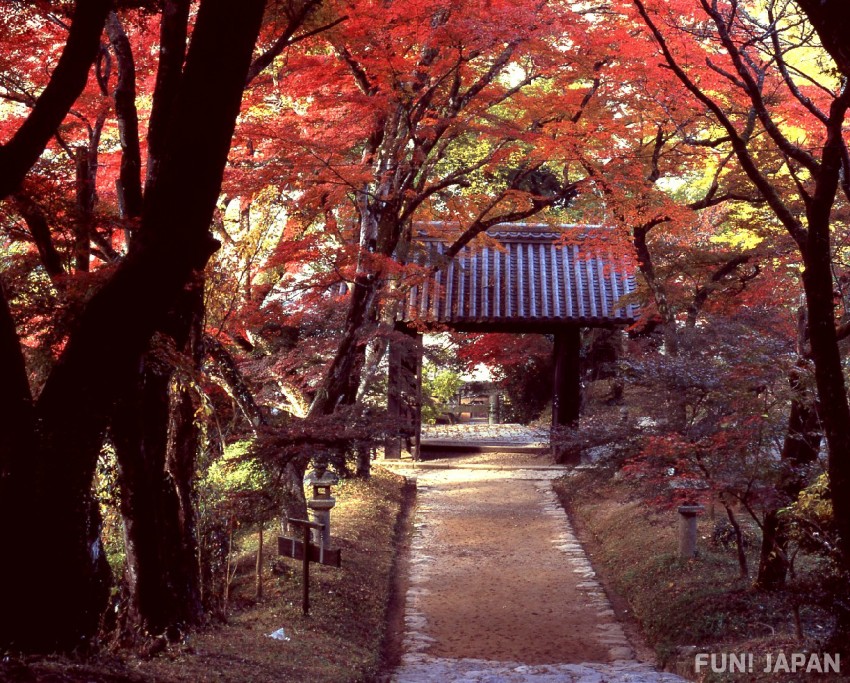 Akizuki, which retains the scenery of its castle town heritage, is also renowned for the harmony of its 800-year history and the natural beauty of its mountains. It can be reached by bus from Nishitetsu Amagi Station in about 20 minutes. You should set your sights on Sugi-no-Baba-Dori, a beautiful avenue known for its cherry blossoms. The 500-metre-long row of cherry blossom trees is dotted with old-fashioned restaurants and souvenir shops. If you walk further along the road, the Kuromon Gate of Akizuki Castle will come into view. This area is famous for its autumnal foliage; the contrast between the red leaves of the maple trees and the black gate is beautiful.
Recommended sightseeing trains running in Fukuoka Prefecture

If you are aiming to get to your destination by train, then why not enjoy the journey on a sightseeing train to spend some quality time on the way? When taking the Nishitetsu line on the way to Yanagawa, you can ride a sightseeing train called "The Rail Kitchen Chikugo". This train departs from Nishitetsu Fukuoka (Tenjin) Station and serves food made with ingredients from around the Kyūshū region, mainly from the areas along the railway line. These dishes are cooked in the oven installed on the train, so you can enjoy freshly prepared course meals on your journey. Enjoy the delicious food while admiring the lush green countryside of the Chikushi Plains.
For a more luxurious restaurant train experience, you could even take a ride on the Heisei Chikuhō Railway's Kotokoto Train, which runs in the northern part of Fukuoka Prefecture. The word "kotokoto" is a Japanese word used to describe the sound of a slow-moving train. The train runs from Nōgata Station to Gyōbashi Station at speeds of 15-40 km/h for around three and a half hours, during which you'll be able to enjoy a course of authentic French cuisine. Take a look out of the train window, and you'll be able to gaze out at the Japanese satoyama scenery, such as Mt Fukuchi, one of Kyūshū's 100 most famous mountains, and a long-established saké brewery standing by the river. Remember to book at least 14 days before the day you want to ride the train.
 

Recommended activities in Fukuoka Prefecture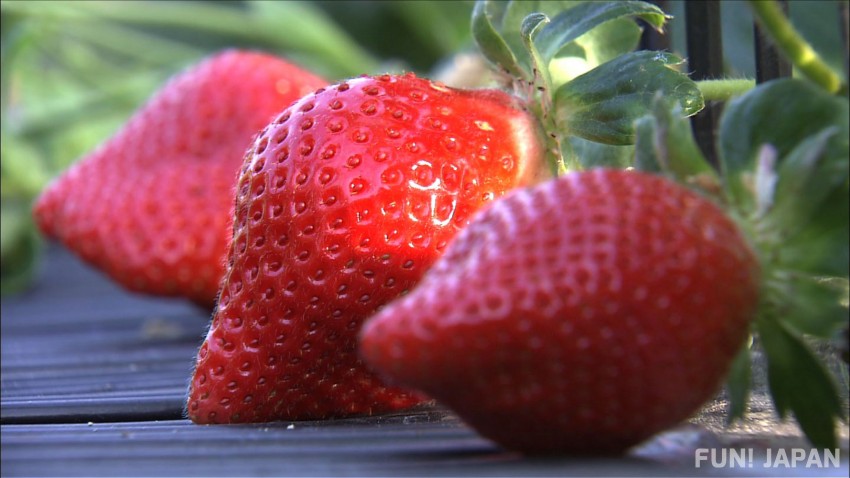 Did you know that Japan is said to be the world's largest consumer of fresh strawberries? The strawberries produced in Japan are known for their sweetness, and Fukuoka Prefecture is the second largest producer of these delicious little fruits. The Hakata Amaou is a nationally famous variety of strawberry produced in Fukuoka. The name comes from the first letters of the Japanese words akai [red], marui [round], ōkii [big] and umai [delicious]. Other new varieties continue to be produced in Fukuoka, where strawberry picking is a very popular activity. The harvest season spans from early December to early June. Try to visit the strawberry farms spread from the northern to the southern part of the prefecture.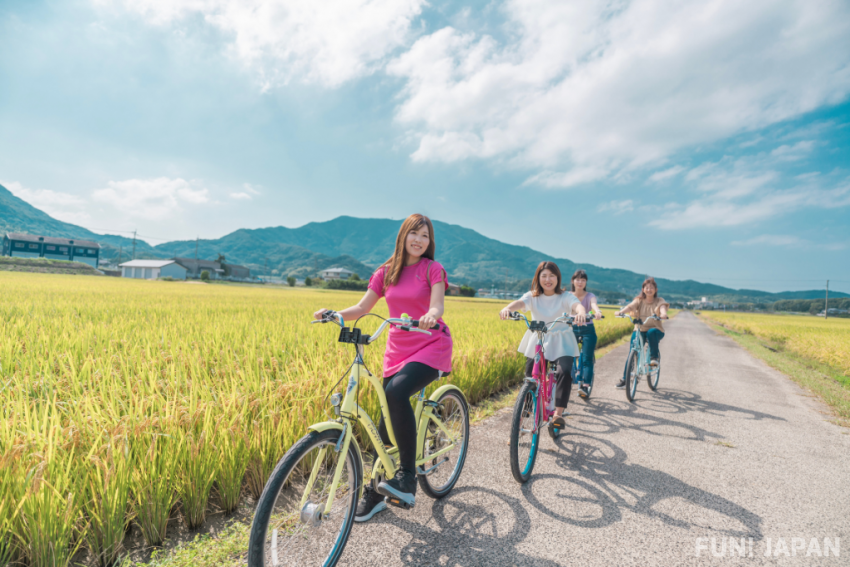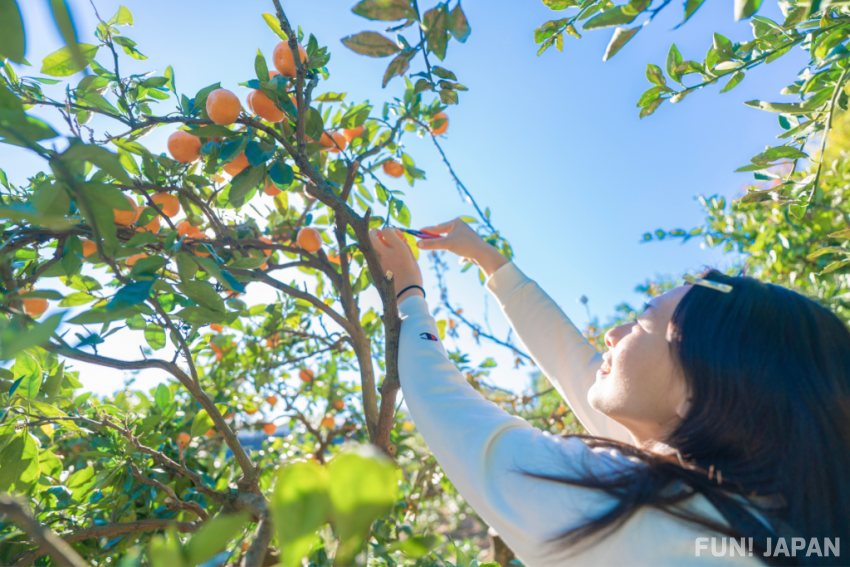 Fukuoka Prefecture not only produces strawberries but also various citrus, kiwis, grapes and many other fruits, making it an excellent place to try "fruit riding". For example, in Okagaki Town, located on the coast of the Hibikinada Sea, you'll be able to go on the Okagaki Fruit Ride. This unique tour allows you to ride an electrically-assisted bicycle through idyllic landscapes surrounded by sea and mountains, picking fruits and making sweets along the way. Check the schedule at the Okagaki Town Tourist Association.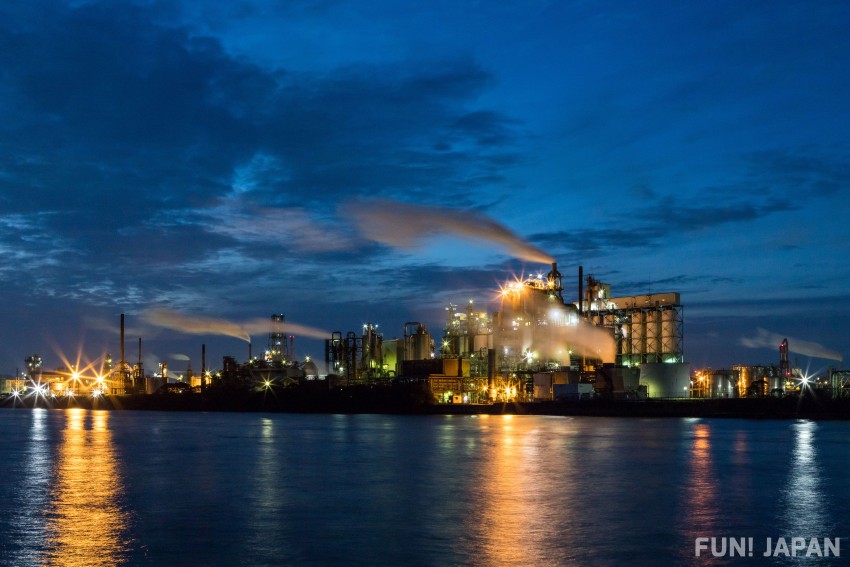 Another popular activity is the Nightscape Viewing Cruise in Kitakyūshū City, one of Japan's most famous factory areas. The factories that line the coastline light up at night and transport you to a glittering and dynamic fantasy world. These regular cruises depart from Kokura Port, a seven-minute walk from JR Kokura Station, and Mojikō Port, a three-minute walk from JR Mojikō Station.
Fukuoka Prefecture's must-try delicacies
Tonkotsu ramen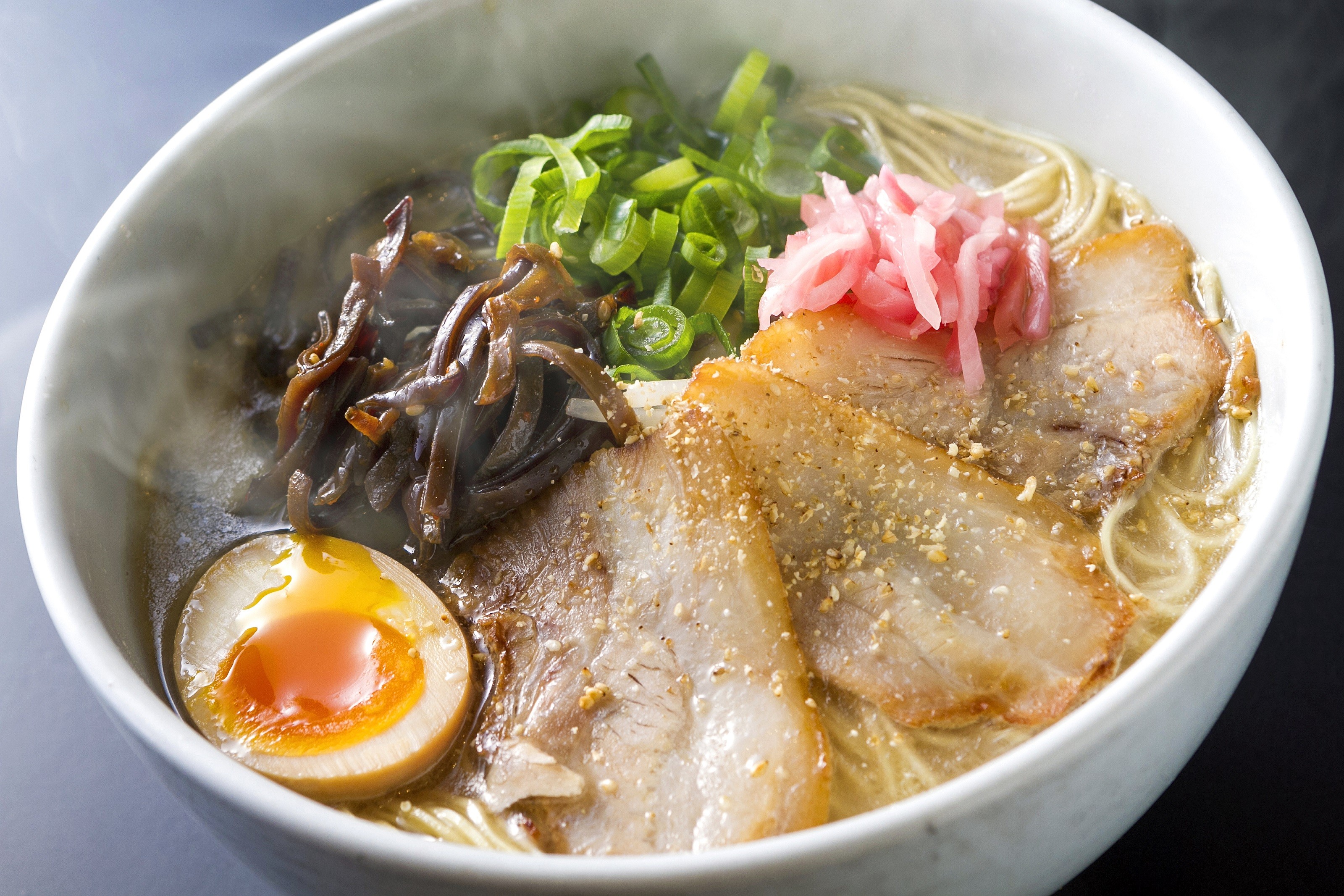 When it comes to gourmet food in Fukuoka Prefecture, tonkotsu ramen is an absolute must. Thin ramen noodles are served in a rich cloudy broth made by cooking pork bones over high heat. You'll find many different toppings, such as a simple combination of spring onions and chāshu pork, but some restaurants also add a generous portion of bamboo shoots, nori seaweed, bean sprouts and kikurage mushrooms. You can also choose the firmness of the noodles— very firm, regular or well done. Fukuoka is also renowned for kaedama, an additional portion of noodles to top up your soup and help you savour it to the very last drop!
Sushi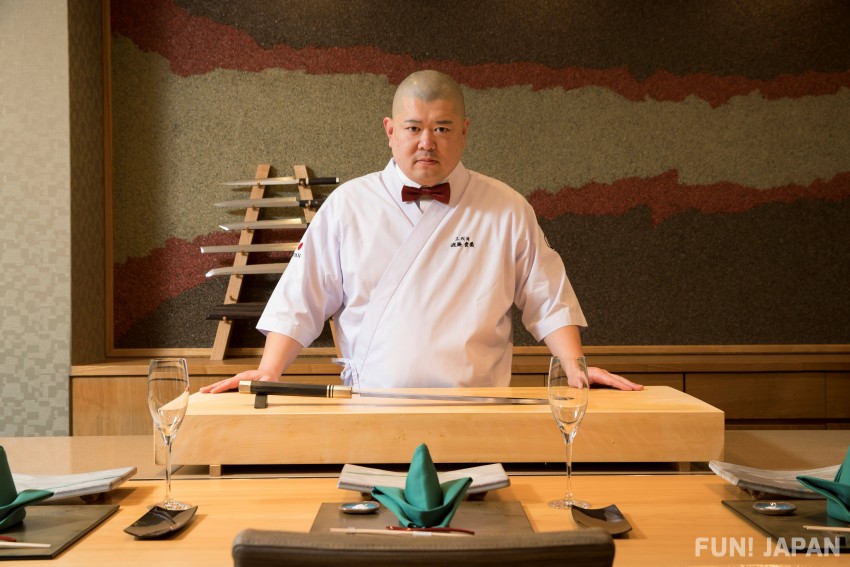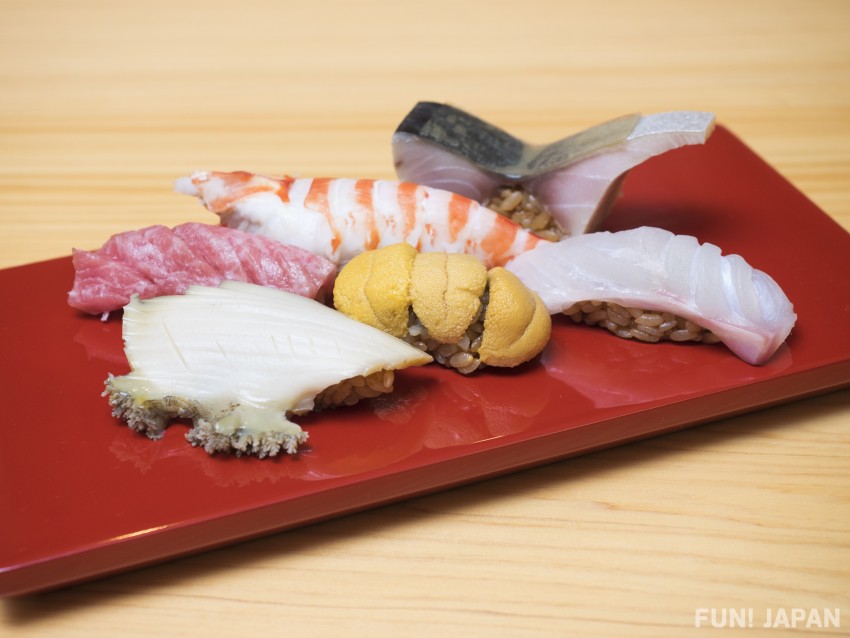 Fukuoka Prefecture is blessed with rich fishing grounds and, as a result, has countless famous sushi restaurants. Teruzushi in Kitakyūshū City is known overseas for serving sushi as 'theatre-style entertainment". The chef uses quality ingredients obtained from his own sources and serves them in a daring performance style. Check out the English-language website.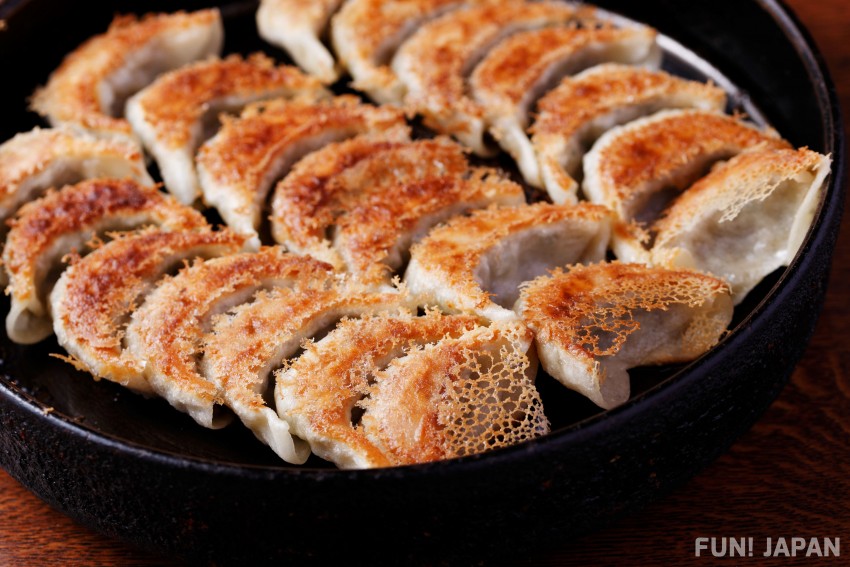 Other gourmet delicacies to try in Fukuoka Prefecture include tetsunabe gyōza dumplings seared and served in the same iron pot, and Hakata udon, soft and springy noodles served in a clear, soy sauce-based broth.
Access to Fukuoka Prefecture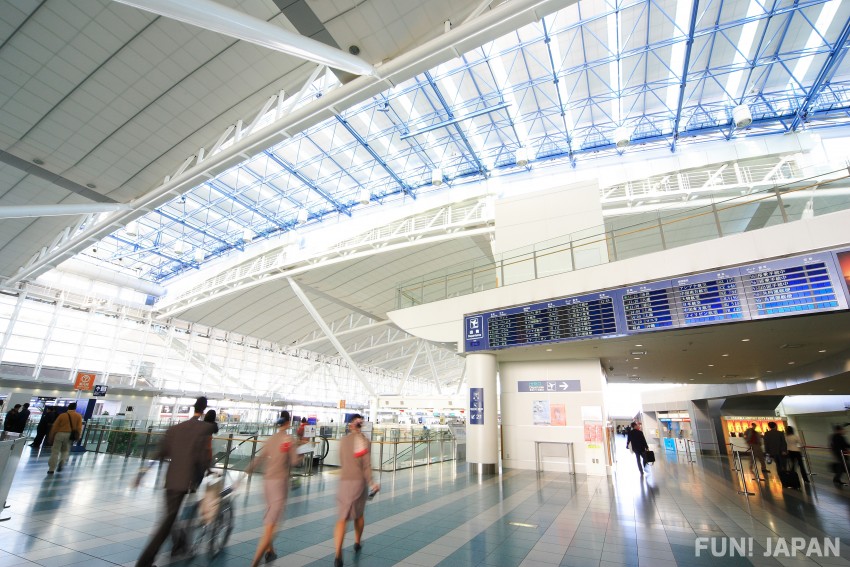 Direct flights operate between Singapore Changi International Airport and Fukuoka Airport, and the journey only takes around six hours and 30 minutes.
If you want to fly to Fukuoka from Tokyo, you can fly from Haneda Airport and arrive at Fukuoka Airport in about two hours. From Ōsaka, you can depart from either Kansai Airport or Itami Airport and arrive in approximately one hour and 20 minutes. Alternatively, you could use the Shinkansen bullet train from Shin-Ōsaka Station. It takes about two hours and 30 minutes to reach Hakata Station, but it will take you right into the heart of Fukuoka City.
Within Fukuoka Prefecture, the Transport Pass issued by various public transport authorities is a useful addition to your travel kit. It allows you to use Fukuoka City Subway, Nishitetsu Bus and Nishitetsu Train services as many times as you like in one day. You can get your hands on the pass at subway stations, Hakata Bus Terminal and Nishitetsu Fukuoka (Tenjin) Station. 
VISIT FUKUOKA
https://visit-fukuoka-japan.com/
Visit Fukuoka Japan(Facebook)
https://www.facebook.com/fukuoka.prefecture.tourism
Visit Fukuoka Japan(Instagram)
[Survey] Traveling to Japan
Recommend