A must-see for those planning to visit Japan during the autumn foliage season! Activities and things that make autumn leaves viewing more enjoyable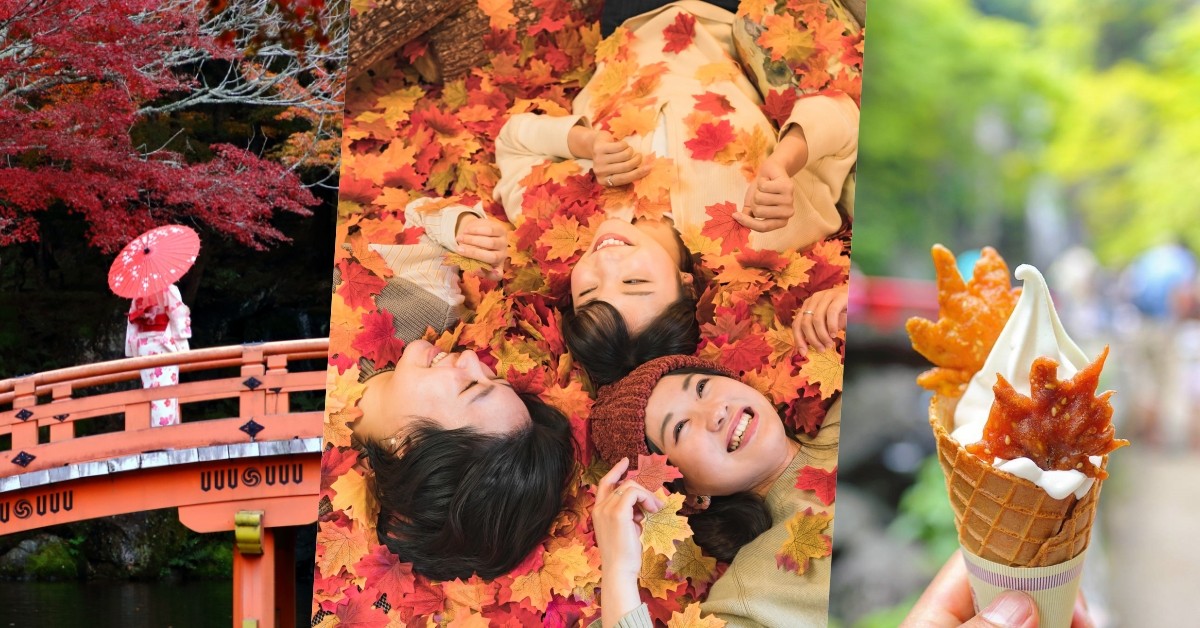 From October 11, 2022, the Japanese government has significantly relaxed border controll measures against COVID-19. Finally, the limit on the number of people entering the country has been lifted and the ban on individual travel and visa-free travel have been lifted. The long-awaited visit to Japan by private arrangement has become a reality at last!

Since it is right at the time of autumn, the first thing you probably want to do is autumn-foliage viewing. When it comes to autumn leaves season, leisure activities such as mountain climbing, driving, and festivals might be the standard, but it's a waste to just "admire" the autumn leaves! Only by experiencing "playing", "eating", and "drinking" can you truly master the autumn foliage season once a year. In this article, I would like to introduce things that you should pay attention in this season which is easier to travel to Japan and full of spectacular scenery.
【Autumn Leaves x Accommodation】Hoshino Resorts BEB5 Karuizawa: A Hotel Stay with Autumn Leaves Outside, Inside, and as Food
When planning an autumn leaves viewing trip, which of the following types are you?
Decide an area according to the autumn leaves spot you have in mind
Decide an area first then search for autumn leaves spots you want to visit
I think that most tourists fall into these two types, but in this article, I would like to propose the third type - "Decide your destination according to your particular accommodation".

This is because in recent years, "Staycations", in which people enjoy traveling while staying at an accommodation, have become popular. Imagine a staycation tour that comes with autumn leaves - how heart-fulfilling that would be!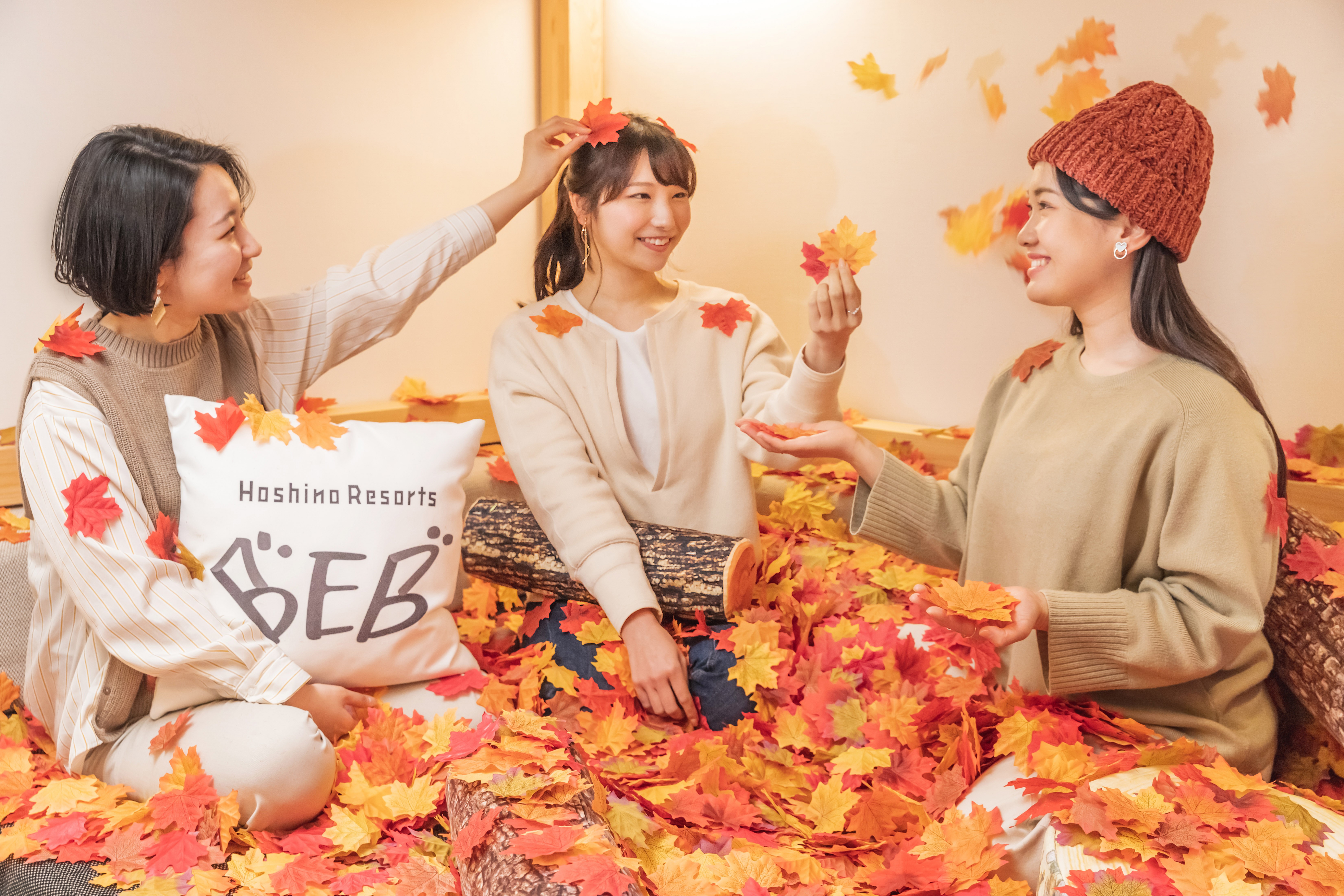 There is a place in Japan where the dream of such a luxurious hotel stay can come true. What's more, it's in Karuizawa, Nagano Prefecture which is relatively easy to access: just about an hour by train from Tokyo!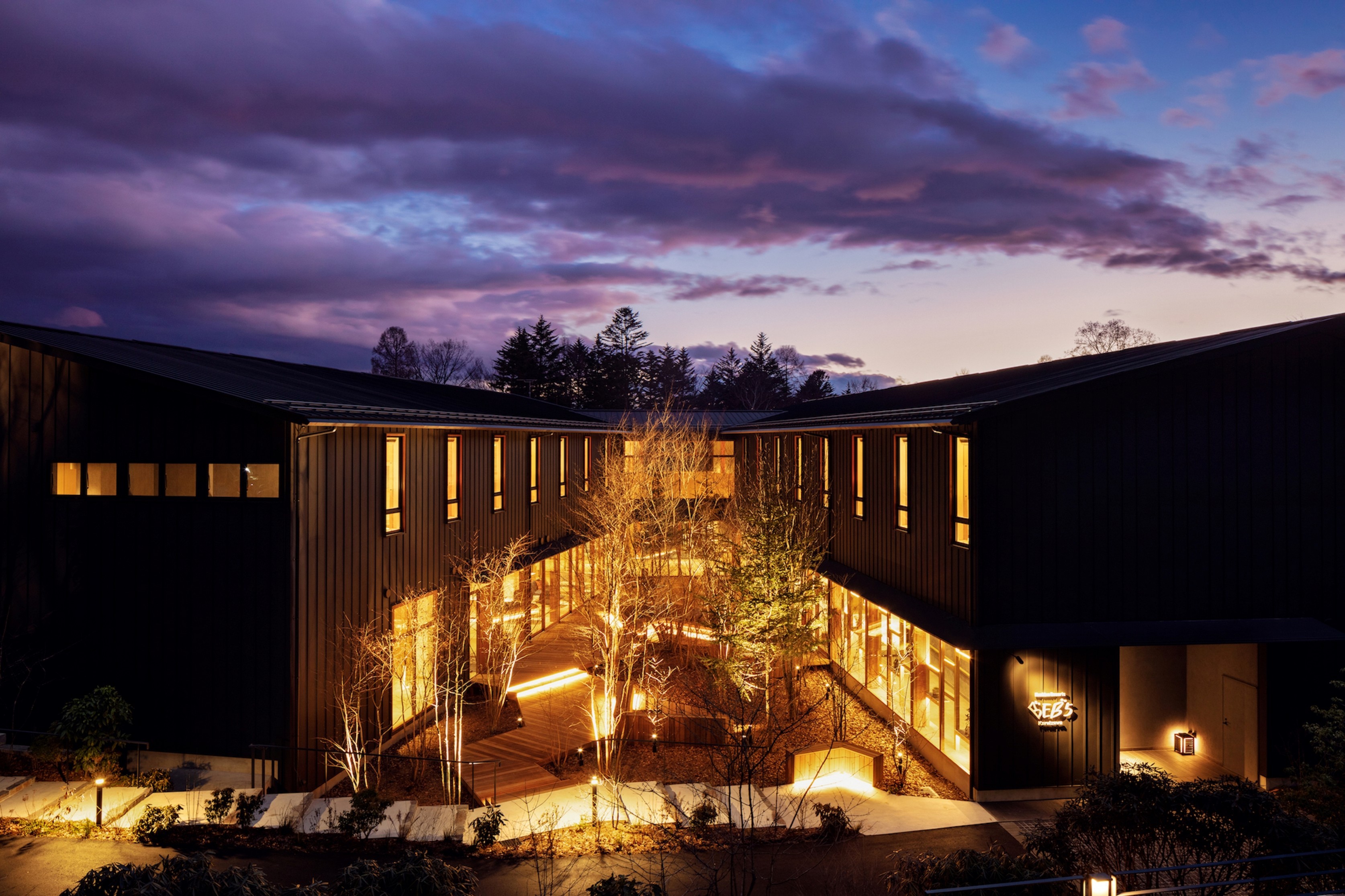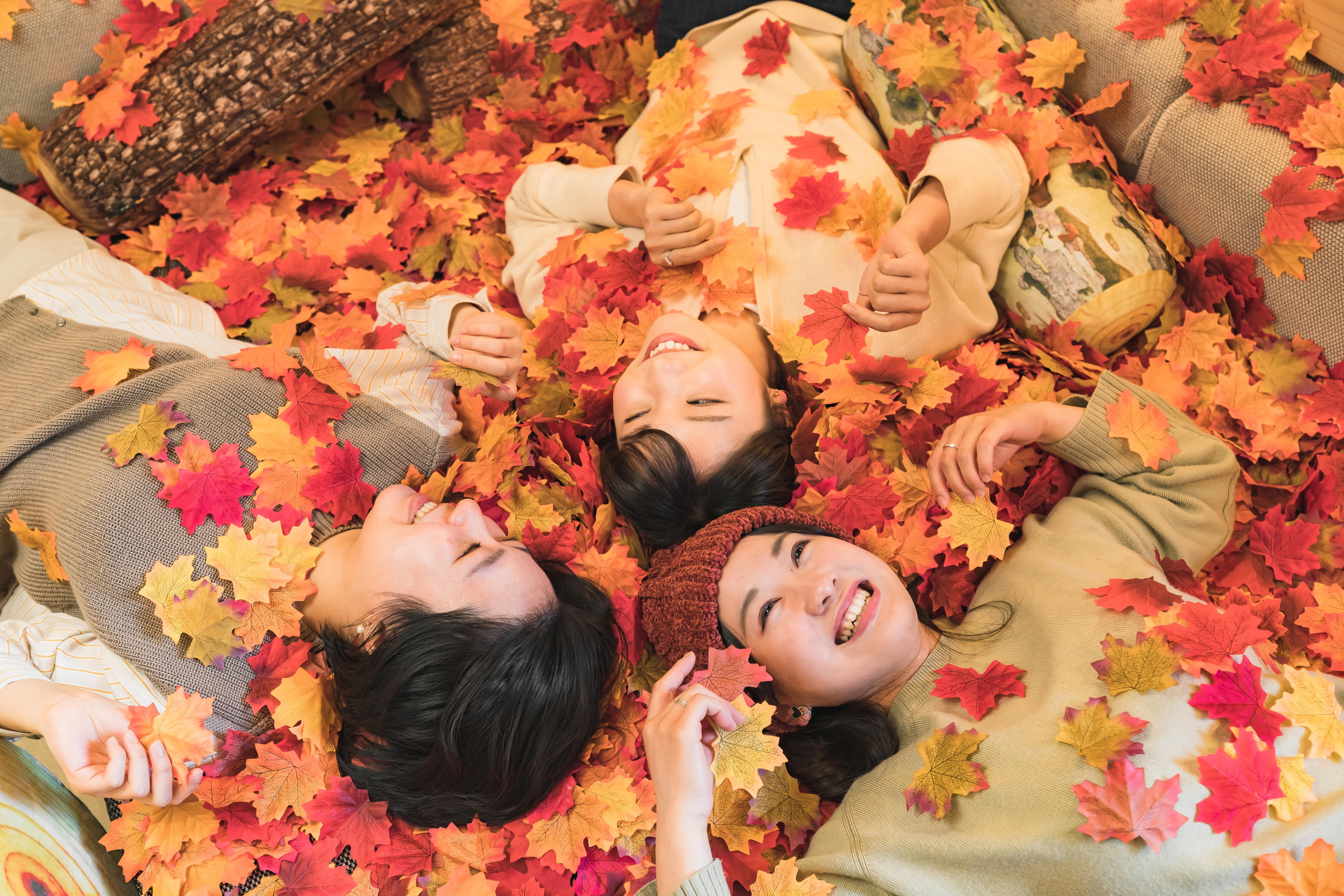 The feature of this hotel stay is that you can enjoy autumn leaves viewing while staying in the hotel room. In a typical hotel stay, it is common to see the autumn leaves "outside" from the window of the room. But this time, there are more than 5,000 colorful maple leaves spreading "inside" the room, which is a rare arrangement even in Japan. As you can see in the picture above, lying on a carpet of autumn leaves and being surrounded by them from 360 degrees around you, you can almost feel the scent of autumn in the air!

*1: The 'kouyou' maple leaves are artificial in consideration of hygiene.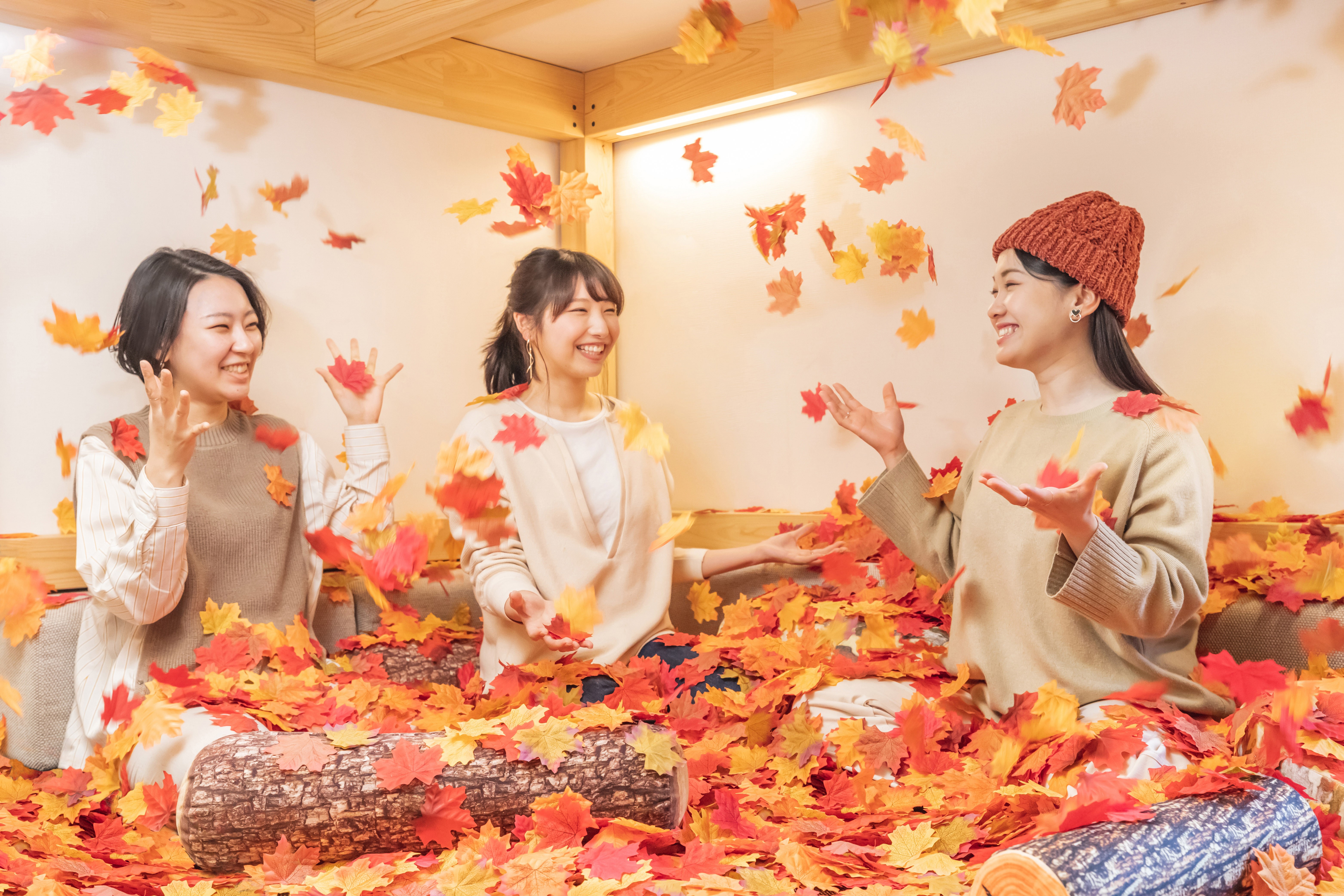 This dream room for those who love autumn leaves is in "Hoshino Resorts BEB5 Karuizawa" in Karuizawa, Nagano Prefecture. The name is "Red Leaves Room" (紅葉部屋 / Kouyou-beya). The hotel is convenient located next to Karuizawa Kogen Church, and it takes less than 20 minutes to neighboring autumn destinations such as at Kumoba Pond and Shiraito Falls .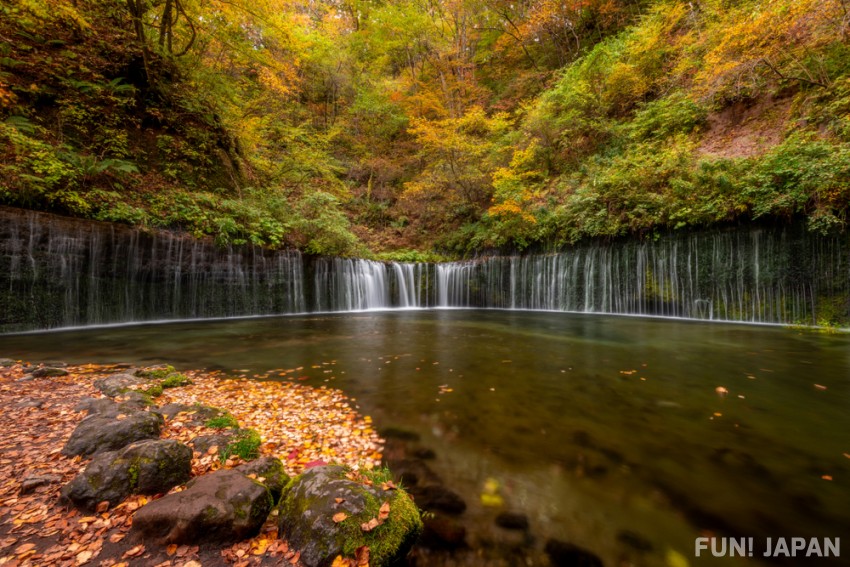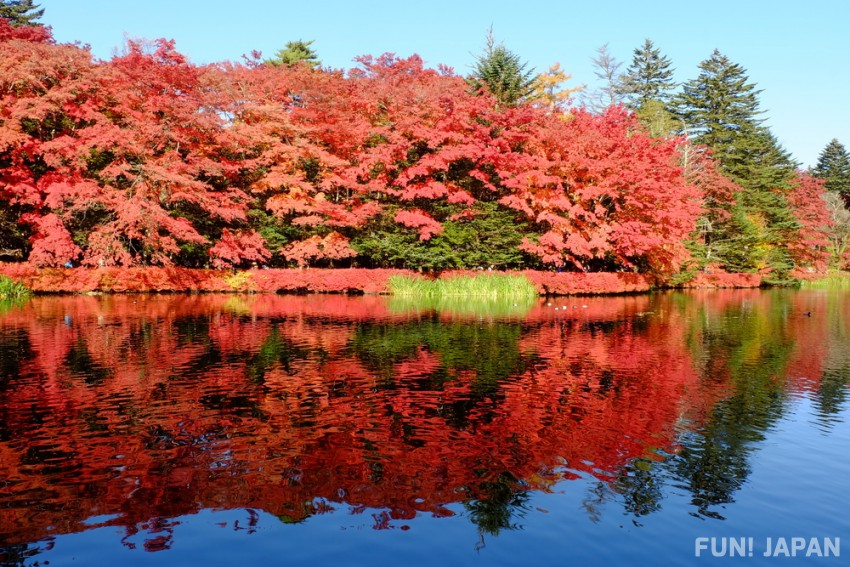 At "Hoshino Resorts BEB5 Karuizawa", the accommodation plan "BEB Zenryoku Kouyou Stay" during the autumn foliage season allows you to visit Karuizawa's famous autumn foliage spots during the day, stay in the "Red Leaves Room" at night, and enjoy the maple leaves to your heart's content like the main character in a drama - let's bask in the beauty of autumn leaves by scattering them and watch them fall or lie down on a carpet of maple leaves. I wonder if there is someone who won't be captivated by such a super satisfying stay!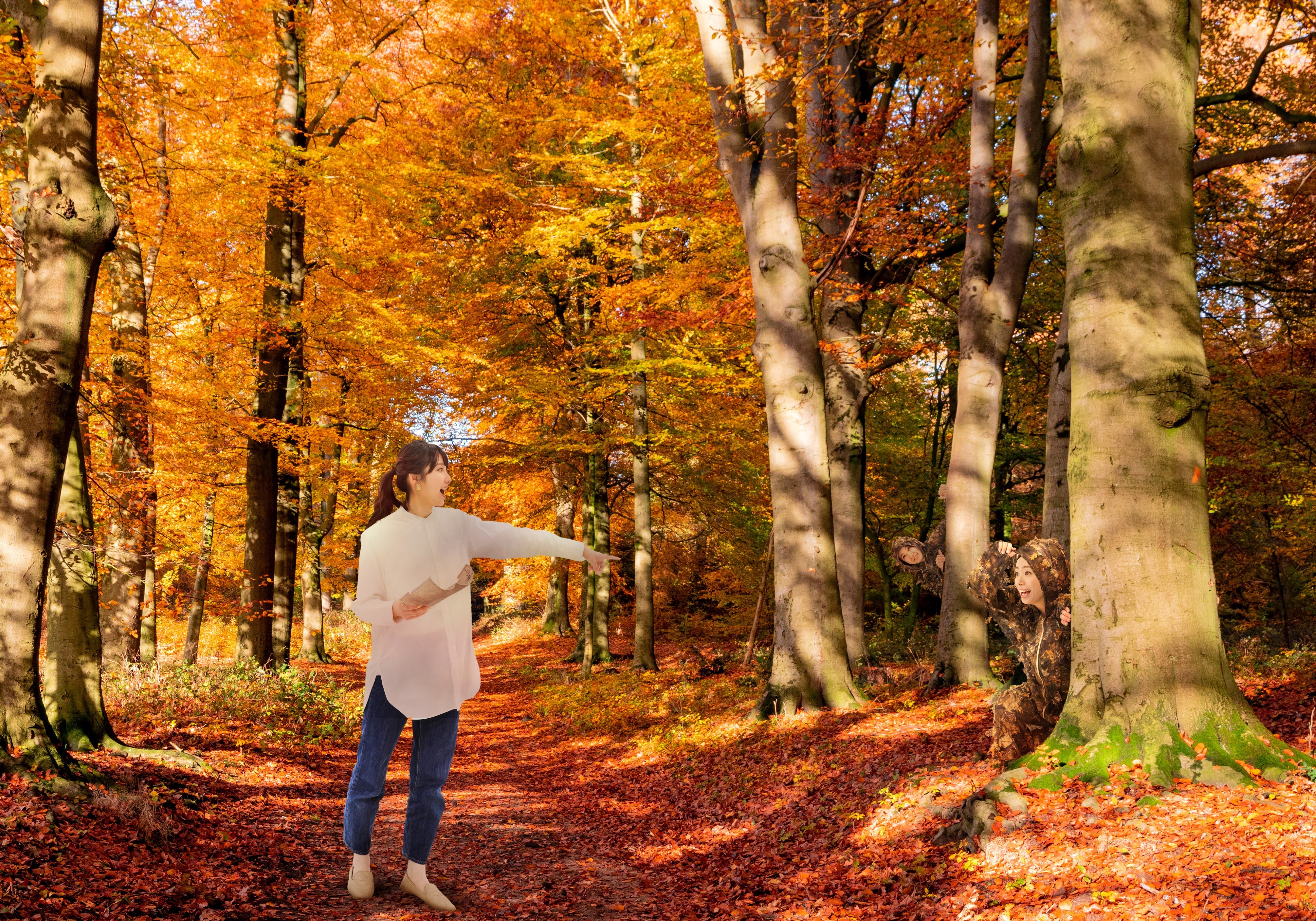 Once you've got your spirits up from the Red Leaves Room stay, you can wear an autumn-leaf-patterned ghillie suit (*2) and have a hide-and-seek play time in the nearby autumn forest. Everyone will return to their childhood by enjoying the autumn in Karuizawa with all their heart and soul. (You can play hide-and-seek anytime during your stay.)

*2 Ghillie suit: A camouflage-patterned suit that allows you to blend in with foliage.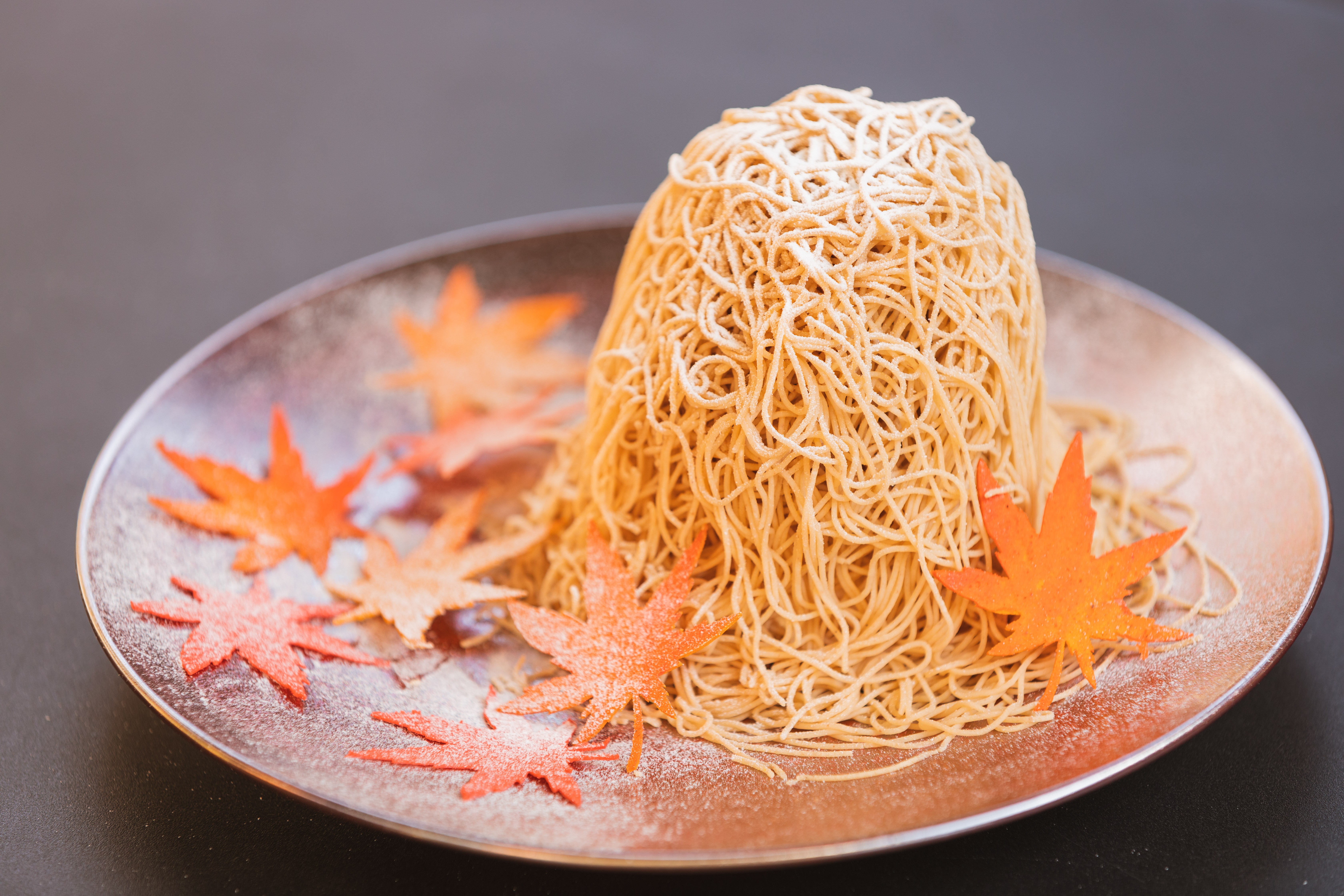 The Montblanc "#Moreru Kouyou Montblanc" that you can enjoy at the same hotel is also available for a limited time with maple leaves on the food. Just squeeze the Mont Blanc by yourself and top with maple-shaped sweets to complete.

Hoshino Resorts BEB5 Karuizawa
Address: Hoshino, Karuizawa-machi, Nagano Prefecture
Price: Starting from 9,000 yen per night (per person when using a room for 2 people, tax included, meals not included)
Access: 15 minutes by taxi or Seibu bus from JR "Karuizawa" Station
Check-in/Check-out: 15:00/11:00
Official site: https://hoshinoresorts.com/en/hotels/beb5karuizawa/
BEB Zenryoku Kouyou Stay
Period: October 17th to November 13th, 2022
Price: From 18,480 yen per room per night (tax included, meals not included)
Capacity: 1 group per day (up to 3 people per group)
【Autumn Leaves x Souvenirs】"Momiji Manju" and food and drinks made with autumn leaves !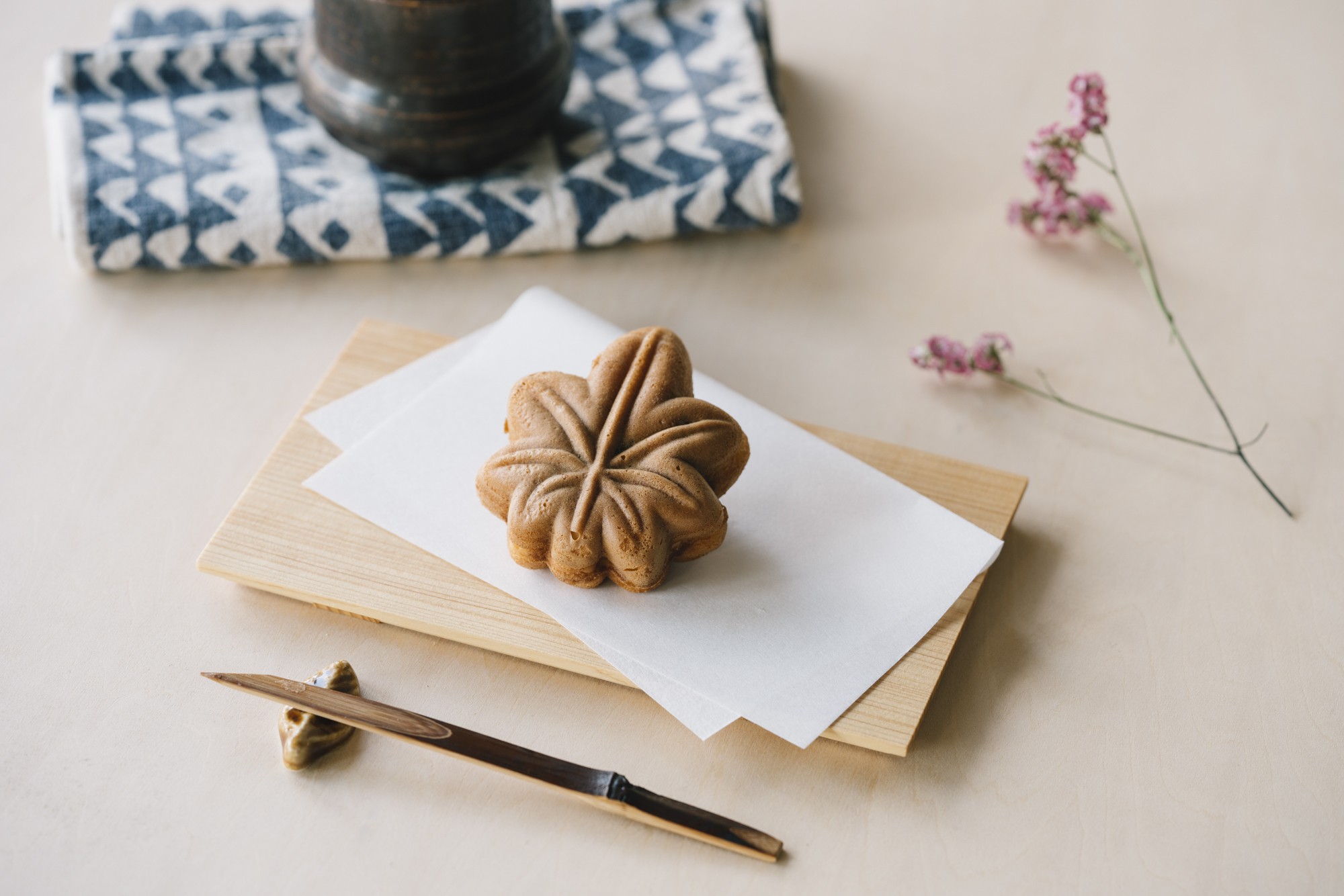 If you've ever been to the Chugoku region, you've probably heard of Hiroshima's famous confection called "Momiji Manju". It is a baked manju with bean paste inside castella dough shaped to look similar to the leaves of maple - Hiroshima's prefectural flower and tree. In Miyajima, Hiroshima Prefecture, which is known as the birthplace of this manju, there are various flavors of "Momiji Manju" such as tsubu-an, koshi-an, matcha, cream, and chocolate, sold by many shops including HAKATAYA (博多屋), which has been in business for 140 years.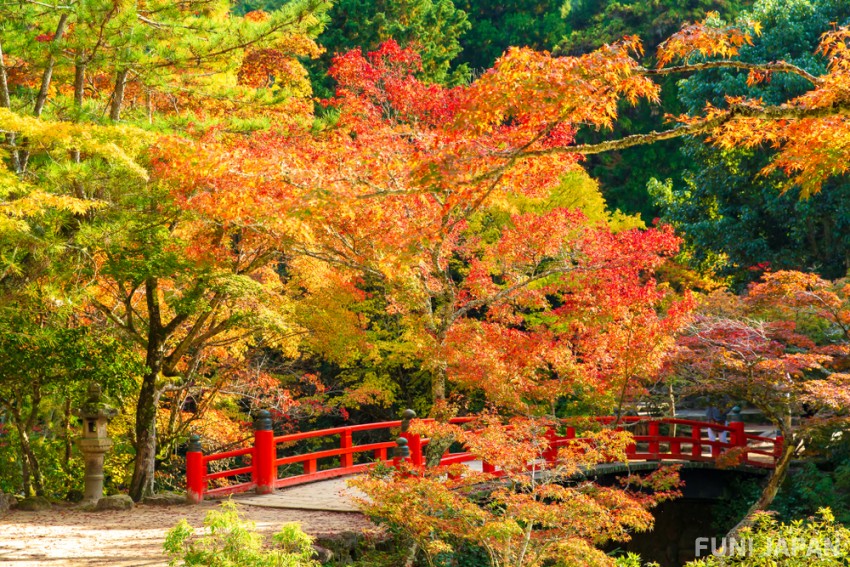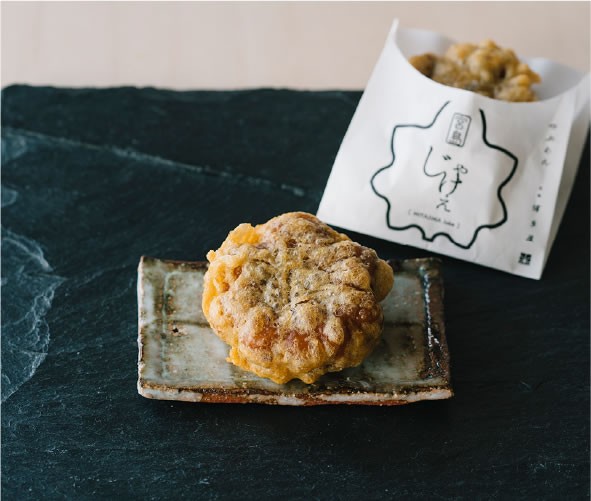 "Miyajima Jakee" (*3), which is deep-fried "Momiji Manju", is also famous.
*3: "Jakee" means "because" in the Hiroshima dialect. (literal translation: Because it's Miyajima)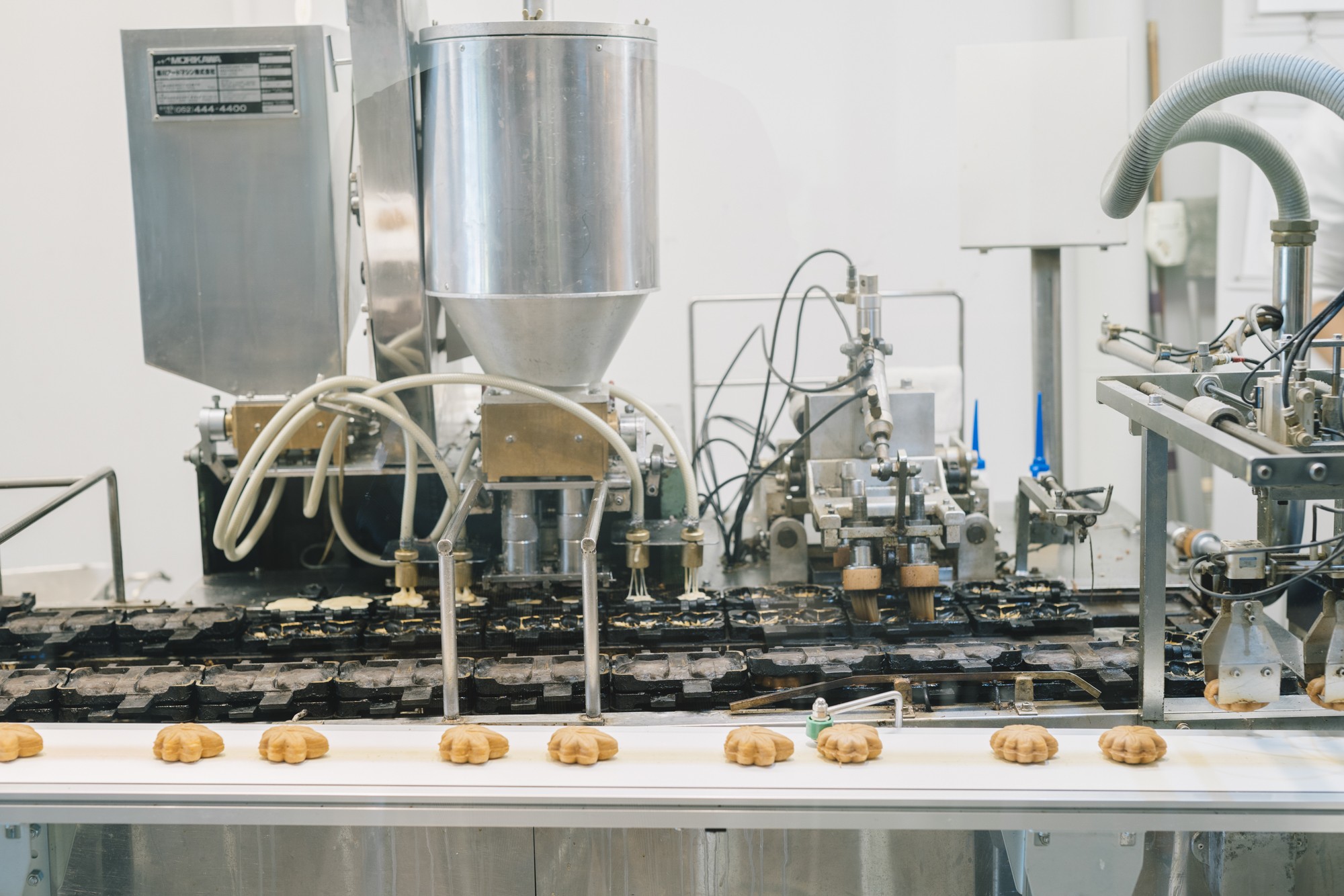 At HAKATAYA, you can enjoy freshly baked "Momiji Manju" at the storefront every day! You can also observe the craftsmen baking them through the glass.

HAKATAYA (博多屋)
Address: 459 Miyajimacho, Hatsukaichi City, Hiroshima Prefecture
Opening hours: 09:00-18:00
Access: About 10 minutes on foot from Miyajima Sanbashi Pier
Official site: https://miyajimahakataya.com/
What exactly are "Momiji Cider" and "Momiji Tempura"!?
"Momiji manju" is a "souvenir related to autumn leaves", but there are actually foods and drinks that really use the maple leaves as ingredients, not souvenirs with just the word "momiji" in the name!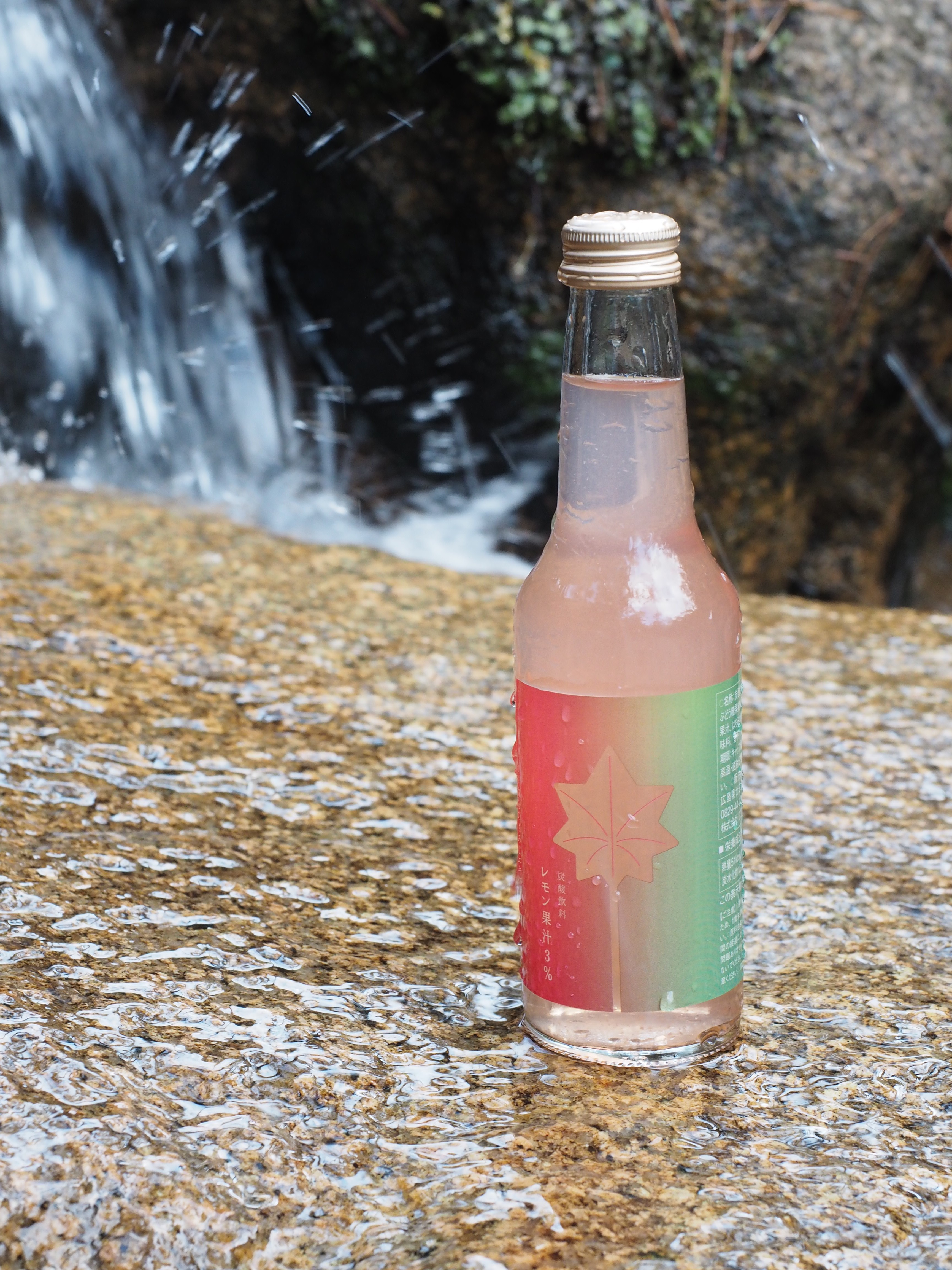 "Momiji no Cider" is a carbonated drink made with maple leaves, designed by the long-established store HAKATAYA who sells "Momiji Manju". This is also available in Miyajima, Hiroshima Prefecture. Although it was just born in 2021, it is already being mentioned as a new Miyajima's signature specialty.

It is a new type of drink made by adding Setouchi lemon juice to the extract of maple leaves, and is light pink color. The taste is a lemon flavor which is easy to drink. Its cute appearance is the best match for the autumn leaves of Miyajima!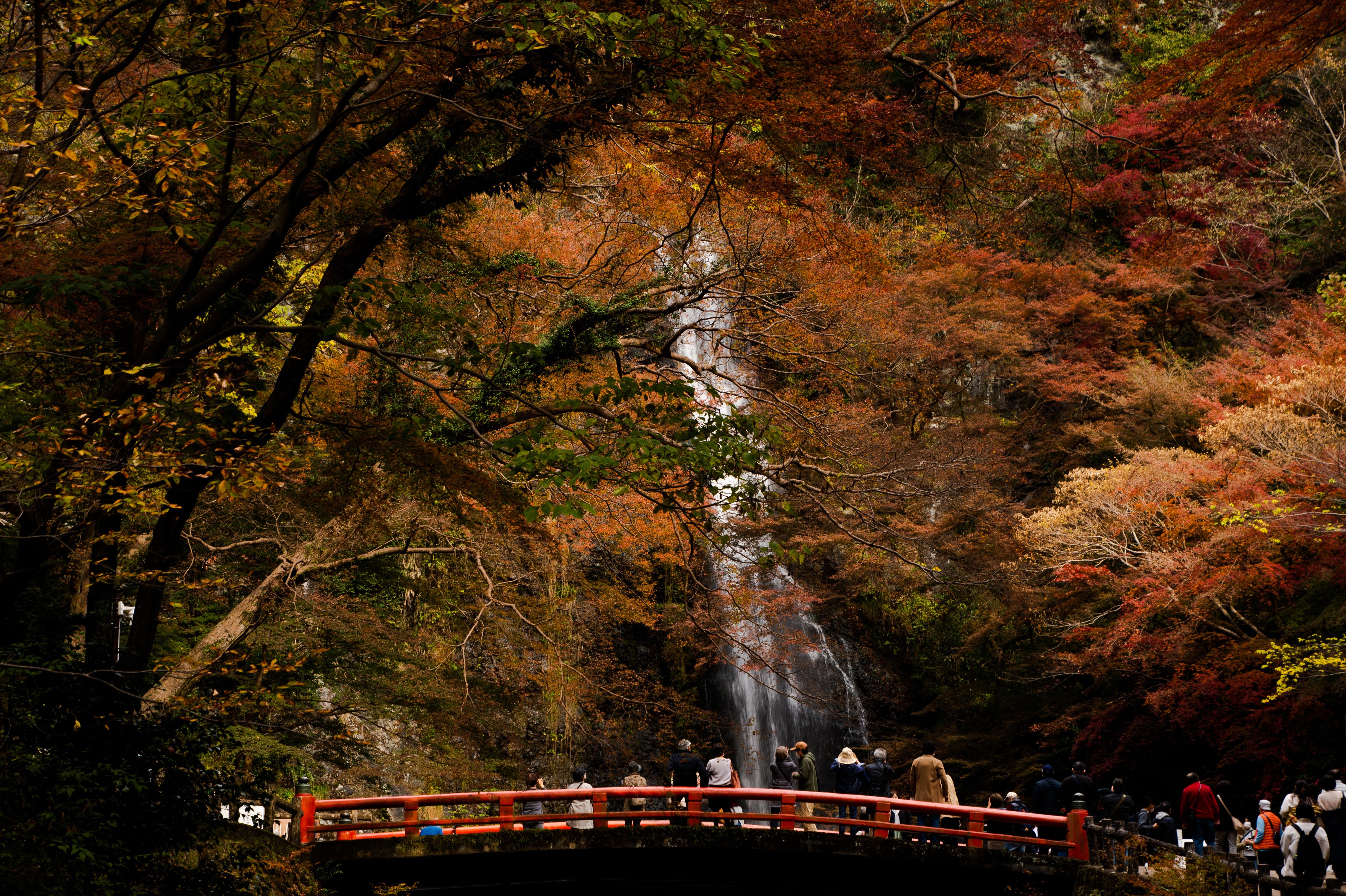 On the other hand, the place where you can get foods made with maple leaves is Minoh City, which can be reached in about 30 minutes by train from Osaka city. Mt. Minoh and Minoh Park are known as one of Kansai's best spots for autumn foliage, and the Minoh Otaki (also called Minoh Falls) with a height of about 33m and the co-starring autumn leaves in full bloom around - it is nothing short of spectacular.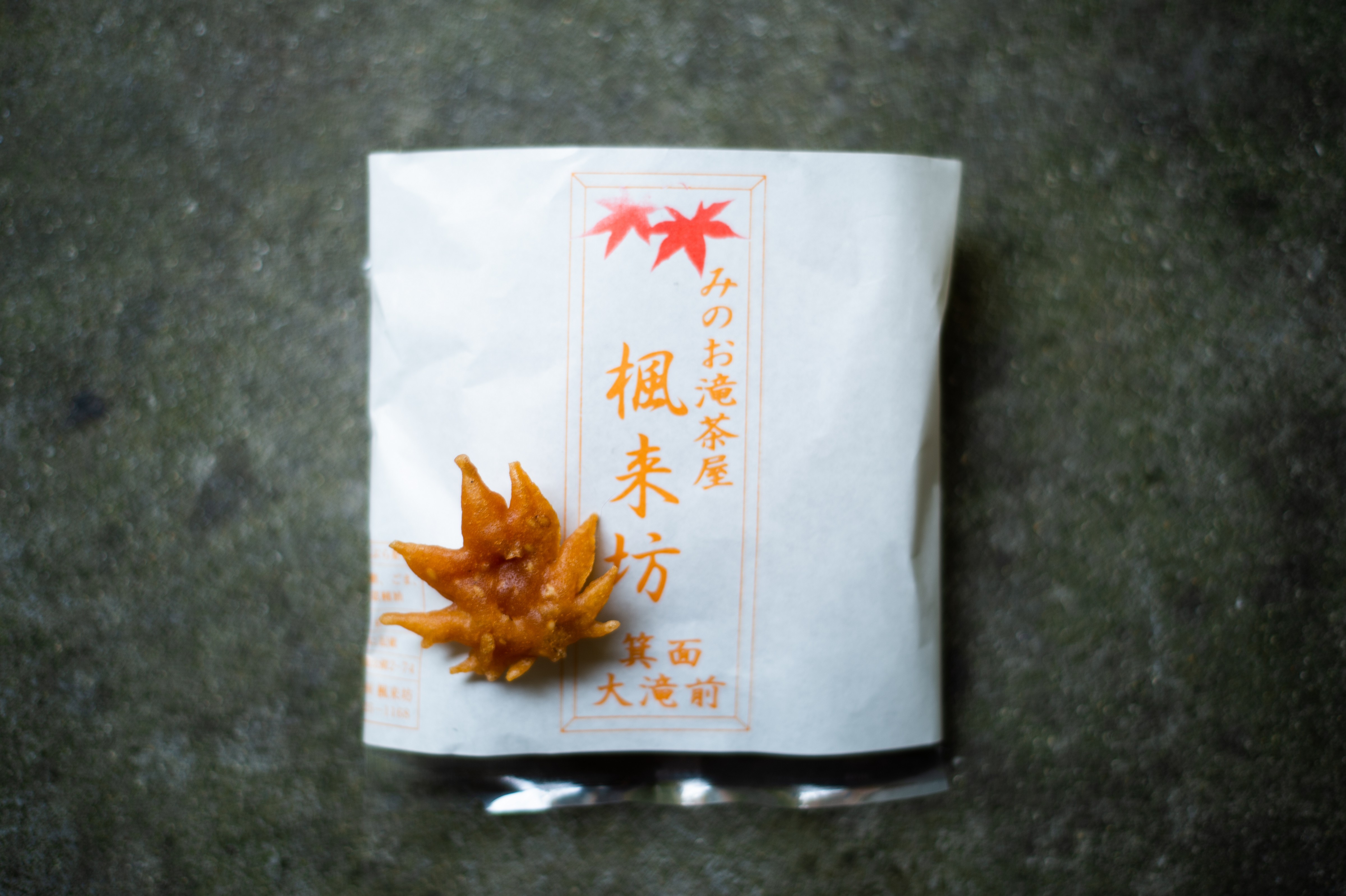 "Momiji no Tempura" is a specialty that represents the said Minoh. As you can imagine from the name, this is a snack made from deep-fried maple leaves. From mid-November to early December, maple leaves are picked by hand in the mountains of Minoh, salted, then desalted. Flour, water, sugar, and sesame are then added and deep-fried to create a crispy texture.

According to those who have eaten it, once you start eating it, you won't be able to stop because you will feel the sweetness of the sugar in the crunchy texture. If you're interested, buy one at the shops along the road leading to Minoh Falls.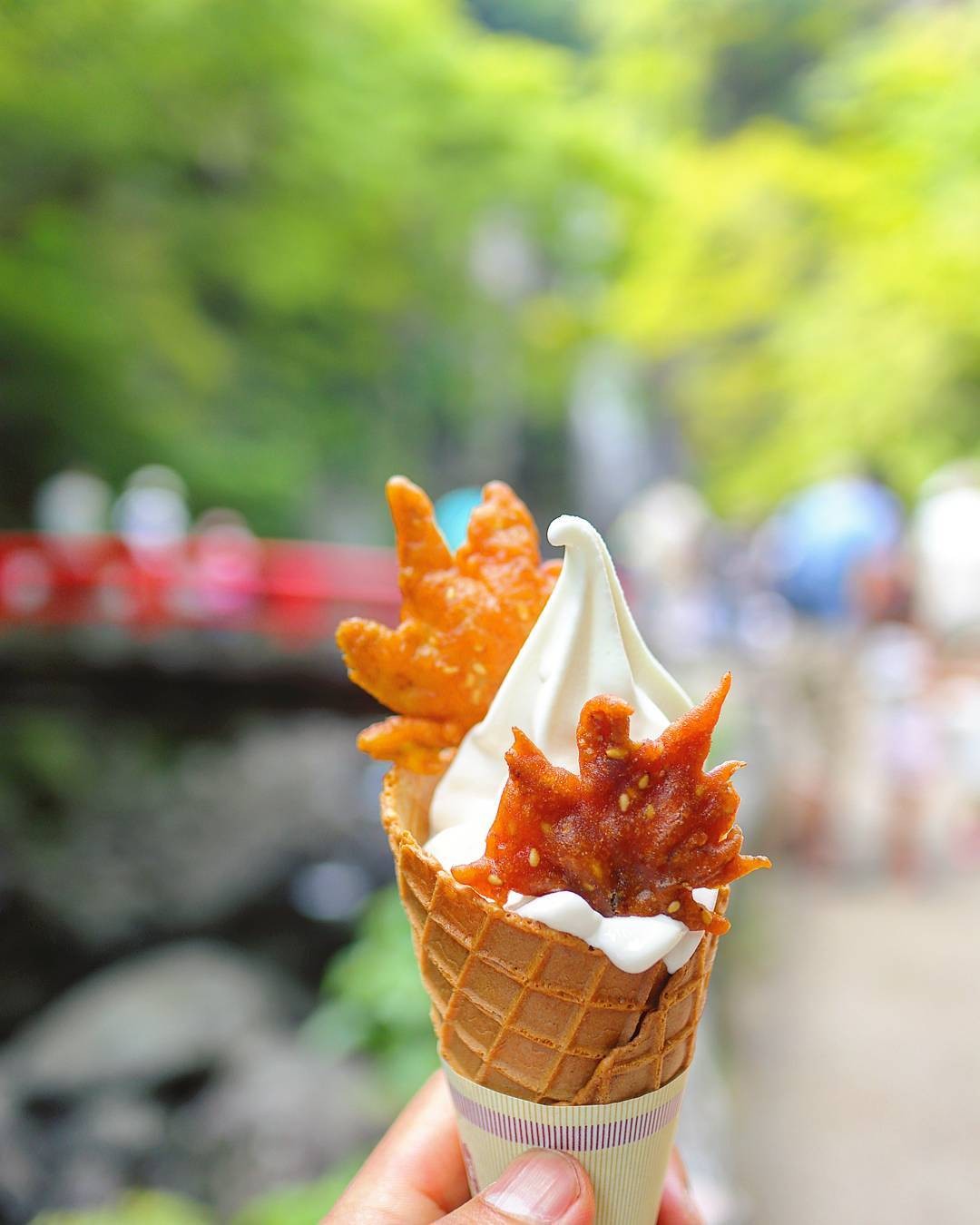 "Momi-ten Soft" (Momiji Tempura Soft Cream), a soft-serve ice cream topped with Momiji no Tempura, is also one of Minoh's specialties. With this, both the sight and taste are stimulated with autumn leaves!

Minoh Park
Address: Minoh-koen, Minoh City, Osaka Prefecture
Access: After getting off at Minoh Station on the Hankyu Minoh Line, walk for about 5 minutes to the entrance of Minoh Park.
Official site: https://www.mino-park.jp/
【Autumn Leaves x Japanese Umbrella】Foliage-patterned Japanese umbrella that you might want to bring along for taking commemorative photos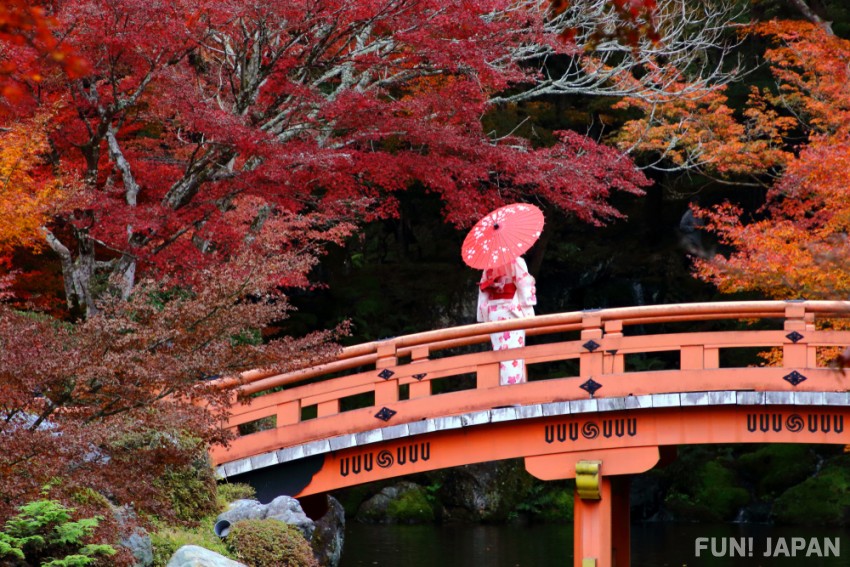 If you're going to visit Japan in autumn, you'll definitely want to take the best photo of yourself!

A Japanese umbrella 'Wagasa' (*4) is a useful prop when you want to further "photogenize" the background of autumn leaves. Wagasa is often used at ryokan (traditional Japanese inns) and restaurants as pick-up / drop-off and interior decoration, since it is full of good old Japanese vibe. Among the many designs, the ones that use autumn leaves hand-picked by craftsmen are like works of art! Be sure to take a picture of it along with autumn leaves viewing.
*4: 和傘 / Wagasa: A general term for umbrellas made from natural materials such as bamboo, wood, and thread, with washi paper pasted on the frame.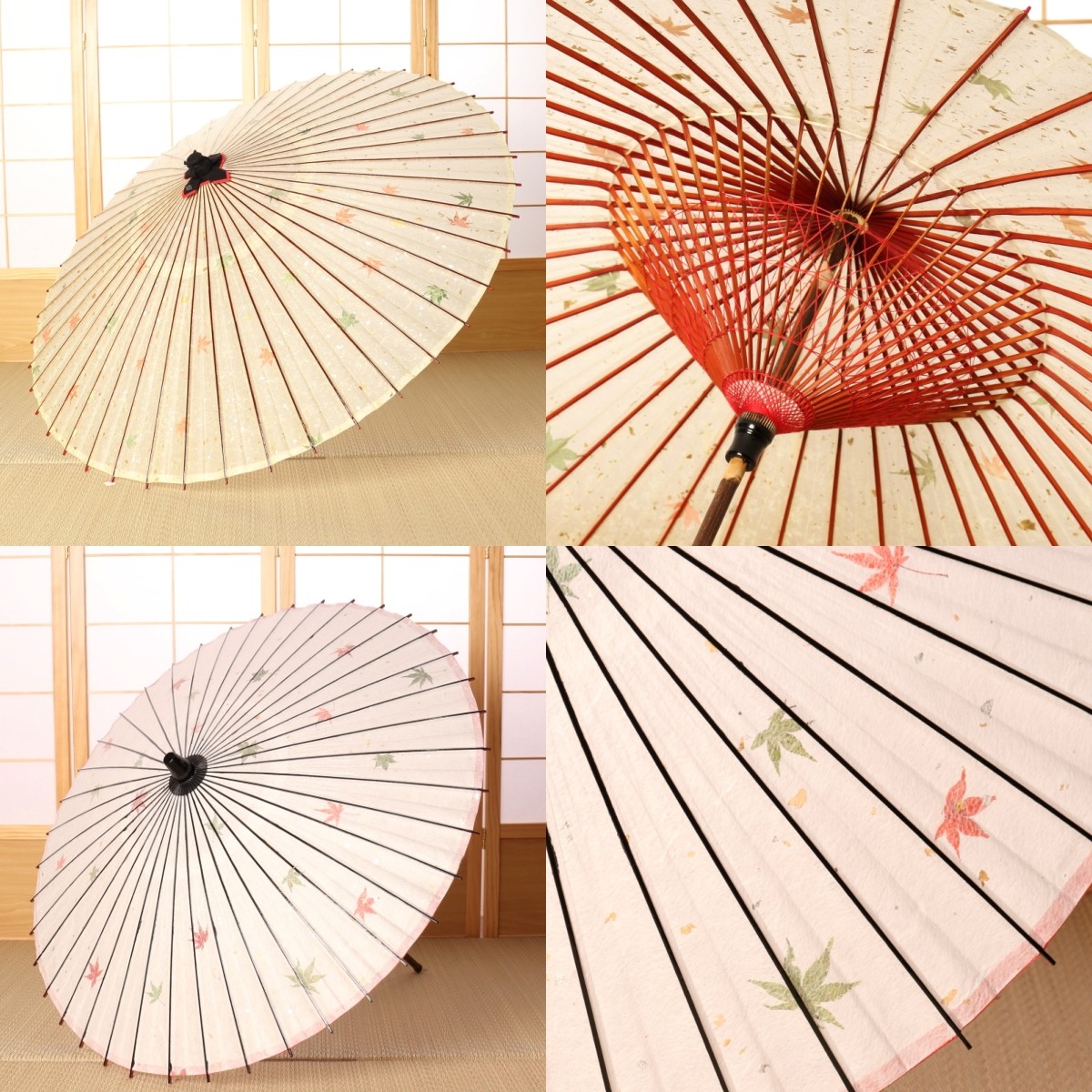 Upper left & upper right: Black bamboo 'Janome' (snake-eye) umbrella "Watermark maple leaves" (透かし紅葉 / sukashi momiji) / 71,500 yen (tax included)
*Uses specially selected waterproof handmade 'washi' paper
Bottom left & bottom right: Black bamboo 'Wa-higasa' Japanese parasol "Maple leaves" (紅葉 / momiji) / 36,300 yen (tax included)
*Cannot be used in rainy weather
A Wagasa Japanese umbrella made using only natural materials from Japan using a technique called "sukashi momiji". When look at the umbrella from the inside, you can see the autumn leaves like a watermark in the light.

In addition to reatil, there are shops and facilities throughout the country where you can rent maple leaves Wagasa. So if you want to take a picture of a Japanese-style beauty like a maiko or geisha in Kyoto (or even a handsome man), be sure to look for one at your travel destination!
Tsujikura (辻倉)
Address: TSUJIKURA Building 7F, Shijo Agaru Higashi-gawa, Kawaramachi, Nakagyo Ward, Kyoto City, Kyoto Prefecture
Business hours: 12:00-18:00
Access: About 3 minutes on foot from Hankyu "Kawaramachi" station
Official site: https://www.kyoto-tsujikura.com/
"Autumn Opening" at Shorinji Temple in Kyoto is super photogenic!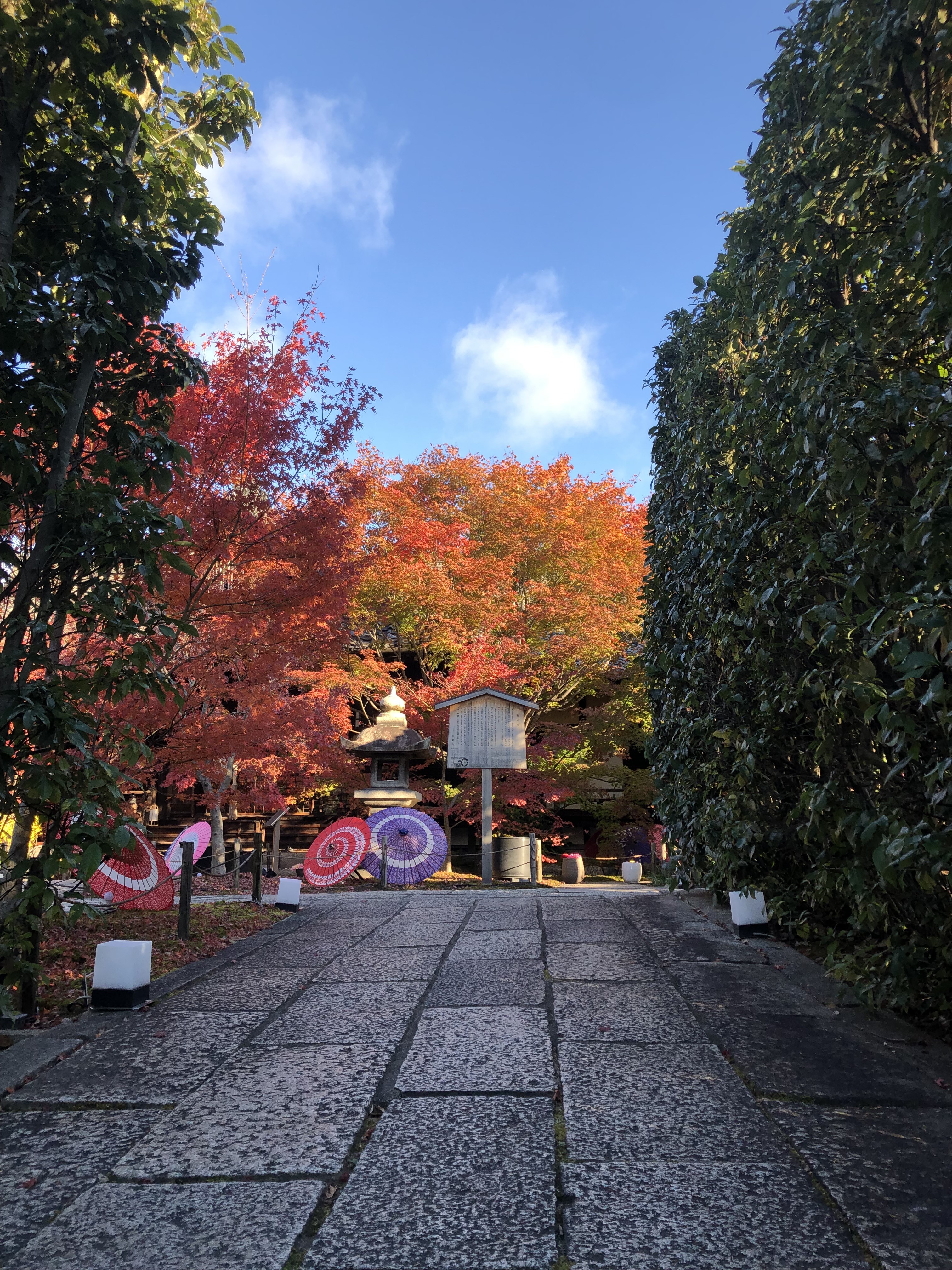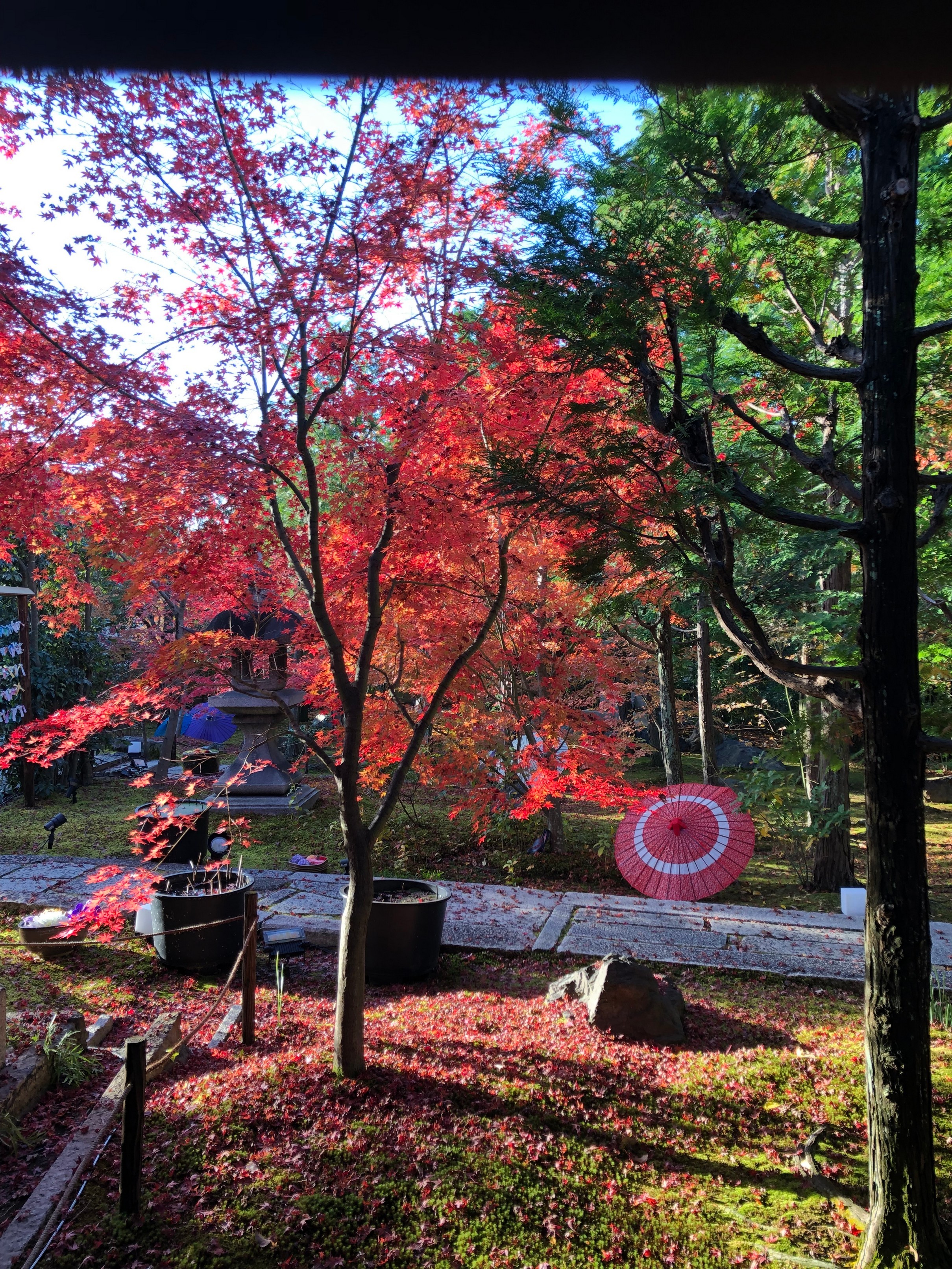 At Shorinji Temple in Kyoto, there will be a performance using Japanese umbrellas during the "Autumn Opening" (秋の拝観 / Aki no Haiken) period. There is no doubt that the combination of autumn leaves, 'Wagasa' Japanese umbrellas, and temples will cure your city life fatigue.

Kyoto Shorinji Autumn Special Opening 2022 (京都勝林寺 秋の特別拝観2022)
Address: 15-795 Honcho, Higashiyama Ward, Kyoto City, Kyoto Prefecture
Event Period: from November 12th to December 4th, 2022
Event time: 10:00-16:00
Access: About 8 minutes on foot from JR Nara Line "Tofukuji" station
Official site: https://shourin-ji.org/
By the way, if you have been enjoying the beauty of autumn leaves so far, you should want to depart for Japan right now.

FUN! JAPAN will fully support your autumn leaves viewing trip in Japan! Check out the articles that will help you with your trip ↓
[Survey] Traveling to Japan