See the Beautiful Scenery of Fall from your Train Window - A Journey on Local Train Lines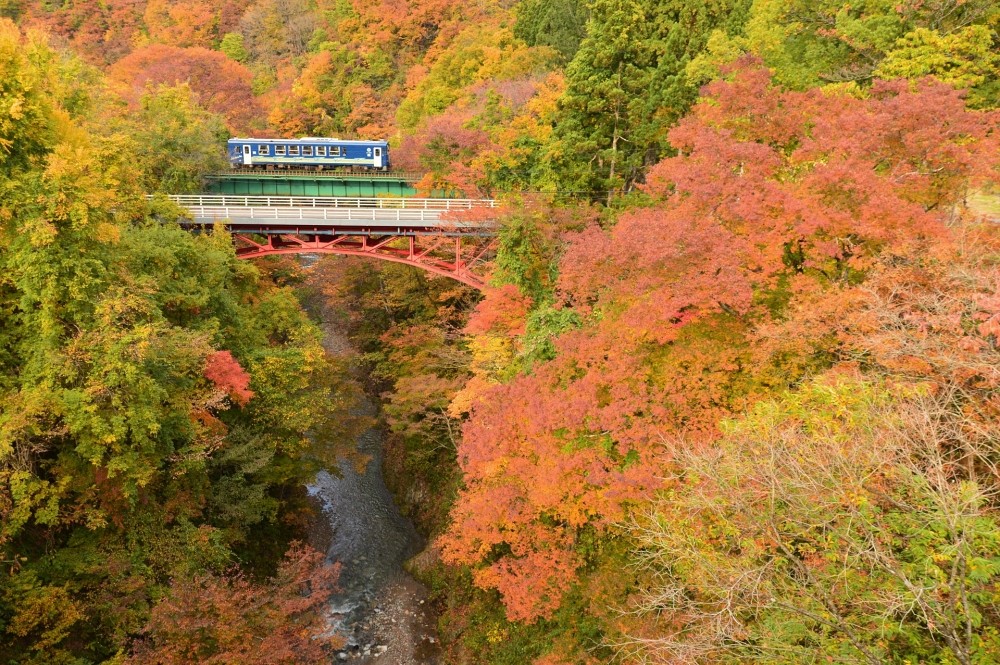 One of the most beautiful seasons to experience in Japan is fall, there are many famous sightseeing spots across the country which you can visit during this time. But one of the ways we highly recommend experiencing first-hand has to be leisurely enjoying a train ride while looking out of your seat window seeing the bright and beautiful colors fly by. Here are some of our top recommended trains to ride if you want to see some beautiful fall sights.

1. Fall Leaves on the JR Tadami Line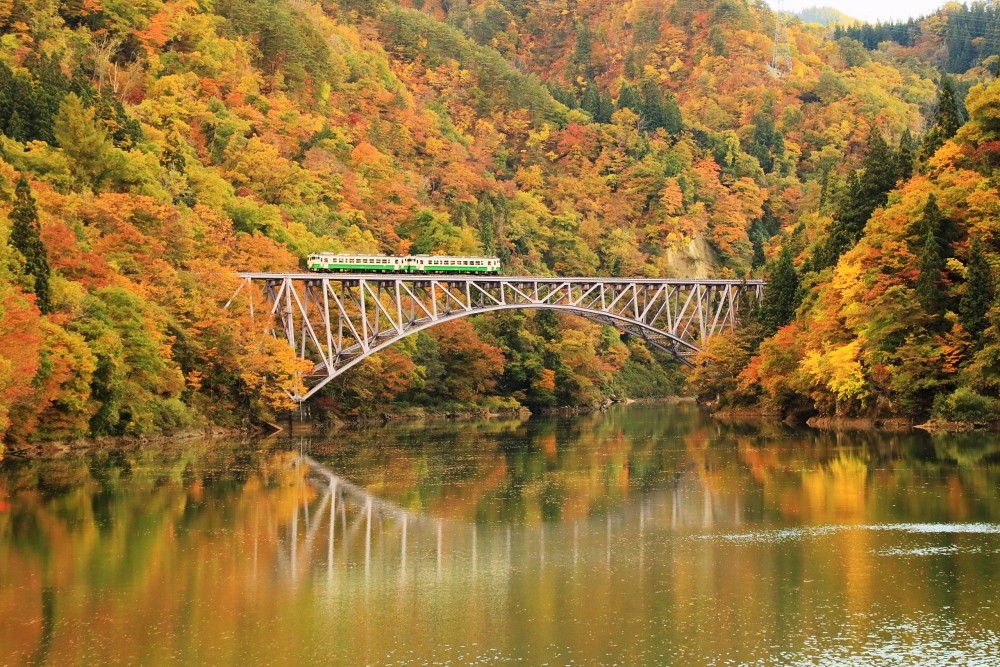 The JR Tadami Line is a popular one as it has a route that allows its passengers to see some beautiful scenic sights. You're able to see the sights of the Tadami River, Mount Bandai, and, of course, the beautiful colors of the orange leaves during fall that span across the mountainsides. One of the most beautiful sights you're able to see here is when you're passing on the railway bridge from Yanaizu to Aizu-Kawaguchi, you're able to see so many beautiful sights! Make sure you lookout for this spot when you're on your journey!

Information
Location:Aizu-Wakamatsu Station~Aizu-Kawaguchi Station
Access:Use public transportation to reach Aizu-Wakamatsu Station then ride the train from there
Season Timing:From the middle of Oct - middle of Nov
2. Sagano Line Heritage Railway Train - Sagano Scenic Railway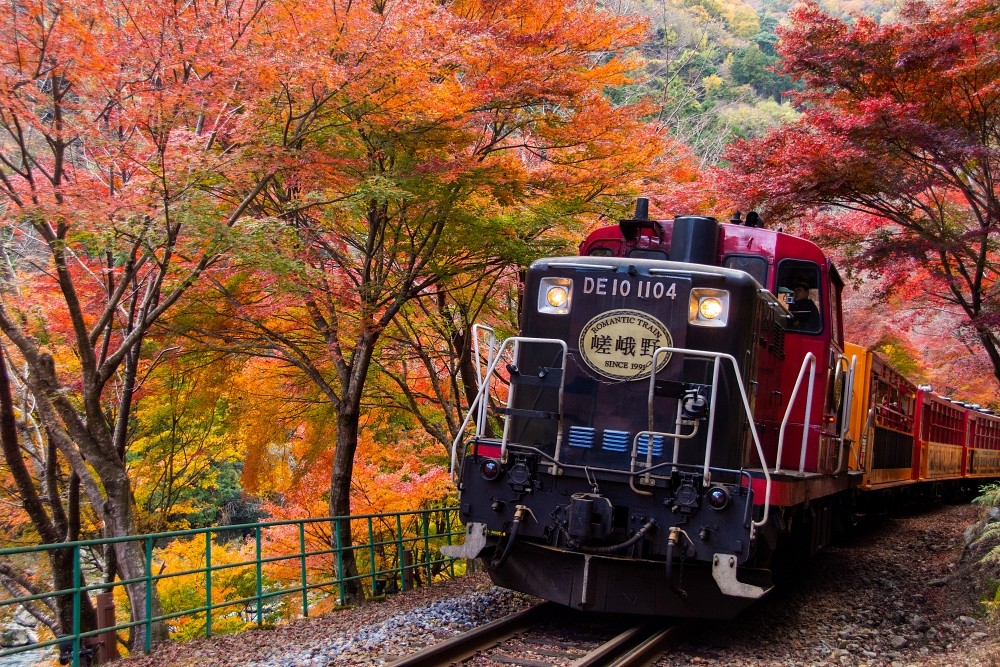 Fall in Kyoto's Hozukyō is one that is famous across the whole of Japan, just hearing the name reminds people of fall! This is a leisurely ride with an average speed of 25km p/h that allows you to fully enjoy the surrounding scenery. The 7.3km span when you're running across Hozukyō's valley is filled with amazing sights you cannot afford to miss. For locations where the sights are truly beautiful, the train will slow down allowing you to take in the full sight as well as maybe take some commemorative pictures to show friends and family back home! These are some memories that can only be had by people riding on heritage railway trains.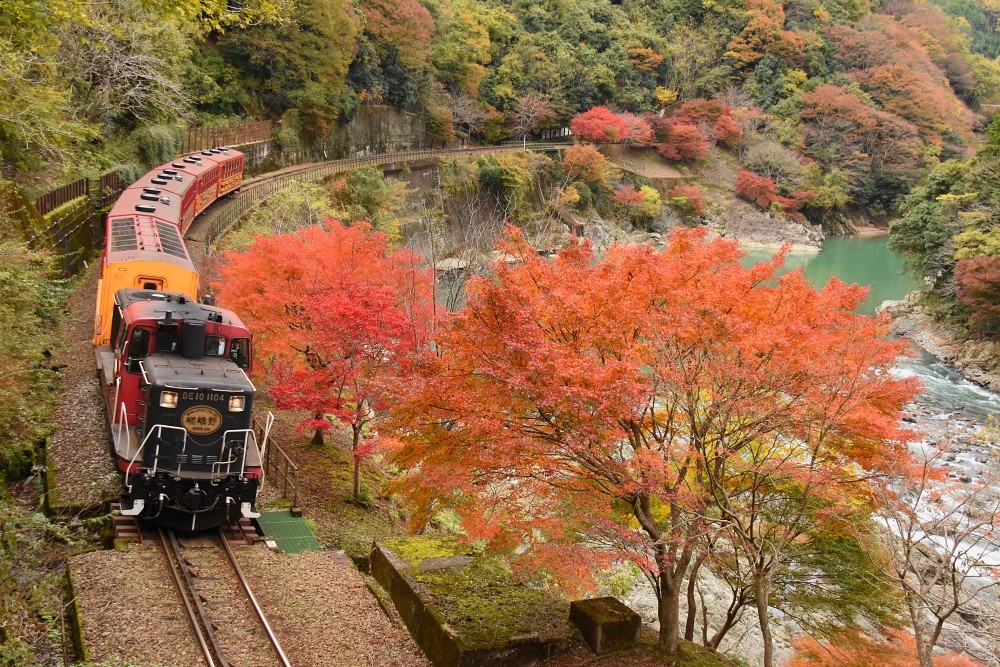 Information
Location:Torokko Saga Sta.~Torokko Kameoka Sta.
Access:Use public transportation to reach Torokko Saga Sta. then ride the train from there
Season Timing:Middle of nov - the start of Dec
https://www.sagano-kanko.co.jp
3. Nagatetsu's Fall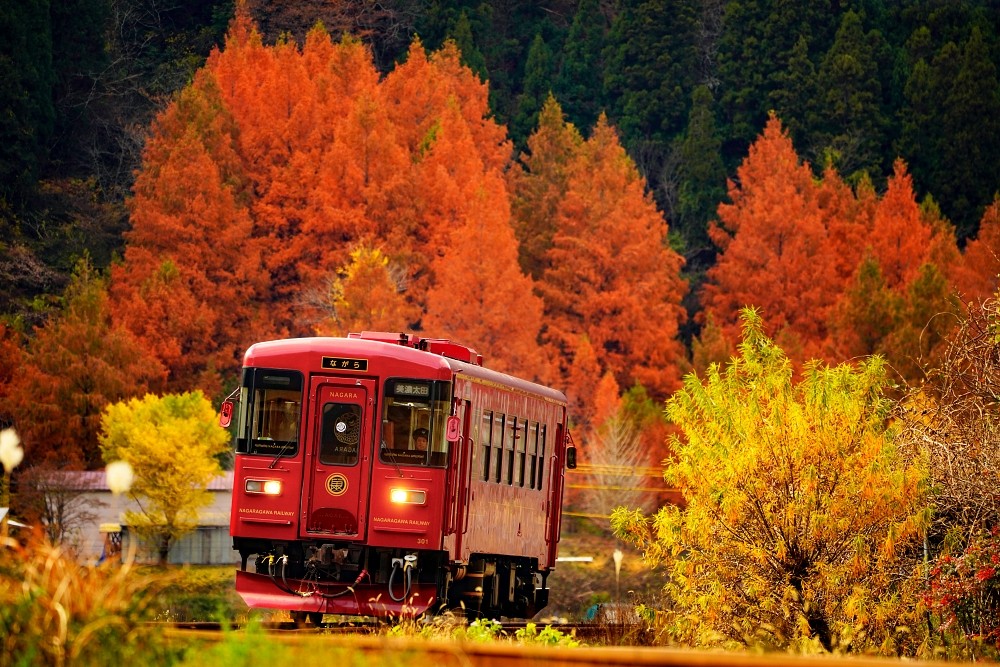 This train runs alongside Nagara River and the prefecture's mountains allowing for some beautiful scenic sights. Don't miss the amazing colors and large bridge from Yunohoraonsenguchi to Gujo Hachiman! There are many nature and history-filled spots alongside the train line, all of which are very popular with sightseers. Get off during your journey and explore the various sights these amazing locations have to offer!


Information
Location:Mino-Ōta Station~Hokunō Station
Season Timing:Start to end of Nov
http://www.nagatetsu.co.jp
4. Experience Fall on the Akitanairikujukan Tetsudo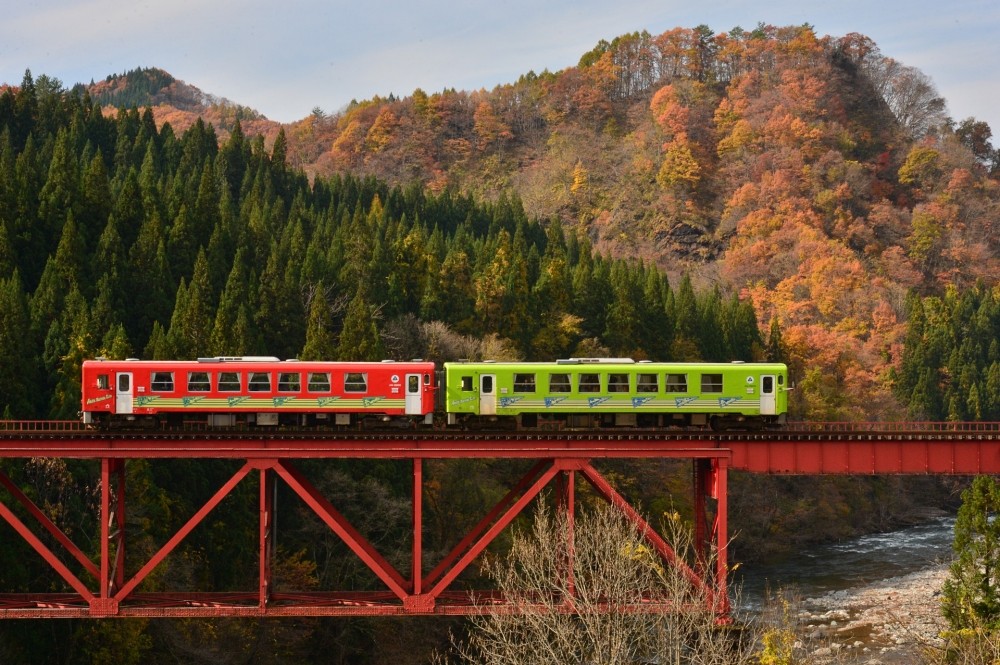 This journey lets you see a dynamic view of spring from Kakunodate to Animaedaonsen Station. The train itself runs along many great locations for seeing beautiful scenery which is one thing that makes it so popular. The scenes you're able to see within Akita Prefecture rival those within Canada or Europe we can assure you!

Information
Location:Kakunodate〜Takanosu
Season Timing:Middle of Oct - Start of Nov
5. Seeing Fall from the Kurobe Gorge Railway Heritage Train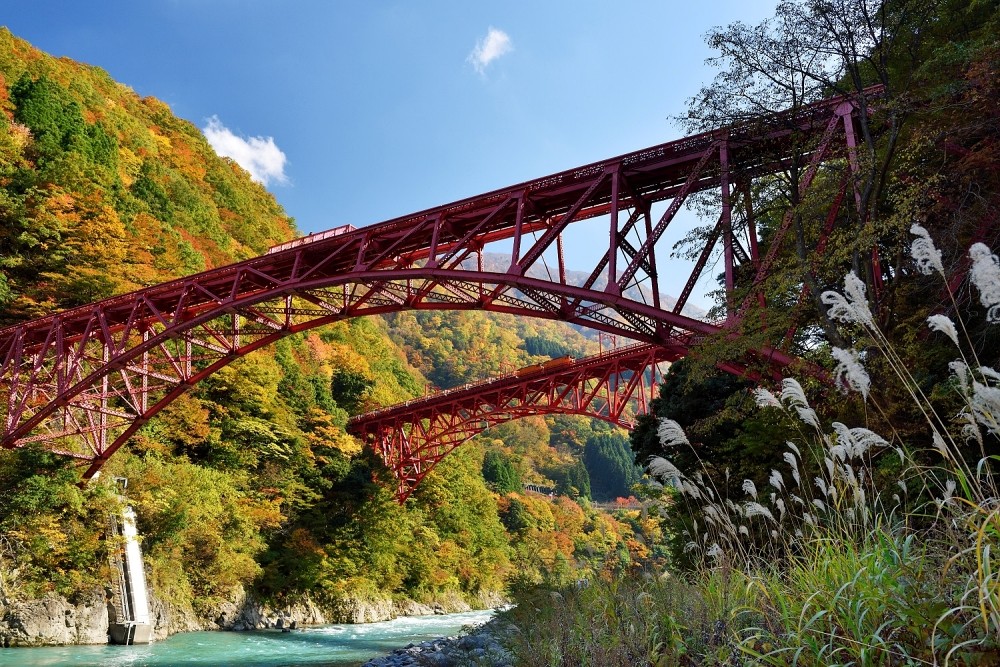 This is one of Japan's only V-shaped valleys "Kurobe Gorge" which has the Kurobe River running through it as well as a small-scale railway line that runs for around 80 minutes over 20km. The contrast between the bright reds and oranges alongside the emerald green river is truly a sight to behold.


Information
Location:Unazuki Station~Keyakidaira Station
Season Timing:Middle of Oct - Start of Nov
6. Watarase Keikoku's Fall (Watarase Keikoku Railway)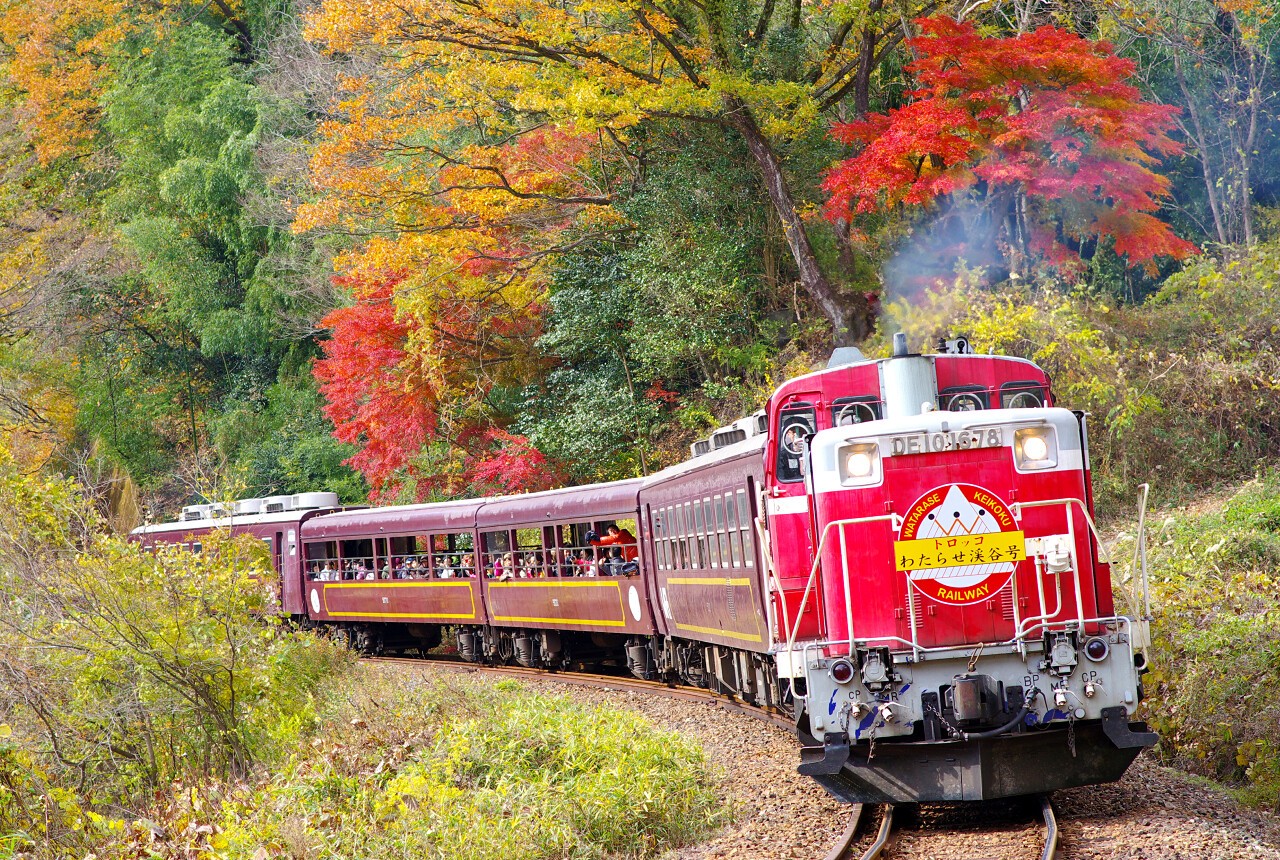 This training connects Kiryu Station to Tochigi Prefecture's Matō Station over the course of 44km on a local line. The train runs alongside the Watarase River meaning you're able to see the beautiful streams and fall colors right outside your window. You're also able to experience running through tunnels during fall, something that's only possible on these local line trains! There are also some heritage trains available to ride here, some of which don't have glass allowing you to feel the fall breeze as you enjoy the surrounding sights.

Information
Location:Kiryu Station~Matō Station
Season Timing:Start of Oct - Start of Nov
[Survey] Traveling to Japan