Experience the entirety of history, gourmet food, and activities at "Hiroshima by the Sea"!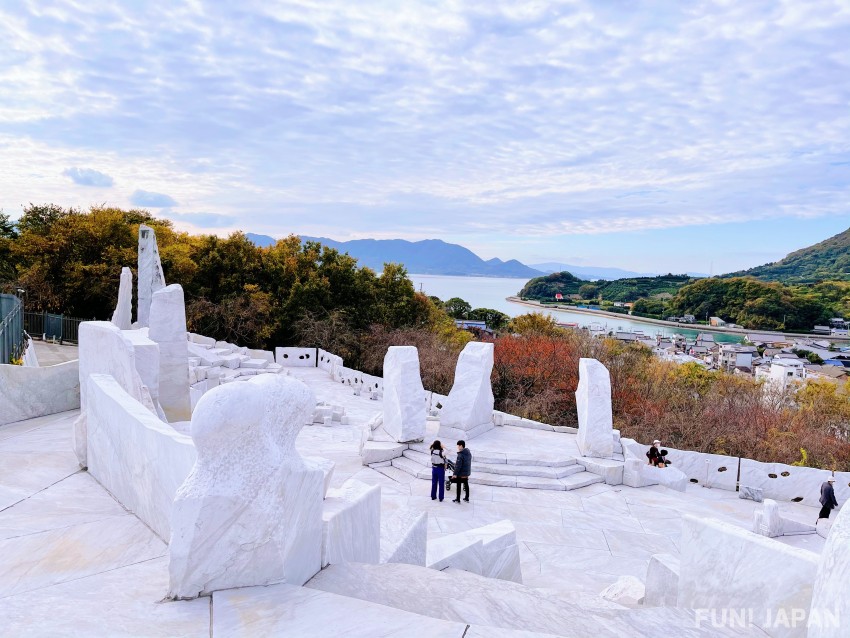 Hiroshima Prefecture is the suitable base for travel in the Chugoku-Shikoku region. Hiroshima city and Miyajima are often introduced in guidebooks, but the four cities of Fukuyama, Onomichi, Mihara, and Takehara which bordering the Seto Inland Sea are full of attractions unbeknownst to tourists. This time, we will thoroughly introduce these 4 areas that have recently attracted attention as "Hiroshima by the sea"! We will report on recommended spots and shopping spots found through our on-site investigation.

Hiroshima by the Sea①: the Charms and Recommended Points of Fukuyama
Tomonoura - Scenery Model of Studio Ghibli's famous work "Ponyo on the Cliff by the Sea"

A curious and energetic character "Ponyo" that the fans of Studio Ghibli must have heard about! This cute character and story is the work that Director Hayao Miyazaki left behind after he came here to Tomonoura. As you walk down the road, you will unknowingly remember the sights you once saw in this work, and you will surely find many discoveries and surprises!

A handmade "Ponyo map" from the tourist information center is also available. Those who are interested should take this Ponyo map in one hand and take a little walk while following the footsteps of Ponyo. You can enjoy the excitement that cannot be expressed in words and the different kind of enjoyment. In addition to "Ponyo on the Cliff by the Sea", various dramas and movies have been shot here.
When speaking of Tomonoura, then it has to be this! "Sea bream dishes"

The traditional fishing method "sea bream net" (tai-ami) that is held in the summer. It is now designated as an Intangible Folk Cultural Property designated by Fukuyama City. Sea bream is inseparable from Tomonoura's specialty such as sea bream rice, sea bream chazuke, and sea bream ramen. "Tai Chazuke" (sea bream chazuke) menu from Amochinmi, a long-established restaurant that has been in business for over 70 years, has a very large fish fillet unlike the common Ochazuke, and is a very good choice as a finisher after a midnight snack or sake.

Hiroshima by the Sea②: Highlights and Recommended Points of Onomichi City
"Kousanji Museum" which has two worlds with different styles

Hiroshima Prefecture has many islands, among them Ohkunoshima, Mukaishima, and Innoshima are well known. Ikuchijima, which has the highest production of lemons in Japan, has gained fame due to the luxurious architecture of the Kousanji Museum and the pure white marble garden, and is gaining popularity on social media as a photogenic spot.


The deeper you go, the more you will step into a different world. The colorful visuals changed drastically, and a dazzlingly white monument appeared right in front of your very eyes. The aerial garden called "The Hill of Hope" was created by Mr. Itto Kuetani, a sculptor from Hiroshima. 3,000 tons of marble mined in Italy was used and it took about 16 years to complete. The collaboration between the blue sky and the sea makes you feel like you've been to the Aegean Sea, and you can feel the world even while you're in Japan.

Onomichi's representative symbol "Senkoji Park"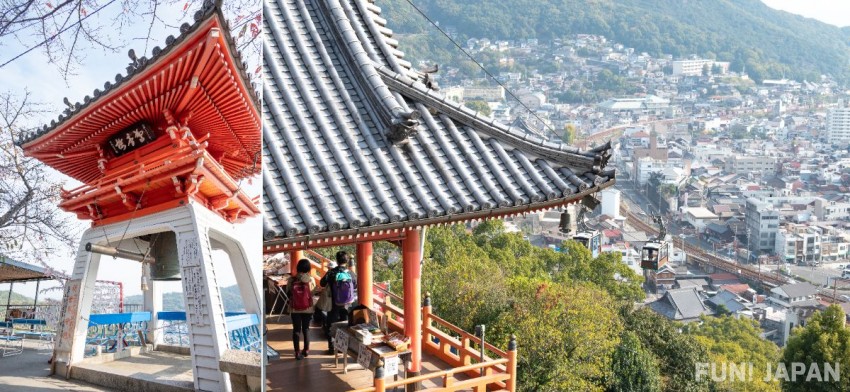 Senkoji Park, which spans over a large area, is located on Mt. Senkoji, one of the three mountains of Onomichi. There are many recommended spots in the park, and in addition to the typical spot the Main Hall, there are spots such as giant stone clusters, bell towers, Path of Literature, museums, etc. that you should include in your walking plan.

Hiroshima by the Sea③: the Charms and Recommended Points of Mihara City
"Fudekageyama": Whether you can meet this phantasmic moment depends on luck

The most notable tourist spot in Mihara is Fudekageyama. It is a place where you can fully enjoy the beauty of the islands floating in the Seto Inland Sea from the observatory on the mountaintop. It has become a hot topic because it becomes a fantastic sight when it is foggy. However, the conditions under which this scene occurs do not overlap very much. It tends to occur in the early morning of a cold sunny day from autumn to winter, and so many tourists climb the mountain early in the morning.

The name of Mt. Fudekageyama is said to be named by a poet in the Edo period because the shape of the mountain looks like a brush when reflected in the sea. In spring, more than 2,000 Somei-Yoshino cherry trees bloom, making it a popular spot for cherry blossom viewing.
"Oshima Shrine" with an impressive series of torii gates

When approaching JR Mihara Station while boarding the Sanyo Shinkansen, you can see the torii gates that are built in rows in the city from the window. This bright vermilion is a landmark telling that you will soon arrive at Oshima Shrine. Initially, there were only three torii gates on the stone steps, but by the end of 2020, up to 62 were added, and the appearance of Oshima Shrine was reshaped.

If you take a look across from the top of the stone steps, you can see the islands floating in the Seto Inland Sea and the ruins of Mihara Castle. The magnificent scenery is fascinating, but the newly built torii gate of Oshima Shrine has a different charm to enjoy too.
Famous restaurant "Shiosoba Maeda" starred in the MICHELIN Guide

When it's near noon, this room in an ordinary apartment is always filled with lines of customers craving for a bowl of MICHELIN-starred salt flavor soba. The wood-like appearance on the outside looks simple, but classy nonetheless.

The base of Japanese ramen soup is roughly divided into two types, one is thick and another is plain, and the mainstream of Hiroshima is the soy sauce-based thick taste. Shiosoba Maeda uses dried bonito, dried shiitake mushrooms, dried sardines, and kelp for a plain taste. The impact of the taste is not strong, but the urge to take the second bite immediately gushes out from inside of you. The homemade noodles are chewy, high quality and delicious! The yuzu peel was also appetizing - it's no surprise that I ate it all in no time!
Hiroshima by the Sea④: the Charms and Recommended Points of Takehara City
"Ohkunoshima" where you can become a popular person surrounded by rabbits

The only way to get to Ohkunoshima is by ferry, and you will get excited during the travel time. Ohkunoshima is part of the Setonaikai National Park and take about 15 minutes to arrive. Once I steped into the island, the rabbits came up close with their small feet, and they were just so cute. Once they stayed in front and bouncing around, I felt like they are urging me to "give me some food quickly!". While being drawn into those cute eyes, I noticed that I was surrounded by a group of adroable rabbits and felt healed very much.

Find a story in the streets of Takehara while following the traces of history

In the late Edo period, Takehara City gradually developed sake and salt production. Most of the Japanese traditional buildings are well preserved, and Takehara City is designated as an Preservation District of Important Historical Buildings. The current townscape of Takehara is one of the local tourist attractions, and is often used as a filming location in historical drama and movies because there are not many commercial facilities and there are no utility poles in the city.

Takehara is the hometown of Masataka Taketsuru, the founder, also known as the "father of Japanese whiskey." "Taketsuru Shuzou" is also located in the townscape of Takehara, and Masataka Taketsuru is also an inspiration for NHK's popular drama. He is a person who made a great contribution to the Japanese brewing industry, and the manuscript of brewing research left by Masataka Takezuru is also exhibited at the Takehara City History and Folklore Museum, and the statue of his wife Rita is also displayed in the square next to it.
Recommended Shopping Spots in "Hiroshima by the Sea"
① Onomichi City, Hiroshima Prefecture: "ONOMICHI U2", a complex facility where you can deeply feel the charms of a bicycle sanctuary

The complex facility "ONOMICHI U2", which was once a shipping warehouse, was renovated in 2014 and is a fashionable new attraction in Onomichi. Japan's first hotel "HOTEL CYCLE" where you can check in on bicycle, a restaurant, a cafe, a household goods store, and the world-famous Taiwanese bicycle major manufacturer "Giant" all have also opened here on the site of about 2,000 square meters, selling and providing bike rental services.

Facility Information
Facility name: ONOMICHI U2
Address: 5-11 Nishigosho-cho, Onomichi City, Hiroshima
Access: 5 minutes walk from JR Onomichi Station on the Sanyo Main Line, or 15 minutes by car from JR Onomichi Station on the Sanyo Shinkansen
Credit card: Accepted
② Mihara City, Hiroshima Prefecture: Roadside Station "Shinmei no Sato" in Mihara City

There are many shops selling local specialties in Mihara City, but when it comes to the variety and arrangement of products, there is nowhere like "Shinmei no Sato". Shinmei no Sato features many products that represent Mihara, and the most popular ones are processed octopus food products and Darumas.


Shinmei no Sato is not just a product store, but it is also a relay spot that provides information on Mihara City and continues to actively disseminate its appeal.

The view from the observation deck on the 2nd floor is beautiful, especially on sunny days. The scenery in front of you refreshes your feelings and gives you a panoramic view of the beauty of Seto Inland Sea archipelago. There is also a Daruma-shaped votive tablet (ema) hanging place, for you to hang your own ema after writing wishes on the Daruma votive tablet purchased at the shop on the 1st floor. The votive tablets hung here are regularly brought to the Itosaki Shrine and prayed for their wishes.
Facility Information
Facility name: Road Station Mihara Shinmei no Sato



Address: 4-21-1 Itosaki, Mihara City, Hiroshima
Access: Approximately 30 minutes by car from Sanyo Expressway Hongo Interchange and Kui Interchange
Business hours: 9:00-18:00 (Restaurant last order at 17:30)
Closed: 3rd Tuesday of every month
Credit card: Accepted
③ Takehara City, Hiroshima Prefecture: A shop irresistible for Rabbit Lovers

The black-based exterior is the focus of attention of those who visit Tadanômi Port. With cute rabbit pictures on the walls and a special pink post box outside, it's a great place for tourists waiting for the ferry to fill their time. Rabbit-related products are all cute and I can't wait to take them home! Coffee is also sold in the store, making it the perfect rest place for people who are looking forward to meeting rabbits.
Facility Information
Facility name: Tadanômi Port Ferry Terminal



Address: 1-2-1 Tadanoumi Nakamachi, Takehara City, Hiroshima
Access: 7 minutes walk from JR Tadanoumi Station
Business hours: 7:00-19:45
Closed: Open all year round
Credit card: Accepted
[Survey] Traveling to Japan
Recommend