All You Need To Know About Hiroshima in Japan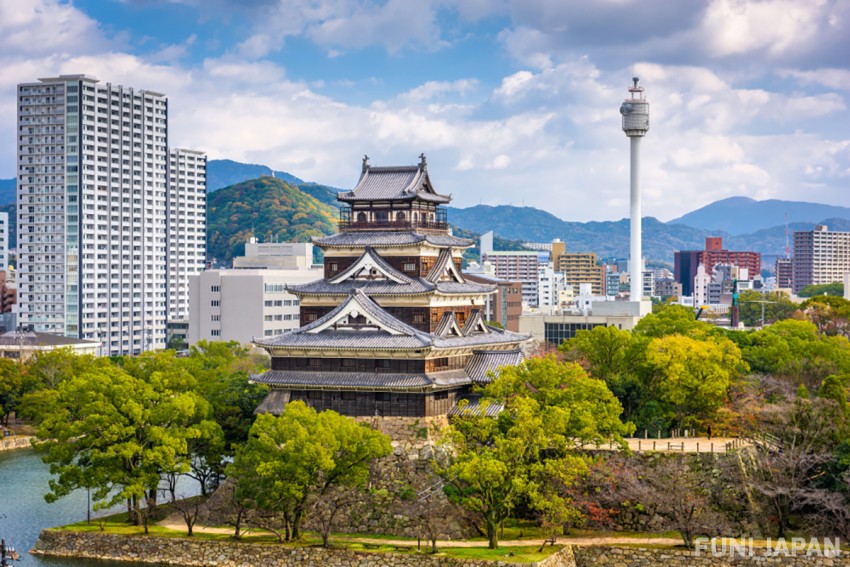 The Hiroshima prefecture is a prefecture located on the western side of Japan in the Chūgoku region. Situated in a delta with six rivers, it is called the city of water.
There are a variety of sightseeing spots including peace facilities, world heritage sites, and islands floating on the Seto Inland Sea. Furthermore, the gourmet specialties of Hiroshima that can be enjoyed at each sightseeing spot are fantastic as well.
About Hiroshima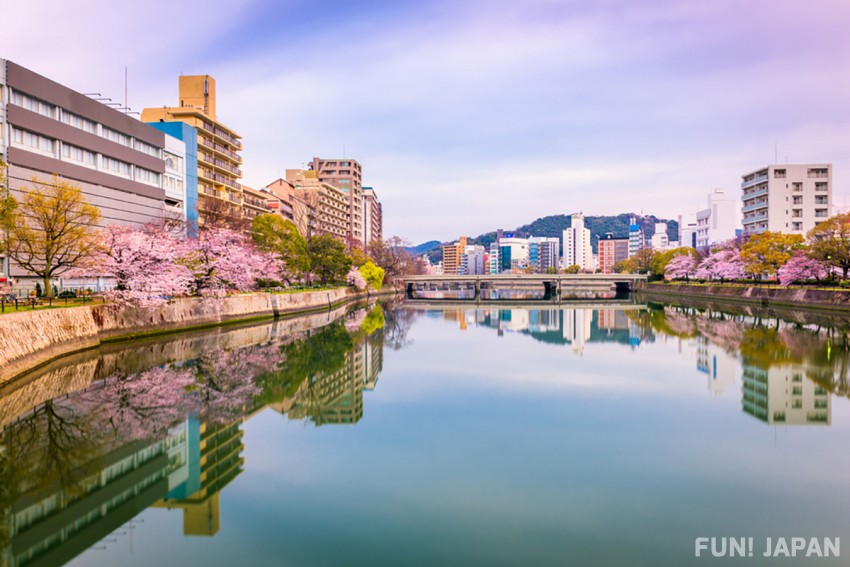 Hiroshima is a prefecture with a population of around 2.8 million. The northern area of the prefecture is the Chūgoku Mountains, and the southern area faces the inland sea called the Seto Inland Sea. It slopes from the mountains to the sea in a step-like formation, and an abundance of different kinds of terrain and vegetation can be seen. The Seto Inland Sea has around 140 islands and lots of tourist attractions. (Information accurate as of January 2020)
The Main Points of the History of Hiroshima
Hiroshima Prefecture was established at the end of the 19th century. Later, in the year 1996, two spots were registered as World Heritage Sites, and some towns were certified as Japan Heritage Sites. Presently, it has become one of Japan's leading tourist destinations with over 2.7 million foreign tourists having visited the location.
Overview of the atomic bombing of Hiroshima
Hiroshima was the site where the atomic bomb was dropped on August 6, 1945. It has a history of lots of Hiroshima victims and changes in the city. Following that, it has now been reborn as a city and tourist destination that emphasizes "prayer for peace" as a symbol of world peace.
What is the Best Itinerary for Hiroshima?
Hiroshima's itinerary should be determined by the number of areas that you plan to go to.
For example, Hiroshima and Miyajima are two of the major tourist attractions in Hiroshima. Hiroshima City has lots of tourist attractions, and Miyajima has been designated as a World Heritage Site. The travel time between the two spots takes minimum of 55 minutes via JR train and Miyajima Ferry. This required time includes the time spent waiting for the ferry.
If you are considering enjoying the sightseeing spots of Hiroshima City and Miyajima as much as possible, it is best to think about staying at least two nights and three days, at the very least one night per spot.
Additionally, if you are considering travelling around Onomichi, Shimanami Kaido, and Fukuyama, which are famous sightseeing spots in the Hiroshima Prefecture, you can go around each spot in a much more relaxed fashion if you stay around 2 nights or more.
If you wish to see the valleys in the northern part of the prefecture as well, you will want to stay another one or two nights.
Things to Know before Sightseeing in Hiroshima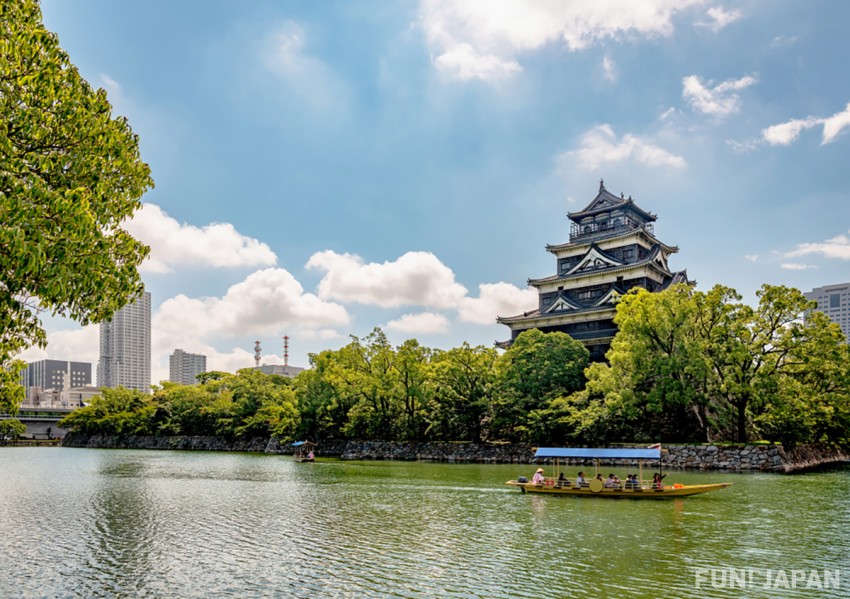 In order to make the most of your sightseeing in Hiroshima, make sure to check information in advance such as sightseeing maps, baggage storage, and currency exchange.
Where Can A Map of Hiroshima be Obtained?
In the Hiroshima Prefecture, multilingual tourism maps are made by each municipality and distributed largely at tourist information centres. In addition, there is a street corner tourist information centre called "TRAVELPAL International", which is affiliated with restaurants in Hiroshima City. Here, sightseeing maps are available along with other sightseeing information. "TRAVELPAL International" is marked with a red circle "?" sticker.
In addition, the sightseeing application "Hiroshima, Miyajima and Iwakuni navigator" from Iwakuni City in Yamaguchi Prefecture, which is next to the western part of the Hiroshima Prefecture, is available on both iOS and Android. It is an application that helps you to search for sightseeing spots and navigate to tourist facilities. English, Chinese (Simplified), French, Korean, and Thai versions are available. Those who wish to reduce their baggage should try and download it!
Where Can Luggage Be Stored in Hiroshima?
In Hiroshima, it is possible to store your luggage in coin lockers and baggage storage facilities.
There are lots of coin lockers at Hiroshima Station, Onomichi Station, Fukuyama Station, Miyajimaguchi Station and Hiroshima Bus Centre. As the number of lockers at other stations is small, it is recommended that you deposit at these stations if possible. The fee is 300-400 yen for a small locker, 500 yen for medium, 600-700 yen for large, and 1,000 yen for extra-large.
Number of coin lockers
Hiroshima Station: 1299
Onomichi Station: 176
Fukuyama Station: 176
Miyajimaguchi Station: 125
Hiroshima Bus Centre: 182
Baggage storage facilities are located at JR Hiroshima Station, Onomichi Station, Miyajimaguchi Station, and at the ferry terminal for Okunoshima Island. The price for one piece of luggage ranges from 200 - 1,000 yen
Number of baggage storage facilities
Hiroshima Station: 3
Onomichi Station: 3
Miyajimaguchi Station: 2
Okunoshima Ferry Terminal: 1
Where Can Money be Exchanged in Hiroshima?
If you need to exchange cash as soon as you arrive in Hiroshima, use the foreign currency exchange ATM in JR Hiroshima Station or Hiroshima Airport.
In Hiroshima Airport, it is located in the International Arrivals Lobby, and in JR Hiroshima Station, it is located in the Hiroshima Station General Information Centre next to the 2F concourse.
In addition, if you need to exchange money during your sightseeing trip in Hiroshima, you may wish to stop by a bank, a currency exchange machine at a station, a hotel or a tourist information centre, or a ticket resale shop.
If you plan to go to a bank, Japan Post Bank and Momiji Bank are convenient. Japan Post Bank can exchange money in 16 major cities within the prefecture, and Momiji Bank can exchange money at 18 locations.
Furthermore, the ticket resale shop, Ticket Seven, which has five branches near Kamiyacho Station in Hiroshima City, offers a money exchange service.
The Weather or Temperature in Hiroshima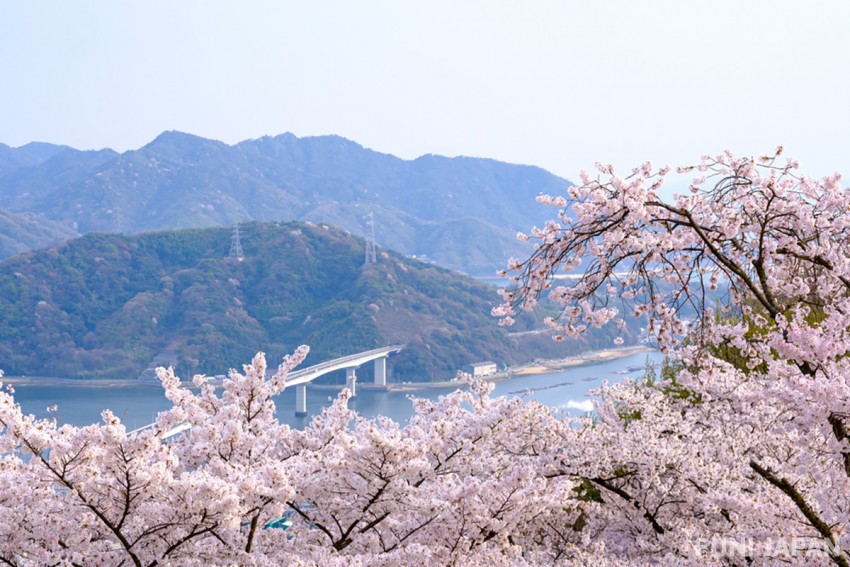 The climate in Hiroshima is characterized by warm weather and a low amount of rainfall. The average temperature is around 6.4 degrees Celsius in the coldest of Januarys and around 28.5 degrees Celsius in the hottest of Augusts. However, the temperature sometimes drops to below freezing in February and to near freezing in January, so it is probably best to wrap up warm during winter sightseeing.
The flowers and trees that can be seen vary according to the season which is also attractive. For example, the best time to see the sakura (cherry blossoms) is from late March to early April.
Among the many sakura spots in the prefecture, the Ondo no Seto Park in Kure City where about 2,300 cherry trees bloom is recommended. If you wish to see the autumn leaves, Miyajima's Momijidani Park is recommended.
The Main Sightseeing Areas in Hiroshima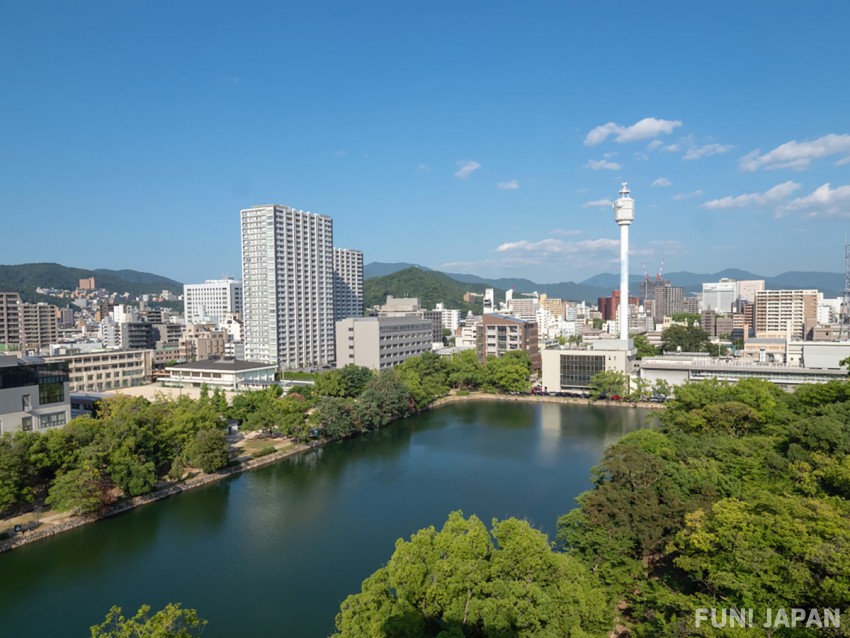 The sightseeing areas in Hiroshima are divided into four areas: Geihoku, Aki, Bihoku, and Bingo.
Among these, the main sightseeing areas are in the Aki area and the Bingo area. In the Aki area, the famous tourist spots are Hiroshima city and Miyajima, and in the Bingo area, Fukuyama, Onomichi and Shimanami Kaido are famous tourist spots.
Hiroshima City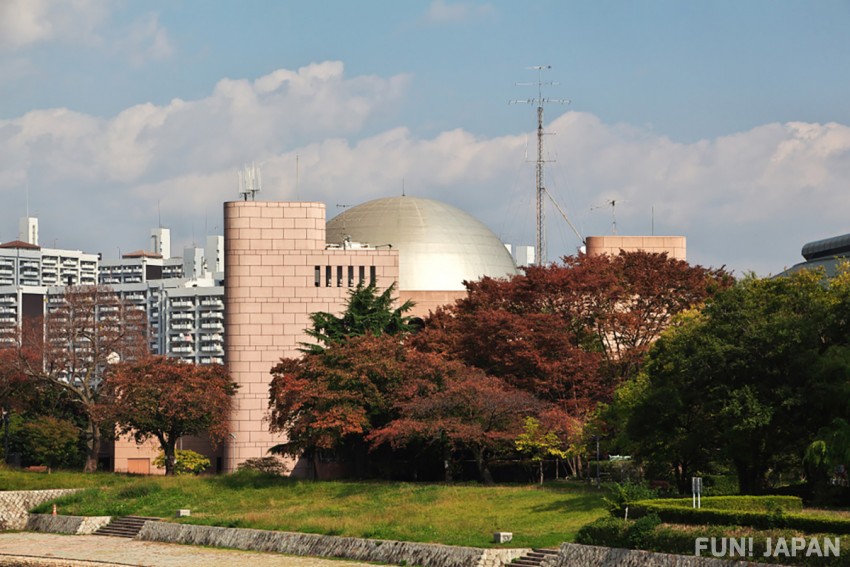 Hiroshima City is located on the west side of Hiroshima Prefecture and is the centre of Hiroshima tourism. There are various sightseeing spots, including facilities that are related to the atomic bomb, shrines, temples, gardens, and cultural facilities.
The following list shows the best tourist spots in Hiroshima City.
| | |
| --- | --- |
| Spot Name | Features |
| Hiroshima Castle | At the castle tower, you can experience wearing a helmet and suit of armour. |
| Peace Memorial Park | A park with a World Heritage site, the Atomic Bomb Dome. |
| Shukkeien Garden | A 400-year-old garden where the flowers of the four seasons can be enjoyed. |
| Mazda Museum | A museum where you can learn about the history and the manufacturing process of Mazda Japanese cars. (Reservation required. Closed until June 30, 2020) |
| Hiroshima Museum of Contemporary Art | A comprehensive museum of contemporary art. |
| Hiroshima Orizuru Tower | A tourist complex facility with a product hall and observation deck. |
| Mt Futaba | A mountain that overlooks Hiroshima city in front of Hiroshima Station |
(Information accurate as of February 2020)

Fukuyama City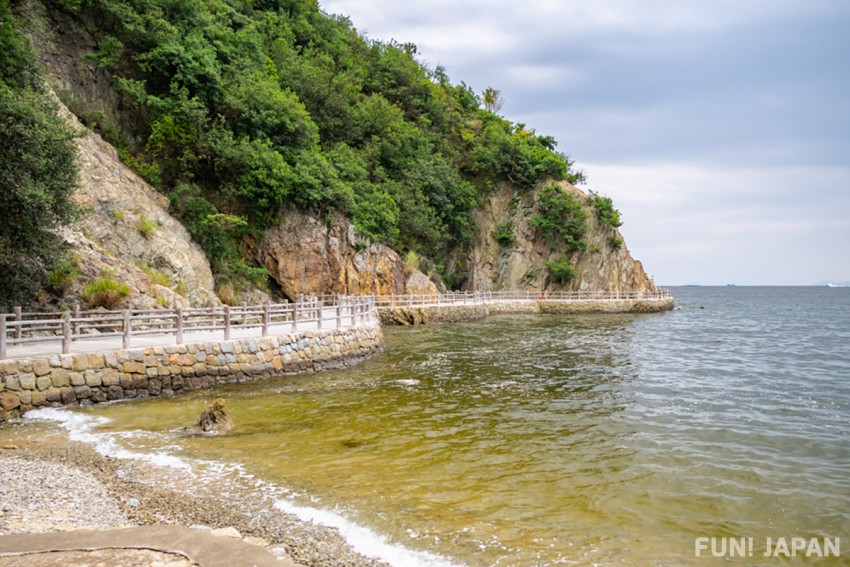 Fukuyama City is situated on the eastern edge of Hiroshima Prefecture. In the 17th century, it flourished as both a castle town and port town. In the city, the buildings that were constructed before the 17th century and the cityscape of that time still remain.
In addition, we should focus our attention on the temples where it is possible to have experiences particular to Japan, such as zazen.
| | |
| --- | --- |
| Spot Name | Features |
| Fukuyama Castle | Castle ruins with important cultural properties that were built in the 17th century |
| Tomonoura | A port town with a quaint townscape like townhouses, shrines and temples |
| Myooin Temple | A temple with national treasures, the main hall and the five-story pagoda, from the 14th century. |
| Shinshōji Temple | A temple where you can experience zazen and sutra handwriting |
Miyajima, Hiroshima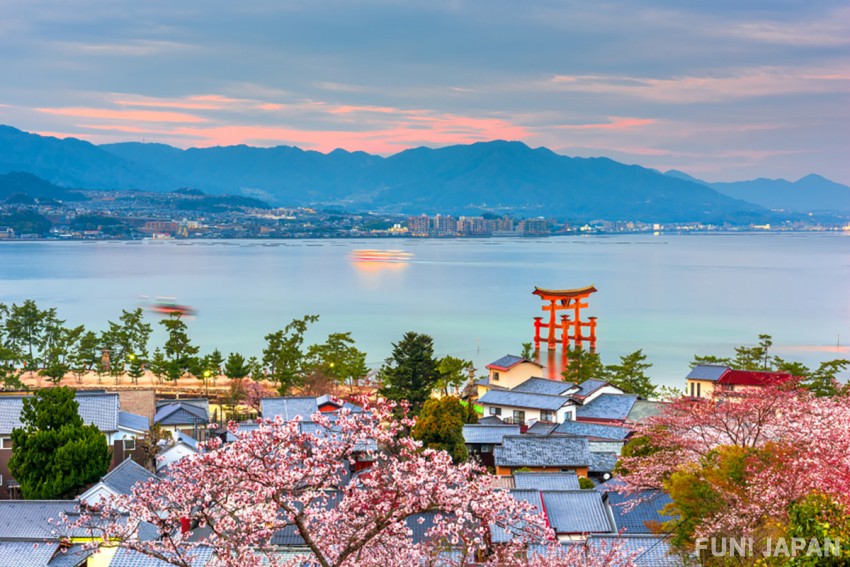 Miyajima is an island located in the western area of the Hiroshima Prefecture. It is one of the most beautiful scenic spots in Japan and is counted as one of the "3 Views of Japan". Sightseeing spots include shrines, temples and parks, including Itsukushima Shrine, which is a symbol of Miyajima.
Additionally, sightseeing with a focus on scenery and views should not be missed, like the ancient cityscapes and beautiful autumn leaves.
| | |
| --- | --- |
| Spot Name | Features |
| Itsukushima Shrine | One of Japan's most famous companies known for its red Otorii (world cultural heritage site) |
| Mt Misen | A mountain with unique vegetation, it has been registered as a World Heritage Site along with Itsukushima Shrine |
| Miyajima Aquarium | An interactive aquarium with a theme of "healing" and "contact" |
Onomichi, Hiroshima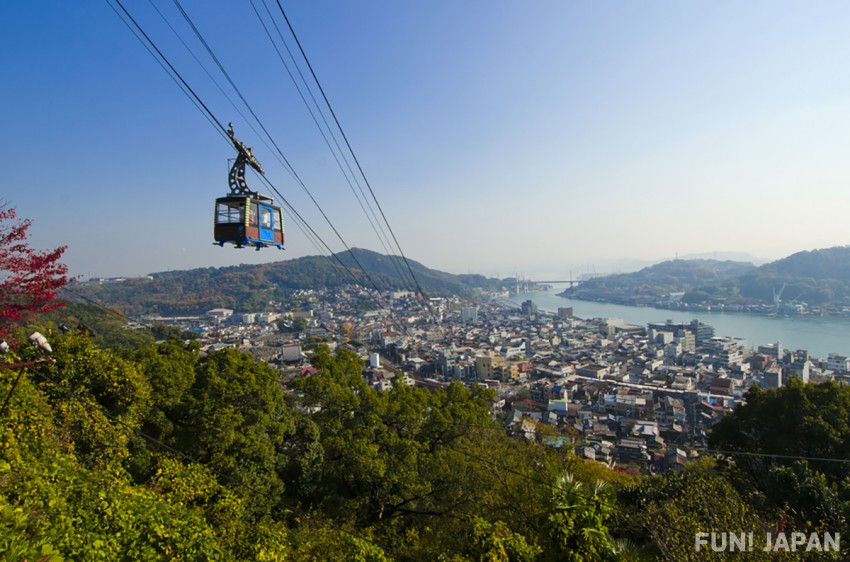 Onomichi City is located in the southeastern area of the Hiroshima Prefecture and consists of the urban area of Onomichi and the islands like Mukaishima and Innoshima. The urban area has a unique townscape with narrow lanes and is used as the setting for movies and dramas frequently.
Additionally, all the islands have a long history, and the historical sites where you can learn about the islands are worth visiting.
| | |
| --- | --- |
| Spot Name | Features |
| Kousanji Museum (Kosanji Temple) | A temple well-known for its marble garden on Ikuchijima |
| Innoshima Suigun Castle | Castle-shaped museum on Innoshima where materials from the 14th - 16th century Navy are exhibited |
| House of Onomichi Ihatov | Spots lined with cafes and galleries that are made from renovated old houses |
Shimanami Kaido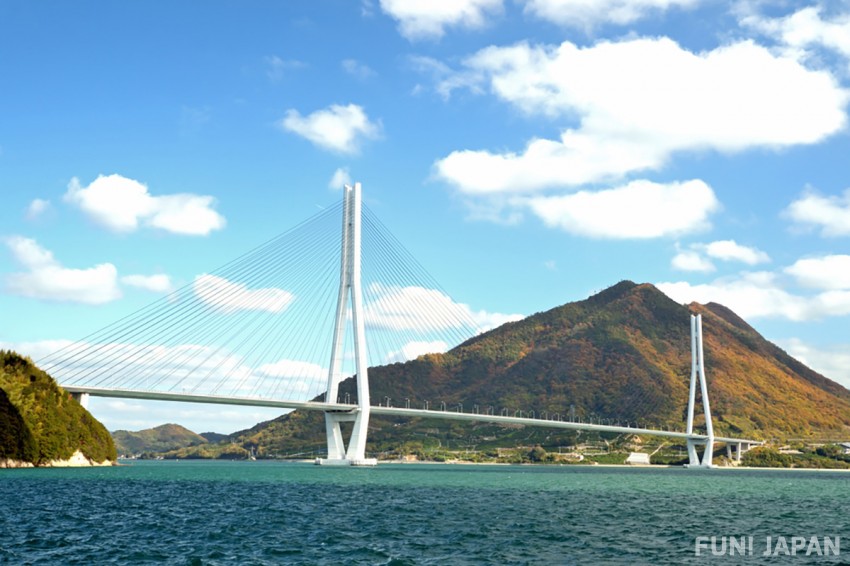 Shimanami Kaido is located in the eastern part of the Hiroshima Prefecture, it is the area along the Nishi-Seto Expressway which connects Onomichi City to Imabari City in Ehime Prefecture. Even though it is a motorway, the bridge can be crossed on foot or by bicycle.
The highlights are the unique bridges that connect the islands and the Seto Inland Sea that sprawls out.
| | |
| --- | --- |
| Spot Name | Features |
| HAKKO Park | A fermentation theme park situated in Innoshima |
| Tatara Bridge | A unique bridge where you can hear the sound of a dragon when you tap your hands on the bridge's support |
| Ikuchi Bridge | A stylish bridge connecting Innoshima and Ikuchijima |
Food and Restaurants in Hiroshima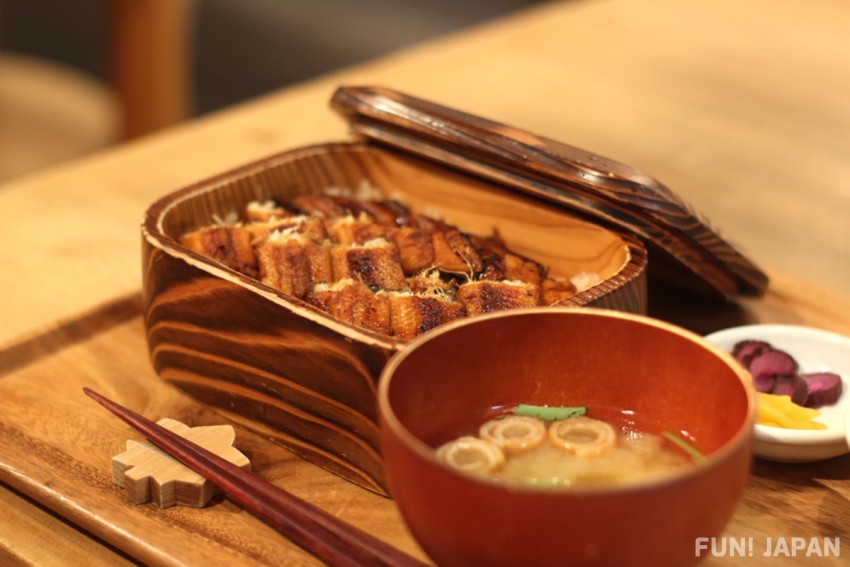 There are lots of specialties in Hiroshima, but the most famous Hiroshima food is okonomiyaki and oyster. In addition, seafood except for oysters is abundant since Hiroshima faces the Seto Inland Sea. Furthermore, noodle dishes and curry from the Japan Maritime Self-Defense Force are worth noting. Here, we will introduce some of the particularly recommended gourmet foods.
Hiroshima Style Okonomiyaki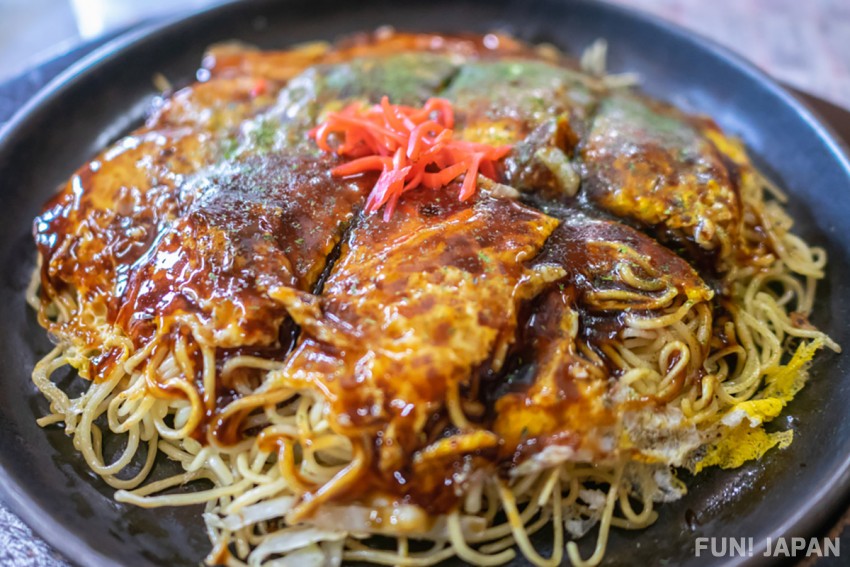 In Hiroshima style okonomiyaki, vegetables such as cabbage are placed on dough in which flour has been melted, then pork belly, noodles and eggs are laid on top.
There are around 200 okonomiyaki shops in the Hiroshima Prefecture, but they are largely in Hiroshima City. If you are not sure which shop to go to, we recommend
Okonomimura is a spot with over 20 okonomiyaki shops, where traditional Hiroshima okonomiyaki can be eaten.
Oysters in Hiroshima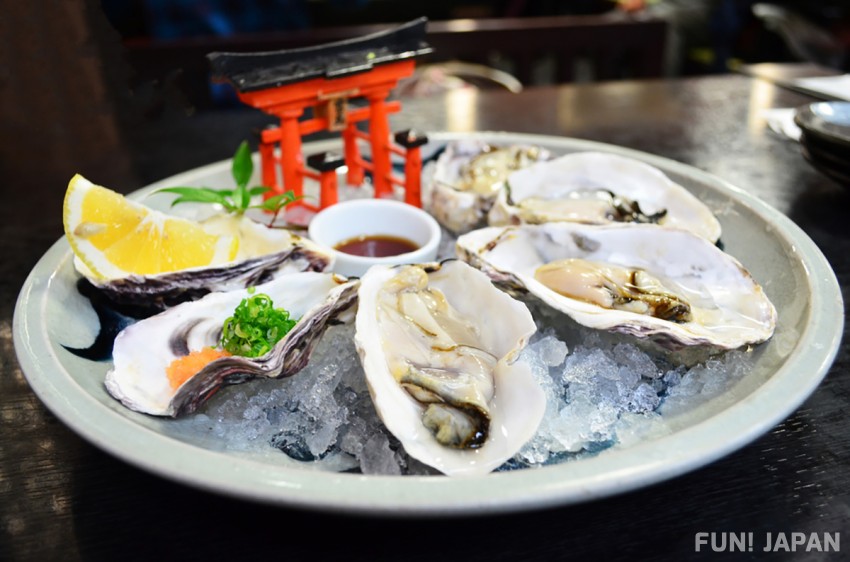 The oysters in Hiroshima are one of its most famous products with the highest shipment volume in the country. There are many different ways to eat them including raw, grilled, fried or tempura, with hot pot dishes or cooked rice, etc.
If you wish to eat fresh oysters, oyster huts are recommended. Oyster huts are scattered around sightseeing spots like Hiroshima Station, Onomichi Station and Fukuyama Station. Many shops pop up along the coast during oyster season (winter to spring), but some shops are located throughout the city and are open year-round. It is best to think of a price range of 2,000 - 3,000 yen. (Information accurate as of February 2020)
Hiroshima Seafood
Hiroshima is a prefecture that is rich with seafood other than oysters as it faces the sea. Famous seafood includes "Fukuyama (Tomonoura) Bream" and "Miyajima Anago". Main dishes include the cooked rice dishes "Taimeshi" and "Taishazuke", and "Anago Rice" that is grilled conger eel on top of rice with sauce.
Hiroshima Ramen or Tsukemen (Dipping ramen)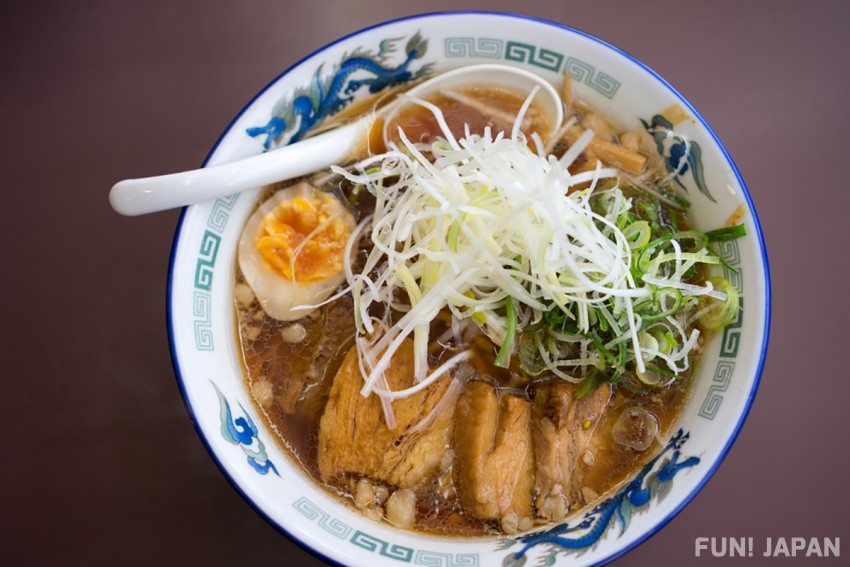 There are local noodles in various areas of Hiroshima. Among them, "Onomichi Ramen (尾道ラーメン)" is famous around the country. "Soupless Tantanmen", which is characterized by its spiciness, and "Hiroshima Tsukemen", which involves chilled noodles mixed with spicy sauce.
There is also a variety of other noodle cultures, like the local flavours "Hiroshima Ramen (広島ラーメン)" and "Kure Reimen (呉冷麺)".
Tantanmen and Tsukemen can be found all around the Hiroshima Prefecture. If you wish to eat Onomichi ramen or Kure Reimen, there are plenty of ramen shops that serve them in Onomichi City and Kure City.
Accommodation in Hiroshima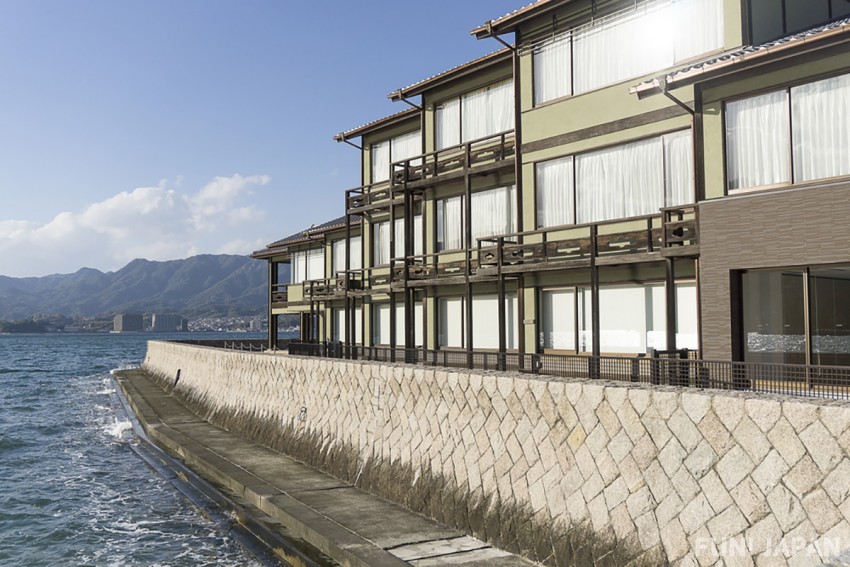 Accommodation in Hiroshima is concentrated in sightseeing spots in Hiroshima city and facing the Seto Inland Sea. In the mountainous area, sightseeing spots are located in the vicinity of Taishakukyo Gorge in the Bihoku area where its characteristic terrain keeps on going, and in the hot spring area of the Geihoku area where Sandankyo Gorge with beautiful autumn leaves is situated.
Hotels in Hiroshima
Most hotels are in Hiroshima city. In the city, there are economy hotels as well as brand hotels like the Sheraton and Crowne Plaza etc. Among these, there are mostly economy hotels, and the price range is reasonable at 2,000 to 4,000 yen.
Moreover, hotels are scattered around each area. However, the characteristics are slightly different in each area. There are lots of affordable hotels located in Onomichi and Fukuyama that cost around 4,000 yen. In contrast, in the Geihoku and Bihoku areas accommodation facilities range from small, economy accommodation to large-scale ryokan (Japanese inns). The prices vary from 3,000 - 25,000 yen. (Information accurate as of February 2020)
Capsule Hotels in Hiroshima
Capsule hotels are situated in urban areas like Hiroshima city and Fukuyama city. The price range is around 2,000 - 3,000 yen in Hiroshima city and around 3,000 - 5,00 yen in Fukuyama city. Incidentally, in Hiroshima city, there are capsule hotel areas near Nagarekawa River and Peace Memorial Park, so they are convenient for sightseeing. (Information accurate of February 2020)
Hiroshima Guesthouses and Hostels
Hostels in the Hiroshima prefecture are concentrated in Hiroshima city and Onomichi city. The price range is 2,000 - 5,000 yen.
Plus, there are lots of guesthouses in Onomichi and Kure City, with Onomichi's highest price range being 6,000 - 7,000 yen and Kure city's highest price range being 10,000 - 12,000 yen. It should be noted that guesthouses in Hiroshima spread around the Peace Memorial Park and around Nagarekawa River. Also, there are around 60 of them near Miyajima, around 150 in Onomichi city, and around 160 in Fukuyama city.
Each city has a price range of 2,000 - 5,000 yen. (Information accurate as of February 2020)
Famous Onsen Spots and Ryokan with Onsen in Hiroshima
Hiroshima is abundant with onsen (hot springs) from the seaside area to the mountainous area. The onsen are close to the main sightseeing spots and can be used as a hot spring or as a starting point for sightseeing. Here, we will introduce some typical hot spring areas.
| | | |
| --- | --- | --- |
| Onsen Name | Features  | Recommended Accommodation |
| Yuki Onsen (湯来温泉) | Hot water for beautiful skin where the country hills spread out in Hiroshima city | Kajikaso (河鹿荘) |
| Miyahama Onsen (宮浜温泉) | Radium hot spring in a convenient spot for sightseeing in Miyajima | Aki Grand Hotel & Spa(安芸グランドホテル) |
| Tomonoura Onsen (鞆の浦温泉) | An ancient hot spring located in a scenic spot | Keishokan Sazanamitei (景勝館漣亭) |
| Kinoe Onsen (きのえ温泉) | Chlorinated hot spring located on an island and only accessible by boat | Kinoe Onsen Hotel Seifukan (きのえ温泉 ホテル清風館) |
| Nukui Onsen (温井温泉) | A potent lakeside hot spring | Onsen Hotel Nukui Springs (温泉ホテル 温井スプリングス) |
| Kimita Onsen (君田温泉) | Rare hot spring water located in a deep forest | Kimita Onsen Mori no Izumi (君田温泉 森の泉) |
Transportation Information Regarding Access to Hiroshima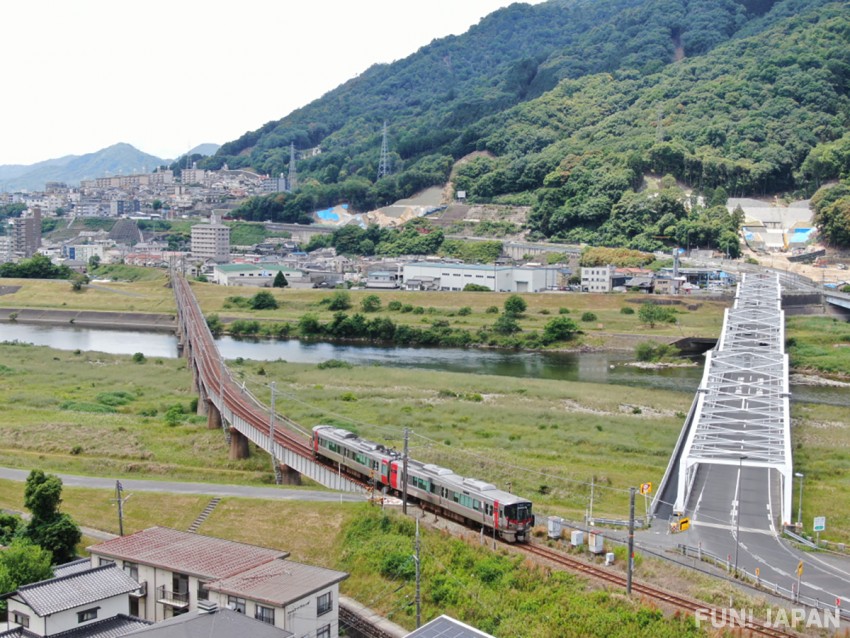 Information on access from Tokyo or Kansai to Hiroshima Station and access information from Hiroshima Station to other parts of the prefecture are summarized as below.
Access to Hiroshima
You can use air or land route to access Hiroshima.
First, if you plan to use an air route, head to Hiroshima airport. Hiroshima Airport has international flights from eight cities, including Taipei, Kuala Lumpur, and Bangkok etc. However, there are only a small amount of international flights per day, sometimes only one flight per day and the number of operating days is limited.
For this reason, it is convenient to visit Hiroshima from Tokyo or Kansai, where many international flights arrive and depart, rather than flying to Hiroshima directly.
For land route, please head for JR Hiroshima Station via Shinkansen. JR Hiroshima Station is the starting point for reaching sightseeing spots in the prefecture. From the Kansai area, it takes around 1 hour and 30 minutes by Shinkansen, and around 4 hours from Tokyo.
If you transfer from Tokyo to Hiroshima Airport and transfer to Hiroshima Electric Railway bus, you will arrive at JR Hiroshima Station in about 2 hours and 10 minutes.
Use Trains, Trams, Buses, Ferry, etc. to Get around Hiroshima
The means of transportation in the Hiroshima prefecture varies depending on the place. For example, taking the JR Sanyo Main Line is convenient for traveling from Hiroshima Station to Fukuyama. Onomichi or Kure City. In addition, the Hiroshima Electric Railway tram runs extensively throughout Hiroshima City, so it is easy to access major tourist attractions.
In contrast, buses are convenient for getting to places that are difficult to reach by train, such as Yuki Onsen and Sandankyo Gorge.
Also, it is best to take ferry to Miyajima, Etajima, Shimanami Kaido and the other islands.
Moreover, Hiroshima Electric Railway sells the Hiroshima 1-day pass, which allows unlimited rides on all areas of the Hiroshima Electric Railway line and the Miyajima Matsudai Kisen Tourist Ship Company (Miyajimaguchi to Miyajima route).
Time Necessary to Reach Major Areas in Hiroshima
In the Hiroshima prefecture, the sightseeing areas are divided, so if you try to go sightseeing all over the prefecture, you will have to move between areas. The following table displays the travel times and routes from Hiroshima Station to the other tourist areas in the Hiroshima Prefecture. We would like you to use it as a reference to create your schedule.
| | | |
| --- | --- | --- |
| Major Station | Name Route (Where to Transfer) | Time Required |
| Miyajima | JR Hiroshima Station → [JR Sanyo Main Line] → JR Miyajimaguchi Station → [Walk] → JR Miyajimaguchi Pier → [JR West Miyajima Ferry] → Miyajima Ferry Terminal | About 50 minutes |
| Fukuyama | JR Hiroshima Station → [JR Sanyo Shinkansen] → JR Fukuyama Station | About 25 minutes |
| Onomichi | JR Hiroshima Station → [JR Sanyo Shinkansen] → JR Fukuyama Station → [JR Sanyo Main Line] → JR Onomichi Station | About 60 minutes |
| Shimanami Kaido | JR Hiroshima Station → [Hiroshima Electric Railway] → Kamiyacho Higashi stationor Kamiyacho Nishi station → Hiroshima Bus Center → [High-speed shared bus] → Innoshima Ohashi bus stop | About 150 minutes |
[Survey] Traveling to Japan
Recommend