Momochi Seaside Park, a bit of resort in Fukuoka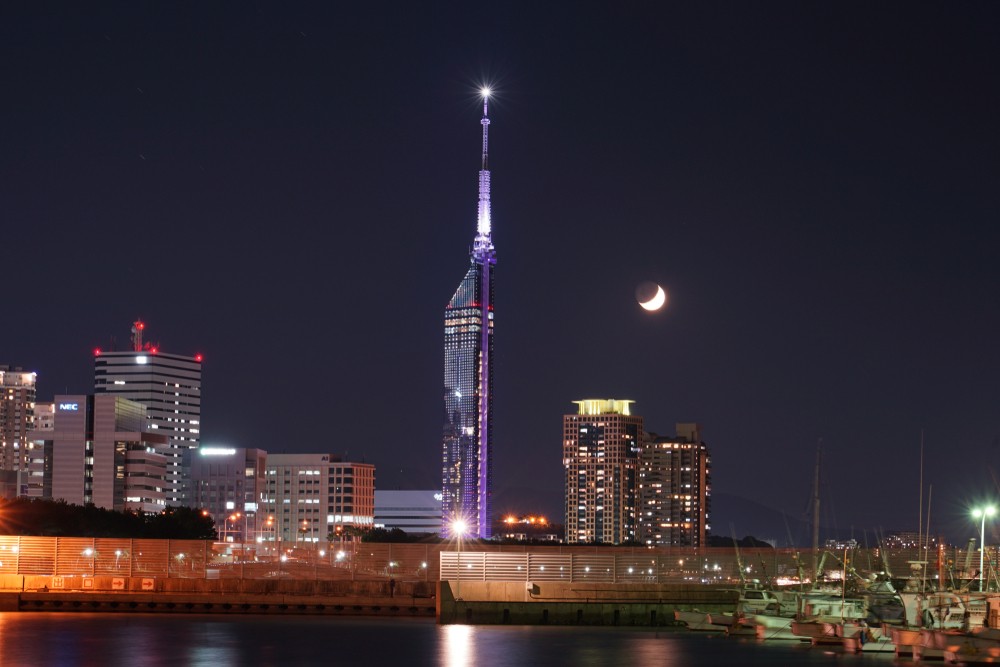 There is a beautiful beach named "Momochi Seaside Park" in Fukuoka city. However, one cannot say that this city is considered as a beach resort. That is why, for today's blog, I will introduce you to a famous spot that will make the enjoyment of the desirous for coastal sceneries.
About 
Momochi Seaside Park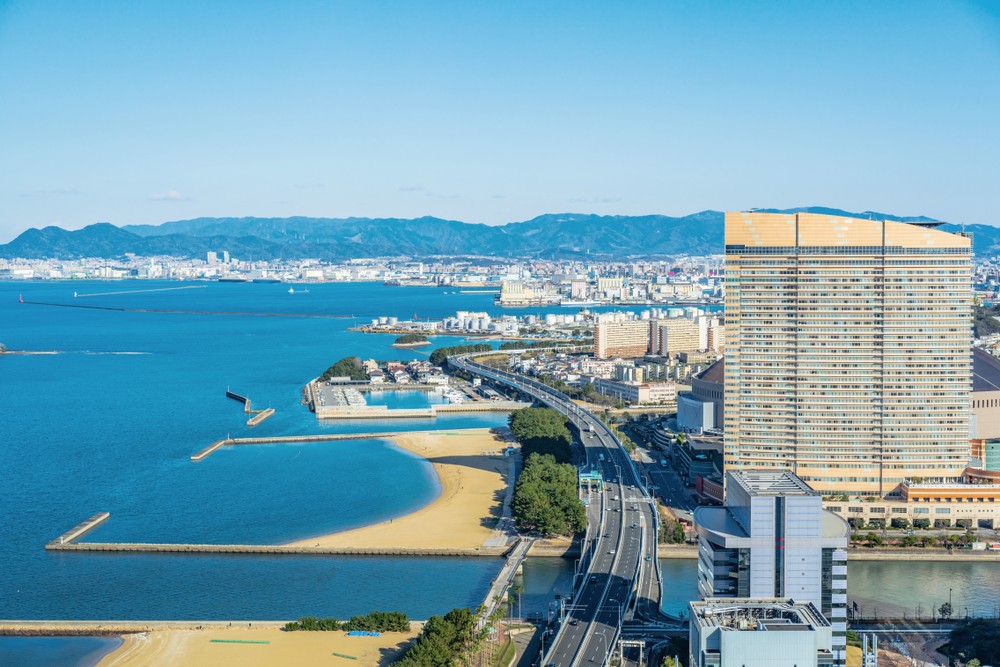 The place is named Momochi Seaside Park. Surprisingly, even though it is called a "park", it contains few spots of greenery and seems to be a rather coastal resort area, simply put a beach. This would not alter the fact that it is a pleasurable corner to visit. Especially, if the weather is nice, it's the perfect place to have a stroll, a jog or to shoot some pictures.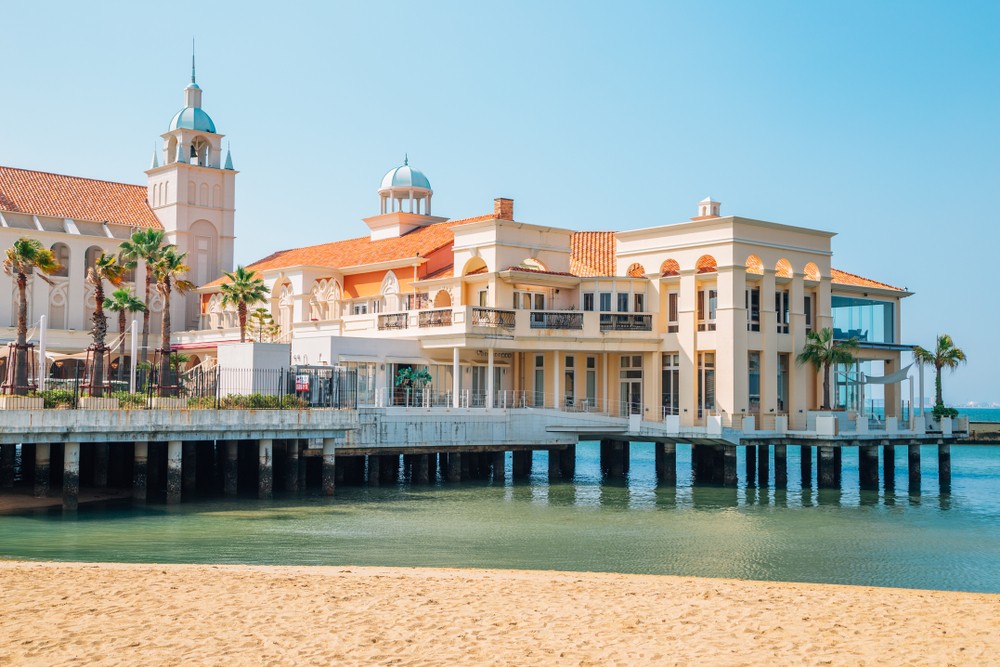 In fact, this one kilometer long beach was created artificially at the same time as the whole Momochi complex in 1989. It is visited often by youths and even families for playing sports, shopping or just sightseeing. Fortunately, Fukuoka stays relatively warm during the whole year, so even if you cannot come during the hot seasons, you should definitely check it out. The modern buildings against an electric blue sky background look as though it has been taking straight from a postcard no matter when you see it!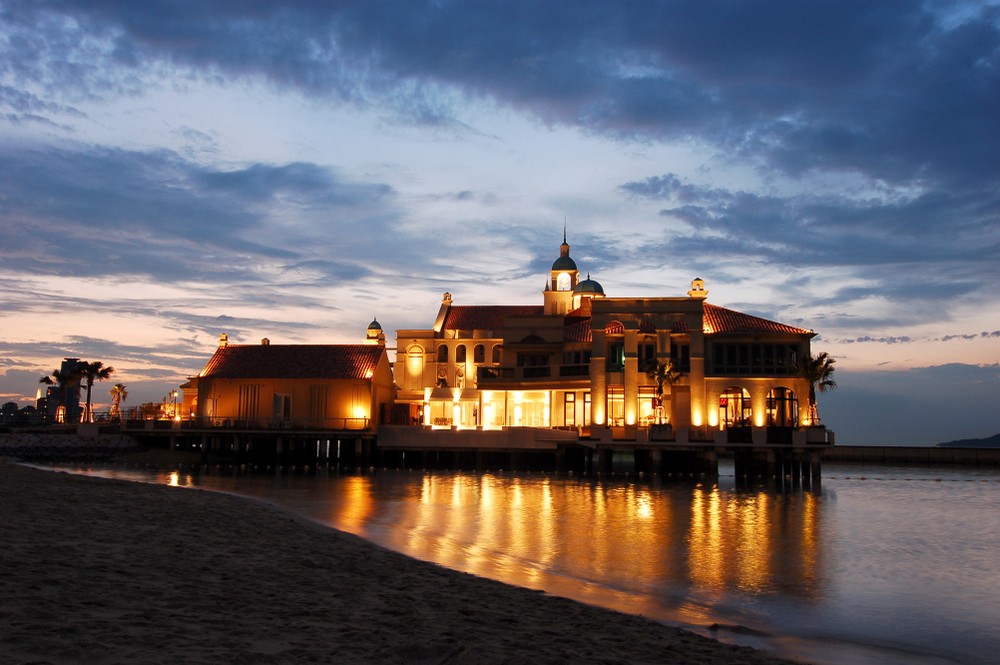 When facing the sea one can catch a glimpse of a bridge leading to a western style building, which is called "Marizon". Amazingly, this massive home-like facility stands on stilts. Wedding ceremonies and banquets are often being hold inside, however, this section of the site is closed to the public. Don't worry, right in front of it lay some nice restaurants and shops!
Fukuoka Tower in Momochi Seaside Park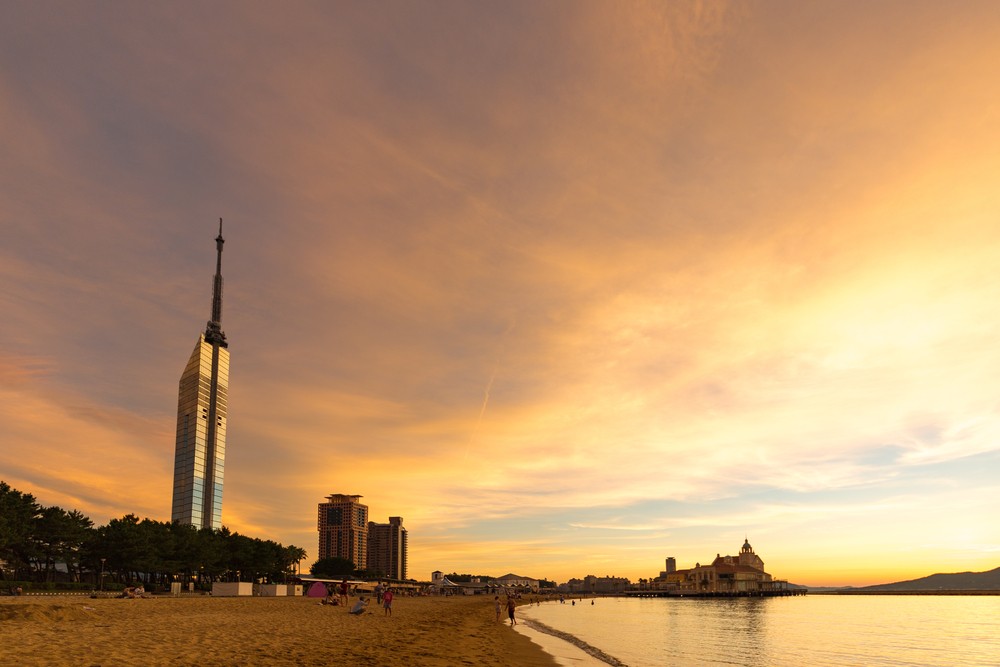 Before reaching the beach, the pedestrian street comes across the unmissable Fukuoka tower. Though its 234m tall stature, this building is a good match with the surroundings. As the biggest building on a Japanese seaboard, it offers a marvelous 360-degree view on two floors, one at 116m and the other at 123m. On the 5th flour (the highest), an observation deck occupies the major part of this space. This allows you to gaze at four directions and contemplate a wide landscape.
Toward the West
you can see Muromi river diving into the lands, and in the direction of Imazu Bay leading to the western part of Fukuoka. Area known for being the location of the Mongol's invasion in 1273.
Toward the North
You can see two small islands, Noko and Shika. Noko is accessible from Meinohoma bay, across Muromi River. In order to get there, you can walk or take the train from Fujisaki station.  
Toward the South/East
There are Fukuoka midtown districts (Tenjin, Hakata etc).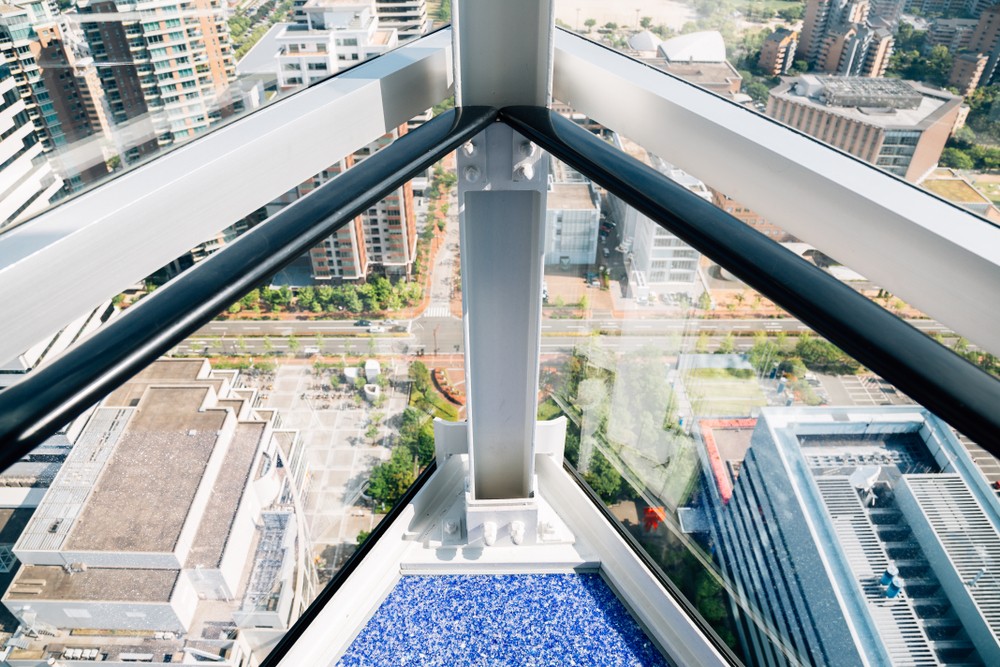 The tower also has a restaurant on the 4th flour, that guarantees a magnificent view for every seat. So, if you feel the need to make the most of this experience, you might want to take shelter in "Sky lounge Refuge".
Lastly, for the couples who wish to have a romantic date, there is a "Lover's Sanctuary" on the 3rd floor where you can take pictures, hook a "Love lock" and sit on a bench facing the greatest of heights.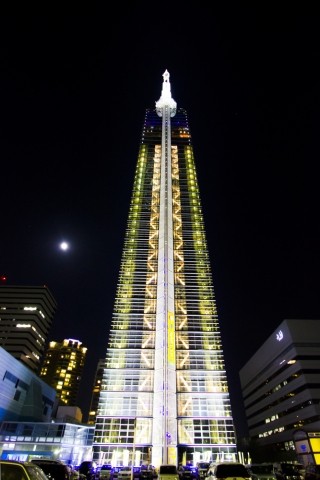 At night, the tower's silhouette changes thanks to the ornament of 2700 LED that sparkle its wall. The illuminations' theme varies per the season. Whether it is a Christmas tree in winter or cherry blossoms in Spring, the dazzling lights will color the sky. Needless to say, that this attraction is must-see.
Spot Information
Spot name: Fukuoka tower
Address: 

2-3-26 Momochihama, Sawara-ku, Fukuoka

Opening hour: 9:30 to 22:00 (Last Admission 21:30)
Admission fees: Adult (Aged 16 and over)800yen, Children (Aged 6 to 15) 500yen, Infants (Aged 4 and 5) 200yen
Wi-Fi: Available
Language: Official Website available in English, Chinese (Simplified & Traditional) and Korean.
Ticket Purchase: At the entrance.
Credit cards: Can not be used.
Fukuoka City Museum
The distinctiveness of Fukuoka's culture and lifestyle throughout history is brought together under the roof of Fukuoka City Museum's permanent exhibition. As the gateway between Japan and the Asian continent, this city received diverse influences and has since developed its own artistic style. Covering materials from ancient to contemporary periods, the museum offers a complete perspective of what have been the position of the capital of Kyushu during all this time.
For example, the Gold seal, one of the National Treasure of Japan, appears in this collection. This piece was given to a Japanese envoy by a Chinese Emperor (Guangwu of Han) in 57 A.D. The exhibition also includes modern historical pieces , this consists of images of modern Fukuoka, notably of the construction of Fukuoka Tower.
Spot Information
Spot name: Fukuoka City Museum
Address: 3-1-1, Momochihama, Sawara-ku, Fukuoka
Opening hour: 9:30 to 17:30
Admission fees: All this for the ridiculous low price of 200 yen per adult and 150 yen for the students.
Wi-Fi: Available
Language: Official Website available in English, Chinese (Simplified & Traditional) and Korean.
Ticket Purchase: At the entrance .
Credit cards: Can not be used.
Good value for a city coast!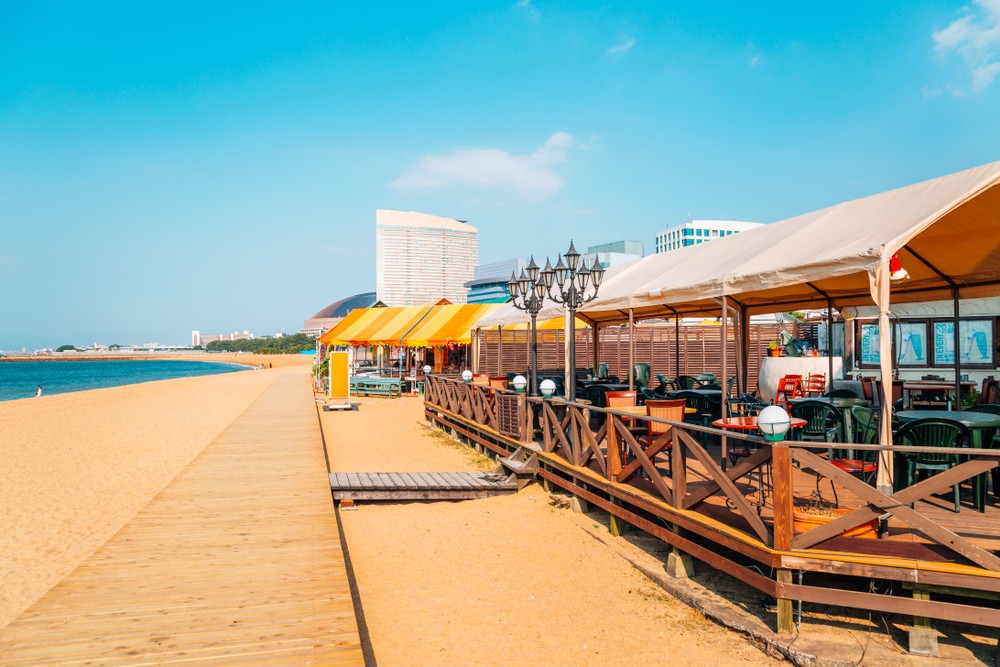 Even though it has nothing to do with the fine sandy beaches of Okinawa or Hawaii, it is great to have an access to a local coast when visiting Kyushu. Primarily, this project may certainly have been brought up to give a glimpse of those heavenly places. At least it gave me the illusion for a little while, so I consider this attempt as a success. 

Lastly, there are other attractions that you might want to check out in this area, such as the Yahoo! Dome, a gigantic baseball field, or The Robot Square, which is a showroom where you can meet and play with different kinds of robots!

[Survey] Traveling to Japan
Recommend