The Malls and Magic of Chiba's Kisarazu City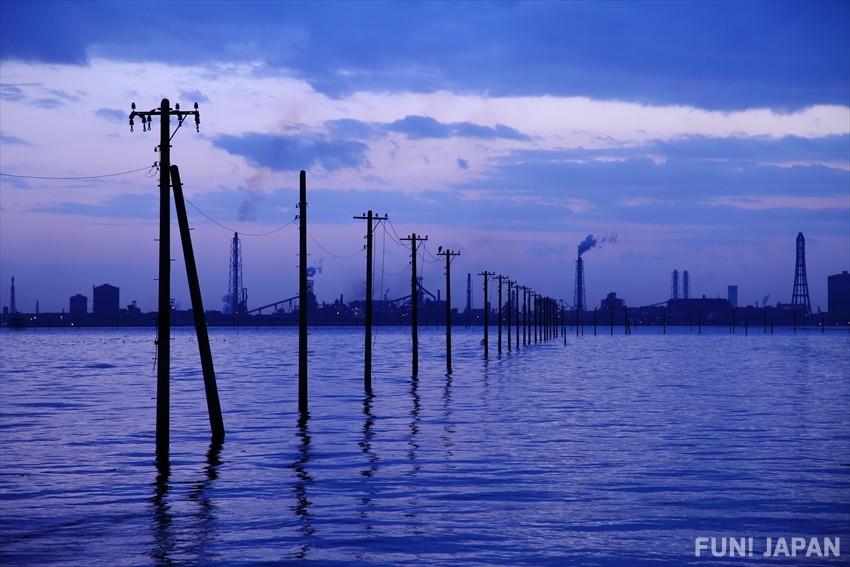 Just a stone's throw from Tokyo but with a distinctly rural feel, Kisarazu City is the perfect place to get a taste of life in Japan. The city has the country's largest outlet mall as well as Ghibli-like beach scenes with views of Fuji - it certainly isn't your average city. On the shores of Tokyo Bay it is surrounded by rolling hills, is home to unique mountains and natural tidal flats, creating a city that has much more than meets the eye.
Where is Kisarazu City?
Kisarazu is a city on the Boso Peninsula in Chiba prefecture, covering the shores of Tokyo Bay and mountains like Nokogiriyama. The city is only around 30km from central Tokyo thanks to the Tokyo Bay Aqua-Line - a combined bridge and tunnel expressway connecting Kawasaki and Yokohama in Kanagawa prefecture with Kisarazu, passing close to Tokyo along the way. The city is also only 30 minutes from Haneda Airport via the Aqua-Line.
What to See in and Around Kisarazu City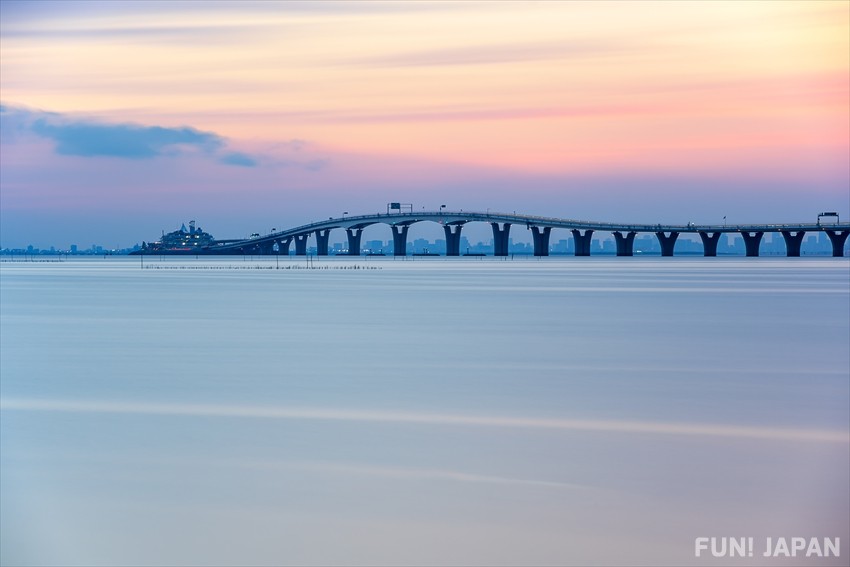 For a small city, Kisarazu has plenty of sightseeing spots you won't find anywhere else. From sawtooth mountains with towering Buddhas to quaint train rides, it has plenty of unusual sights that make for a perfect day trip or long weekend from Tokyo.

Egawa Beach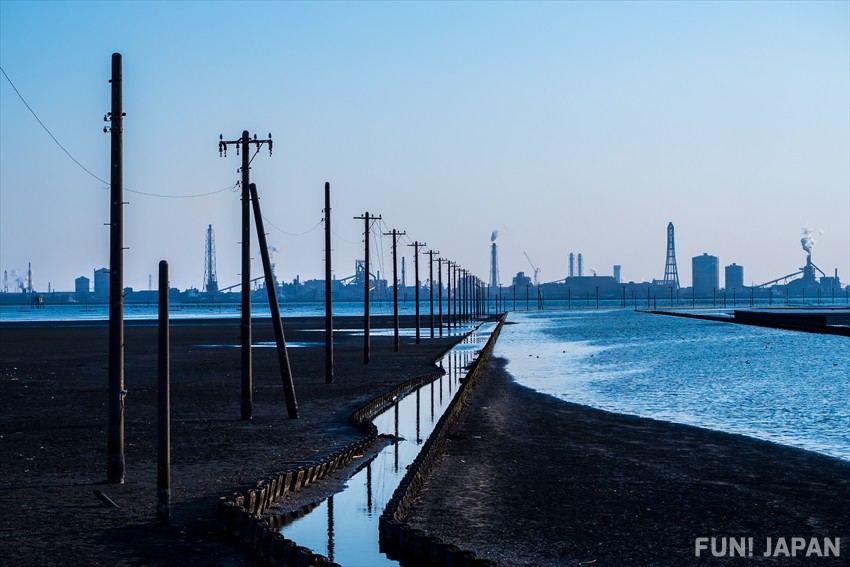 A salt-lake beach in a small seaside town just outside Kisarazu city, Egawa is often likened to scenes from the Ghibli movie Spirited Away. The unusual draw is a run of now out-of-use electricity poles installed in the water and stretching out into the bay. Once used to help prevent clam poaching in the mudflats, they now provide a surreal view when paired with Fuji in the distance, especially when seen at sunset.

Spot Information
Name: Egawa Beach Shiohigari
Location: The beach is located on the edge of Tokyo Bay, to the Northwest of the city.
Address: Egawa Beach, Kuzuma, Kisarazu, Chiba
Access: The beach is a 40-minute walk from Iwane Station on the Uchibo Line.
Mitsui Outlet Park
One for the shoppers, Mitsui Outlet Park is Japan's largest outlet mall in terms of shop numbers, with over 300 to choose from including dozens of high-end names. International and Japanese brands like Levi's, Swarovski, Armani, Vivienne Westwood, Marimekko, Adidas, Puma and Seiko bring great discounts with countless food options to keep you energised throughout your day. There are tax-free desks, free Wi-Fi and plenty of spots to take a break with a coffee - a perfect day out for those looking to fill a shopping fix.
Spot Information
Name: Mitsui Outlet Park Kisarazu (三井アウトレットパーク 木更津)
Address: 3-1-1 Kaneda-Higashi, Kisarazu, Chiba.
Location: The park is located to the north of the city, close to the Aqua-Line Exit.
Access: There are daily highway buses from Tokyo to Mitsui Outlet Park with deals on return journeys offering transport for 1,300 yen and 2,500 yen worth of shopping vouchers.
Ride the Kominato Railway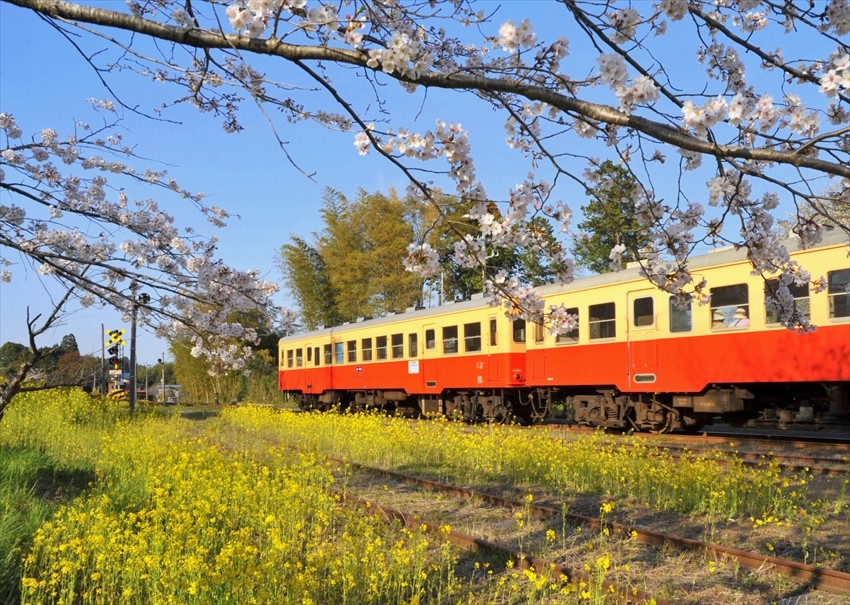 A vintage railway running through rice fields is pretty much what visitors' dreams are made of. Luckily, the Kominato Railway is everything you could hope for, with its 40km stretch taking passengers through flower-filled fields, past quaint train stations and rural villages. The train runs from Goi (also on the JR Uchibo Line) and Kazusa-Nakano (on the Isumi Line), passing through 18 stations. Visitors can see bright yellow Canola fields from March - April, coinciding beautifully with spring's cherry blossom.

Spot Information
Name: The Kominato Line (小湊鉄道線) from Goi Station (五井駅)
Address: Goi Station, 1-1-2, Goi, Ichihara, Chiba
Location: The train runs from Goi Station to the north of Kisarazu City to Kazusa Nakano which is further inland.
Access: Goi station is a 20-minute train journey from Kisarazu Station on the JR Uchibo Rapid service.
Stand in Tokyo Bay at Umihotaru Parking Area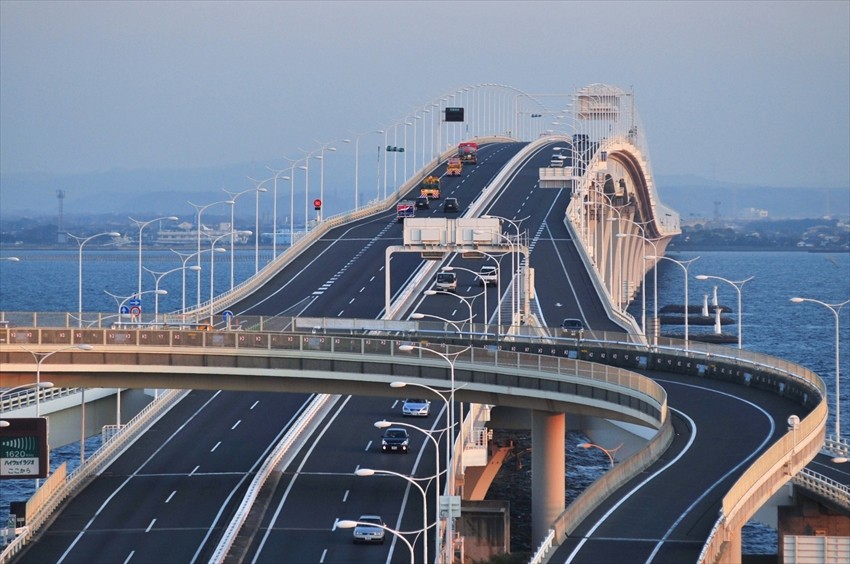 Now what's so special about a parking area, you might be wondering - but this is no ordinary parking lot. The Umihotaru Parking Area is the only highway rest-stop that's on the ocean. The artificial island is the midpoint of the Aqua-Line, which is a combined tunnel and bridge highway passing through Tokyo Bay and connecting Kawasaki and Yokohama with Kisarazu. While the journey between these two important industrial prefectures once involved a 90-minute drive around the edges of Tokyo Bay, it has now been cut to 15 minutes via the direct route. The name Umihotaru means sea firefly and has restaurants, shops and some pretty incredible sea views for those who stop by.

Spot Information
Name: Umihotaru Parking Area (海ほたるPA)
Location: Umihotaru is located in the middle of Tokyo Bay between Chiba and Kawasaki.
Address: Umihotaru, Nakajima, Kisarazu, Chiba
Access: Take the Aqua-Line from Kawasaki to Chiba and you'll pass through the Umihotaru parking area along the way!
Climb Mt. Nokogiri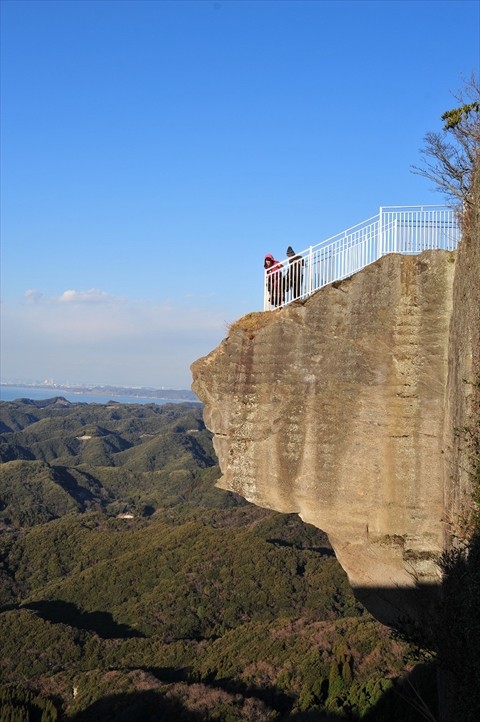 A short train ride from Kisarazu City, Mt Nokogiri offers a chance to look into the depths of hell. Meaning 'sawtooth mountain', the 329m mountain actually offers a relatively easy hike rewarded with an incredible collection of Buddhas as well as stunning views. Visitors can choose between an hour-long hike to the top or a short ropeway journey. There is plenty of walking to do at the top of the mountain, so keep this in mind when choosing. Sights at the top include the 30m tall Hyaku-Shaku Kannon, a collection of 1500 Arhat statues, and the largest cliff-carved Buddha in Japan: the Ishidaibutsu. The view of hell, however, is the breath-taking drop from the Jigoku Nozoki drop. Look down to hell or out across Tokyo Bay, across the Boso Peninsula and as far as Mt. Fuji.

Spot Information
Name: Mt. Nokogiri (鋸山)
Location: Nokogiriyama is to the south of Kisarazu
Address: Nokogiryama, Motona, Kyonan, Awa, Chiba
Access: Hamakanaya Station is just under 40-minutes on the JR Uchibo Line from Kisarazu. The hiking trails and Ropeway are a short walk from the station.
How to Get to Kisarazu City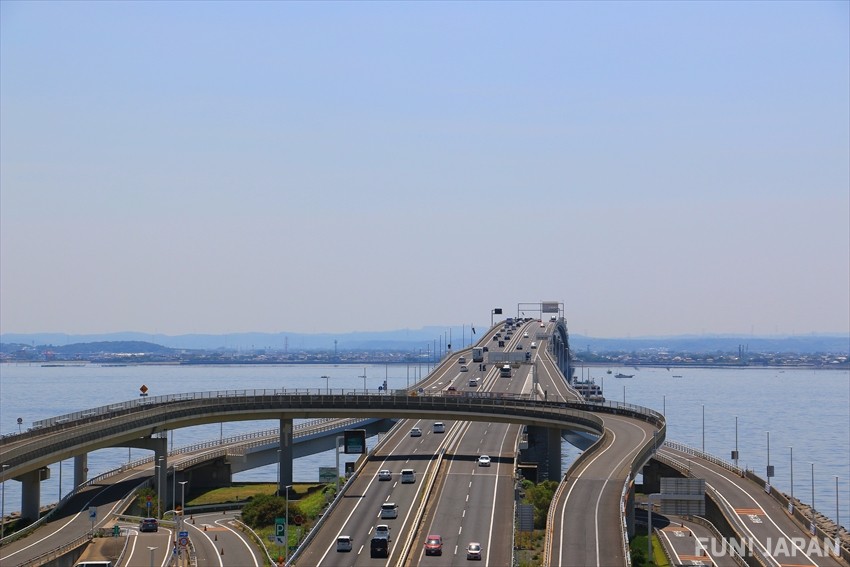 Kisarazu is easy to reach from Tokyo or Kanagawa, with proximity to airports adding an extra level of accessibility.

From Tokyo
There are two main ways to access Kisarazu city from Tokyo: by train or by road. If you're catching the train, hop onto the JR Keiyo Line Rapid to Soga Station and change onto the JR Uchibo Line. The journey takes an hour and twenty minutes (1,340 yen) but can be shortened by ten minutes if you catch the Limited Express Wakashio line from Tokyo to Soga (2,390 yen).
Alternatively, you can take a highway bus from Tokyo as many services now use the Aqua-Line to shorten journey times. Some buses allow for a short break on the Umihotaru Parking Area so be sure to check with service providers in advance if this is something you would like to try. Buses from Tokyo take approximately 1 hour to reach Kisarazu and cost around 1,300 yen - lookout for deals to the Mitsui Outlet Park for ticket offers. Drivers can take the Aqua-Line too, enjoying the 9,610 long tunnel which is one of the longest in the world.
From Narita Airport
Narita Airport is 1.5 hours from Kisarazu City by train. Simply catch the JR Narita Line to Chiba Station and change to the JR Uchibo Line - the journey costs around 1,340 yen. There are a number of buses from the airport to Kisarazu city costing 1,700 yen and taking two hours.
From Haneda Airport
The city is a 30-minute drive from Haneda Airport along the Tokyo Bay Aqua-Line. There are a number of highway buses which are the fastest route, taking between 35 - 50 minutes depending on the terminal. The journey costs 1,250 to Kisarazu Station with tickets available at Haneda Bus Ticket Sales Counter. 

[Survey] Traveling to Japan
Recommend