Fukuoka's Must See Wisteria Garden in Kita Kyushu
Kawachi Fuji-en (Kawachi Wisteria Garden) has been selected as one of the "31 Most Beautiful Places in Japan" by America's CNN. Every year, it garners a lot of visitors when the wisteria blossoms especially because it overlaps with the "golden week" (the week of a long holiday) in Japan. It remains, however, a must-see if you are planning to visit Fukuoka from late April to mid-May.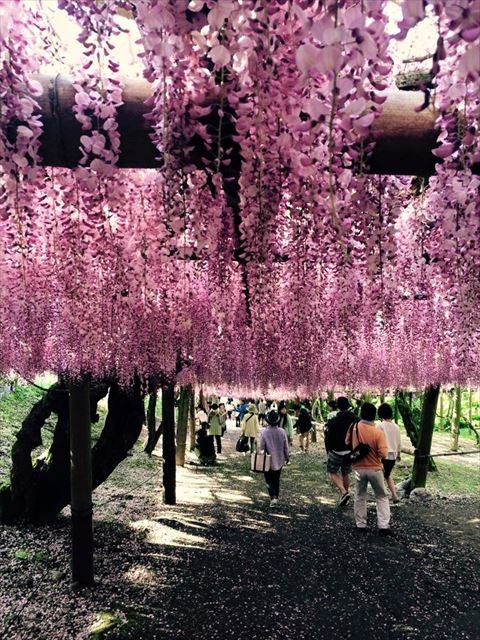 About Kawachi Wisteria Garden
The garden was opened in April 1977, which was originally idle and privately owned. The wisteria blossoms and brings the entire park to life from late April to mid-May. It is, in fact, shocking to know there are as many as 22 kinds of wisteria in the garden, with the oldest tree being 120 years old!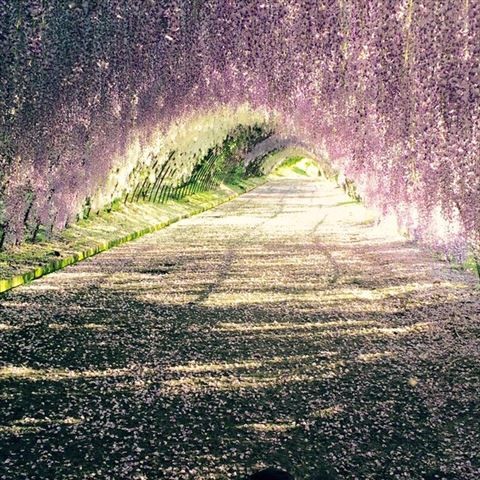 Wisteria tunnel in Kawachi Fuji Garden, Japan
The garden is 3,305 square meters large, and without a shadow of a doubt, it is famous for its huge wisteria shelf and a tunnel of color gradient wisteria trees as its Instagrammable spots. The picture here is the 80 meters wisteria tunnel.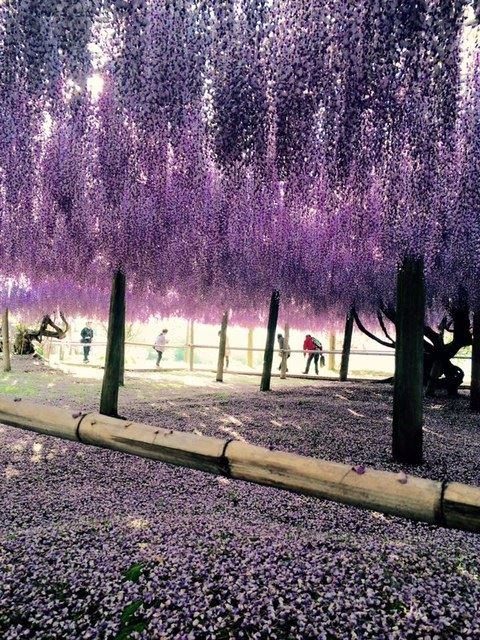 Dates & Times
The garden is open only from 8 am – 6 pm from mid-April to mid-May when the wisteria is good for watching.
For your information, the garden sometimes opens from mid-November to early December when red leaves are around.
Be mindful that the garden is closed for maintenance and visitors cannot go in during other seasons. 
Admission fees & points to note when purchasing the tickets
The admission fee for adults (18 or above) is 1,500 yen. The adult visitor (18 or above) can bring in two high school students or below for free.
Be mindful that tickets must be purchased in advance at convenience stores (Seven Eleven or Family Mart). 
Tickets are available at 500 yen (per head) at convenience stores, while the admission fee varies in different seasons.

Please pay the difference at the garden entrance for the changes of fees in different seasons;
i.e. when the fee is changed up to 1,000 yen, please pay 500  yen, and when it is changed up to 1,500 yen, please pay 1,000 yen at the garden.
Tickets at convenience stores come with a fixed day. No refund or compensation if the visitor cannot come on the selected date.
Tickets can be used on other days only when the garden is closed due to natural calamities.
Tickets at convenience stores are 2-hours tickets with 2-hour time sessions available for selection.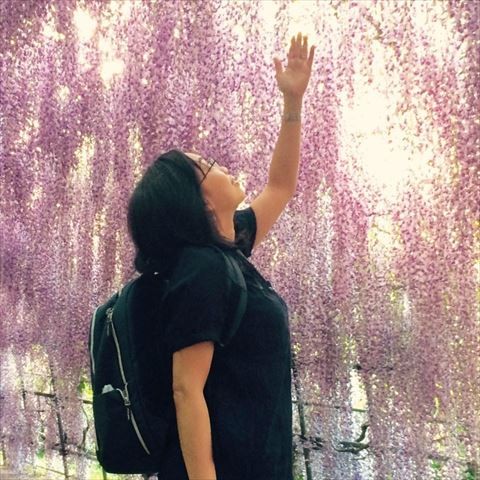 From the FUN! JAPAN Editor
I cannot easily put into words the beauty of the tunnel of flowers, but it was incredibly beautiful. The flowers were purple, pink, white. The fragrance of the flowers was like walking through a fairy-tale world. However, it was slippery with lots of puddles, so take care where you walk. There were also bees near the flowers.
Proposal: If you are worried about getting caught in traffic when traveling by car, it is best to leave home by around 7 am. But it is also difficult to find parking.
It had rained the day before, so there were some puddles in the car parks. So it is better to wear sneakers instead of high heels.
Spot Information
Name: Kawachi Wisteria Garden
Address: 2-2-48, Kawachi, Yahatahigashi-ku, Kitakyushu-shi, Fukuoka (zip code: 805-0045)
Location: 15 mins free shuttle bus from JR Yahata station (only for admission ticket holders, tickets are available in convenience stores)
Credit card: inapplicable 
[Survey] Traveling to Japan
Recommend