Famous Anime and Manga Spots on the Enoden Line in Kanagawa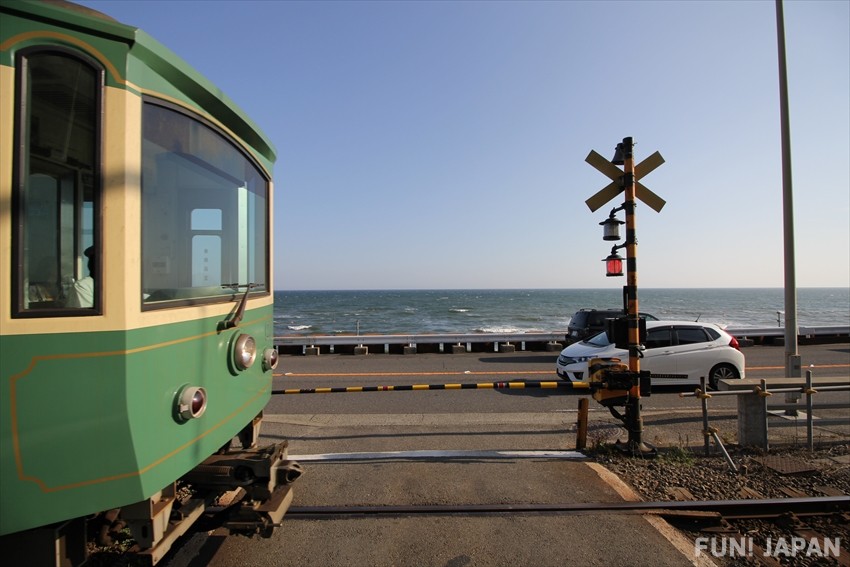 Have you ever heard of the Enoden Line that runs along the coast of Kanagawa between Kamakura and Fujisawa? Not only is the area the Enoden passes through famous for its sightseeing spots, it's also famous as a "holy land" for popular spots that are used in popular anime series. Let's take a look at a few popular series that use real-life locations near the Enoden!

Slam Dunk
Old school anime fans far and wide will surely be hit with nostalgia when they hear the name of this popular basketball anime. Slam Dunk revolves around Hanamichi Sakuragi and his high school's basketball team. The events of Slam Dunk are based in the Shonan area, and the school that Hanamichi attends, Shohoku High School, is actually based on Kamakura High School. This train crossing is right in front of Kamakura High School and is a scenic spot used not only in Slam Dunk, but many other anime as well, for its beautiful ocean view. As you can see, the location is very real-to-life, almost as If Hanamichi might appear in front of you at the crossing!
Spot Information
Location name: Kamakurakoko-mae Crossing
Address: 3-11-2 Koshigoe, Kamakura, Kanagawa 248-0033
Access: Right outside of the Enoden Line's Kamakurakoko-mae Station
TARI TARI
A series that fans of coming-of-age anime may be familiar with is TARI TARI. This series focuses on a group of high school students that are no longer children, but not yet adults, who are trying to find themselves and navigate their way to adulthood. TARI TARI also takes place along the Enoden and includes some spots you may recognize from the series.
One such famous shop that appears in the anime is the Kamakura croquette shop located in the shopping street near Kamakura Station's west exit. This shop has a long history, and was established in 1932. Their croquettes were born from a necessity to eliminate waste from the vegetables local farmers had produced. Not only are these croquette well-loved by locals, they're also popular with tourists as well. When in Kamakura, don't miss the chance to snack on Wakana's beloved Kamakura croquette.
Spot Information
Location name: Kamakura Korokke
Address: 1-12 Onarimachi, Kamakura, Kanagawa 248-0012
Access: A 1-min walk from the Enoden Line's Kamakura Station
Hours of operation: Weekdays: 10:00 a.m. to 6:00 p.m., Weekends/Holidays: 10:00 a.m. to 7:00 p.m. (Hours may change)
Umimachi Diary
Umimachi Diary is a manga that was serialized between 2006 and 2018, and later turned into a live-action movie. The events of Umimachi Diary revolve around four sisters: three who were abandoned by their father who live in the Kamakura area, and another half-sister who shares the same father and grew up in the north-eastern area of Japan. Through the tragedy of their father's death they are united, and the happenings in their everyday lives are explored as they spend time together with their newfound sibling.
Depicted in the adventures of the sisters of this series is the coastal restaurant and cafe, Magokoro. This seaside cafe offers beautiful views of the ocean while also providing delicious drinks and food items. As you can see in the photos above as depicted in this scene with Yoshino and her boyfriend Tomoaki. A particularly unique aspect of this cafe is their menu and its items made with natural and health-conscious ingredients. We hope you'll enjoy the delicious food items and beautiful oceanic views this spot has to offer next time you're in Japan!
Spot Information
Location name: Magokoro
Address: 2 Chome-8-11 Hase, Kamakura, Kanagawa 248-0016
Access: A 4-min walk from the Enoden Line's Hase Station
Hours of operation: Day: 10:00 a.m. to 11:30 a.m. Lunch : 11:30 a.m. to 2:30 p.m. Afternoon : 2:30 p.m. to 5:30 p.m. Dinner/Bar : 5:30 p.m. to 9:00 p.m. (L.O. 8:00 p.m.) (Reservations for lunch are available for 11:30 a.m. only)
Were you able to pick out some familiar locations from your favorite anime and manga? We hope you enjoyed this look into some scenic spots along the Kanagawa coast that the Enoden has to offer, and we hope you'll be able to visit them in person sometime soon!
[Survey] Traveling to Japan
Recommend