Let's Visit Dazaifu Tenmangu & the Kyushu National Museum!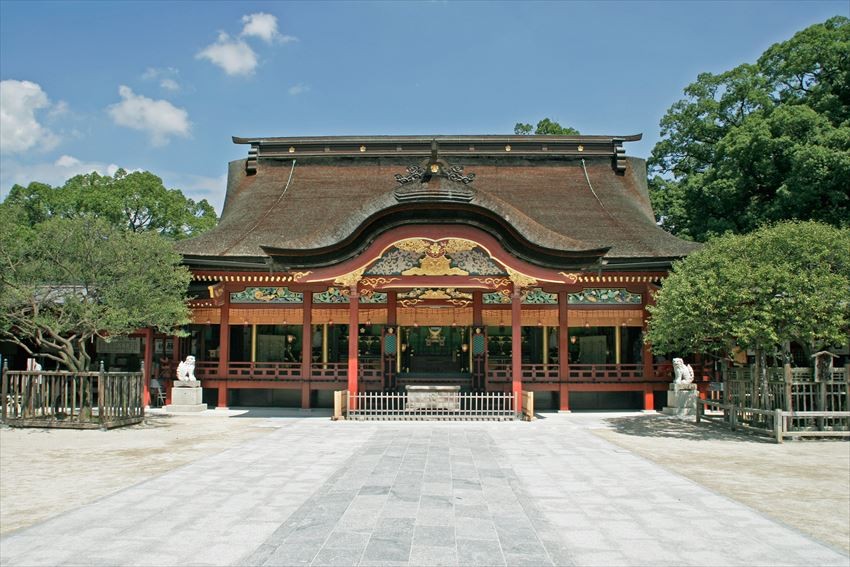 Dazaifu has prospered from ancient times as a location of administration, diplomacy, and defense. It's absolutely filled with cultural and historic sites, perfect for sightseers. In this article, we're going to be introducing some spots around and within both Dazaifu Tenmangu and the Kyushu National Museum.

Let's Visit the Deity of Learning
Dazaifu, which was established in the late 7th century, is the administration for things such as diplomacy and defense, as well as the group of islands that surrounds Kyushu, Iki, Tsushima, and Osumi, a very important local administrative organ we're sure you agree.

Dazaifu is filled with cultural and historic sites such as Dazaifu Tenmangu that sees over 10,000,000 people visit every single year.

Dazaifu Tenmangu holds the spirit of Sugawara Michizane. Sugawa Michizane was born in Kyoto in the year 845 and was known as a genius of both poetry and study from his younger years, he was also appointed to the imperial court during the reign of both Emperor Uda and Emperor Daigo. However, due to false charges relating to politics, he was relegated to Dazaifu, where he passed in 903 before being buried. To stand as the proof and testimony of Sugawara Michizane, he was gifted the divinity of Tenma dai jizaitenjin. Since then, he has been referred to as a deity, one that is devoted to helping people with their studies.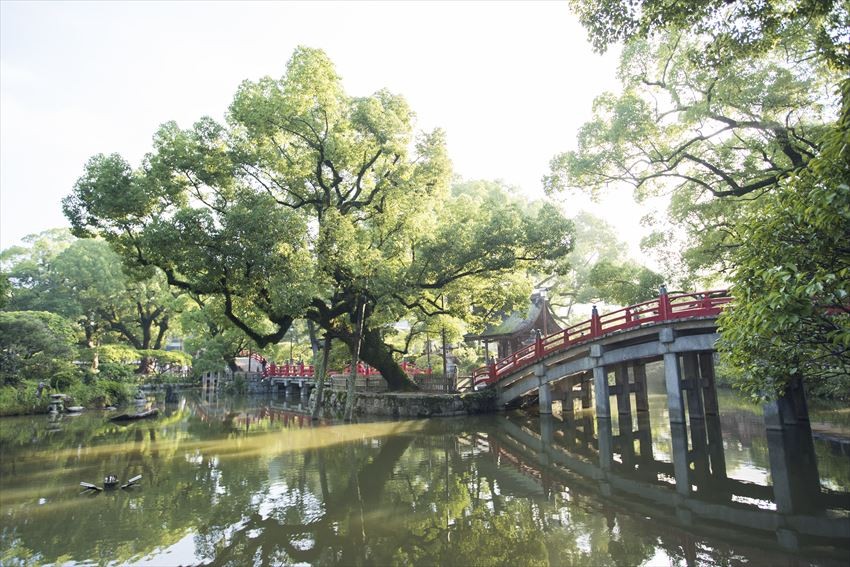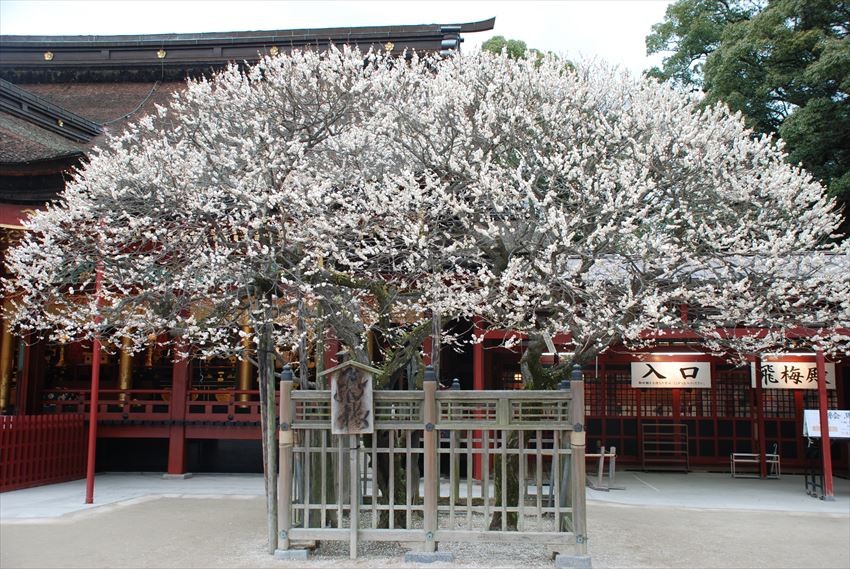 When visiting Dazaifu Tenmangu, the first thing you must do is "Temizusha" which is the act of washing not only your hands but your spirit as well. There is a method for this, so let's try and remember it.

Ladle water into the scoop and first wash your left hand.
Take the scoop with your left hand and wash your right hand.

Take the scoop once more into your right hand, pour the water into your left hand then from that hand into your mouth where you will rinse your mouth. Ensure you don't touch the scoop with your mouth or drink the water.
There is also a method of worshipping at the shrine. After cleaning your body with the aforementioned method, head towards the main shrine. The road approaching the shrine is said to be the road of the deities, and you are not supposed to walk in the center as that is where the deities themselves walk. Even if you visit as a group, make sure to not cause a fuss, and walk quietly towards the shrine. The method of worship is known as "nihai nihakushu ippai".

Once you reach the shrine, ready your form, and perform a very slight bow.
From an upright position, perform a 90-degree bow 2 times from the upper body.
Bring both your hands together in front of your chest and clap twice, then pray with your hands together.
Finally, lower both of your hands, and bow once more before leaving the shrine.
There are many historic and cultural buildings, treasures, and ceremonies that occur here. Anyone is allowed to take part in these ceremonies, so make sure to check the official homepage linked below to see if there will be any events during your visit.

Dazaifu Tenmangu & Art
Dazaifu Tenmangu is said to not only hold the spirit of the deity of study, but also the deity of culture. Furthermore, it has deep connections with classic Japanese poems, poetic dialogue, Japanese classical drama, and paintings and calligraphic works.

Thanks to this, the Dazaifu Tenmangu Art Program was created in 2006, inviting artists to have exhibitions of art pieces from materials made within Dazaifu.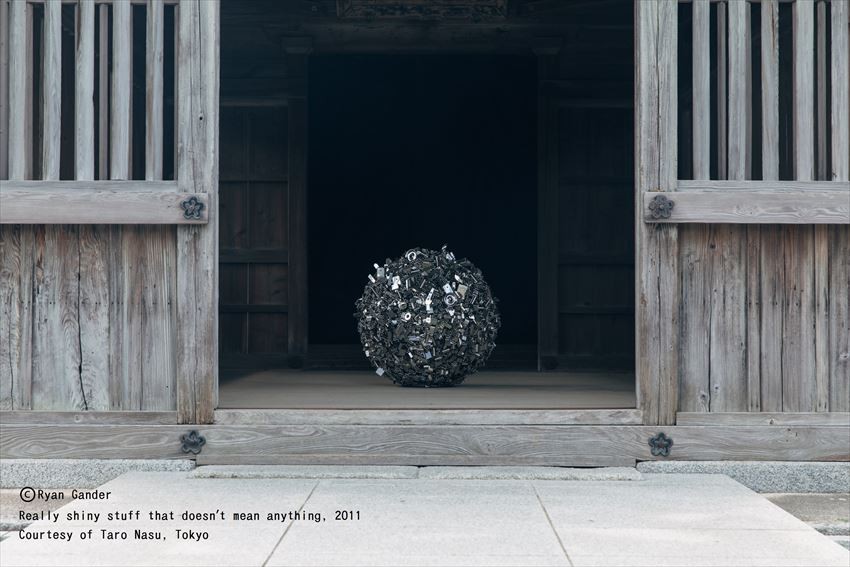 Dazaifu Tenmangu is actually highly related and connected to the Kyushu National Museum. In 1873, 74, and 75, Nishitakatsuji Nobukane had three exhibition fairs for Dazaifu. Various treasures from within the shrine were put up for exhibition to the general public, and it allowed many people to connect with the art forms.

After this, a proposal was made to set up the "Chinzen Museum" in Dazaifu, which adopted the idea of those exhibitions. It was approved by the government, but it was not realized due to the outbreak First Sino-Japanese War. In 1971, over 50,000 tsubo (around 140,000 square meters) were donated to Fukuoka prefecture by Dazaifu Tenmangu as a museum site, which eventually led to the opening of the Kyushu National Museum in 2005.

How to Get to Dazaifu Tenmangu
Access:5-minute walk from Dazaifu Station
Address:4-chōme-7-1 Saifu, Dazaifu, Fukuoka 818-0117
Gate Opening:Vernal Equinox Day to Autumnal Equinox Day 6:00 / Else 6:30
Gate Closing:Apr・May・Sep・Oct・Nov  19:00
                 : Jun・Jul・Aug 19:30 


                 : Dec・Jan・Feb・Mar 18:30
*Dec 31st the gates open at 6:30, open 24 hours over the new years period, Jan 4th closes depending on situation
Capturing a Formation of Japanese Culture in the Perspective of Asian history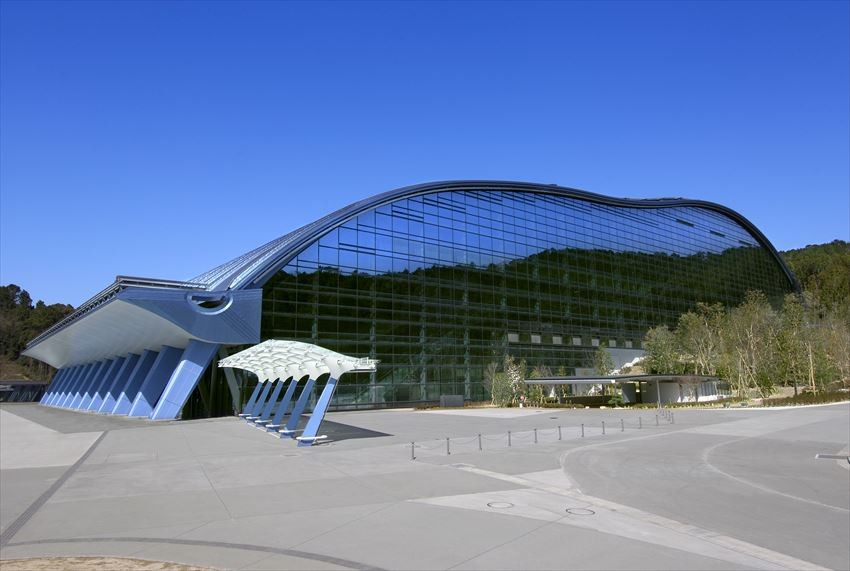 Kyushu National Museum was the 4th national museum after Tokyo, Kyoto, and Nara built in 2005 next to Dazaifu Tenmangu. The concept of the museum is "Capturing a Formation of Japanese Culture in the Perspective of Asian history". Due to this, many of the exhibitions show history from various Asian regions across the world.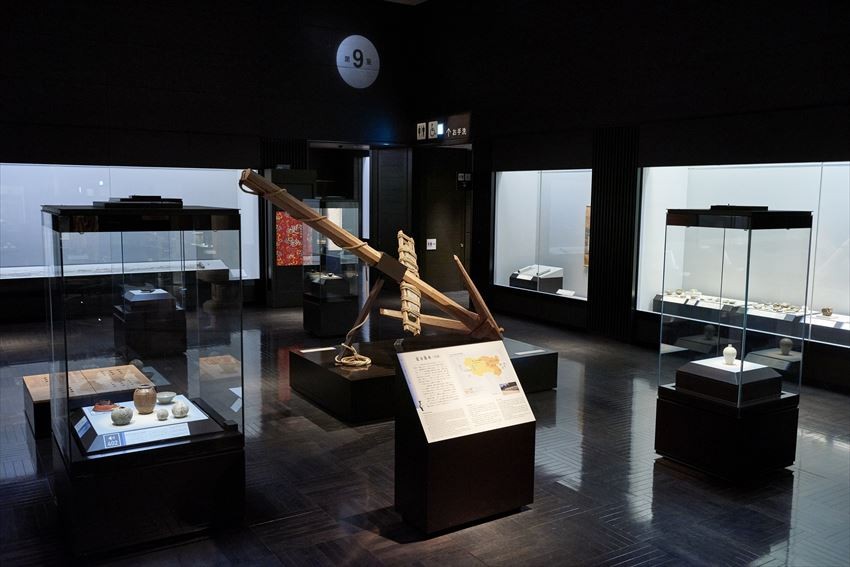 Within the cultural exchange exhibition room, you'll find many stone-age tols and weapons as well as items from the Edo period of Japan, there are typically 11 exhibition rooms used, and the exhibitions themselves are constantly changing.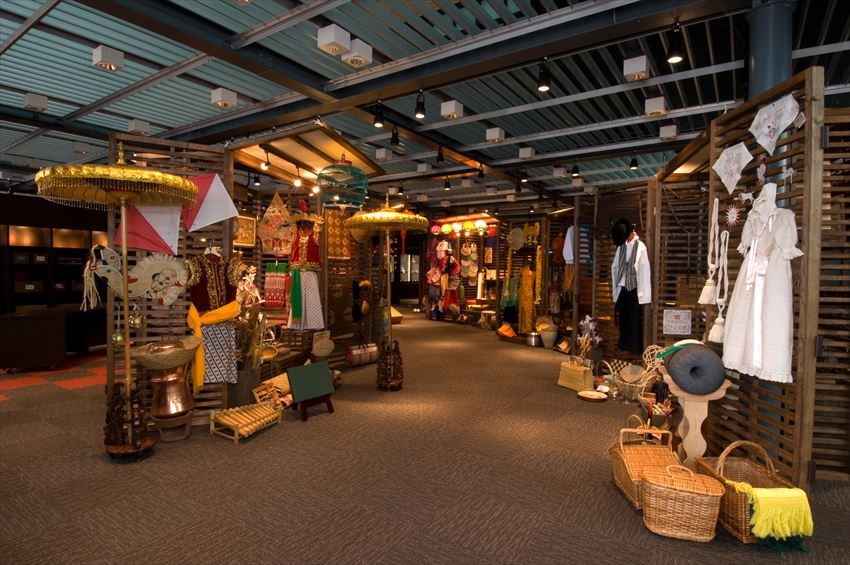 This large-scale facility allows you to get up close and personal with the exhibitons, see the musical instruments and other tools and learn about what they are using the "Ajippa" interactive exhibition gallery. For an outline on what is currently being exhibited, check out the official Kyushu National Museum homepage found below.  We're sure you'll find an exhibition that interests you.

How to Get to Kyushu National Museum
Access: 10-minute walk from Dazaifu Station
Address:4-chōme-7-2 Ishizaka, Dazaifu, Fukuoka 818-0118
Open Hours:9:30〜17:00
Holidays:Mondays (In the event that monday is a public holiday, the following day will be closed)
Entrance Fee / Exhibition Fees:Cultural Exchange Exhibition Adult 700 JPY, University Student 350 JPY / Special Exhibitions incur a seperate fee(It is possible to see the cultural exchange exhibitions after paying the special exhibition fee, 

Ticket window accepts credit cards and electronic payment methods (asoview!, LINE TICKET etc.).
How did you find this article? Many foreign visitors come from all over the world to visit Dazaifu Tenmangu and the neighbouring Kyushu National Museum. If you're heading to Dazaifu in the future, you should definitely take a trip to these 2 amazing locations!

[Survey] Traveling to Japan
Recommend