Visiting & Making Use of Hakata Station, the Starting Point of Sightseeing in Kyushu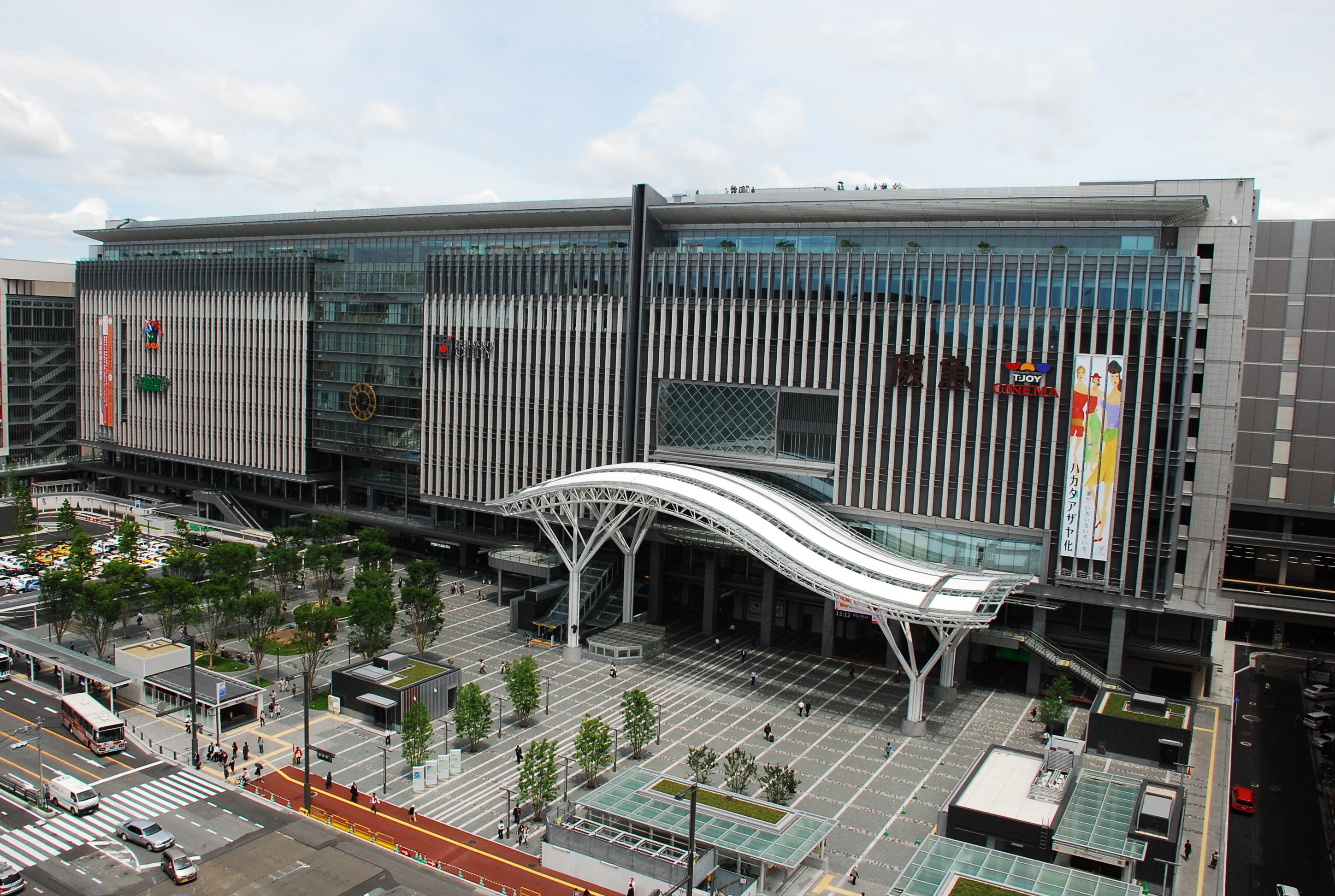 Hakata Station can be found in Kyushu's largest city, Fukuoka, and allows access to all of the central spots around the prefecture, it's the perfect hub and starting point for people wanting to sightsee. Let's take a look at some of the services and methods you can use at Hakata Station to make the most out of your stay.

Plan from Hakata Station
Hakata Station is the entrance to Kyushu's railway system. It's located very conveniently, close to both the business district and Tenjin. Its railway lines span from Fukuoka Airport to the Fukuoka City Subway-Kuko Line taking only 5 minutes for people arriving at the airport to make it into Kyushu.

Hakata Station is a location that allows you to visit all of the different places around Kyushu. Including the attached bus terminal, we highly recommend using this as your base of operations when visiting Kyushu.

Getting Information about Hakata
If it's information you're wanting, make sure to visit the information center found in the center of JR Hakata Station's concourse. You can obtain information about sightseeing locations around the city as well as about various locations across Kyushu, transport, JR, lodging, rental cars, and any other information you may require during your journey, all in 1 location.

Multilingual staff are available here that speak both English and Korean. The business hours are from 8:00 - 21:00, so make sure to visit here first when you reach Hakata Station.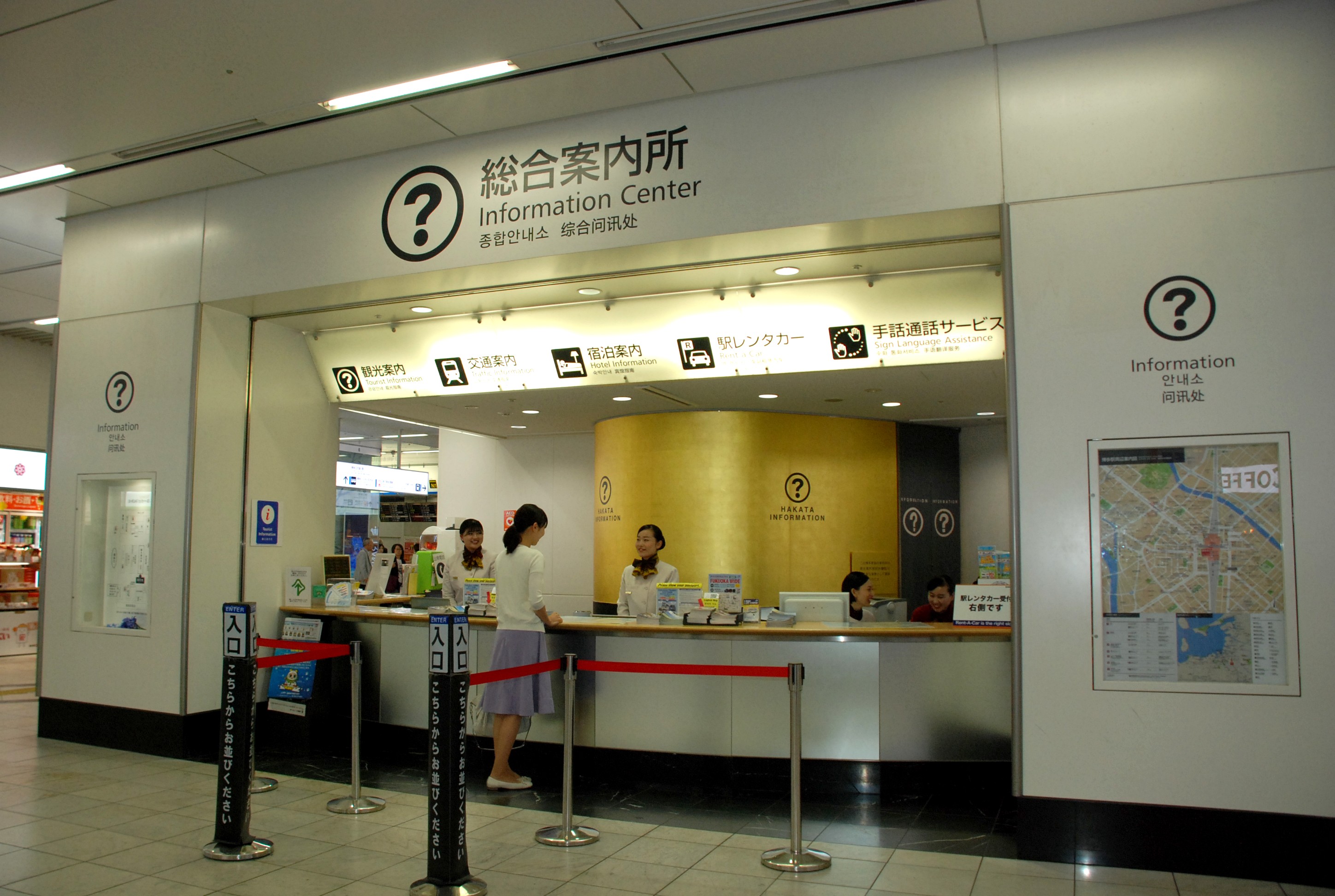 Currency Exchange at Hakata Station
The TiS Hakata Store is very useful for this and can be found close to the Shinkansen Hikari space. You're also able to exchange currency at the Fukuoka Bank in front of the station.

Coin Lockers within Hakata Station
If you've arrived a little early and still can't check-in at your hotel or lodging, making use of the coin lockers is a great idea, then you can explore the station and surrounding facilities including restaurants, cafes, stores, and much more while you wait. Here are some locations of large-scale coin lockers that are able to store things such as suitcases etc.

Next to the central ticket window
Location:Can be found on the left side of the JR central ticket window
Ming 1F Coin Locker West
Location:Can be found on the right after exiting the JR North Ticket Window. Close to the entrance of Ming.
Chikushiguchi-dori Entrance Coin Locker
Location:Found at the entrance to Chikushiguchi-dori
Chikushiguchi-dori Outdoor Coin Locker
Location:Found on the left after exiting Chikushiguchi-dori
Hikari Space Coin Locker
Location:Found at the Hikari Space
JR Hakata City Coin Locker
Location:Can be found on floor B1 of the Amu Plaza, 9F, 10F, DEITOS BF1, and 1F
Third Floor Ticket Window Coin Locker
Location:Can be found on the way to the ticket window on floor 3 of the Amu Plaza on the left side
Enjoy the Station & Station Buildings
Within the station building "JR Hakata City" which is directly connected to Hakata Station, there are 5 unique facilities available being "Amu", "AMU EST", "Hakata DEITOS", "DEITOS ANNEX", and the "JR Kyushu Hakata Station Information Center". Here you can find some of Japan's largest department stores such as Hakata Hankyu or Tokyu Hands, as well as one of Japan's largest restaurant floors "City Dining", and much more including clothing stores, general goods stores, cafes, etc. There's something for everyone!

JR Hakata City Secret Spots!
On the roof, you'll find a rooftop garden known as tsubamenomori hiroba which has the four seasons as its theme. There are many more secret and little-known spots here which can be enjoyed by children and adults alike.

"Tetsudo Shrine"
This shrine is dedicated to wishing for the safety of travel. Within Omotesandō you'll find the torii gates lined up in the order of "Stars", "Luck", and "Dreams". The "Star" gate gets rid of the devil's and demon's influence, the "Luck" gate brings about good fortune, while the "Dream" gate brings about good opportunities, all of these together are said to ensure a safe journey.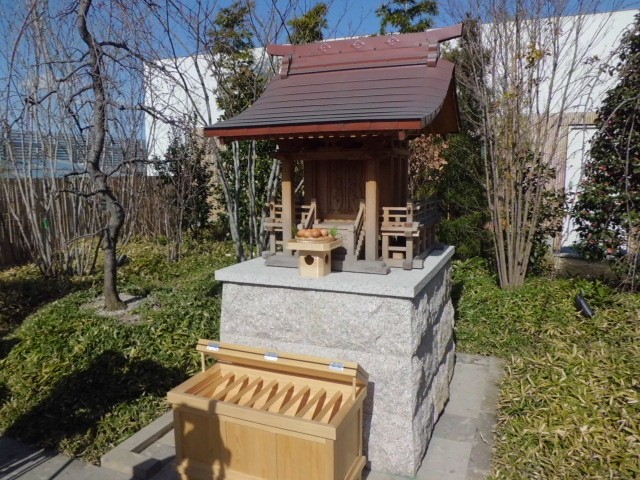 "Train Exhibition Space"

From here you're able to look at the trains coming and going from Hakata Station from 60 meters above the ground.
"Tenku Space"
There are flower beds here that have many different and unique flowers for each and every season. You're able to walk around as well as sit down and enjoy lunch here.

"Tsubame (Swallow) Train"
Eiji Mitooka, who designed the JR Kyushu luxury cruise train "Nanatsuboshi" designed these 3 miniature trains being the "Tsubame (Swallow) train", "Kuro (black) train", and "Dream Tsubame", which run on a rotation, both children and adults can ride these trains.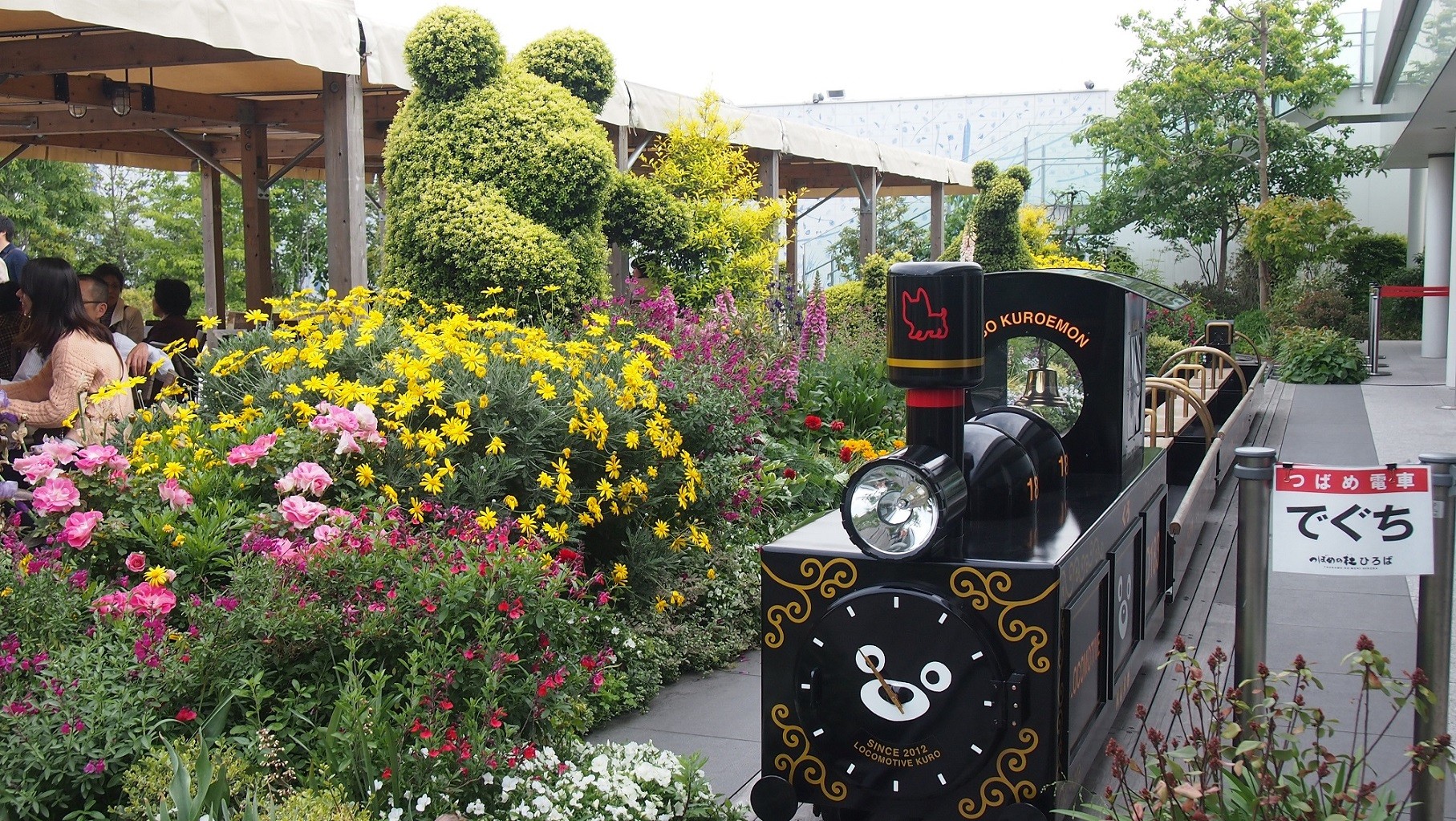 "Lookout Terrace"
From this terrace, 60 meters above the ground, you're able to look out onto Fukuoka townscape, see Hakata Bay, and see the distant mountains.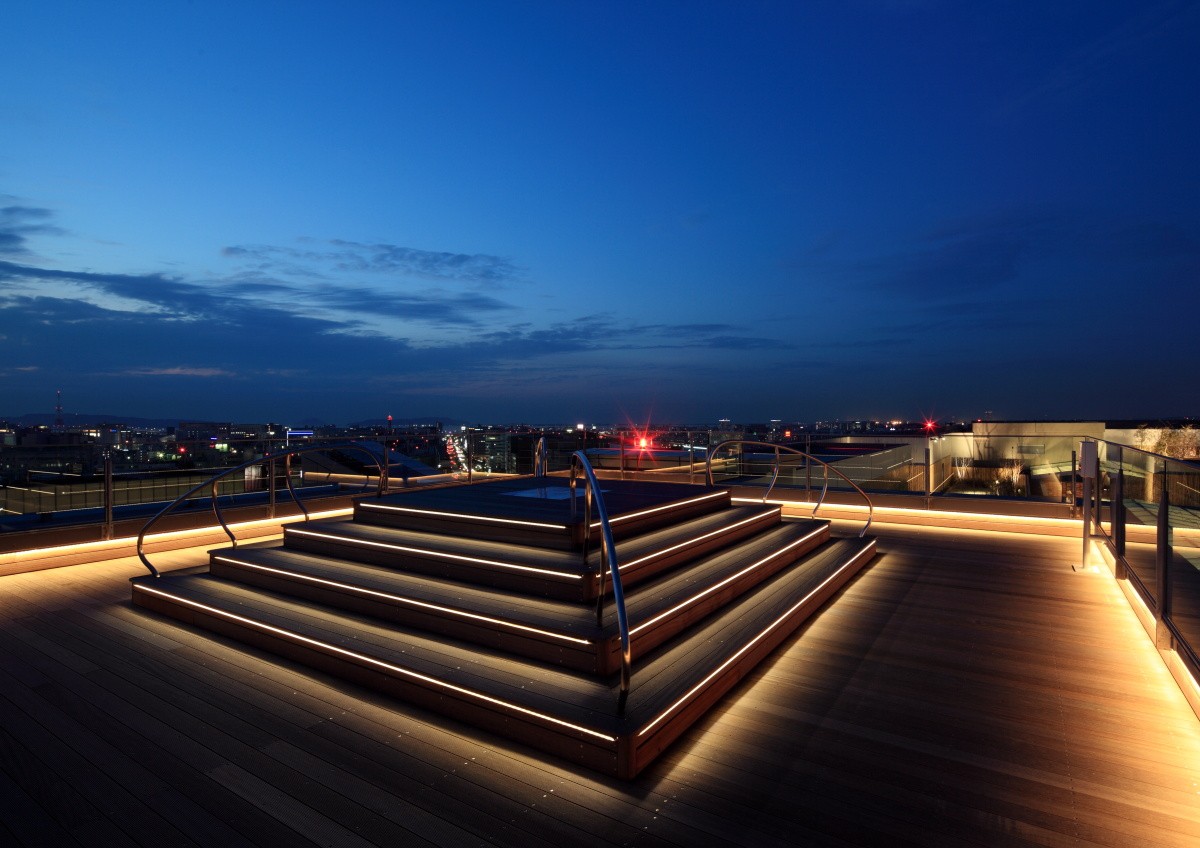 The "Kuro-chan Hiroba" is a large space that is associated with JR Kyushu's "Aso Boy" character "Kuro-chan". There are railings in place to ensure children under the age of 6 can play without worry.

Within JR Hakata City, you'll find many enthusiast stores relating to the railway. One of these is "Popondetta​" which you'll find on floor 8 of the Amu Plaza Hakata. It contains N scale and HO scale train models as well as various goods and materials relating to the railway. There's even a giant diorama in the store, so if you're a fan of railways, it's a must-visit.

An Amazing Collection of Ramen & Hakata Udon Restaurants
Next to the Shinkansen Hikari Space, you'll find the "Hakata Noodle Highway" which is a large collection of various Ramen & Hakata Udon Restaurants, some of which are very famous! If you come here, make sure to pick up some of Hakata's famous ramen and noodle-related dishes which you're able to walk around and eat as you explore the area.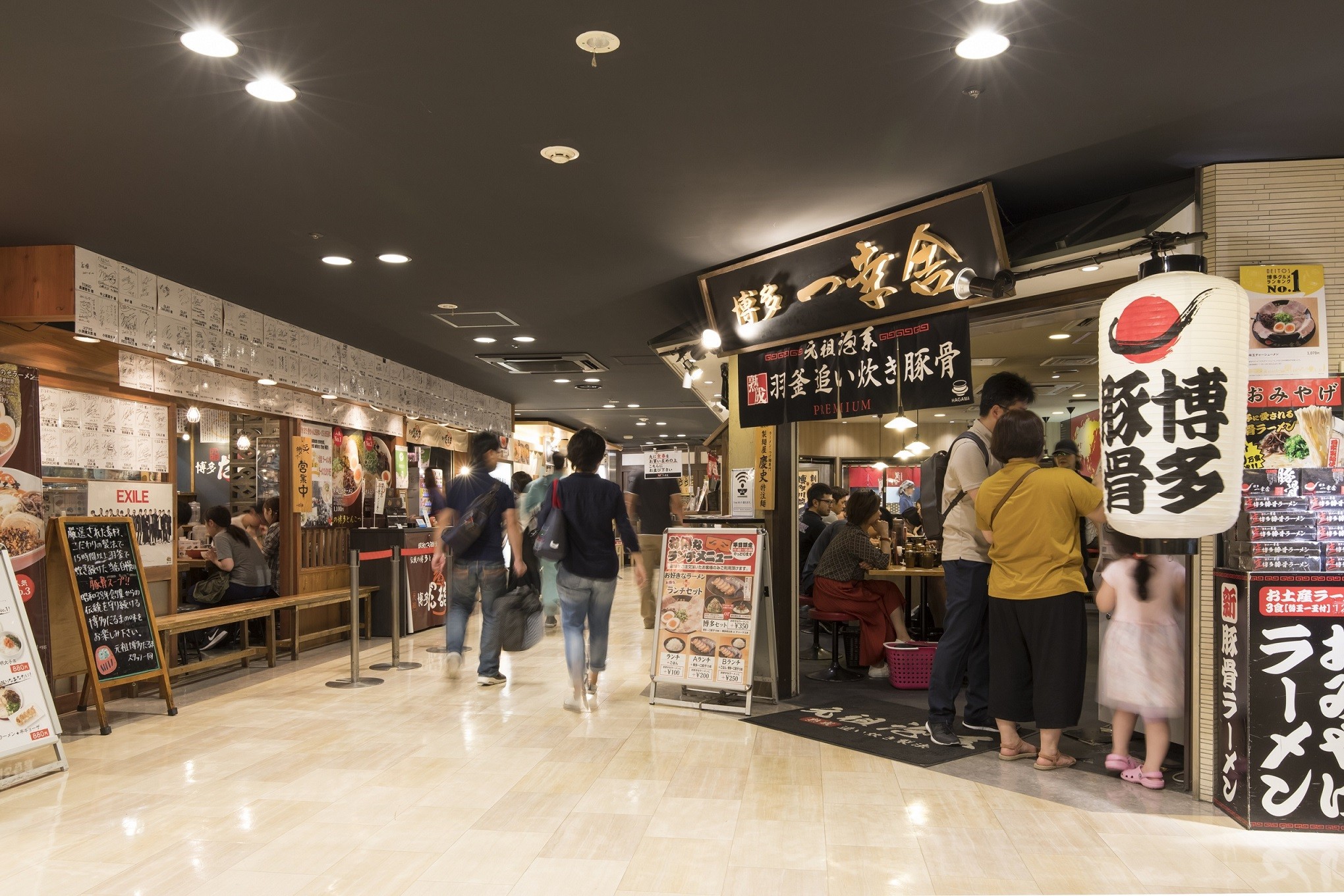 When visiting Fukuoka, use Hakata Station as your central point during sightseeing, and make sure to explore the surrounding buildings and facilities that are available. Don't forget to take lots of commemorative photos and pick up some souvenirs to show friends and family back home!

[Survey] Traveling to Japan
Recommend