Enjoy a Stunning Panoramic View from Fukuoka Tower! See New Sights at Both Noon & Night!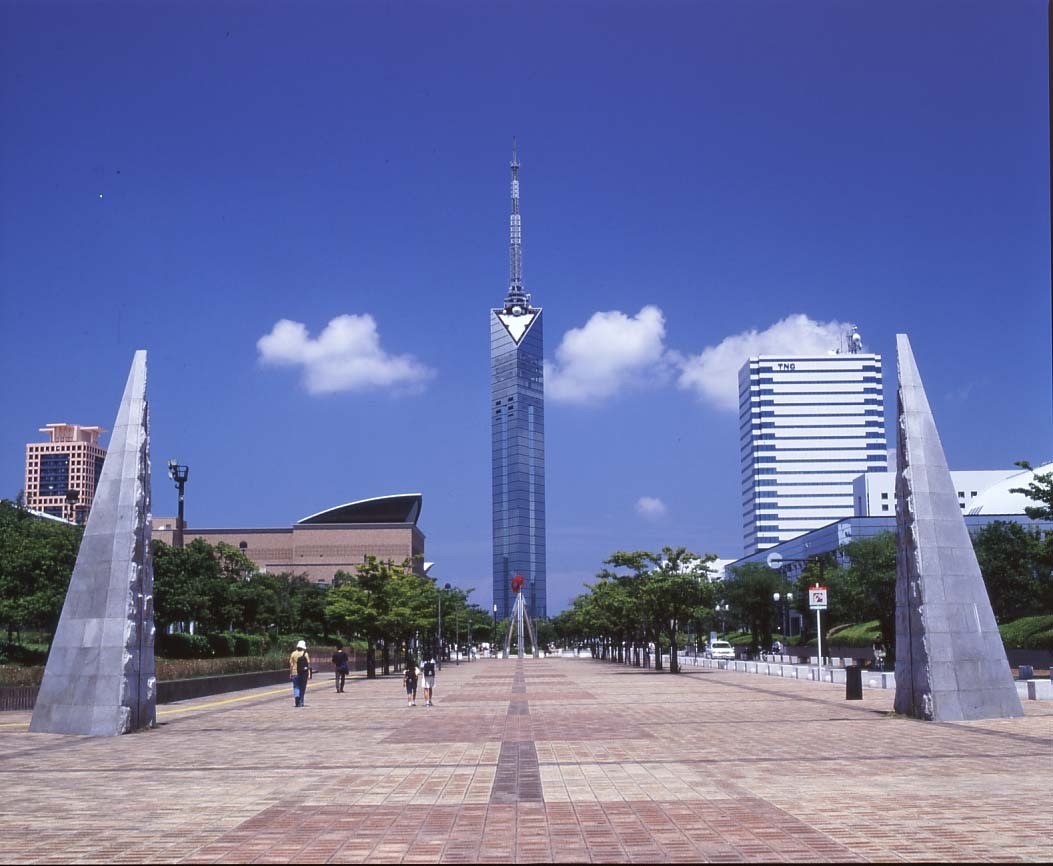 Fukuoka Tower stands tall at a height of 123 meters and allows its guests to see stunning panoramic views at 360 degrees. Enjoy entertainment in the sky, gaze at the stars while enjoying delicious foods, there are so many ways to enjoy this amazing spot. There's even a special present package available that allows you to surprise your loved ones with an illumination light-up!

Enjoy 3 Floors of 360 Degree Panoramic Views Looking Over Fukuoka
Fukuoka Tower was established in the year 1989 as a monument to the "ASIAN-PACIFIC EXPOSITION" and is a seashore radio tower that stands 234 meters tall.

On the 3rd floor which stands 123 meters above ground, you're able to look out onto Fukuoka's townscape, Hakata Bay, and much more in a 360-degree panoramic view that's hugely popular with the locals and tourists alike.

Alongside the panoramic view, you'll find a VR (Virtual Reality) facility known as "SKY Walk 123" available to try. With this equipment you're able to fly over various popular tourist attractions in Fukuoka and see the images in real-time through your own eyes, you can even control the drone yourself with the provided controllers.

The 3rd floor also has a stamp rally for 6 popular sightseeing spots that you can find. If you find them all, you're able to use them for special benefits at the Sky Cafe & Dining.

Enjoy Sky-related Fun at SKY Play 116
You can enjoy various different types of entertainment on the 1st-floor observation deck.
At "SKY Gacha" you're able to try your luck at getting a ball from the huge machine! There are 7 different types of Kyushu figures in these capsules for you to try and obtain.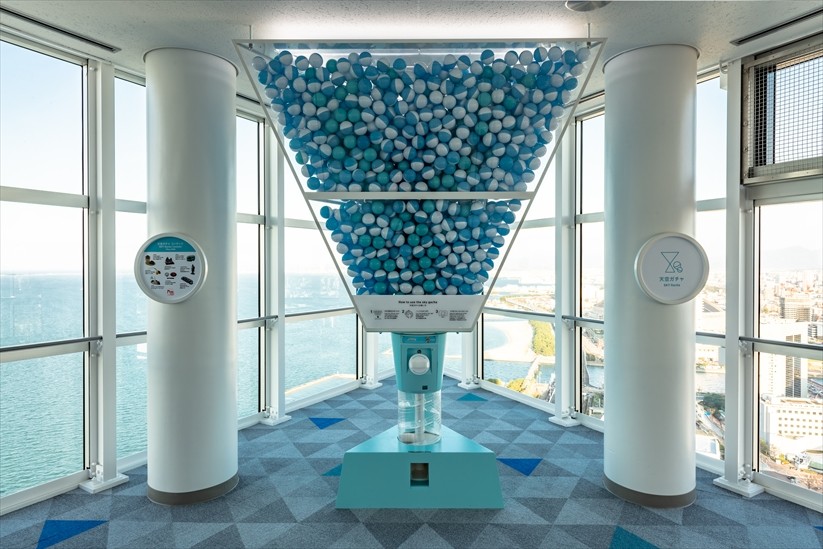 At "Omikuji Pinball" you're able to shoot a ball up to the sky with the sound of the Hakata Gion Yamakasa Festival! There are pinball machines with designs of Fukuoka's various popular sightseeing locations. Or maybe try your luck buying a fortune slip which is written in Hakata Dialect.

At the VR Window, there's the "Happening Window" where a UFO might suddenly appear! It's a fun little attraction that shows the town in real-time alongside the new and exciting elements.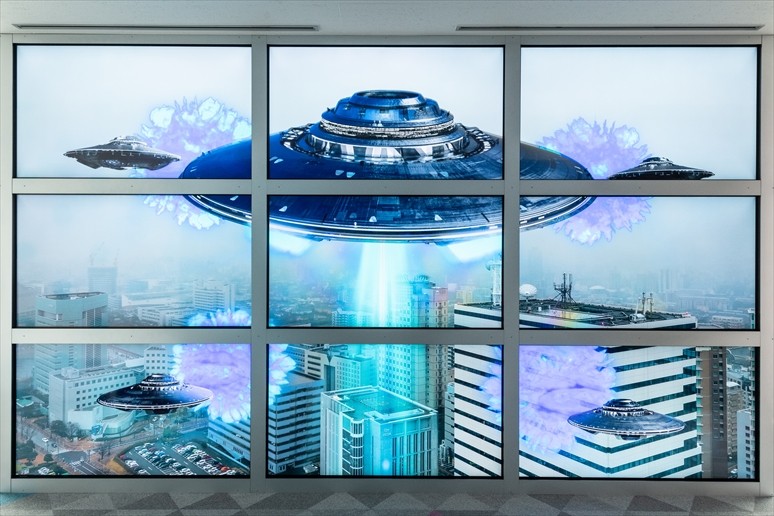 At SKY Play 116 you'll also find a giant heart where you can take pictures with Fukuoka's townscape in the background to commemorate your trip. Around this heart, you'll find what is known as the "Fence of vows" where you can purchase and place one to ensure the long-lasting love of you and your partner. These keys can be bought at the vending machine on the same floor. All of the love keys placed on the fence here are taken within 2 years and brought to a shrine where they will have their prayer fulfilled.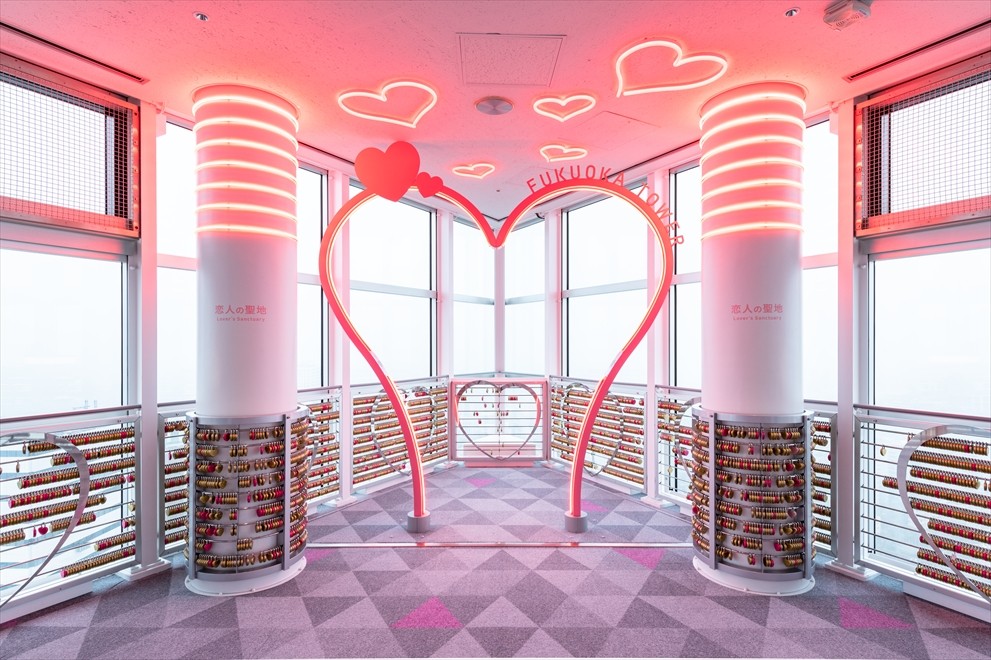 You can also receive a message from the goddess of the moon who will tell you and your partner's fortune.

Surprise Illuminations!
On the 3rd floor's flooring, you'll find various luminous stones scattered, and when night falls, they shine like the stars.

This is a once-in-a-lifetime experience you can have nowhere else, enjoy the beautiful stones alongside what has been picked as "One of the top 100 night scenes" across the whole of Japan. If there's ever a time to take some pictures, it's during this event!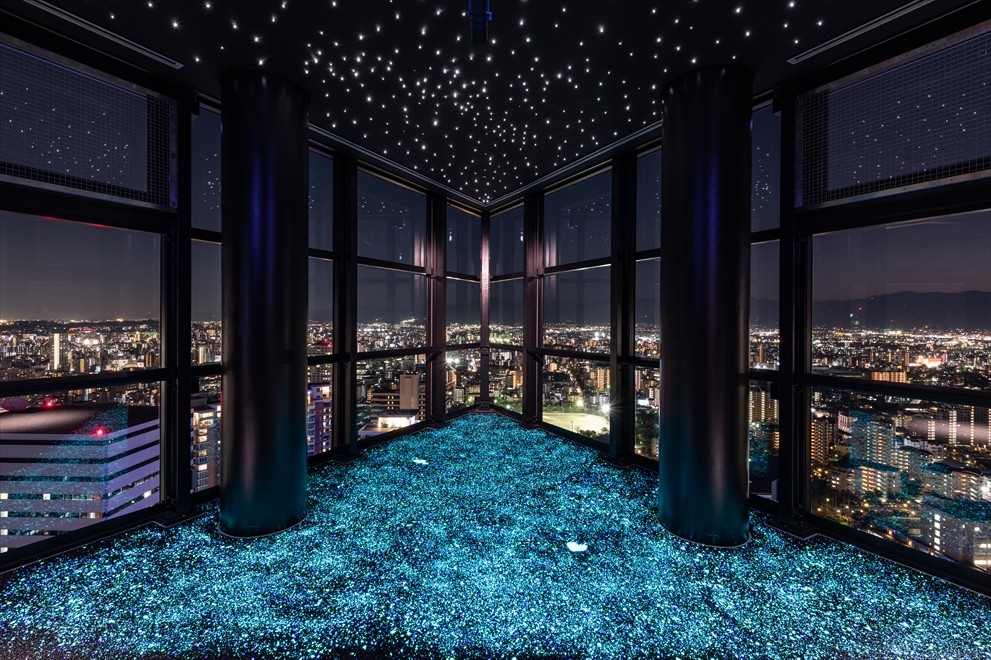 Don't forget to take a break and enjoy a delicious meal at the SKY Café & Dining Refuge 120 meters above the ground where you can look out onto Fukuoka. Business hours are from 11:00 - 21:00. Not hungry? How about enjoying a delicious cocktail or glass of wine to relax?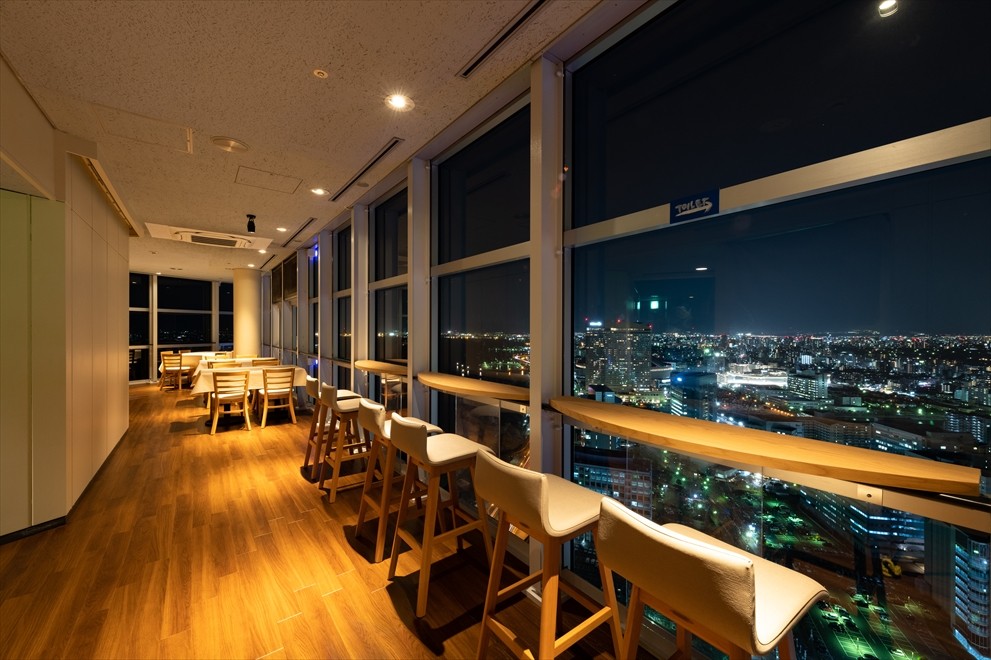 Fukuoka Tower changes its look depending on the season you visit, it has various different types of illuminations and even offers 1 lucky group of people the opportunity to choose what color to light it up per day. There are many colors to choose from including yellow, green, blue, red, purple, orange, and pink, it costs 30,000 JPY to turn the entire tower into this color for 10 minutes. Perfect if you're trying to surprise your loved one with their favorite color during your trip.

This service is offered until 22:00. Light up is 10 minutes. Payment must be made via credit card and can be reserved on the official website to a day of your choosing.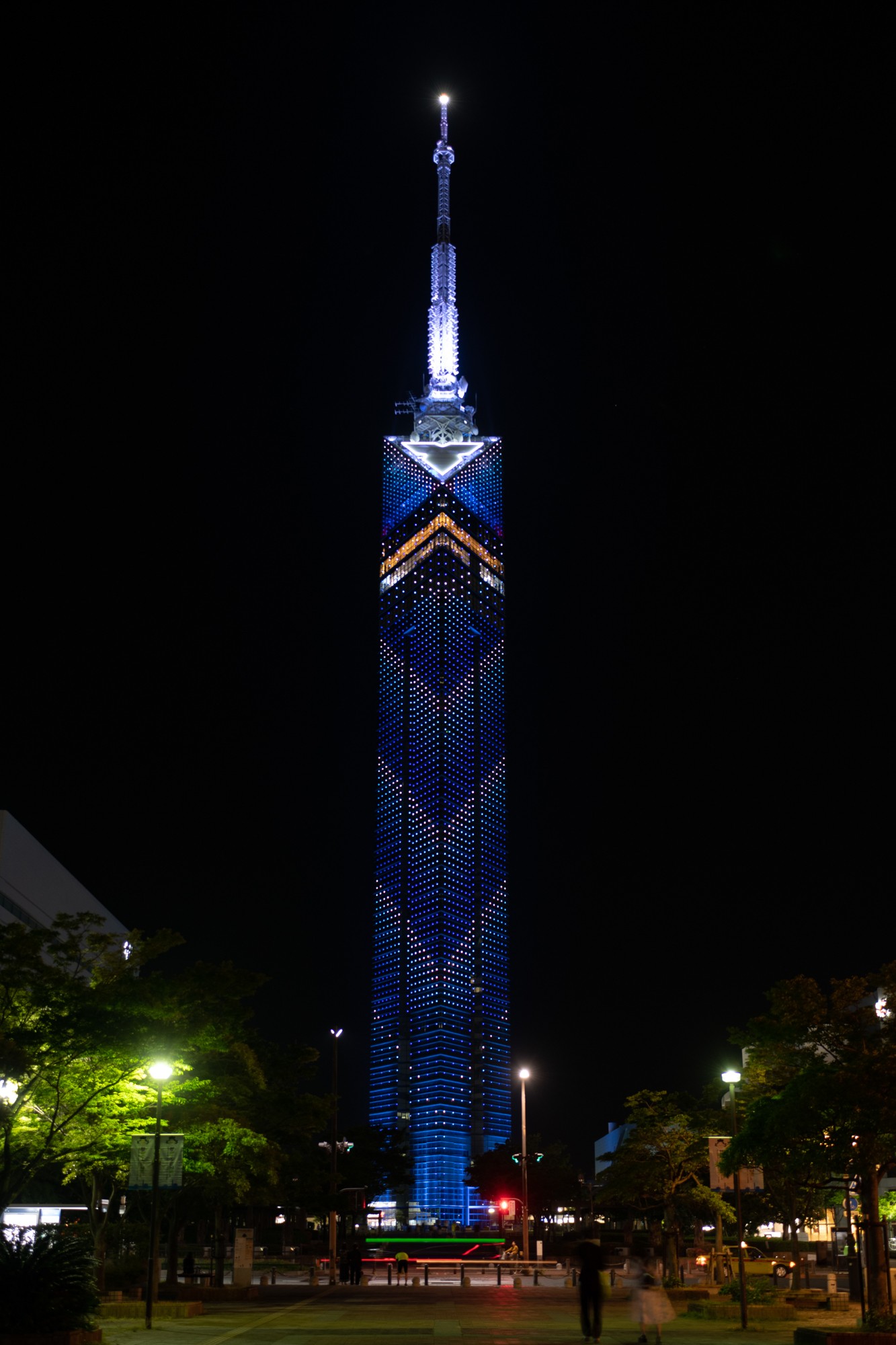 So, how about it? Visiting this amazing location is a must during your next trip to Fukuoka! 

Fukuoka Tower
Access:

Get on the Nishitetsu Bus 306 Keito from Hakata Bus Terminal 6 until the Fukuoka Tower Stop
Get on the Nishitetsu Bus W1/306 Keito from Tenjin Bus Center 1A until Fukuoka Tower Stop
20-minute walk from Fukuoka City Subway-Kuko Line Nishijin Station
Get off at Nishijin Station then ride the Nishitetsu Bus from in front of Nishijin Palace until Fukuoka Tower Stop

Business Hours: 9:30 〜21:00
Fee: Adult 800 JPY, Elementary + Middle school Student 500 JPY, Infant(4and above)200 JPY
Payment via Credit Card / QR Code available
[Survey] Traveling to Japan
Recommend