Feel Your Favorite Disney Characters Close - Disney Ambassador® Hotel Rooms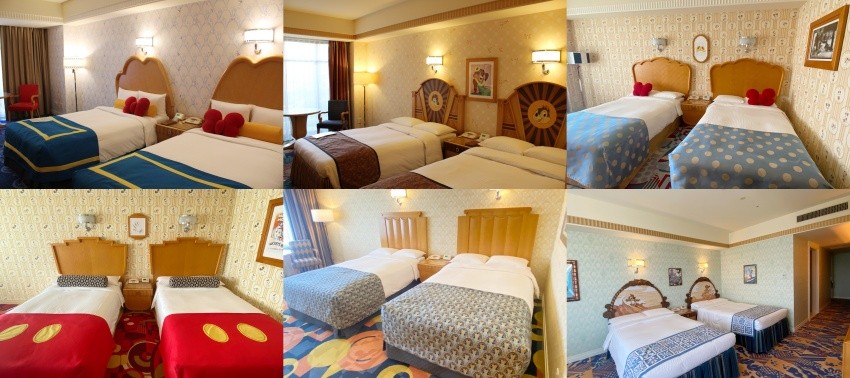 Just an 8-minute walk from JR Maihama Station you'll find Disney Ambassador Hotel® which is adjacent to "IKSPIARI", it has 504 rooms in total and has an art deco architectural design. You can feel your favorite Disney characters closer than ever before in their character-themed rooms. It's almost as if your loved characters are sleeping right there with you! In this article, we are going to introduce all of the different types of rooms you'll find in Disney Ambassador Hotel®! No matter which you see, we're sure you'll unknowingly shout out "That's so cute!". 

Mickey Mouse Room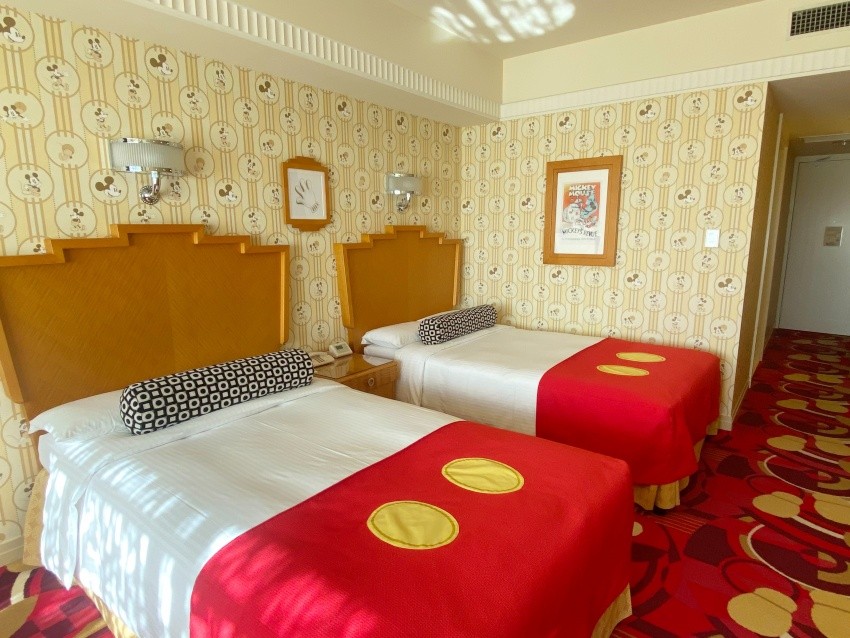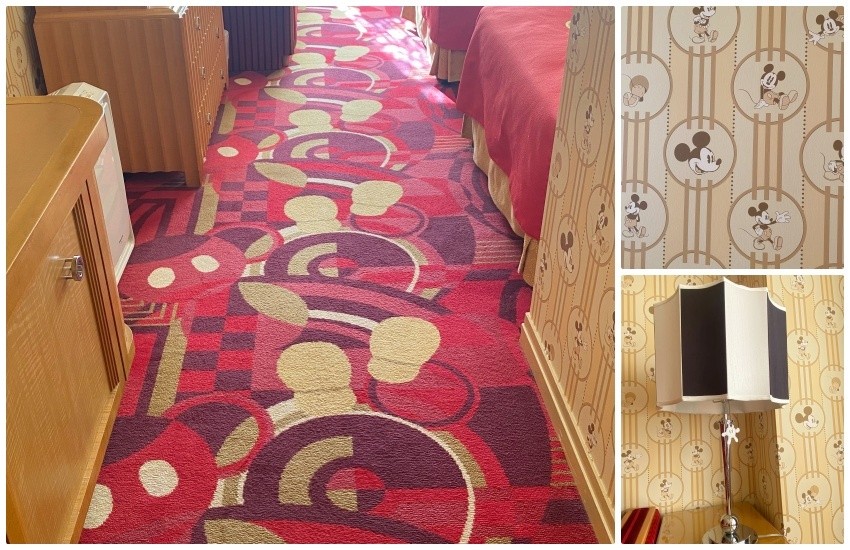 The first room on our list is a Mickey Mouse themed room. The first thing you'll notice is a bright red bed throw inspired by his costume! The carpet looks as though Mickey Mouse himself has walked around the room countless times. The wallpaper is great because it has Mickey Mouse in lots of different expressions and poses, so it's fun to look at them all and see how they're unique! Make sure to check out the lamp switch, it's Mickey Mouse's glove!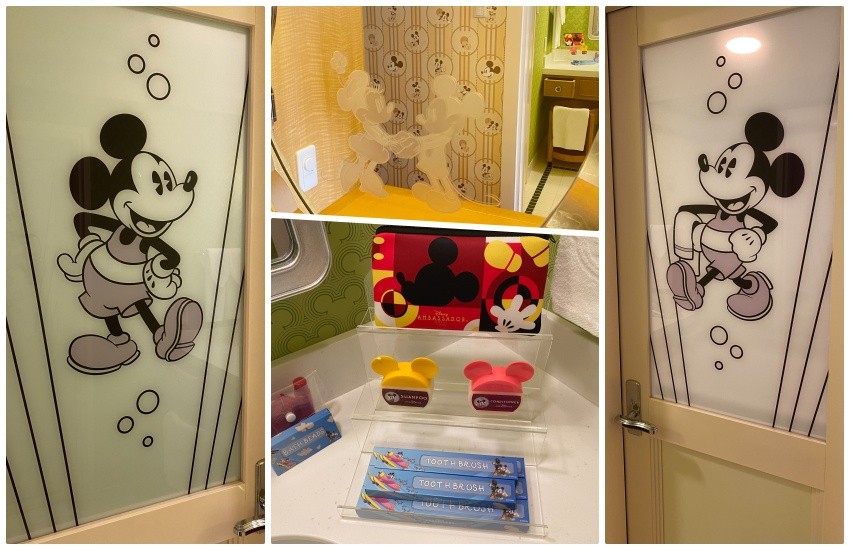 The mirror in the bathroom has a Mickey and Minnie design. There are many different illustrations of Mickey Mouse you'll find around the room, all of which are cute. There is even an original-design Mickey Mouse pouch that only guests staying in this room can recieve.

Minnie Mouse Room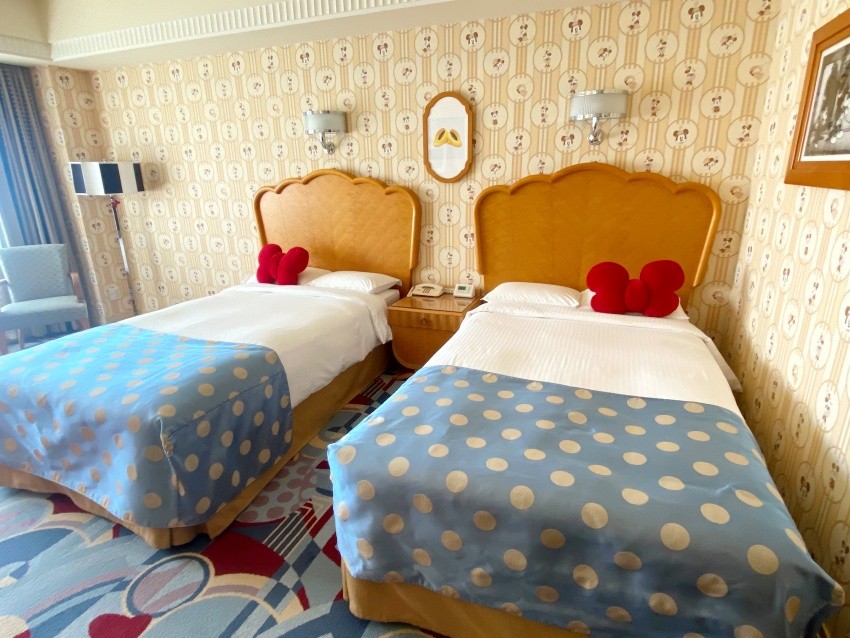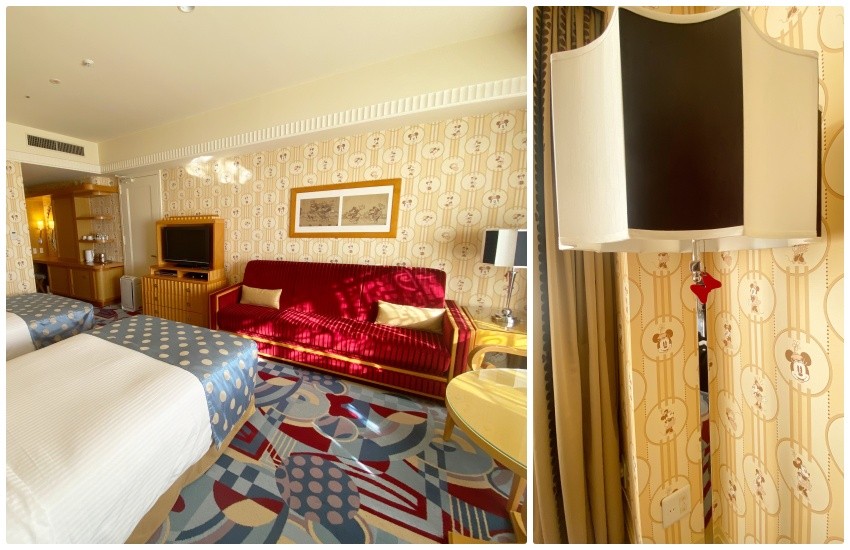 This is a room with Minnie Mouse as the theme. When thinking of Minnie Mouse, you'll typically think of bright red color, but this room has a motif of Minnie Mouse when she first made her TV debut. Both the bed throw and carpet have an aqua-like color. You can find red ribbon cushions, which further let you feel the existence of Minnie Mouse. The switch for the lampshades that can be found in the Minnie Mouse room is Minnie Mouse's ribbon, and you can find Minnie in various poses along with the wallpaper, see if you can spot them all!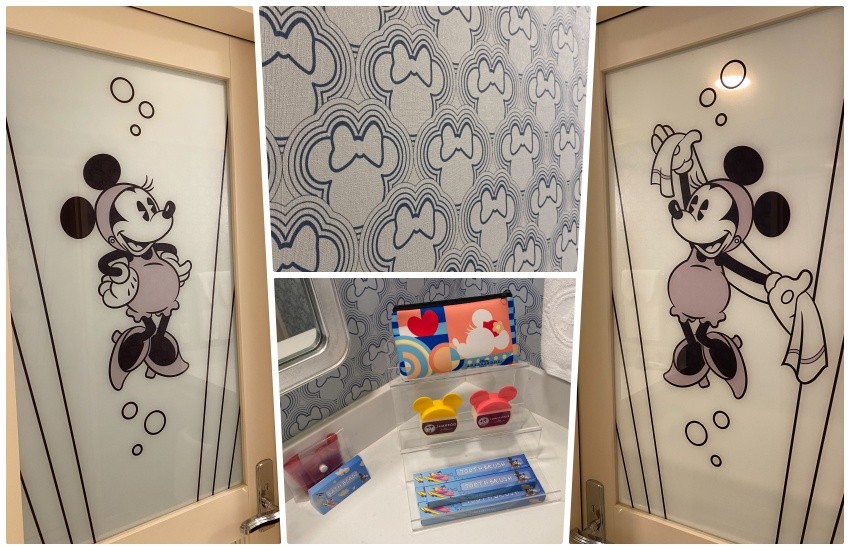 In the bathroom, you'll find refreshing blue wallpaper, with silhouettes of Minnie Mouse hiding here and there. A large design of Minnie Mouse can be found on the bathroom door. There are also special items that can be obtained by guests staying in the Minnie Mouse room! Similar to the Mickey Mouse room, you can get yourself an exclusive pouch and other goodies ♪

Donald Duck Room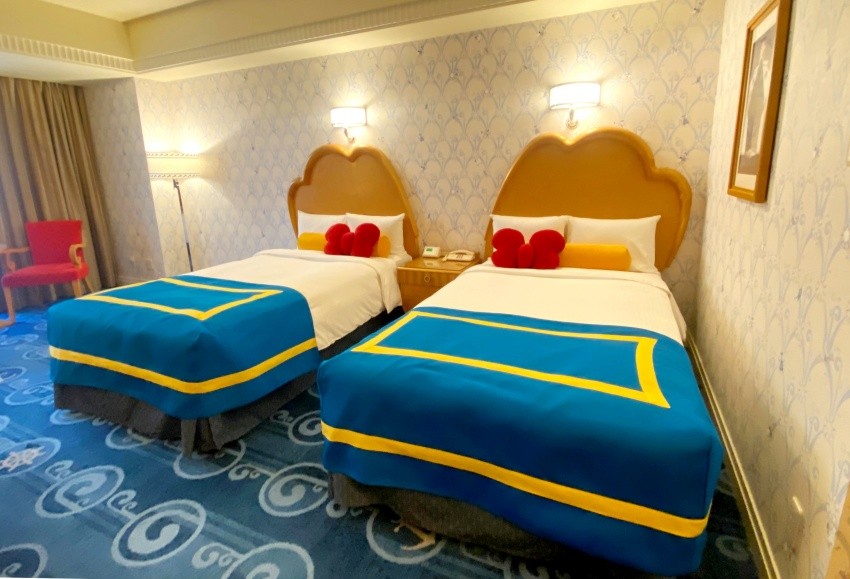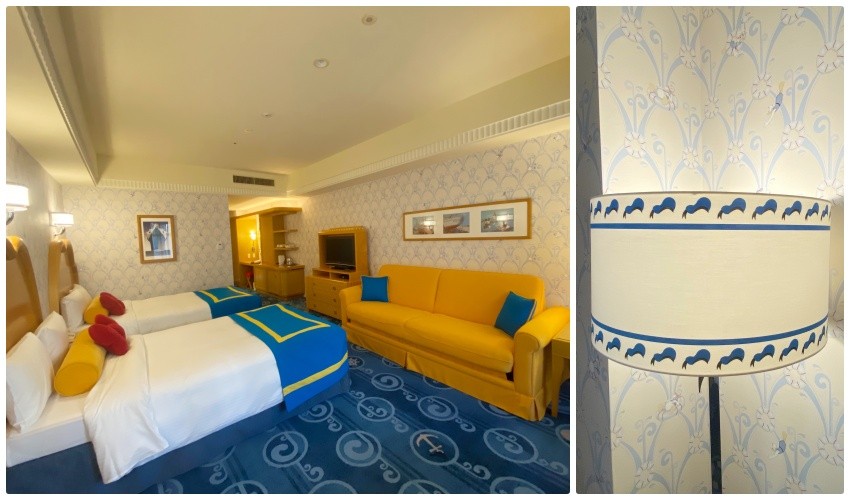 This room is designed in the image of Donald Duck. The colors of the room are inspired by Donald Duck's sailor costume being blue and yellow, as well as red which is used in his bow tie. The headboard of the beds in this room are shaped like Donald's feet! Donald Duck's hat can be found accenting the shade of the floor lamp, with the string of the lamp also being Donald's hat's ribbon, you can really feel the attention to detail in this room.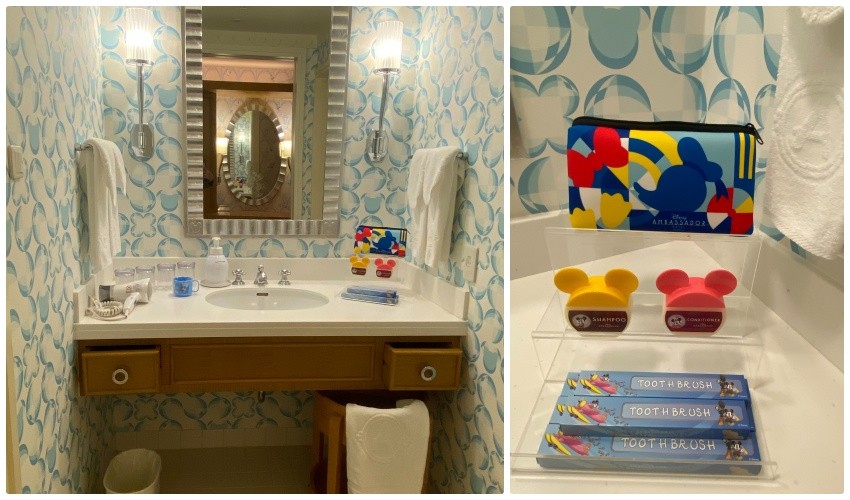 Of course, you can get an original pouch from this room as well, it's got his red bow tie and yellow feet designed on it. You're able to take it home as a memoir of your trip. Also, if you look closely, you'll find not only Donald Duck but his love interest Daisy! Trying to find where she is is just another fun way to spend your time in this room.
Chip & Dale Room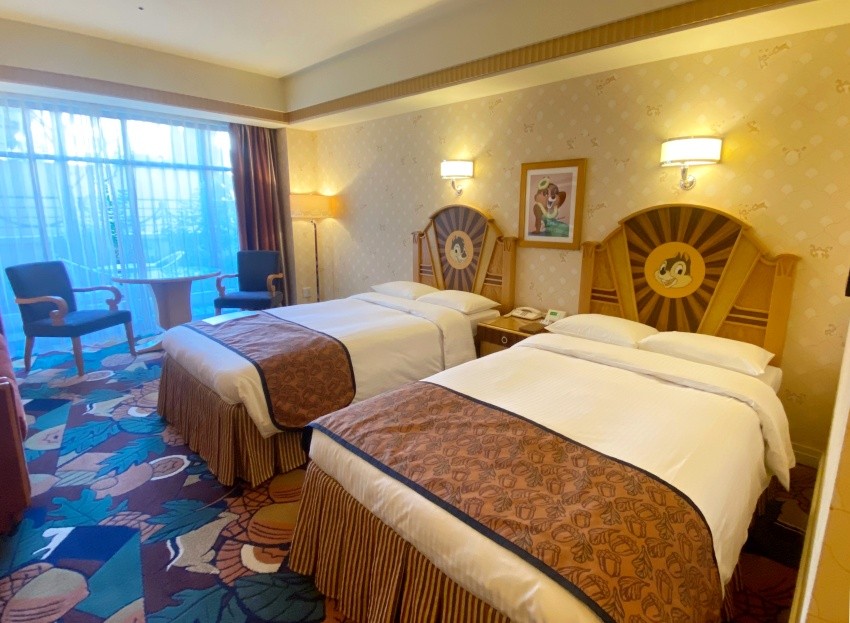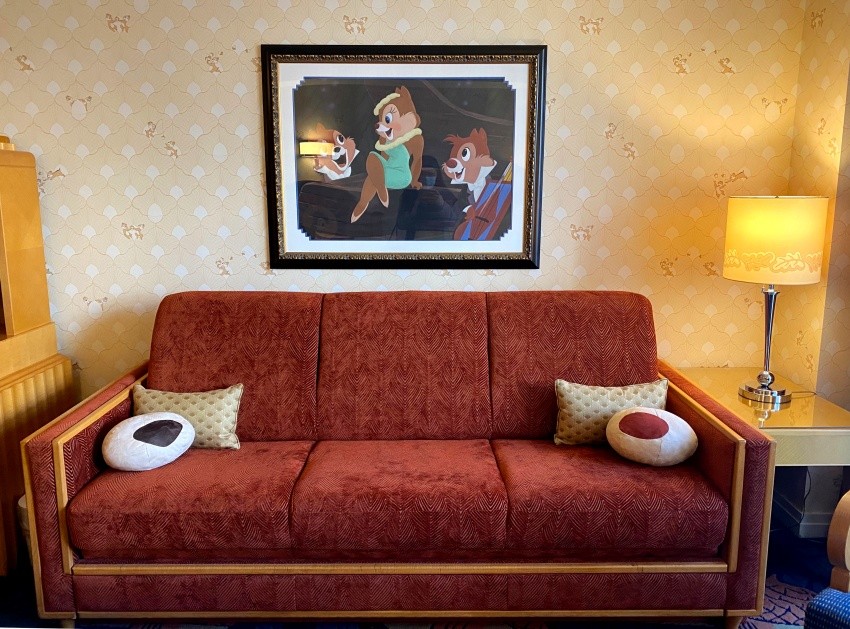 This is a room with Chip and Dale as the theme. It has a basic brown tone and a warm atmosphere. Chip and Dale's faces are painted largely on the bed's headboards. Clarice, who Chip and Dale love dearly, can be found painted in between both of the beds. The carpet is designed with pictures of acorns. And the cushions which you'll find on the sofa if you look closely, are actually Chip and Dale's noses!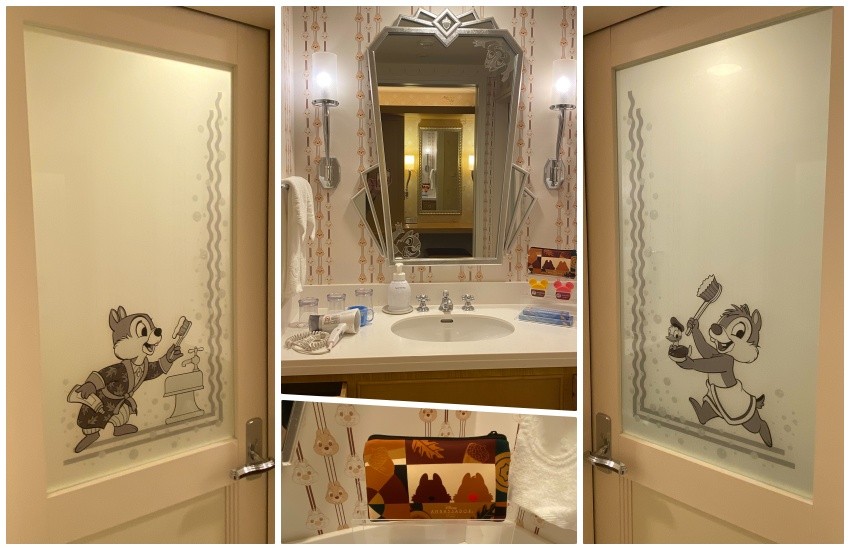 On the door to the toilet, you'll find Chip brushing his teeth, and on the door to the bathroom is Dale about to get into the bath. Chip and Dale can also be seen on the mirror! Not only this, there is, of course, an original pouch that can be obtained by guests of this room with a Chip and Dale design.

Lilo & Stitch Room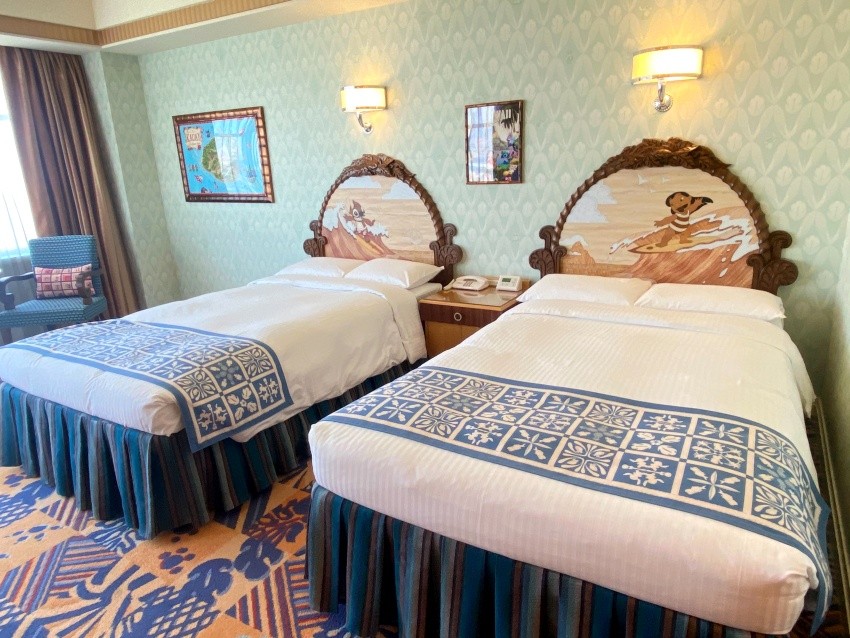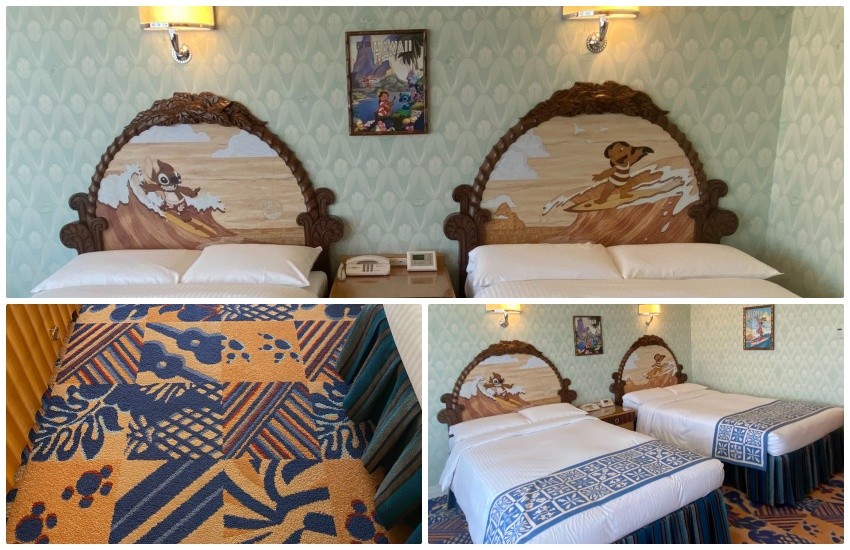 This room is in the theme of the Disney movie Lilo & Stitch. The room itself is designed similar to that of the stage of the movie in Hawaii. The headboards of the beds depict Stitch and Lilo having fun surfing. Also, if you look at the carpet, you're sure to find many fun designs such as Stitch's footprints!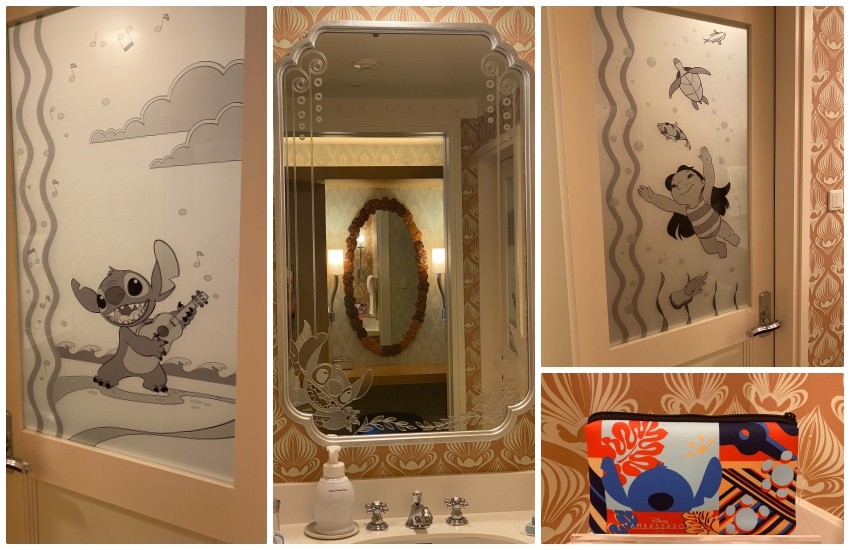 Similar to the other rooms, you'll find Lilo & Stitch depicted on the doors to the bathroom. There is also an original pouch that can be obtained by guests staying here that's created in a Stitch design!

Standard Rooms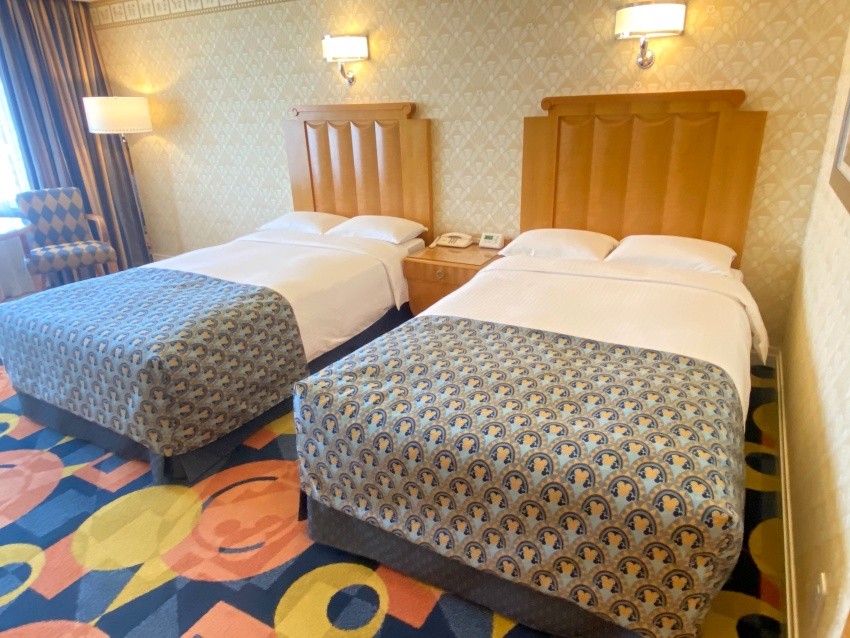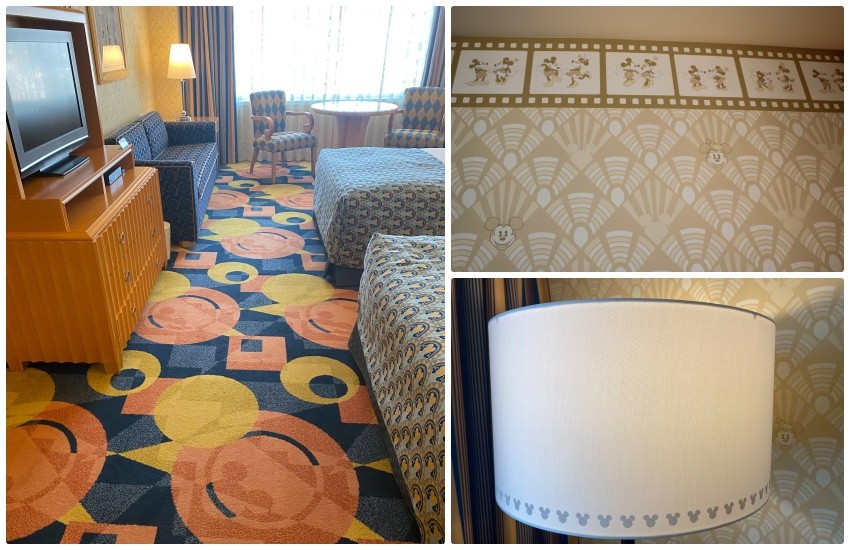 Other than character rooms, you're able to stop in standard rooms which still have a Disney atmosphere, but with a more simple approach! The wallpaper and carpet are designed with a Mickey Mouse theme. The interior design matches that of the hotel. If you take a closer look at the bed throw, you'll see Mickey Mouse's silhouette, as well as many different kinds of Mickey Mouses painted on the wallpaper. Finding all of the secret Mickey Mouses within the room is really fun!

On the mirror, you'll find Mickey Mouse wearing his wizard's apprentice outfit ♪ You'll also be able to see some more of the characters from the magical side on the door to the toilet. There are many great room amenities, and you can even find the same style of characters that were riding in the planes in the lobby.
In this article, we introduced the various rooms you can find in the Disney Ambassador Hotel®. You can enjoy lots of different characters all with unique atmospheres, no matter your age! How about visiting on your next trip to Japan?
Hotel Information
Hotel Name:Disney Ambassador Hotel®

Address:2-11 Maihama, Urayasu, Chiba
No. of Rooms:504
Access:8-minute walk from JR Maihama Station
Wi-Fi Available
Check-in/out:15:00 / 12:00
Related Articles
Tokyo Disneyland® Hotel where Children and Adults Meet Fantasies

Into The Fantasy World of Disney: Tokyo Disneyland® Hotel Character Designed Rooms
Tokyo Disney Celebration Hotel® Realize your 'Wishes' with 'Discover' feeling
[Survey] Traveling to Japan
Recommend