Common Japanese Names - How Many Do you Know?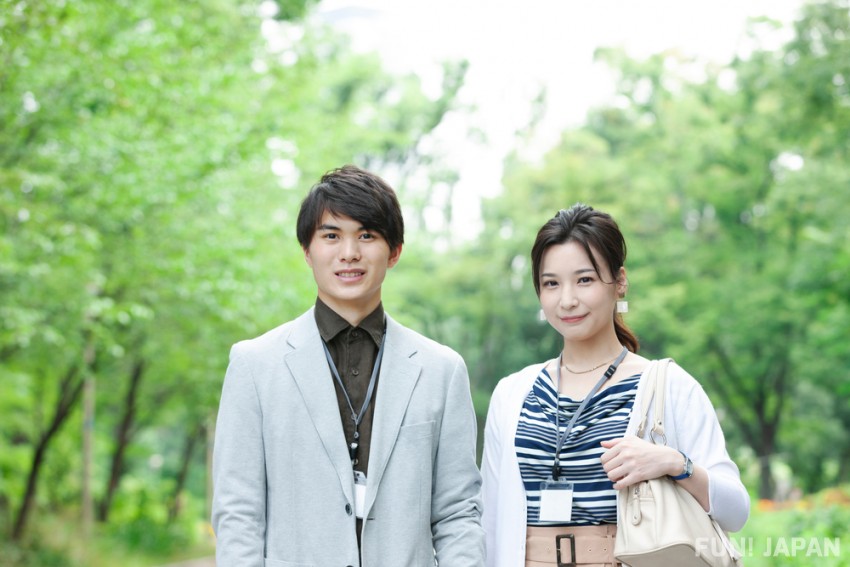 Japan is the origin country of a vast number of surnames. All Japanese people have carried on their surnames inheriting them from their ancestors. Most households even have a family crest. Today we will introduce the most common and popular names in Japan.

Top 20 Last Names
| | | | |
| --- | --- | --- | --- |
| Rank | 漢字 | ひらがな | ローマ字 |
| 1 | 佐藤 | さとう | Satou |
| 2 | 鈴木 | すずき | Suzuki |
| 3 | 高橋 | たかはし | Takahashi |
| 4 | 田中 | たなか | Tanaka |
| 5 | 渡辺 | わたなべ | Watanabe |
| 6 | 伊藤 | いとう | Itou |
| 7 | 山本 | やまもと | Yamamoto |
| 8 | 中村 | なかむら | Nakamura |
| 9 | 小林 | こばやし | Kobayashi |
| 10 | 加藤 | かとう | Katou |
| 11 | 吉田 | よしだ | Yoshida |
| 12 | 山田 | やまだ | Yamada |
| 13 | 佐々木 | ささき | Sasaki |
| 14 | 山口 | やまぐち | Yamaguchi |
| 15 | 松本 | まつもと | Matsumoto |
| 16 | 井上 | いのうえ | Inoue |
| 17 | 斎藤 | さいとう | Saitou |
| 18 | 木村 | きむら | Kimura |
| 19 | 林 | はやし | Hayashi |
| 20 | 清水 | しみず | Shimizu |
Unique and Interesting Surnames
While it is rude to laugh at a person's name, there are many unusual and interesting surnames that even Japanese people are surprised by. Here we will introduce some of them.
鬼(Oni):Oni are famous in Japanese folktales. Oni means "demon" or "devil" and are often the bad guys in fairy tales. This name is sometimes used as a surname as is.
砂糖(Satou):One of the most common Japanese surnames is "Satou," written out in Kanji as "佐藤." However this "Satou" written out as "砂糖" actually means "Sugar" and is a less common name. So people often wonder if it was miswritten when a name is written out this way.
無敵 (Muteki):"Muteki" means "invincible" or literally translated to "without enemies" so this name sounds very powerful.
鰻 (Unagi):Unagi means "eel," as in the fish. It is a very rare name, with barely 10 people in Japan with this surname, making it quite special.
御手洗 (Mitarai):Although over 5000 people in Japan have this name, it really is a bizarre surname. Why? Because this is the same way to write "Otearai" which basically means "toilet" or "restroom."
Popular Name Ranking
Let's take a look at the most popular first names from the past three years found in the "Name Ranking Survey by Birth Year" published by Japanese life insurance companies each year.

Boys Names
2017

1st 悠真 (Yuuma)
1st 悠人 (Yuuto)
1st 陽翔 (Haruto)
2018
1st 蓮 (Ren)
2nd 湊 (Minato)
3rd 大翔 (Hiroto)
2019
1st 蓮 (Ren)
2nd 陽翔(Haruto)
2nd 新 (Arata/Shin)
Girls
2017

1st 結菜 (Yuuna)
1st 咲良 (Kira)
3rd 陽葵 (Himari)
2018
1st 結月 (Yuzuki)
2nd 結愛 (Yua)
3rd 結葉 (Yuuha)
2019
1st 凛 (Rin)
2nd 陽葵 (Himari)
3rd 結愛(Yua) / 紬 (Tsumugi)
The Meaning of Names
Unlike surnames or family names, it is the first names that often reflect the trends of the times. Japanese parents tend to admire the names of celebrities who were popular during that year. Recently, the number of names that make use of Ateji (Kanji that don't follow the normal reading) is increasing, making names fancy and not very Japanese sounding.

Japanese-style, Traditional, Names with Beautiful Kanji
Conversely then, what are names that sound Japanese and traditional? We will introduce them separately by gender.

Boys
剛(Tsuyoshi):This name is given to bless the child with the strength of mind and body to constantly build themselves up and become someone who can continue to walk steadfastly.

翔(Kakeru):With the vision of a bird flapping its magnificent wings, this name uses a big scale kanji. They are blessed to continue to grow big and strong.
隼人(Hayato):This kanji expresses someone with a sharp and smart image. A name for one who has the agility and courage to respond quickly.
拓哉(Takuya):A name for those who have the strength to actively challenge the unknown and those who create a path towards the future on their own.
慎之助(Shinnosuke):A name given with the hope that he will grow up to be a sincere and considerate person to all those around him.
女子
葵(Aoi):A name given with the desire for them to grow up to be a calm and elegant person.

杏(An):Meaning "apricot," a delicious fruit with beautiful flowers. This name is given blessing them to become beautiful both inside and out.
織絵(Orie):A name given to have them grow to be someone kind and considerate, and also become a meticulous and careful thinker.
琴奈(Kotona):A name with the image of the beautiful sound of a Japanese koto instrument, hoping they grow to be graceful and one with a sense of tradition.
紗千子(Sachiko):A kanji that is elegant, expressing strength, suppleness, and delicate sensibility, blessing them to live their lives flexibly.
Did you learn a lot about Japanese names? Did you see any names you recognized? If you have any questions about Japanese names, please leave a comment! 
[Survey] Traveling to Japan