6 Delicious Sushi Restaurants in Dotonbori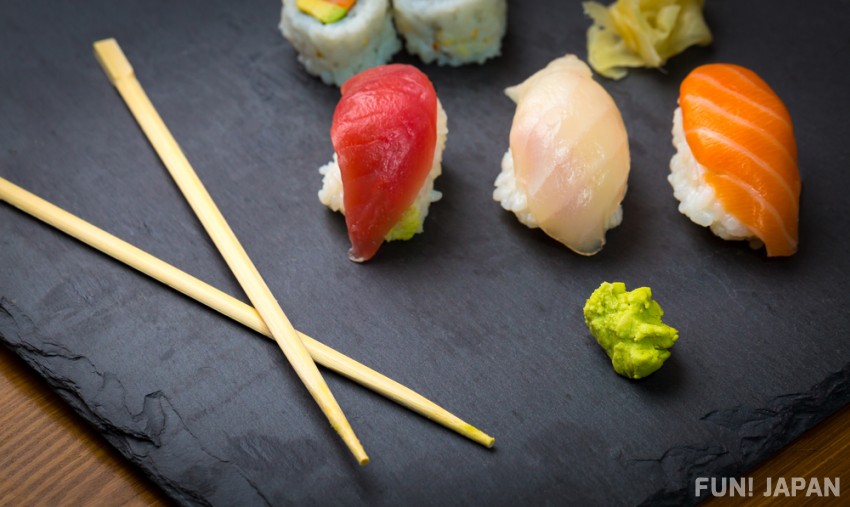 Sushi is a staple of Japan, be it served by a world-class sushi chef or swiped from a conveyor-belt. Seemingly simple, the perfect combination of fresh fish, perfectly seasoned rice and possibly a dash of wasabi are all that are needed for a truly Japanese experience. As you'll find out, however, there can be a world between two pieces of sushi, and in a city as food-obsessed as Osaka, choosing the right restaurant can be tricky. Finding a balance of quality and affordability is key - it's a good idea to try cheaper conveyor-belt restaurants to start with so you can get a feel of what you do and don't like, before progressing to the pricier spots!
Maguroya Kurogin: The Best Tuna in Town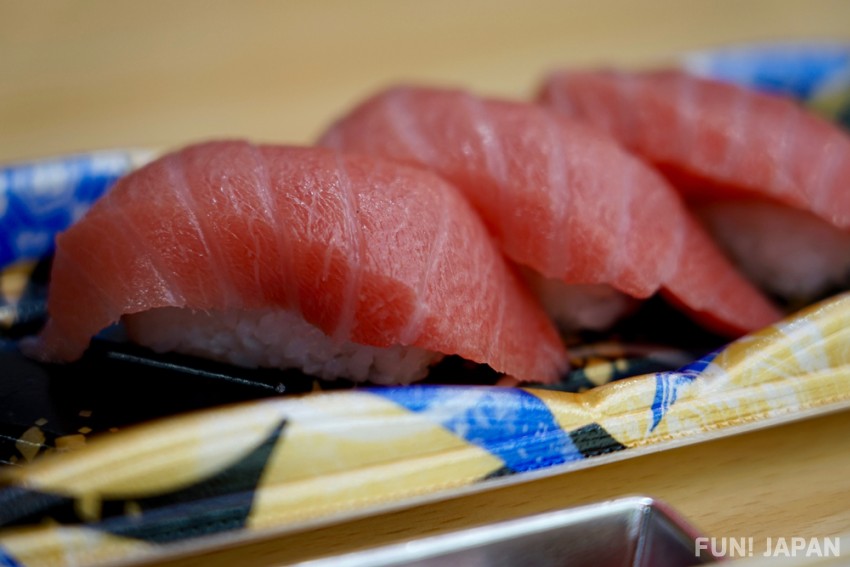 Where better to enjoy Japan's most famous dish than in the heart of one of its top fish markets? Standing proudly at the heart of the market, Maguroya Kurogin is a tuna specialist - and one worth queuing for. Their slices of the much-loved fish are so sought after they often sell out so be sure to get there before lunch if you can. The most popular sushi option is fatty tuna which can be eaten in or taken away as a lunch box. They also offer rice bowls topped with glistening slices of tuna. They close when they sell out - with the eating area closing at 15:00. If still available, take-out is available until 17:00.
Spot Information
Name: Maguroya Kurogin Kuromon Ichiba Honten (まぐろや黒銀 黒門市場本店)
Address: 2-11-1 Nipponbashi, Chuo-ku, Osaka
Location: Within Kuromon Market, on the corner of a crossection.
Opening Hours: 09:00 - 15:00 Closes when sold out.
Regular Holidays: Irregular 
Hozenji Yokocho Seitaro: A High-End Experience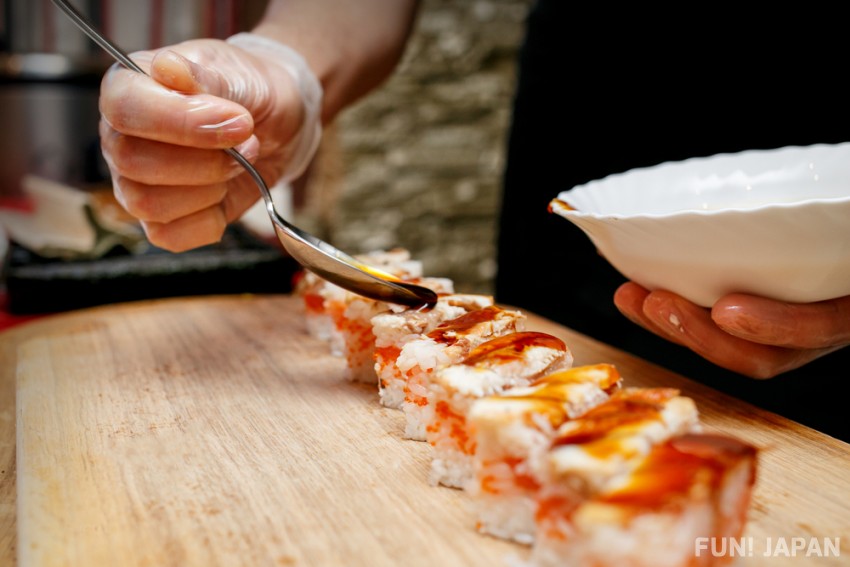 Taking a seat at the smooth wooden counter, guests at Seitaro are in for a high-end sushi experience. Chef Inoue presents a smart but welcoming atmosphere, with the best quality fish selected each day from the nearby markets. There are also private rooms of preferred, although watching a sushi chef at work has to be one of the most enjoyable elements of the experience. While it will certainly cost more than a conveyor-belt sushi meal, here you will be treated to the service of a craftsman - a once-in-a-lifetime experience. The restaurant is well known for its excellent sake menu, so be sure to try a glass or two to go with your meal - simply ask for the chef's osusume (recommendation) if you're not sure where to begin. If you're undecided on food, ask for the omakase (chef's choice) and you'll receive their best picks of the day.
Spot Information
Name: Hozenji Yokocho Seitaro (法善寺横丁 誠太郎)
Address: 1-7-11 Dotonbori, Chuo-ku, Osaka
Location: The tall restaurant is located in the alley known as Hozenji Yokocho, on the street running parallel to Dotonbori (to the south).
Opening Hours: 16:00 - 22:30
Regular Holidays: Irregular 
Kuromon Sakae Sushi: The Market's Best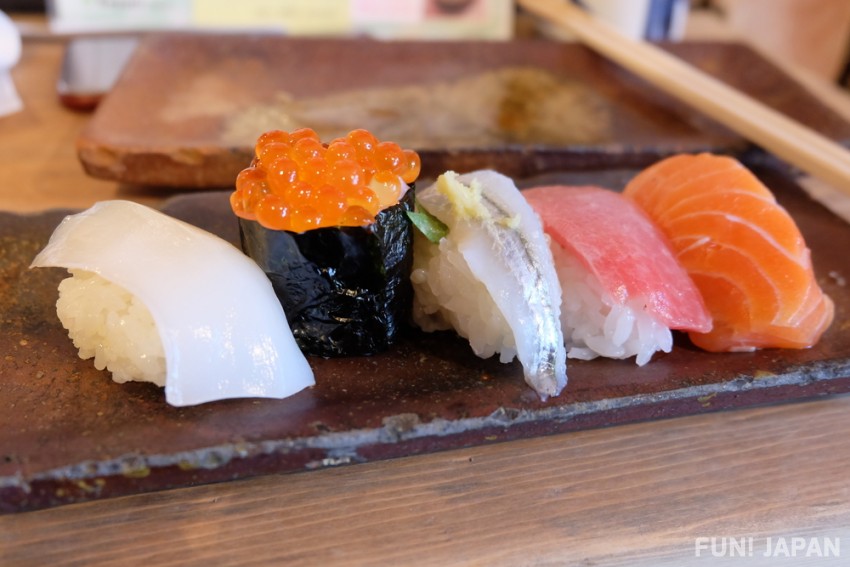 A few short strides from the bustling Kuromon market, Kuromon Sakae Sushi is a bright and welcoming sushi spot with an easy English menu. The shop makes three simple promises to its customer: to use the best fish, the best rice and the best technique to create delicious sushi every time. Securing the freshest and highest quality of fish and seafood from the market, the restaurant won't disappoint and has surprisingly reasonable prices for such delicious food.

Spot Information
Name: Kuromon Sakae Sushi (黒門さかえすし)
Address: 22-30, Nippombashi, Chuo-ku, Osaka
Location: Located within Kuromon Market,
Opening Hours: 11:00 - 23:00
Regular Holidays: None
Kaitenzushi Chojiro Hozenji: Classy Conveyor-Belt Sushi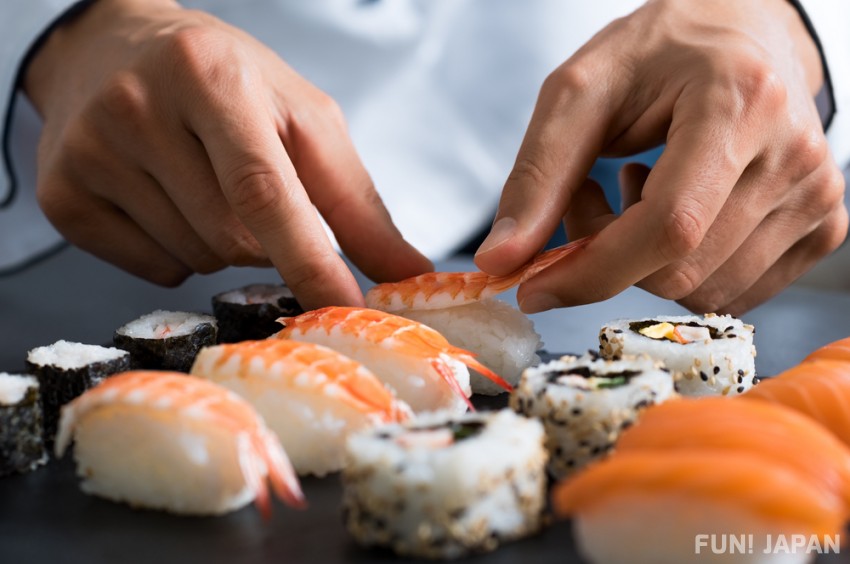 A high-end conveyor-belt combination, Chojiro is a small chain with a cult following in the sushi diner world. Originally started in Kyoto, they have a flagship Osaka store and focus on the four seasons of Japan for their menus. Aiming for hand-prepared and high quality food combined with a relaxed atmosphere, this is the best of both worlds. Plates begin from a surprisingly low 120 yen, rising up to around 550 yen - so you won't break the bank without realising. Be sure to check the seasonal reccomendations and while it isn't strictly sushi, be sure to try the tuna skewers - they're delicious! There are also small sets available which combine a mixture of fish or select the best cuts of one, for example the tuna set which has five different cuts presented as maki, nigiri and gunkan sushi - all for just over 900 yen.
Spot Information
Name: Kaitenzushi Chojiro Hozenji Flagship Store (にぎり長次郎 法善寺店)
Address: 2F, 1-2-10 Namba, Osaka, Chuo-ku, Osaka
Location: Found on the corner of Hozenji Yokocho, the restaurant is a short walk from Dotonbori, if you turn right at the corner of the Kuidaore Building when heading east
Opening Hours: Weekdays: 11:00 – 15:15, 16:45 – 22:30, Weekends: 11:00 – 22:30
Regular Holidays: None
Sushizanmai Dotonbori: The Edo Special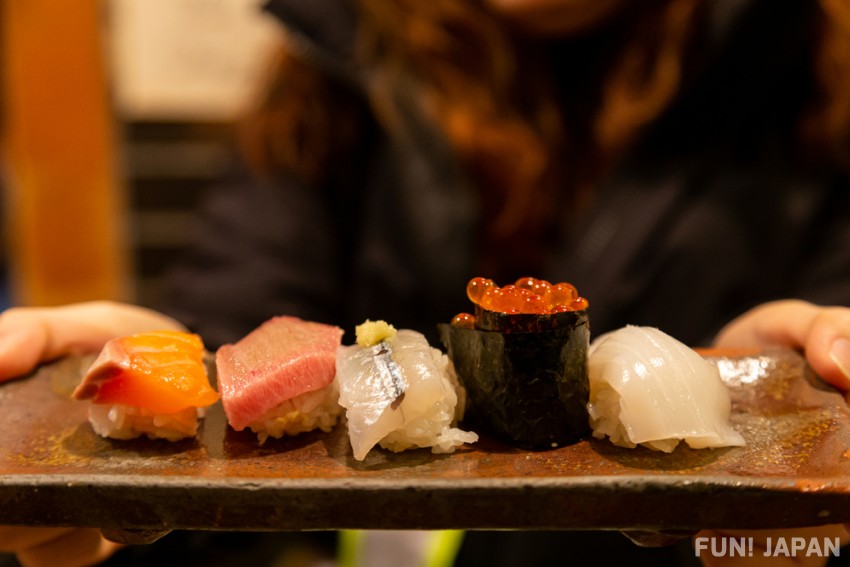 Directly across from the popular sushi-hand of Genroku, Edo-sushi specialist Sushizanmai is a step in between your casual kaitenzushi joints and the fancier spots. Here, you order using forms from your table - all of which come with clear pictures so you can see what you feel like trying. You can order individually or try the lunch set - this is a good way to get some variety as well as the seasonal and freshest produce of the day. This costs around 1,500 and is a steal - proving the golden lunch rule of Japan: that lunch sets are the best way to try otherwise expensive dishes! Opt for a counter seat if you can and admire the chefs at work!
Spot Information
Name: Sushizanmai Dotonbori (すしざんまい 道頓堀店)
Address: 1F Nakaza Kuidaore building, 1-7-21, Dotombori, Chuo-ku, Osaka
Location: Sushizanmai is in the Nakaza Kuidaore building alongside the local clown mascot and oppsite the Genrokuzushi store.
Opening Hours: 11:00 - 05:00
Regular Holidays: None
Genrokuzushi: The First Conveyor Belt Sushi Spot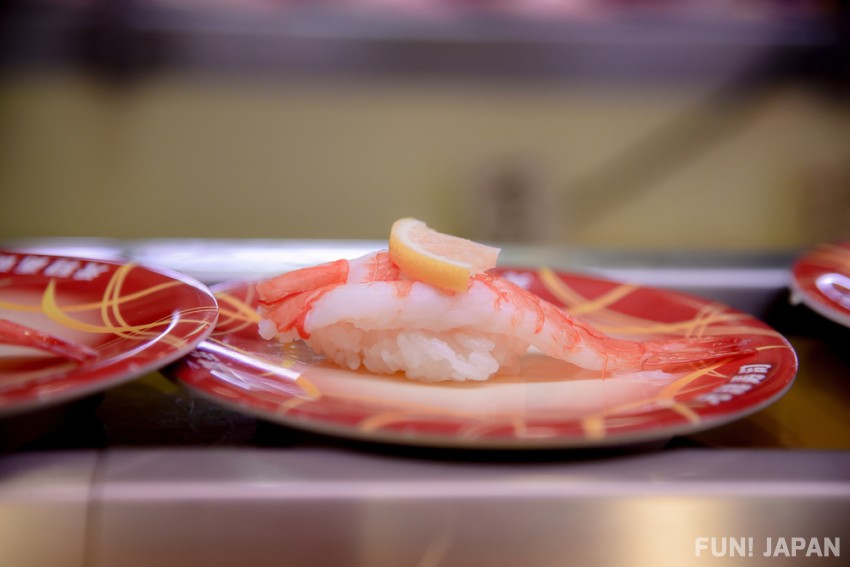 Claiming to be the home of conveyor-belt sushi, this Dotonbori favorite is easy to spot thanks to the giant sushi-grabbing hand on the shopfront. Now with a collection of stores in Osaka and neighboring Hyogo, the chain is loved for its reasonable prices and good-quality fish. As legend has it, the original owner was apparently inspired by the sight of conveyor belts at a beer brewery and created the first self-serve sushi restaurant. Plates start at 125 yen, so it's the perfect place to try some new dishes!
Spot Information
Name: Genrokuzushi Dotonbori (元禄寿司 道頓堀店)
Address: 1-6-9 Dotonbori, Chuo-ku, Osaka
Location: On the main Dotombori street, towards Tazaemonbashi Bridge.
Opening Hours: 11:00 - 22:30 (Please note, this store is temporarily closed, but is expected to reopen soon. )
Regular Holidays: None
※Due to coronavirus (COVID-19), some of the shops and restaurants may be temporarily closed or have different hours from the hours stated here.

[Survey] Traveling to Japan
Recommend