Five Must-Try Specialties at Restaurants in Kagoshima Prefecture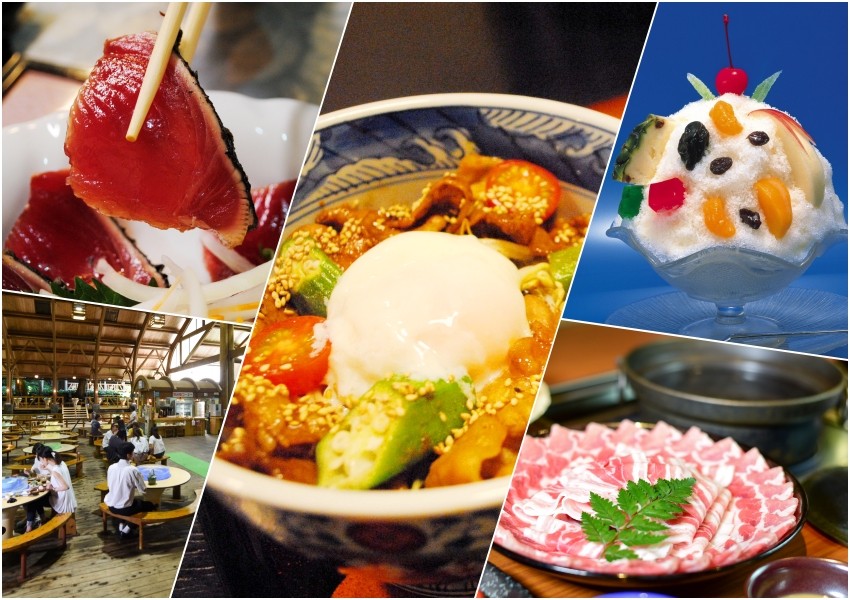 Visitors' quintessential Kagoshima gourmet experience at local restaurants is usually defined by its wide range: seafood, beef, pork, chicken, and desserts, and so on. This time, we are going to see five classic specialties.

Shirokuma (the Polar Bear)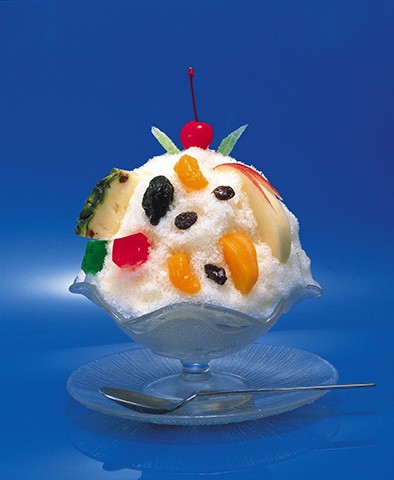 Kuroshima (literally "polar bear") is a shaved ice cone invented by a local restaurant in the city called Tenmonkan Mujaki in 1947. On top of the melt-in-your-mouth shaved ice are sweet condensed milk and fruit like cherries, raisins, Japanese oranges. When is was first invented, it was said that the toppings made it look like a polar bear, hence the name Kuroshima.
In addition to Tenmonkan Mujaki, the home of Kuroshima it can be found in a number of cafes in the city such as SANDECO COFFEE Math Café. The shaved ice cone varies from simple ones with the face of a polar bear to luxury ones with special toppings according to the restaurant's style. Expect to pay around 500 yen – 900 yen. 
Black Pork Shabu Shabu Hot Pot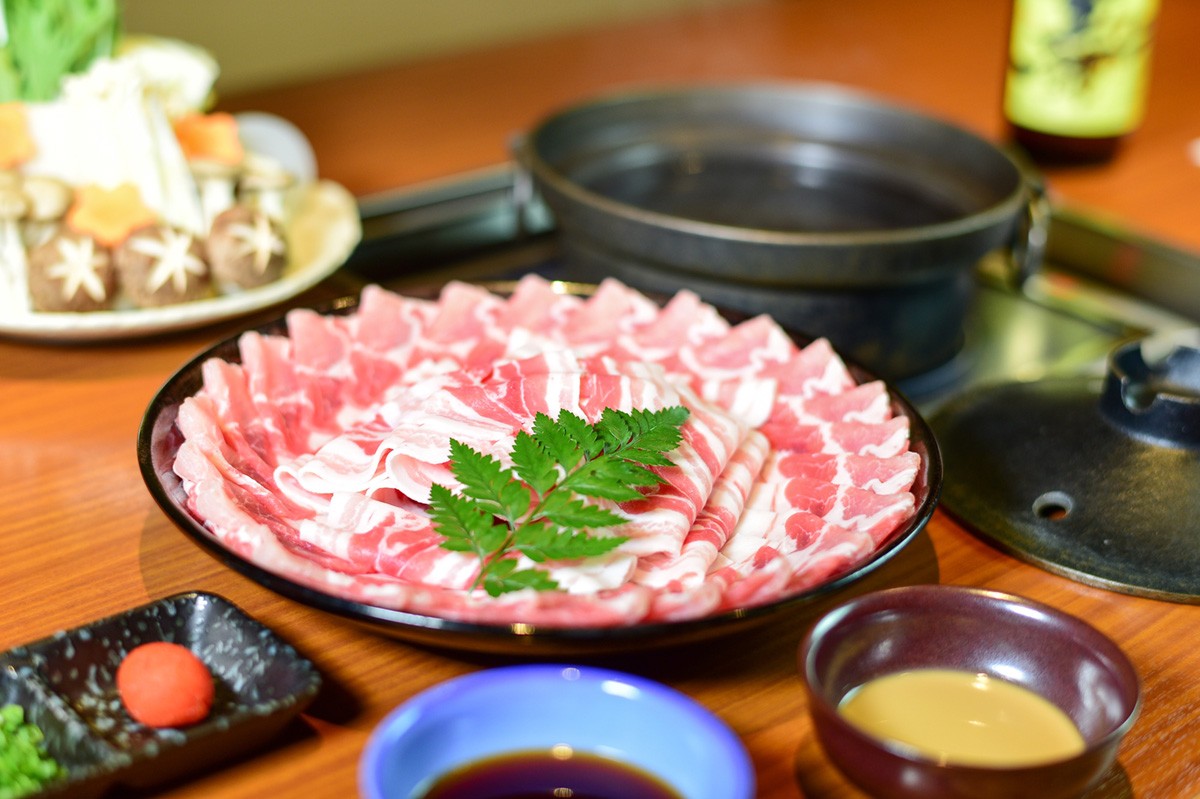 Kurobuta (black pork) is a famous brand in Kagoshima. The black-skinned pigs are kept in a natural environment and fed with sweet potato, a prefectural product, which helps make the pork tender but firm, with a discernibly refreshing taste.
Kagoshima black pork is the basis for many mouth-watering dishes such as tonkotsu marrow bones and stews while black pork shabu shabu hot pot gives the most direct way to appreciate the essence of the pork taste. Slightly boil the thin meat slices piece by piece and dip them into ponzu vinegar or sesame sauce- simply delicious!
There is a huge number of restaurants serving black pork shabu shabu in Kagoshima city. Among them, KAREN Kagoshima provides sets with vegetables and noodles for 2,000 yen – 5,000 yen. Kagomma Furusato Yataimura is a food stall village with many different stalls offering different great tastes. There are ones with reasonable prices such as SATSUMA, which seves great dishes for less than 1,000 yen so there's no reason to miss out on tasting this dish!
Seared Raw Skipjack Tuna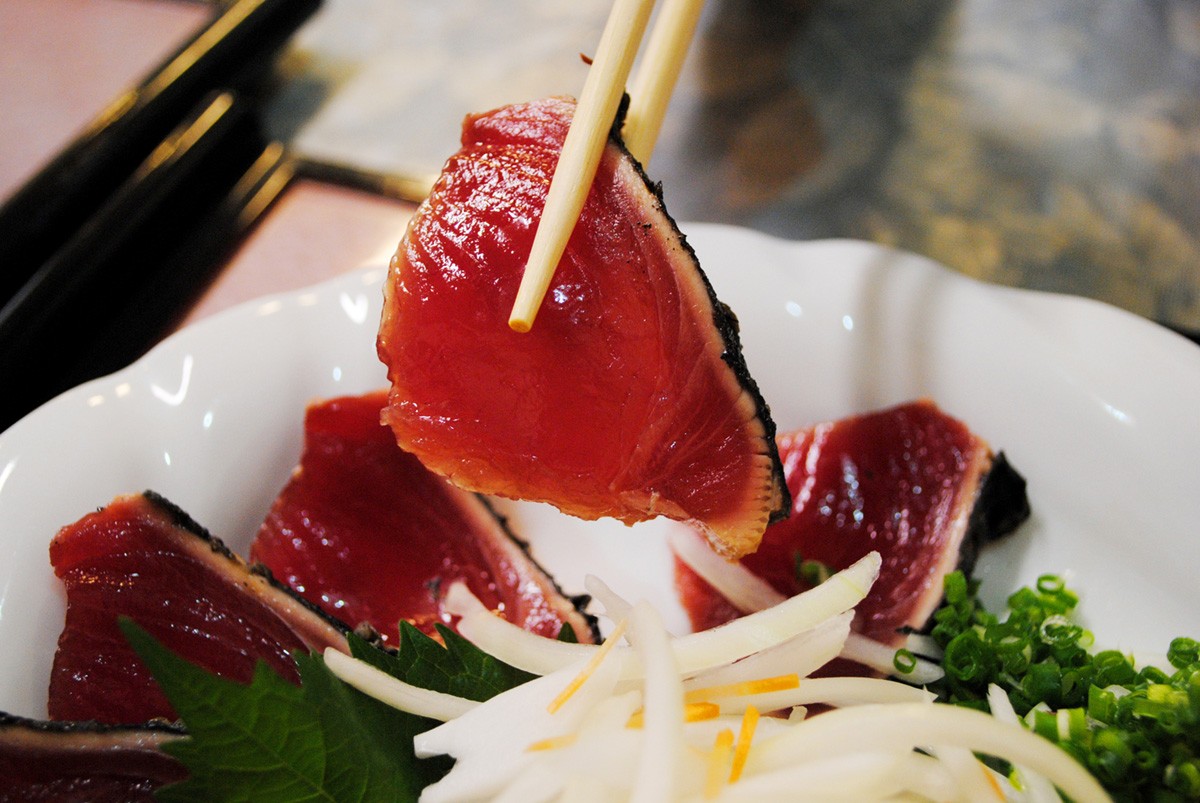 Kagoshima's Makurazaki city has been famous for skipjack tuna (katsuo) fishing for hundreds of years, and there are a lot of restaurants in the city serving skipjack tuna or bonito. Katsuo tataki  is a kind of garnished thickly sliced sashimi with only the surface lightly grilled by charcoals. Have a bite and be greeted by the great aroma of the grilled surface, which is followed by the firm texture of the fish flesh.
Observatory restaurant BUEN and SAKANADOKOR MANBO, which are both inside Makurazaki Fish Center are famous for katsuo tataki. They offer the sashimi alone at around 600 yen – 900 yen, or around 1,000 yen – 2,000 yen for lunchtime set meals.
Ontamaran donburi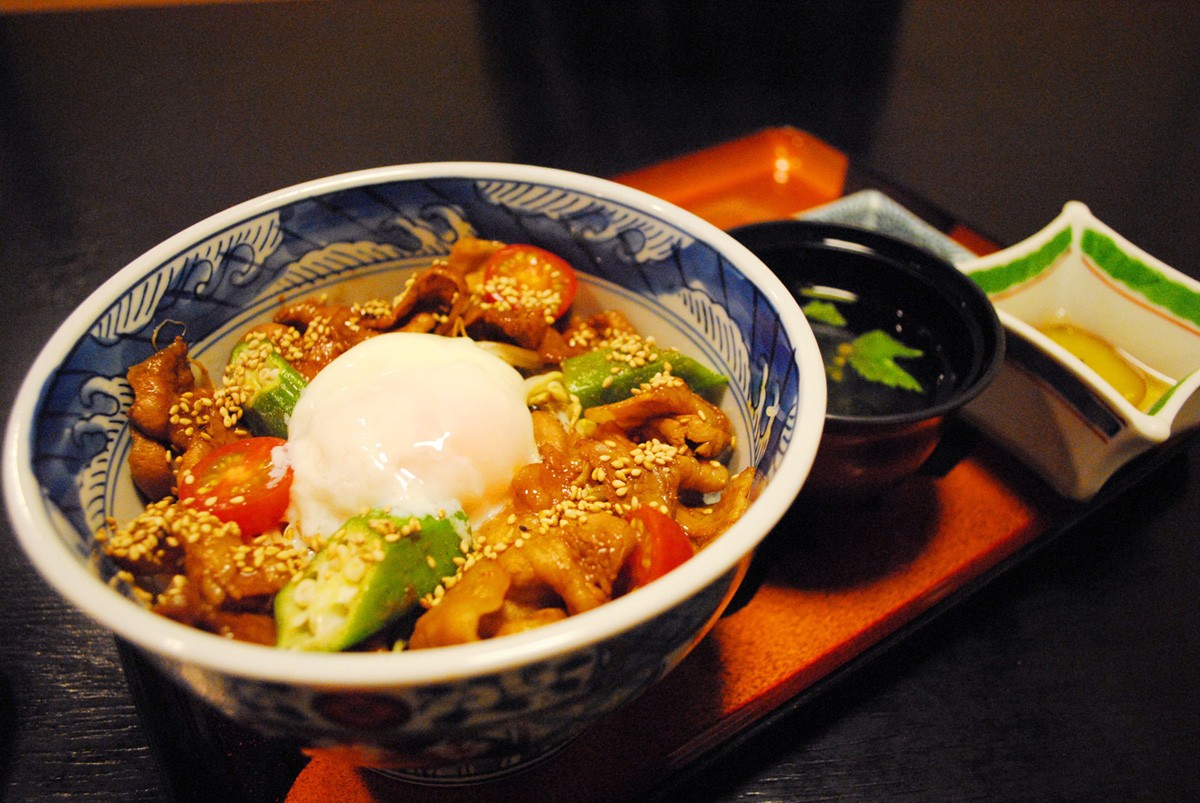 Ontanmaran donburi is a local speciality in Ibusuki city. It is a rice bowl topped with a poached egg sourced from local chicken farms and poached by the heat of Sunamushi natural steam sand bath. Other toppings include chicken, skipjack tuna, and black pork depending on the restaurant. Yet, the common point is the "hot spring poached egg" on the top which takes toppings to another level through its rich egg white and oozing yolk.
Ontanmaran rice bowl can be easily found in many restaurants in Ibusuki, so choose according to variation they offer. Try Black pork and local cuisine AOBA" for black pork rice and "UNAWA" for eel on rice. Prices vary but are usually between 700 yen and 1,500 yen.
Tosenkyo Somen Nagashi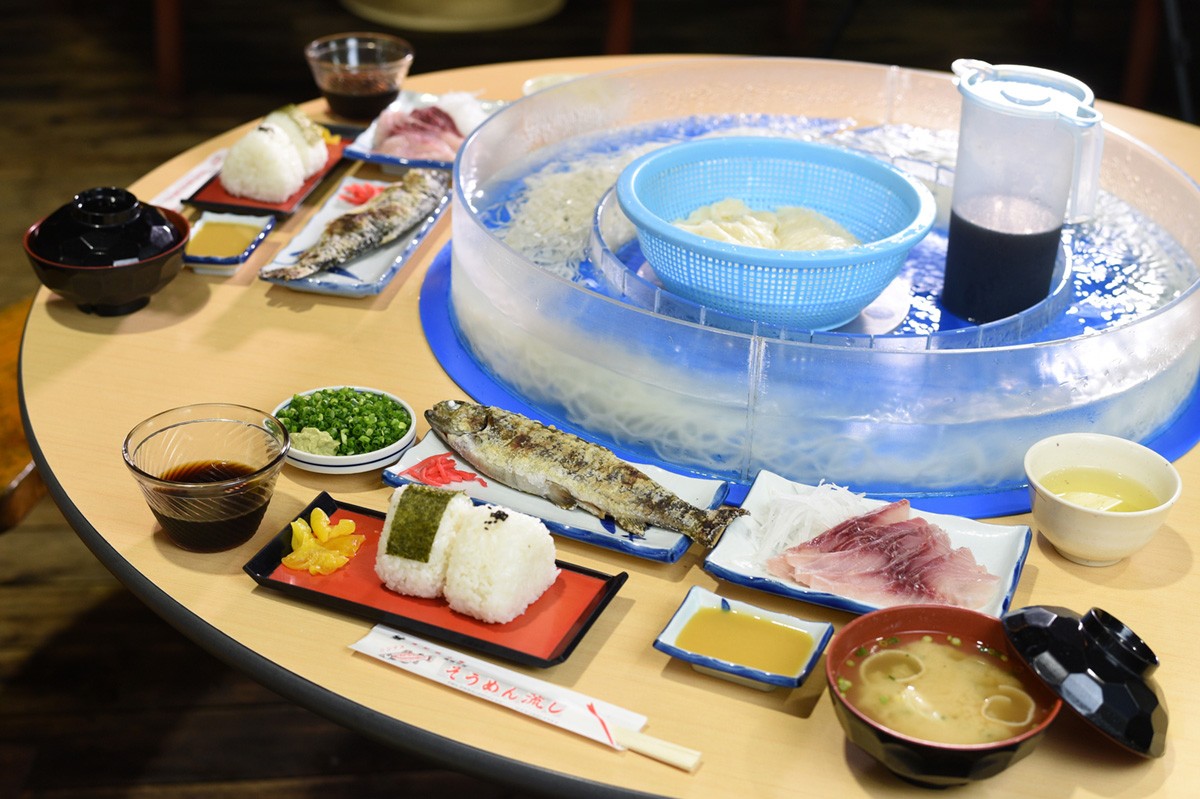 Tosenkyo Somen Nagashi ("flowing somen noodles"), was created in 1962. It is a local speciality utilizing the abundant spring water of Tosen Gorge in Ibusuki city. The flowing concept is realized by the unique motorized  device in a shape of a doughnut that the somen noodles swirl around. The noodles are chilled by spring water, so they taste excellent on the way down.
There are also a lot of restaurants throughout the prefecture serving nagashi somen while Tosenkyo Somen Nagashi and "Chojuan Kaimontosenkyo shop" right at Tosenkyo are especially famous; they serve the noodles all year round, while some restaurants offer the dish only in certain seasons like spring to autumn. Somen costs around 600 yen or 1,300 yen- 2,000 yen as a set with salt grilled trout, miso soup with carp and rice.  
[Survey] Traveling to Japan
Recommend