Sakurajima island in Japan, Kagoshima's Symbolic Volcano
Kagoshima, in the southern part of Kyushu island, has become one of Japan's hottest tourist spot in recent years. It is home to famous shochu liquor as well as a delicious breed of "black pork", and it includes Yakushima island, best known for its ancient forests that inspired a number of Studio Ghibli movies. But this time, we'd like to introduce this prefecture's symbolic volcano, Sakurajima island.

History of Sakurajima island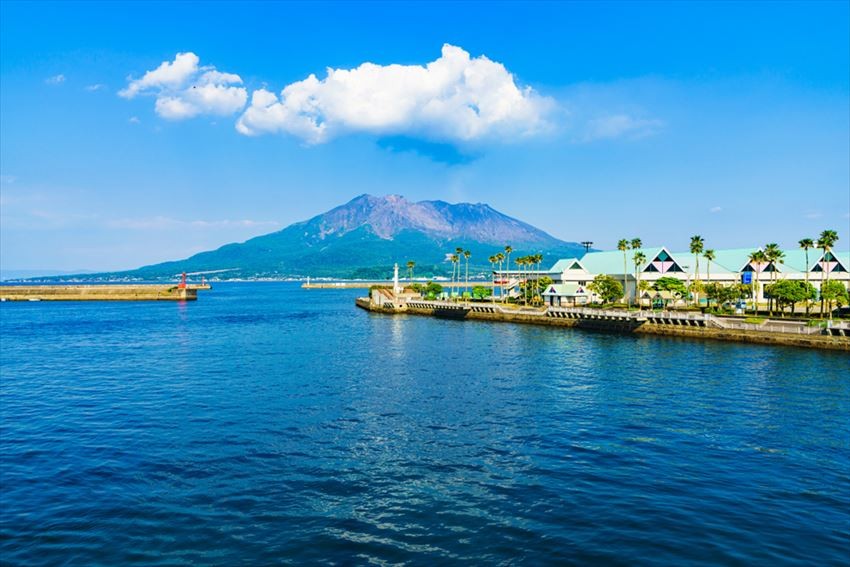 Sakurajima was born around 26,000 years ago? Previously, there were 17 eruptions. The last eruption that released lava was in 1946, In 1955, volcanic activity with repeated ash eruptions started, this activity continues even now.. Currently, the top crater of Mt Minamidake or the Showa crater on the Eastern slope near the 8th station of Minamidake keeps exploding. 

3 Spots to Feel the Nature of Sakurajima
No trip to Kagoshima would be complete without a visit to Sakurajima. One of the many active volcanoes in Japan, Sakurajima is known for its frequent eruptions, which result in ash raining down on the people of Kagoshima. It is not uncommon to find your surroundings completely covered in ash after an eruption, and see people walking the streets with umbrellas and surgical masks to protect themselves. So be prepared to get a bit dirty if you get up close. Of course, it is advised to not get within 2km of Sakurajima's craters, unless you want to become a well-cooked steak. Sakurajima can be reached by a 15-minute ferry ride from Kagoshima city.
1. Arimura Lava Observatory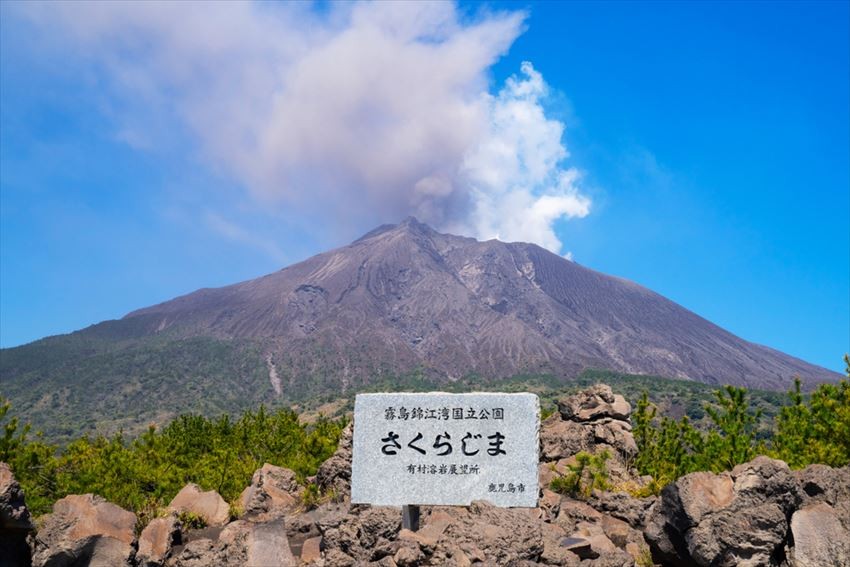 Arimura Lava Observatory stands on top of volcanic rock that flowed due to an eruption in 1914. A 1km trail has been installed. You can walk along the trail while viewing a Sakurajima and Kinko bay. In contrast to the long silhouette of the mountain seen from within Kagoshima city, the mountain appears to be cone shaped. They also have a souvenir shop

Spot Information
Name: Arimura Lava Observatory


Address: 

952 Arimurachō, Kagoshima
Access: 20 minutes by car from Sakurajima port.

2. Hakamagoshi-Karasujima Lava Trail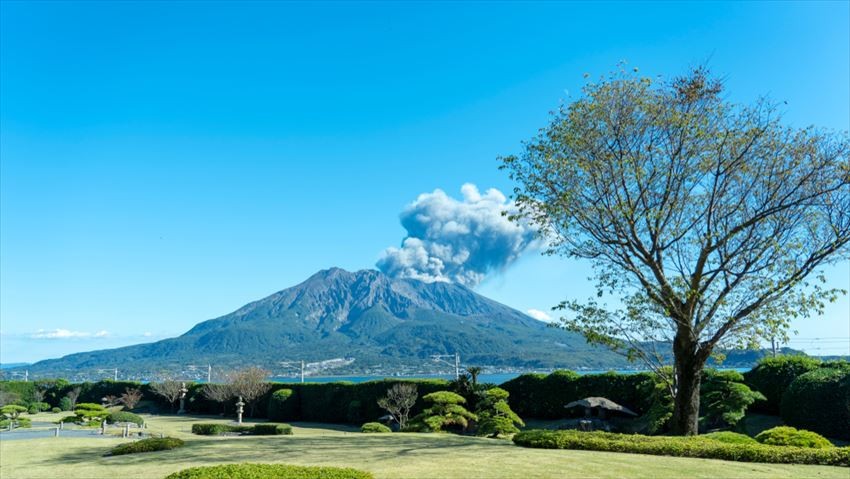 This trail is a 3km walking course that connects Karasujima Observatory and Sakurajima Lava park. This place has been chosen as one of the 100 Famous Views of Japan. You can see the view of splendid Sakurajima and Kinko bay that spreads across one side. There is also a free foot bath.

Spot Information
Name: Hakamagoshi-Karasujima Lava Trail
Address: 6 Sakurajimayokoyamacho, Kagoshima
Access: 10 minutes by car from Sakurajima

3. Yunohira View Place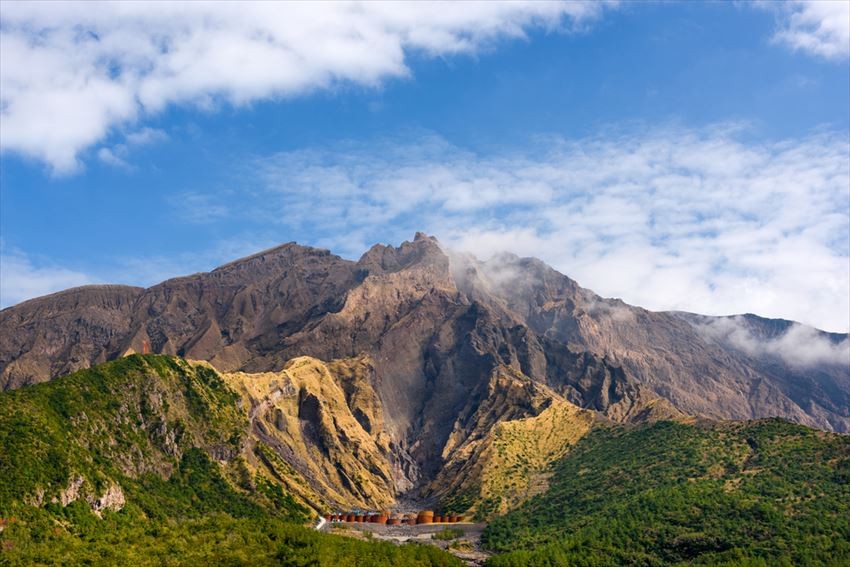 It is located on the 4th station on Mt Akita and is the highest point where general tourists can go. You can see Mt Kita's rough surface and below the quiet Kinko bay and Kagoshima castle townscape. If you visit in the evening, you can see the red-dyed Sakurajima island and the setting sun. 

Spot Information
Name: Yunohira View Place
Address: 1025 Sakurajimakoikecho, Kagoshima
Access: 20 minutes from Sakurajima

Kurokami Buried Shrine Gate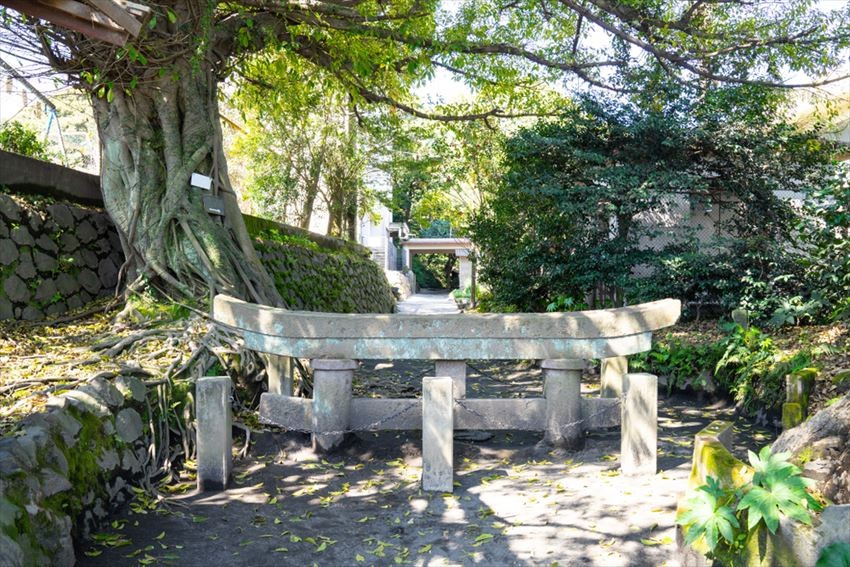 In 1914, the Kurokami Buried Shrine Gate which was buried when there was a large eruption, was originally 3 metres. Kurokami Shrine gate was covered with pumice stone and volcanic ash. They did not unearth it and instead it was left in its current state in order to convey the threat of volcanic eruptions to future generations. 

Spot Information
Name: Kurokami Buried Shrine Gate

Address: Kurokamicho, Kagoshima city, Kagoshima prefecture
Access: 30 minutes by car from Sakurajima port
Opening hours: 11:00-21:00

Holiday: Wednesdays
The Must Eat Item is Volcanic Ash Ice Cream?!
If you mention something that is famous in Sakurajima recently, it has to be ice cream. From the word Sakura (cherry blossom), we imagine pink coloured ice cream, but here at Sakurajima they have ice cream that is grey, although it does not have volcanic ash inside. However, it has a gentle vanilla flavour. 

[Survey] Traveling to Japan
Recommend