A Basic Guide for Kagoshima, Japan
Kagoshima Prefecture makes up the southernmost part of Kyushu island, and it also includes a few islands south of the mainland. This prefecture is full of both active and dormant volcanoes, thanks to which there are many national parks protecting this beautiful nature. To get a sense of all Kagoshima has to offer, let's get out of the capital and explore some of the prefecture's other wonders.
Let's start off our custom tour by exploring the treasures of Satsuma Peninsula, which extends about 50 kilometers south of Kagoshima City.
Our first stop is Chiran, a small town in the middle of the peninsula. In 2007, it merged with other nearby towns to become Minamikyushu. Chiran can be explored on foot, though bicycles are available for rent on the town's main street.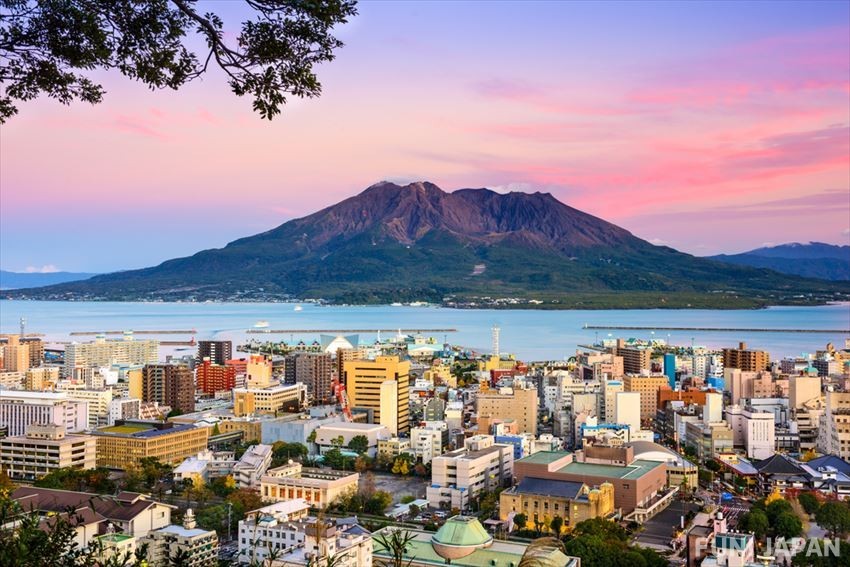 Here are the top not-to-be-missed attractions in Kagoshima:
1. Sakurajima Island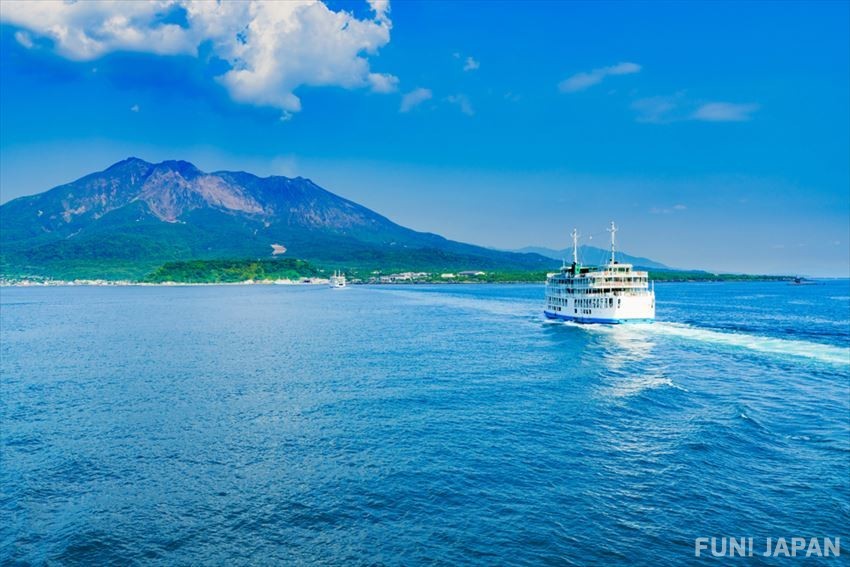 No trip to Kagoshima would be complete without visiting Sakurajima. This famous volcano, the symbol of Kagoshima, will be our final stop during this quick three-day tour through the prefecture.
Sakurajima is one of Japan's most recognizable natural landmarks, rising 1,117 meters above sea level. From the visitor's center at the base of the mountain, information is available on hiking trails as well as the latest updates on the safety of hiking up the mountain. There are three main peaks: Kita-dake, Naka-dake, and Minami-dake. On each peak there are observation points from which the craters, and frequent eruptions, can be observed.
Spot Information
Name: Sakurajima
Address: Sakurajima Kamizu-cho, Kagoshima 891-1420
Access: Renting a car is the easiest way to get around the island. If you don`t drive, take the Sakura Island View bus. It runs hourly in a loop from the ferry terminal, and takes visitors around Sakurajima`s major attractions. You can also hire bicycles outside the ferry port.
By Boat: Frequent ferries run from Kagoshima Port to Sakurajima. The trip takes just 15 minutes.
2. Chiran Samurai District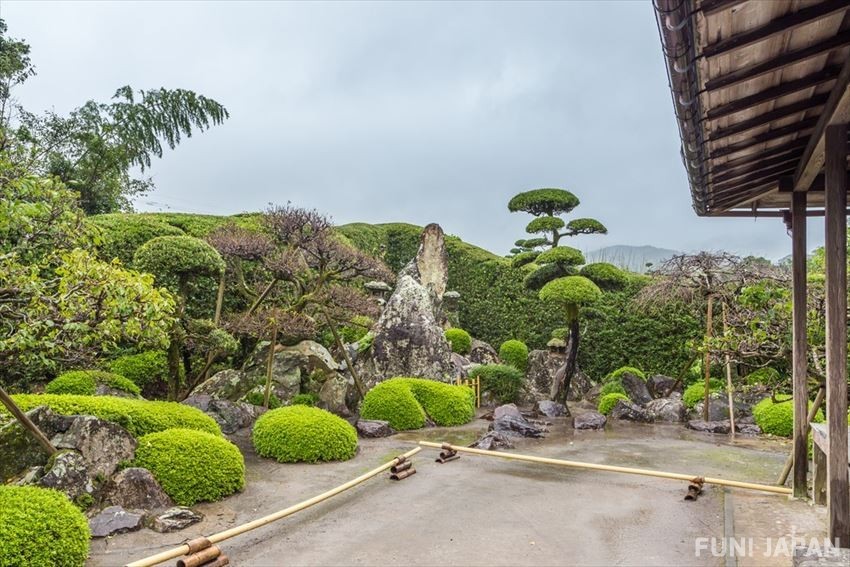 Our first stop is the preserved samurai district with gardens and properties dating back over 250 years. The district consists of a quiet 700-meter long street without any telephone poles or parked cars, preserving its historical atmosphere. Visitors can buy a pass for 500 yen to visit the seven traditional gardens located within the district.
Spot Information
Name: Chiran Samurai District & Gardens
Address: Chiran, Minamikyushu, Kagoshima 897-0302
Hours: 24 hours
Access: The samurai district can be reached by hourly buses from Kagoshima (80 minutes, around 900 yen, departing from Kagoshima Chuo Station and the Yamagataya Bus Center), which also stop at Hirakawa Station (30 minutes to Chiran) along the way. Get off at the Bukeyashiki-iriguchi (武家屋敷入口) bus stop. Most of the buses continue to the Chiran Tokko Museum, which is about two kilometers away.
3. Chiran Peace Museum for Kamikaze Pilots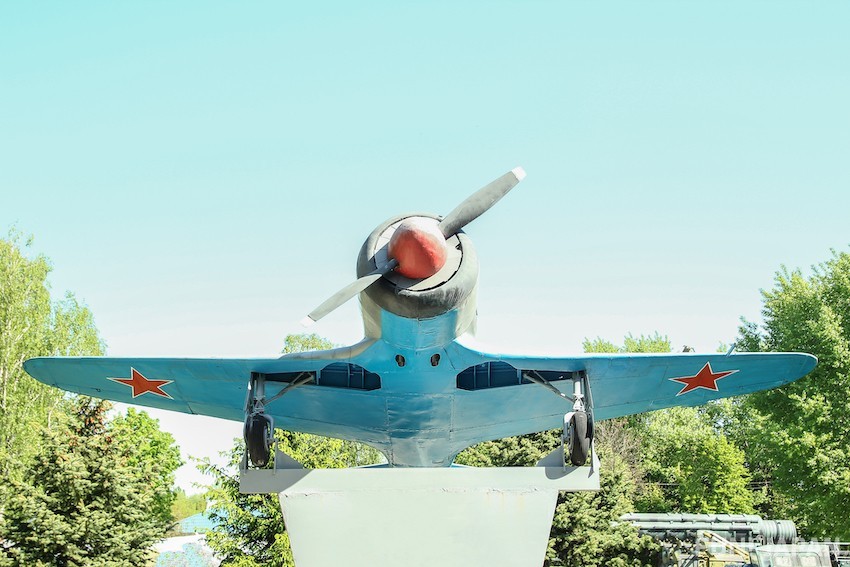 The Chiran Peace Museum commemorates the "Special Attack Corps," otherwise known as kamikaze pilots, who flew suicide missions for Japan during the Second World War. The museum is built on the site of the airfield from which the pilots took off.
The museum presents intimate details of the pilots' lives, including essays and final letters written prior to their deaths. There is a hall with pictures of each pilot arranged in the order of their death. The exhibition also includes four planes recovered from the ocean which were used during the war. The pilots who gave their lives during the war are presented as real people to visitors. The museum is open every day from 9 am - 5 pm, with last admission half an hour before closing.
Spot Information
Name: Chiran Peace Museum / 知覧特攻平和会館
Address: 17881 Kori, Chiran-cho, Minamikyushu, Kagoshima 897-0302
Opening Hours: 9 AM ~5 PM
Admission fee: High school students and older: 500 yen (400 yen) Elementary / Junior high school students: 300 yen (240 yen) is the group rate.
Reservations required for tours.
Access: From Kagoshima, drive down the Ibusuki Skyline Toll Road to Minamikyushu, about an hour away. For those traveling by public transport, buses leave hourly from Kagoshima Chou Station and Yamagataya Bus Center and stop in the center of town. To reach the Peace Museum by bus, get off at Tokko-kannon-iriguchi stop.
4. Kagoshima's Samurai Heritage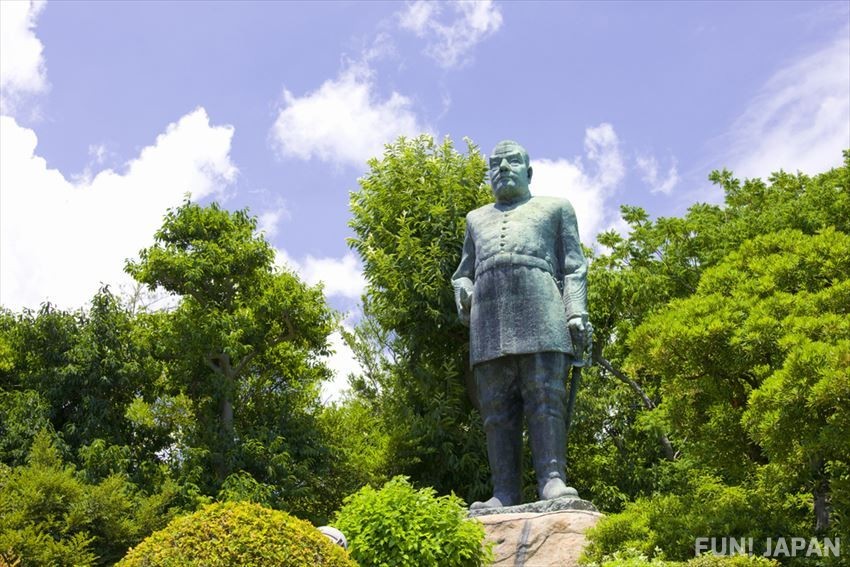 Kagoshima is one of the most historically important cities in all Japan. Home to Saigo Takamori who is often called Japan's "Last Samurai", Kagoshima played a key role in the Satsuma Rebellion, a major catalyst that brought about the Meiji Restoration and ended the rule of the shoguns. Lovers of history or anything to do with samurai will find Kagoshima a rewarding destination. There are many spots relating to Saigō Takamori, but every day there are a lot of tourists at Saigō Takamori Statue.
Spot Information
Name: Saigō Takamori Statue
Address: 4-36 Shiroyamachō, Kagoshima, 892-0853
Access: About 10 minutes on foot from Kagoshima City Tramway "Asahi-dori" station
5. The Reimei-kan Museum
The Reimei-kan is known for its displays telling the story of the Satsuma Rebellion in Kagoshima and this is also the place to come if you want to know more about ancient Japanese arts and crafts such as sword making.

The museum was founded in 1968 to commemorate the centenary of the Meiji Restoration and opened to the public in 1983.
The Reimei-kan is enclosed in the ruins of Tsurumaru castle, which was a stronghold of the Shimazu clan, the feudal lords of Satsuma Domain, during the Edo Period. The moat, stone walls and stone bridge are still standing today, and have been designated as historical sites by the prefecture.
Spot Information
Name: The Reimei-kan Museum
Address: 7-2, Shiroyama-cho, Kagoshima city, Kagoshima Prefecture 892-0853
Opening hours: 09:00 – 18:00 (last admission 17:30)
Admission fee: Adults ¥310, Senior high school students ¥190, Children ¥120
Access: The Reimeikan Museum is a 5-minute walk from the Shiyakusho-mae tram stop (170 yen per ride). It is also served by the City View Bus (35 minutes from Kagoshima Chuo Station) and Machimeguri Bus (20 minutes from Kagoshima Chuo Station) which stop near the statue of Saigo Takamori.
6. Terukuni Shrine
Terukuni Shrine is not old compared to many shrines, having been founded in 1862 to enshrine Shimazu Nariakira, a feudal noble from the Edo Period. This is made very clear as when you pass through the beautiful huge white torii gate are greeted by a huge statue of Nariakira. He was the 28th lord of powerful Shimazu clan in the Satsuma Domain, who was greatly admired for his great intellect and interest in western ideas and technology. After his death in 1863, Nariakira's remains were placed in Terukuni Shrine which is held to be where his kami (Shinto deity) Terukuni Daimyoujin resides.
One of the most interesting features of the shrine is a tree which has been pruned to look like a bird in flight and makes an ideal spot for a quick selfie. The shrine also displays one of Japan's National Treasures, a sword crafted by legendary swordsmith Kunimune. This sword was given to the shrine by Shimazu Tadashige, the 30th head of the clan, in 1927.
As at other shrines and temples, you can buy charms and amulets for protection or granting your wishes. The easiest way to get to Terukuni shrine is to walk. The trains and trams only save around 8 minutes so why not stretch your legs? It is 20 minutes on foot from Kagoshima Chuo Station to Terukuni Shrine.
Spot Information
Name: Terukuni Shrine
Address: 19 - 35 Terukuni-cho, Kagoshima, 892-0841
Business Hour: 08:30 – 17:00
Access: From Kagoshima Chuo Station:20 minutes on foot, 10 minutes by bus to Tenmonka Bus Stop, then 5 minutes on foot, 10 minutes by tram to Tenmonkan Trum Stop, then, 5 minutes on foot
7. Yakushima Island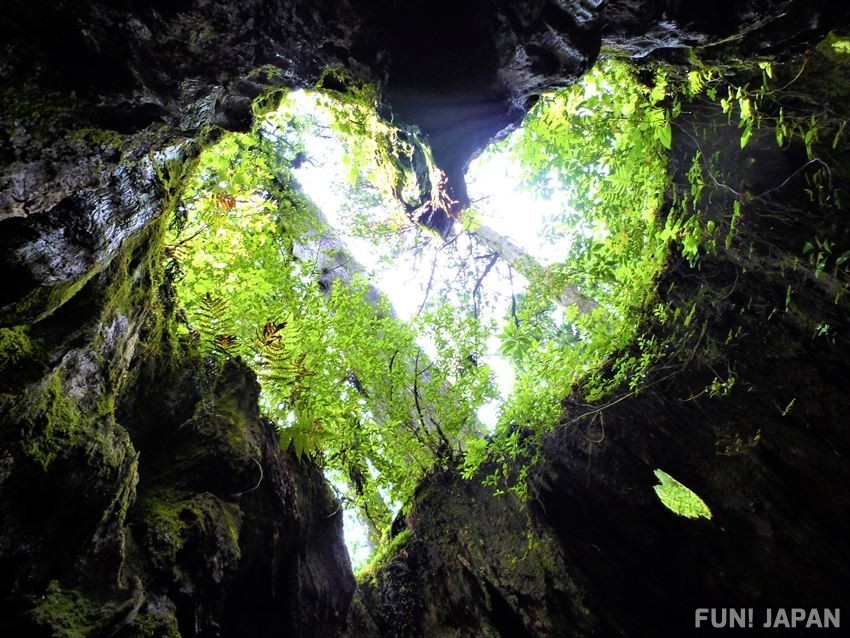 Yakushima is an island for nature lovers, and perfect for those looking for a quiet getaway. There is a myriad of natural delights to be enjoyed at your own pace, leaving you feeling relaxed and rejuvenated. The renowned Japanese animation director visited here in 1995 and drew inspiration for many of the scenes that he created in the classic 1997 anime film Princess Mononoke.
Spot Information
Name: Yakushima island
Address: Miyanoura, Yakushima-cho, Kumage-gun, Kagoshima
Access: Take the bus/Miyanoura Harbor Bus ay Miyanoura bus stop/Miyanourakoh (harbor) entrance and get off at the terminal " Shirarani Unsuikyo", it takes approx. 40 mins.
Admission fee: JPY 300 (high school or above) as the supporting fee for forest environmental management and bus fare JPY550
Credit card: not applicable
3 Things to experience in Kagoshima
1. Hot spring; Ibushuki Onsen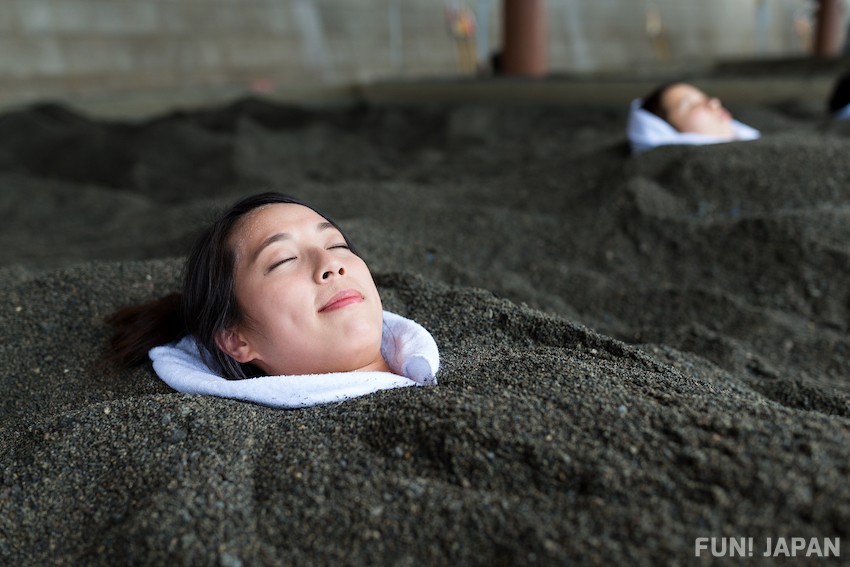 After sweating up and down the mountain, what could be nicer than a visit to relax in a nearby onsen? Ibushuki is located on the coast facing Kagoshima Bay and is famous for its sand baths. Guests lie down on the beach and are buried in hot sand that is heated by steam below the surface. Two of the popular facilities providing this service are Saraku Sand Bath Hall and Healthy Land, both of which also provide regular indoor onsen. Healthy Land additionally offers large rotenburo (open-air baths) with views of the coast.
Spot Information
Name: Ibusuki Onsen
Address: Junicho, Ibusuki, Kagoshima 891-0403
Access:
From Chiran, Ibusuki is quite near and easy to reach by car. To get to Ibusuki from Kagoshima City, take the limited express train from Kagoshima Chuo Station to Ibusuki Station. Both Saraku Sand Bath Hall and Healthy Land are reachable via bus from Ibusuki Station.
2. Trekking in nature; Nagisa Lava Trail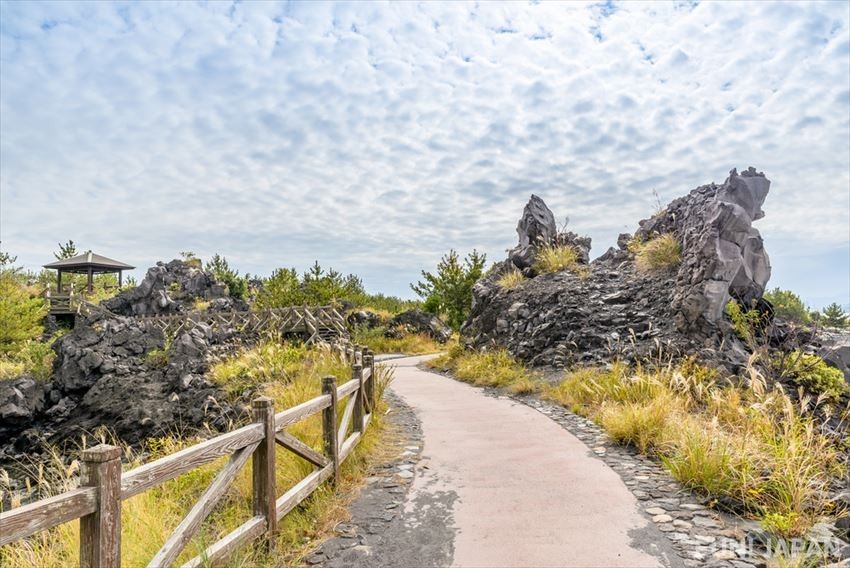 Sakurajima is considered one of the country's most active volcanoes. In fact, the Nagisa Lava Trail has a recent eruption to thank for its existence. The route consists of three kilometers of walkways along the water nearby the Sakurajima Ferry Terminal. The trail runs along the area where lava flowed during the eruption of 1914 which resulted in joining the island of Sakurajima to the mainland. Now the fertile land along the trail is home to thriving plants and flowers.
Getting here
From Kagoshima City, the volcano is easily accessed by a ferry ride from Kagoshima Port. Cars can be taken onto the ferry for 1,150 yen. Around Sakurajima Ferry Terminal, there is an information center, an onsen, and the entrance to the Lava Trail.
3. Viewing the beautiful landscape; Cape Nagasakibana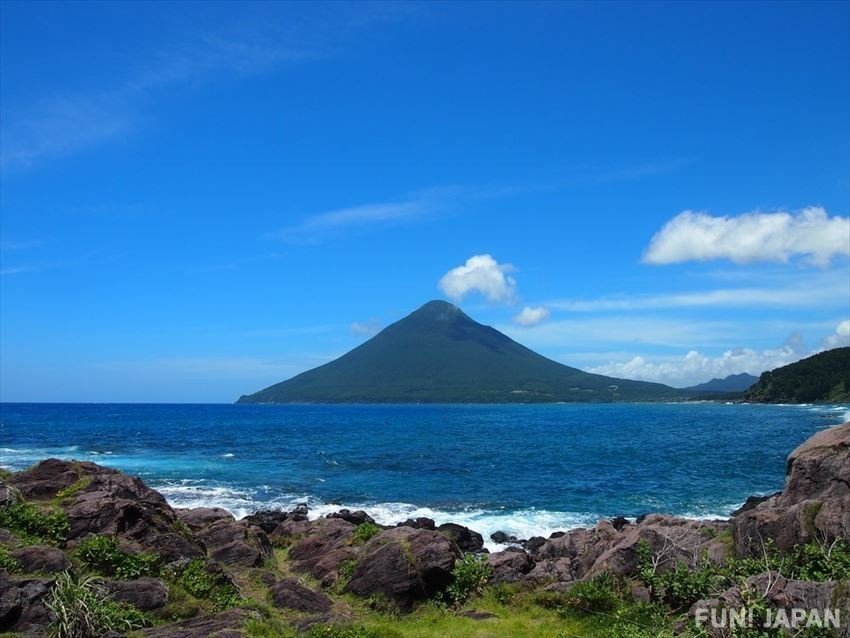 It's only a quick drive to get to the southernmost point of the peninsula: Cape Nagasakibana. There is a lighthouse at the tip of the cape which offers up a view of Mount Kaimondake, nicknamed "Satsuma Fuji" due to its similarity to Mount Fuji. The 924-meter high mountain is a popular hiking destination, with plenty of panoramic views of the bay and the surrounding land.
Spot Information
Name: Cape Nagasakibana
Address: Nagasakibana, Yamagawaokachiyogamizu, Ibusuki-shi, Kagoshima
Opening Hours: 8 AM ~5 PM
Admission fee: 1,200 yen
Access: 15 minutes by car from Yamakawa Station
3 Speciality Foods You Should Eat at Kagoshima
What kind of food can you eat at the southernmost prefecture in Honshu. We will introduce 3 dishes we recommend that can only be found in Kagoshima prefecture.
1. Special Kurobuta Pork Cuisine!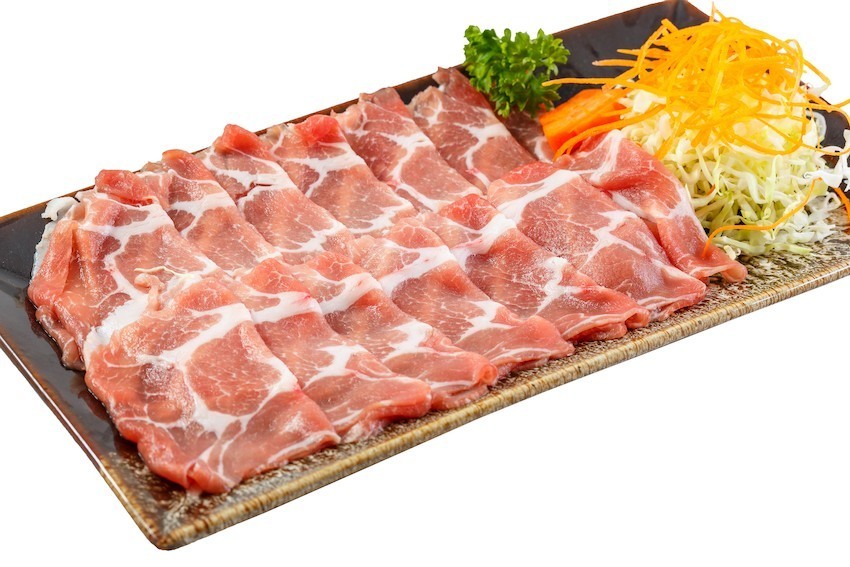 Pork has long been a very popular meat in Japan. During the Edo Period, pork was once sold as a medicine and was believed to make the you stronger, as well as generate greater stamina. It is also said that the last Tokugawa shogun, Yoshinobu, loved pork so much that he was nicknamed No.1 Pig Master (Tonichi-sama).
Kurobuta (black pork) is the meat of the Berkshire pig, a black-haired breed introduced from Britain via the Okinawan islands. Interestingly, these pigs are raised on a diet of sweet potatoes and freshwater in order to enhance the flavor of the meat.
2. Kibinago (Herring) Sashimi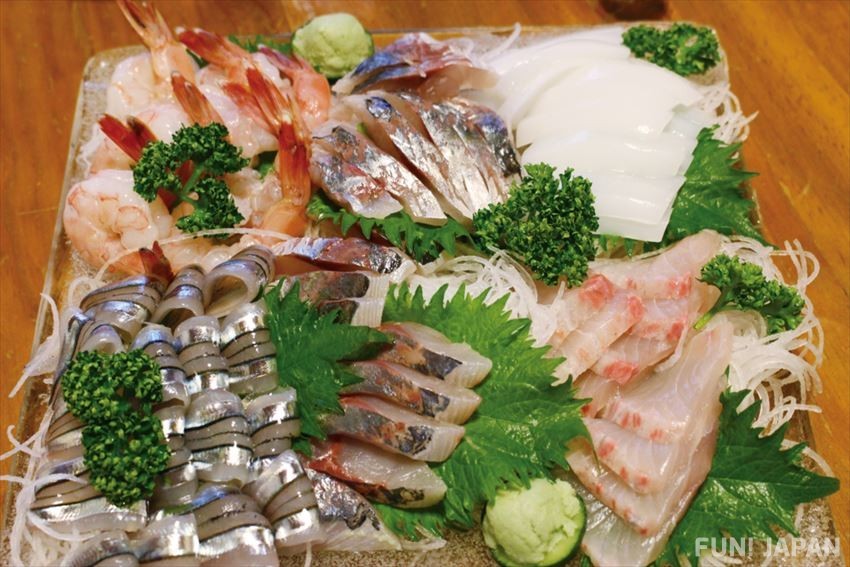 Kibinago a blueback fish that is unloaded year-round at Kagoshima prefecture mainland and near the ocean. The season is from spring to early summer, but from autumn to winter the Kibinago is firm, so you can enjoy a different texture. It is an ingredient that dining tables in Kagoshima cannot be without
3. Shaved Ice "Shiro Kuma" or Polar Bear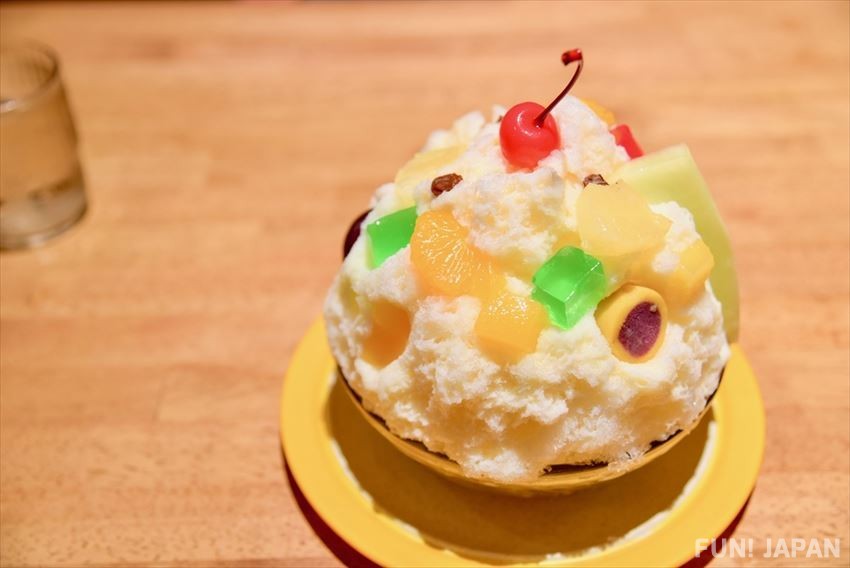 Usually, you would put condensed milk sauce on shaved ice, some kinds of beans and fruit, and that is called Shiro Kuma (Polar Bear) shaved ice. There are various theories regarding the origin of the name, as the trademark rights are unclear. "When I made it, there was a Polar Bear drawn on the condensed milk container." And "Because it looked kind of like a Polar Bear once it was made."
Where to stay
There are many hotel and ryokan options in Kagoshima City. For those travelers who want to stay somewhere away from the city bustle, there are limited yet high-quality options in Chiran and Ibusuki as well as near the base of Sakurajima.
Green Hotel Chiran Fukuzumi
Address: 4810-24, Kori, Chiran-cho, Minamikyushu, Kagoshima Prefecture 897-0302
Ibusuki Seaside Hotel
Address: 1912, Jitcho, Ibusuki, Kagoshima Prefecture 891-0402
Rainbow Sakurajima
Address: 1722-16, Yokoyama-cho, Sakurajima, Kagoshima Prefecture 891-1419
Transportation in Kagoshima
Coach bus is by far the cheapest option to get to Kagoshima city from Fukuoka. Tickets are sold at the Hakata bus terminal costing between 4,000-6,000 yen for a return ticket with both morning or night bus services offered. The buses are operated by Nishitetsu Bus Company and take around 5 hours from Hakata bus terminal to Kagoshima station. For those wishing to arrive quicker, JR runs a shinkansen service from Hakata station to Kagoshima station, this takes around 80 minutes and costs 21,000 yen for a return ticket.
[Survey] Traveling to Japan
Recommend