Relaxing Japan's Representative Nature, Yakushima in Japan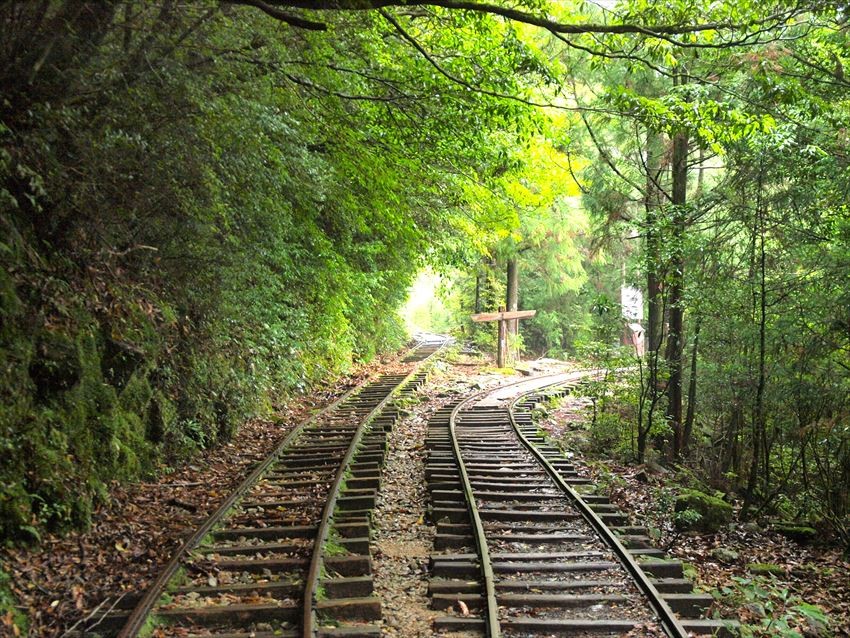 Yakushima is an island for nature lovers, and perfect for those looking for a quiet getaway. There is a myriad of natural delights to be enjoyed at your own pace, leaving you feeling relaxed and rejuvenated.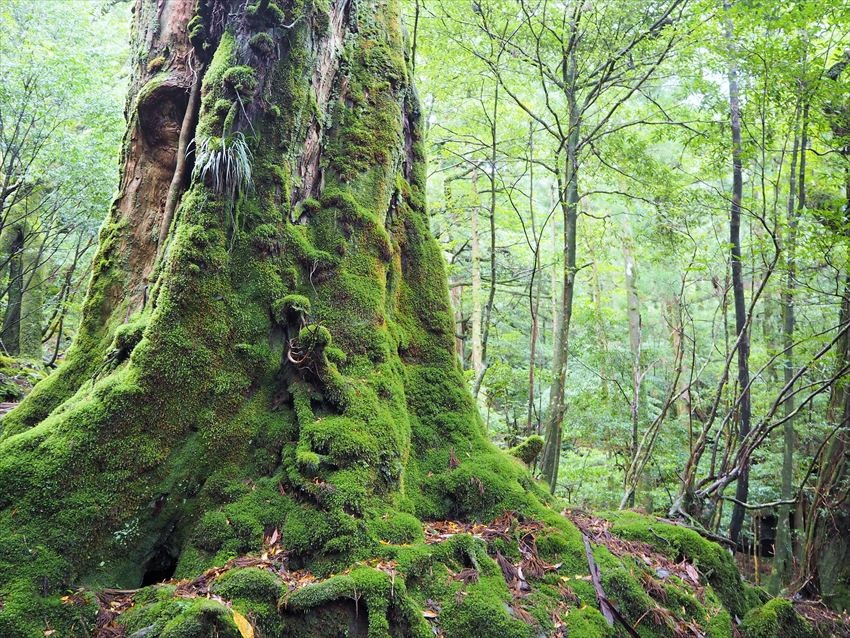 Yakushima Island Filled with Deep Green
The calm begins to set in upon arrival as you are treated to panoramic views of the island's picturesque coasts and striking mountains cloaked in a deep forest of green that can be enjoyed in style as you approach by ferry.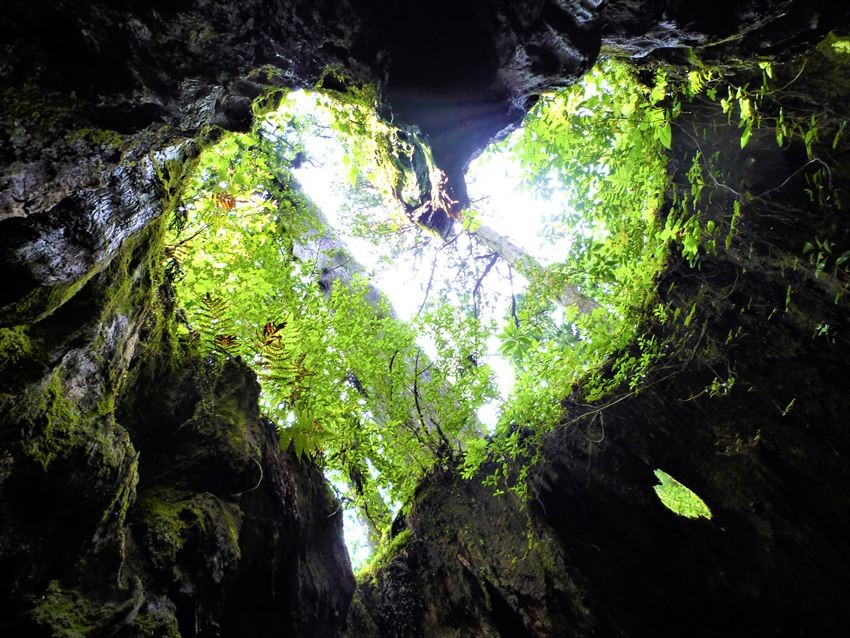 Yakushima's Cedar Lead to the World Heritage Registration
Although one of Yakushima's main sources of income is tourism (along with the cultivation of delicious local oranges) it's easy to find yourself a slice of paradise. In fact, 18,958 ha of the island was declared a Man and the Biosphere Programme in 1980, Yakushima is the largest nesting ground for the endangered loggerhead sea turtle.
However, the main tourist attraction is Jomonsugi or Jomon Cedar, a 2,400 to 7,000-year-old tree found in deep Yakushima's World Heritage Site ancient forest.
The heart-shaped hollow stump has become a hot Instagrammable spot in recent years. It's called "Wilson's stump" as named after a researcher there.  

Spot Information
Name: Jomon sugi cedar trees and Wilson's Stump

Address: Miyanoura, Yakushima-cho, Kumage-gun, Kagoshima
Location: Ride on the "Arakawa Hiking Bus" at "Yakusugi Museum", get off at "Arakawa Tusanguchi (hiking entrance)". It takes approx. 40-mins.
Admission fee: Arakawa Hiking Bus- 870 yen (junior high school students or above, single trip) /350  yen (elementary school students, single trip) * Please purchase your ticket at least one day in advance.
Credit card: inapplicable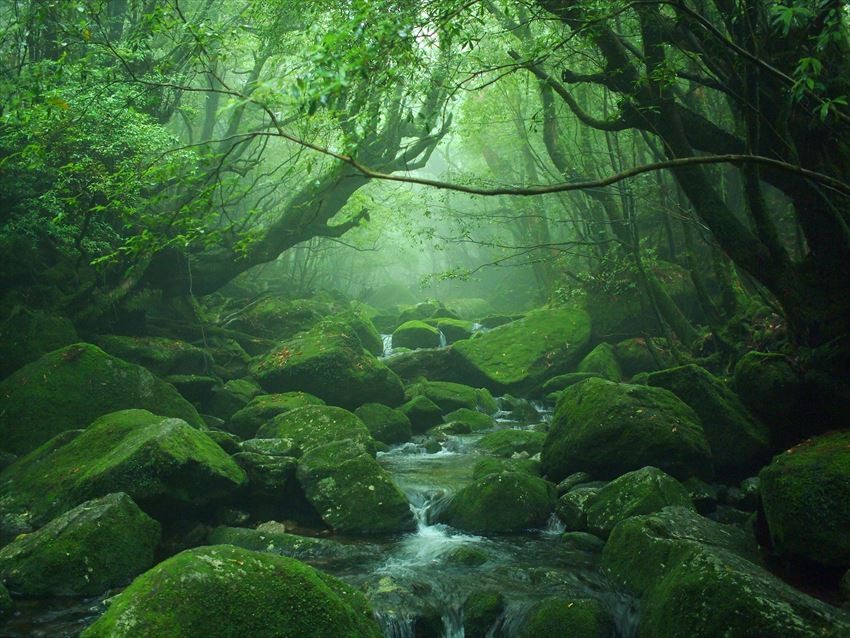 Yakushima 's forest is the birthplace of "Princess Mononoke"
A hike to Jomon Sugi is a must for adventure enthusiasts, and you should set out early in the morning armed with a delicious bento (Japanese lunch boxes) to locate the legendary tree. The ancient forests have an air of magic to them and you would be captivated by their natural beauty.
Although the 9-hour return hike is not for everyone, we would definitely recommend taking a stroll in the woods to experience firsthand the nature that inspired Hayao Miyazaki.
The renowned Japanese animation director visited 白谷雲水峡 in 1995 and drew inspiration for many of the scenes that he created in the classic 1997 anime film Princess Mononoke.
Spot Information
Name: Shirarani Unsuikyo Ravine

Address: Miyanoura, Yakushima-cho, Kumage-gun, Kagoshima
Location: Take the bus/Miyanoura Harbor Bus ay Miyanoura bus stop/Miyanourakoh (harbor) entrance and get off at the terminal " Shirarani Unsuikyo", it takes approx. 40 mins.
Admission fee: 300  yen (high school or above) as the supporting fee for forest environmental management and bus fare 550  yen
Credit card: not applicable
* Beginners can visit the Yakusugi land to appreciate Yakusugi in a safe manner. Yakusugi Land to See Yakusugi or Yaku Cedar in Japan's Great Nature Island, Yakushima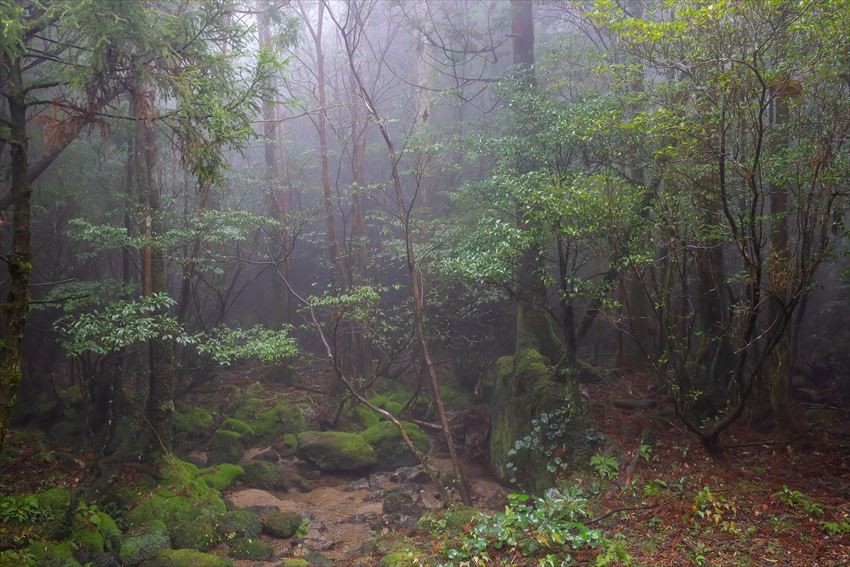 Yakushima's Weather
A female writer in Japan once written "In Yakushima, it rains 35 days every month". So Japanese people normally have an impression that Yakushima is a place raining 24/7, and 365 days a year. The actual rainfall is as follow.
End of May to mid- July- rainy season (* typhoon might happen since around May)

July to September- a lot of rain in this season
October & November- the total rainfall is more or less the same as in July – September while the weather becomes more stable.
Around December to end of March- with snow on the ground. Around 1– 2m of snow at Jomon Sugi (altitude 1,300m) and around 30– 50cm of snow at Shirarani Unsuikyo Ravine (altitude 600m). Roads are closed in this period as they become icy.
Hotels in Yakushima
There is a huge number of accommodation facilities in despite of the small size of the island. They are mainly guest houses so because of the language barrier, please do not expect smooth communication. Still, they are familiar with international visitors. A piece of good news is many of them provide Wi-Fi, breakfast, and air-conditioned rooms. However, be mindful that credit cards cannot be used almost at all events.
Yet, there is a number of hotels and spa resorts on the island that accept online reservation and credit card payments.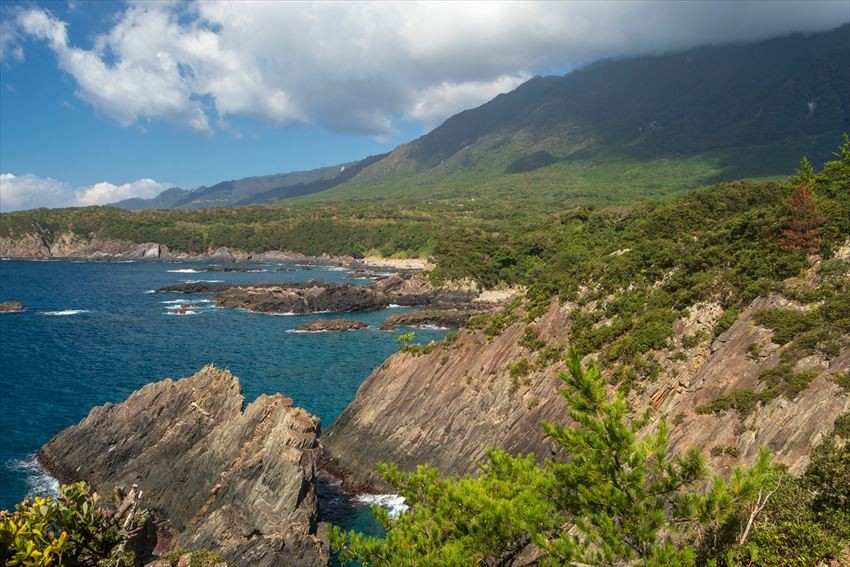 How to get to Yakushima
Yakushima airport
The only direct flight to Yakushima airport is from Kagoshima. So please move to Kagoshima airport from airports from other major cities for the transit to Yakushima, which is the quickest way.
*Period-limited direct flights connecting the island with other airports are occasionally available, while there are no plans in 2019.
Remember you cannot find the followings at the Yakushima airport, be cautious. Prepare in advance before departure or at Kagoshima airport.
Bank, currency exchange, ATM, lounge, internet connection, sleeping booth, shower rooms. 
Tokyo to Yakushima
By Plane
As mentioned above, from Haneda airport first head to Kagoshima airport, Tokyo then transit to Yakushima airport. It takes approx. 1 hr 50 mins to travel from Haneda Tokyo to Kagoshima. The cheapest flight may cost around JPY 10,000 (one way).
By Raiways
At Tokyo station, ride on Nozomi shinkansen super express and get to Shin-Osaka station, then change to Mizuho shinkansen super express to Kagoshima Chuo station. It takes around 6 hrs 30 mins. The fare starts at around JPY 30,000 (one way). Then, change to marine transport to Yakushima.
By Ferry
From Kagoshima, there are turbojet and ferries to Yakushima
Turbo jet- 6 turbo jets a day, approx. 2 hrs for a single trip. The fare is around 10,000 yen.

Ferry- 1 ferry a day, approx. 4 hrs for a single trip. The fare is around 5,000 yen.
Yakushima is a fantastic place for anyone wishing to escape from the hustle and bustle of the big cities and experience Japan's untouched prehistoric landscapes firsthand. 

[Survey] Traveling to Japan
Recommend