An Extensive Guide to Naritasan Shinshoji Temple in Narita, Chiba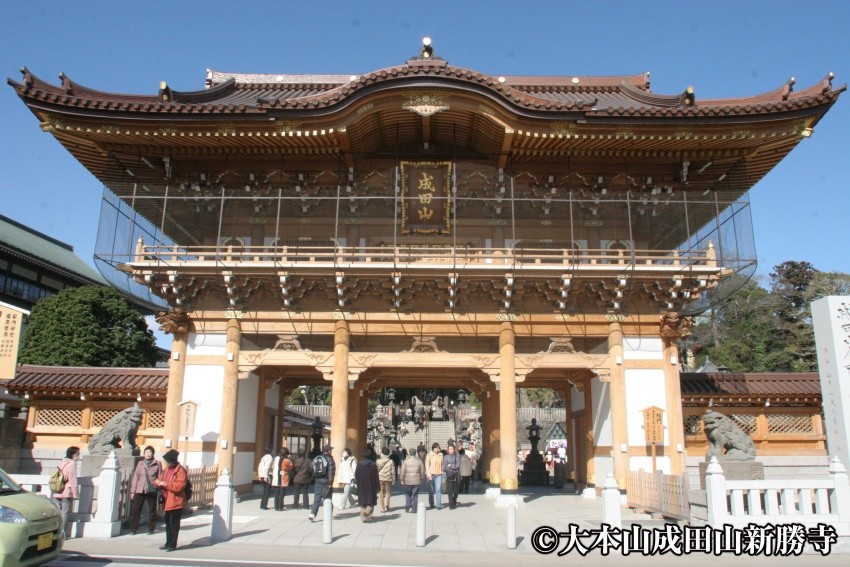 Naritasan Shinshoji Temple in Narita, Chiba is the headquarter temple of Shingon sect Chizan school and is also well known as Fudo of Naritasan. Being near Japan's entranceway, Narita International Airport, it is a spot you can stop by right after arrival or before departure. There are many highlights throughout the large site. This will be an introduction to the history and must-see points of Naritasan Shinshoji Temple.

History and Summary of Naritasan Shinshoji Temple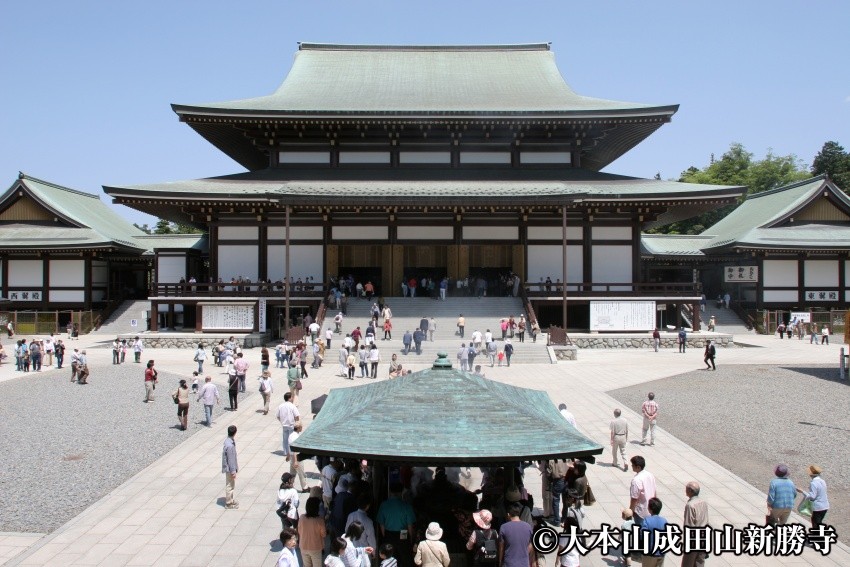 According to what is told by Fudo Myoo (Buddhist deity, lit. Unmovable Wisdom King), in the third year of Tengyo (940), Kancho Daisojo founded the temple. The Kabuki actor, the first generation Ichikawa Danjuro with deep faith, made Yago of Naritaya known by performing a play with the appearance of Fudo Myoo, which garnered enormous faith from the common people. The grounds are very spacious, and there are many temple buildings such as Somon, Niomon, Sanju no To, Daihondo, Shakado, and Komyodo. You will need one hour to visit everything, so be sure to visit when you have the time.

In addition, in the back of Daihondo (Main Hall), there is Naritasan Park, which is about 165,000 square meters wide. Promenades are also well equipped, so you may take a walk after visiting the temple. It is also well known for sakura in the spring and autumn leaves in the fall.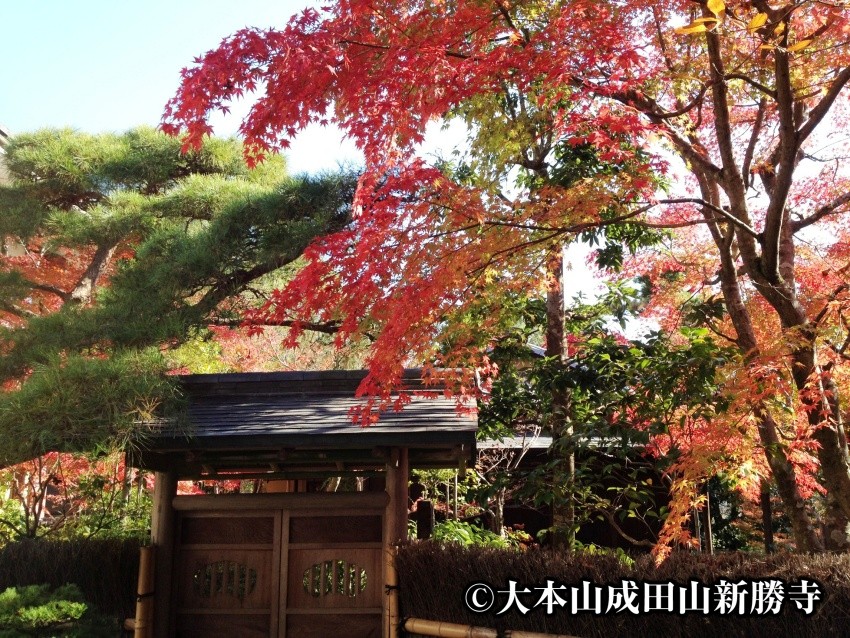 Highlights of Naritasan Shinshoji Temple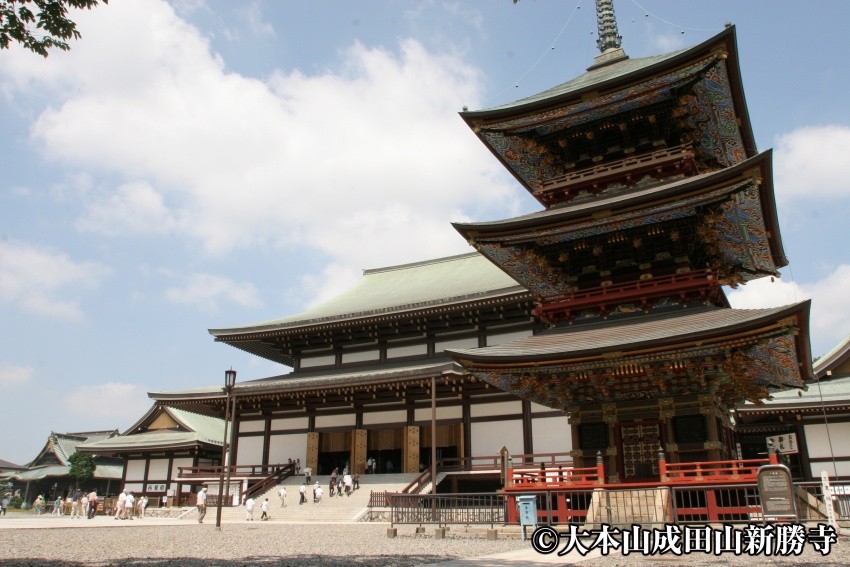 Sanju no To (Triple Storey Tower) is a must-see. Being erected in 1712, its appearance is as it as at the time it was built. The tower is about 25 meters high and is designated as an important cultural asset of the country. The splendid colorful sculptures are noteworthy. Among them, the cloud water sculpture rafter of each layer is rare, being made with one single plate. You definitely want to take your time looking at this work of art. "Niomon" is also a highlight. The red paper lanterns written "Uogashi", is something that the store owner of Uogashi of Tsukiji dedicated. On both sides of the gate there are Mitsuji Kongo and Naraen Kongo on the left and right side respectively. In addition, in 1701, "Komyodo" and "Shakado", which are important buildings of the middle of the Edo period, and things such as "Somon" are a must-see as well.

Events of Naritasan Shinshoji Temple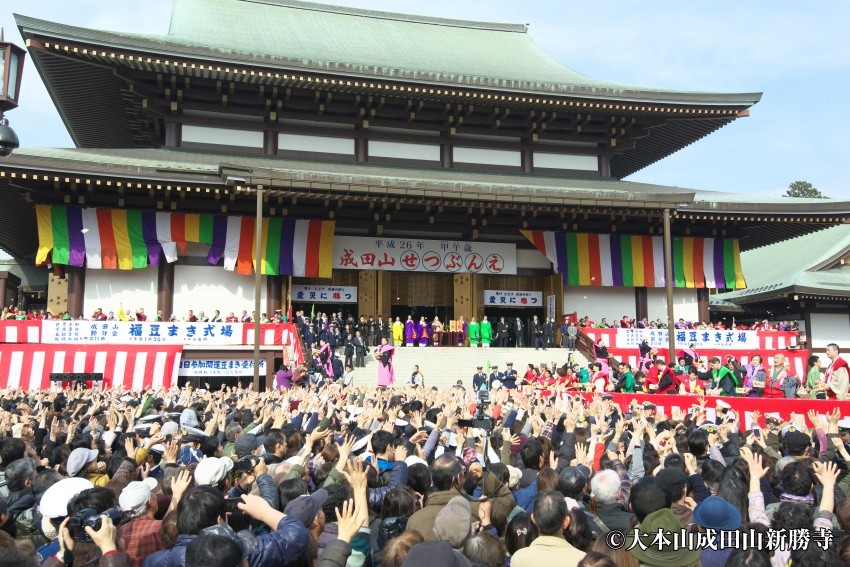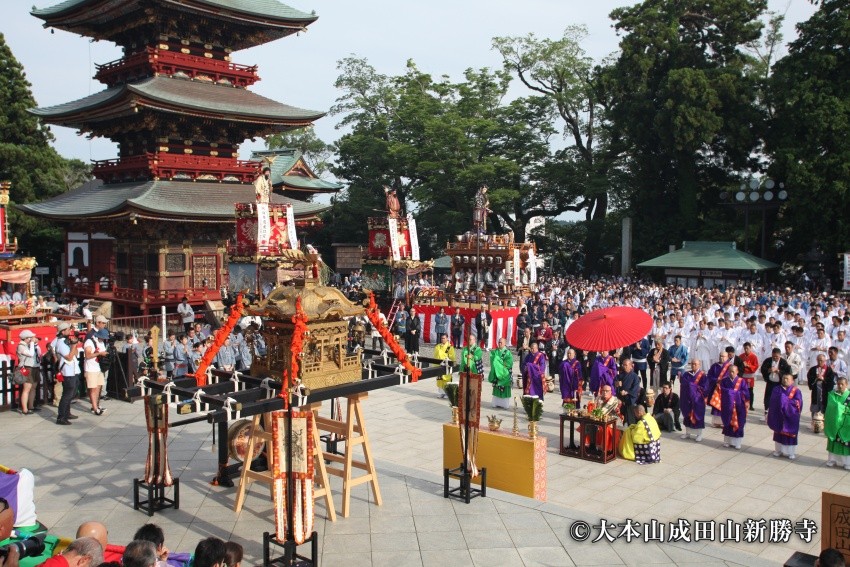 There are various events throughout the year, with the famous ones being Setsubunkai and Gionkai. Every year, actors and sumo wrestlers pray for good harvest and perform bean scattering. Gionkai is a festival with about 300 years of history, and is held in early July. The doors for Okunoin, where Dainichinyorai of behind Komyodo is, are opened, prayer for good harvest is held and floats go around the nearby area.

Access to Naritasan Shinshoji Temple and Opening Hours

Naritasan Shinshoji Temple is about 10 minutes walk from Keisei "Keisei Narita" station or JR "Narita" station. From Narita Airport, go from Narita Airport Station (Terminal 1) or Airport Terminal 2 Station (Terminals 2 and 3), and when taking the Keisei Electric Railway Keisei Main Line, you can arrive at "Keisei Narita" Station in about 8 minutes. The temple is about 10 minutes away from the station. Alternatively, take the JR Narita Line and arrive at JR Narita Station in about 8 minutes, and it is about 10 minutes on foot after getting off. You can go anytime as it is open all year round.

Spot Information

Spot name: Naritasan Shinshoji Temple
Street address: 1, Narita, Chiba, 286-0023
Access: Refer to above
Wi-Fi: Free Wi-Fi available in one part
Language: Pamphlets available in English, Chinese, Koeran, and Thai
Ticket: Free
Hours: Anytime
Holidays: None
[Survey] Traveling to Japan
Recommend