Lake Chuzenji: Japan's Highest Elevation Lake at 1,269 meters High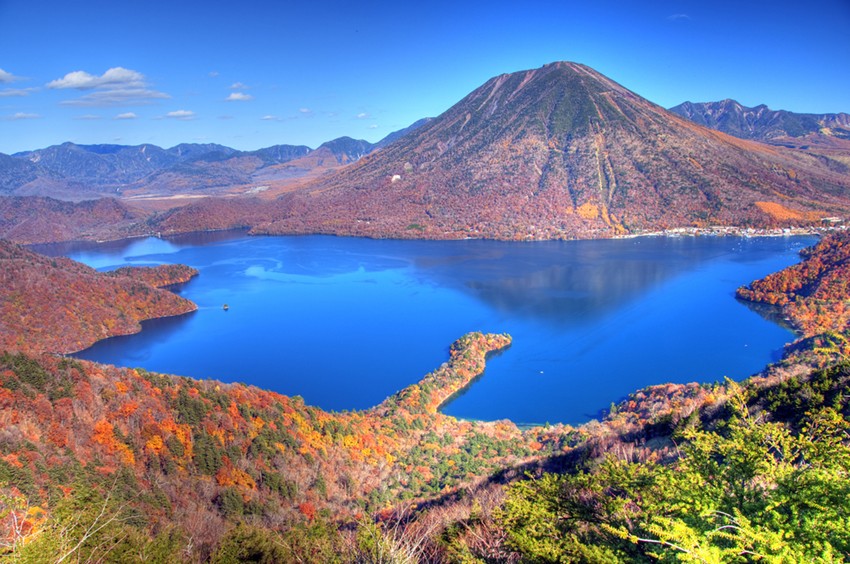 Chuzenji Lake is a lake in Nikko National Park of Nikko City of Tochigi Prefecture in Japan. The lakeside is dotted with various tourist attractions such as waterfalls, onsen, temples, and shrines.

About Nikko's Lake Chuzenji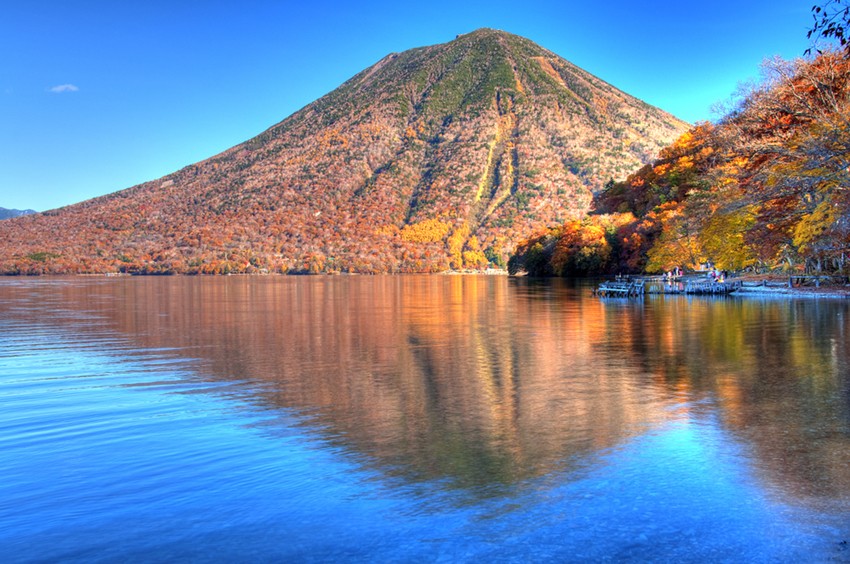 Lake Chuzenji is a large lake with an area of 11.62 square kilometers, and a circumference of about 24 kilometers, created by the eruption of Mt. Nantai about 20,000 years ago. Located at an altitude of 1,269 meters, it is the highest natural lake in Japan. There are tourist spots, restaurants, accommodation facilities, etc. on the lakeside, and there is also a boarding spot for a sightseeing boat, and you can enjoy cruising the lake.
Weather and Tourist Season of Lake Chuzenji
Because of the high altitude of Lake Chuzenji, it is cool in the summer and cold in the winter. It is also characterized as having weather that easily changes throughout the day. The area is popular as a summer resort because it is cool, so the summer is recommended when sightseeing.

However, the best season for visiting Lake Chuzenji is not limited to the summer. You can admire the beautiful view of the colored leaves in the surrounding trees and mountains, so visiting in the fall is also great.
Highlights and Things to do at Lake Chuzenji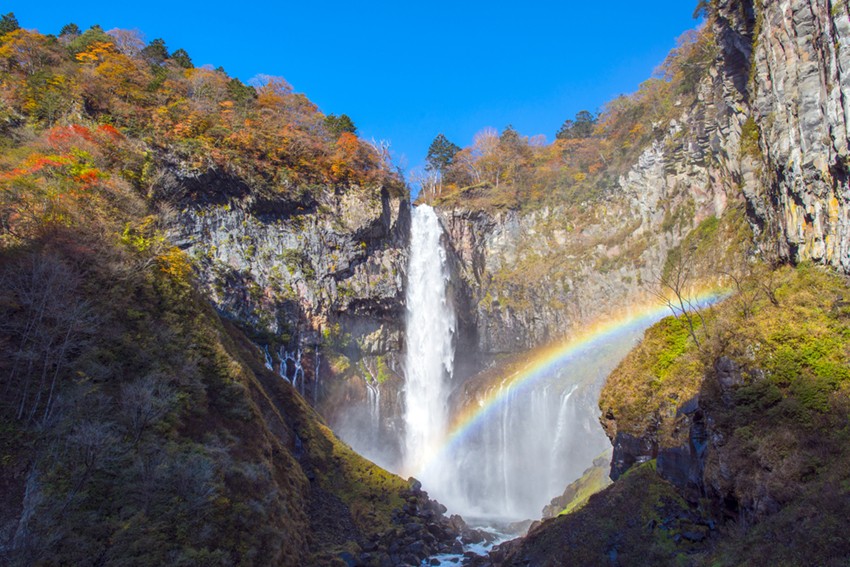 In addition to Chuzenji Onsen, located on the north shore of Lake Chuzenji, there are also sightseeing spots such as "Kegon Falls" and "Nikko Futarasan Shrine". On the other hand, aside from "Chuzenji" and foreign embassies, the southern coast consists mostly of untouched nature. Here are some recommended lakeside spots of Lake Chuzenji. 

Hiking in the Lake Chuzenji Area
There is a nature-rich hiking trail of about 13 kilometers on the southern shore of Lake Chuzenji. On the other side is Mount Nantai, and you can see the beautiful view of the weaving lake and mountain. In addition, there is a promenade of about 5 kilometers that extends from Chuzenji Onsen of the north coast to "Ryuzu Waterfall". It is made to be easily walkable even for beginners, so be sure to walk it!

Kegon Falls and Other Natural Spots of Lake Chuzenji
There are many spots with beautiful natural scenery at Lake Chuzenji. Among them, the two waterfalls famous for colored leaves are highlights. One is "Kegon Falls". With a height of 97 meters, it is one of Japan's three major waterfalls, and the water falls down the quay with a striking force. Another is "Ryuzu Falls". It was named after the way it flows looking like a dragon, where it splits in two as it falls to the basin.

Foods and Restaurants of Lake Chuzenji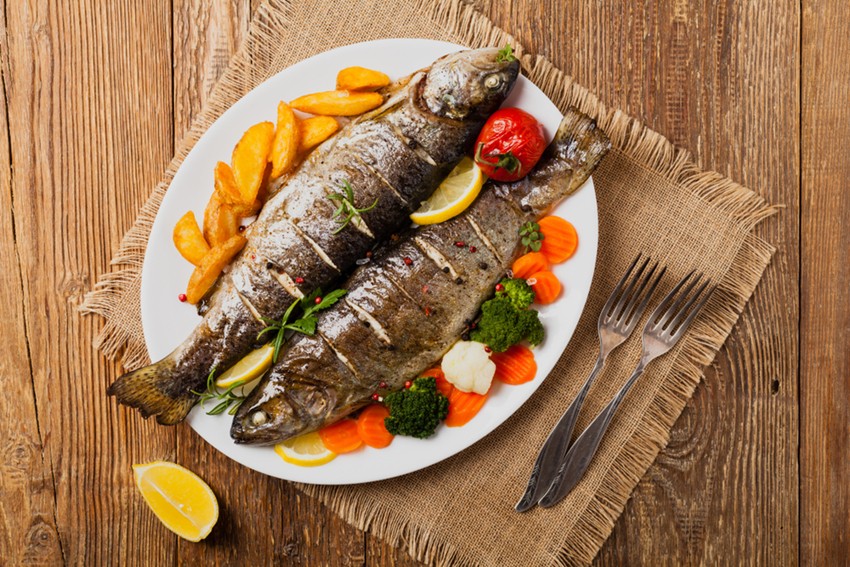 Trout dishes made from "Himemasu" (ヒメマス) raised in the waters of "Yanagisawa Jigokuzawa" (柳沢・地獄沢) which flows into the lake is a specialty of Lake Chuzenji. It is offered at many restaurants near Lake Chuzenji, such as Western-style restaurants, Japanese-style restaurants, and hotel restaurants, and you can eat it with a variety of cooking methods, such as salt-grilled and saute.

Most of the restaurants of Lake Chuzenji are in the Chuzenji Onsen area.
Hotels and Ryokan of Lake Chuzenji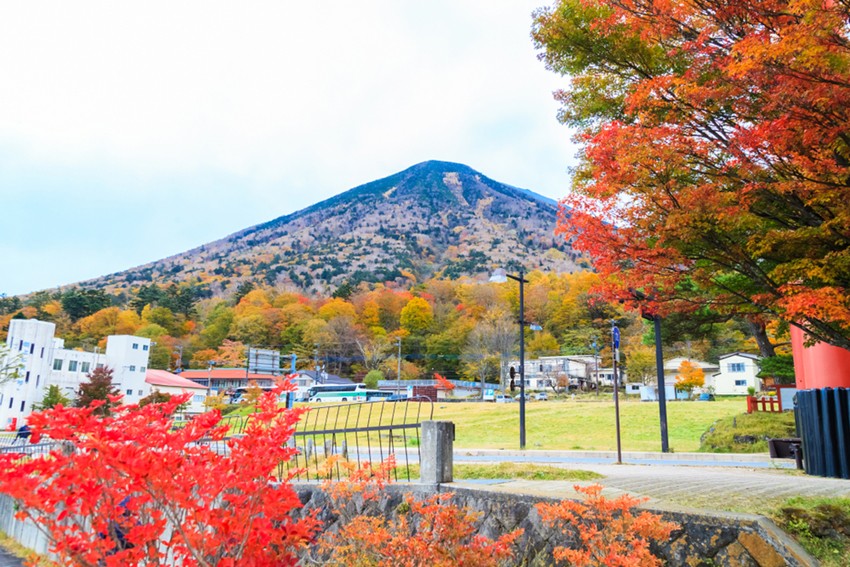 Most of the accommodations at Lake Chuzenji are concentrated in the Chuzenji Onsen area. You can choose either a hotel or Ryokan (Japanese inn), but there are many hotels in particular. Aside from this, although there are only a few, there are a number of hotels along the lakeside.

How to get to Lake Chuzenji from Nikko
If you're travelling to lake Chuzenji from Nikko, you can take a bus from "JR Nikko Station" or "Tobu Nikko Station". If you take the Tobu Bus bound for Chuzenji Onsen (中禅寺温泉) / Yumoto Onsen (湯元温泉) from either one station, you can arrive at "Chuzenji Onsen Bus Terminal" in about 50 minutes. It is about a 5-minute walk from the bus terminal to Lake Chuzenji. 

Spot information
Spot name: Lake Chuzenji (Chuzenji Onsen Bus Terminal)



Street address: Chugushi Nikko, Tochigi 321-1661
Access: About 50 minutes by Tobu Bus from JR Nikko Station and Tobu Nikko Station
Wi-Fi: Available (TOBU FREE Wi-Fi)
Language: English, Chinese
Ticket Purchase: At stations
Credit cards: VISA, MasterCard, JCB, AMERICAN EXPRESS, Diners Club International
[Survey] Traveling to Japan
Recommend