A thorough guide to the highlights of Hasedera Temple in Kamakura
Hasedera Temple is known as the "Temple of Flowers" as there are flowers blooming in seasons such as cherry blossoms in spring, hydrangeas in rainy season and autumn leaves in autumn. In addition, the site is large with one of Japan's largest wooden sculptures of Buddhas, Ryoenjizo, caves and walkways, etc. It is recommended to take your time touring the temple.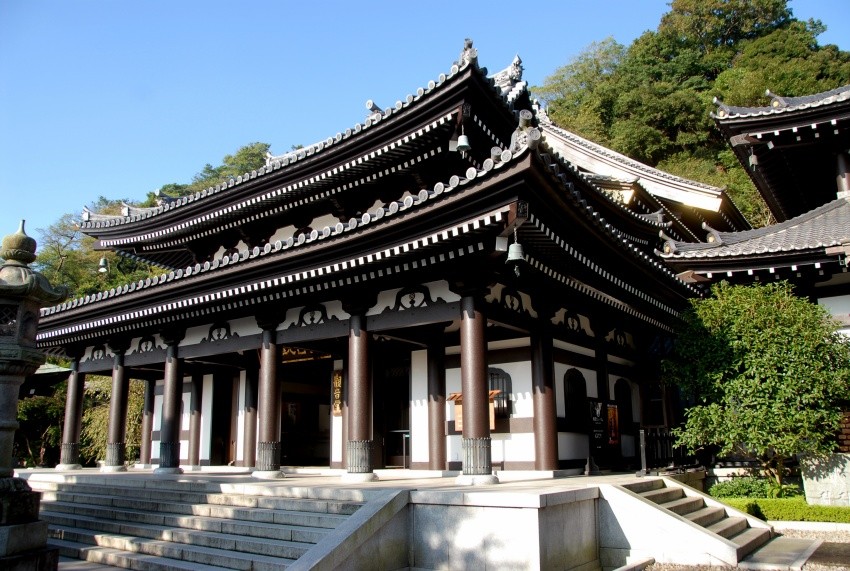 About Hasedera Temple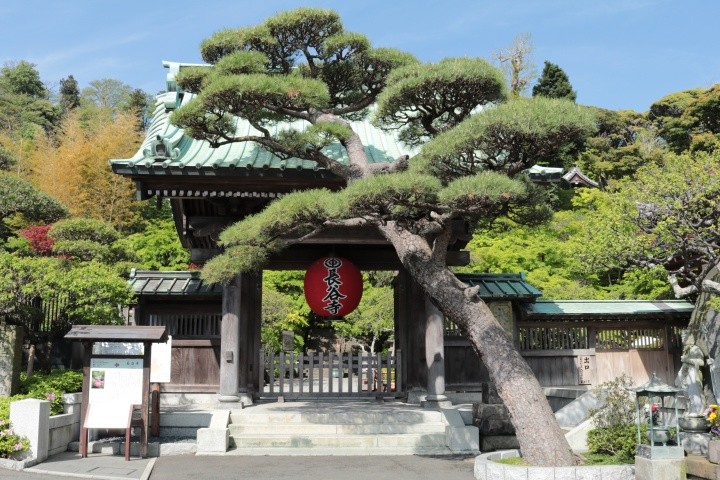 Hasedera Temple is a historic temple that was opened in Nara Prefecture in 736 according to the wish of Tokudo-Jojin. From the foot to the halfway up the Kannon-Zan, there are many flowers in the large site. Different flowers bloom in the 4 seasons and so the temple is known as the "Temple of Flowers". Particularly in June, which is the season of hydrangea, there are more than 40 types of about 2,500 hydrangeas blooming along the scenic walkway on the slope behind the Kyozo. Many tourists come to visit it. In addition, there is a viewing platform at "Joukeidai" halfway up the Kannon-Zan where you can 
Highlights of Hasedera Temple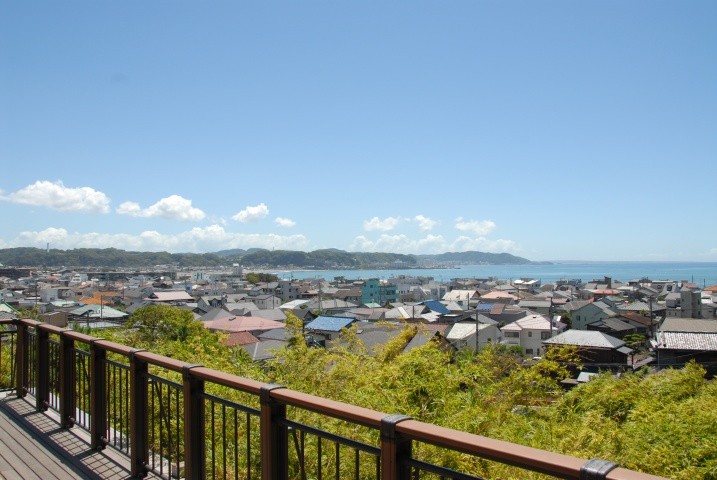 The highlight of Kannon Hall is the wooden "Eleven-headed Kannon" statue that is said to be the largest one in Japan. It has a height of about 9.18 meters holding a monk staff, which is one of Jizo-Bosatsu's possessions, on the right hand and a vase on the left hand. It seems the Kannon statue is facing all directions. In addition, flowers in the garden bloom on after another in four seasons including the wintersweet and plum blossoms in early spring, cherry blossoms in spring, hydrangea during the rainy season and crape myrtle in winter. In the "Kannon Museum" which is under the theme of Kannon Bosatsu, teachings of "Kannon Zen" are explained in an easy-to-understand manner by the use of exhibitions and videos(Entrance fee: 300 yen, 9:00~16:00, may be temporarily closed).
Ryoenjizo in Hasedera Temple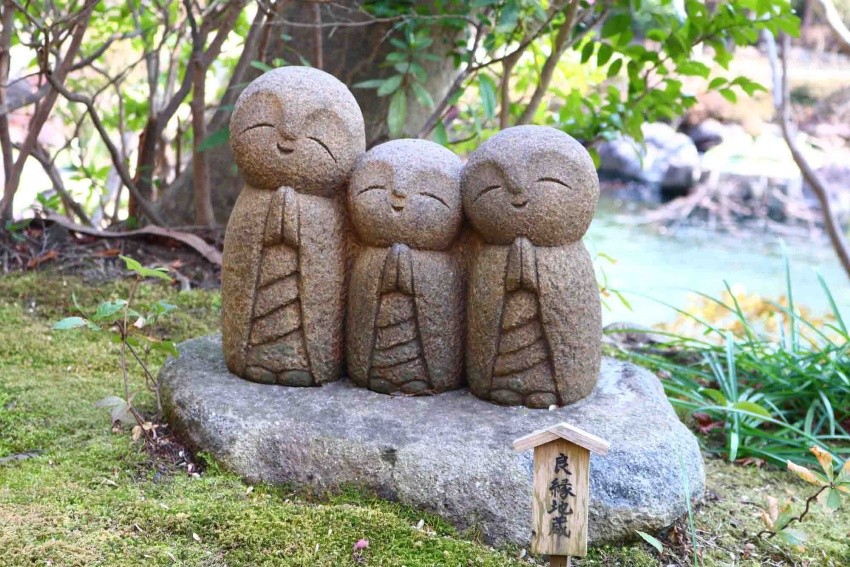 Ryoenjizo is a triad located at secret places in the site. It has gentle expressions and is placed in three locations on the site. If one can find all of them and take photos, it is said that he will be blessed with good fortune. As they are small Jizo with a height of only about 30cm, you should better look closely at your feet while walking around the temple.
Access to Hasedera Temple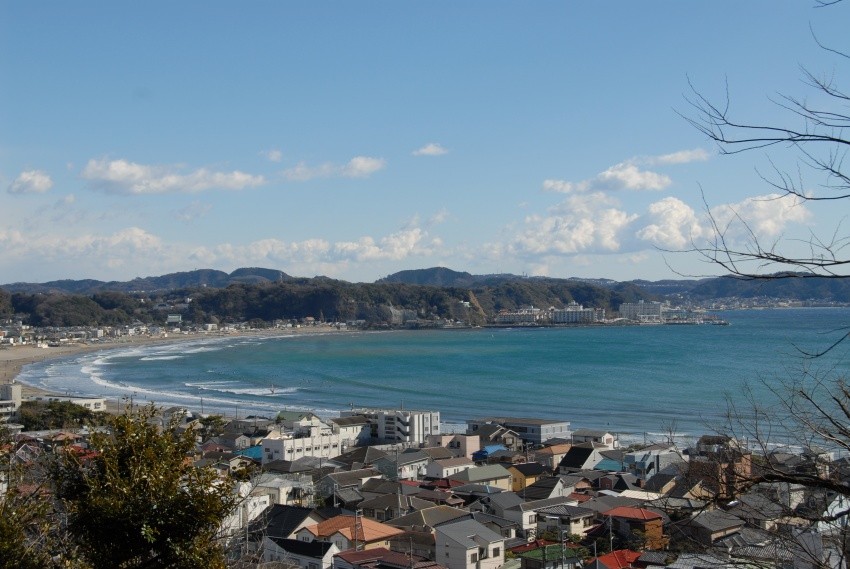 If you use the JR Yokosuka Line, get off at Kamakura Station and change to Enoden bus. Get off at "Hase-Kannon" bus stop after a 6-minute ride. Then walk for about 5 minutes. If you use Enoshima Electric Railway, get off at "Hase" Station and walk for about 5 minutes. 
If you use Odakyu Railway, get off at "Fujisawa" station and change to Enoden. Ride for about 30 minutes and get off at "Hase" station and walk for about 5 minutes.
Spot Information
Spot name: Hasedera Temple

Street Address: 3-11-2 Hase, Kamakura City, Kanagawa Prefecture 248-0016
Wi-Fi: Free Wi-Fi available in some areas
Language: English, Chinese, Korean(website)
Ticket: 400 yen
Opening hours: March~September: 8:00~17:00 (closes at 17:30); October~February: 8:00~16:30 (closes at 17:00)
Closing days: None
[Survey] Traveling to Japan
Recommend